November 14th, 2016 by Mr. C
There are so many facets and layers of why I enjoyed watching FINDING KUKAN and I think you will, too! At the very most outer shell, Kukan (1941) – an American made documentary film about a war torn China being invaded by Japan with live video footage on location from China during the attacks, was one of the very first if not first documentary film that was given an Academy Award. And to add to the mystery, Kukan was a "lost" film. Very few have ever seen it and there were no copies of the film to be found. The director of Finding Kukan – Robin Lung began to assemble the pieces of the puzzle together and to try & answer the question, who was behind the documentary film KUKAN?
This is where the most interesting aspect of the film arises. Who really was the artistic creator, writer, & producer of KUKAN? We do know that Rey Scott was the cinematographer for the film but he was not the only inspiration. Director Robin Lung – started peeling away at the layers of KUKAN and the name Miss Li Ling-Ai seemed to be always attached with the promotion of KUKAN though her name was not officially linked with the creatives in any way. Bits & pieces of evidence tied Ling Ling-Ai as the mastermind of KUKAN and the rest of Finding Kukan would unravel this lady's fascinating story as a chinese american woman growing up in an America that was not welcoming towards the Chinese. For one, the Chinese exclusion act in the United States of 'Murica was in effect from 1882-1943 during her time. All things seemed to be pointing to Li Ling Ai's as KUKAN's beating heart inspiration and her desperate wanting to tell the story of the Chinese and their struggle in China. In an interview from archived footage shown in Finding Kukan, Miss Li drove home that she wanted everyone to know that the chinese were not just a sing song ching chong china club as portrayed in america.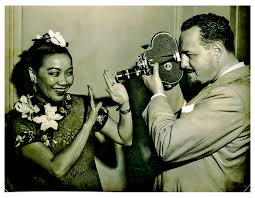 At the inner most layers of FINDING KUKAN, I think the most important duty that this film is trying to achieve with the valiant efforts of the director was to locate/preserve the lost film in some form or fashion. Kukan is an important document of Chinese history as well as being an important part of American filmmaking. The other aspect of the film that I appreciated was exposing the courageous and outrageous Miss Li Ling-Ai. Here you have a very well-spoken for Chinese American woman born in Hawaii, living during the times of the Chinese exclusion act yet she was boisterous and proud of being Chinese. Her yankee accent would tell you otherwise. She was a very proud american as well! Her mingling with the press and lifestyles of the rich & famous like The Ripley's tells you the kind of personality she had! She was the Bruce Lee of playwrights! Go grab some dried octopus or popcorn and find the nearest theatre screening Finding Kukan! If you are near NYC, you are lucky!
Finding Kukan screens at DOC NYC film festival on Tuesday 11/15 at 5.30pm and 11/16 at 12:45pm
Expected to Attend: Robin Lung; editor/producer Shirley Thompson; 11/15 Screening Only – subjects Mark Scott (son of Rey Scott) and Michelle Scott (granddaughter of Rey Scott)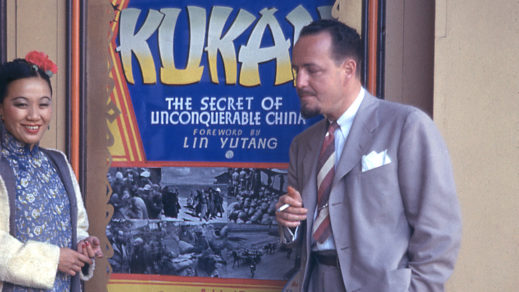 Tags: docnyc.2016 docnyc, documentaries
Posted in movies, mr. c | Comments (0)
November 11th, 2016 by chocko
If you love movies, specifically documentaries and you happen to be in the NYC area, then drop what you're doing and head downtown now and don't make any other plans but to hunker down in a movie theater to soak it all in! The 7th Annual DOC NYC (America's largest documentary festival) is in full effect starting November 10 to November 17. DOC NYC will feature more films and events than ever including panels, workshops for aspiring filmmakers and Q&A's with filmmakers and special guests. Get your tickets and head over to either IFC Center (323 Sixth Ave at West Third Street), SVA Theatre (333 West 23rd Street, between 8th and 9th Avenues) or Cinepolis Chelsea (260 West 23rd Street, between 7th and 8th Avenues). Get caffeinated, grab some tasty snacks and sink into a comfy chair because there's plenty to see, experience and learn!
The following are some short reviews of some DOC NYC films we've seen in advance. Keep checking for more updates and DOC NYC reviews.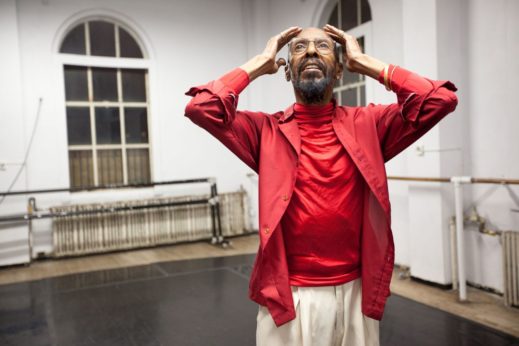 WINTER AT WESTBETH
Dir: Rohan Spong
This movie spotlights three residents of the West Village's Westbeth Artists Housing which used to be Bell Laboratories where great technological inventions were created such as television, radar, the vacuum tube and the development of the phonograph record. Westbeth Artists Housing has been home to a community of professional artists since 1970. Over the course of a year the movie follows 82-year-old writer Ilsa Gilbert. She is known as the "Poet Of Bleecker Street" facing mortality with an unrelenting creative drive. Another resident is 95-year-old filmmaker Edith Stephen who decided after being a dancer all her life, to start making movies at the age of 91. Lastly, the movie spotlights 75-year-old contemporary dancer Dudley Williams. A witty, force of nature and legendary dancer are some ways to describe Dudley. He has danced with some of the biggest modern choreographers such as Talley Beatty, Martha Graham and Alvin Ailey. Your eyes are glued to the screen and you listen to every word he says when he's being filmed. He is very much the anchor of this moving film which I highly recommend if you are even a tad curious about the arts and the beautiful community housed at Westbeth.
WED NOV 16 5:00PM (IFC) + THU NOV 17 10:15AM (IFC)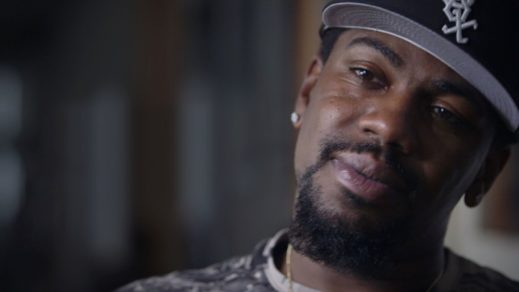 RIKERS
Prods: Marc Levin, Mark Benjamin, Rolake Bamgbose
Rikers Island is NYC's main jail complex located in The East River where prisoners await trial. Half of the detainees can't afford bail which in some cases is only a few hundred dollars. 40% of prisoners suffer mental disorders. Corruption and prison abuse is an every day occurrence. Once a prisoner is in, he or she has to live under "The Program" which is a chain of command within the prison system run by gang members. The documentary is a putrid heap of nightmarish testimonials from former prisoners of a horrible place where violence rules and weakness is not tolerated. Survivors of Rikers Island recall tales of abuse, the humiliation of being strip searched, the inhumane conditions of solitary confinement, and sexual assault. The movie has a short running time at 64 minutes and deserves to be seen for it's moving and powerful stories that puts a spotlight on the systemic violence and abuse within our prison systems.
SAT NOV 12 4:00PM (SVA)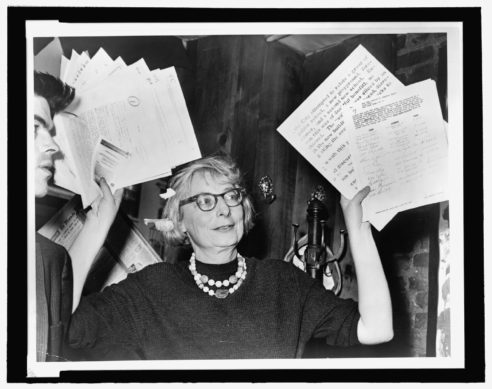 CITIZEN JANE: BATTLE FOR THE CITY
Dir: Matt Tyrnauer
This documentary follows the trials and tribulations of Jane Jacobs, the author of The Death and Life of Great American Cities. She believed that cities were about people, foot traffic and public space which clashed with the beliefs of New York City's most notorious power broker, Robert Moses. In the 1960's Moses became a powerful figure in NYC and a proponent of modernist urban planning which accommodated automobiles but eliminated sidewalk culture and isolated communities. Moses was responsible for creating the Cross Bronx Expressway which pretty much chopped The Bronx in half and displaced families and thriving communities. Jane Jacobs went up against Moses when he proposed the Lower Manhattan Expressway which would have most of SOHO and Little Italy demolished. Moses also wanted to have Fifth Avenue run through Washington Square Park. Not in Jane's house! This documentary opened DOC NYC which was also its US premiere and will be released in 2017.
THU NOV 10 7:00PM (SVA)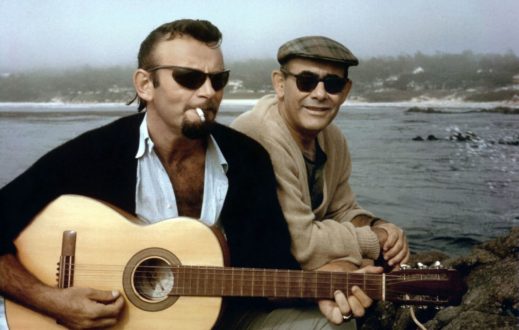 BANG! THE BERT BERNS STORY
Dir: Brett Berns
This documentary is about a relatively obscure record producer and prolific songwriter from The Bronx named Bert Berns. He penned huge monster hits in the 1960's such as Twist And Shout, Hang On Sloopy, Here Comes The Night, Brown Eyed Girl and Piece Of My Heart and and produced many well loved soul records. Berns also helped Van Morrison and Neil Diamond early in their careers. The story of Bert Berns is amazing considering he only started in the record business when he was 31 and died at the early age of 38 due to a damaged heart from a childhood ailment. Stevie Van Zandt narrates this documentary which at times feels like a mobster movie chock full of shady characters, drama and backstabbings. The film also features interviews with Ben E. King, Van Morrison, Keith Richards and Paul McCartney. It's a great, fast moving film which will make you tap your toes to the amazing soundtrack and laugh at some of the outrageous circumstances Berns finds himself in. It's about time the story of Bert Berns is being told. Recommended!
FRI NOV 11 7:15PM (SVA)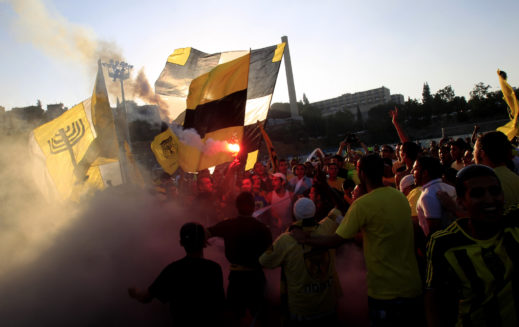 FOREVER PURE
Dir: Maya Zinshtein
The documentary is about the most popular soccer team in Israel, Beitar Jerusalem Football Club and its rabid, loyal fans known as La Familia. La Familia takes great pride in their team, not only for their wins but for the fact that they had no Arabs play on their team. That all came to a screeching halt in 2012, when team owner Arcadi Gaydamak signs two Muslim players from Chechnya. All hell breaks loose when the young players hired to score more goals become targets of hate based on their religion. Not all, but many of La Familia reveal their true racist roots and their bigoted behavior in the stands, in the streets and online become detrimental to the team's future. The movie is a shocking look at the effects of racism and ignorance which is just another reason to eradicate notions that it's acceptable to judge somebody based on their appearance, sexuality or religion. This is definitely one of the important films to see at DOC NYC.
MON NOV 14 7:15PM (IFC)
Tags: cinema, Cinepolis Chelsea, doc nyc, documentary, film festival, IFC Center, movies, new york city, sva theatre, things to do
Posted in art, chocko, community, music, sports, travel | Comments (0)
November 4th, 2016 by chocko
Lauren Mayberry at Baby's All Right, November 3, 2016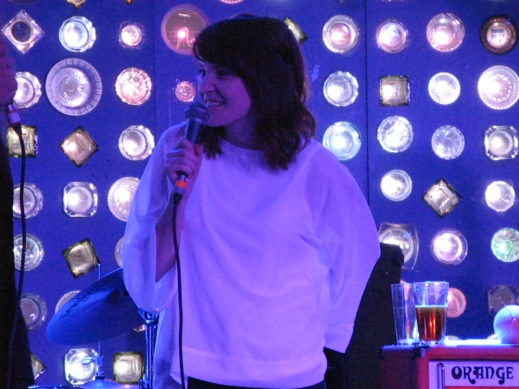 Last month, UK synthpop band CHVRCHES played their biggest NYC show at Radio City Music Hall. Last night, Chvrches lead singer and recent NYC resident Lauren Mayberry played a considerably smaller stage as the musical guest of the comedy show "Heart Of Darkness" at Baby's All Right in Williamsburg, Brooklyn. The show features comedian Greg Barris and this latest edition also featured the comedy stylings of Dave Hill, Seth Herzog and Seaton Smith. As musical guest Lauren Mayberry performed 3 cover songs with the house band (Mother Of Three). First she performed "The Boys of Summer" (Don Henley), then "Brick" (Ben Folds Five) and after being interviewed by Barris and a smokin' set by Seaton Smith, she ended the show with "Wrecking Ball" (Miley Cyrus) with Seth Herzog bum-rushing the stage in a Wonder Woman getup bouncing on a huge gym ball. More photos and videos below!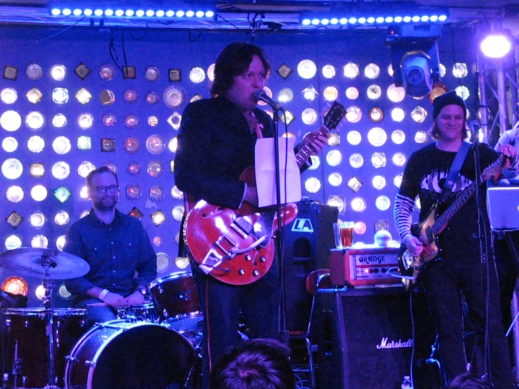 Dave Hill jammed with the house band and read his erotic short stories.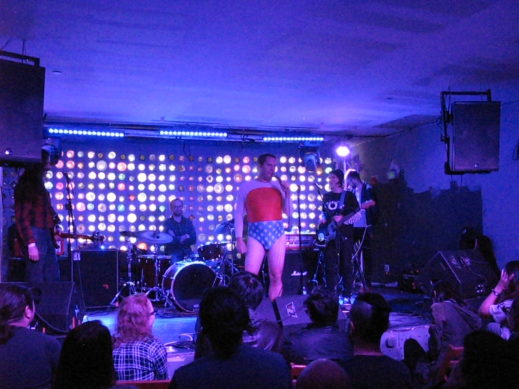 Seth Herzog killed it with his b-boy dance moves and disco entrance music, the theme song from the 70's show "Wonder Woman"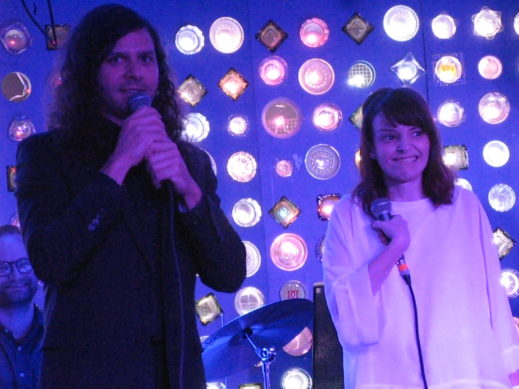 Greg Barris interviewed Lauren Mayberry where she admitted to using the alias "Audrey Heartburn" to check into hotels on the sneak tip.
Check out Chocko (njmisfit) and Mr. C (planetchocko) on instagram.
Follow @planetchocko on Twitter. LIKE us on Facebook too. Thanks!
Tags: baby's all right, brooklyn, Chvrches, comedy show, Dave Hill, Greg Barris, Lauren Mayberry, musical guest, new york city, nyc, Seth Herzog
Posted in chocko, music, photos | Comments (0)
October 28th, 2016 by chocko
Hey zombies and vampire girls! It's Chiller Theatre time once again..a Halloween weekend celebration of all things horror, sci-fi and everything else in between. It's the ultimate toy, model and film expo you don't want to miss. Get out of your stanky crypt and head out to Parsippany, New Jersey and party with all the Frankenstein hippies and Big Foot freaks. Here's a look back at Chiller Theatre in April 2016 through a ton of photos and some videos below of some of the musical guests. Rest in Peace to some respected figures that we always had a pleasure running into at Chiller: Ted V. Mikels, Herschell Gordon Lewis and most recently the Cool Ghoul, Zacherle who retired last year after being the host at Chiller Theatre for the past 25 years. They will all be sorely missed.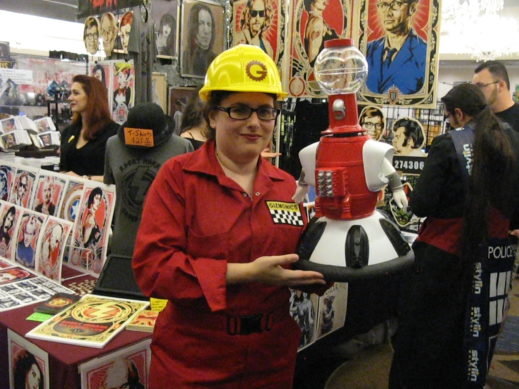 Mystery Science Theater 3000 Cosplay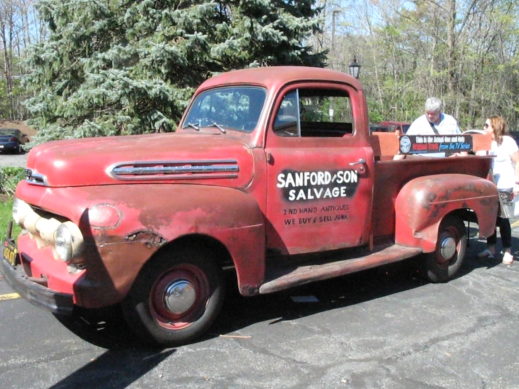 1951 Ford F1 Sanford And Son Pickup Truck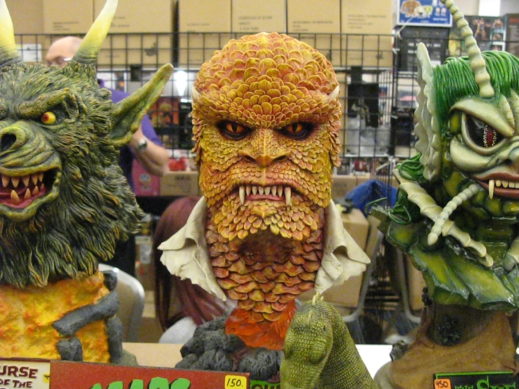 Many strange things for sale at Chiller Theatre. Buy 'em all!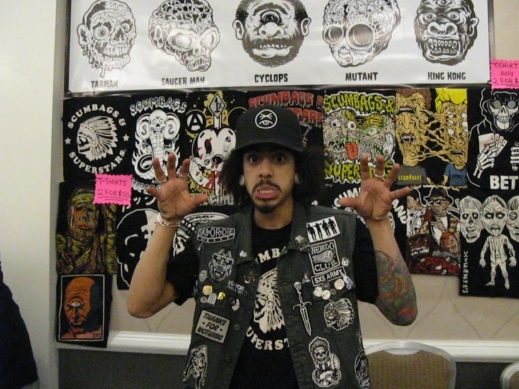 From the L.E.S. in NYC, Scumbags & Superstars. Killer shirts and patches.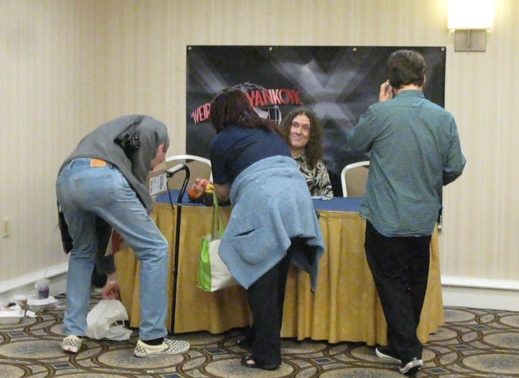 One of the many guests at Chiller: "Weird Al" Yankovic.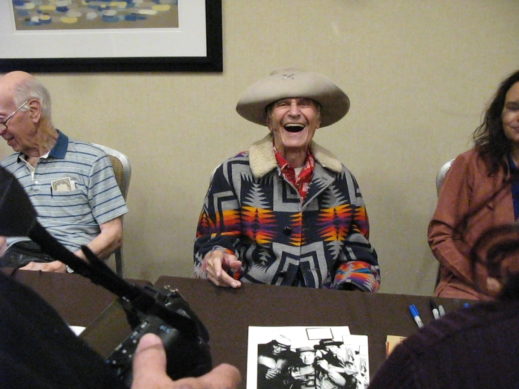 Larry Storch of the late 60's sitcom, F Troop.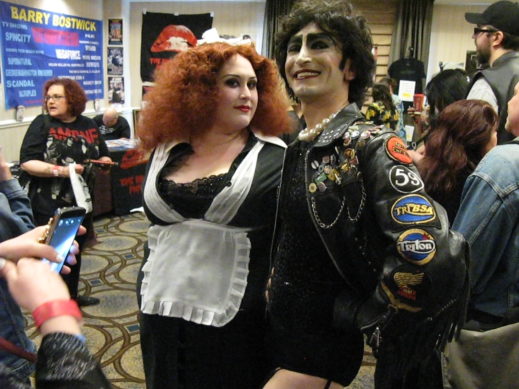 Rocky Horror Picture Show cosplay. Don't dream it, be it.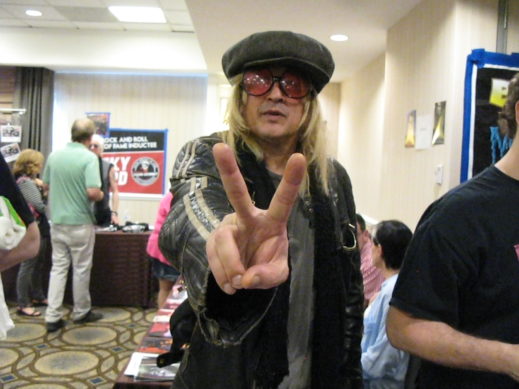 Still rocking and rolling: Chip Z'Nuff of Chicago band Enuff Z'Nuff.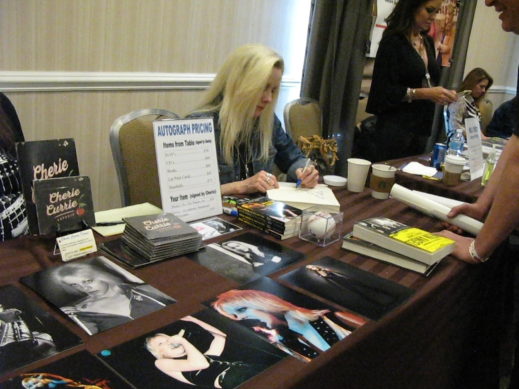 Cherie Currie, lead vocalist of the Runaways and talented chainsaw artist.

I'm never gonna eat at Chiller after seeing this chef walking around.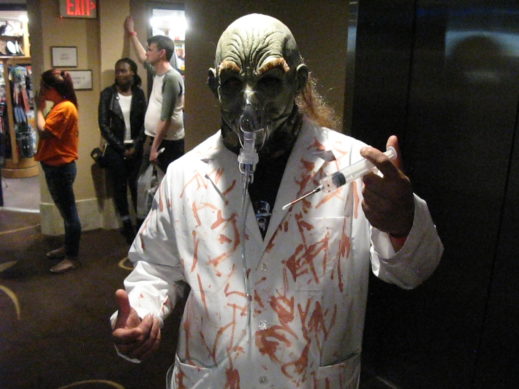 Free flu shot anybody?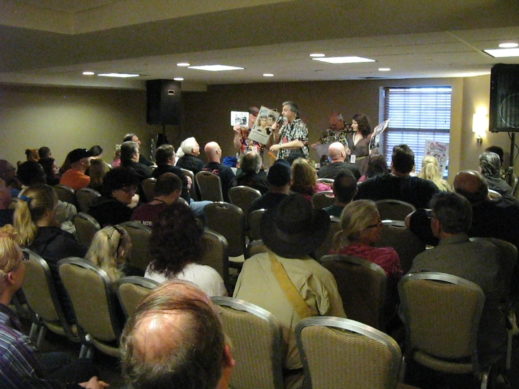 Chiller Auction with Hawaiian shirt connoisseur, Ted A. Bohus.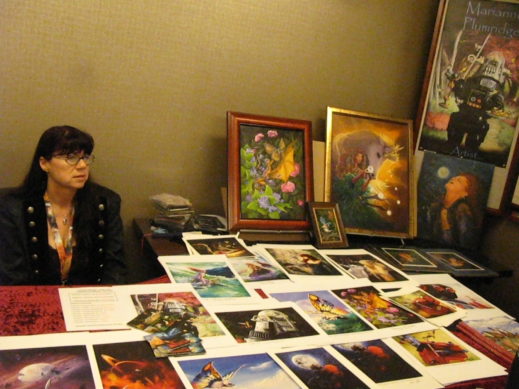 Fantasy artist and always friendly, Marianne Plumridge.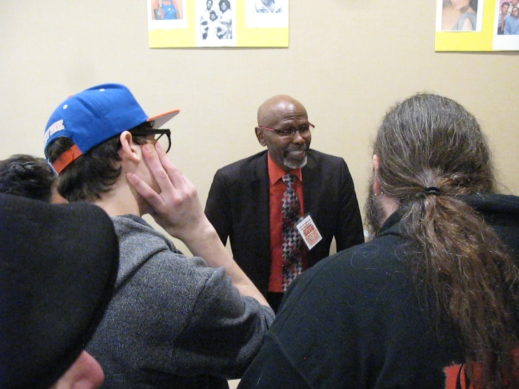 Ernest Thomas of 70's sitcom, What's Happening!!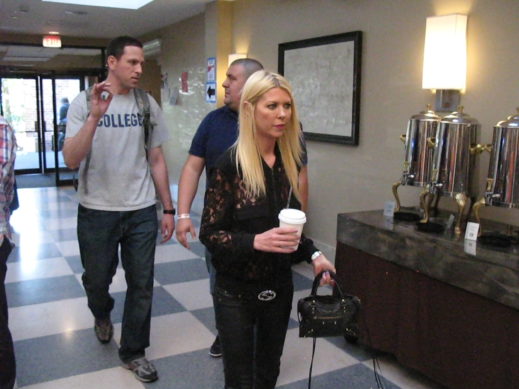 Tara Reid of many films such as American Pie and Sharknado.

Merchandise at Erica Gavin's table. That Russ Meyer's Vixen shirt is dope!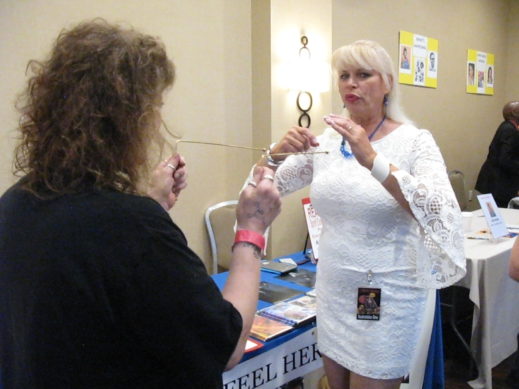 Kadrolsha Ona Queen of The Paranormal. She ain't afraid of no ghosts.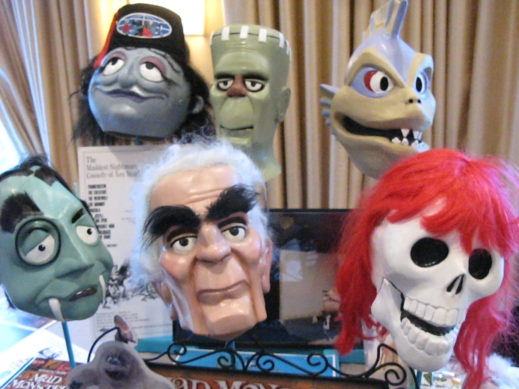 Mad Monster Party masks galore. Boris Karloff or Brute Force?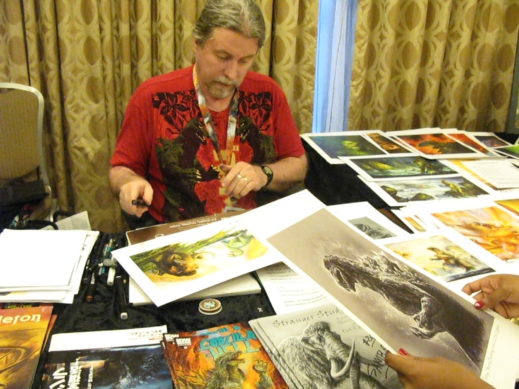 Bob Eggleton, Sci-Fi artist with a passion for landscape work and Godzilla.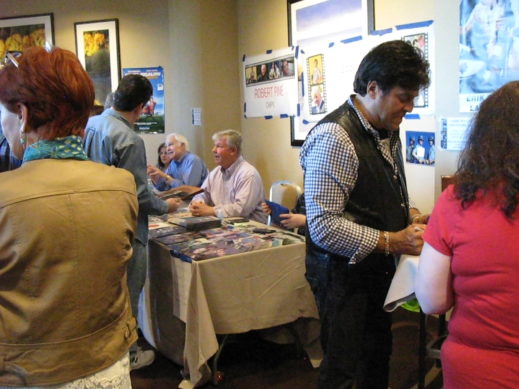 Robert Pine, Larry Wilcox and Erik Estrada of CHiPs.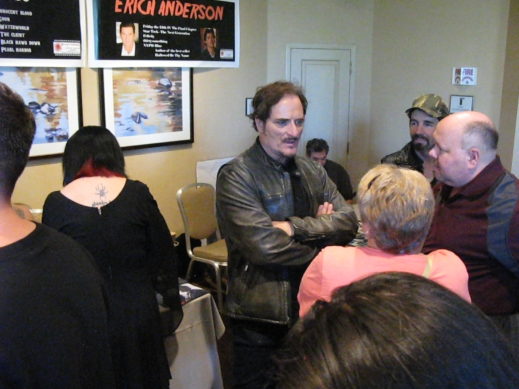 Kim Coates of Sons Of Anarchy chatting with fans.

Face paint in preparation of the Chiller Theatre Spring Rock & Roll Party which is always a highlight of the Expo. Check out some videos below of Special Musical Guests: Micky Dolenz and Peter Tork of The Monkees with songwriter Bobby Hart. See all you spooky pumpkinheads this weekend!
Tags: b-movies, chiller theatre, halloween, horror expo, horror movies, memorabilia, monster, movies, new jersey, nj
Posted in art, chocko, movies, music, photos, TV | Comments (0)
October 25th, 2016 by Mr. C

(Starting line by Lehman College)
(A Bronx-Grand Concourse takeover! – the bridge is over,the bridge is over!)

—————————————————————————————————————
One of my favorite annual events in NYC not to mention that it's also free is the Tour de Bronx currently on its 22nd year of operation! The Tour de Bronx is an organized bicycle ride cruising through the streets of where else – da Bronx! There are 2 routes bicyclists can choose either the 25 or 40 mile ride (technically 27 or 44 miles). I've been at the 25 mile version of the ride for the past 4 years but one of these years Alice, one of these years – banG Zoom – to the 40 mile Bronx moon! This year's ride which was just last Sunday yielded about 7000 bicyclists according to the Bronx Borough President Ruben Diaz Jr. He's what I call a hands on leader. Besides welcoming the riders and MC'ing the event, you can also find Ruben Diaz bicycling alongside you on the Tour! That is pretty inspirational to the community if you ask me! Tell me what other borough president, mayor, council person, or government official does that! Hell, the Mayor of NYC – Deblasio has been reported of taking helicopter rides to get from borough to borough!
—————————————————————————————————————-
(I parked my cage on Southern Boulevard across the street from the Botanical Garden. Getting the mini-circus clown bike ready!)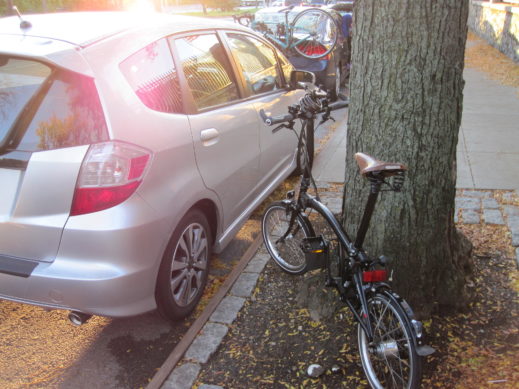 (Riding up on Bedford Park Blvd en route to Lehman College. Contemplating on loading up with fuel here)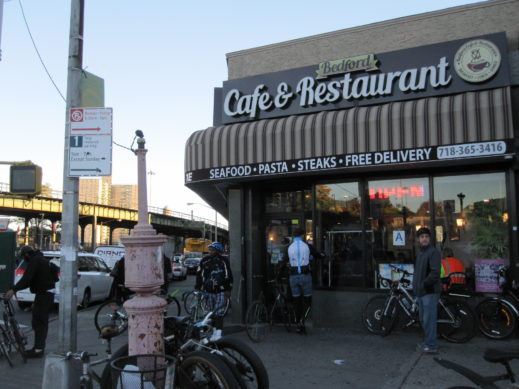 (The frustration is real at 8am Harris Field/Lehman College check-in!)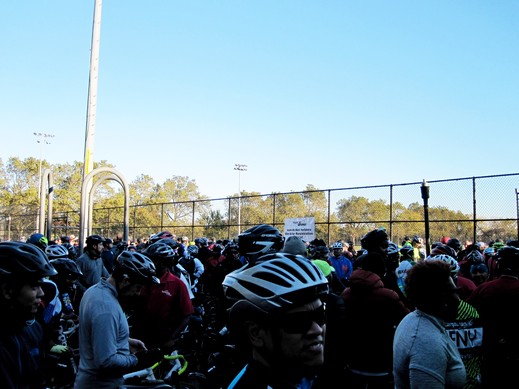 (After check-in, peeking in on a Motorcycle riding class across the street)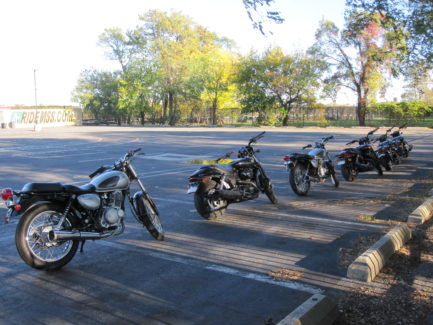 (Old reliable Honda Rebel on the left / Harley Davidson Street on right)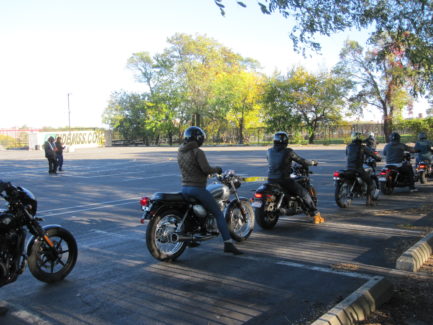 (Queuing up – getting ready – And we're off!)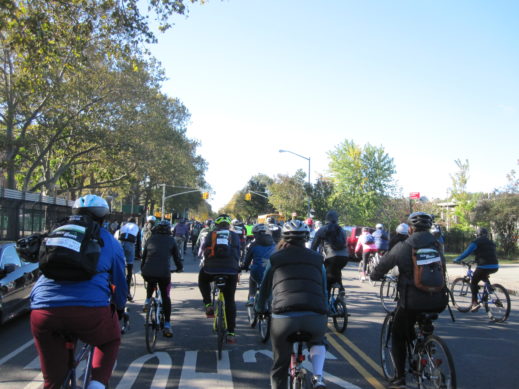 (Ruben Diaz jr – Bronx Borough President hyping up the crowd!)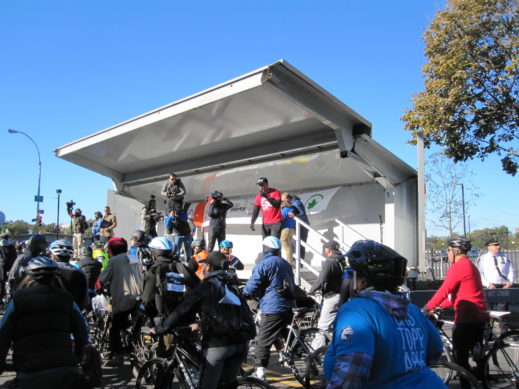 —————————————————————————————————————-
Instead of the starting point of the Tour de Bronx being by the Bronx Supreme Court building not far from Yankee Stadium, this year's ride opening will now be at Harris Field by Lehman College which is going in the complete opposite direction of the South Bronx! How did I like the change? I thought it was a great idea minus a few growing pains with the check-in process at the ball field! The bottleneck at the start of the ride is not an issue now at the new location start at Goulden Ave / Bedford as in years prior in the South Bronx. The bottleneck the organizers do have to iron out now is with the check-in process of the riders trying to enter into the park to get their paperwork for the ride. All in all, the switching and tweaking of the route of the tour was a great idea! One of my favorite parts of the ride was the new addition of shutting down a tremendous chunk of the Grand Concourse (From 193rd St to 138th st) of vehicular traffic and letting the riders ride through! It was gnarly surfing through a main thoroughfare in the Bronx such as the Grand Concourse and seeing amazing sites along the way such as the historic Paradise Theatre, the Kingsbridge Armory, The Bronx Museum of the Arts, The Andrew Freedman Home, & probably many others that I might have missed! Another ride favorite moment of mine was also on the Grand Concourse when we made a left onto 138th Street underneath the ramp which headed into the Deegan expressway. The archway of the elevated ramp and the sight of the street art/mural on the wall when making that left underneath the overpass was really cool! The normal rest stops at Crotona Park, the Castle Hill YMCA, and the Pelham Bay Nature center remained the same. There was some slight tweaking of the route that I noticed but in general, the streets and neighborhoods we rode into were mainly the same as in years past. Riding the bike path greenways along the Bronx river is always a rock steady favorite of mine as well! The Bronx Botanical Garden was the anchor endpoint of the ride as usual! I want to thank the Tour de Bronx bike organizers, Ruben Diaz Junior, and those that participated in this event which made this such a great day of riding and appreciating what we have all around us! See y'all next year – god willing!
——————————————————————————————————————-
(Shortly leaving the start line at Lehman College, we run into the Kingsbridge Armory on the left – a National landmark and a mighty impressive structure! Have never ever seen an Armory this big! Not the greatest angle of the Armory. Must see in person!)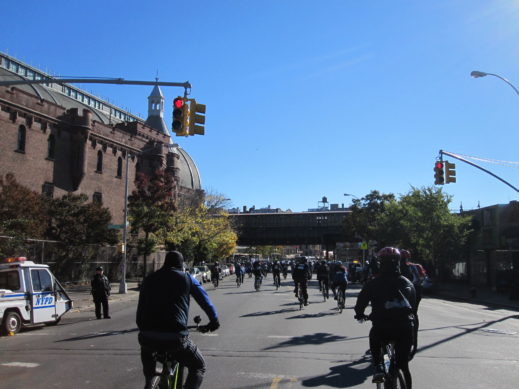 (After the Kingsbridge Armory, we make a right on Jerome Ave with elevated "4" subway train tracks above us)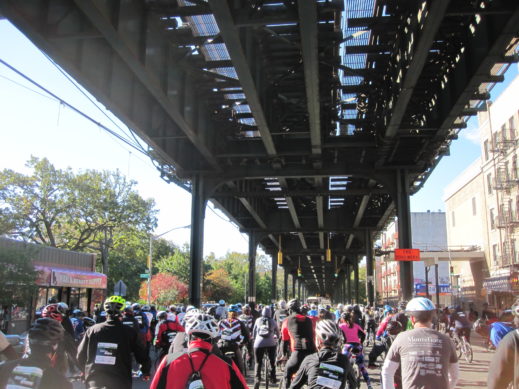 (We got on the Grand Concourse on 193rd Street & we are taking over the streets from 193rd st down to 138th!)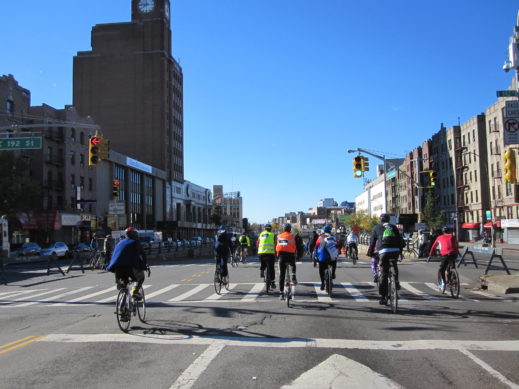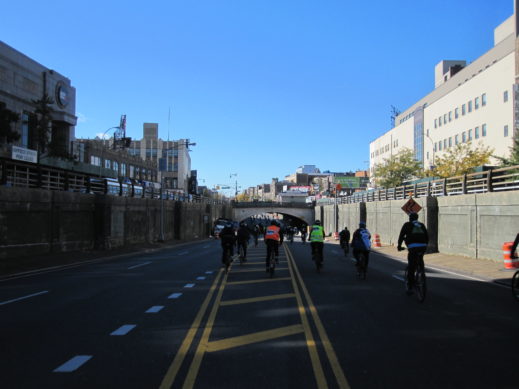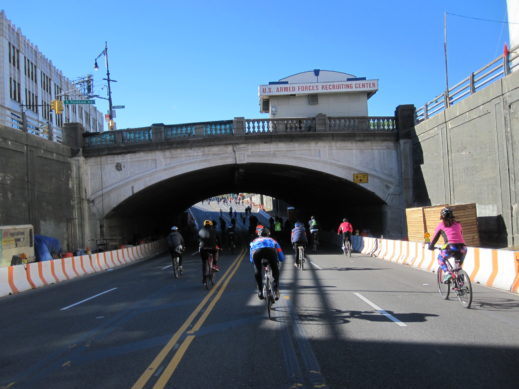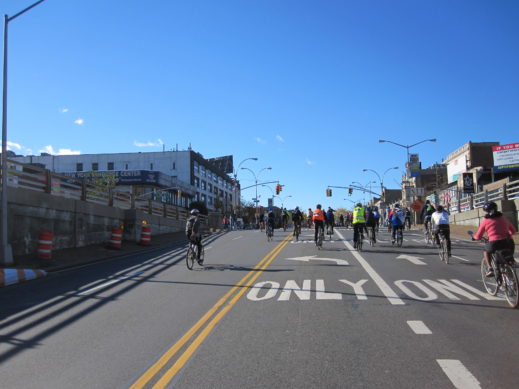 (The historic Paradise Theatre, now also a Church)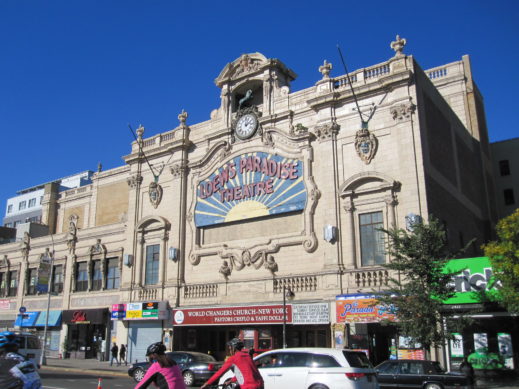 (The last time we were inside the Paradise Theatre was for a Babyface & Tank concert. Stunning interior design & architecture)

(Further down the Grand Concourse on 166th st is the Andrew Freedman Home – mural by Panmela Castro – Kool Herc is still watching!)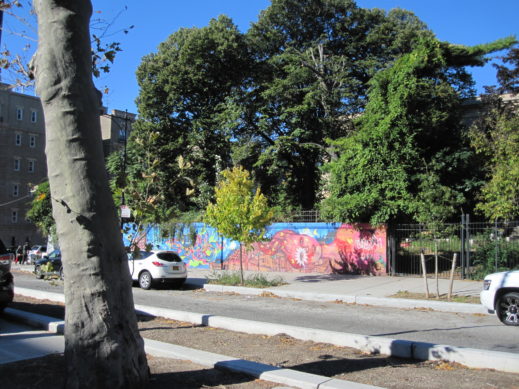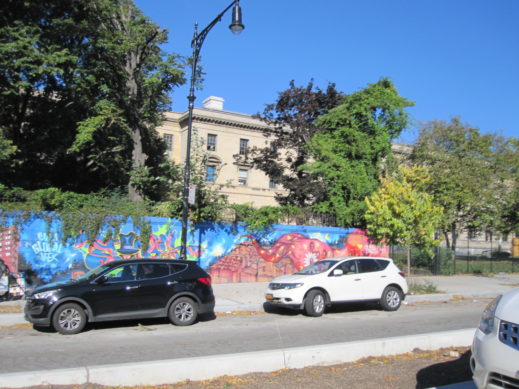 (We make a left on 138th St off the Grand Concourse – pretty cool mural underneath the overpass to the Deegan)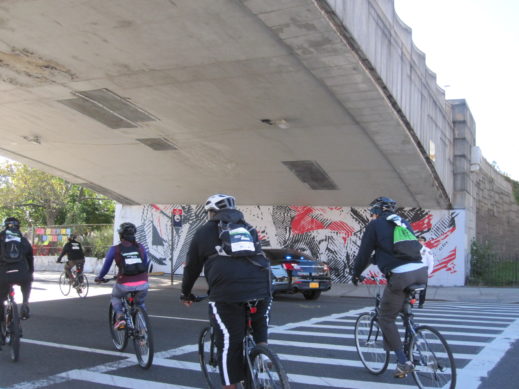 (Industrial section of West Farms Road)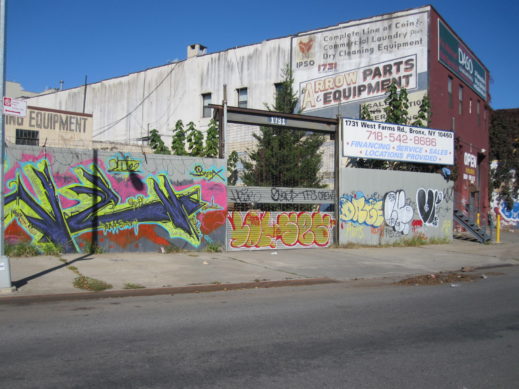 (Heading towards Starlight Park along the Bronx River greenway)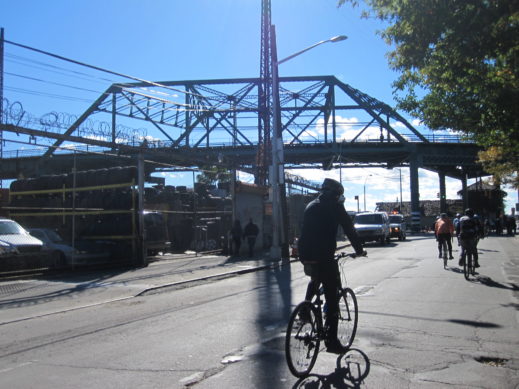 (The YMCA in Castle Hill rest stop in sight – Whitestone Bridge in sight)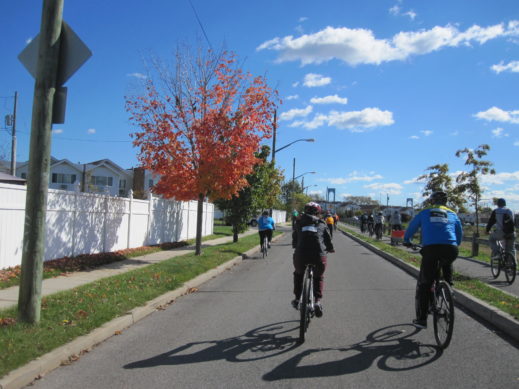 (View of the Whitestone Bridge from the grounds of the Castle Hill YMCA)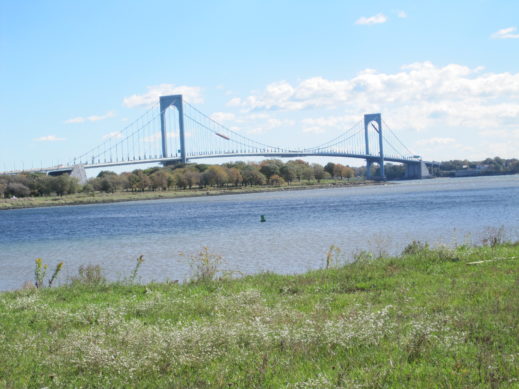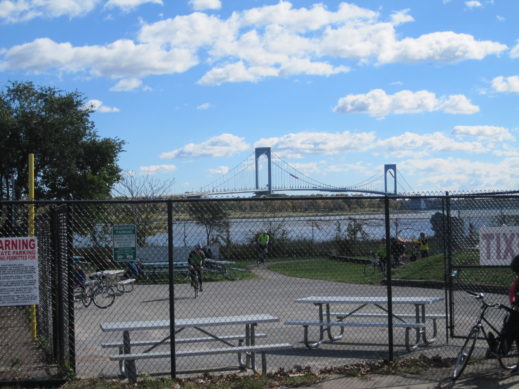 (A few cutie Yorkies on the Tour de Bronx)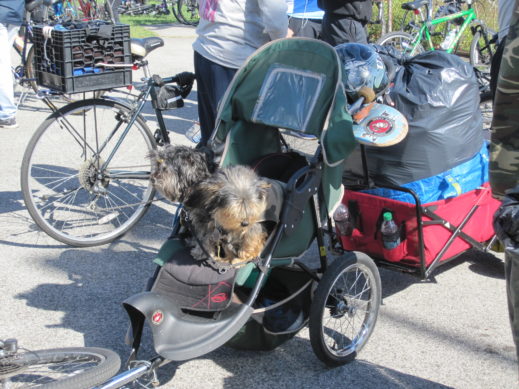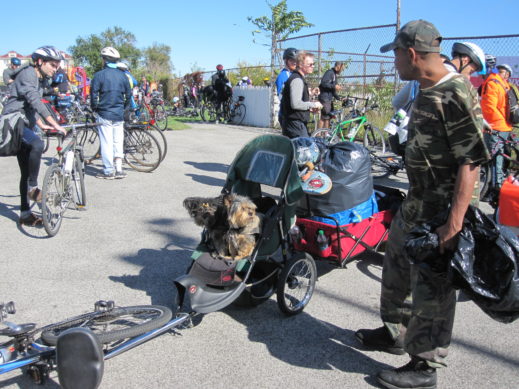 (last rest stop at Pelham Bay Nature Center)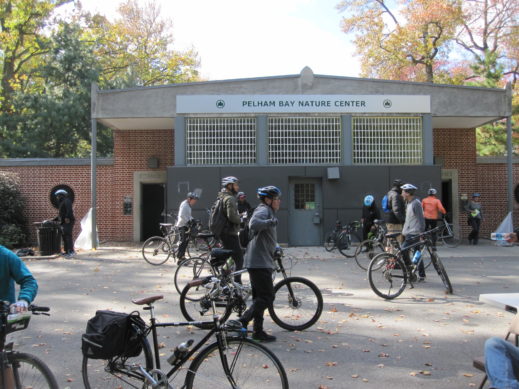 (We are on the final leg of the tour)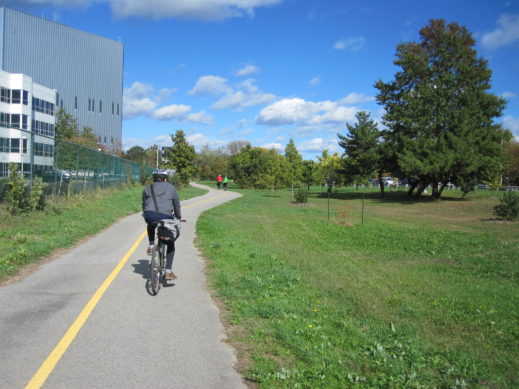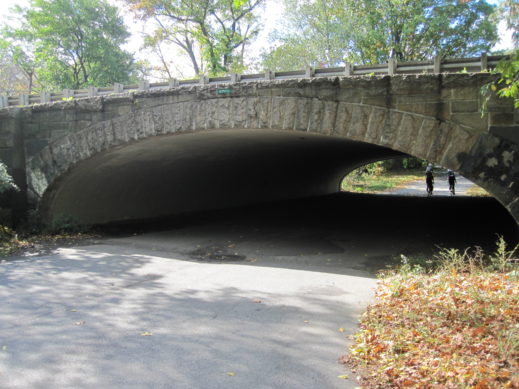 (Bronx Botanical Garden – finish line in sight!)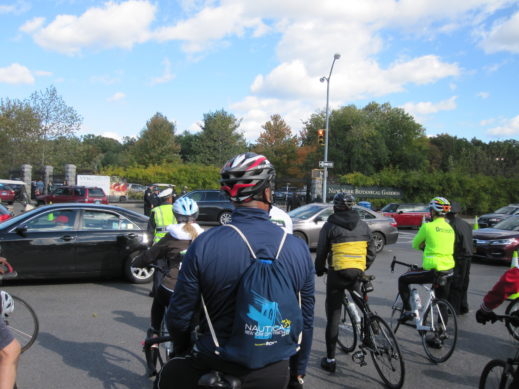 Tags: #TDB16, #tourdebronx, 2016 tour de bronx, bicycling, bicycling nyc, cycling, nyc, tour de bronx
Posted in community, mr. c, photos, sports | Comments (0)
October 24th, 2016 by chocko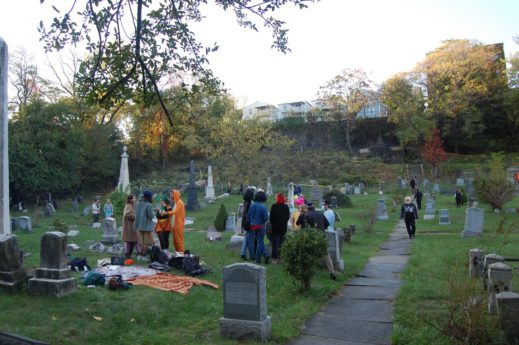 What better way to celebrate the Halloween season than with a good old fashioned get down in a cemetery with food, drinks and music? What began as an annual event to pay homage to a long gone, favorite Jersey City bar, The Ghost Of Uncle Joe's has become a fundraiser for The Historic Jersey City and Harsimus Cemetery. The cemetery dates back to 1829 but historically it was the site of Revolutionary War rumbles and during the War of 1812, the cemetery housed an ammunition bunker which still stands there today. In 2008, the cemetery fell into some hard times of disrepair and neglect but with a new Board of Trustees and the help of volunteers and good people that put together fundraising events, the historic grounds are back in full effect and worthy of a visit. Last Sunday, costumed freaks, fiends and ghouls of all ages came to party and do the monster mash with bands covering singers and bands such as Bikini Kill, Alice Cooper, The Strokes, Motley Crue and David Bowie. Check out Chocko's photos and a video of "The Strokes" from GOUJ16 below!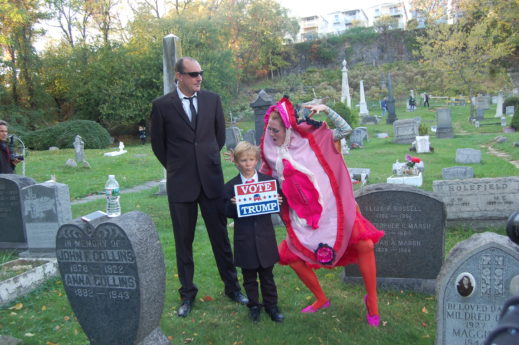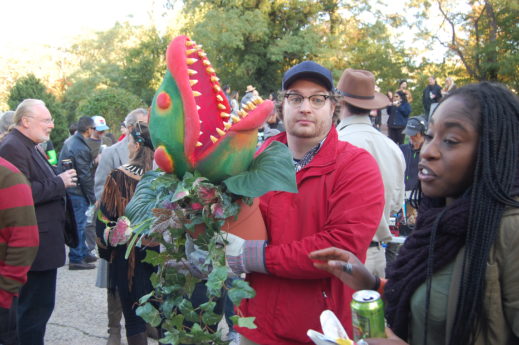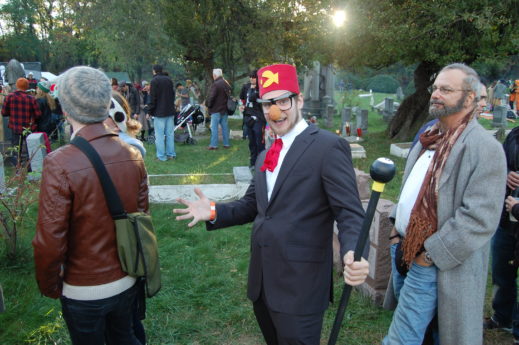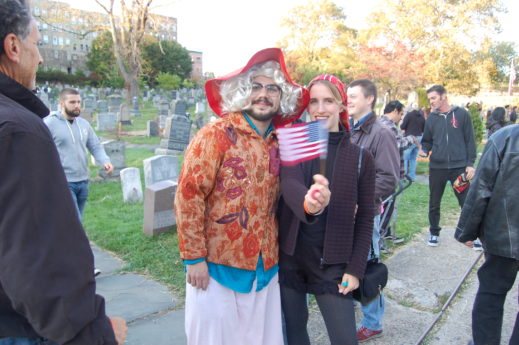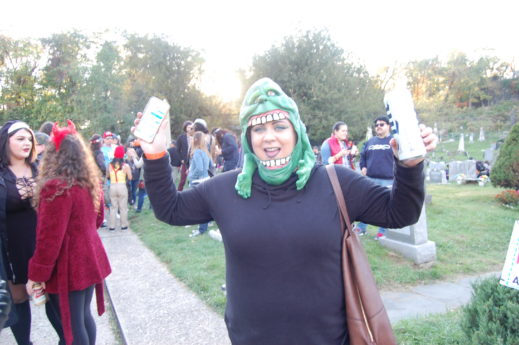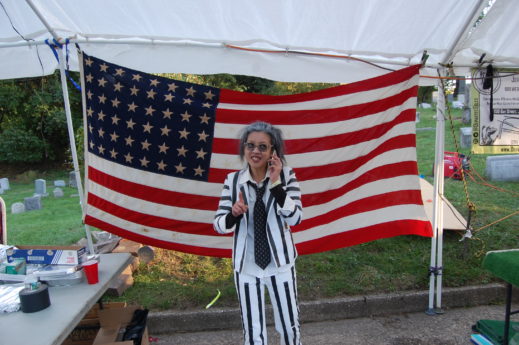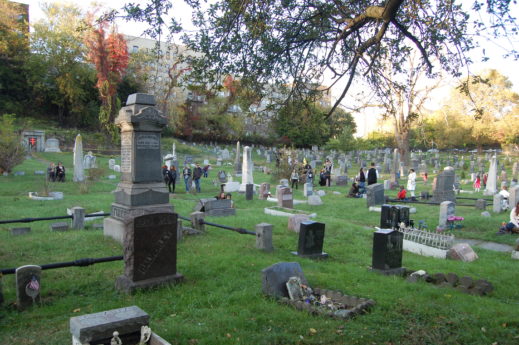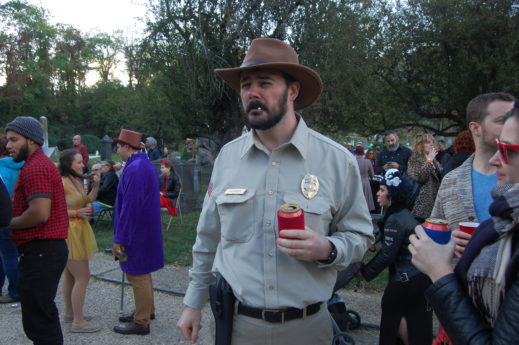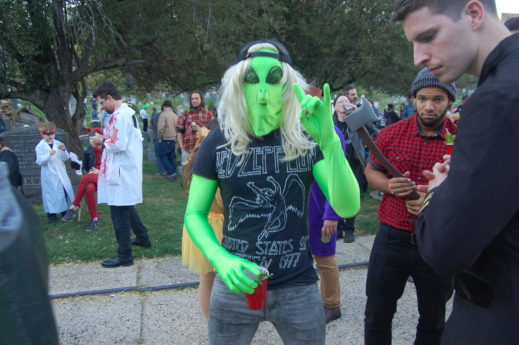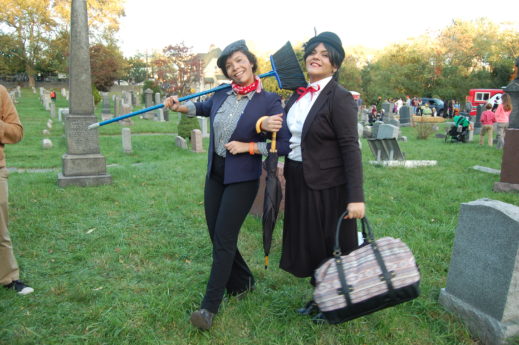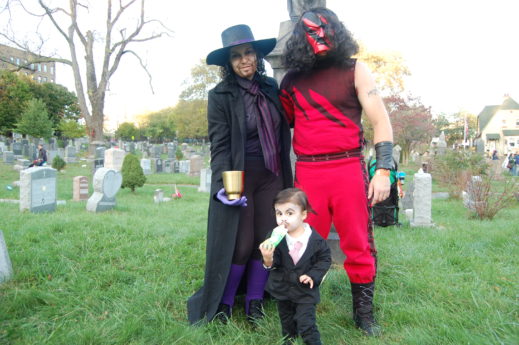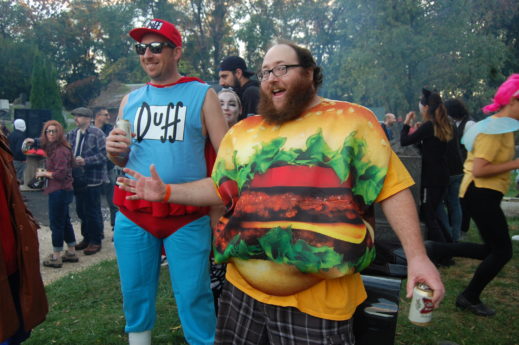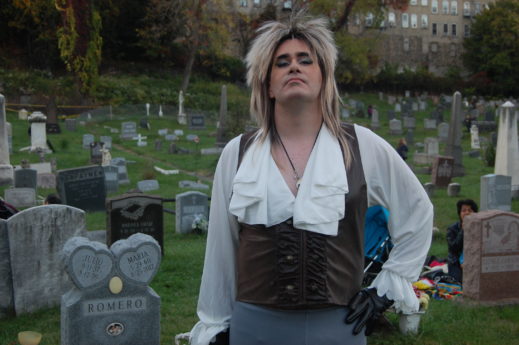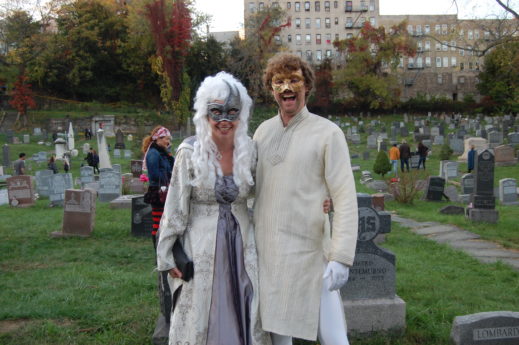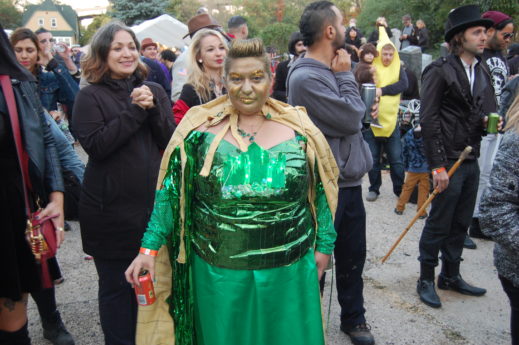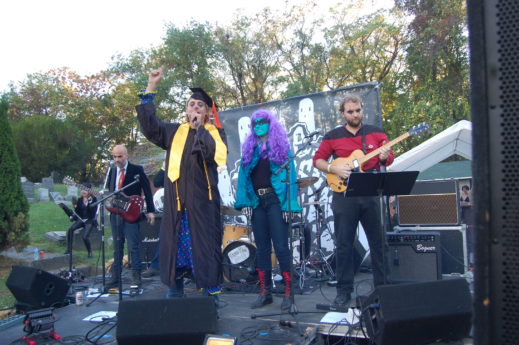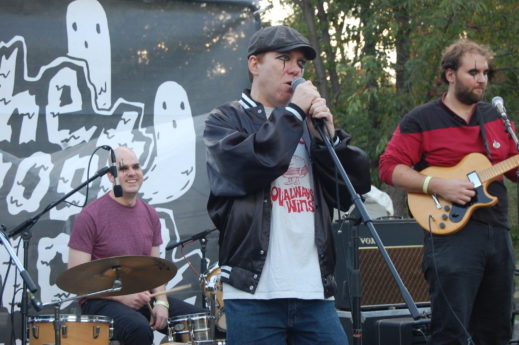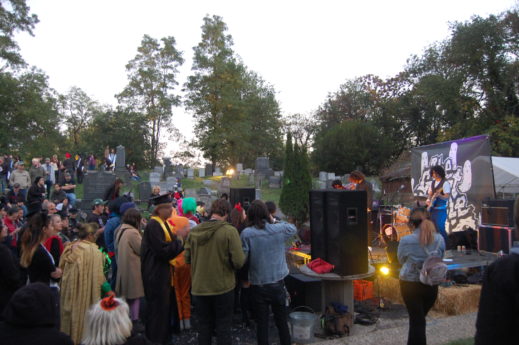 Check out Chocko (njmisfit) and Mr. C (planetchocko) on instagram.
Follow @planetchocko on Twitter. LIKE us on Facebook too. Thanks!
Tags: 2016, costumes, cover bands, GOUJ16, halloween, Harsimus Cemetery, jersey city, new jersey, The Ghost Of Uncle Joe's, The Historic JC
Posted in art, chocko, community, fashion, music, photos | Comments (0)
September 4th, 2016 by Mr. C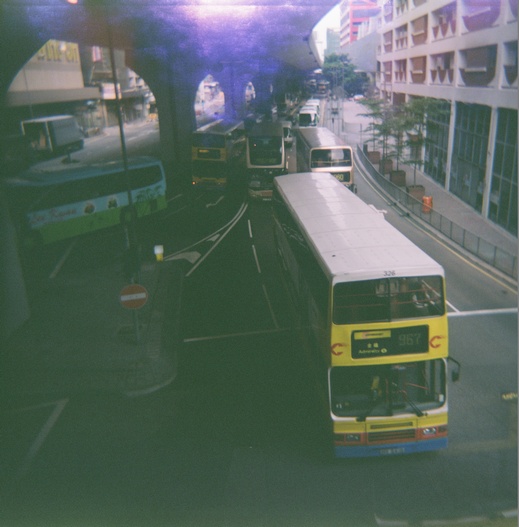 (Bruce Lee statue at Tsim Tsa Tui in Kowloon)

—————————————————————————————————————–
In 2007, I took a week long trip to Hong Kong to visit family and friends. I brought about 10 rolls of 120 medium format film (8 color/2 B&W) to capture shots with my Holga camera. Believe it or not, I just got the film developed last week! Yes, I was cringing to the fact that I was storing these 10 rolls of film in a non-ideal environment, in a plastic bag – in my room – for almost 9 years?!
Why shoot still photography in film especially in 120 medium format and why the Holga camera? First, I chose the Holga camera because it was the most basic and most anti-technology as you can get. The Holga is basically just a toy camera that was manufactured in China circa 1981, made almost entirely of plastic, and some even have plastic lenses. It was designed for the chinese consumer as a low-budget, everyday kind of camera for capturing family photos and portraits, but has since gathered a cult following. The Holga was simply a cheap camera with a plastic low-contrast lens that produced soft (often blurry) images with edge vignetting and uncontrollable light leaks! The low-fi look and unpredictable results made capturing images fun again! I tried messing with getting multiple exposures on a single shot which was mucho fun! I have a few photos below that have the multiple exposure look!
I thought using the Holga with 120 film would be a pretty cool way to document my trip in an organic fashion, not worrying about getting the perfect shot but to instead just be in the moment of the scene and background without being intrusive with the latest and greatest camera technology and bazooka zoom lens to distract the subject I was trying to capture. To make up for the low fidelity look, using the bigger size and more superior film like the 120 increases the size of the film negative which allows for much more resolution and detail. Using the inferior Holga camera with the superior 120 film compared to 35mm sounds like a contradiction and it is but the combination of the two makes a certain aesthetic effect that is very nostalgic and appealing! The only drawback of using 120 film is the availabilty and cost of developing the film.
Please enjoy the photos above & below that I captured with my Holga/120 film combo!
——————————————————————————————————————–
(Class is in session at HK park in Kowloon)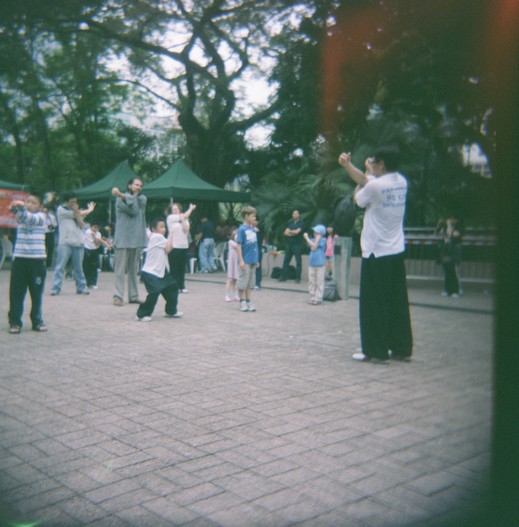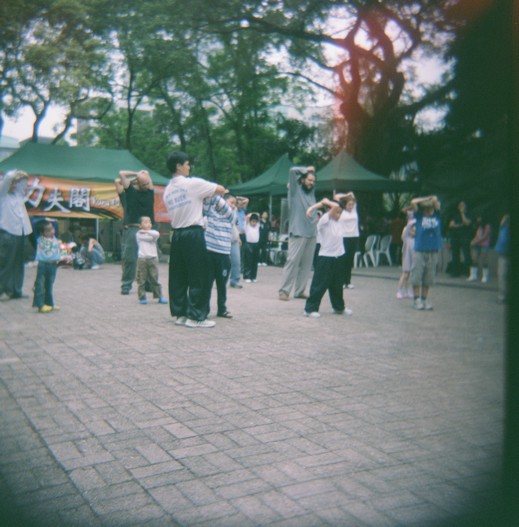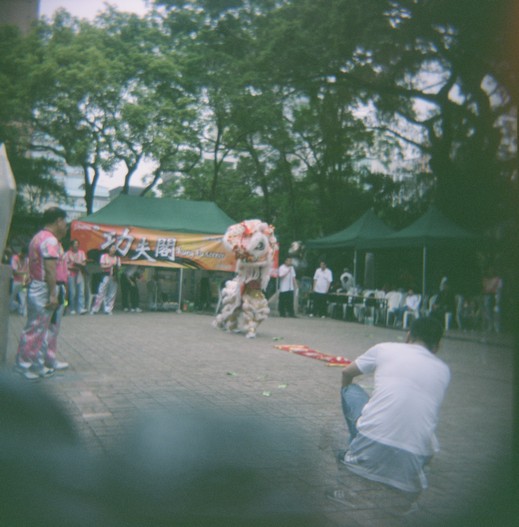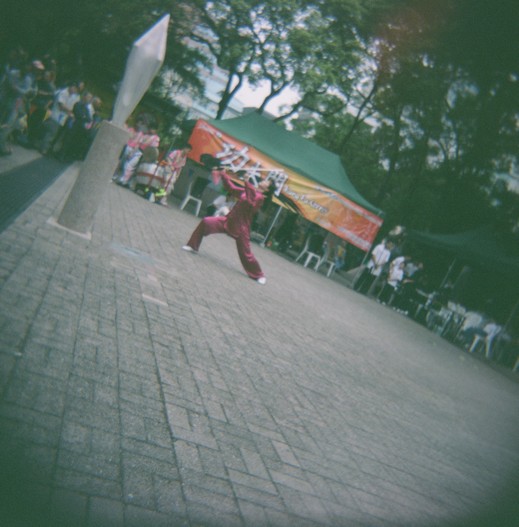 (The shot of the multiple exposure technique I was talking about)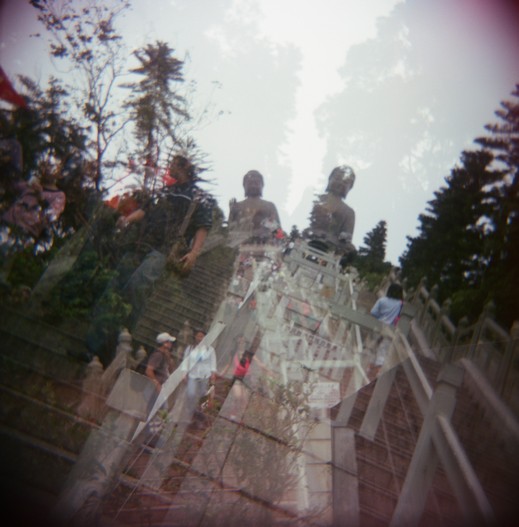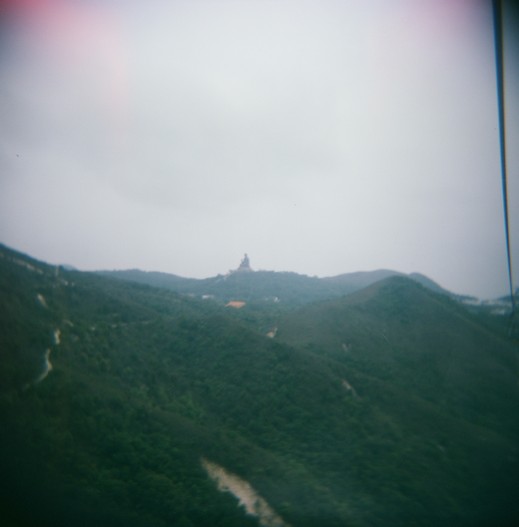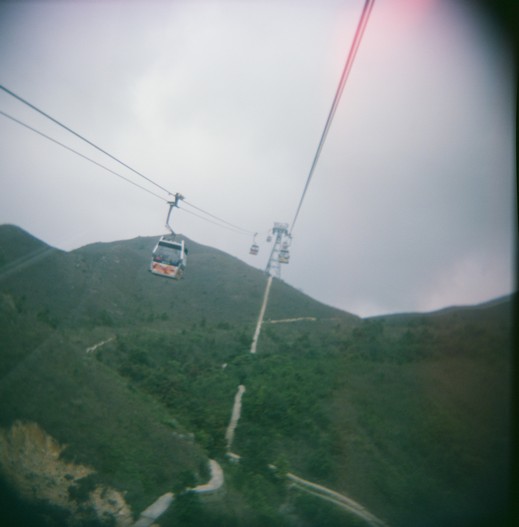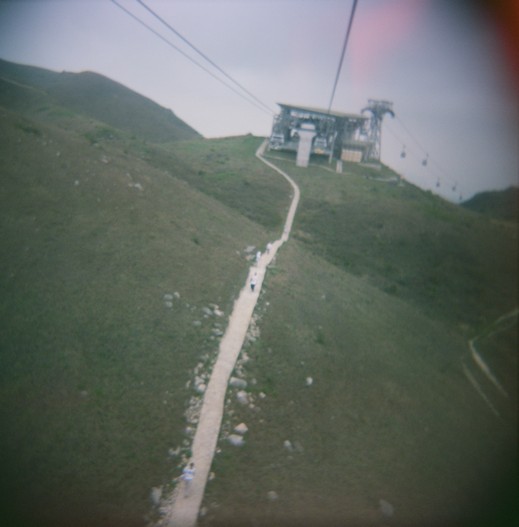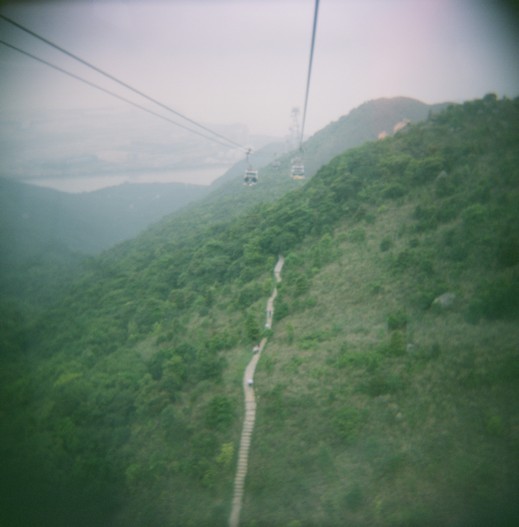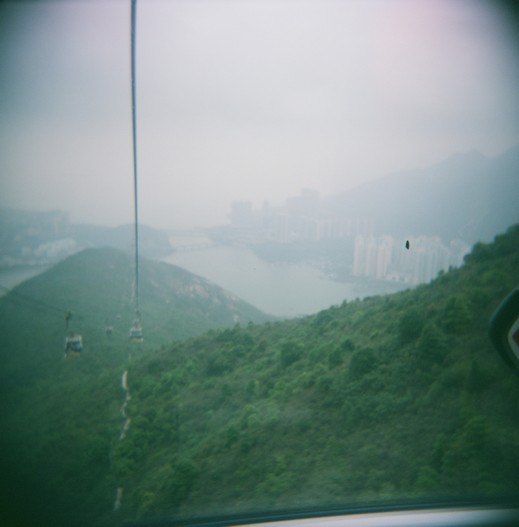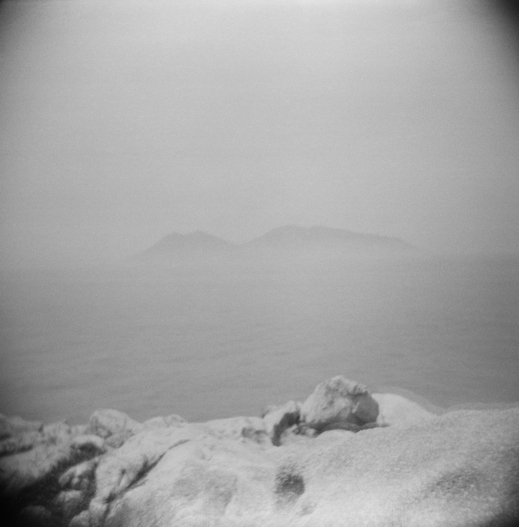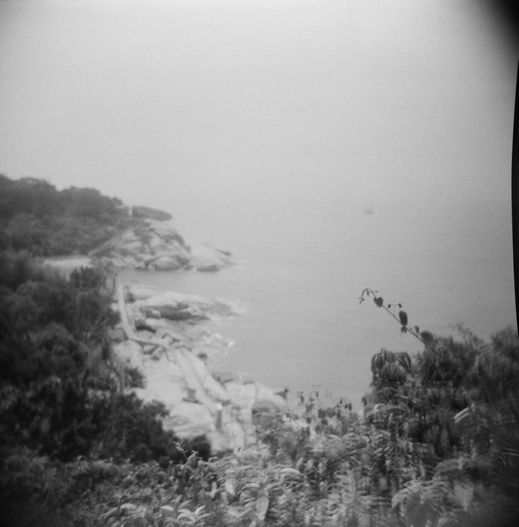 (Another shot of the multiple exposure technique at Kung Fu corner in HK park in Kowloon)

(guys at the outdoor kiosk meat stand wasn't too happy to see me!)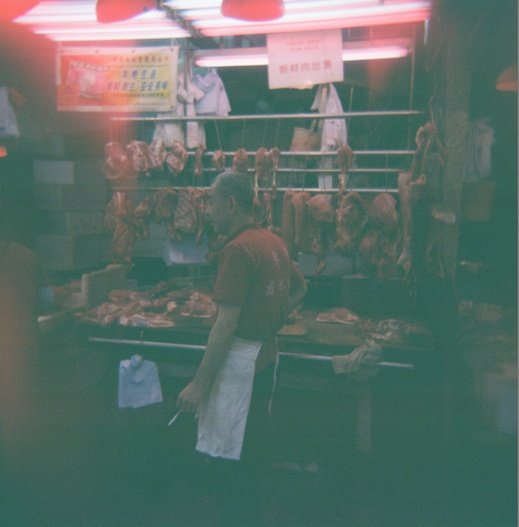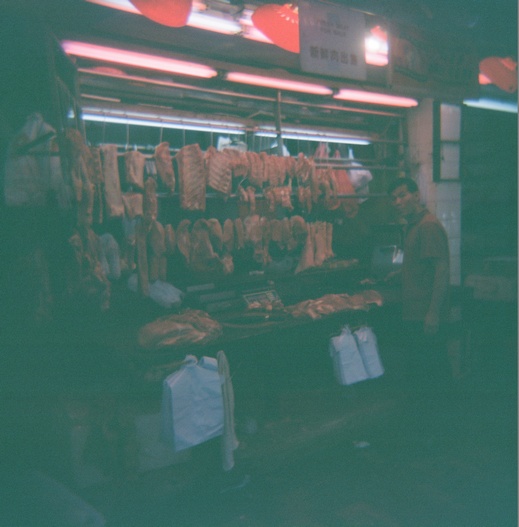 (with the old and traditional come the modern)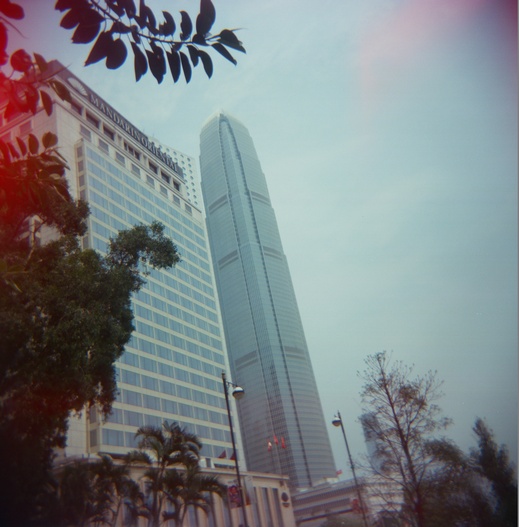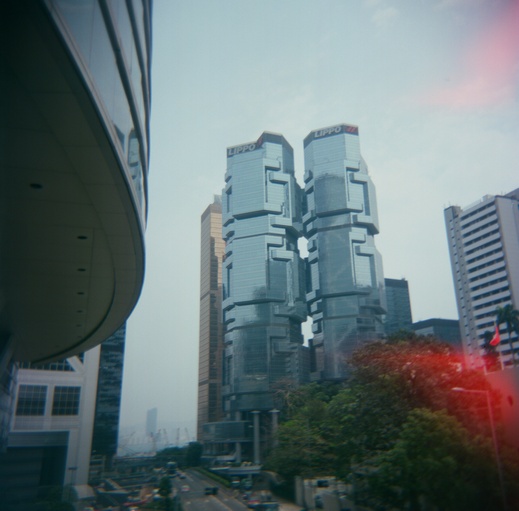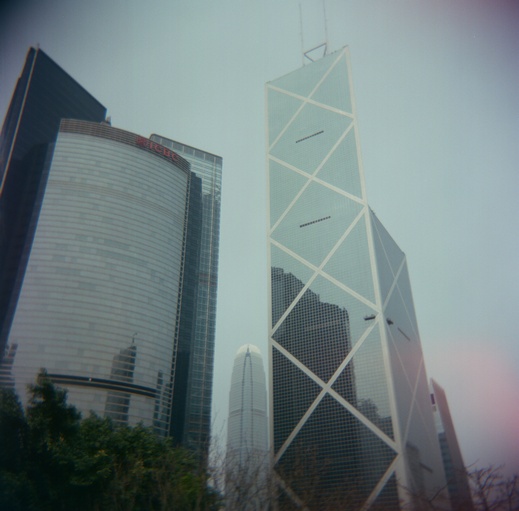 (this is what we call scaffolding. In HK, it's done with bamboo poles!)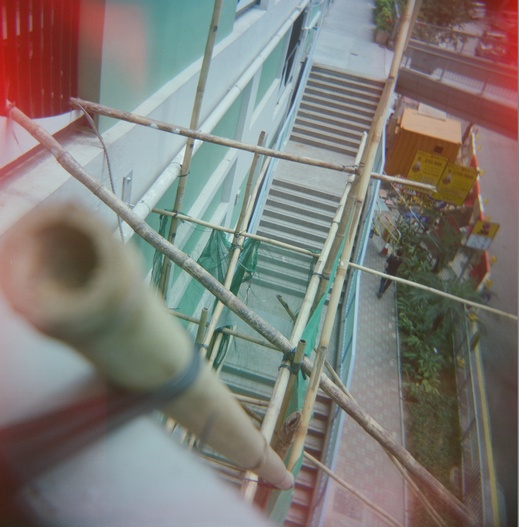 Tags: 120 film, black and white, holga, hong kong, low fi, photos
Posted in mr. c, photos, travel | Comments (0)
September 1st, 2016 by chocko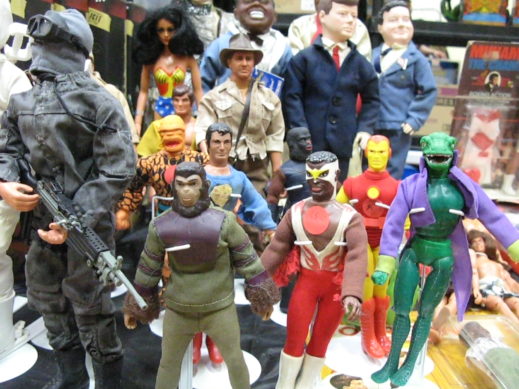 Last weekend Chocko explored the world of ToyConNJ5 located in Parsippany, New Jersey where toy collectors and game enthusiasts gather to pick up new and vintage collectibles. It was my first time at ToyConNJ and it was an impressive show which features 3 large vendor rooms filled with tables of toys of all genres, movies, original art, model kits, board games,…there really was something for everybody. The hallways were filled with tables of action figures and more toys and there was also a room devoted to video games, pinball machines and gaming. ToyConNJ6 is happening on the weekend of November 12 and 13 at P.A.L., 33 Baldwin Rd, Parsippany, NJ. That might be a good time to start shopping for the holidays. Now you know, and knowing is half the battle!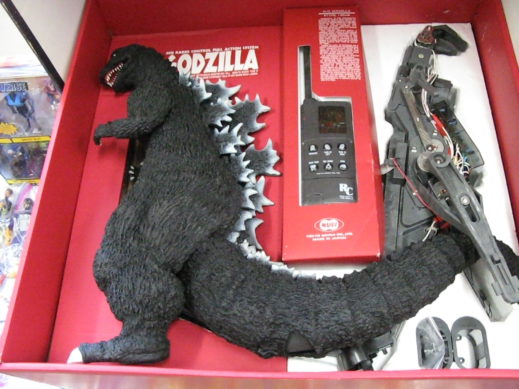 This motorized Godzilla is a replica of what was used to make some of the movies. It cost more than my car. The friendly vendor (cool vibes all around at ToyCon!) also had a motorized Mothra larvae for sale!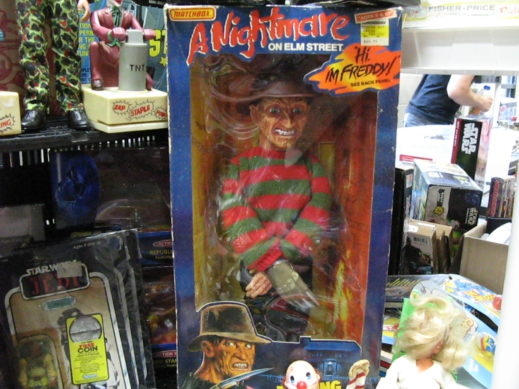 There were plenty of horror collectibles in the house including Freddy Kreuger from Nightmare On Elm Street and Monster Scenes model kits.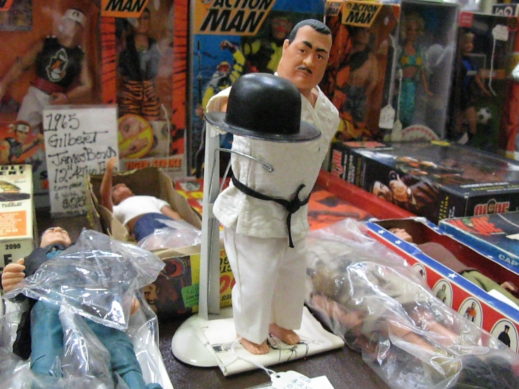 Here is an Oddjob action figure from the 1960's. The character from the James Bond movie, Goldfinger known for slinging his deadly derby, was played by Toshiyuki "Harold" Sakata who also threw his hat into the ring (no pun intended) as a professional wrestler under the name Tosh Togo.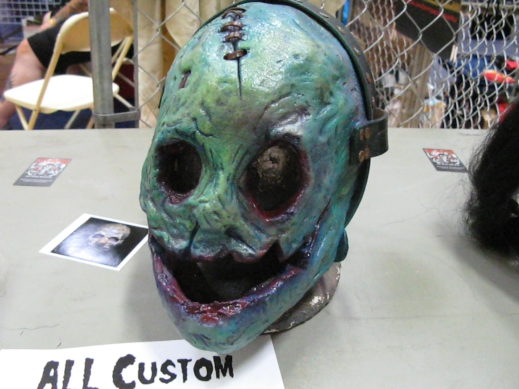 Halloween is just around the corner, ghouls…time to get creepy!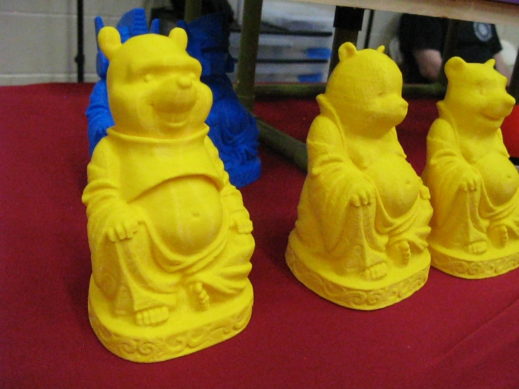 Handmade in New Jersey, Muckychris (lead singer of Jersey hardcore thrashers Mucky Pup!) makes all sorts of objects with a MakerBot Replicator 3D printer. The Zen Buddhas, a mashup of Buddhas and pop culture, have to be seen to believe. Winnie The Pooh-dha?!? Oh, bother.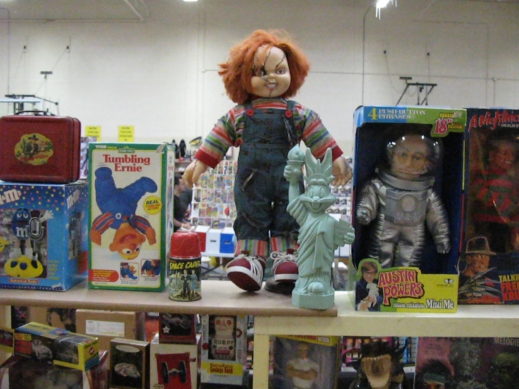 If you think ToyConNJ and collecting toys is Child's Play, guess again!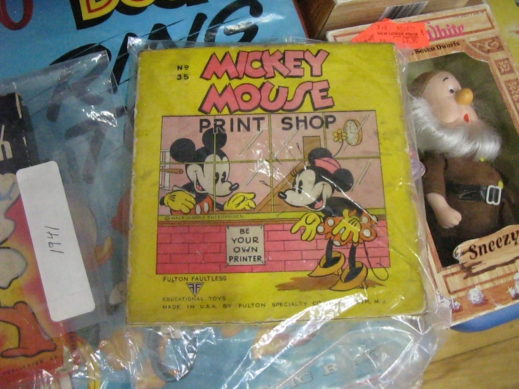 Sweet vendors, Larry and Sue have an impressive Disney collection that's nothing to sneeze at. Why buy a 3D printer when you can get a 1935 Mickey Mouse Print Shop? Cool piece made in Elizabeth, NJ. Oh, boy!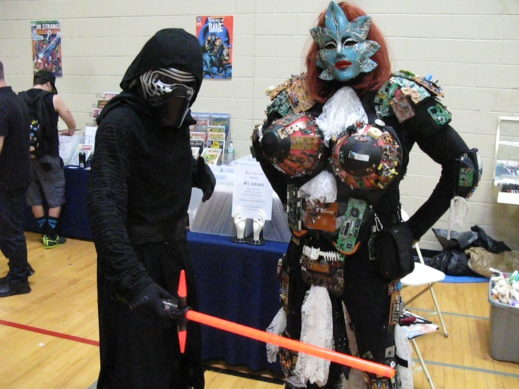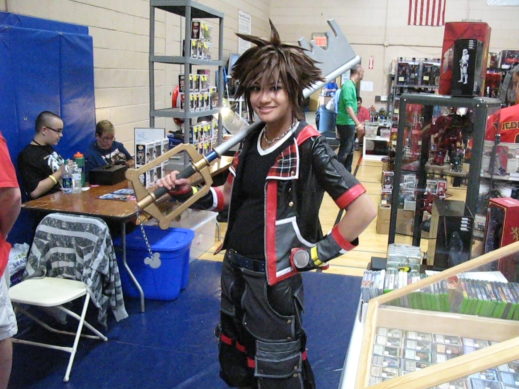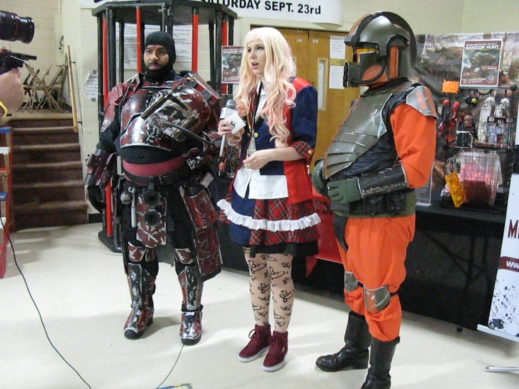 The first thing I saw pulling into the parking lot was Cobra Commander walking around. No need to call Snake Eyes or yell out "YOOO JOE!" before pulling out a rocket launcher out of the trunk, it's cosplay and Costume Contest Saturday! Anime, super heroes, super villains and Star Wars' Kylo Ren were in attendance and happy to pose for the camera.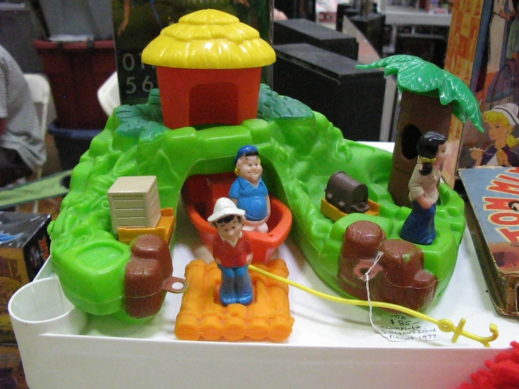 Gilligan's Island was a favorite television show in our household growing up and this toy was floating around in our bathtub at some point. The complete set was at the show for $85. That's a lotta coconuts! More pics of toys from childhood below including Secret Wars Tower of Doom!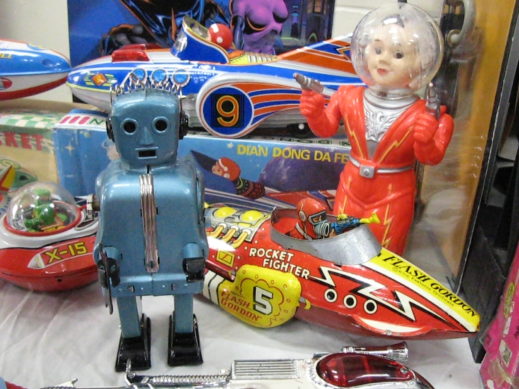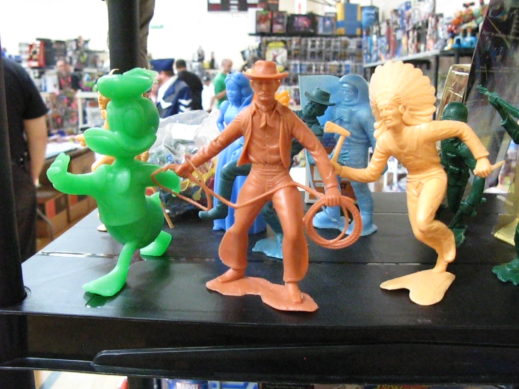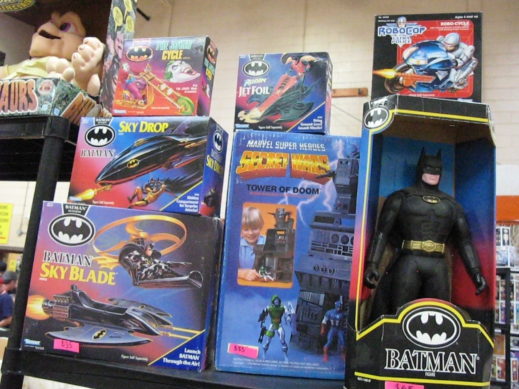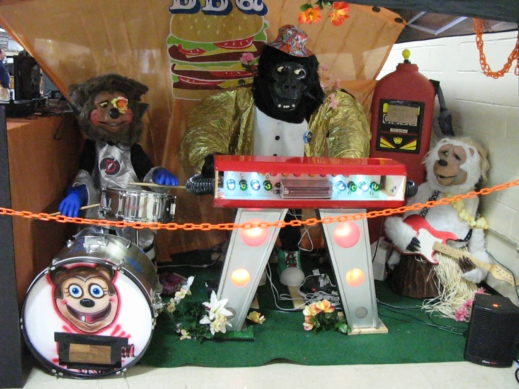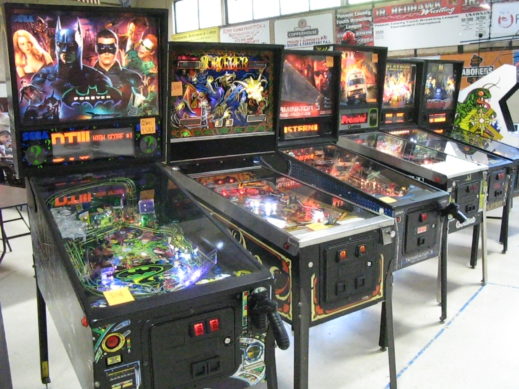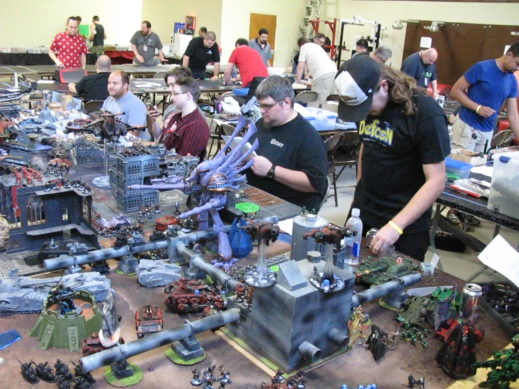 As soon as you enter the Game Room, I couldn't help but notice the animatronic band perhaps rescued from a Showbiz Pizza Place? Looks like they've seen better days but still awesome to see in person again. There were pinball machines lined up and ready to play, virtual reality games and video game consoles set up for gamers down for some 8bit action. There were also tables filled with miniature figures and mostly dudes rolling dice and playing Warhammer 40K Megabattle. Hardcore stuff!

These aren't the toys you're looking for. You want to go down the hall and make a left for the Iron Horse Cinema fan films program.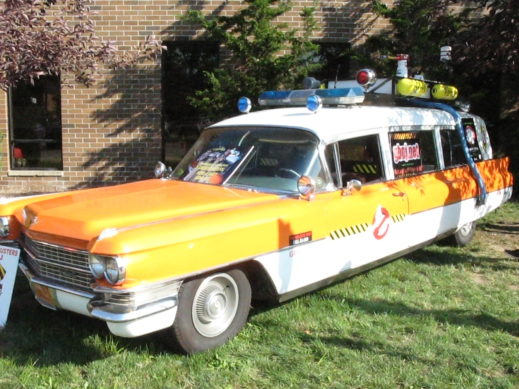 Total fun times at ToyConNJ5! There were door prizes every half hour, Ghostbusters and Ectocooler outside along with pony rides for the kids and so much more. Can't wait for ToyCon6 in November. See you there!
Check out Chocko (njmisfit) and Mr. C (planetchocko) on instagram.
Follow @planetchocko on Twitter. LIKE us on Facebook too. Thanks!
Tags: action figures, collectibles, new jersey, nj, parsipanny, toy convention, ToyConNJ, ToyConNJ5, toys
Posted in art, chocko, comic books, movies, music, photos, toys, TV | Comments (0)
August 28th, 2016 by Mr. C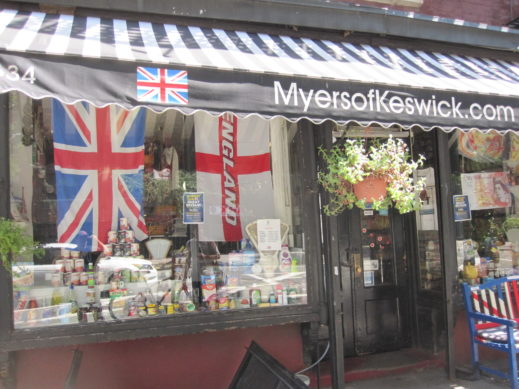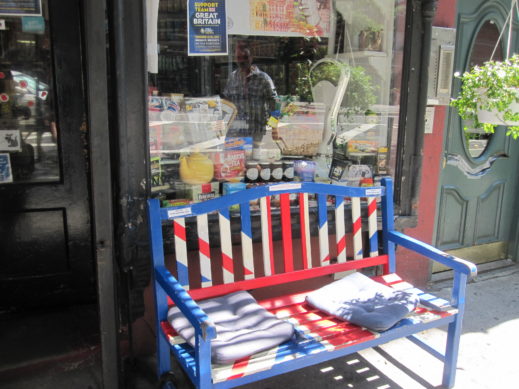 (British grocery store – Myers of Keswick on Hudson Street in the West Village)
——————————————————————————————————————–
Yesterday, the Planet Chocko hopping vampires signed up for a free bike tour of what I thought was a cruise around Upper Manhattan by 86th St and East river/Carl Shurz Park and then perhaps a dip into Central Park. But I was pleasantly surprised! We ended up crossing over to the borough of Queens via the 59th Street Bridge, casually cruised through Queensbridge & Long Island City to our final destination – Roosevelt Island! I've been to Roosevelt Island numerous times by Tram but never via bicycle across the Roosevelt Island bridge. It would be a great way to tour the Island!
(Sayanora Manhattan – Queens by all means! 59th St bridge!)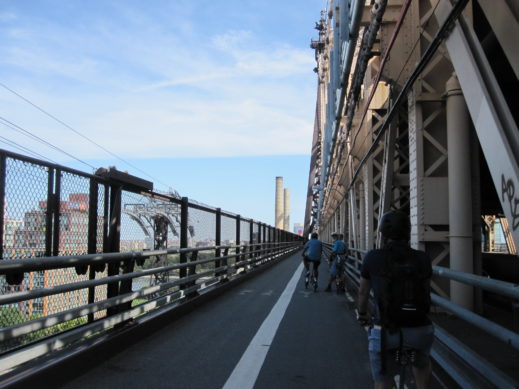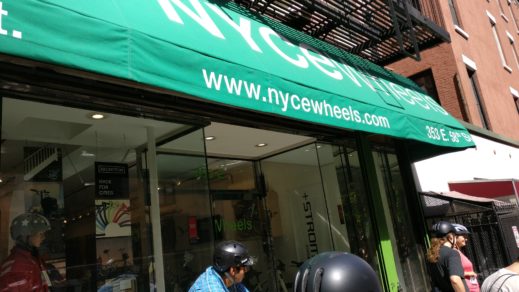 Our host and guide of the bicycle tour was foldup bicycle experts – NYCe Wheels on East 58th Street/1st Ave! The weapons of choice for the bike ride is arguably the most well built & diminuitive foldup bicycle setup in existence today – Made 100% in London,England – The Brompton! They've been around since 1975 ! I've been enjoying my Dahon (Taiwanese) foldup bicycle since 2003 amongst the NYC streets, NJ bike paths, & bike tours like the 5 Borough Bike Ride and the Tour De Bronx but last year I had the itch for the Brit! I picked up my first Brompton 6 speed 1.5 years ago and I'm enjoying it more and more as I discover its nuances and personality everytime I take it out for a spin. If you're remotely interested in the culture & functionality of foldup bicycles, the folks at NYCe Wheels are a great resource to go to.
(Gathering the crew and making sure the bikes are a go at NYCE Wheels)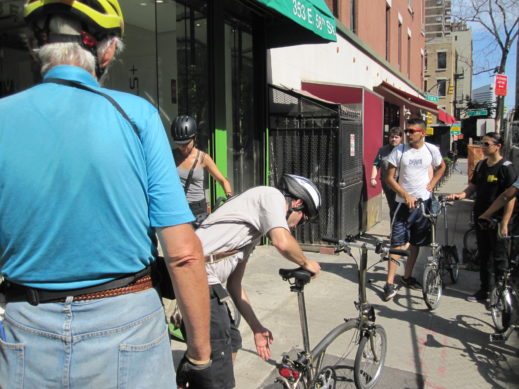 (This is my little foldup Brit for the day! A 2 speed Brompton wishing I had more gears but it will suffice!)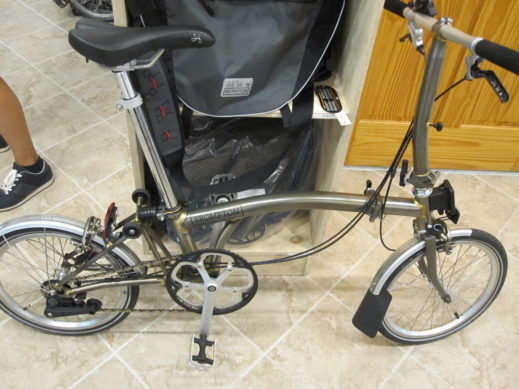 Before all the bicycling would commence, we would fuel up our zombie hardbodies with some snacks. Since it's a British Invasion theme, we stopped at Myers of Keswick, a traditional British Grocery store in NYC since 1985 ! Lots of scrumptious looking english goodies including savory pies like the steak & ale,pork pie,scotch eggs,lamb curry pie, & shepherds pie don the refrigerated case! We got the pork pie and it was as homemade and country as England can get! Myers of Keswick is a neat timewarp of a grocery store with the old wooden fridge with beverages in the back and old school butcher shop cabinets from a bygone era. This English bodega must bring a lot of homesick British ex-pats a lot of smiles and comforts from back home! I must try those bangers(sausages) at Myers of Keswick next time!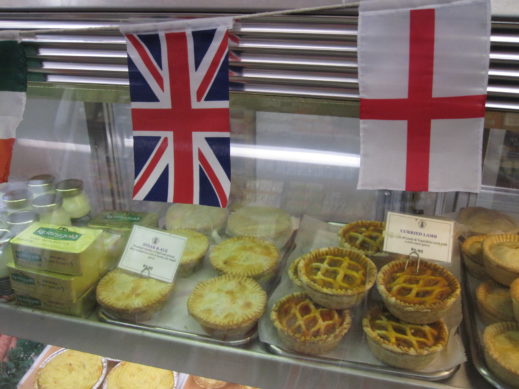 (savory english pies of all kinds! Steak & Ale,Curried Lamb)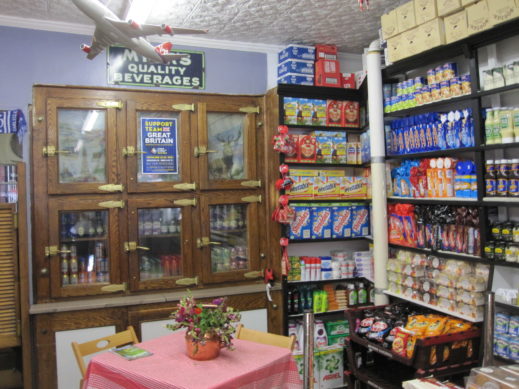 (Time warp – wooden fridge with beverages!)
Myers of Keswick
634 Hudson Street (between Horatio and Jane St.)
New York NY 10014
NYCe Wheels
353 East 58th Street (1/2 Avenue)
New York, NY 10022
————————————————————————————————————————-

(Getting closer – Power Plant stacks, you're on my sights!)

(We make it over and wait for a few that are struggling – younger kid was throwing up)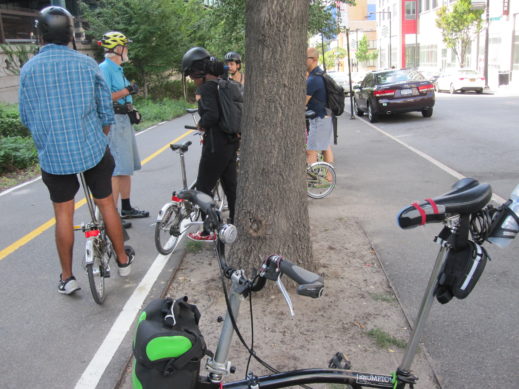 (We march on forward – Roosevelt Island is on our minds but first have to troll past Queensbridge & Long Island City!)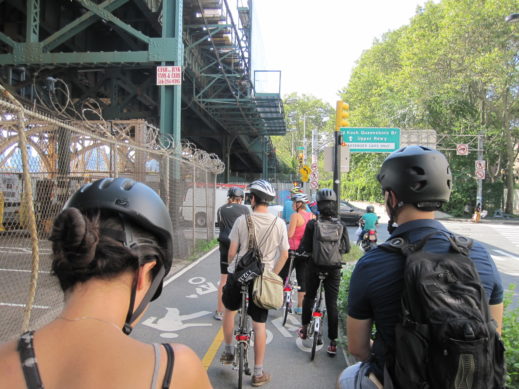 (the Roosevelt Island Bridge in sight!)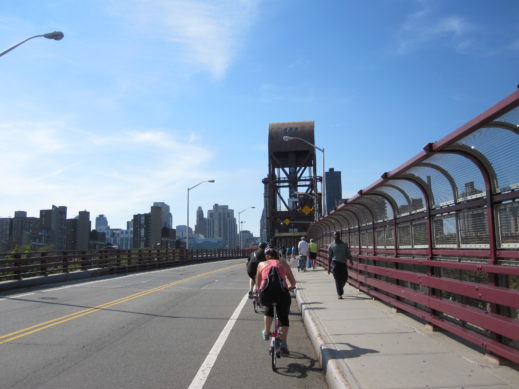 (while cycling on the Roosevelt Island bridge, I glance at 59th Street bridge to my left)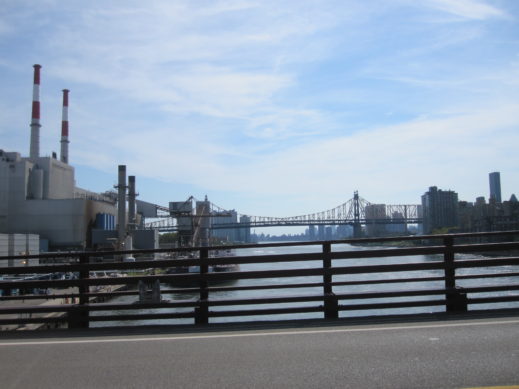 (The Octagon Building at Roosevelt Island)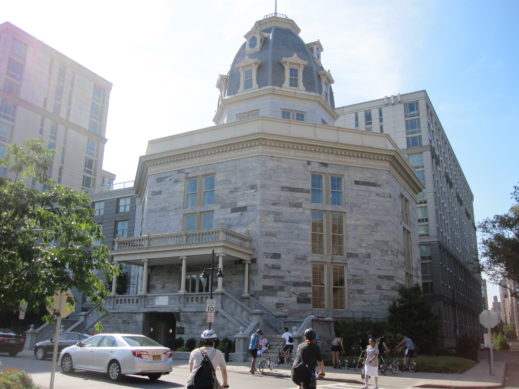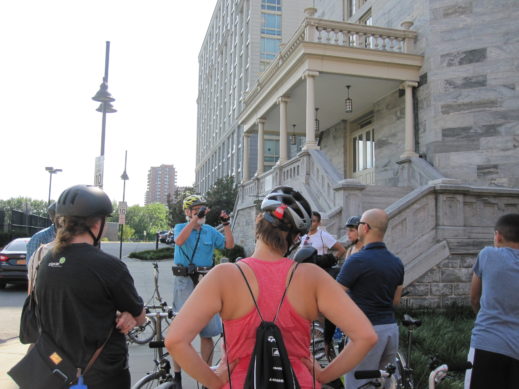 (cycling towards the lighthouse)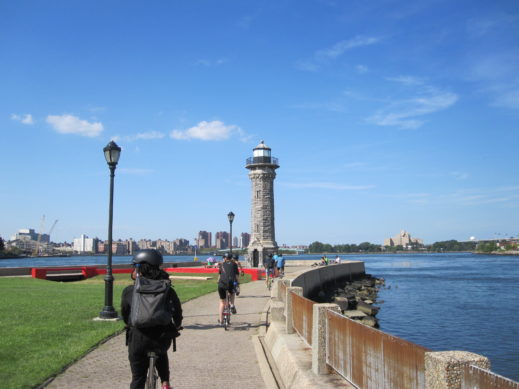 (Triboro Bridge in the distant background)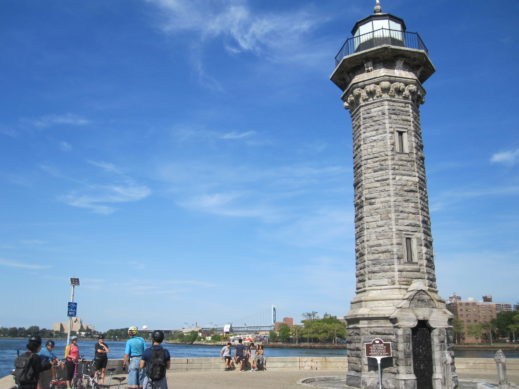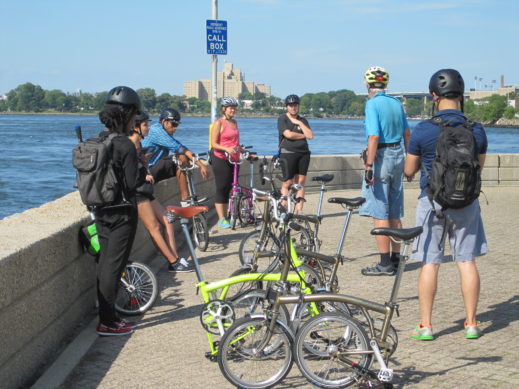 (cycling on the other side of Roosevelt island facing Manhattan)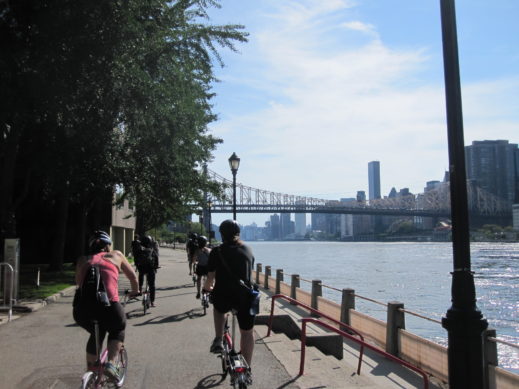 (The Roosevelt Island Tram station)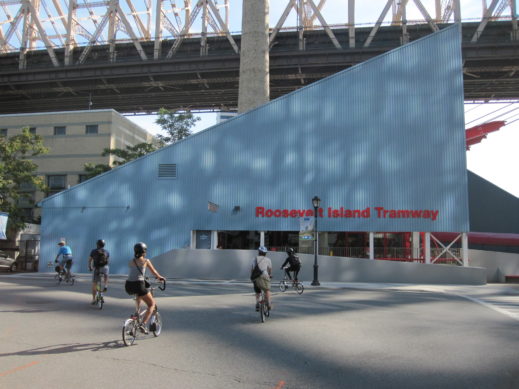 (once a Small Pox hospital – now just ruins and off limits. Structure is unstable)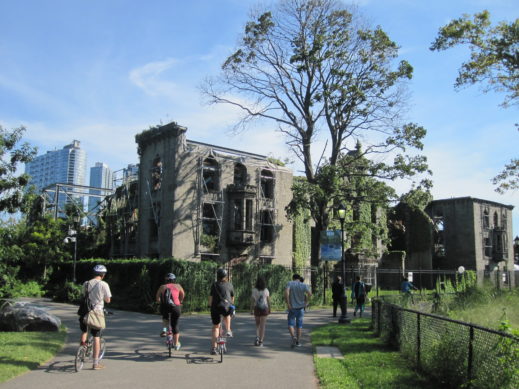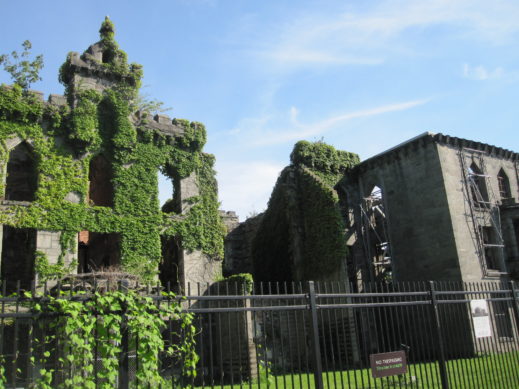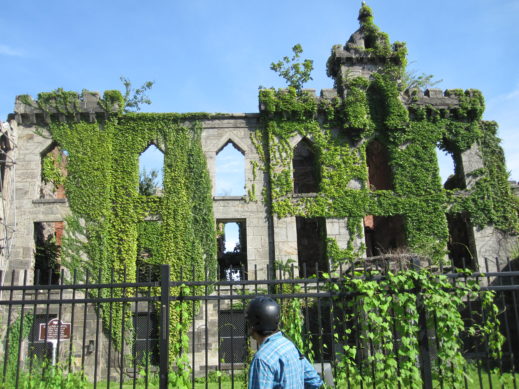 (maybe we should take the Tram back and save the muscle burn?!)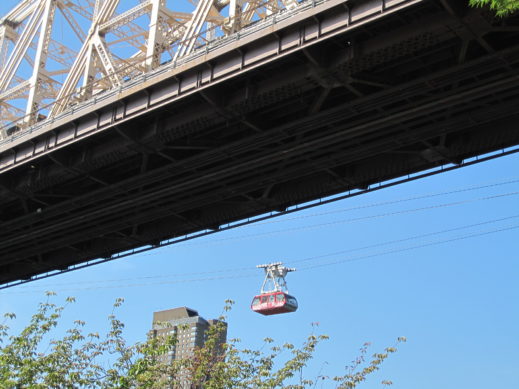 (Maybe not, let's back track – Roosevelt island Bridge back to Queens)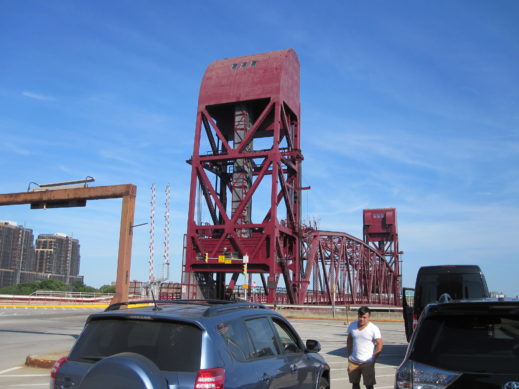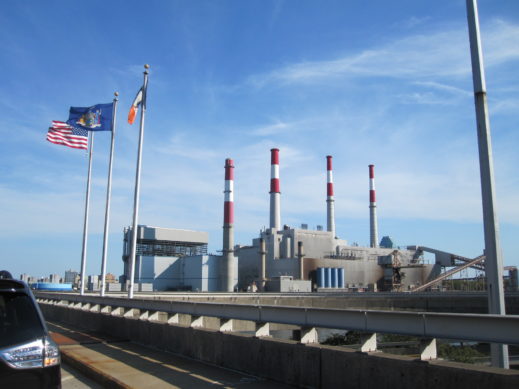 (navigating through Queensbridge Park to get back to 59th Street bridge)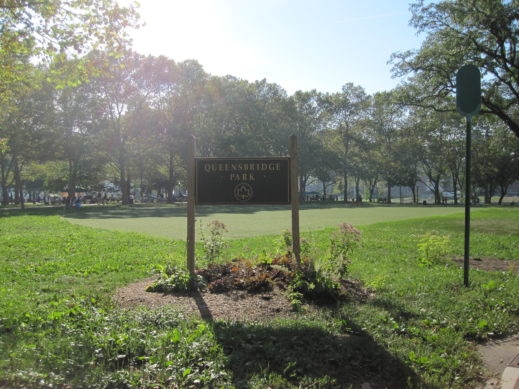 Tags: Bicycle tour, Brompton, nyc, NYCE Wheels
Posted in community, food, mr. c, photos, sports | Comments (0)
August 25th, 2016 by chocko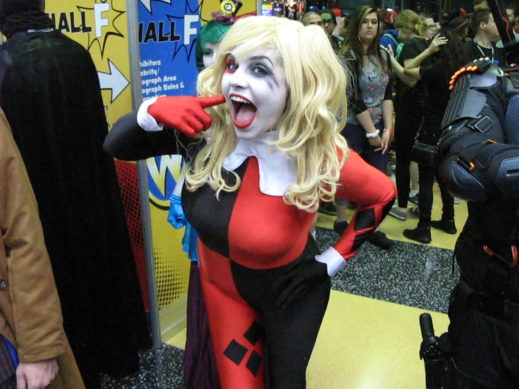 After a few short stops on the Blue Line from O'Hare International Airport, Chocko and his sibling tag team partner Young Gunner, found themselves at Wizard World Comic Con Chicago. On a Saturday, probably their busiest day but easy to navigate compared to the huge beast of a Con out in San Diego and the hot mess in NYC. There was plenty of elbow room to dig around and wander the convention floor. Most of our day was devoted to WWE Superstars, Nikki & Brie, The Bella Twins. If you got some extra dough burning a hole in your pocket, it's totally worth it to get VIP passes. We got to the Bella Twins photo op line which moved fast and with the VIP passes, you get placed in a separate line that goes first before general admission. After a few brief words with Nikki & Brie, mostly stammering, stuttering and twitching, they pose with you then you're whisked away to where your photo shoots out of a printer and is ready for you to take home, frame and display above the mantelpiece.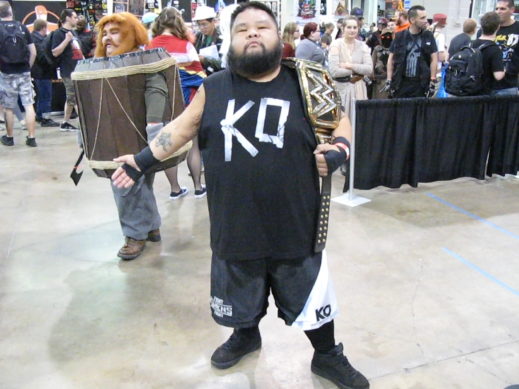 Love the Chicago cosplay but Wrestling Cosplay rules! Will Kevin Owens be the next WWE Universal Champion? Maybe with Bombur in his corner! This dude's KO cosplay gets a Chocko 5 out of 5 elbows off the top rope.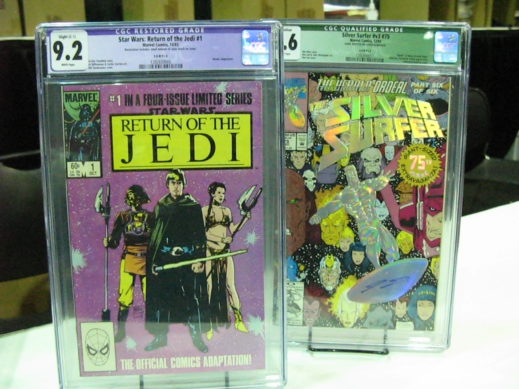 So, bagging and boarding is not enough anymore. If you wanna 1-up your fellow geeks, you have to ship out your comics to companies that will grade them, ship them back to you in hermetically sealed cases with a nifty holographic sticker slapped on it, ready for the auction block.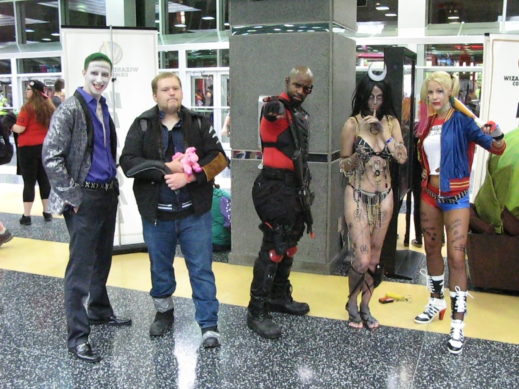 Suicide Squad cosplay was running rampant in the lobby and halls of the con. Multiple Harley Quinn sightings…no complaints here. HQ killin' it!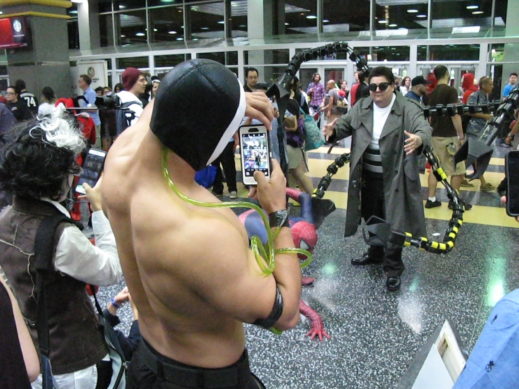 Even Bane got his fanboy on, taking a pic of the Doctor Octopus cosplay.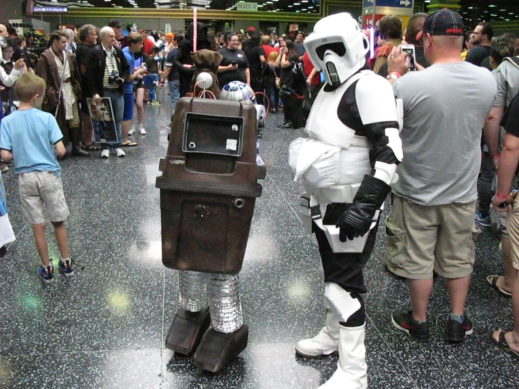 This trashcan droid gave me a flashback to the 70's. Loved the action figure. Gonk! More cosplay photos below including somebody dressed up as a Dancing Groot, Wednesday from The Addam's Family, a Tusken Raider with a baby, The Thing from Fantastic Four, Bombur from the Hobbit movies, The singing plant from Little Shop of Horrors, Lobo (everybody's favorite bounty killer from outer space), X-Men (Angel and Storm), The Joker and Harley Quinn and Doc and Marty McFly from Back To The Future. Anime and Manga Cosplay was also in the house.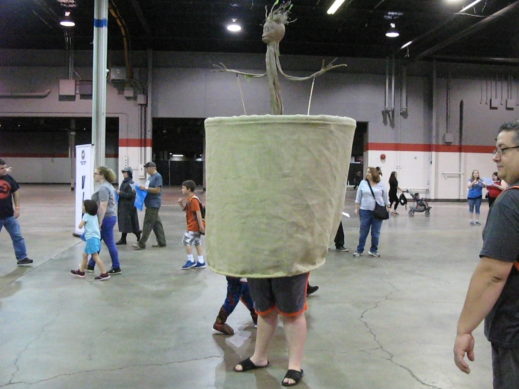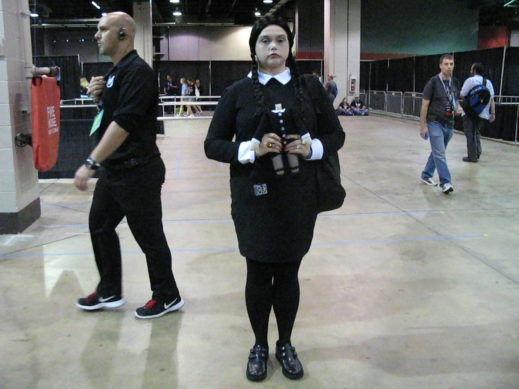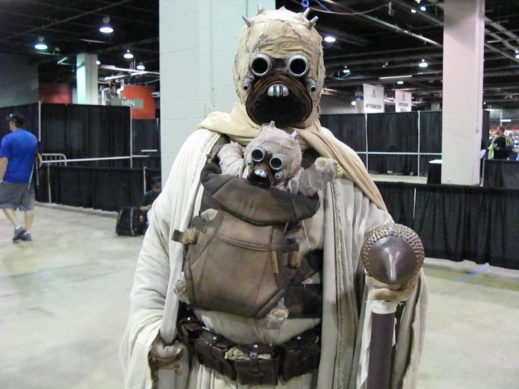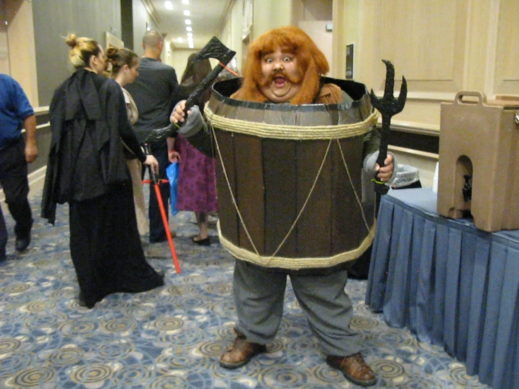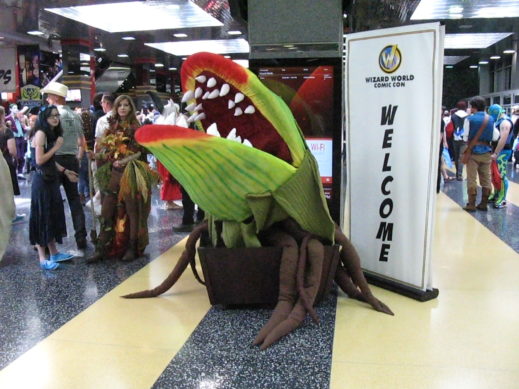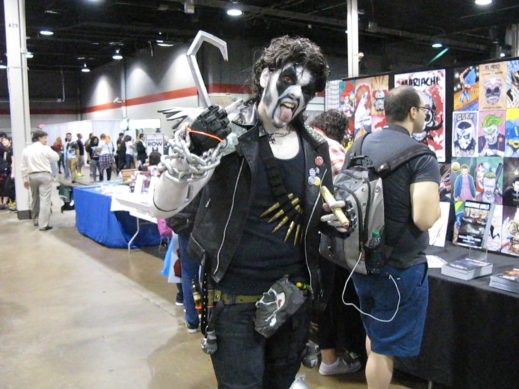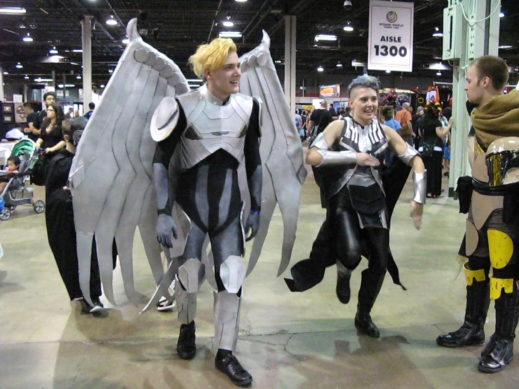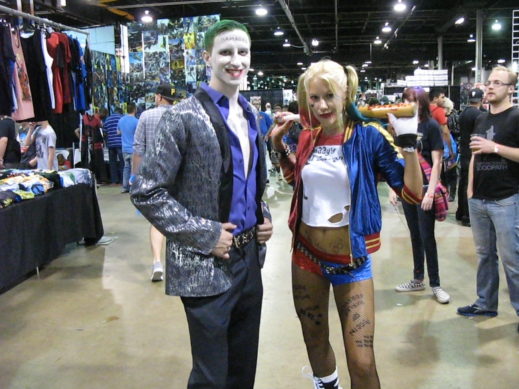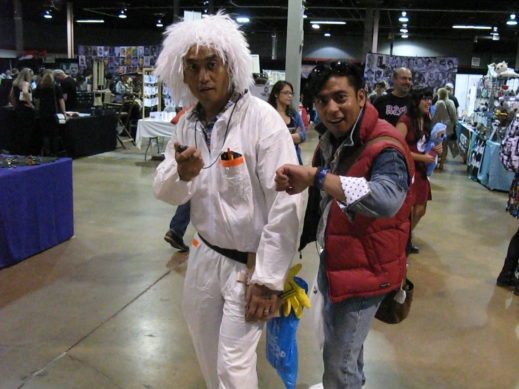 It was an awesome day at the Chicago Comic Con. Less stressful than other cons I've attended. Definitely recommended! My only complaint was the food at the snack bar. I've never seen pizza so ugly looking. They were out of cheeseburgers too! Your best bet is to pack some food or eat before you get to the convention. Finally, we got our Bella Twins autographs which was pretty fast and painless. Looks like Wizard World has some quality programming too. Hopefully nobody had to sleep overnight in the parking lot to get to any of them. We capped off the day with The Bella Twins Q&A panel. The ladies were running a tad bit late but the host and moderator, Mo Lightning (conSMASH podcast, WrestlingAudio.com) kept the crowd entertained while we waited for the panel to begin. Check out a video from the Bella Twins panel below!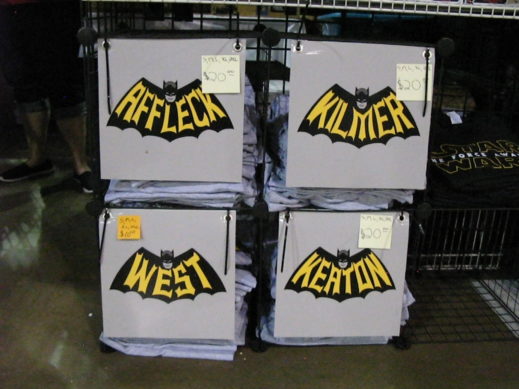 Check out Chocko (njmisfit) and Mr. C (planetchocko) on instagram.
Follow @planetchocko on Twitter. LIKE us on Facebook too. Thanks!
Tags: 2016, Brie Bella, chicago, comic books, comic con, cosplay, Nikki Bella, review, The Bella Twins, wizard world, wwe
Posted in art, chocko, comic books, fashion, movies, photos, toys, travel, TV | Comments (0)
August 13th, 2016 by chocko
Salt N Pepa at Terminal 5 August 9, 2016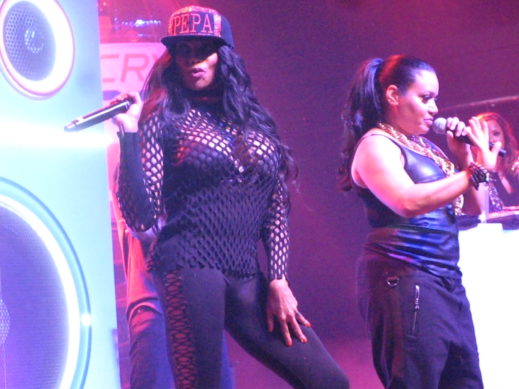 DJ Spinderella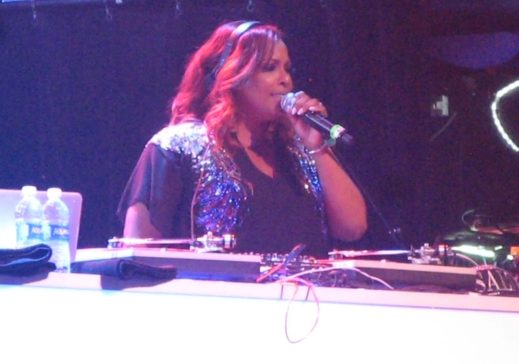 En Vogue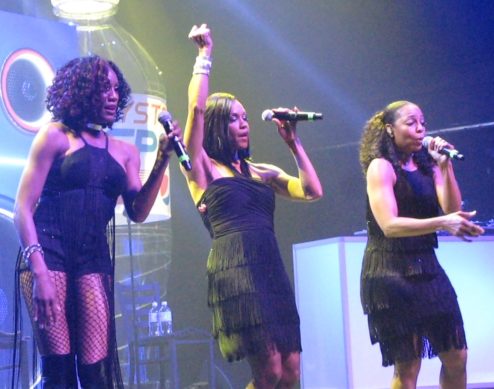 Biz Markie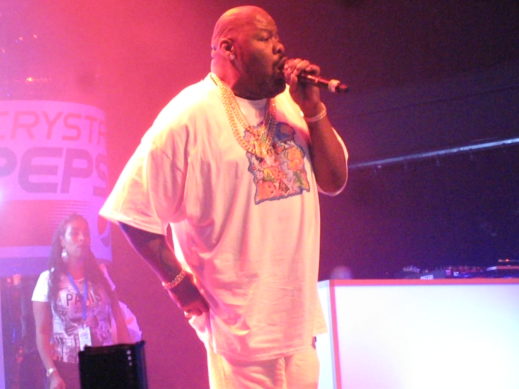 The Crystal Pepsi Summer of '92 featured artists from that totally awesome era including Lisa Loeb, Biz Markie, En Vogue and Salt N Pepa with DJ Spinderella. The 90's party also featured a retro arcade with classic video games, a hair salon to get your 90's look on point (Chocko got his Cesar cut and sideburns and goatee touched up), a Smells like the 90's art wall and a bar with an endless supply of Crystal Pepsi. There was a mini 90's retro mall with free swag…fanny packs, t-shirts with graffiti designs and hats to match. I missed the opener, Lisa Loeb but I heard she sounded amazing and shared a great story about how her break through hit "Stay" ended up on the soundtrack to the movie Reality Bites. Biz Markie and DJ Cool V crushed it on the stage with a mix of old tracks like "Pickin' Boogers" and "The Vapors" along with Biz Markies's versions of songs by Rick James (the crowd sang "Mary Jane" at the top of thier lungs), Prince (Biz hitting that falsetto for "Kiss" made me laugh), and Michael Jackson. En Vogue tore the roof off the place with a steady, smoldering set of hits including "Giving Him Something He Can Feel," "My Lovin" and "Don't Let Go" off the soundtrack of Set If Off. The group at this point in time consists of original members Cindy Heron-Braggs, Terry Ellis, and newest member Rhona Bennett. The ladies also performed a new single "Déjà Vu" which was an absolute treat…the single is their first release in over five years. Salt N Pepa along with DJ Spinderella headlined the party and showcased everything we all love about old school hip hop. Their set not only showcased excellent MC's on the microphone, but there was also tons of hip hop choreography and dance moves. The DJ even got some shine when playing some tunes to see if the crowd remembered some old school jams like "It's Tricky" by RUN DMC. Spinderella woke up the crowd for sure when she threw on some "Sweet Child 'O Mine" by Guns 'N Roses and "Smells Like Teen Spirit" by Nirvana. The impromptu dance party on stage while Spinderella played "Girls Just Wanna Have Fun" by Cyndi Lauper with all the girls in the audience bum rushing the stage was a definite highlight. Another highlight was when En Vogue was invited back on stage for "Whatta Man" which both groups collaborated on in the early nineties. The set concluded with Salt N Pepa throwing on some old school leather jackets and performing their monster smash, "Push It." Get up on this! Check out below for more photos and videos from the Summer of '92 show!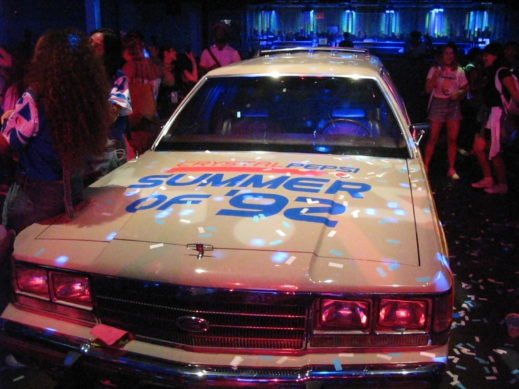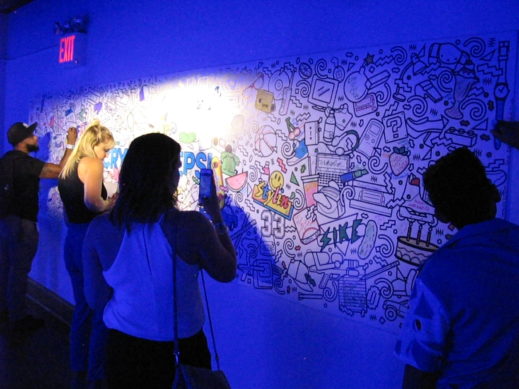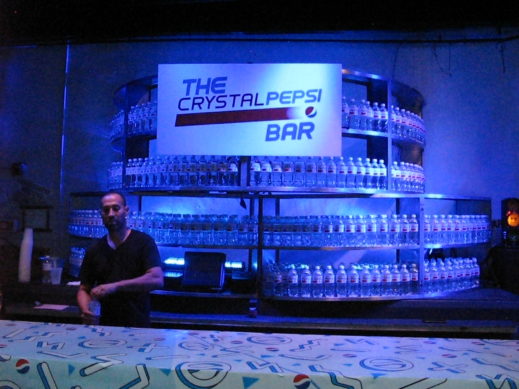 Tags: biz markie, crystal pepsi, dj spinderella, en vogue, hip hop, new york city, nyc, old school, salt n pepa, summer of 92, terminal 5
Posted in art, chocko, fashion, music, photos | Comments (0)
August 8th, 2016 by chocko
Pearl Jam at Fenway Park August 5, 2016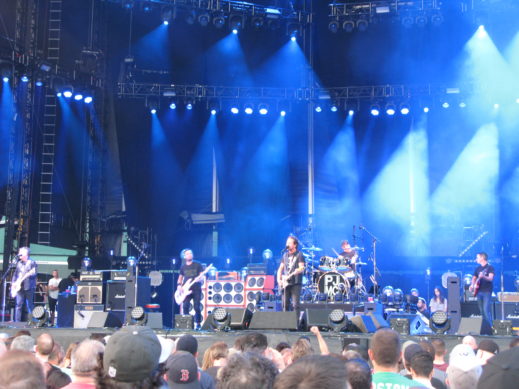 Pearl Jam are rounding the bases, nearly completing their 2016 tour but made a stop on Friday night at the home of the Boston Red Sox, Fenway Park. The 3 hour show featured no opening act and a career spanning, 32 song set list that featured covers and surprise cameos from some Red Sox baseball players. In the middle of the epic show, frontman, Eddie Vedder took the time to share some old polaroid photos projected on the big screens surrounding the stage. Most of the photos were of the small crowds that watched the band play their early years in clubs in Boston, Providence and NYC (damn, wish I went to their Wetlands show!). Two other photos were of Fenway Park which Vedder took after climbing a fence and sneaking through some corridors. Fast forward to the present, and here we are in center field and PJ is playing a sold out show in front of thousands including The Green Monster towering over left field!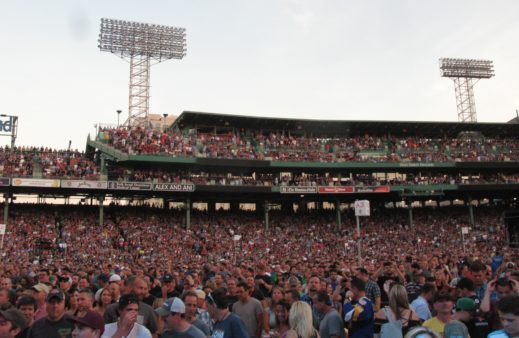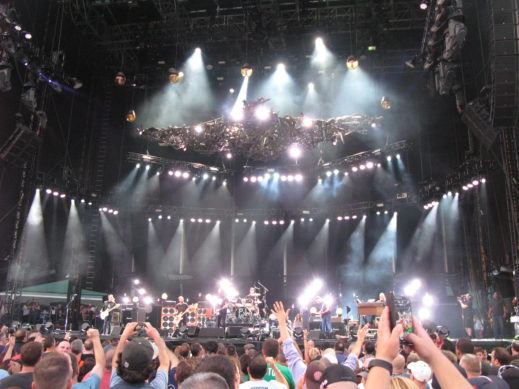 Former Red Sox pitcher, Bronson Arroyo strapped with a guitar, joined the band on stage for "Black" and Kevin Youkilis made a cameo appearance to hand Vedder a ukulele. The Boston love continued throughout the show when veteran sportswriter Peter Gammons was invited on stage. Pearl Jam dedicated "Faithfull" to David "Big Papi" Ortiz and "Down" was dedicated to American historian and social activist, Howard Zinn. The show features some songs the band rarely plays including Bob Dylan's "Master of War" which was followed up by a punked up version of Little Steven's "I Am A Patriot." Other covers included Pink Floyd's "Comfortably Numb" and Aerosmith's "Draw The Line" which was followed by a little shout out to Joe Perry. The show went into extra innings but the final two hits were also covers: "I've Got A Feeling" (The Beatles) and "Baba O'Riley" (The Who). Pearl Jam will be swinging for the fences once again for a second show at Fenway and at Wrigley Field in Chicago Aug. 20 and 22. Check out more photos and some videos below!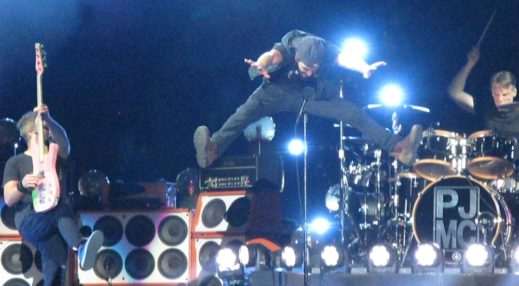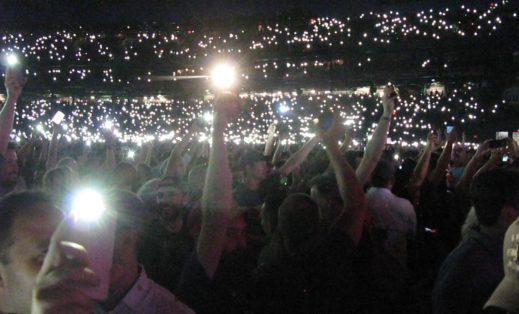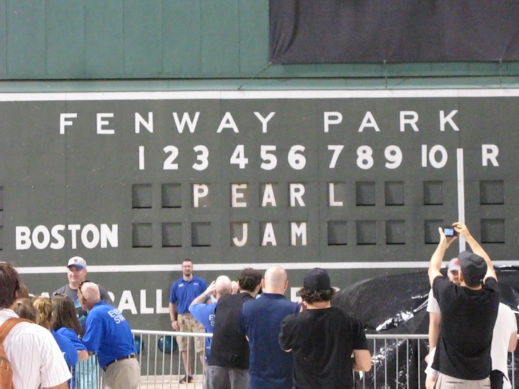 Check out Chocko (njmisfit) and Mr. C (planetchocko) on instagram.
Follow @planetchocko on Twitter. LIKE us on Facebook too. Thanks!
Tags: 2016, boston, concert, eddie vedder, fenway park, pearl jam, tour
Posted in chocko, music, photos, sports, travel | Comments (0)