October 28th, 2016 by chocko
Hey zombies and vampire girls! It's Chiller Theatre time once again..a Halloween weekend celebration of all things horror, sci-fi and everything else in between. It's the ultimate toy, model and film expo you don't want to miss. Get out of your stanky crypt and head out to Parsippany, New Jersey and party with all the Frankenstein hippies and Big Foot freaks. Here's a look back at Chiller Theatre in April 2016 through a ton of photos and some videos below of some of the musical guests. Rest in Peace to some respected figures that we always had a pleasure running into at Chiller: Ted V. Mikels, Herschell Gordon Lewis and most recently the Cool Ghoul, Zacherle who retired last year after being the host at Chiller Theatre for the past 25 years. They will all be sorely missed.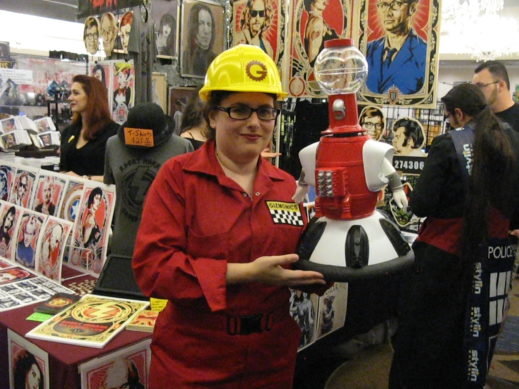 Mystery Science Theater 3000 Cosplay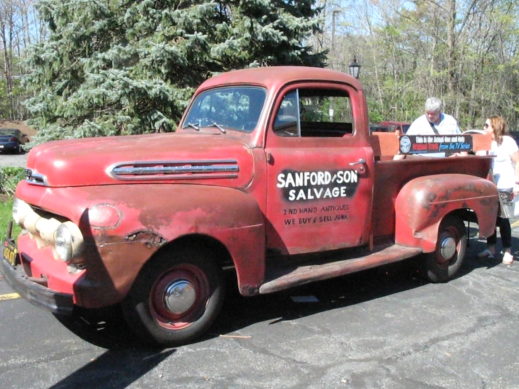 1951 Ford F1 Sanford And Son Pickup Truck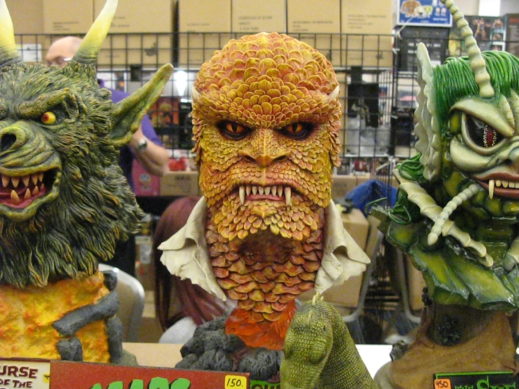 Many strange things for sale at Chiller Theatre. Buy 'em all!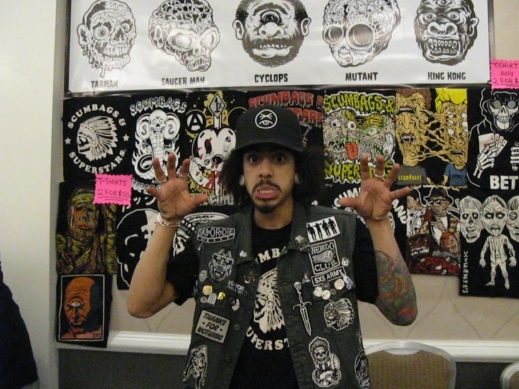 From the L.E.S. in NYC, Scumbags & Superstars. Killer shirts and patches.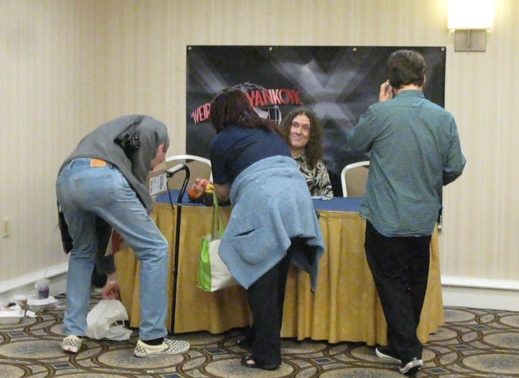 One of the many guests at Chiller: "Weird Al" Yankovic.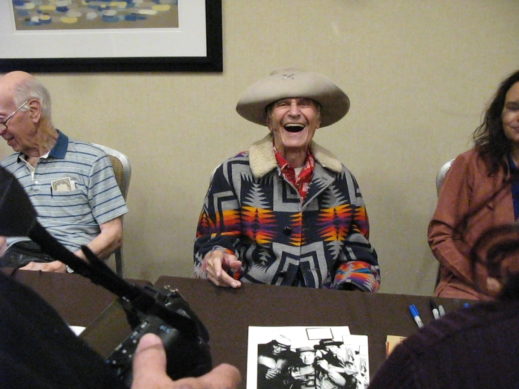 Larry Storch of the late 60's sitcom, F Troop.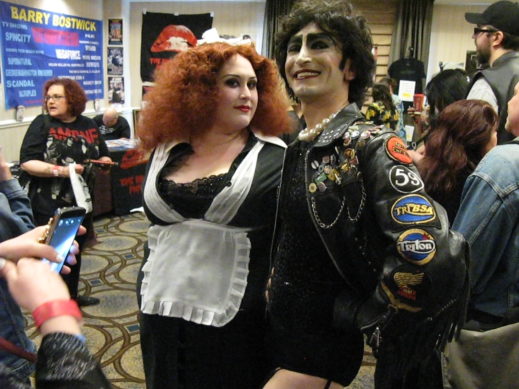 Rocky Horror Picture Show cosplay. Don't dream it, be it.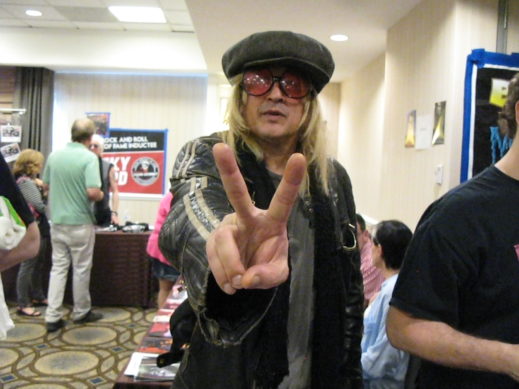 Still rocking and rolling: Chip Z'Nuff of Chicago band Enuff Z'Nuff.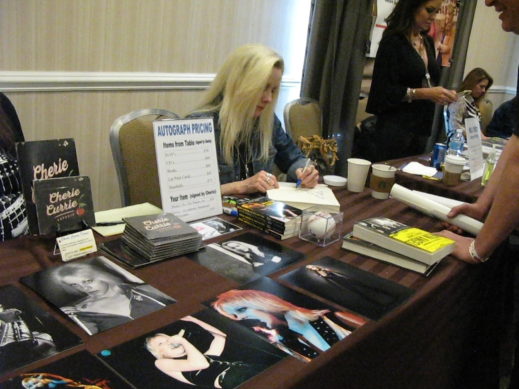 Cherie Currie, lead vocalist of the Runaways and talented chainsaw artist.

I'm never gonna eat at Chiller after seeing this chef walking around.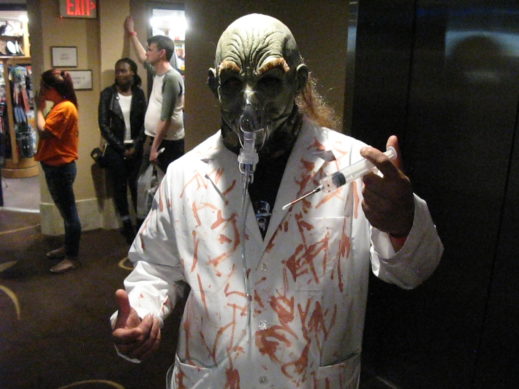 Free flu shot anybody?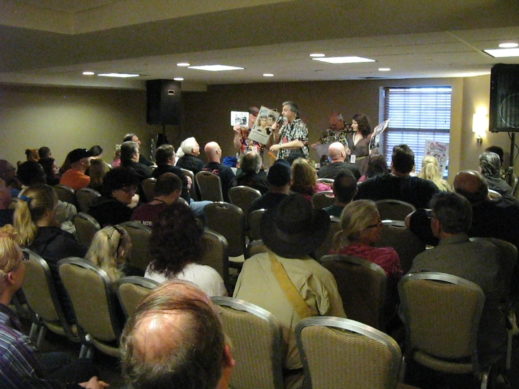 Chiller Auction with Hawaiian shirt connoisseur, Ted A. Bohus.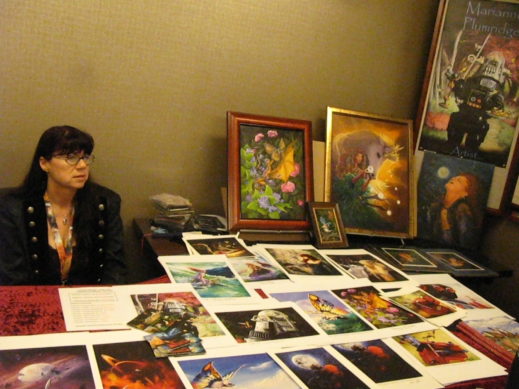 Fantasy artist and always friendly, Marianne Plumridge.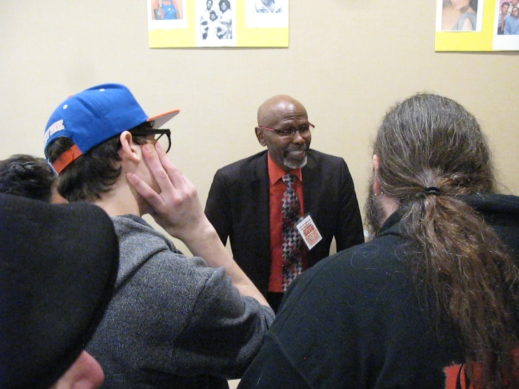 Ernest Thomas of 70's sitcom, What's Happening!!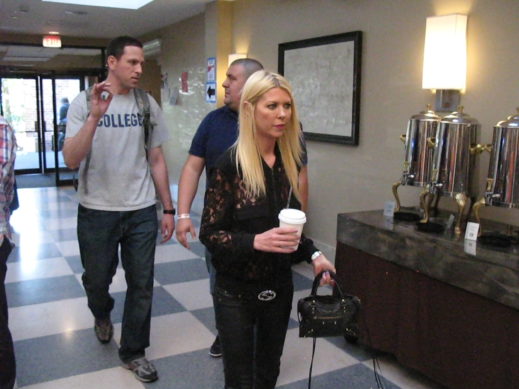 Tara Reid of many films such as American Pie and Sharknado.

Merchandise at Erica Gavin's table. That Russ Meyer's Vixen shirt is dope!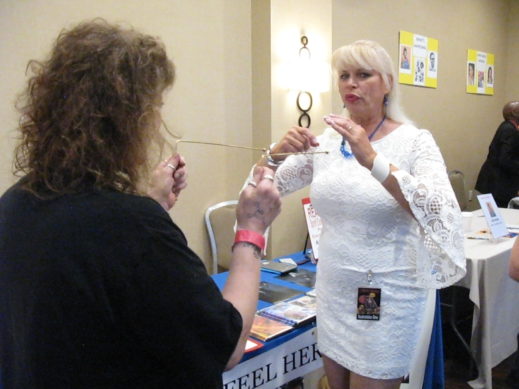 Kadrolsha Ona Queen of The Paranormal. She ain't afraid of no ghosts.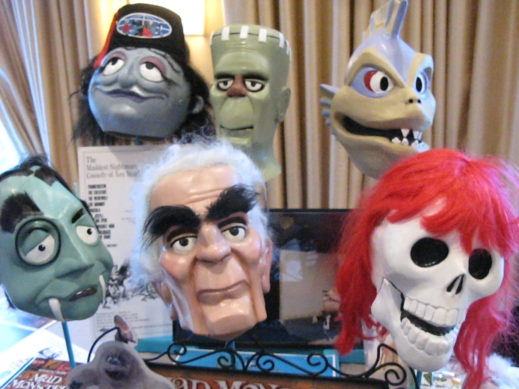 Mad Monster Party masks galore. Boris Karloff or Brute Force?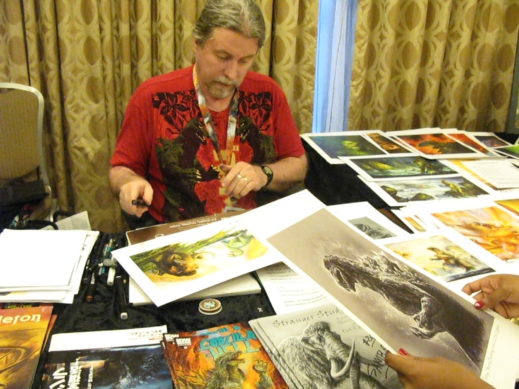 Bob Eggleton, Sci-Fi artist with a passion for landscape work and Godzilla.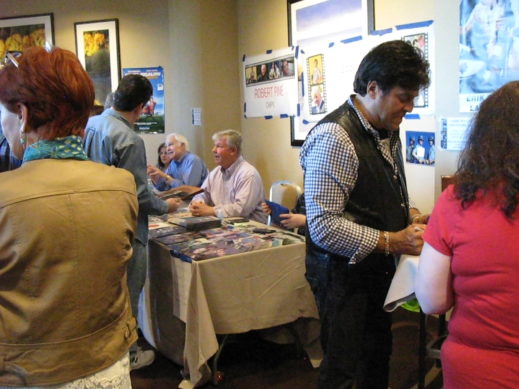 Robert Pine, Larry Wilcox and Erik Estrada of CHiPs.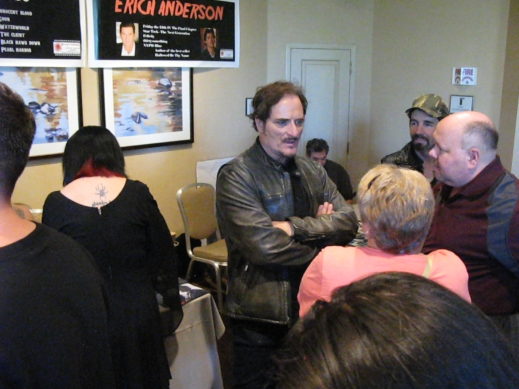 Kim Coates of Sons Of Anarchy chatting with fans.

Face paint in preparation of the Chiller Theatre Spring Rock & Roll Party which is always a highlight of the Expo. Check out some videos below of Special Musical Guests: Micky Dolenz and Peter Tork of The Monkees with songwriter Bobby Hart. See all you spooky pumpkinheads this weekend!
Tags: b-movies, chiller theatre, halloween, horror expo, horror movies, memorabilia, monster, movies, new jersey, nj
Posted in art, chocko, movies, music, photos, TV | Comments (0)
October 25th, 2016 by Mr. C

(Starting line by Lehman College)
(A Bronx-Grand Concourse takeover! – the bridge is over,the bridge is over!)

—————————————————————————————————————
One of my favorite annual events in NYC not to mention that it's also free is the Tour de Bronx currently on its 22nd year of operation! The Tour de Bronx is an organized bicycle ride cruising through the streets of where else – da Bronx! There are 2 routes bicyclists can choose either the 25 or 40 mile ride (technically 27 or 44 miles). I've been at the 25 mile version of the ride for the past 4 years but one of these years Alice, one of these years – banG Zoom – to the 40 mile Bronx moon! This year's ride which was just last Sunday yielded about 7000 bicyclists according to the Bronx Borough President Ruben Diaz Jr. He's what I call a hands on leader. Besides welcoming the riders and MC'ing the event, you can also find Ruben Diaz bicycling alongside you on the Tour! That is pretty inspirational to the community if you ask me! Tell me what other borough president, mayor, council person, or government official does that! Hell, the Mayor of NYC – Deblasio has been reported of taking helicopter rides to get from borough to borough!
—————————————————————————————————————-
(I parked my cage on Southern Boulevard across the street from the Botanical Garden. Getting the mini-circus clown bike ready!)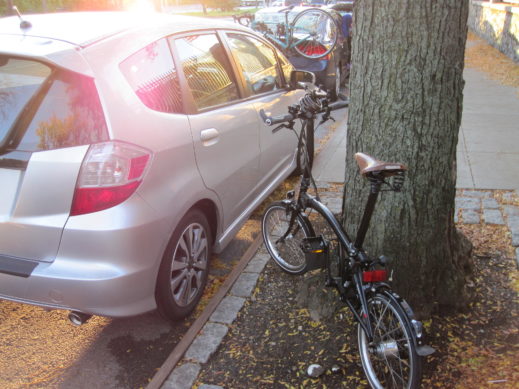 (Riding up on Bedford Park Blvd en route to Lehman College. Contemplating on loading up with fuel here)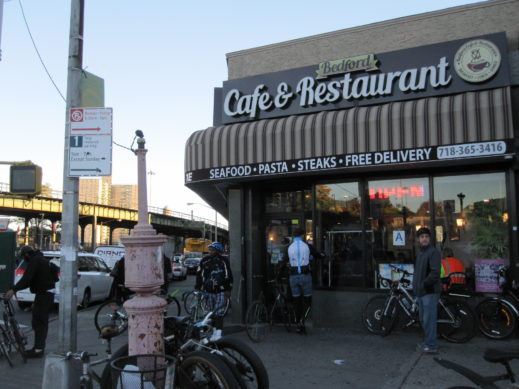 (The frustration is real at 8am Harris Field/Lehman College check-in!)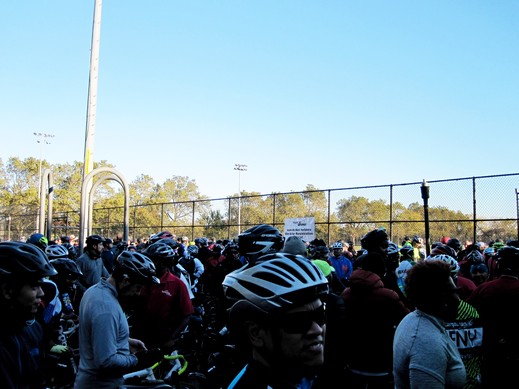 (After check-in, peeking in on a Motorcycle riding class across the street)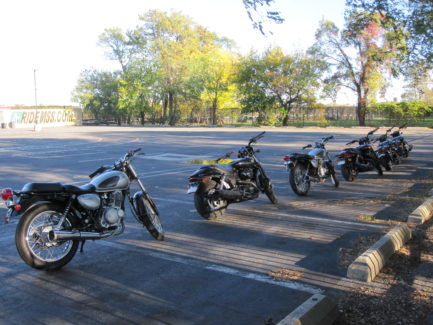 (Old reliable Honda Rebel on the left / Harley Davidson Street on right)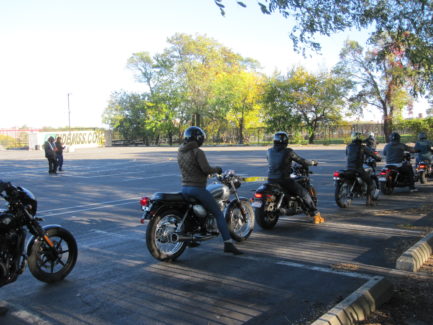 (Queuing up – getting ready – And we're off!)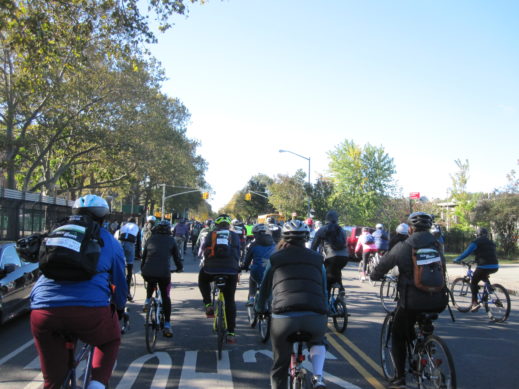 (Ruben Diaz jr – Bronx Borough President hyping up the crowd!)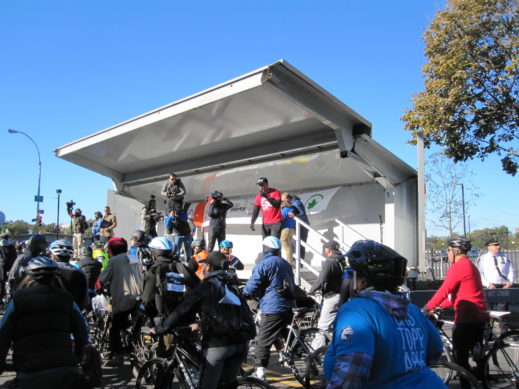 —————————————————————————————————————-
Instead of the starting point of the Tour de Bronx being by the Bronx Supreme Court building not far from Yankee Stadium, this year's ride opening will now be at Harris Field by Lehman College which is going in the complete opposite direction of the South Bronx! How did I like the change? I thought it was a great idea minus a few growing pains with the check-in process at the ball field! The bottleneck at the start of the ride is not an issue now at the new location start at Goulden Ave / Bedford as in years prior in the South Bronx. The bottleneck the organizers do have to iron out now is with the check-in process of the riders trying to enter into the park to get their paperwork for the ride. All in all, the switching and tweaking of the route of the tour was a great idea! One of my favorite parts of the ride was the new addition of shutting down a tremendous chunk of the Grand Concourse (From 193rd St to 138th st) of vehicular traffic and letting the riders ride through! It was gnarly surfing through a main thoroughfare in the Bronx such as the Grand Concourse and seeing amazing sites along the way such as the historic Paradise Theatre, the Kingsbridge Armory, The Bronx Museum of the Arts, The Andrew Freedman Home, & probably many others that I might have missed! Another ride favorite moment of mine was also on the Grand Concourse when we made a left onto 138th Street underneath the ramp which headed into the Deegan expressway. The archway of the elevated ramp and the sight of the street art/mural on the wall when making that left underneath the overpass was really cool! The normal rest stops at Crotona Park, the Castle Hill YMCA, and the Pelham Bay Nature center remained the same. There was some slight tweaking of the route that I noticed but in general, the streets and neighborhoods we rode into were mainly the same as in years past. Riding the bike path greenways along the Bronx river is always a rock steady favorite of mine as well! The Bronx Botanical Garden was the anchor endpoint of the ride as usual! I want to thank the Tour de Bronx bike organizers, Ruben Diaz Junior, and those that participated in this event which made this such a great day of riding and appreciating what we have all around us! See y'all next year – god willing!
——————————————————————————————————————-
(Shortly leaving the start line at Lehman College, we run into the Kingsbridge Armory on the left – a National landmark and a mighty impressive structure! Have never ever seen an Armory this big! Not the greatest angle of the Armory. Must see in person!)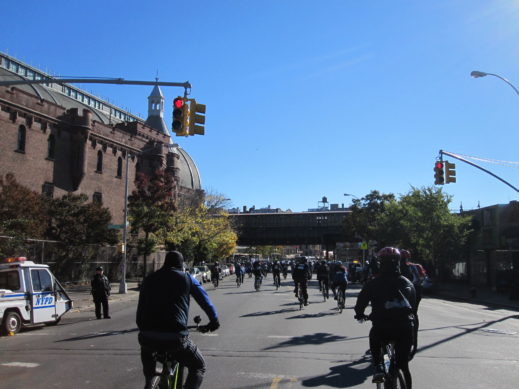 (After the Kingsbridge Armory, we make a right on Jerome Ave with elevated "4" subway train tracks above us)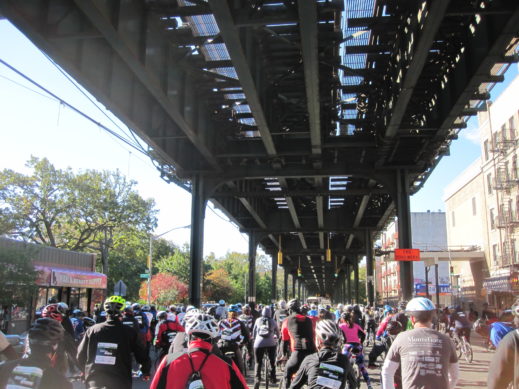 (We got on the Grand Concourse on 193rd Street & we are taking over the streets from 193rd st down to 138th!)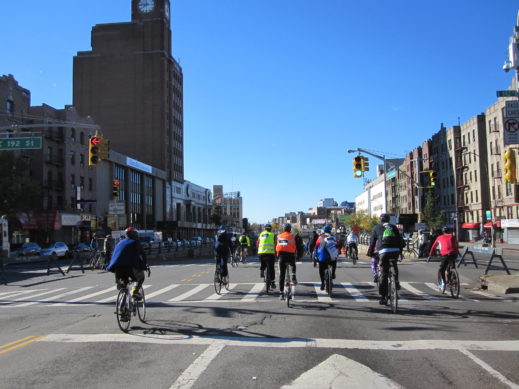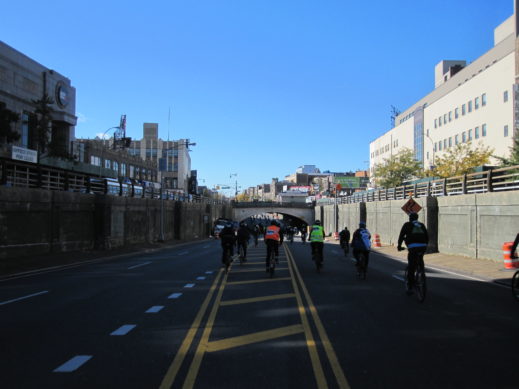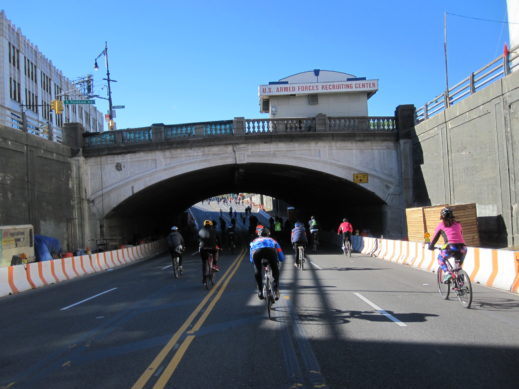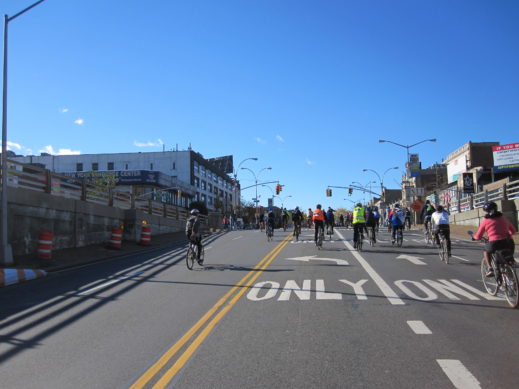 (The historic Paradise Theatre, now also a Church)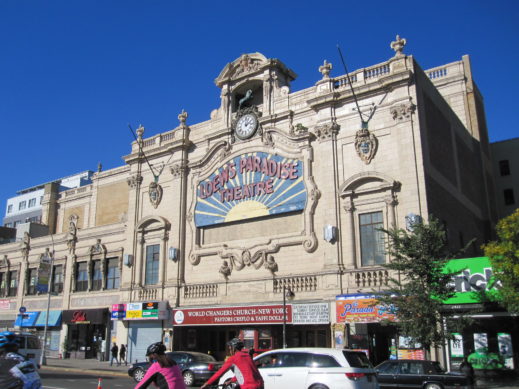 (The last time we were inside the Paradise Theatre was for a Babyface & Tank concert. Stunning interior design & architecture)

(Further down the Grand Concourse on 166th st is the Andrew Freedman Home – mural by Panmela Castro – Kool Herc is still watching!)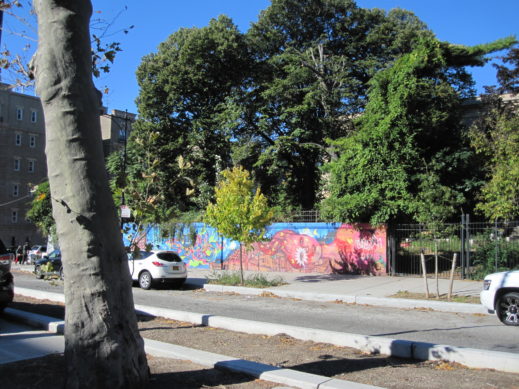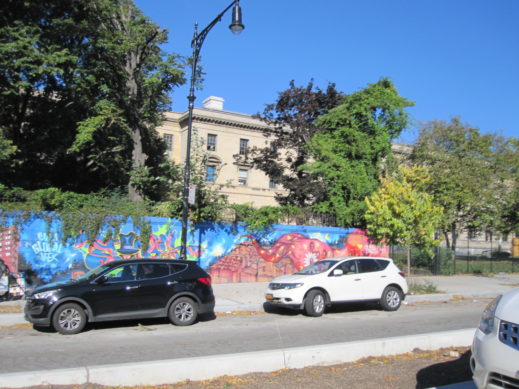 (We make a left on 138th St off the Grand Concourse – pretty cool mural underneath the overpass to the Deegan)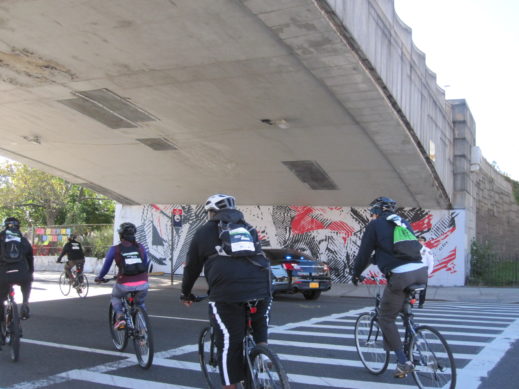 (Industrial section of West Farms Road)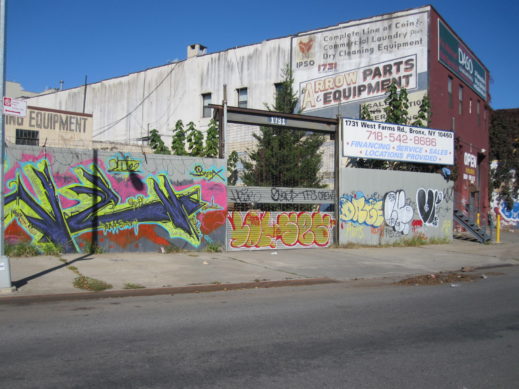 (Heading towards Starlight Park along the Bronx River greenway)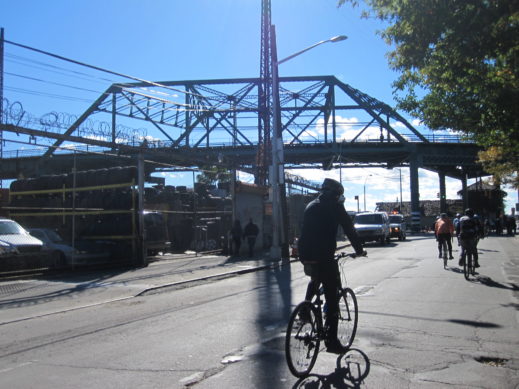 (The YMCA in Castle Hill rest stop in sight – Whitestone Bridge in sight)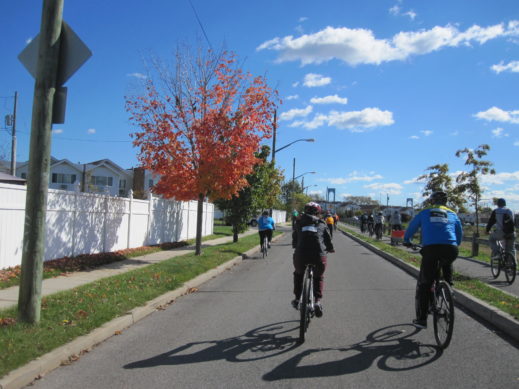 (View of the Whitestone Bridge from the grounds of the Castle Hill YMCA)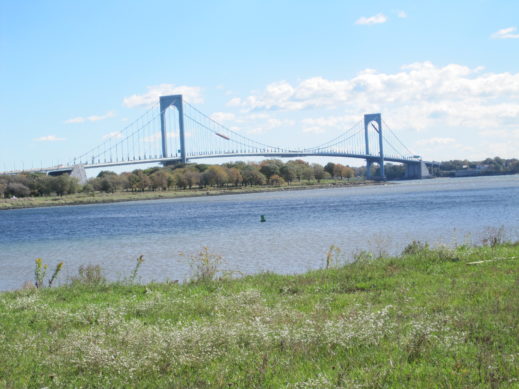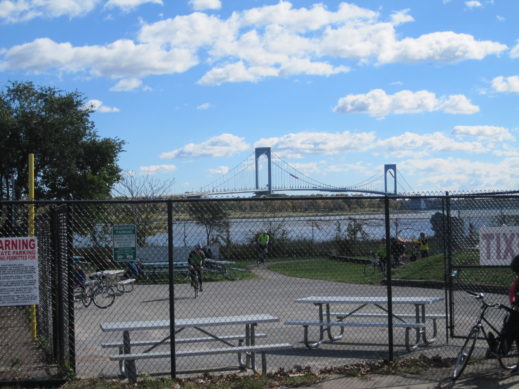 (A few cutie Yorkies on the Tour de Bronx)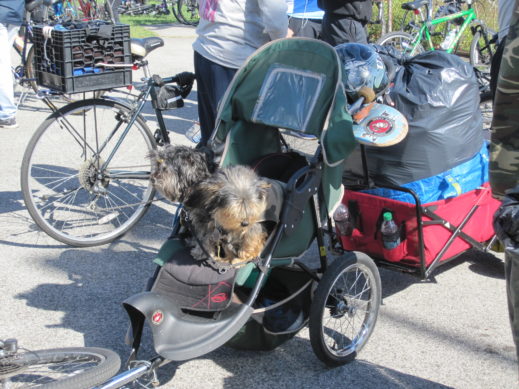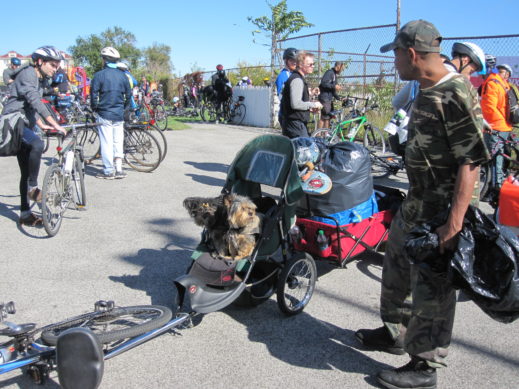 (last rest stop at Pelham Bay Nature Center)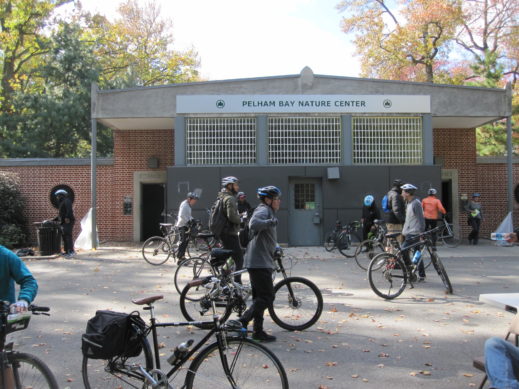 (We are on the final leg of the tour)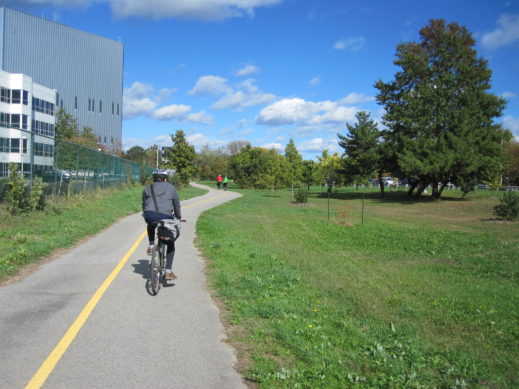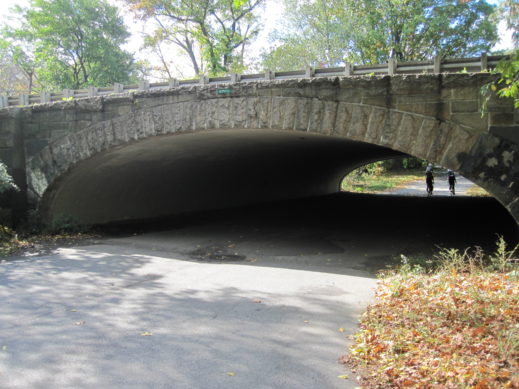 (Bronx Botanical Garden – finish line in sight!)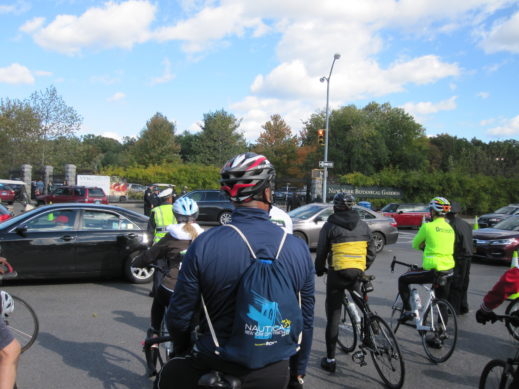 Tags: #TDB16, #tourdebronx, 2016 tour de bronx, bicycling, bicycling nyc, cycling, nyc, tour de bronx
Posted in community, mr. c, photos, sports | Comments (0)
October 24th, 2016 by chocko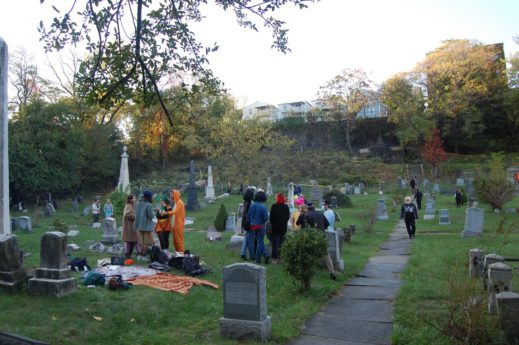 What better way to celebrate the Halloween season than with a good old fashioned get down in a cemetery with food, drinks and music? What began as an annual event to pay homage to a long gone, favorite Jersey City bar, The Ghost Of Uncle Joe's has become a fundraiser for The Historic Jersey City and Harsimus Cemetery. The cemetery dates back to 1829 but historically it was the site of Revolutionary War rumbles and during the War of 1812, the cemetery housed an ammunition bunker which still stands there today. In 2008, the cemetery fell into some hard times of disrepair and neglect but with a new Board of Trustees and the help of volunteers and good people that put together fundraising events, the historic grounds are back in full effect and worthy of a visit. Last Sunday, costumed freaks, fiends and ghouls of all ages came to party and do the monster mash with bands covering singers and bands such as Bikini Kill, Alice Cooper, The Strokes, Motley Crue and David Bowie. Check out Chocko's photos and a video of "The Strokes" from GOUJ16 below!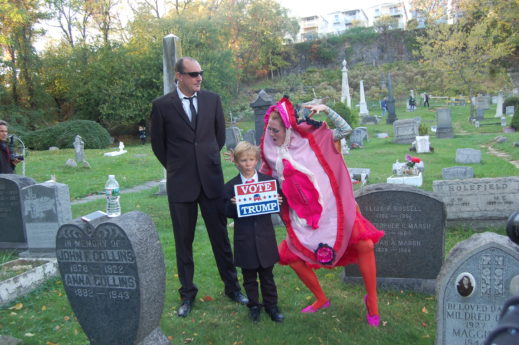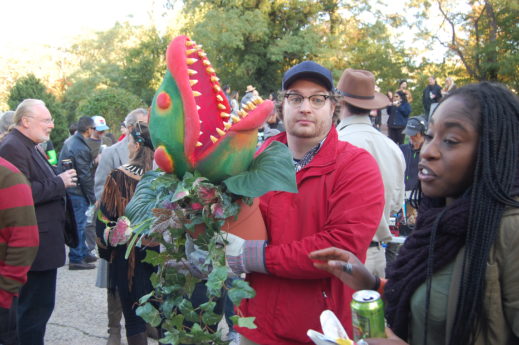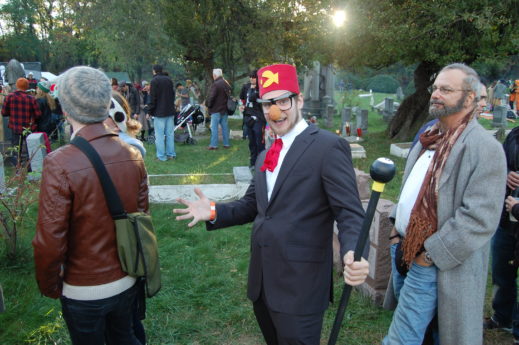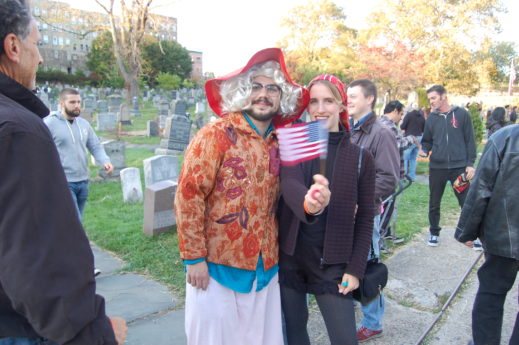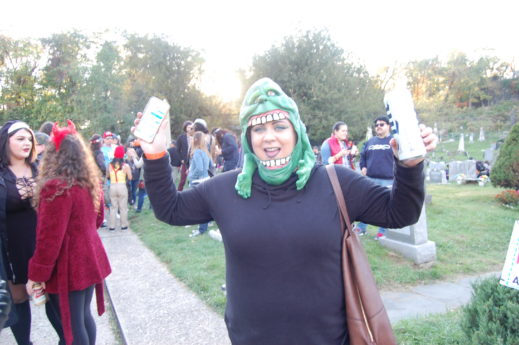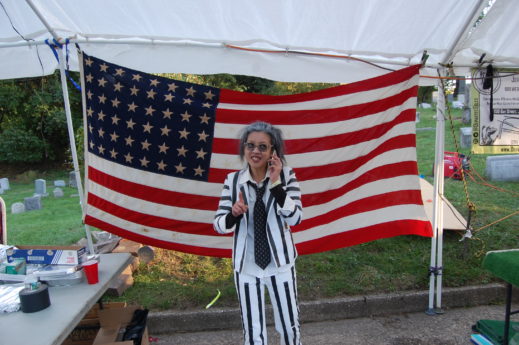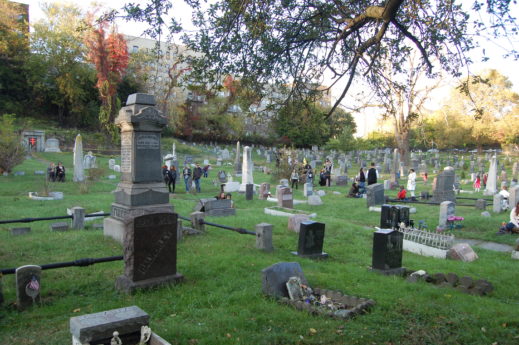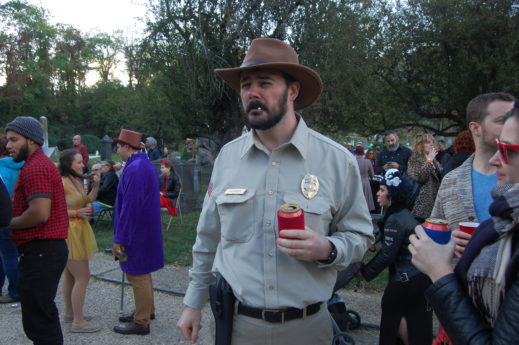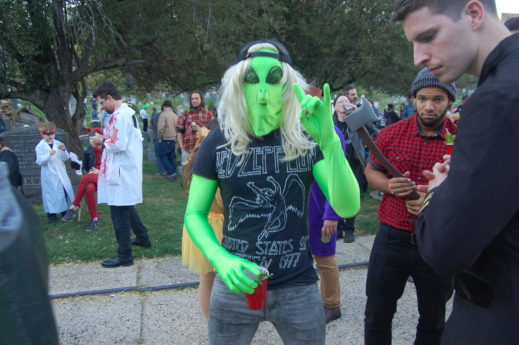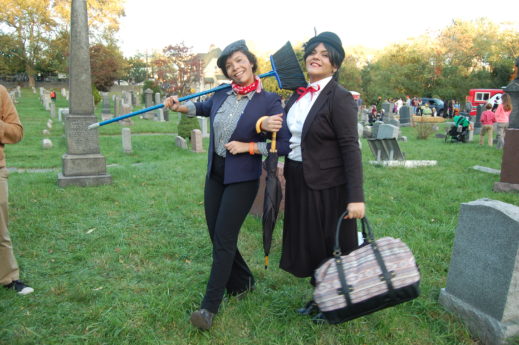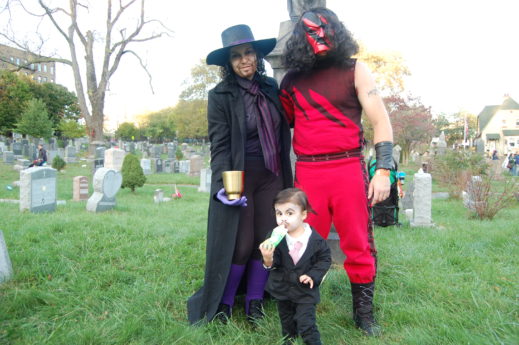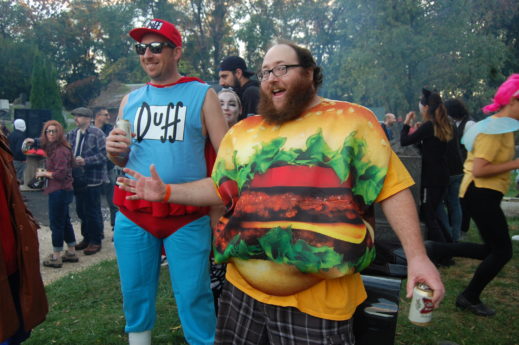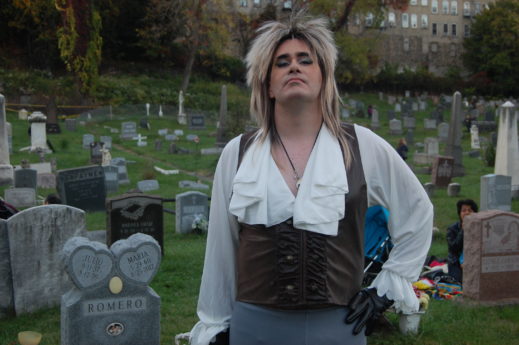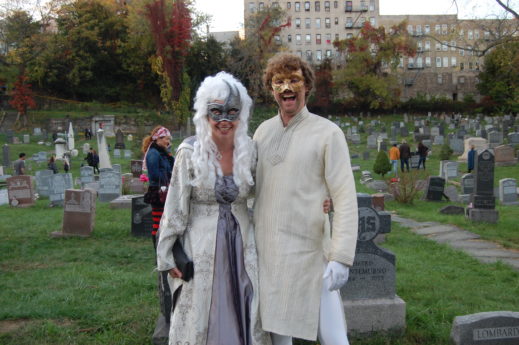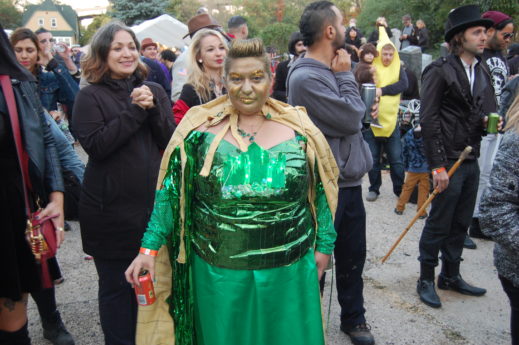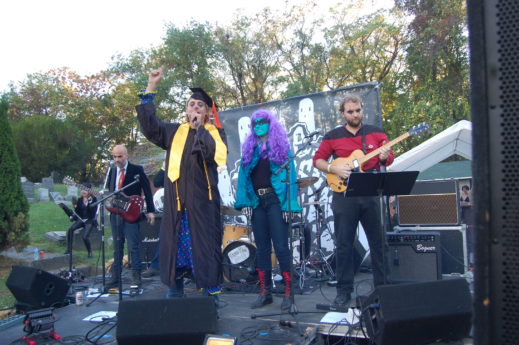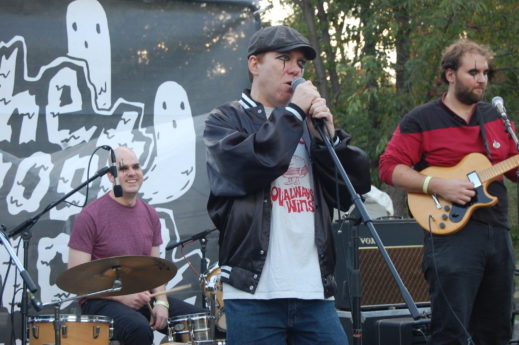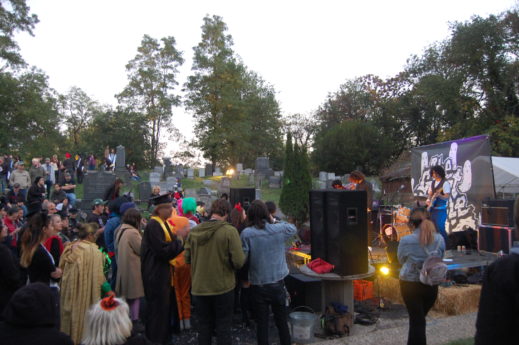 Check out Chocko (njmisfit) and Mr. C (planetchocko) on instagram.
Follow @planetchocko on Twitter. LIKE us on Facebook too. Thanks!
Tags: 2016, costumes, cover bands, GOUJ16, halloween, Harsimus Cemetery, jersey city, new jersey, The Ghost Of Uncle Joe's, The Historic JC
Posted in art, chocko, community, fashion, music, photos | Comments (0)
September 4th, 2016 by Mr. C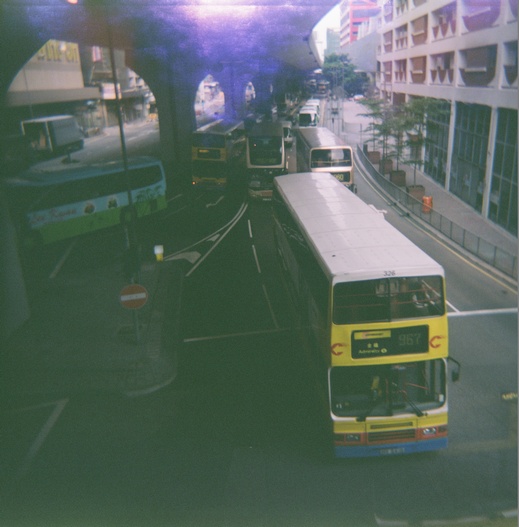 (Bruce Lee statue at Tsim Tsa Tui in Kowloon)

—————————————————————————————————————–
In 2007, I took a week long trip to Hong Kong to visit family and friends. I brought about 10 rolls of 120 medium format film (8 color/2 B&W) to capture shots with my Holga camera. Believe it or not, I just got the film developed last week! Yes, I was cringing to the fact that I was storing these 10 rolls of film in a non-ideal environment, in a plastic bag – in my room – for almost 9 years?!
Why shoot still photography in film especially in 120 medium format and why the Holga camera? First, I chose the Holga camera because it was the most basic and most anti-technology as you can get. The Holga is basically just a toy camera that was manufactured in China circa 1981, made almost entirely of plastic, and some even have plastic lenses. It was designed for the chinese consumer as a low-budget, everyday kind of camera for capturing family photos and portraits, but has since gathered a cult following. The Holga was simply a cheap camera with a plastic low-contrast lens that produced soft (often blurry) images with edge vignetting and uncontrollable light leaks! The low-fi look and unpredictable results made capturing images fun again! I tried messing with getting multiple exposures on a single shot which was mucho fun! I have a few photos below that have the multiple exposure look!
I thought using the Holga with 120 film would be a pretty cool way to document my trip in an organic fashion, not worrying about getting the perfect shot but to instead just be in the moment of the scene and background without being intrusive with the latest and greatest camera technology and bazooka zoom lens to distract the subject I was trying to capture. To make up for the low fidelity look, using the bigger size and more superior film like the 120 increases the size of the film negative which allows for much more resolution and detail. Using the inferior Holga camera with the superior 120 film compared to 35mm sounds like a contradiction and it is but the combination of the two makes a certain aesthetic effect that is very nostalgic and appealing! The only drawback of using 120 film is the availabilty and cost of developing the film.
Please enjoy the photos above & below that I captured with my Holga/120 film combo!
——————————————————————————————————————–
(Class is in session at HK park in Kowloon)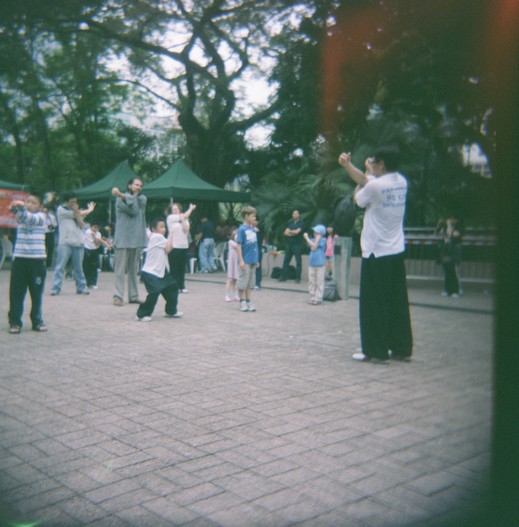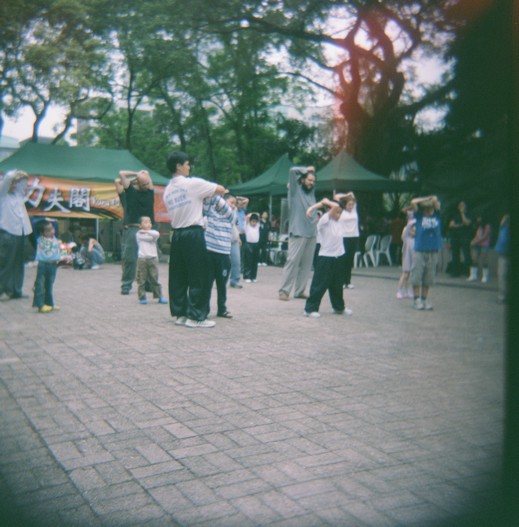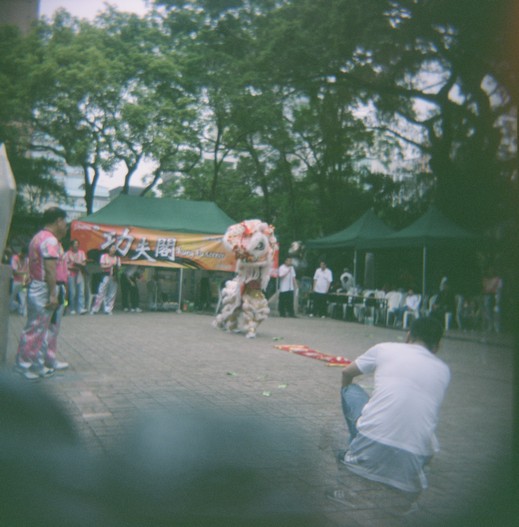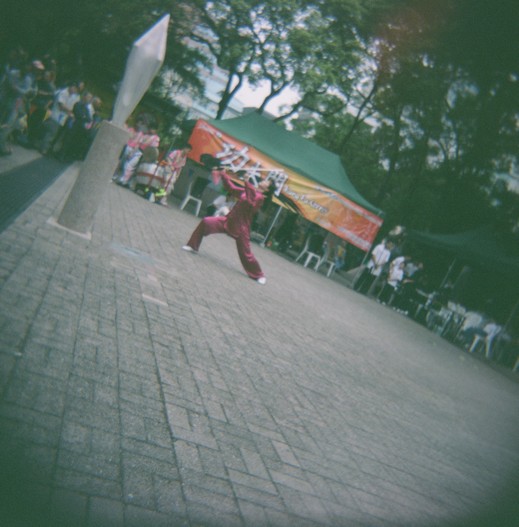 (The shot of the multiple exposure technique I was talking about)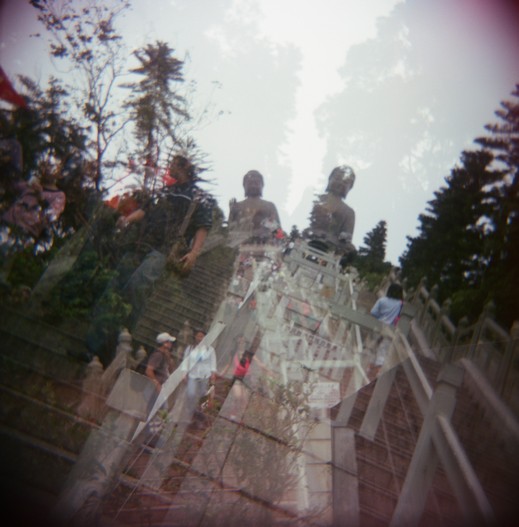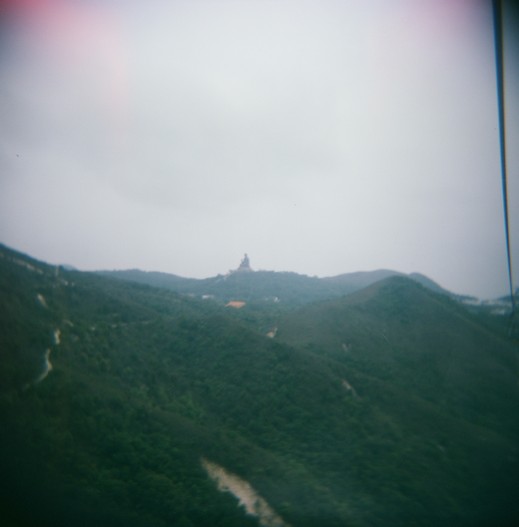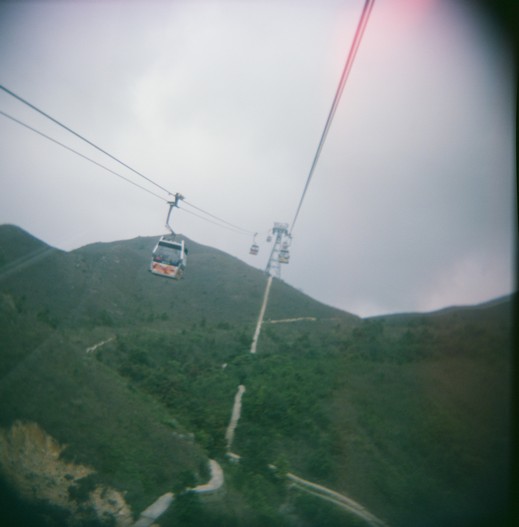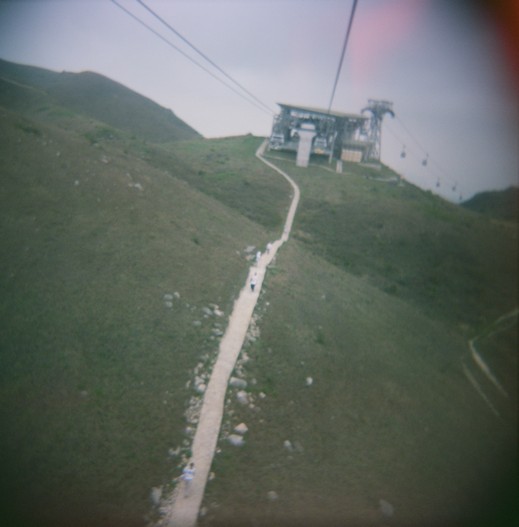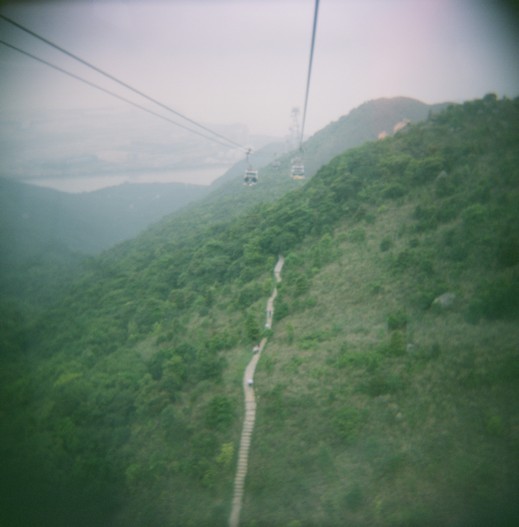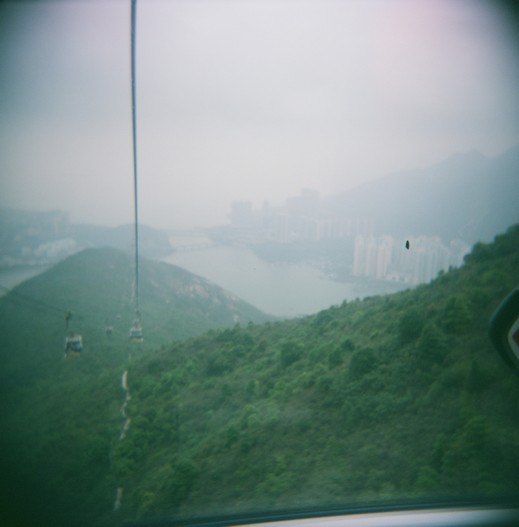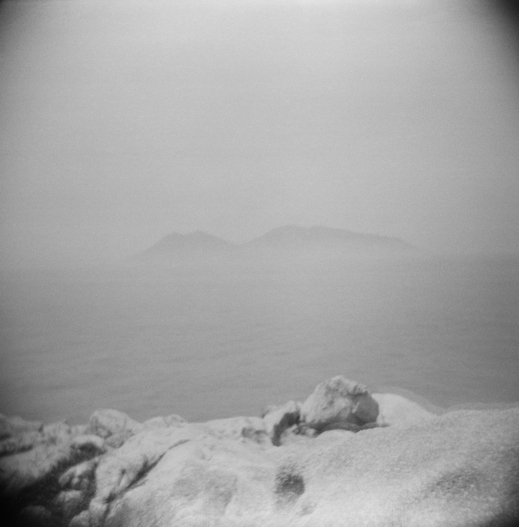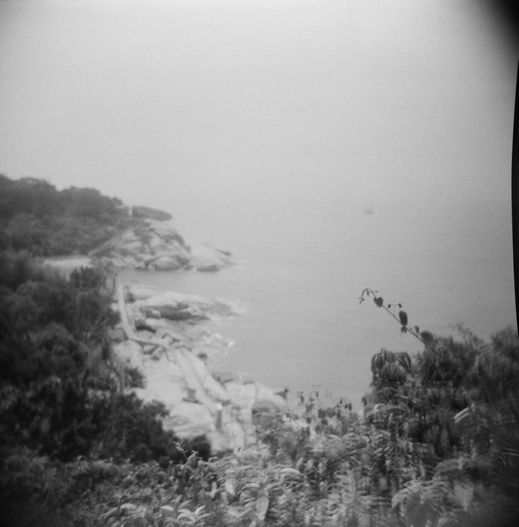 (Another shot of the multiple exposure technique at Kung Fu corner in HK park in Kowloon)

(guys at the outdoor kiosk meat stand wasn't too happy to see me!)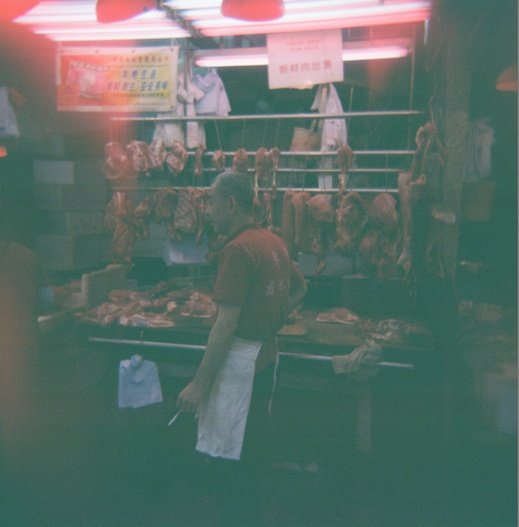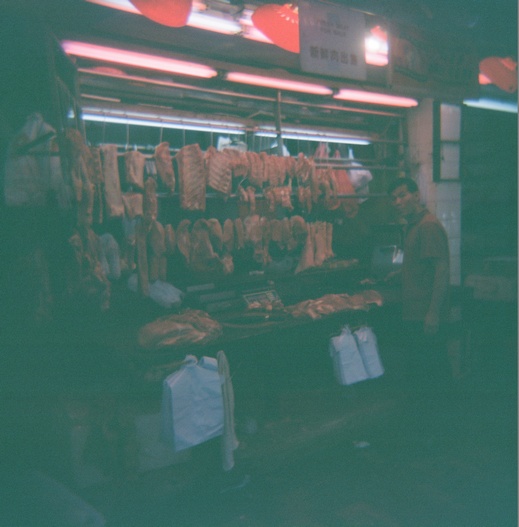 (with the old and traditional come the modern)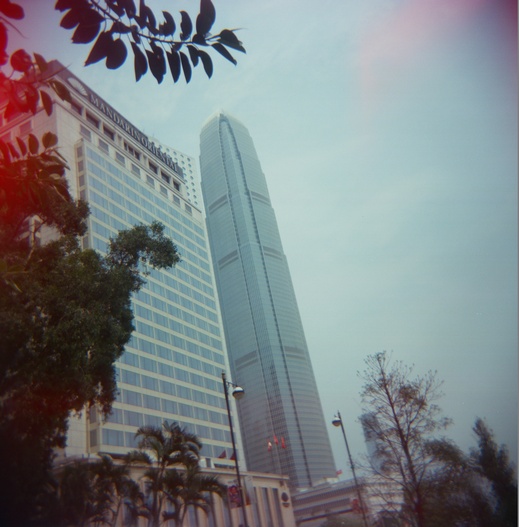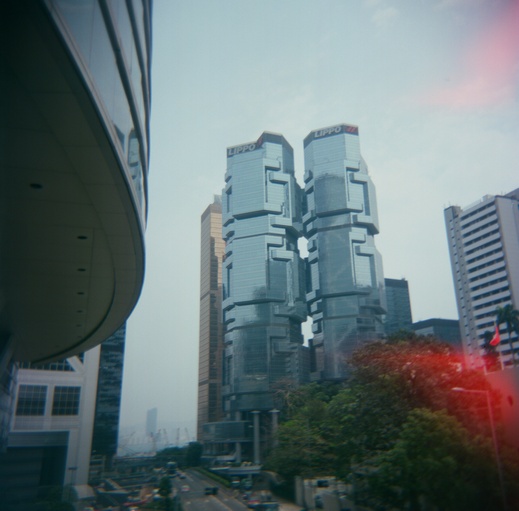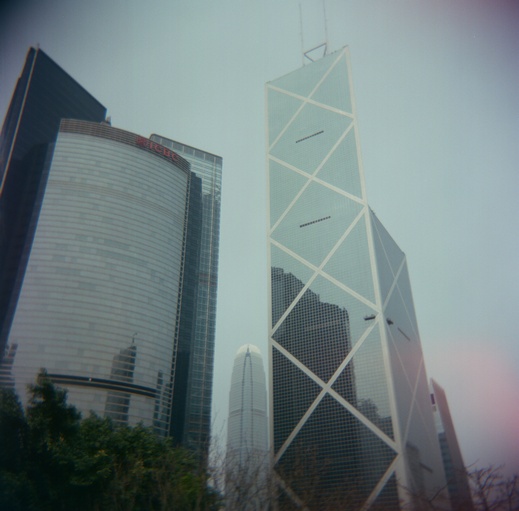 (this is what we call scaffolding. In HK, it's done with bamboo poles!)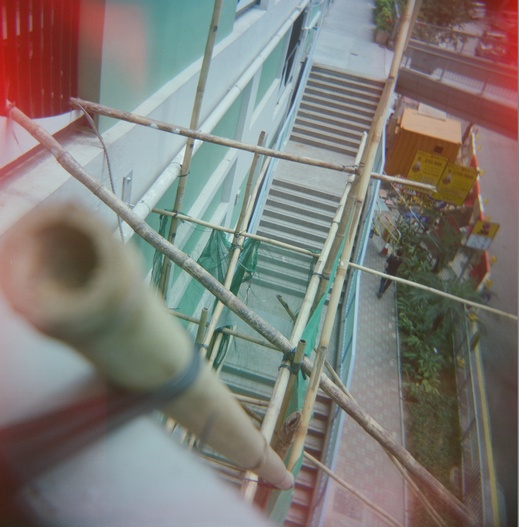 Tags: 120 film, black and white, holga, hong kong, low fi, photos
Posted in mr. c, photos, travel | Comments (0)
September 1st, 2016 by chocko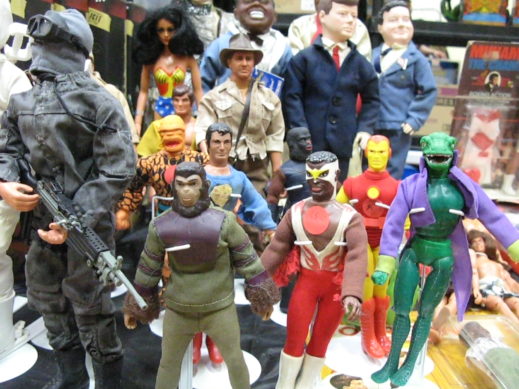 Last weekend Chocko explored the world of ToyConNJ5 located in Parsippany, New Jersey where toy collectors and game enthusiasts gather to pick up new and vintage collectibles. It was my first time at ToyConNJ and it was an impressive show which features 3 large vendor rooms filled with tables of toys of all genres, movies, original art, model kits, board games,…there really was something for everybody. The hallways were filled with tables of action figures and more toys and there was also a room devoted to video games, pinball machines and gaming. ToyConNJ6 is happening on the weekend of November 12 and 13 at P.A.L., 33 Baldwin Rd, Parsippany, NJ. That might be a good time to start shopping for the holidays. Now you know, and knowing is half the battle!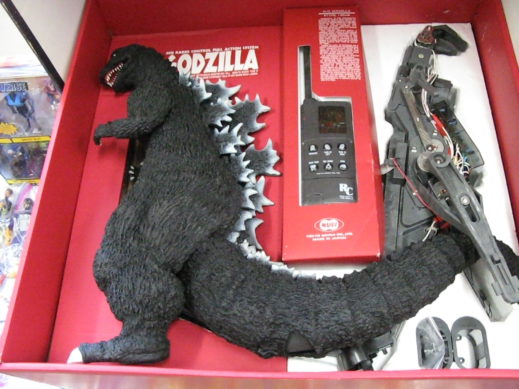 This motorized Godzilla is a replica of what was used to make some of the movies. It cost more than my car. The friendly vendor (cool vibes all around at ToyCon!) also had a motorized Mothra larvae for sale!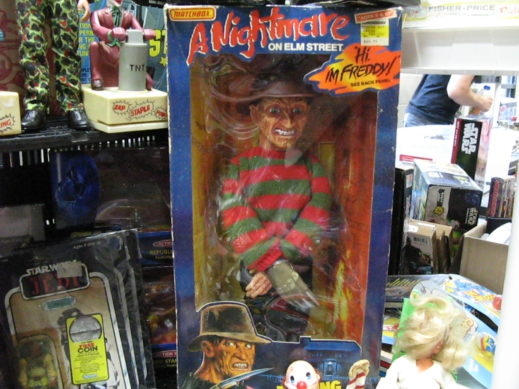 There were plenty of horror collectibles in the house including Freddy Kreuger from Nightmare On Elm Street and Monster Scenes model kits.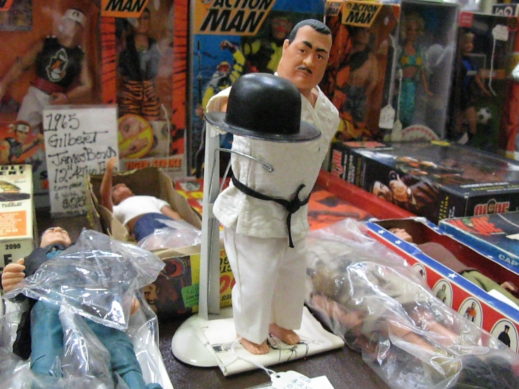 Here is an Oddjob action figure from the 1960's. The character from the James Bond movie, Goldfinger known for slinging his deadly derby, was played by Toshiyuki "Harold" Sakata who also threw his hat into the ring (no pun intended) as a professional wrestler under the name Tosh Togo.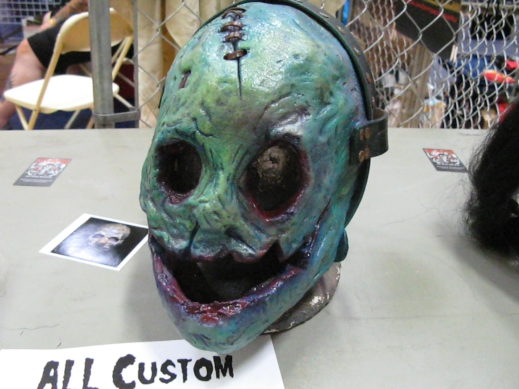 Halloween is just around the corner, ghouls…time to get creepy!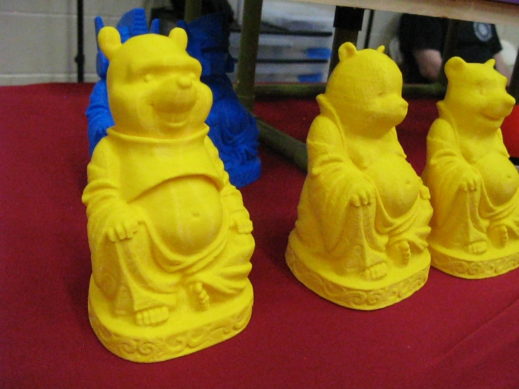 Handmade in New Jersey, Muckychris (lead singer of Jersey hardcore thrashers Mucky Pup!) makes all sorts of objects with a MakerBot Replicator 3D printer. The Zen Buddhas, a mashup of Buddhas and pop culture, have to be seen to believe. Winnie The Pooh-dha?!? Oh, bother.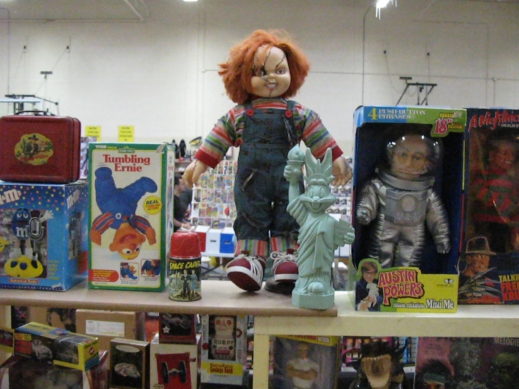 If you think ToyConNJ and collecting toys is Child's Play, guess again!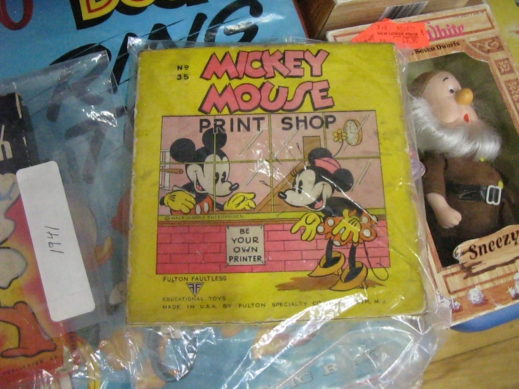 Sweet vendors, Larry and Sue have an impressive Disney collection that's nothing to sneeze at. Why buy a 3D printer when you can get a 1935 Mickey Mouse Print Shop? Cool piece made in Elizabeth, NJ. Oh, boy!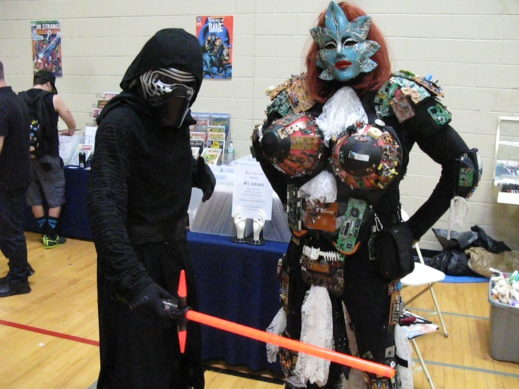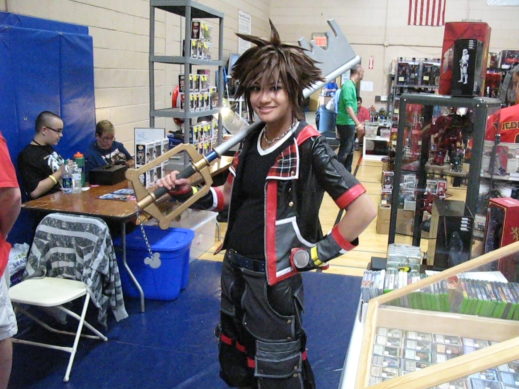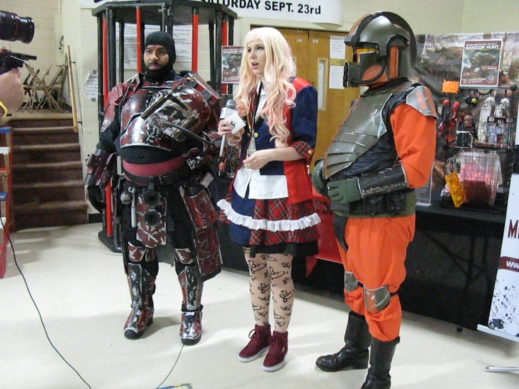 The first thing I saw pulling into the parking lot was Cobra Commander walking around. No need to call Snake Eyes or yell out "YOOO JOE!" before pulling out a rocket launcher out of the trunk, it's cosplay and Costume Contest Saturday! Anime, super heroes, super villains and Star Wars' Kylo Ren were in attendance and happy to pose for the camera.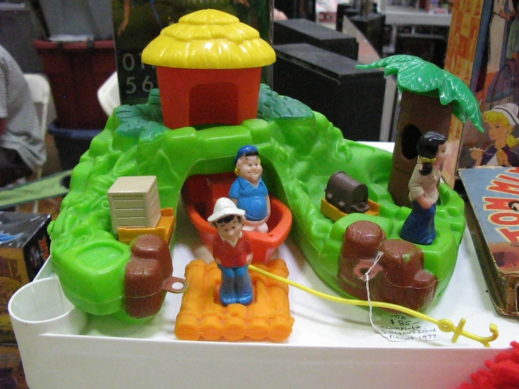 Gilligan's Island was a favorite television show in our household growing up and this toy was floating around in our bathtub at some point. The complete set was at the show for $85. That's a lotta coconuts! More pics of toys from childhood below including Secret Wars Tower of Doom!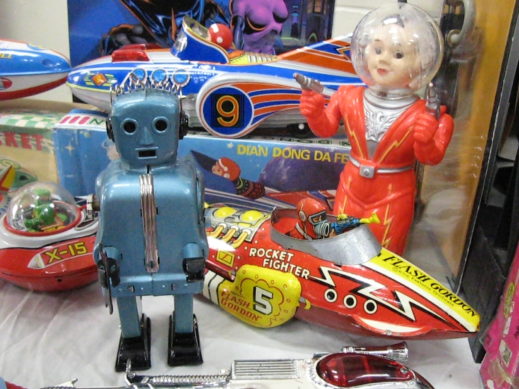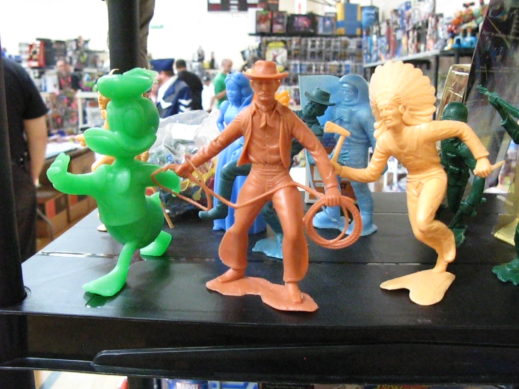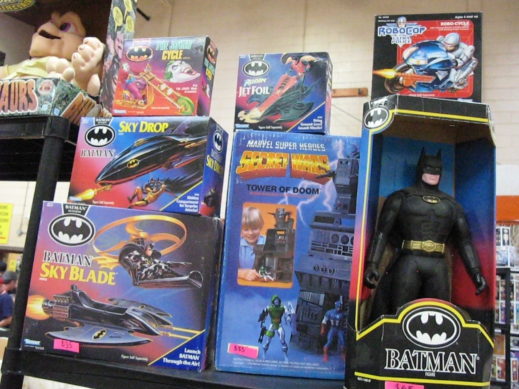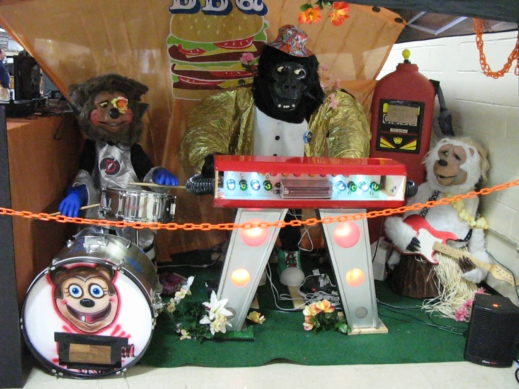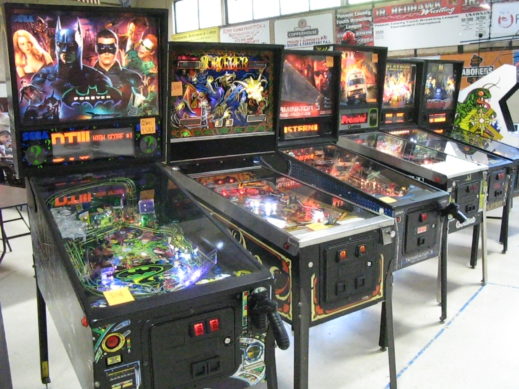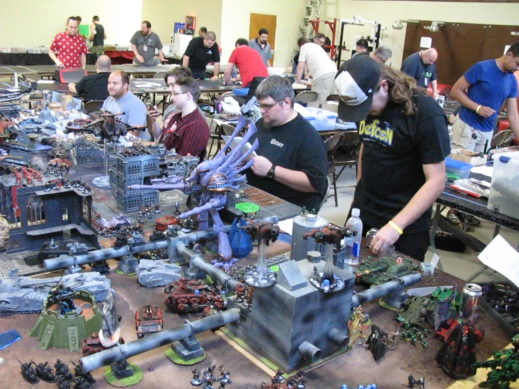 As soon as you enter the Game Room, I couldn't help but notice the animatronic band perhaps rescued from a Showbiz Pizza Place? Looks like they've seen better days but still awesome to see in person again. There were pinball machines lined up and ready to play, virtual reality games and video game consoles set up for gamers down for some 8bit action. There were also tables filled with miniature figures and mostly dudes rolling dice and playing Warhammer 40K Megabattle. Hardcore stuff!

These aren't the toys you're looking for. You want to go down the hall and make a left for the Iron Horse Cinema fan films program.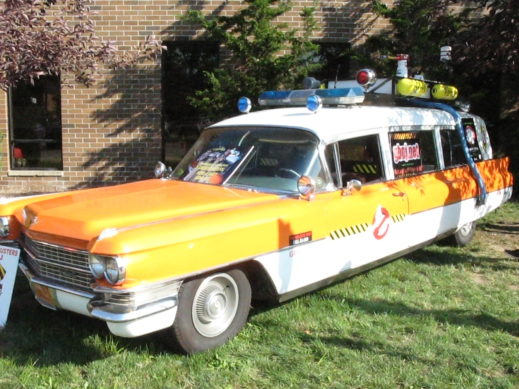 Total fun times at ToyConNJ5! There were door prizes every half hour, Ghostbusters and Ectocooler outside along with pony rides for the kids and so much more. Can't wait for ToyCon6 in November. See you there!
Check out Chocko (njmisfit) and Mr. C (planetchocko) on instagram.
Follow @planetchocko on Twitter. LIKE us on Facebook too. Thanks!
Tags: action figures, collectibles, new jersey, nj, parsipanny, toy convention, ToyConNJ, ToyConNJ5, toys
Posted in art, chocko, comic books, movies, music, photos, toys, TV | Comments (0)
August 28th, 2016 by Mr. C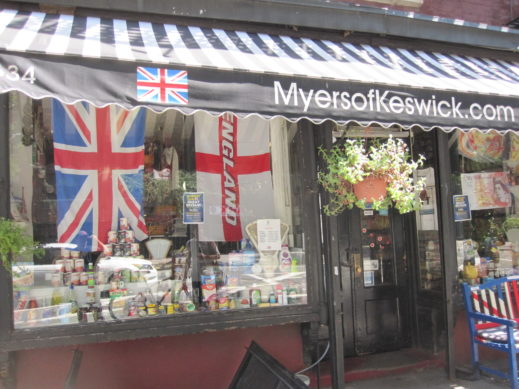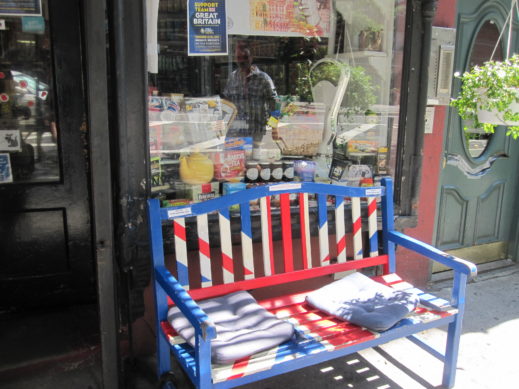 (British grocery store – Myers of Keswick on Hudson Street in the West Village)
——————————————————————————————————————–
Yesterday, the Planet Chocko hopping vampires signed up for a free bike tour of what I thought was a cruise around Upper Manhattan by 86th St and East river/Carl Shurz Park and then perhaps a dip into Central Park. But I was pleasantly surprised! We ended up crossing over to the borough of Queens via the 59th Street Bridge, casually cruised through Queensbridge & Long Island City to our final destination – Roosevelt Island! I've been to Roosevelt Island numerous times by Tram but never via bicycle across the Roosevelt Island bridge. It would be a great way to tour the Island!
(Sayanora Manhattan – Queens by all means! 59th St bridge!)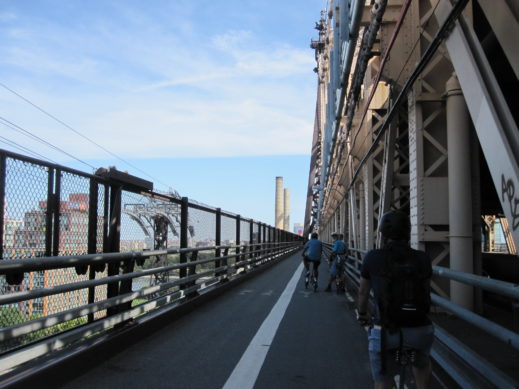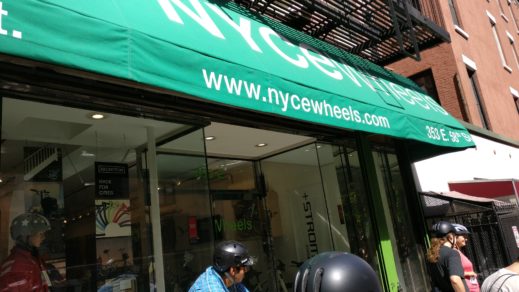 Our host and guide of the bicycle tour was foldup bicycle experts – NYCe Wheels on East 58th Street/1st Ave! The weapons of choice for the bike ride is arguably the most well built & diminuitive foldup bicycle setup in existence today – Made 100% in London,England – The Brompton! They've been around since 1975 ! I've been enjoying my Dahon (Taiwanese) foldup bicycle since 2003 amongst the NYC streets, NJ bike paths, & bike tours like the 5 Borough Bike Ride and the Tour De Bronx but last year I had the itch for the Brit! I picked up my first Brompton 6 speed 1.5 years ago and I'm enjoying it more and more as I discover its nuances and personality everytime I take it out for a spin. If you're remotely interested in the culture & functionality of foldup bicycles, the folks at NYCe Wheels are a great resource to go to.
(Gathering the crew and making sure the bikes are a go at NYCE Wheels)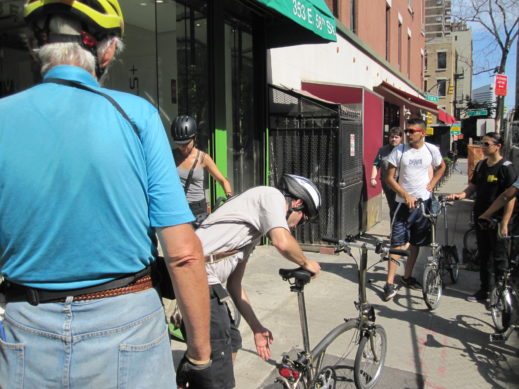 (This is my little foldup Brit for the day! A 2 speed Brompton wishing I had more gears but it will suffice!)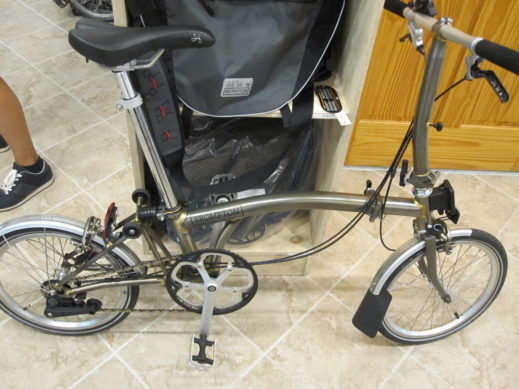 Before all the bicycling would commence, we would fuel up our zombie hardbodies with some snacks. Since it's a British Invasion theme, we stopped at Myers of Keswick, a traditional British Grocery store in NYC since 1985 ! Lots of scrumptious looking english goodies including savory pies like the steak & ale,pork pie,scotch eggs,lamb curry pie, & shepherds pie don the refrigerated case! We got the pork pie and it was as homemade and country as England can get! Myers of Keswick is a neat timewarp of a grocery store with the old wooden fridge with beverages in the back and old school butcher shop cabinets from a bygone era. This English bodega must bring a lot of homesick British ex-pats a lot of smiles and comforts from back home! I must try those bangers(sausages) at Myers of Keswick next time!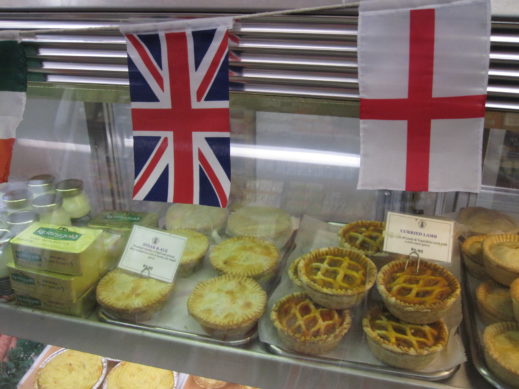 (savory english pies of all kinds! Steak & Ale,Curried Lamb)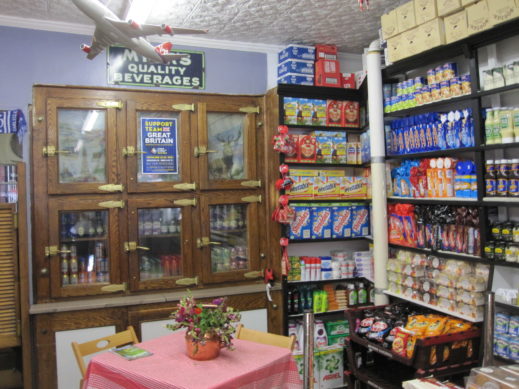 (Time warp – wooden fridge with beverages!)
Myers of Keswick
634 Hudson Street (between Horatio and Jane St.)
New York NY 10014
NYCe Wheels
353 East 58th Street (1/2 Avenue)
New York, NY 10022
————————————————————————————————————————-

(Getting closer – Power Plant stacks, you're on my sights!)

(We make it over and wait for a few that are struggling – younger kid was throwing up)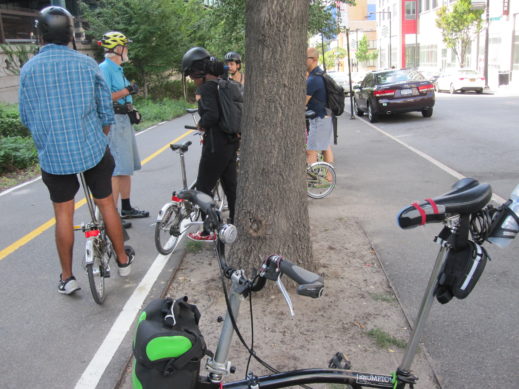 (We march on forward – Roosevelt Island is on our minds but first have to troll past Queensbridge & Long Island City!)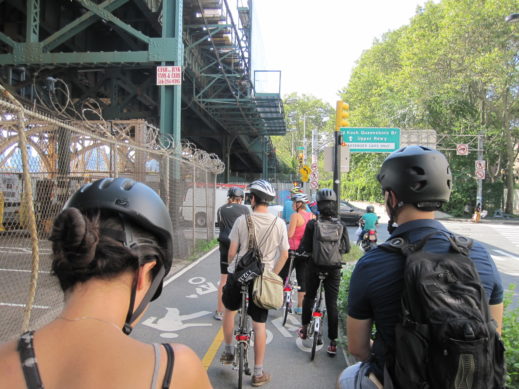 (the Roosevelt Island Bridge in sight!)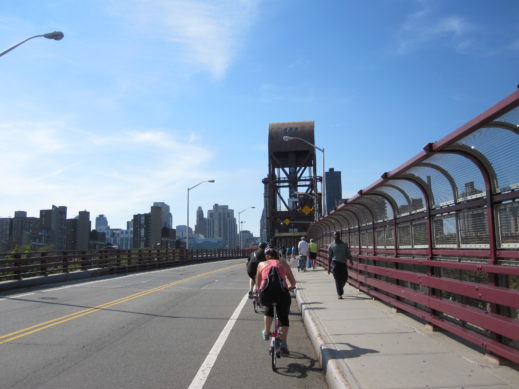 (while cycling on the Roosevelt Island bridge, I glance at 59th Street bridge to my left)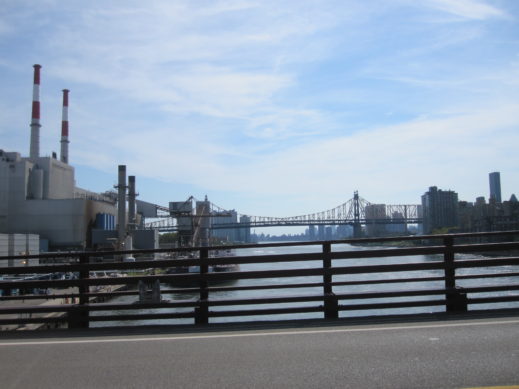 (The Octagon Building at Roosevelt Island)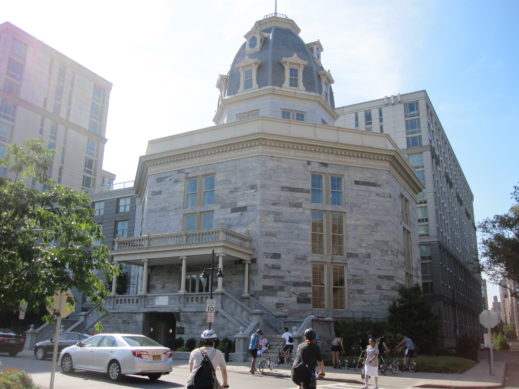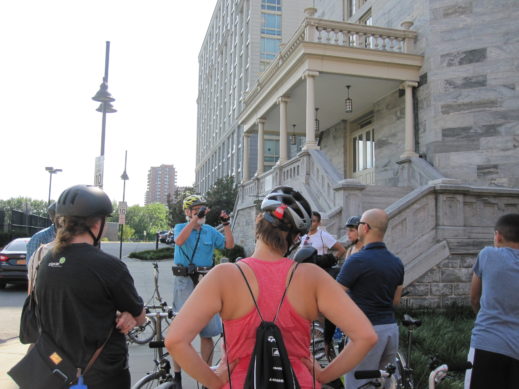 (cycling towards the lighthouse)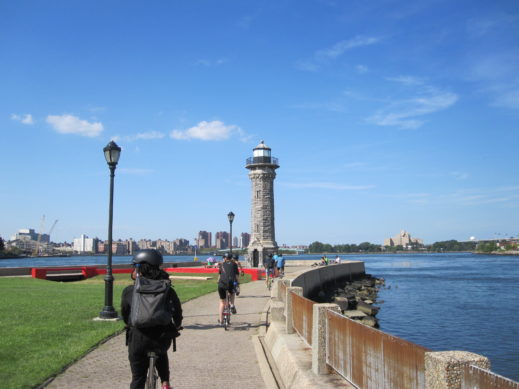 (Triboro Bridge in the distant background)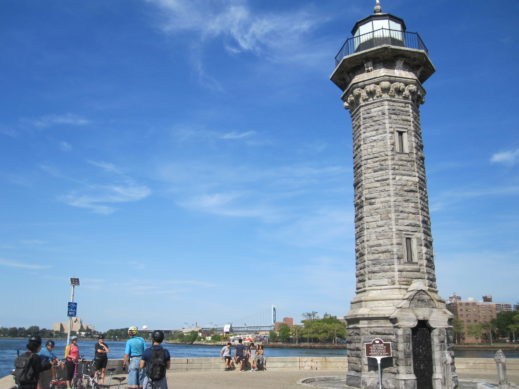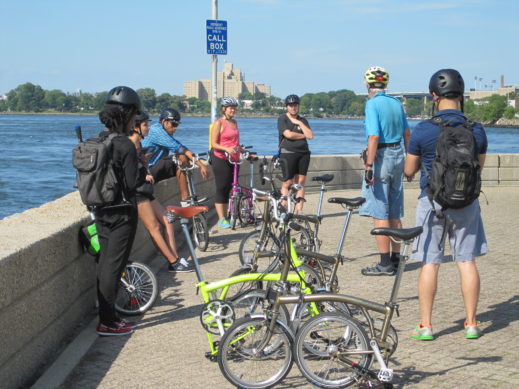 (cycling on the other side of Roosevelt island facing Manhattan)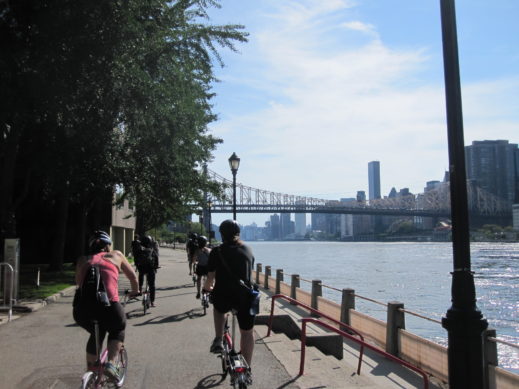 (The Roosevelt Island Tram station)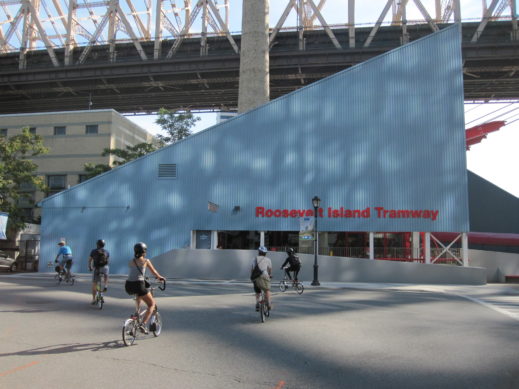 (once a Small Pox hospital – now just ruins and off limits. Structure is unstable)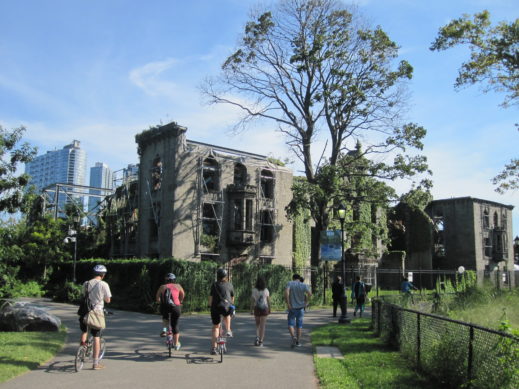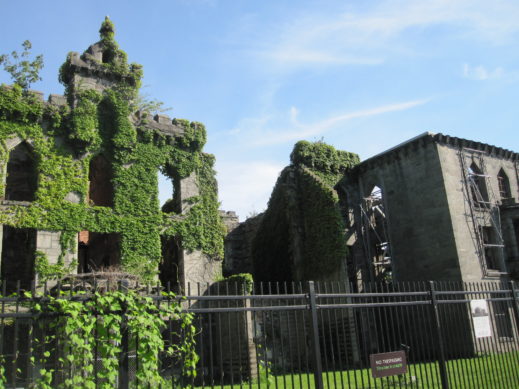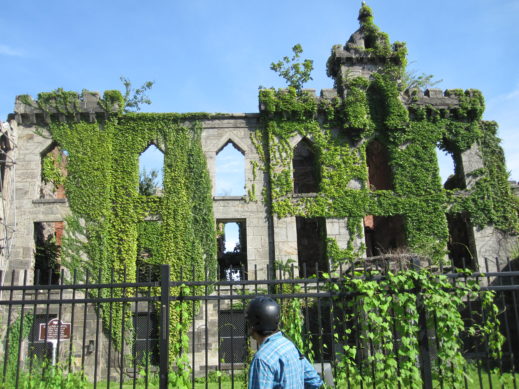 (maybe we should take the Tram back and save the muscle burn?!)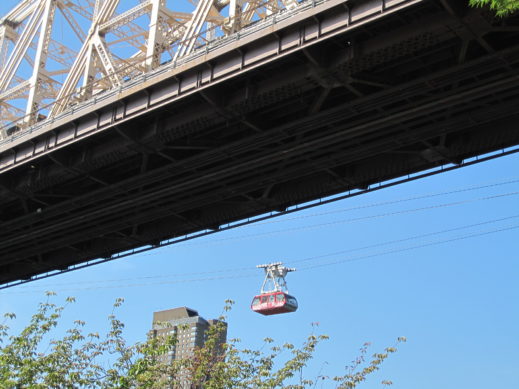 (Maybe not, let's back track – Roosevelt island Bridge back to Queens)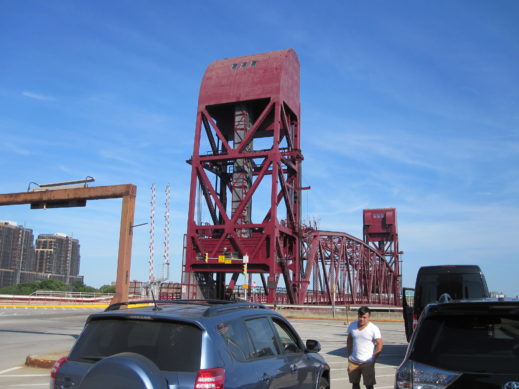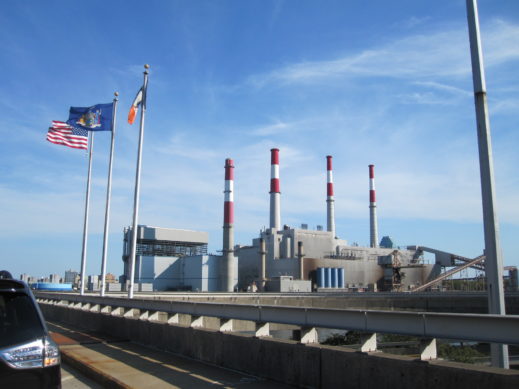 (navigating through Queensbridge Park to get back to 59th Street bridge)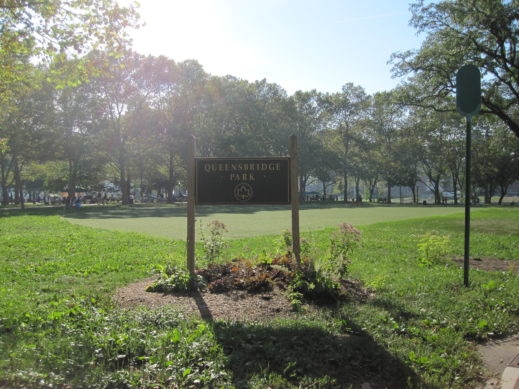 Tags: Bicycle tour, Brompton, nyc, NYCE Wheels
Posted in community, food, mr. c, photos, sports | Comments (0)
August 25th, 2016 by chocko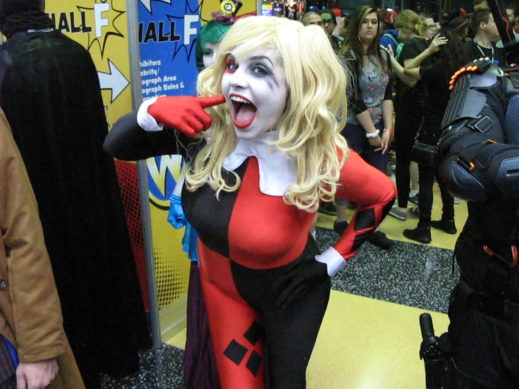 After a few short stops on the Blue Line from O'Hare International Airport, Chocko and his sibling tag team partner Young Gunner, found themselves at Wizard World Comic Con Chicago. On a Saturday, probably their busiest day but easy to navigate compared to the huge beast of a Con out in San Diego and the hot mess in NYC. There was plenty of elbow room to dig around and wander the convention floor. Most of our day was devoted to WWE Superstars, Nikki & Brie, The Bella Twins. If you got some extra dough burning a hole in your pocket, it's totally worth it to get VIP passes. We got to the Bella Twins photo op line which moved fast and with the VIP passes, you get placed in a separate line that goes first before general admission. After a few brief words with Nikki & Brie, mostly stammering, stuttering and twitching, they pose with you then you're whisked away to where your photo shoots out of a printer and is ready for you to take home, frame and display above the mantelpiece.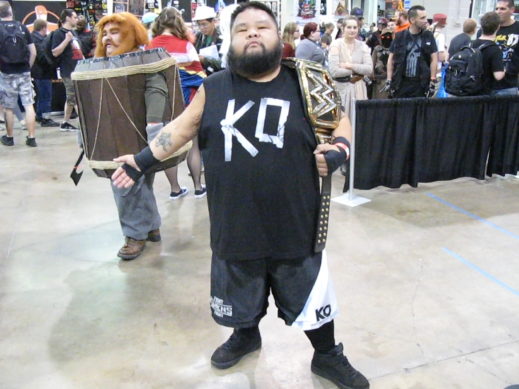 Love the Chicago cosplay but Wrestling Cosplay rules! Will Kevin Owens be the next WWE Universal Champion? Maybe with Bombur in his corner! This dude's KO cosplay gets a Chocko 5 out of 5 elbows off the top rope.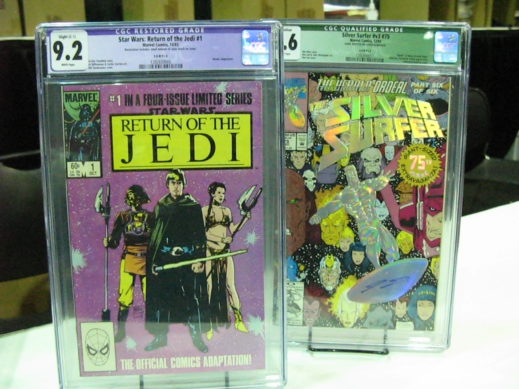 So, bagging and boarding is not enough anymore. If you wanna 1-up your fellow geeks, you have to ship out your comics to companies that will grade them, ship them back to you in hermetically sealed cases with a nifty holographic sticker slapped on it, ready for the auction block.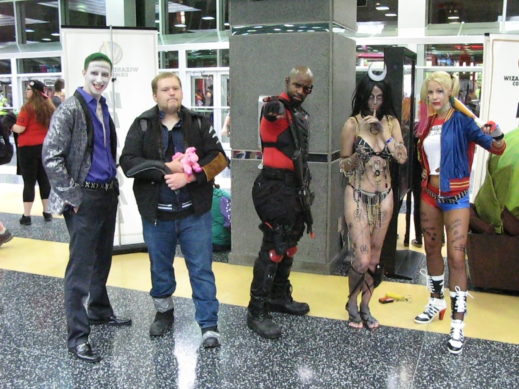 Suicide Squad cosplay was running rampant in the lobby and halls of the con. Multiple Harley Quinn sightings…no complaints here. HQ killin' it!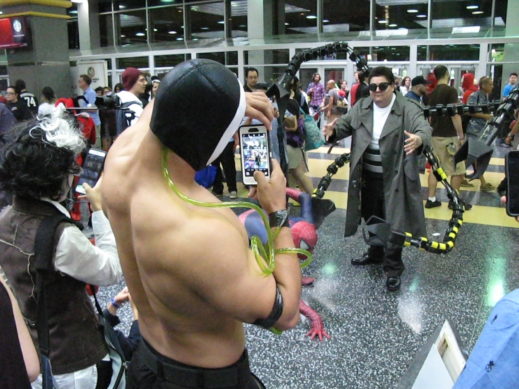 Even Bane got his fanboy on, taking a pic of the Doctor Octopus cosplay.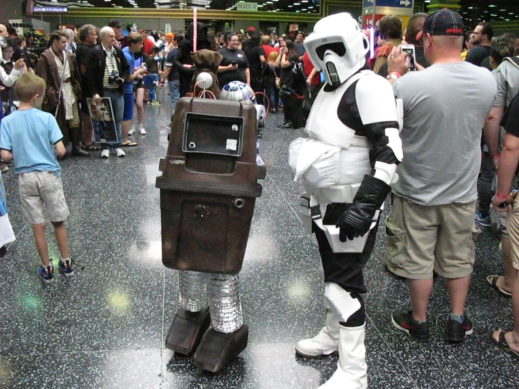 This trashcan droid gave me a flashback to the 70's. Loved the action figure. Gonk! More cosplay photos below including somebody dressed up as a Dancing Groot, Wednesday from The Addam's Family, a Tusken Raider with a baby, The Thing from Fantastic Four, Bombur from the Hobbit movies, The singing plant from Little Shop of Horrors, Lobo (everybody's favorite bounty killer from outer space), X-Men (Angel and Storm), The Joker and Harley Quinn and Doc and Marty McFly from Back To The Future. Anime and Manga Cosplay was also in the house.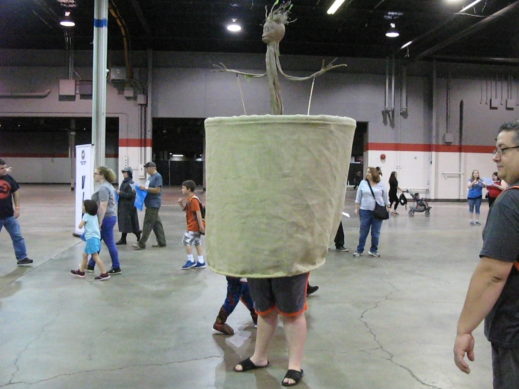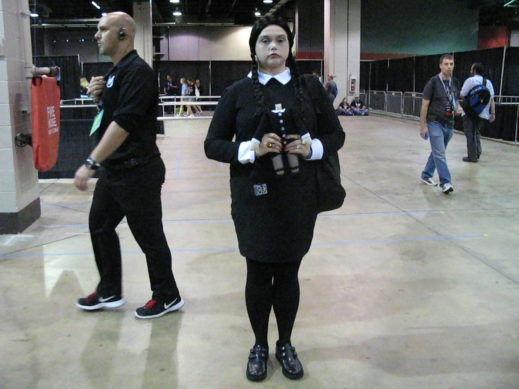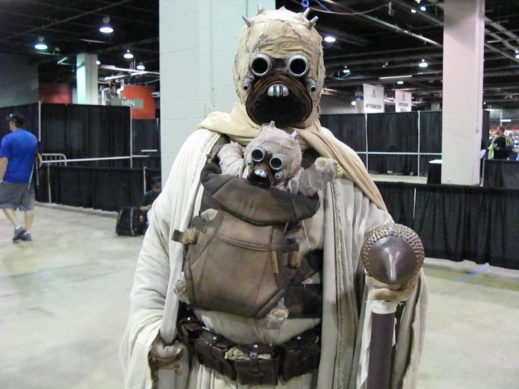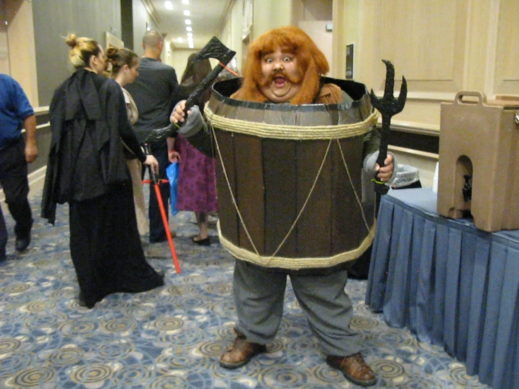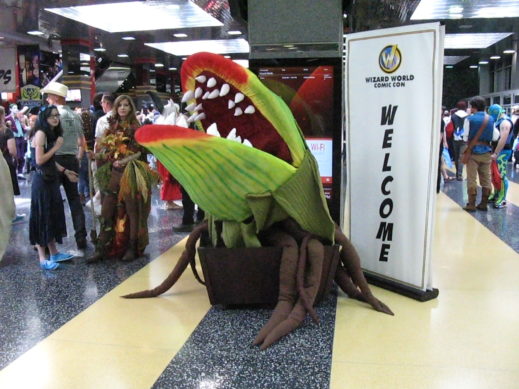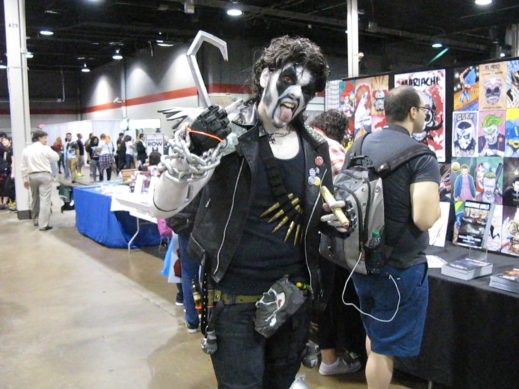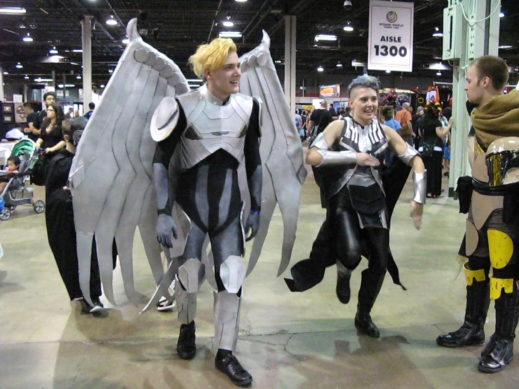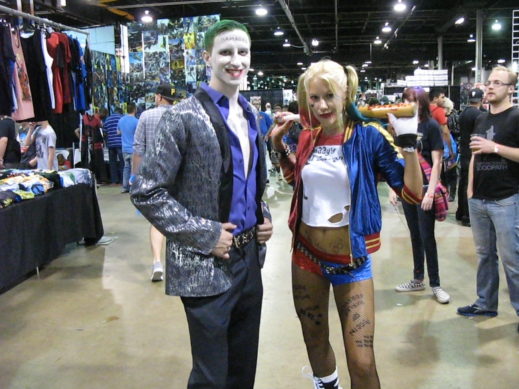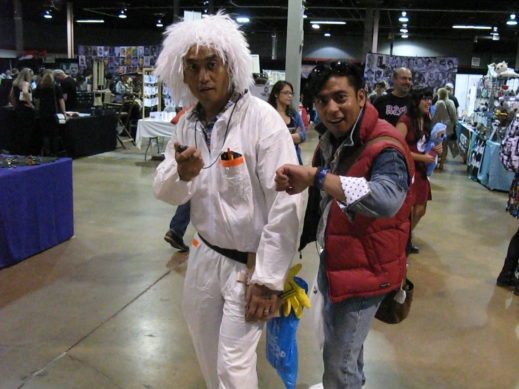 It was an awesome day at the Chicago Comic Con. Less stressful than other cons I've attended. Definitely recommended! My only complaint was the food at the snack bar. I've never seen pizza so ugly looking. They were out of cheeseburgers too! Your best bet is to pack some food or eat before you get to the convention. Finally, we got our Bella Twins autographs which was pretty fast and painless. Looks like Wizard World has some quality programming too. Hopefully nobody had to sleep overnight in the parking lot to get to any of them. We capped off the day with The Bella Twins Q&A panel. The ladies were running a tad bit late but the host and moderator, Mo Lightning (conSMASH podcast, WrestlingAudio.com) kept the crowd entertained while we waited for the panel to begin. Check out a video from the Bella Twins panel below!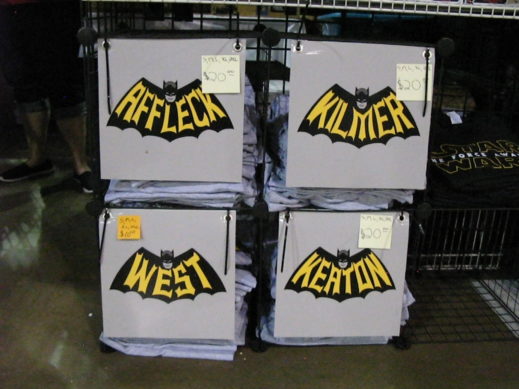 Check out Chocko (njmisfit) and Mr. C (planetchocko) on instagram.
Follow @planetchocko on Twitter. LIKE us on Facebook too. Thanks!
Tags: 2016, Brie Bella, chicago, comic books, comic con, cosplay, Nikki Bella, review, The Bella Twins, wizard world, wwe
Posted in art, chocko, comic books, fashion, movies, photos, toys, travel, TV | Comments (0)
August 13th, 2016 by chocko
Salt N Pepa at Terminal 5 August 9, 2016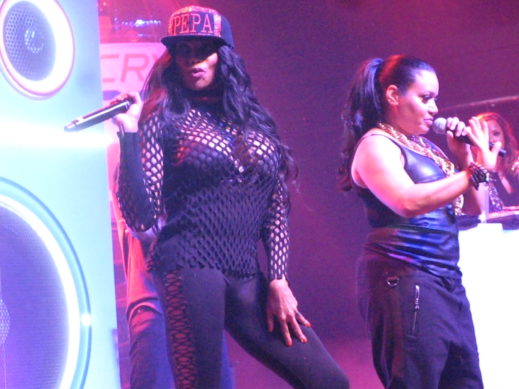 DJ Spinderella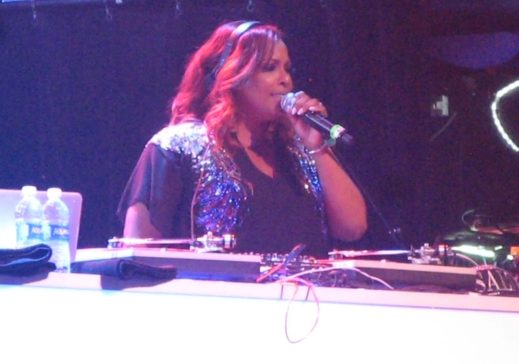 En Vogue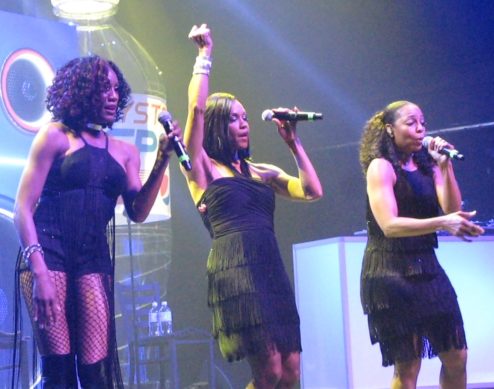 Biz Markie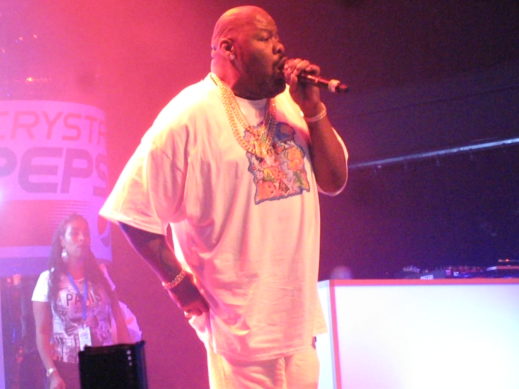 The Crystal Pepsi Summer of '92 featured artists from that totally awesome era including Lisa Loeb, Biz Markie, En Vogue and Salt N Pepa with DJ Spinderella. The 90's party also featured a retro arcade with classic video games, a hair salon to get your 90's look on point (Chocko got his Cesar cut and sideburns and goatee touched up), a Smells like the 90's art wall and a bar with an endless supply of Crystal Pepsi. There was a mini 90's retro mall with free swag…fanny packs, t-shirts with graffiti designs and hats to match. I missed the opener, Lisa Loeb but I heard she sounded amazing and shared a great story about how her break through hit "Stay" ended up on the soundtrack to the movie Reality Bites. Biz Markie and DJ Cool V crushed it on the stage with a mix of old tracks like "Pickin' Boogers" and "The Vapors" along with Biz Markies's versions of songs by Rick James (the crowd sang "Mary Jane" at the top of thier lungs), Prince (Biz hitting that falsetto for "Kiss" made me laugh), and Michael Jackson. En Vogue tore the roof off the place with a steady, smoldering set of hits including "Giving Him Something He Can Feel," "My Lovin" and "Don't Let Go" off the soundtrack of Set If Off. The group at this point in time consists of original members Cindy Heron-Braggs, Terry Ellis, and newest member Rhona Bennett. The ladies also performed a new single "Déjà Vu" which was an absolute treat…the single is their first release in over five years. Salt N Pepa along with DJ Spinderella headlined the party and showcased everything we all love about old school hip hop. Their set not only showcased excellent MC's on the microphone, but there was also tons of hip hop choreography and dance moves. The DJ even got some shine when playing some tunes to see if the crowd remembered some old school jams like "It's Tricky" by RUN DMC. Spinderella woke up the crowd for sure when she threw on some "Sweet Child 'O Mine" by Guns 'N Roses and "Smells Like Teen Spirit" by Nirvana. The impromptu dance party on stage while Spinderella played "Girls Just Wanna Have Fun" by Cyndi Lauper with all the girls in the audience bum rushing the stage was a definite highlight. Another highlight was when En Vogue was invited back on stage for "Whatta Man" which both groups collaborated on in the early nineties. The set concluded with Salt N Pepa throwing on some old school leather jackets and performing their monster smash, "Push It." Get up on this! Check out below for more photos and videos from the Summer of '92 show!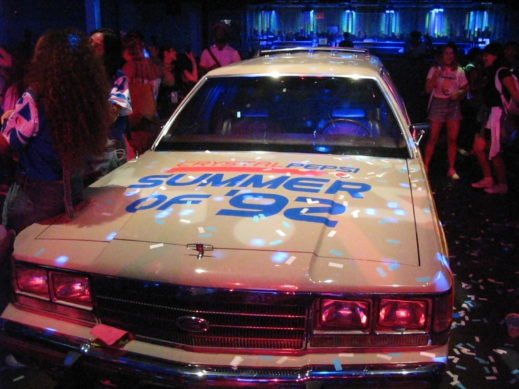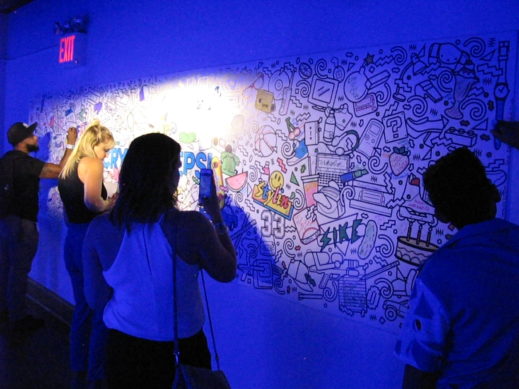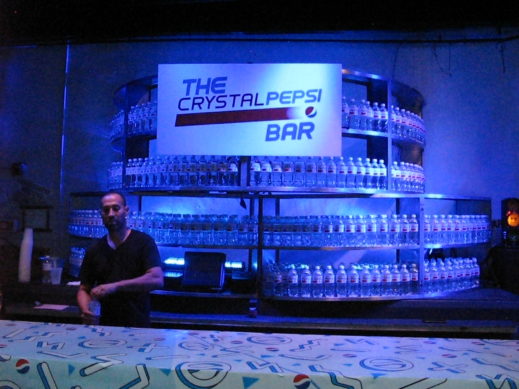 Tags: biz markie, crystal pepsi, dj spinderella, en vogue, hip hop, new york city, nyc, old school, salt n pepa, summer of 92, terminal 5
Posted in art, chocko, fashion, music, photos | Comments (0)
August 8th, 2016 by chocko
Pearl Jam at Fenway Park August 5, 2016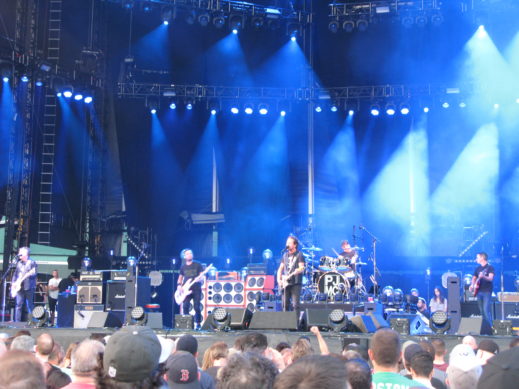 Pearl Jam are rounding the bases, nearly completing their 2016 tour but made a stop on Friday night at the home of the Boston Red Sox, Fenway Park. The 3 hour show featured no opening act and a career spanning, 32 song set list that featured covers and surprise cameos from some Red Sox baseball players. In the middle of the epic show, frontman, Eddie Vedder took the time to share some old polaroid photos projected on the big screens surrounding the stage. Most of the photos were of the small crowds that watched the band play their early years in clubs in Boston, Providence and NYC (damn, wish I went to their Wetlands show!). Two other photos were of Fenway Park which Vedder took after climbing a fence and sneaking through some corridors. Fast forward to the present, and here we are in center field and PJ is playing a sold out show in front of thousands including The Green Monster towering over left field!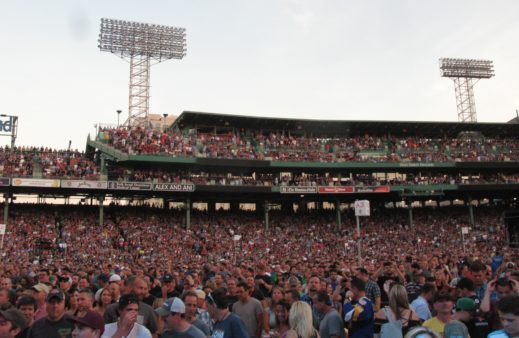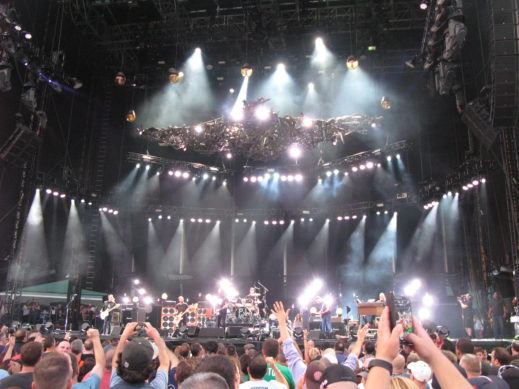 Former Red Sox pitcher, Bronson Arroyo strapped with a guitar, joined the band on stage for "Black" and Kevin Youkilis made a cameo appearance to hand Vedder a ukulele. The Boston love continued throughout the show when veteran sportswriter Peter Gammons was invited on stage. Pearl Jam dedicated "Faithfull" to David "Big Papi" Ortiz and "Down" was dedicated to American historian and social activist, Howard Zinn. The show features some songs the band rarely plays including Bob Dylan's "Master of War" which was followed up by a punked up version of Little Steven's "I Am A Patriot." Other covers included Pink Floyd's "Comfortably Numb" and Aerosmith's "Draw The Line" which was followed by a little shout out to Joe Perry. The show went into extra innings but the final two hits were also covers: "I've Got A Feeling" (The Beatles) and "Baba O'Riley" (The Who). Pearl Jam will be swinging for the fences once again for a second show at Fenway and at Wrigley Field in Chicago Aug. 20 and 22. Check out more photos and some videos below!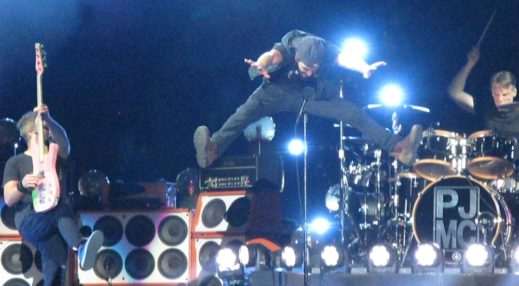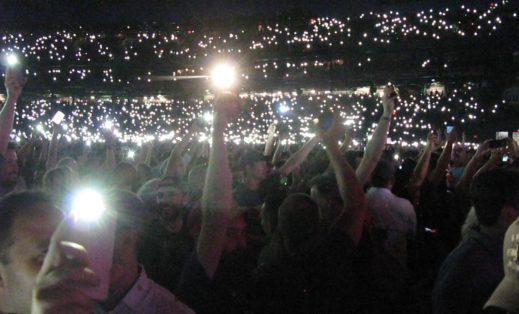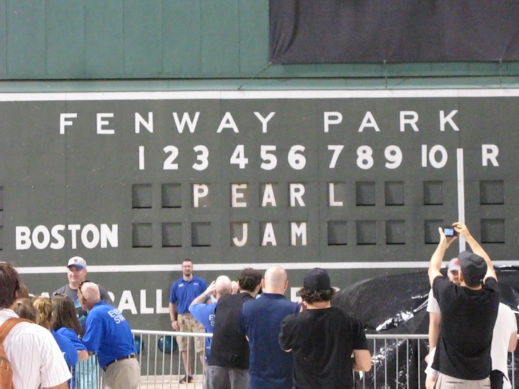 Check out Chocko (njmisfit) and Mr. C (planetchocko) on instagram.
Follow @planetchocko on Twitter. LIKE us on Facebook too. Thanks!
Tags: 2016, boston, concert, eddie vedder, fenway park, pearl jam, tour
Posted in chocko, music, photos, sports, travel | Comments (0)
August 7th, 2016 by Mr. C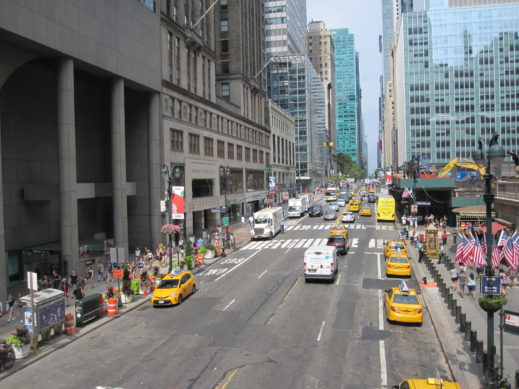 (Overlooking 42nd Street and Vanderbilt from the Park Ave overpass)
(bicycles,electric skateboards,runners,walkers,razor scooters and most importantly – NO CARS!)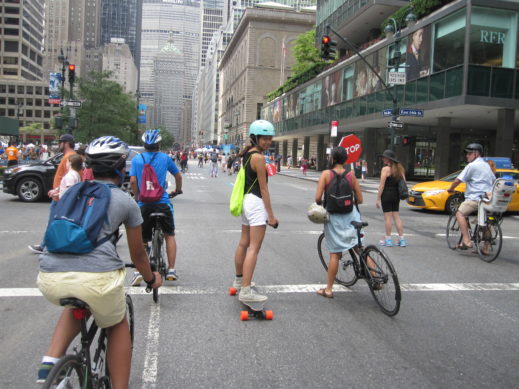 ————————————————————————————————————-
Yesterday, we hit-up Summer Streets NYC 2016 – an annual celebration of our public space – the streets to raise awareness for healthy recreation and to realize sustainable forms of transportation. On the first 3 consecutive Saturdays in August, 7 miles of NYCs streets are opened to the public to play, run, walk, & bike with NO cars or any motorized vehicles on the designated area of Summer Streets which is basically Park Ave from 72nd Street all the way down to Foley Square. There are many events going on besides the 7 miles of concrete slab road for biking, walking, skateboarding, or running. live bands, games, fitness classes, parkour demos, tai chi classes, beachside water slides, zip lines, & many other activities. We were just looking forward to bicycling the 7 miles of the no car zone which was fun enough for us!
Summer Streets NYC goes on for 2 more Saturdays this month, August 13 & August 20th! Get your bike on or at least get your
carcass on the 7 miles of cager free sucker free insanity!
—————————————————————————————————————
(The ride uptown on Park Ave seemed quiet after the 4th ave stretch)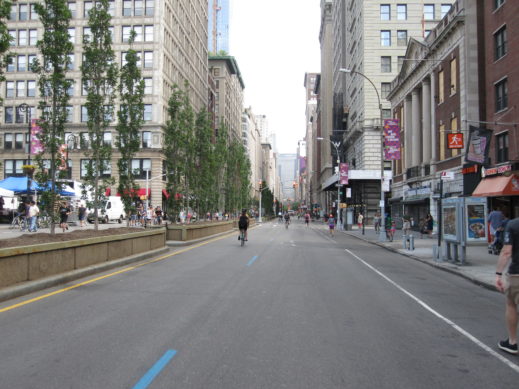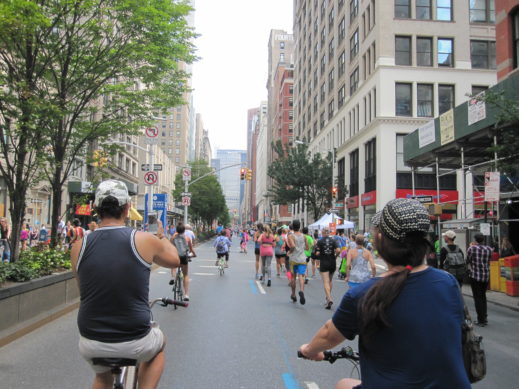 (Approaching the Helmsley Building/Metlife building by 42nd Street & Park)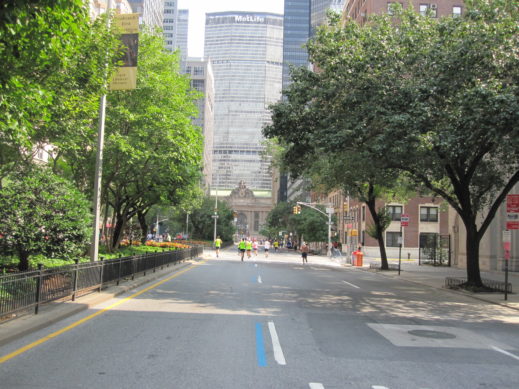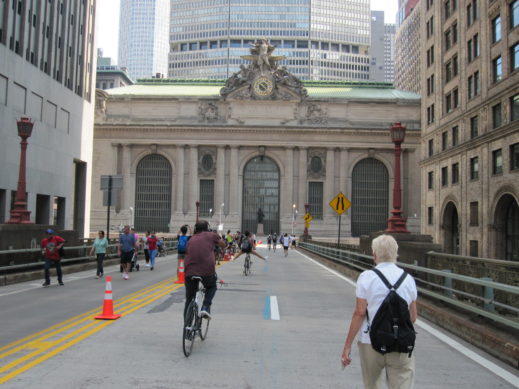 (made a right turn when at the Helmsley building)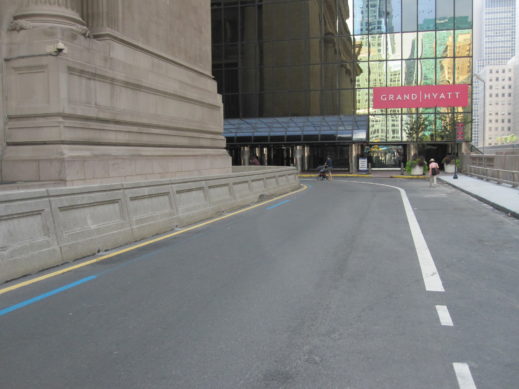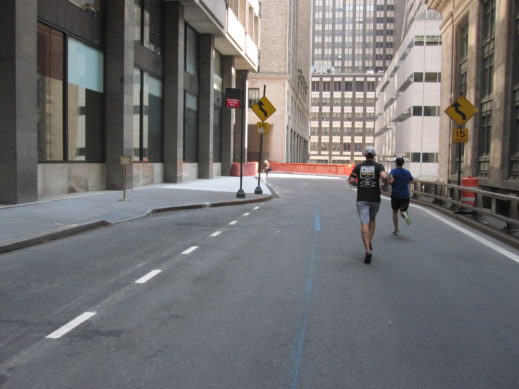 (going into the Helmsley building!)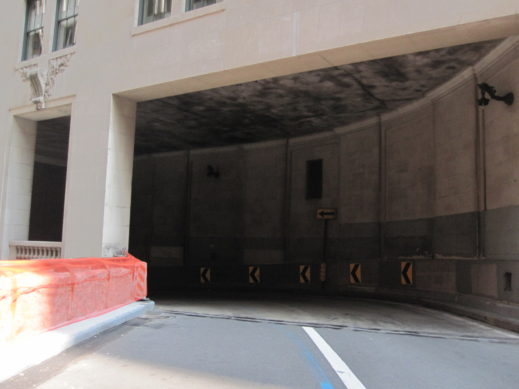 (On the other side of Park Ave by 47th St)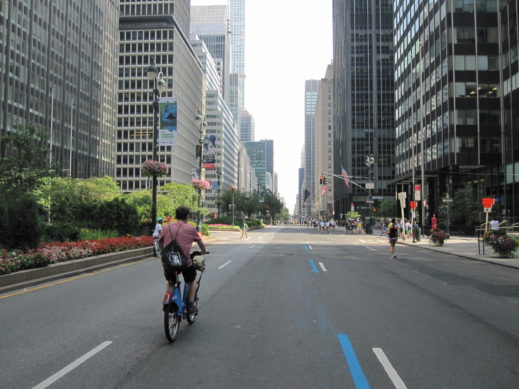 (Checking that Citi bike in before taking it right back out – my bike takes a well deserved rest, too!)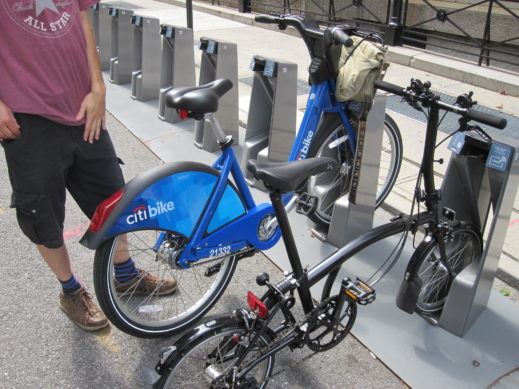 (We turn around on 72nd st to head back downtown)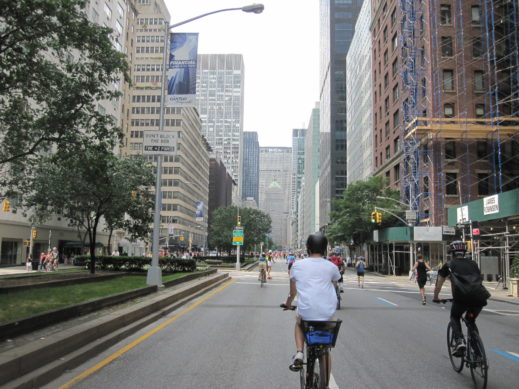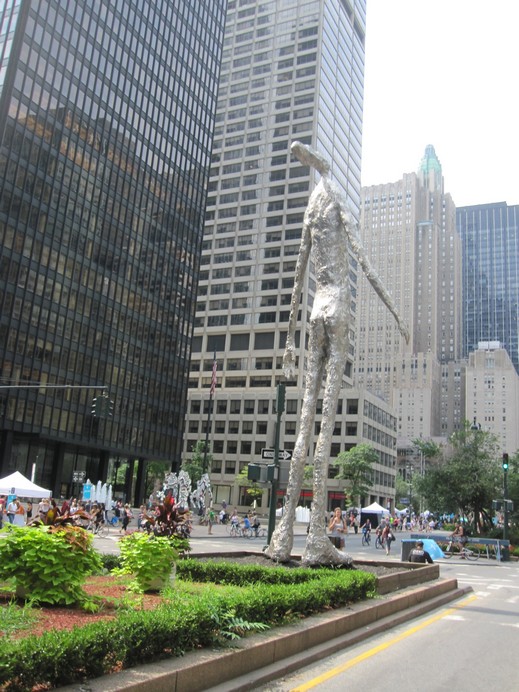 (Approaching the Helmsley Building again going back downtown)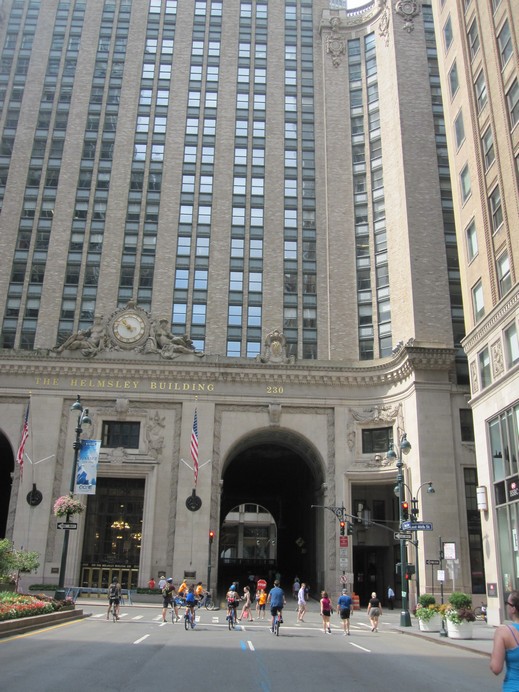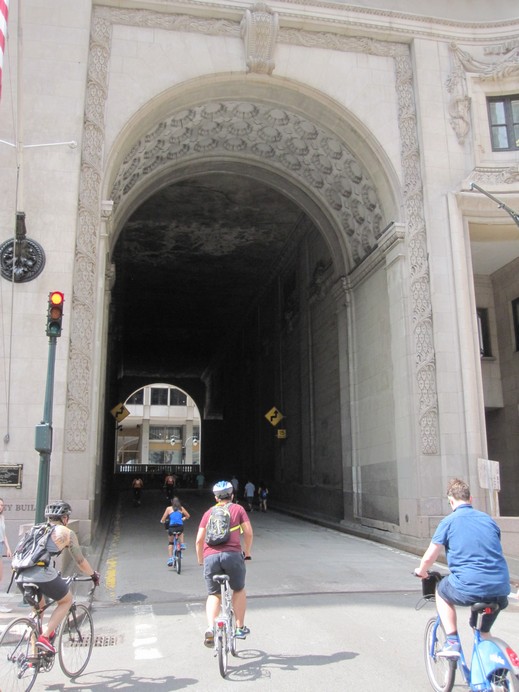 (Taking notice of the statue of Cornelius Vanderbilt – The founder of the New York Central Railroad)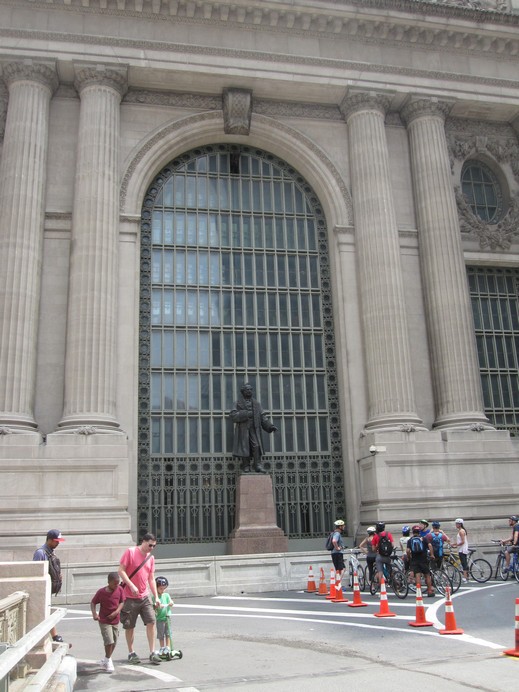 (Demolition of building across the street from Grand Central Station)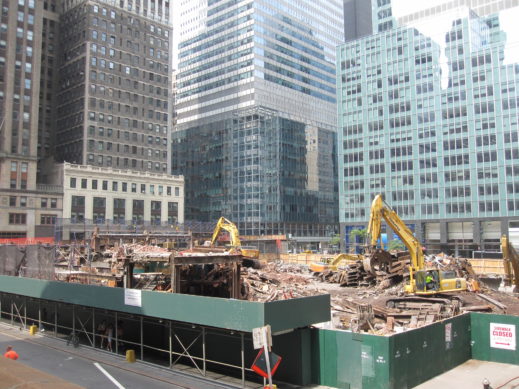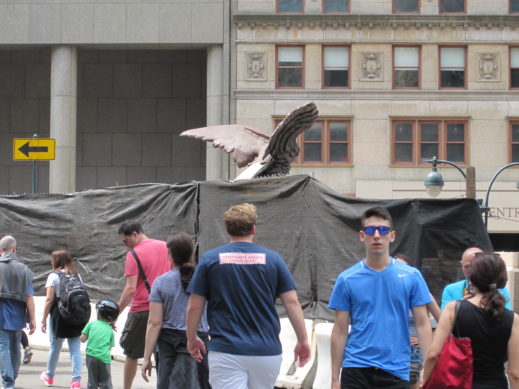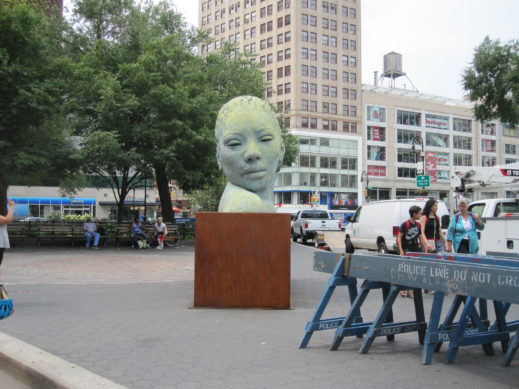 (Houston and Lafayette Streets)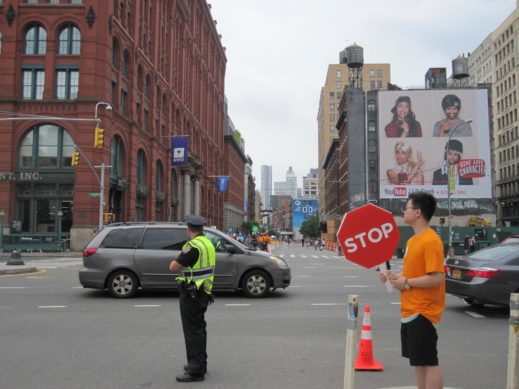 (We arrived at Foley Square at City Hall, not far from the Brooklyn Bridge)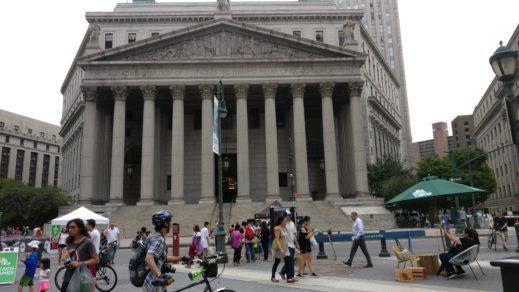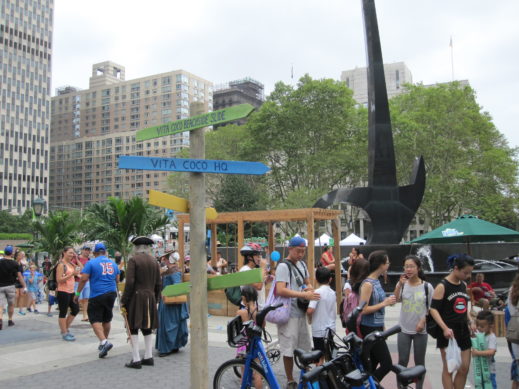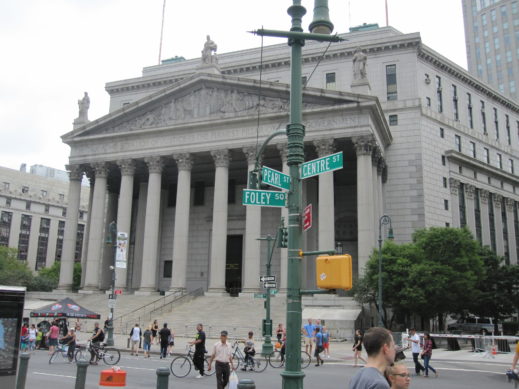 ———————————————————————————————————————–
After the ride, we had a satisfying meal at Turntable 5060 in the east village on the corner of E.4th street & Avenue B. Turntable 5060 serves new american food that is Korean inspired. You must get the wings if you come here! The soy garlic is the standard but the hot & spicy is where its at! The wings are crispy and lightly coated in rice flour, I think. The chicken reminded me of Bon Chon's version which is a good thing in my mind. For the main entree I had the bulgogi burger with a side of fries and a side of tofu with seaweed salad. The bulgogi burger meat was tender and tasty, a bit saltier than I would have wanted but the amazing toasted brioche – croissant like bun that the meat was sandwiched in between slopped up the extra saltiness. I'm usually not a fan of brioche buns because most of the time I find the bread is dry and fluffy. The ones at Turntable were flaky and moist, just like a croissant. The fries were amazing as well. They were crispy and seasoned with just the right amount of salt and dustings of chili or cayan like pepper. The seaweed salad offered a fresh contrast of the sea and crunch along with the tart and wonderful sesame oil aroma. The bulgogi burger and 2 sides was a $9.99 lunch special! What a great deal! Turntable 5060 looks like a very cool spot to hang out in, grab a few drinks and order appetizers all night long! Remember, the wings are a must! Besides the tasty food we had, the decor of the place was also pretty unique and inviting. It had a rustic & modern country feel from the wooden tables, chairs, & stools on the one side of the dining room. On the contrast, Turntable also had a vintage like feel from all the lo-fi retro audio equipment on display in the back including a reel to reel tape player and music albums lined up on the DJ like booth. Supposedly they play music on these reel to reel recorders. We must come back at night to experience the scene here along with the great korean american food!
Turntable 5060
235 E 4th St by Ave B
New York, NY 10009
(The DJ like booth I mentioned with all the retro audio equipment and reel to reel albums & recorder/player)

(Hot & spicy wings – order this!)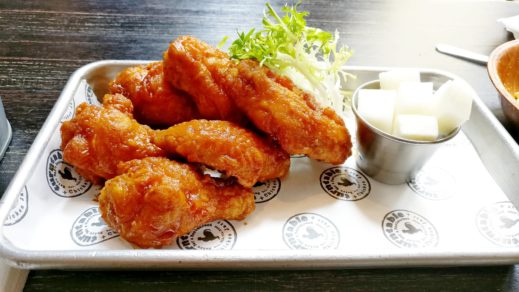 (Bulgogi burger + fries + seaweed salad)

Tags: alternative transportation, nyc bicycling, summer streets
Posted in community, mr. c, photos, sports | Comments (0)
August 6th, 2016 by Mr. C
Boundless Brooklyn started as a company that had an idea to create a DIY water tower model kit that would be fast and easy to assemble in 10-15 minutes. These model kits come complete with everything you need — no scissors or extra glue are needed. All of their products are made in the U.S.A. from chipboard, a 100% recycled material. The fun comes in when you customize the kits with paint, markers, acrylics, oils, water colors, & maybe other creative ways that I can't think of now! The water tower model kits did so well that other "canvas" kits were created such as mailboxes, billboards, half pipes, lifeguard towers, & lighthouses.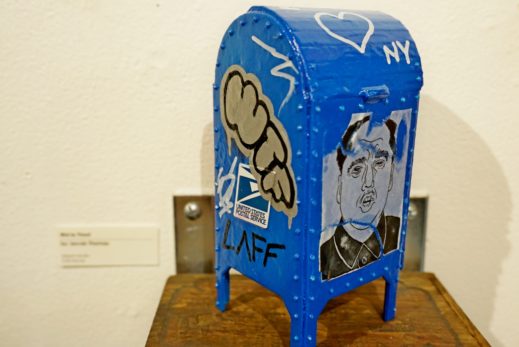 With that background, a group of 25+ leading and upcoming illustrators customized Boundless Brooklyn water towers and mailboxes for a show curated by Leo Espinosa called ROOFTOPS + SIDEWALKS on display at My Plastic Heart, a designer toy store located on Forsyth Street in the lower east side of Manhattan. All works at the Rooftops and Sidewalks exhibit are for sale! I stopped by today to check out these creations! All of the water towers & mailboxes had amazing designs,eye-popping colors, & crazy detail on them! I can't wait to start my own water tower creation soon!
The Rooftops + Sidewalks show runs from August 5th – September 2 at MyPlasticHeart.
myplasticheart
210 Forsyth Street
New York, NY 10002
Participating Artists
Leo Espinosa
Bob Flynn
Bob Staake
Loris Lora
Micah Player
Raul Gonzalez
Charles Glaubitz
Jordan Awan
Aaron Meshon
Roman Muradov
Keith Negley
Jorge Gutierrez
Sandra Equihua
Sonni Adrian
Marius Valdes
Himanshu Sharma
Jacob Thomas
Rob Dunlavey
Andrea D'Aquino
Calef Brown
Ellen Surrey
Lisk Feng
Laura Osorno
Robert Neubecker
Claudia Pearson
——————————————————————————————————————
———————————————————————————————————————
Tags: bikes, boundless brooklyn, graffiti, mailbox, summer streets, water towers
Posted in art, community, mr. c, photos | Comments (0)
July 31st, 2016 by Mr. C
———————————————————————————————————-
THE BELLS: A DAYLONG CELEBRATION OF LOU REED
———————————————————————————————————-

Lou Reed left us way too early on October 27, 2013. Yesterday, we celebrated Lou's legacy on things he loved the most: music, martial arts, poetry, experimental composition, film, his family, friends, & just living life in New York City. Thanks to his wife Laurie Anderson and producer friend Hal Wilner along with Lincoln Center for curating this event – Saturday July 30, 2016 – we celebrate Lou Reed all day long! I would only spend half the day stomping around the grounds of Lincoln Center experiencing the vibe of the gritty & eclectic Lou but I assure you, the events I attended packed a punch …. pun intended!
———————————————————————————————————-
(Chen Style Tai Ji Master Guang Yi Ren leading the class at Lincoln Center)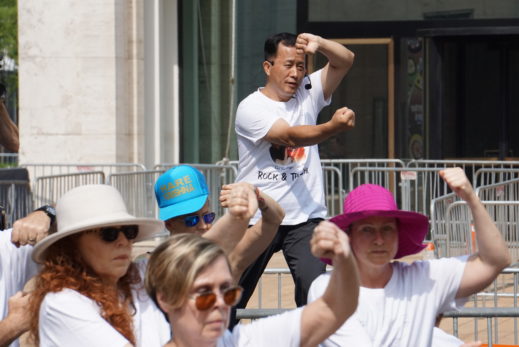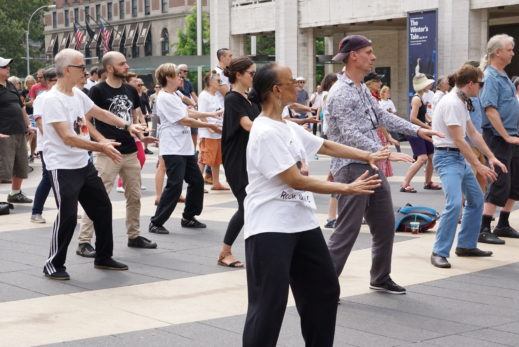 ———————————————————————————————————–
The celebration started as soon as I entered the grounds of Lincoln Center where the iconic water fountain lay with its gushing water flow that spits in a synchronous and rhythmic manner. I can hear and see Master Guang Yi Ren – a teacher of the discipline of Chen Tai Chi, an art form that Lou Reed was very passionate about. He was dedicated to Chen Tai Chi and to the teacher that he looked up to & respected very much in Guang Yi Ren. Master Ren was leading a class to about a hundred on Josie Robertson Plaza in Lincoln Center. You can magically imagine Reed on the grounds practicing just the same.
————————————————————————————————————
————————————————————————————————————-
The next event was just next door at the Damrosch Park Bandshell and it would be a treat! The music of Lou Reed / Velvet Underground would permeate through the park with live performances from luminaries in the music industry that also shared the same training and playgrounds with Lou – New York City! All were inspired by Lou Reed and his many creative forms of expression! The House band with Don Fleming, Sal Maida, Kenny Margolis, Lee Ranaldo, Steve Shelley, Matt Sweeney, and Karen Waltuch would join forces with special guests David Johansen, Jesse Malin, Bush Tetras, JG Thirwell, Lenny Kaye, Yo La Tengo, Jon Spencer, Joan As Police Woman, Kembra Pfahler, Harper Simon, Felice Rosser, Tammy Faye Starlite, and more! We included some video footage from the show below. See who performed what Lou Reed/Velvet Underground song! The ending with Yo La Tengo and friends doing "Sister Ray" was nothing short of amazing!
————————————————————————————————————–
(Yo La Tengo performs "I Heard Her Call My Name")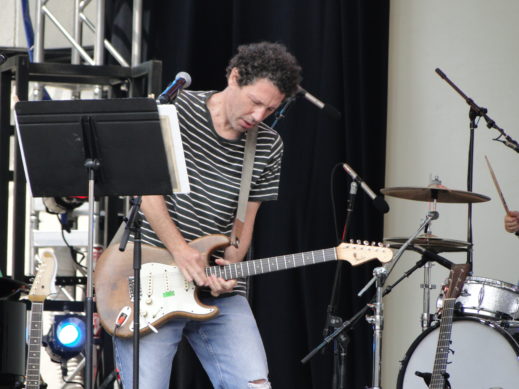 (Yo La Tengo closing out the show with "Sister Ray")

(David Johansen singing "I believe in love")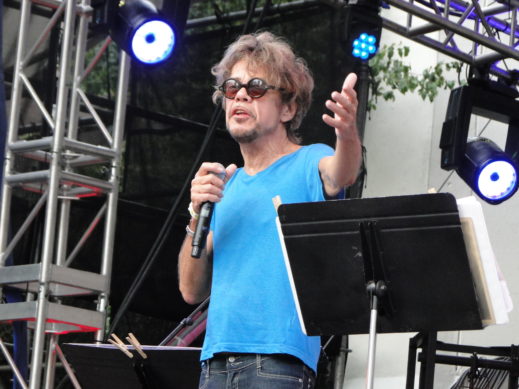 (Bush Tetras performing "Run Run Run")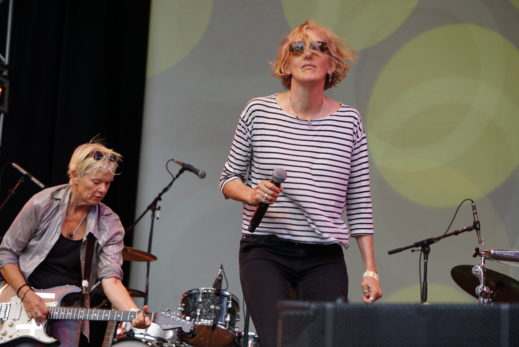 (Joan As Police Woman with "Ecstacy")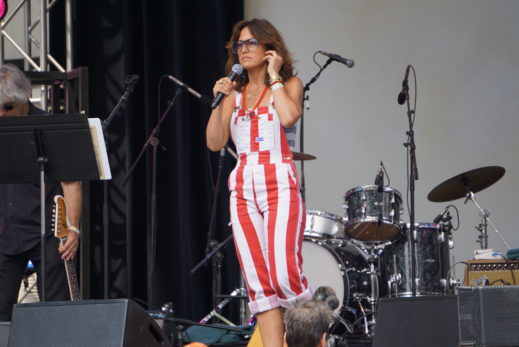 (JG Thirwell performs "Men of Good fortune")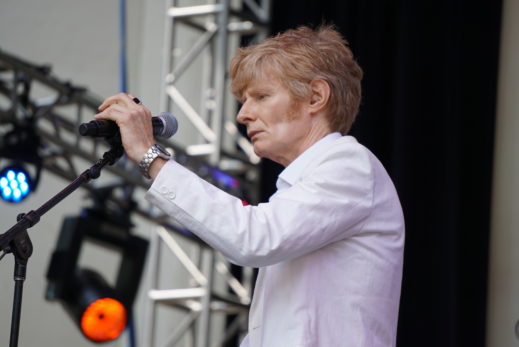 (Jesse Malin with Rock n Roll)

(Jon Spencer performs "Venus in Furs")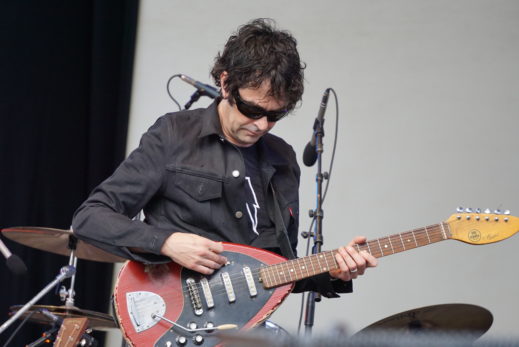 (Lenny Kaye with "I'm Set Free")

(Tammy Faye Starlite performing Chelsea Girls)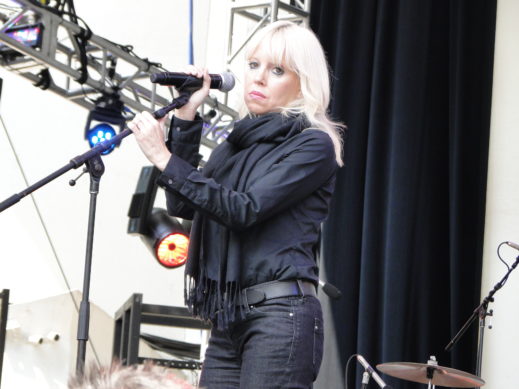 (Kembra Pfahler performing "Disco Mystic")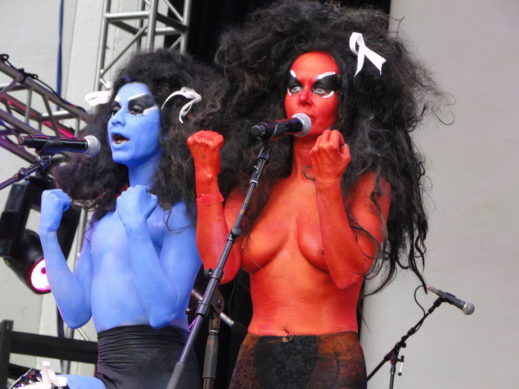 (Harper Simon with "Sweet Jane")

(Don Fleming performs "Temptation inside of your heart)

(L:Lee Ranaldo R:Matt Sweeney)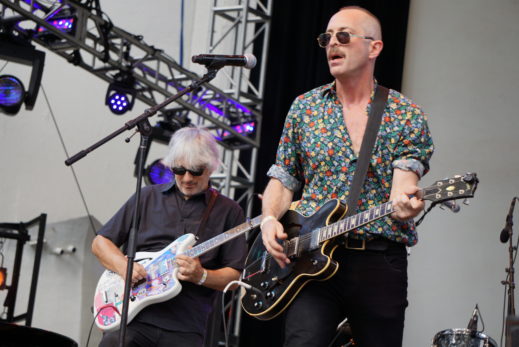 ————————————————————————————————————–
After the show, I peeked in on Master Guang Yi Ren and his students demonstrating at Hearst Plaza as well as a demo from the Ying Jow Pai (Eagle Claw Kung Fu School), an organization that Lou Reed had been a part of for many years as well.
————————————————————————————————————–
(Master Guang Yi Ren with Chen Style Tai Ji Broadsword)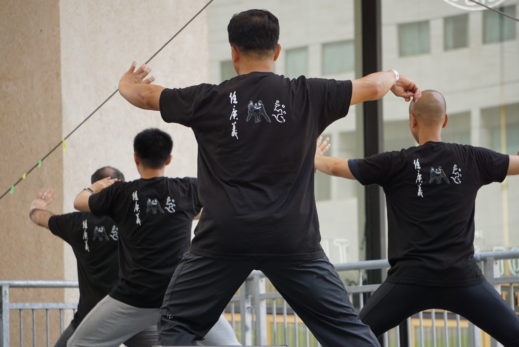 (Chen Style double edge straight sword)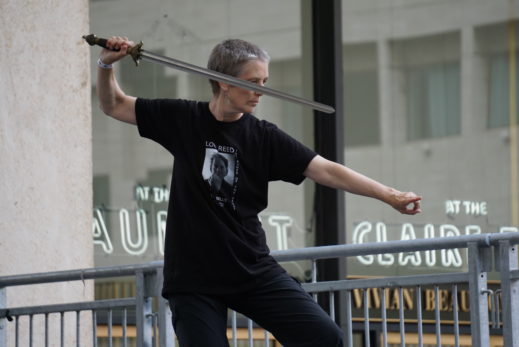 (Sifu Jose Figueroa(L) & Sifu Stephan Berwick(R) with moving/stepping Push hands)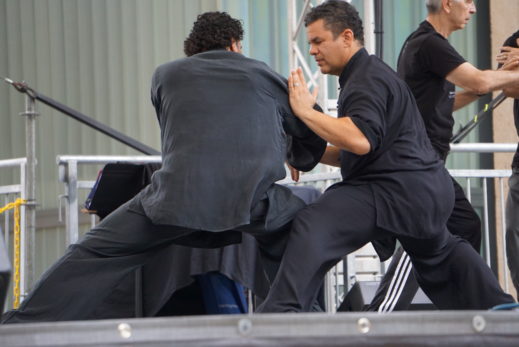 (Ying Jow Pai Kung Fu – Spear vs Kwan Dao)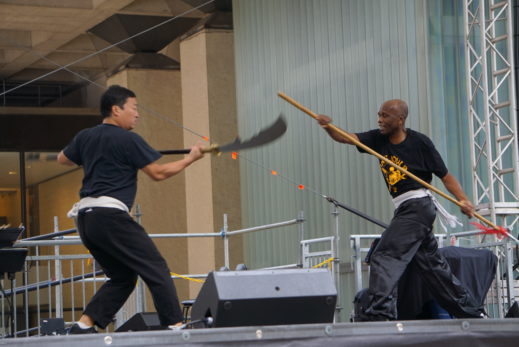 (Master Guang Yi Ren's senior disciples – Sifu Greg Pinney(L) – Sifu Jose Figueroa(R))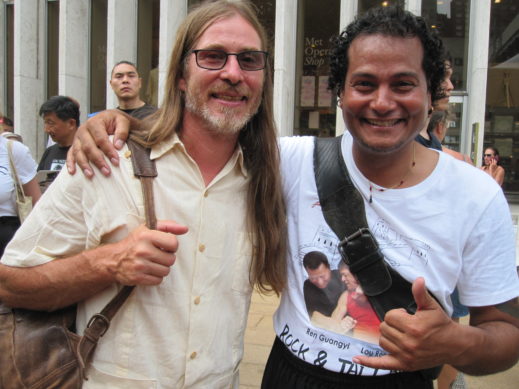 (Master Ren's senior disciple – Sifu Stephan Berwick)

(Warrington Hudlin – filmmaker, Wu Style Tai Chi practioner, & curator of Museum of Moving Image's film program "Fist & Sword")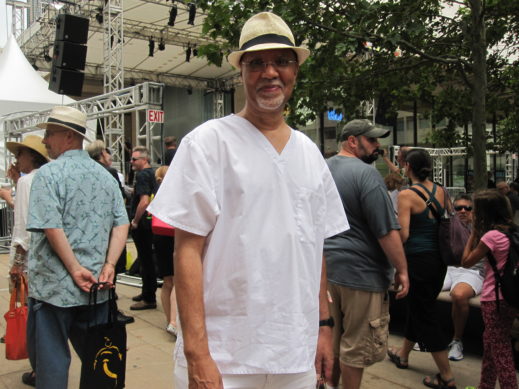 ————————————————————————————————————–
I was running short on time so the last event that I would attend was the Lou Reed DRONES exhibit. It was an immersive sound installation created from six of Lou Reed's guitars and amps in a feedback loop. Boy, was the sound in there intense! I can so see Reed get down with the noise to inspire creativity, instill peacefulness, and at the same time promote destruction and deconstruction!
(Drones installation – six of Lou Reed's guitars and amps in a feedback loop)

—————————————————————————————————————
The Bells: an all day long celebration of Lou Reed was such a wonderful way to pay homage to an NYC icon, a pioneer of music and its many forms of creative expression, and to just simply acknowledge one of our own with his courage to live & appreciate life until spontaneous combustion.I hope they make this an annual event from here on in.
—————————————————————————————————————-
Tags: lcoutofdoors, lincoln center, lou reed, new york city, tai chi, the bells
Posted in art, community, mr. c, music, photos | Comments (0)