May 17th, 2012 by chocko
Going to Chiller Theatre is a tradition here at Planet Chocko. It is the place to be for horror and sci-fi enthusiasts, b-movie fans, and collectors of the macabre. Chiller happens twice a year in Parsippany, New Jersey. Mr. C and Chocko stopped by the Spring Extravaganza last April to see some of our favorite people of the television and movie screen. Some of the many highlights: Seeing Erika Eleniak (The Playboy mags with her in them hold a special place in my heart!), chatting with Al Leong (more on that here), running into people in costume (what's up with that clown rapist?) and shopping for movies with Mr. C. I think we had a collective flashback of rummaging through the shelves of Kim's on St. Mark's and Tower Video. Chocko picked up 2 smutty gems: The Swinging Barmaids (1975) and Mama's Dirty Girls (1974). Mr. C also picked up some exploitation treasures which I'm sure we'll review somewhere down the road. I also ran into Matt of the NYC thrash punk band VERMEFÜG and the website Horror Boobs (bringing you the "best in breasts from all genre cinema"). I picked up the new gory, cult 80's throwback MOLD!. It's awesome and also available on VHS. I also picked up Matt's brand new 'zine titled Blood Video a very cool read, jam-packed with articles about VHS Culture, Cult Cinema and upcoming VHS-related events! I can't wait for Issue Two. You can pick up a copy at Forbidden Planet in NYC. The next Chiller Theatre Expo will take place on October 26 – 28, 2012.

Zacherle "The Cool Ghoul"…The O.G. of Horror Hosts. Zach is Back.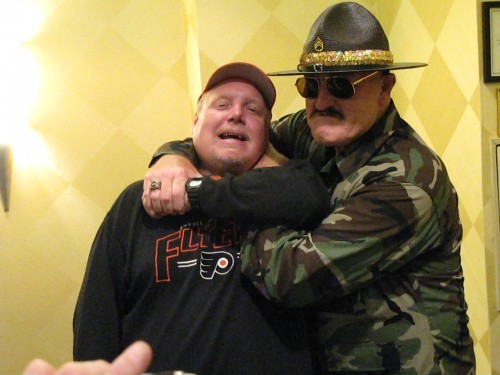 Sgt. Slaughter applies the Cobra Clutch to a Philadelphia Flyers fan.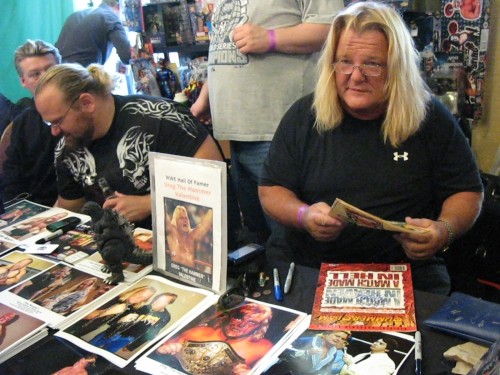 Greg "The Hammer" Valentine and to his right…The Enforcer!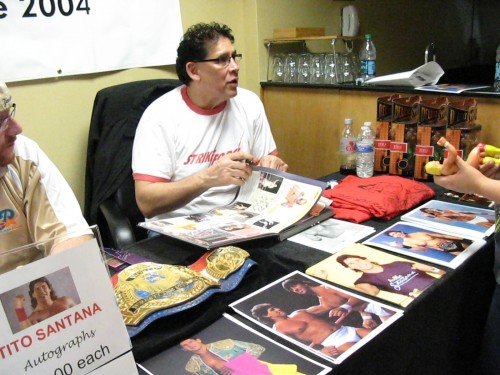 another wrestling legend…Tito Santana. Arriba! There were so many wrestlers at Chiller, there should have been a battle royale in the lobby.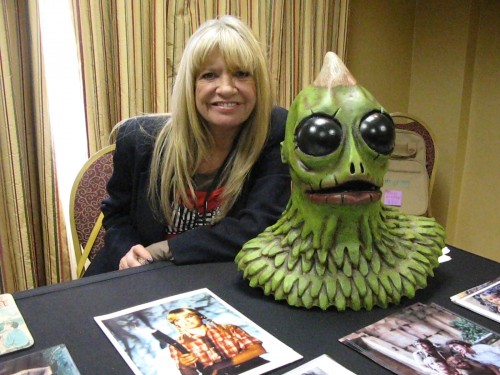 Kathy Coleman (Holly from Land of The Lost). I was expecting to see some pigtails! She signed my Land of The Lost lunchbox (a special shoutout to dbborroughs of Unseen Films who pointed out the lunchbox at the DVD store) and then we posed for a photo together by the Sleestak head…Chocko and Holly together at last, a dream come true!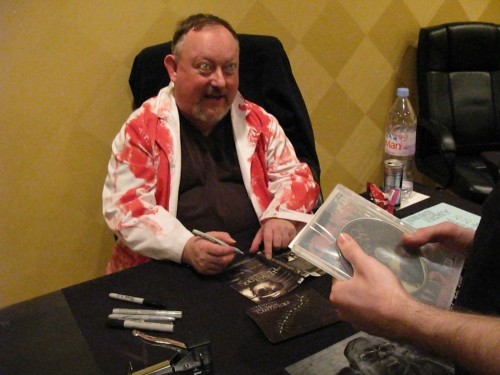 Laurence R. Harvey of Human Centipede II. Ahhhh! Those eyes.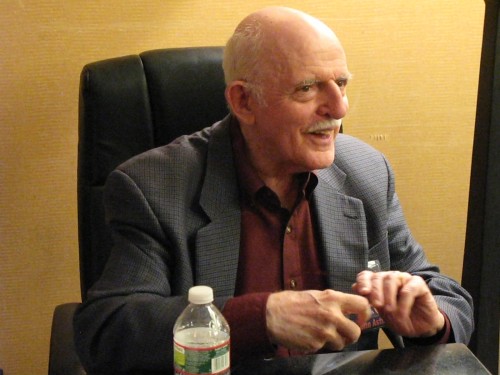 John Astin…best known for his role as Gomez Addams of the television series, The Addams Family (1964-66). He was also The Riddler in the 60's Batman series after Frank Gorshin.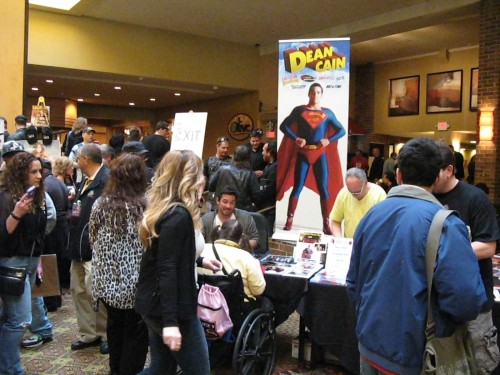 Believe It Or Not…Dean Cain is in this photo! Use your Superhuman vision.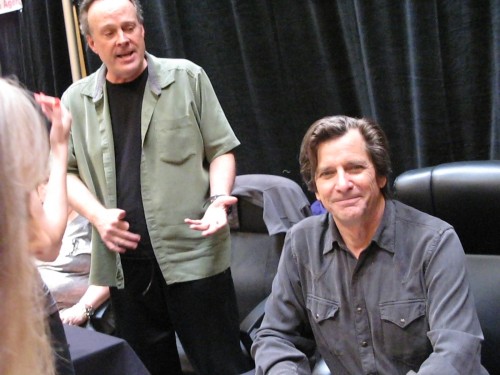 Dwight Schultz ('Howling Mad' Murdoch) and Dirk Benedict (Templeton 'Faceman' Peck) of the 80's tv series THE A-TEAM.

Linda Blair (The Exorcist). Check out those arms! Seriously, check out her website for WorldHeart Foundation, devoted to care and rescue of animals in the Los Angeles area. Damn, she got some baseball biceps.
Follow @planetchocko on Twitter.
LIKE us on Facebook too.
Tags: chiller theatre, cult cinema, horror movies, human centipede, linda blair, sgt. slaughter, zacherle, zacherley
Posted in movies, photos | Comments (2)
2 Responses to "CHILLER THEATRE April 2012"
Paris Says:
May 20th, 2012 at 3:50 pm

Frank Gorshin was the ORIGIONAL Riddler on BATMAN…Not Mr.Astin.

chocko Says:
May 20th, 2012 at 4:07 pm

Thank you for pointing that out. You are CORRECT! Time to fix that…