March 7th, 2012 by Mr. C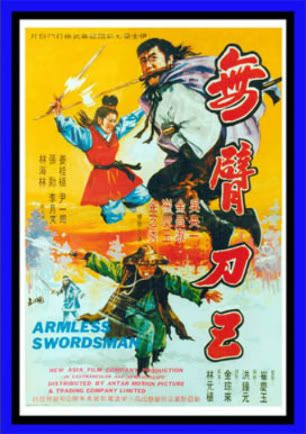 Director: Lim Won-Sick
Stars: O Yeong-Il, Kim Ji-Su, Kim Chang-Sook, Choi Gyeong-Ok
Genre: period piece martial arts
Talk about "Love Will Tear Us Apart" – literally! — which is the theme of the Japan Society's most recent and ongoing film series mingling Japanese and Korean movie titles about Love that manifests itself in a more twisted and tainted form!
The Armless Swordsman might very well fit into this category barring the 1969 korean production which might stop the hip and modern folk from attending this type of screening. The Armless one is a classic revenge flick involving insecurities, love, swordsmanship, honor, and the will to survive! C'mon folks, the Swordsman is armless and here he is slicing and dicing, slashing and prancing as he wields his sword between his mouth with revenge in his eyes! Adding insult to injury or death to his naysayers blessed with limbs, he will use his foot to throw darts and knives to maim his opponents, a true meaning of by any means necessary!
Here's a quick backdrop of the story without giving out spoilers to ruin the film: a young and handsome swordsman (Kim Chang-Sook) is madly in love with his teachers daughter and the feelings are mutual. However, the senior student (Choi Gyeong-Ok) of the master has been promised her hand in marriage and rage ensues when he finds out the young gunner and the masters daughter have other ideas. A confrontation between the two will leave the young jedi with two less arms. Forget about the One armed Swordsman or the Blind Swordsman, but an Armless Swordsman!! From here on out, I'm sure the viewers can imagine what the storyline will be. Our Armless vigilante will take refuge in the mountains as he recovers, thanks to a young lady and her grandfather. Here is where the limbless one will take on secret techniques of swordsmanship, throwing knives, and the art of high flying wu-xia in walk on water fashion! Mind you, the choreography and effects of this film is circa 1969 so be open minded in what to expect in this era as this rare and raw motion picture will tug at you in the limbless genre of martial art movies like the One Armed Swordsman! We have seen the One Armed Swordsman vs Zatoichi-the Blindswordsman but have they done the Armless Swordsman vs any one of the above? Hmmmm!!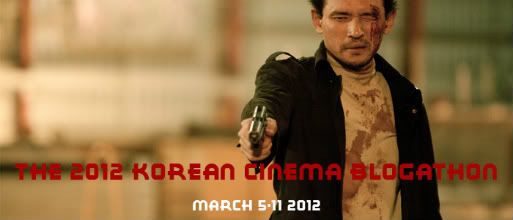 Tags: korean blogathon, korean blogathon 2012
Posted in movies, mr. c | Comments (0)