November 10th, 2017 by chocko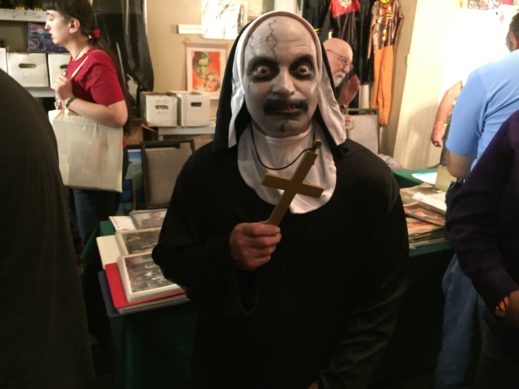 Hey you stinky zombies, ugly nuns and mummies! Chiller Theatre time came once again..the spooktacular expo for fans of horror, sci-fi and everything else in between. We hope you hobbled out of your musty basements, hopped out of your crypts, and made it out to Parsippany, New Jersey to buy some monster movies, memorabilia and meet your favorite stars. Where else can you run into the legendary wrestler Honky Tonk Man and Michael Nesmith of The Monkees even before you step foot in the door?!? As always there was a huge number of guests and there were cast reunions of movies such as Last Starfighter, Creepshow 2, Nightmare On Elm Street 3 and The Burning. Here's a look back at Chiller Theatre in October 2017 through some ghastly photos.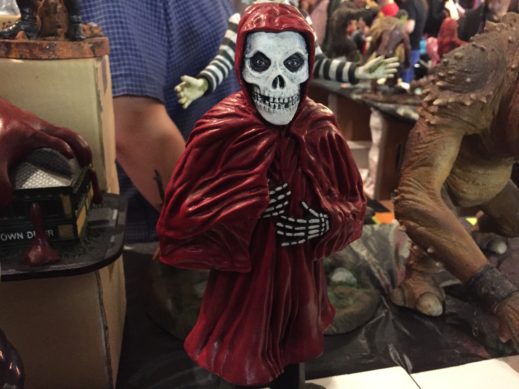 The Crimson Ghost was seen in the Vendor Area. Most people and fiends see the Crimson Ghost and immediately associate him with the punk band The Misfits, but the Crimson Ghost actually originated from the 12-episode 1946 Republic film serial. Check out the trailer if you dare!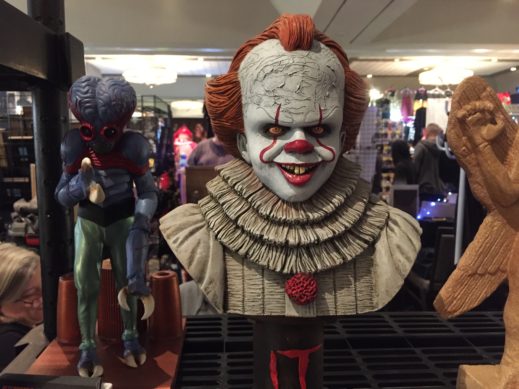 More scary wares at the huge vendor area. Pennywise is watching you!

Rancor from RETURN OF THE JEDI. Who's ready for the next Episode?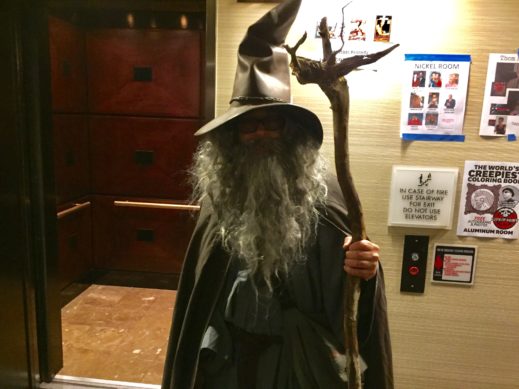 Fool of A Took! That's not a member of ZZ Top, It's that OG, Gandalf!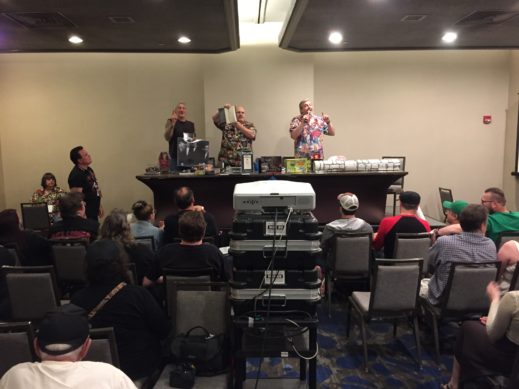 Follow Ted A. Bohus (THE DEADLY SPAWN) and bid on horror collectibles at the Chiller Auction and make your credit card scream for mercy!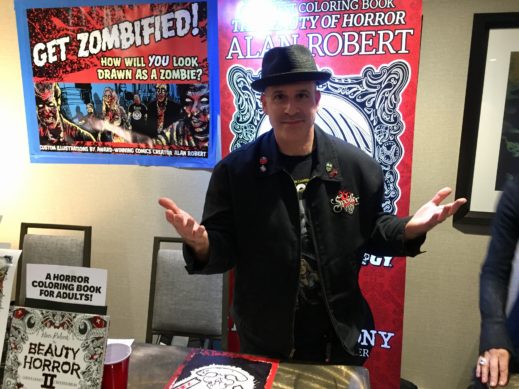 Alan Robert of Life Of Agony was in the house to draw you zombified and sign his latest goregeous coloring books and comics. We need more dudes like Alan at the show. He was super friendly, wanted to take photos with you without charging a dime and generous with extra freebies like LOA stickers and guitar pics. I bought an issue of his Killogy comic book series with Doyle of The Misfits on the cover. Great stuff!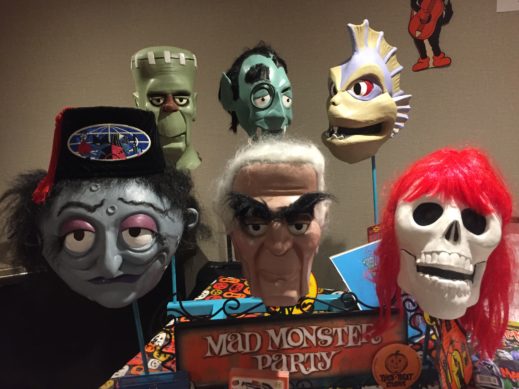 Rankin/Bass historian, Rick Goldschmidt had some vintage animation puppets on display along with Mad Monster Party memorabilia.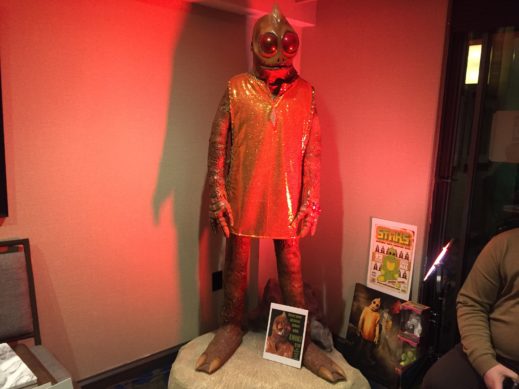 Enik from Land Of The Lost is an an ancestor of Sleestak. Fun fact!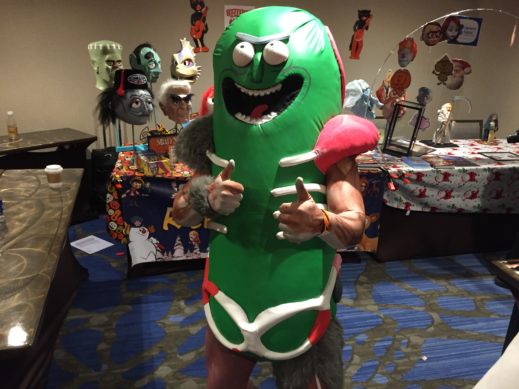 Rick & Morty fans and perhaps kirby pickle enthusiasts will recognize this costume…it's Pickle Rick! People love him! He's kind of a big dill.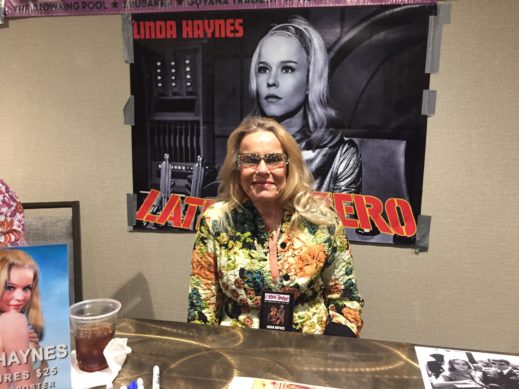 Linda Haynes was in the house. We kinda geeked out when she told us the story about how Quentin Tarantino was trying to contact her when he was to direct an episode of ER. Linda never returned his call because she didn't know who he was at the time. I bought an autographed photo of her in the movie Coffey with Pam Grier and another one from the movie Rolling Thunder (1977), which is a favorite of Tarantino and inspiration for his short lived distribution company by the same name.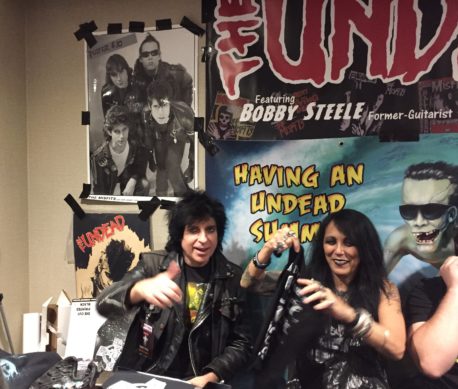 Bobby Steele and Diana Steele of THE UNDEAD! Cool ghouls and the friendliest punk rockers you'll ever meet. They have a new record out titled "Having An Undead Summer" which features Diana on lead vocals on the track "Oh Frankie" which sounds like a Ramones tune with Joan Jett on the microphone. Love that little homage to The Munsters too! Diana also lends her pipes to the track titled "Ridin' The Graves" a great surf song for all those on the beach dressed in black from head to toe. You'll be longing for the summer when you hear Bobby singing about romping through the cemetery and surfing by the light of the moon on tracks like "Hearse Song" and "Undead Summer." Get yours on blue or orange vinyl! Also some "Live Slayer" albums have recently been unearthed. The long out of print live Undead album is back for a limited time! Undead at Dingbatz on Dec 8 with The Independents! Be there.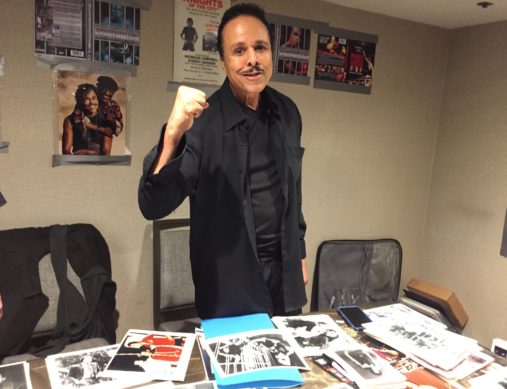 Leon Isaac Kennedy from movies such as PENITENTIARY and BODY AND SOUL was ready to rumble. Leon is a man we would love to interview!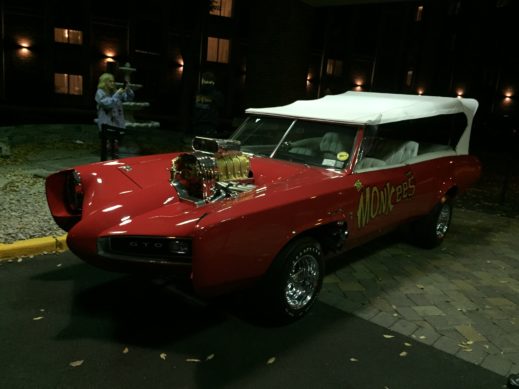 The original Monkeemobile was parked out in the front along with other famous vehicles including Sanford and Son's Ford pickup truck.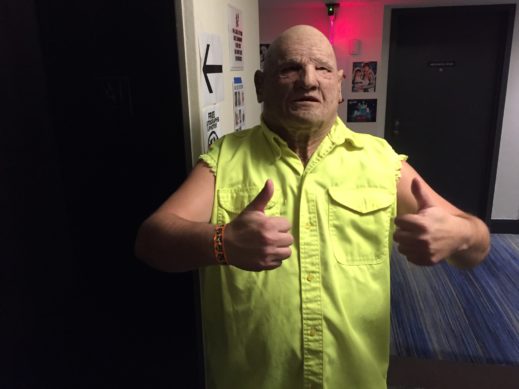 This zombie we ran into lurking in the lobby looking for brains gives Chiller Theatre two thumbs up! See you next time in the spring.
Check out Chocko (njmisfit) and Mr. C (planetchocko) on instagram.
Follow @planetchocko on Twitter. LIKE us on Facebook too. Thanks!
Tags: 2017, chiller theatre, convention, expo, horror, Linda Haynes, The Undead
Posted in art, chocko, music, toys | Comments (0)