September 28th, 2017 by chocko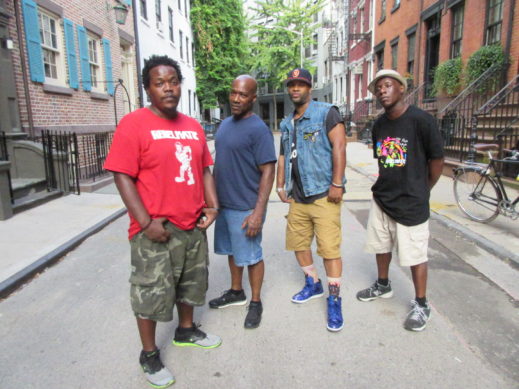 Rebelmatic (Creature, Ray Reed, Alkatraz and Karnage) photo by Ricky Powell
It has been a busy year for New York City's hard rocking Rebelmatic. They played Punk Island and for the second time, the AFROPUNK Festival. You can catch them on television…they were recent musical guests on The Chris Gethard Show and featured performers on BRIC TV. They just played an insane show at The Bowery Electric to promote their newest EP, Eat The Monster. Their punk songs sound like if you put the songs of Agnostic Front, Bad Brains and Public Enemy and mixed it all in a blender. See them live and you will wanna start a mosh pit. Rebelmatic features Creature on vocals, Alkatraz on guitar, Karnage on bass and vocals and Ray Reed on drums. Be sure to support this band, go to their shows and pick up their latest music, Eat The Monster. Thanks to Creature and Karnage for taking the time out and doing the following interview.
Tell us the meaning and origin of the band's name.
CREATURE: The origin of the band name was inspired by the song, "Rebel Without A Pause" by Public Enemy. Also, another inspiration was the album title, "Illmatic" by Nas. It's about resilience and being the ultimate rebel. When you know what you want to accomplish, you go all out. You don't have to think about it, it's automatic. So that's the meaning of Rebelmatic.
How did you all meet and what inspired you to start a band?
CREATURE: We all met in different ways. I met Alkatraz through mutual friends, because we are the same area in Corona, Queens. I met Karnage at this show we did at Port 41 on W. 41st in Manhattan. He was in this band, Shakuan, as a guitarist. We were all there to open up for blk Vampires. We started talking and we had similiar vibes and similiar music interest. A few months later, his band breaks up, and we we're looking to fill a bass slot. We already had a guitarist playing bass for us, but he wanted to get back on guitar. So I said hey man I think you would be a dope fit on bass. He was already a fan of our music, so he winded playing bass for us. Our drummer Ray Reed, he answered an ad we had in the musician section of backpage.com. This the current line-up over the past year and a half, but Rebelmatic has existed for eight years.
KARNAGE: I met Creature at W. 41st in Manhattan. My band at the time, Shakuan, was on a bill with Rebelmatic, and blk Vampires. We started talking and realized we had a similiar upbringing, as far being black men, and being fans of rock music and hip-hop. We kept in contact after that show, and began to go to Rebelmatic shows. I became a fan, and I got to know the other members including Alkatraz. Few months later, Shakuan breaks up, and Creature asks me if I wanted to play bass for them. I played guitar already, so I made the transition to bass easily. The rest is history. I have been in Rebelmatic for four years now.
Describe the music you play and what do you want the listener to get out of it?
CREATURE: The best way to describe our sound is James Brown in a mosh pit. What we want people to get from our music is an unadulterated experience. That means feeling the honesty, the energy, and the music kicking their ass! It's social, it's introspective, it's grass root, not misogynistic, and it's fresh and exciting.
KARNAGE: Yes, I would say it's James Brown in a mosh pit too. It's aggressive, groovy and honest. We want the listener to get a sense of relentless passion, and unbridaled fury. Especially seeing us live, we want the listener to have a hard time containing themselves. They have got to rock out with Rebelmatic.
What are some of your musical influences?
CREATURE: Bad Brains, Public Enemy, James Brown, Wu-Tang Clan, Nirvana, The Doors
KARNAGE: Black Sabbath, Funkadelic, James Brown, Soundgarden, The Deftones, Public Enemy, Redman, Bad Brains, etc. Too many to name.
Tell us about the new EP, Eat The Monster. How was the writing and recording process like?
CREATURE: The writing process was natural. The songs write themselves. We either jam out on a riff at rehearsal, or someone comes in with a song idea and we work that out. Sometimes I have lyrics, sometimes I don't. If the music hits me right then, I'll freestyle the lyrics, and then format it later once the music together. We don't record any songs until we have performed them. We may have performed the song for three months or more before going in the studio. The recording process is easier because of that. Usually the songs are done in 1 to 3 takes. Then we go back in to do overdubs, fattened up the sound and that's it. We take our time, but our writing and recording and process isn't drawn out. This music is meant to be heard live, but you get a recording to take home with you. We try to keep the recording as close to the live experience as much as possible.
What has so far been the most memorable show that you ever played and why?
CREATURE: Afropunk 2013 and 2017, Punx of Color 2017 and Aesop Rock and Rob Sonic at Irving Plaza in 2016. We dig Afropunk because it's always a lot of people. Some get Rebelmatic, some don't, but it's cool. We're playing outside and that always feels free. The Punx of Color 2017 was fun because it was a big basement party in someone's house, and it was jam-packed with people. From the first note to the last, the energy was electrifying. It was one the most purest and intimate shows we have ever done. The Aesop Rock and Rob Sonic concert was great because it was a hip hop show that was sold out. I performed songs from my EP, Torn Together, with Rebelmatic and then we finished off the set with a Rebelmatic song , "Walls Have Ears" from our Judas Goat EP. The audience was receptive in a way that was amazing.
What are some bands or musicians that you recommend listening to?
CREATURE: I'm going to name any bigger bands, because everyone knows those bands. I'll recommend some bands of our musical ilk that we know. I would say listen to Fear Is Dead, Red Arkade, Maafa, The Bandroids, blk Vampires, Killer of Sheep, Ache, and Activator
KARNAGE: I'll recommend some unheard of bands. I recommend Demon Fuzz, Black Merda, The 1619 Bad Ass Band, Ebony Rhythm Funk Campaign, Ballin' Jack, The Mighty Ryeders and Aguaturbia.
Do any members of Rebelmatic have hobbies or other talents or interests outside of music?
CREATURE: I rap and have been rapping since I was a teenager. I have a solo album, and two EPs. I still record by making appearances on other people's music that I'm associated with. I'm working on putting out another rap project, but instead of beats from producers, Rebelmatic will provide the music. Aside from being a musician, I'm a father of two children. I have a son and a daughter. My ultimate life now is being a musician and a father.
KARNAGE: I play guitar, but I joined Rebelmatic as their bassist. I also DJ under the name DJ Eddie Nocentelli. I spin funk, soul, jazz, world music and hip-hop. I also rap. I'm also a teaching artist in elementary after school program on the Upper West Side of Manhattan.
What are some of your favorite movies?
CREATURE: Coonskin, The Spook Who Sat By The Door, Serpico, Carlito's Way, Goodfellas, The Education of Sonny Carson, Do The Right Thing…these are movies I come back to and will watch again and again.
KARNAGE: Some of my favorite movies are Heavy Traffic, The Black Gestapo, Coonskin, I'm Gonna Get You Sucka, Don't Be A Menace, Menace To Society, Drop Squad, Goodfellas, The Killer, The Professional, etc.
Name your top 3 favorite hip hop albums.
CREATURE: 1. Public Enemy- It Takes A Nation of Millions To Hold Us Back 2. Wu-Tang Clan- Enter The 36 Chambers 3. Mobb Deep- The Infamous
KARNAGE: 1. Redman- Whut? Thee Album!, 2. Ghostface Killah- Supreme Clientele and 3. The Roots- Things Fall Apart
If you guys were professional wrestlers, who would you want to battle in the ring and what type of match would it be?
CREATURE: If we were professional wrestler, we would battle The Road Warriors, The Legion of Doom, Jake "The Snake" Roberts, and the original Four Horseman. That's Tully Blanchard, Ole and Arn Anderson and Ric Flair in a Steel Cage Match. However, if we're talking non-wrestlers, then it would be George Zimmerman, Donald Trump, Rush Limbaugh, and former New York City Mayor Rudolph Guiliani. Steel Cage Match! We would break his neck!
KARNAGE: Let's throw in Hacksaw Jim Duggan, George The Animal Steele, Sgt. Slaughter, and The Rock. It would be a Battle Royale Steel Cage match.
If you became the mayor of NYC, what are some things you would change?
CREATURE: I would enforce zoning laws against the building of luxury condos and co-ops in certain areas of the five boroughs. Also, I would stop gentrification, police terrorism, and protect Mom and Pop neighborhood establishments from being taken over by big business. These neighborhoods should be able maintain a sense of community and not commodity. It can be clean with some dirt on it. Remember, nothing grows from the earth without soil and dirt.
KARNAGE: I would change gentrification. There are other things, but that's ruining the fabric of neighborhoods. You have generations of families and businesses being forced out because of high property taxes. I'm not saying don't nice buildings in low income areas, but make them affordable for the people whom have been living there and want something better for themselves.
What are the current and future plans for Rebelmatic?
CREATURE: The current plans for Rebelmatic are to continue to promote Eat The Monster. In December, we are going to the Dominican Republic to play the Destruccion Masiva Festival. We will be playing with punk and metal bands. As far as future plans go, we'll keep recording more music. We'll keep being rebels without a pause.
Any last words you would like to share?
CREATURE: Go and get Eat The Monster everywhere online! Support music you feel is true.
follow Rebelmatic on twitter
like Rebelmatic on facebook
follow Rebelmatic on Youtube
www.Rebelmatic.com
Tags: afropunk, alkatraz, creature, eat the monster, elephant amnesia, hard rock, hardcore punk, interview, judas goat, karnage, new york city, nyc, punk, punk rock, ray reed, rebelmatic, survival gathering
Posted in chocko, interviews, music, photos | Comments (0)