September 27th, 2017 by chocko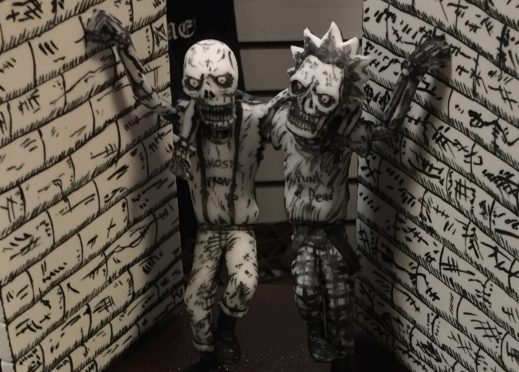 A couple weeks ago, Roger Miret, lead singer of Agnostic Front and one of the pioneers of New York Hardcore made an appearance at Generation Records in NYC to promote his memoir My Riot: Agnostic Front, Grit, Guts & Glory . The book is about Miret's life and story from coming to America straight outta Cuba at the age of four and living a chaotic life in the ghetto. While living in abandoned buildings on the Lower East Side surrounded by junkies and criminals, Miret befriends other young misfits who eventually band together and play shows at places such as the legendary clubs A-7 and CBGB. The book also chronicles Miret's encounters in prison along with the suffering of his family after being incarcerated for a drug charge. Despite the hard life, Roger Miret always remained humble, genuine and grateful. The book signing event was preceded by a quick introduction by Howie Abrams (author/co-founder of In-Effect Records) and a Q&A moderated by Drew Stone (director of The New York Hardcore Chronicles Film/lead singer of NYC's Antidote).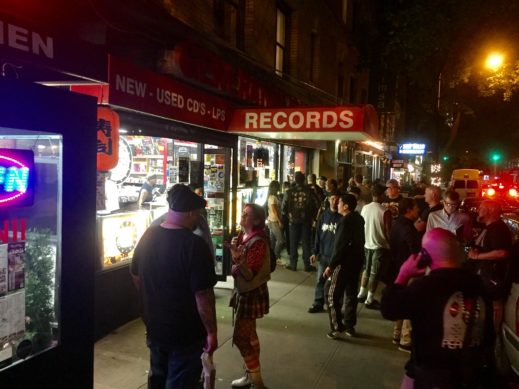 Generation Records located at 210 Thompson St, New York, NY 10012. Records, CDs…punk, metal, books, shirts. Used and New. Support!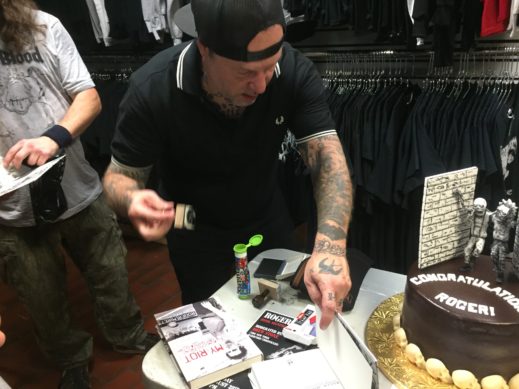 Roger signed books in the back and stamped each one with a special stamp to commemorate the event. There was an awesome looking cake by Vegan Treats which was inspired by a 1985 Agnostic Front tour poster. Scroll and check out the close up shot on top of the page!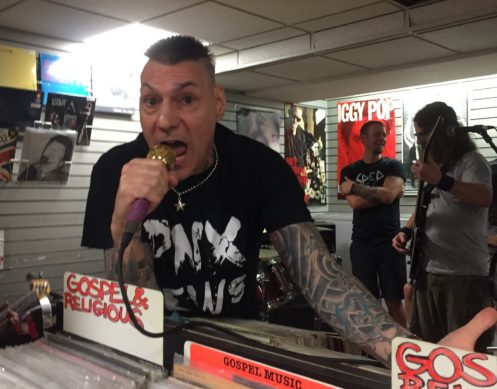 Stigma featuring original Agnostic Front member, Vinnie Stigma along with AF's Mike Gallo performed hardcore tunes to a packed house while Roger signed books. Vinnie is one of the funniest guys in the hardcore scene, so it's always a pleasure when he's on stage. The band fired up the engines and blazed through the following songs: NY Blood, Hard Living, My Reflection, Days Of Old, I Am, Turning The Tide, Don't Lose Faith, Dead Wrong and 15 Pints. Stigma ended their set with an Agnostic Front song, Power and Roger Miret joined the band for the Iron Cross cover Crucified. There was one attempt at a crowd surf and pile on…not recommended in a basement of a packed record store! NYHC Forever!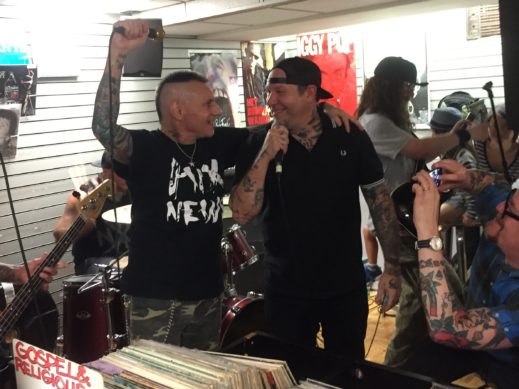 You can catch Roger Miret, Vinnie Stigma and the rest of Agnostic Front as they tour in celebration of their 35th Anniversary. They'll be performing in Florida for most of October, Europe in November and The West Coast and Texas in December. Get My Riot: Agnostic Front, Grit, Guts & Glory at the merch table or a rad book store near you. Check out some videos from the frontline at NYC's Generation Records below!
Check out Chocko (njmisfit) and Mr. C (planetchocko) on instagram.
Follow @planetchocko on Twitter. LIKE us on Facebook too. Thanks!
Tags: agnostic front, autobiography, drew stone, generation records, My Riot: Agnostic Front, new york city, new york hardcore, nyc, nyhc, punk, punk rock, record store, Roger Miret, stigma, vinnie stigma
Posted in art, chocko, music, photos | Comments (0)