August 11th, 2017 by chocko

Huzzah! A couple of days ago marked the first weekend of the 40th Anniversary season of the New York Renaissance Faire. It's a magical place where you feel like you stepped out of a time machine and ended up in a shire where wizards, knights, pirates and sweet singing sirens roam about. Be sure to visit August 5 – October 1 on Saturdays, Sundays and Labor Day 10 AM – 7 PM. All the fun and fantasy is located at 600 Rt. 17A Tuxedo, NY. Admission is reasonable and you can easily find discounts online. Once you get there and walk trough the gates, I do recommend purchasing a program for a dollar which features a map and a schedule of the events and activities for that day. It's possible to spend a whole day at the Faire and not see everything they have to offer, so it's recommended you take a minute to plan out your day. Be sure to check out one of the three daily jousting events. The Joust to the Death at the end of the day is the best but it's definitely not for the squeamish. The knights on horseback mean bloody business if you know what I mean. You can get VIP seating for an additional $5 which includes covered seating, a bottle of water and an exclusive souvenir. A bottle of water at the snack booths cost $4 so maybe not such a bad deal. Purchase the Royal Treatment VIP seating at the Information Booth in the Village Green!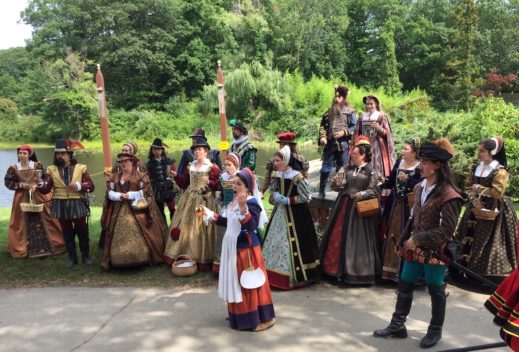 A parade welcomed the morning guests. God Save The Queen!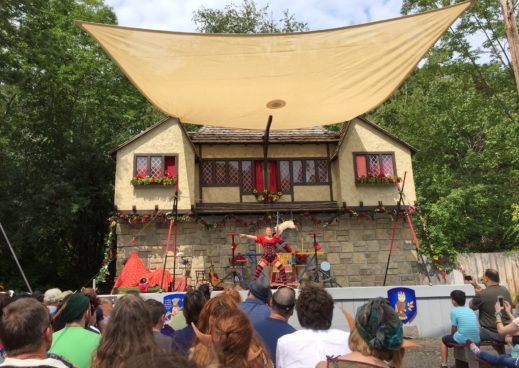 Cirque du Sewer is a new addition to the entertainment you will experience at the Ren Faire. Brace yourself for some acrobatic antics brought to you by Melissa and some nimble rats along with a ballet dancing cat named Pad Kee Meow. If you love the circus, comedy and rodents, then don't miss this! Be sure to tip your favorite performers!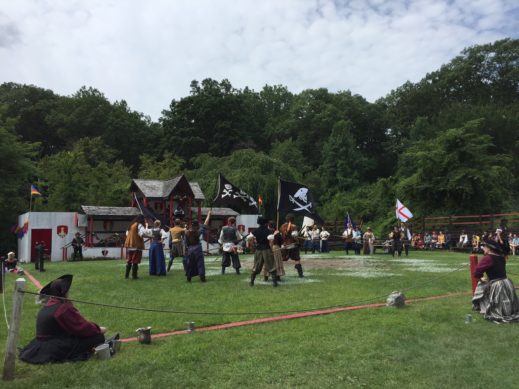 Ahoy, Mateys! Battle Ships is another new addition to the program and features swashbuckling pirates in a no holds barred rumble against Queen Elizabeth's mightiest soldiers and meanest pirate hunters. Plenty is at stake during this battle royal including the capture of the legendary Spear of Manannan Mac Lir and the title of Commander of the Seven Seas.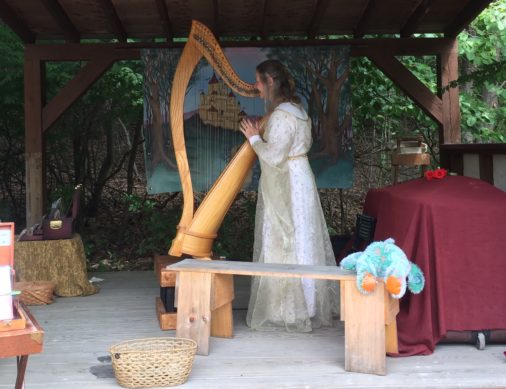 Music is a huge part of the experience. Be sure to stop and listen to various musicians from singing sirens, fiddlers, pipers, or perhaps the smooth, soothing sounds of the dulcimer. Many musicians are selling CDs so bring extra shillings to support the ren faire underground music scene!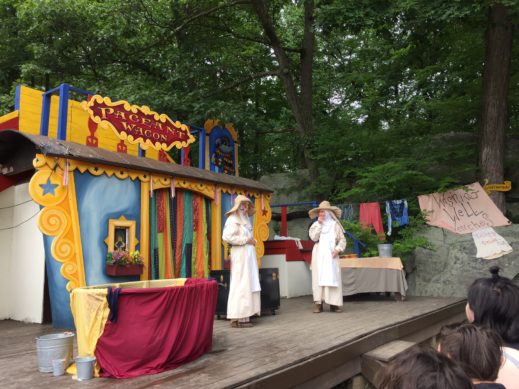 Hey, Nunnie Nunnie! are a comedic duo of nuns that sing funny songs that are guaranteed to make you pee your pirate pants. My favorite moment was the crowd participation during the hilarious song about the 5 Constipated Men of the Bible. Who doesn't love songs about poop?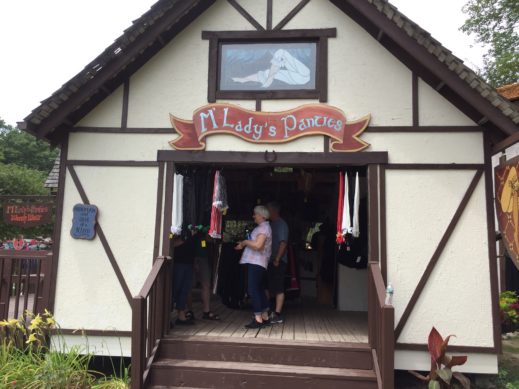 If shopping is your thing, then there's plenty to keep you busy from arts and crafts, dragon puppets, sculptures, weapons, crystal balls and tunics. If you're feeling frisky then the M'Lady's Panties is your one stop shop…a Victoria's Secret for the sexy princess, queen or whiny wench in your life.

Gypsy Geoff is an international champion when it comes to street performance. His show is kid friendly and involves juggling, comedy and great balls of fire. Gather 'round and witness the tantalizing tricks but don't sit too close for ye may get your eyebrows and beards singed off.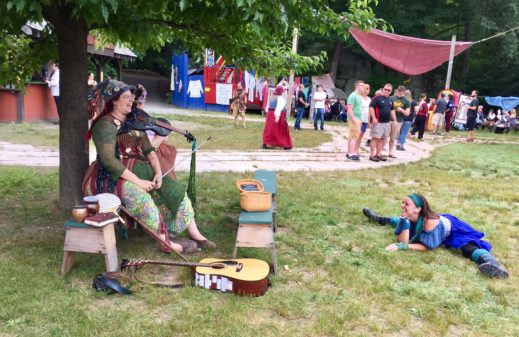 A fun moment after some tantalizing twirling and fancy footwork to some fast and whimsical fiddling. The pretty lass in blue got some moves!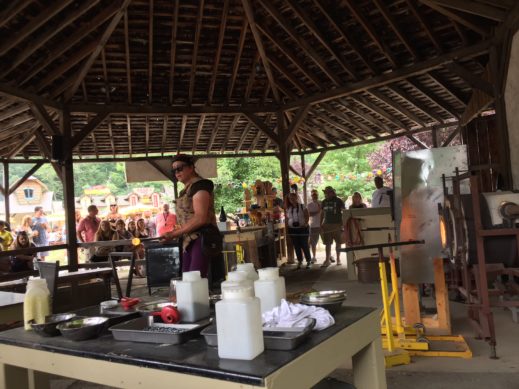 Snake-Oil Glassworks represented at the glassblowing booth. We sat and watched some of the demo but a wizard must have placed a sleeping spell on me because my eyelids were getting heavy and the lecture like atmosphere was not helping. No disrespect to the professor, but even his sexy outfit and corset couldn't keep Chocko from nodding and dozing off.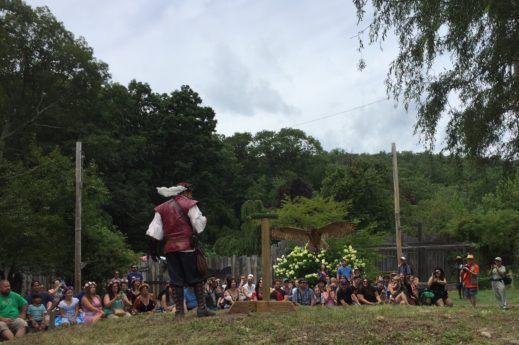 The Sky Kings Falconry is always an eye-opening and educational experience. I've never seen an Australian Kookaburra in person, so it was a thrill and to hear it "laugh" was one of the funniest bird calls you will ever hear. I was impressed by the owl, its huge wingspan and quiet like a ninja flying techniques. A vulture, hawks and falcons also represented.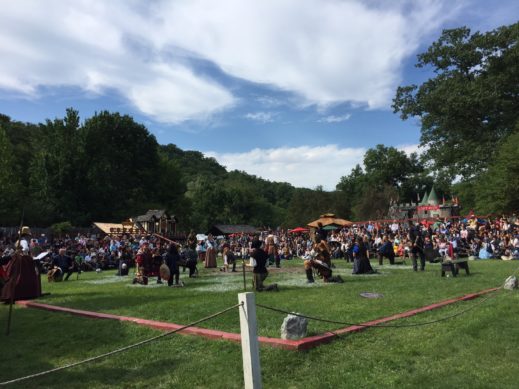 The game of chess is taken to the next level when the pieces involve Robin Hood and his Merry Band of Outlaws. They must face the Sheriff of Nottingham and his cronies for the entertainment of Her Majesty.

The Crimson Pirates performing at Blue Boar Inn…guaranteed to make you sing a long and dance a jig. These buccaneers sing about beer, lost love and adventures on the high seas. Catch 'em at a faire near you!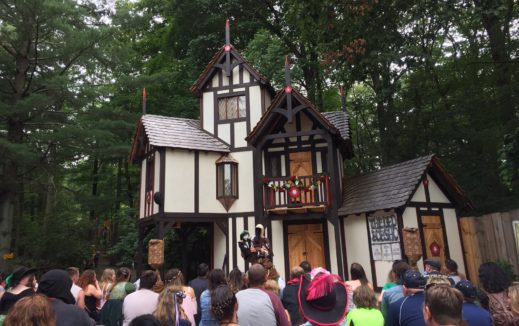 Ded Bob! and his faithful dummy Sluj will have you falling out of your seat with their dirty jokes and crude antics. Totally inappropriate for children but all the adult jokes will fly over their little, angelic heads. If you like your comedy lewd then the filth coming out of the cadaver better known as Ded Bob! is up your alley. Make no bones about it…not to be missed!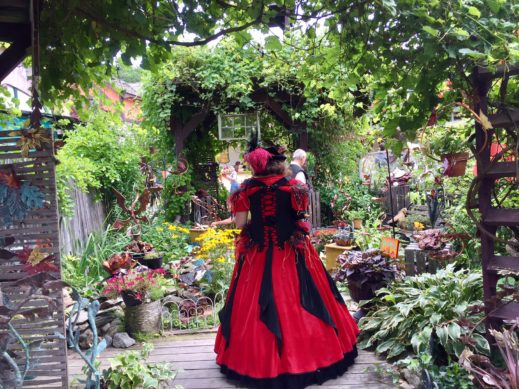 More shopping…perhaps a metal dragon for your garden in the backyard. You know, I didn't even talk about food at the faire. They usually get a bad rap like they only have turkey legs and mead on the menu. Not true..you can find all sorts of reasonably priced meals at the shire from mexican food, veggie dishes, desserts, falafel, and pad thai noodles. If you like to drink brew then join one of the 3 pub crawls scheduled throughout the day. There really is something for everybody. The day ended with Aaron Bonk's fire, whip and sword show; a joust; more browsing and lively music near the exit gates. Be sure to make plans to go to the New York Renaissance Faire. Until next time, Fare thee well.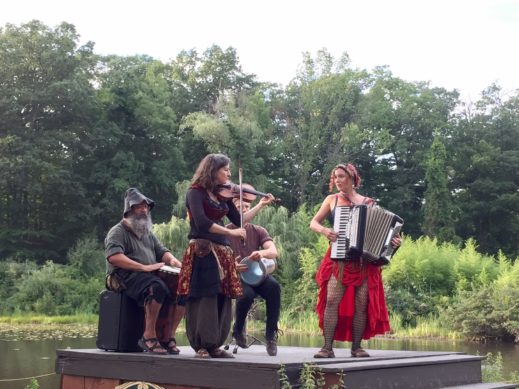 Check out the video (by KH Edits) above for a brief compilation of footage gathered from opening weekend at the NY Renaissance Faire! If you like what you see and need to get a video project edited, KH Edits got ya covered! Excellent rates and speedy service. Arigato, gatos.
Tags: 2017, 40th anniversary season, fantasy, GSTQ, new york renaissance faire, nyrf, ren faire, renaissance faire, tuxedo new york
Posted in art, chocko, fashion, food, music, photos, theatre | Comments (0)