June 23rd, 2017 by chocko
The Dr. Octagon Experience Tour recently wrapped up at NYC's Irving Plaza. The tour celebrated the 1996 underground smash from outer space, the album titled Dr. Octagonecologyst. DJ Herbert Holler from the Freedom Party NYC shows, opened up the evening with a 45 minute set of real hip hop…heavy on the old school east coast stuff like Wutang Clan, Bootcamp Clik and Mobb Deep represented. Dr. Octagon featured the triple threat of producer Dan The Automator, Kool Keith on the microphone and DJ Qbert on the turntable…yup he's so good he only needs to scratch on one. They were accompanied by a bassist and percussionist who along with Dan and Qbert donned surgical masks and lab coats. Kool Keith stepped on stage with a blood splattered lab coat, shades, and a sequined head wrap which reminded me of something Blowfly would wear. Behind the band was a screen which projected lots of tasty softcore visuals which would have made Jess Franco proud.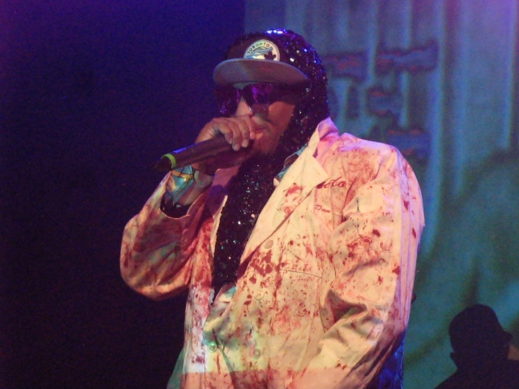 Kool Keith kept the crowd moving, whether fists were being pumped or arms were being waved side to side. A lot of tracks off the 1996 Octagonecologyst album were performed including 3000, Earth People, No Awareness, Blue Flowers, Girl Let Me Touch You. The crowd also got a taste of some new Dr. Octagon with "Operation Zero" which was first performed live a couple months ago on the West Coast. "Black Hole Sun" was on the set list but unless I missed it, that song was not performed.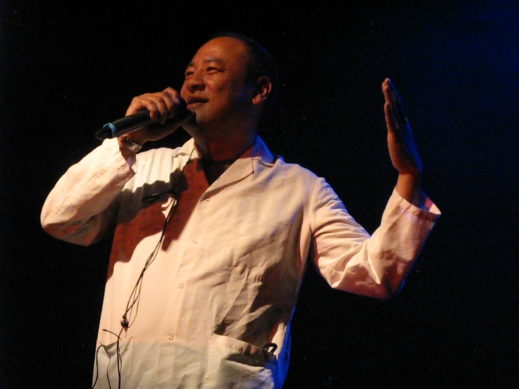 Dan The Automator (pictured above) took some time to talk to the crowd despite being heckled by most likely some drunken fool. Being the producer of the Octagonecologyst album he was asked to tour but he insisted on bringing along the world's best DJ, DJ Qbert. Both Dan and Qbert then broke into a "Bear Witness" routine which made turntablist enthusiasts cream their jeans, I'm sure. After the jedi-master scratching clinic, Kool Keith performed a few more tunes including "Wild And Crazy."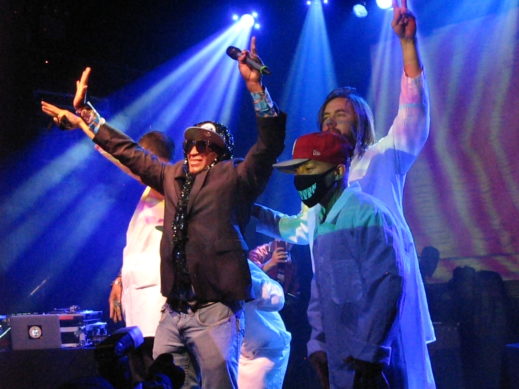 After a quick break, The Dr. Octagon Experience wrapped up the show with "Blue Flowers" (Remix) and "I'm Destructive." DJ Qbert requested Kool Keith do some old school popping b-boy moves. At The conclusion of the set, Kool Keith obliged with some funky-fresh robotic popping that got the crowd hyped! Check that out in one of the videos below!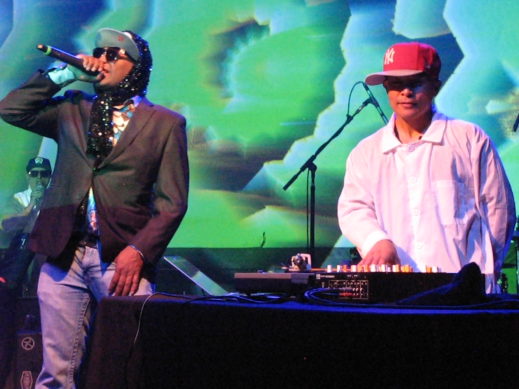 Check out Chocko (njmisfit) and Mr. C (planetchocko) on instagram.
Follow @planetchocko on Twitter. LIKE us on Facebook too. Thanks!
Tags: dan the automator, dj qbert, dr octagon, hip hop, irving plaza, kool keith, new york city, nyc
Posted in chocko, music, photos | Comments (0)