April 26th, 2017 by chocko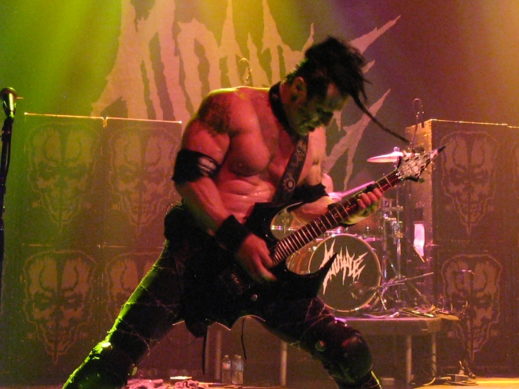 Doyle recently brought the horror business to Gramercy Theatre which I believe is his first NYC show since last year's Misftis reunions at Riot Fest in Denver and Chicago. Doyle's band, simply named Doyle features the following lineup: DOYLE WOLFGANG VON FRANKENSTEIN-Guitar, ALEX STORY-Vocals, BRANDON PERTZBORN-Drums and BRANDON STRATE-Bass. Watching Doyle stomp around the stage and pummel his guitar with his Frankenstein fists of fury made me feel like a teenager from Mars. The band played an excellent mix of music from Doyle's first album "Abominator" along with some new tracks from the upcoming new release Doyle II: "As We Die" and a monster mash mix of Misfits songs. There was a missed opportunity to drag Doyle's brother and original Misfits member Jerry Only to the stage for some songs. He was in attendance cheering from the seats in the back of the venue. I'm sure he wouldn't have had a problem greasing up the ole devil lock and slapping the bass for some tunes. But I digress. Alex "Wolfman" Story on vocals is a formidable lead singer with similarities to Glenn Danzig's vocal stylings, sometimes sounding like Rob Zombie especially on the track "Valley Of The Shadows." He's also in another band, CANCERSLUG that kicks ass like a vampire with a 10th degree black belt. The rhythm section was solid as well with both Brandon's bringing the rage and power to the stage. The Misfits songs got the crowd pumped up in the mosh pit, but I really enjoyed the band's KISS cover of "Strutter." You can PREORDER Doyle II: "As We Die" now on MONSTERMAN RECORDS! Catch Doyle on tour as he continues to abominate a city near you, starting in June! All you Jersey fiends better represent at Dingbatz in Clifton, NJ on June 28. Be there!
Shoutout to Oh My Rockness, a super cool website with great contests. Thanks for the tickets! Check them out and get on their list, ya dig?!?
Check out Chocko (njmisfit) and Mr. C (planetchocko) on instagram.
Follow @planetchocko on Twitter. LIKE us on Facebook too. Thanks!
Tags: Abominator, Alex Story, Doyle, Doyle Wolfgang Von Frankentstein, Gramercy Theatre, horror punk, live, misfits, new york city, nyc, punk rock, show
Posted in chocko, music | Comments (0)