November 17th, 2016 by Mr. C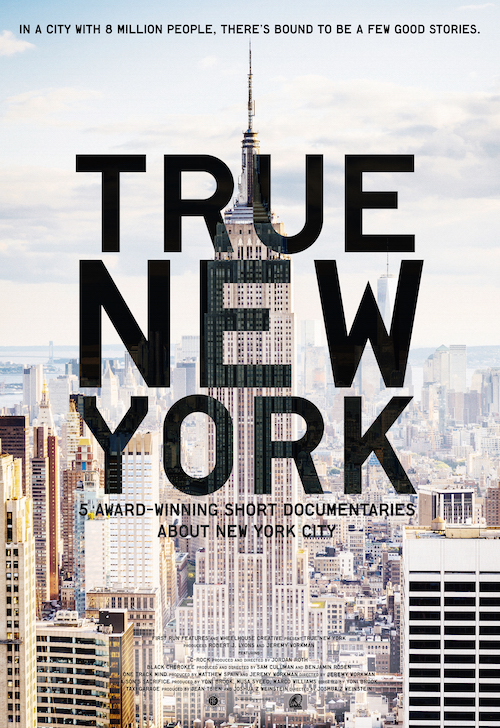 ———————————————————————————————————
We wanted to share an excellent documentary anthology that was released as a feature by First Run Features called TRUE
NEW YORK.
True New York is an awesome collection of 5 award-winning short film docs that takes place in NYC.
All 5 films display a subculture of NY that undeniably reams of Big Apple grit, passion, persistence, & neighborhood rituals.
The short documentaries include C-Rock (dir Jordan Roth), Taxi Garage (dir. Joshua Weinstein), One Track Mind (dir. Jeremy Workman), A Son's Sacrifice (dir. Yoni Brook), & Black Cherokee (dir. Sam Cullman & Benjamin Rosen). I had seen Taxi Garage which is a shortened version of Drivers Wanted, a full feature length film we saw at DOC NYC 2012. The other 4 films were new to me and I truly enjoyed the 5 as a compilation! True New York is a great stocking stuffer of all star documentaries! I've already got my TRUE NEW YORK DVD on hand as I type this!
The DVD is available now at First Run Features or on Video on Demand (iTunes).
Below I give a brief synopsis of the films to wet your appetite!
————————————————————————————————————-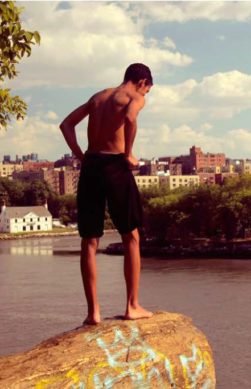 C-Rock (dir Jordan Roth – runtime 26min)
Was a wonderful look at local kids from the Bronx jumping off a rock face cliff known as C-Rock into a body of water where the Harlem River & Spuyten Duyvil creek intersect in the Bronx. It's a rite of passage – a primer, a test for some of these youngsters entering adulthood. Besides that, it's bragging rights! These kids sure do know when to put on their best performance caps on when that Circle Line tour boat comes a cruising down the Harlem River! It's been a few generations of tradition for these folks jumping off C-Rock and the old heads are still boasting and toasting about it!
————————————————————————————————————–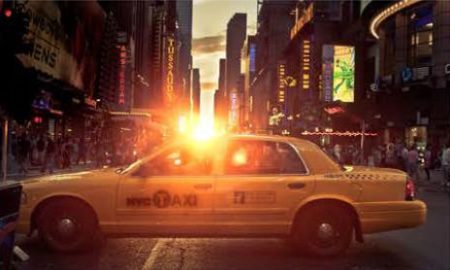 Taxi Garage (dir. Joshua Weinstein – runtime 29min)
In an area of Long Island City, Queens where a wasteland of Taxi companies call home – we get introduced to 55 Stan, an NYC taxi depot that is run by its charming yet still a drop the hammer type of owner – Stan! We meet a few characters that inhabit this 24 hr operation including 90+ year old Spider who is originally from the South but has made driving taxis in NYC a 67 year career! We also get to meet a chinese immigrant who takes a stab at getting his 'hack license and drive for 55 Stan to support his wife & 2 kids. This is a wonderful documentary that displays why NYC is a city that never sleeps and a city where only the strong can survive and those that can adapt, will flourish!
—————————————————————————————————————-
One Track Mind (dir. Jeremy Workman – runtime 22min)
In a city where most are obsessed and have some form of OCD or another – some may even call it passion, we have Phillip Coppola who has roamed the NYC subway system for 40 years documenting every subway station as much as humanly possible. He draws, sketches, make notes, and then archives his drawings. He has published a few books on the history of the NYC subway station including drawings of the unique tilework in each of these stations. Coppola provides an interesting look at the sometimes mundane jaunt of riding the Subway system on a daily basis. He makes you look at the train station in a different light, a different angle making you appreciate the history of this old transportation system of ours that lurks in the underground. It will take him up to year 2040 or so to finish documenting the NYC subway system! Follow his journey!
——————————————————————————————————————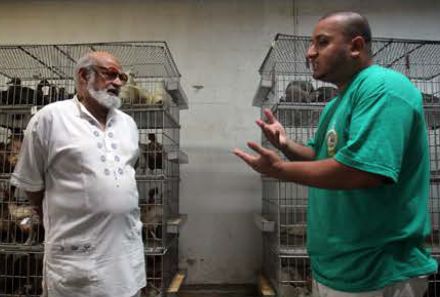 A Son's Sacrifice (dir. Yoni Brook – runtime 30min)
Not just your average son taking over a local family business, Imran is of mixed Puerto Rican-Bangladeshi heritage living in Queens,NYC. His father's business is a halal slaughterhouse which provides an important service to his fellow conservative Muslim community in Queens. Imran is giving up a successful marketing career for one that includes sacrificing in the most broadest of terms and on one of Islam's most holiest days as well to prove to his father that he can take the family reigns in the business. This film reminds me of the sacrifices & challenges that all children of small business owners have to go through in order to take over a successful family business.
——————————————————————————————————————–
Black Cherokee (dir. Sam Cullman & Benjamin Rosen – runtime 21min)
This unique man we've seen standing freeze framed alongside the FDR drive in Harlem performing/posing close to the off ramps leading to the Triboro bridge many a times when we ventured onto the East side of Manhattan from New Jersey in our car. We've always wondered what his message was, why he performed there for hours on end – sometimes half naked standing, holding, or balancing a fruit like a watermelon or orange. We've always asked ourselves why, why why! It's because he is a Black Cherokee with pride! It was truly a standing and moving meditation of sorts filled with spiritual bliss, inspiration, & psycho therapy in order to deal with his family duties with graceful honor. Black Cherokee will tug at your heart a bit. Don't fight it!
Tags: documentary, films, new york, short films
Posted in art, community, movies, mr. c | Comments (0)