November 15th, 2016 by Mr. C
——————————————————————————————————————
This Saturday November 19 – Tom Chapin, Uncle Floyd, John Dull & friends including Ted Clancy, Martin Dull, The Dammers-Desmond Trio, and Scott Petito will be appearing at the 9th edition of the Pete and Toshi Seeger Wetlands Preservation Concert Series at the Rutherford Congregational Church Concert Hall in Rutherford,NJ. Concert starts at 7.35pm . At 7pm there will be table displays by several environmental groups to garner more interest and raise awareness.
The set of Wetlands Preservation Concert series was established by Pete Seeger and friends in 2010 and their goal is to raise awareness and highlight the natural treasures that our Wetlands has to offer. Not very far from the concert grounds at the RCC concert hall in Rutherford,NJ lies a great example of one of north jersey's Wetlands preserve at Dekorte Park in Lyndhurst. Take a stroll on one of the trails before the concert!
Click here for more info on the concert at Dull Music.
——————————————————————————————————————–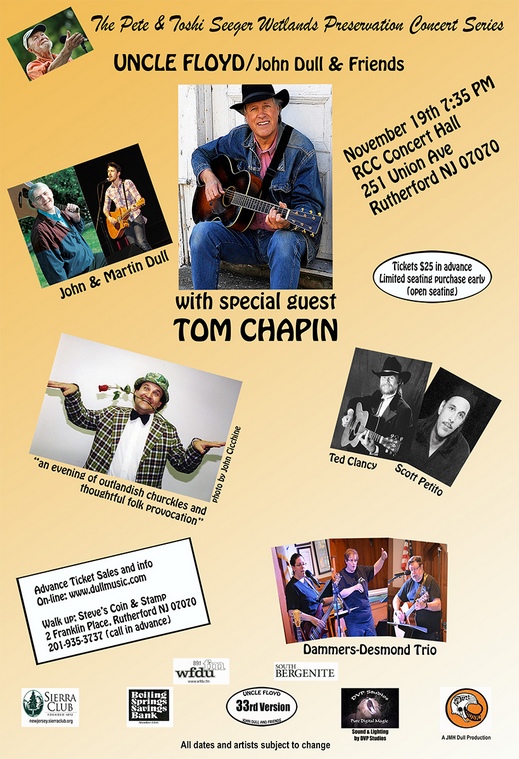 Tags: folk music, nj, pete seeger, rutherford, rutherford congregational church, wetlands preservation, wetlands preservation concert series
Posted in mr. c, music | Comments (0)