February 29th, 2016 by chocko
Looking at my Gucci, it's about that time. Chiller Theatre Expo will be coming at you live from April 22 – 24 at Sheraton Parsippany Hotel in Parsippany, NJ. The guests appearances this time around include Alice Cooper, Weird Al Yankovic, Meat Loaf, Tara Reid plus loads more including a CHiPS reunion, a What's Happening!! reunion and Musical Guests including Cherie Curie and members of The Monkees. Tickets are on sale now. Definitely get your tickets in advance. Here's a quick look at some of the guests at Chiller Theatre which took place a couple months ago.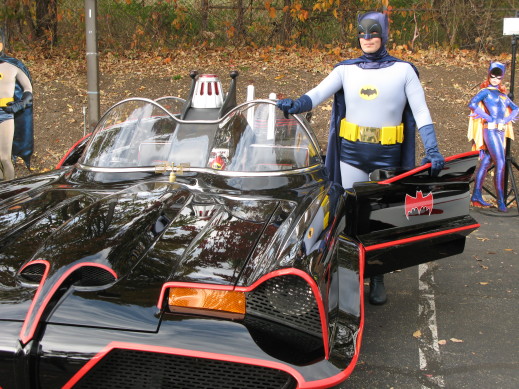 Batman's Crime Fighting Arsenal was on display in the parking lot including The Batmobile. Batman and The Riddler were posing for photos.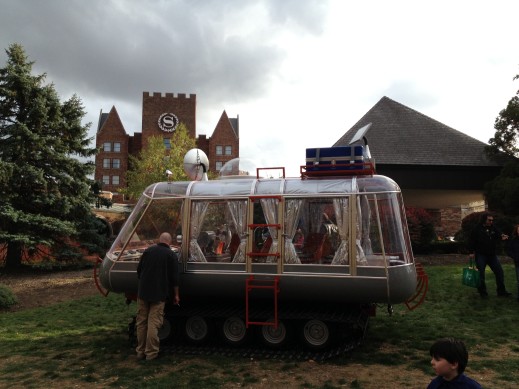 Also on display outdoors, was The Chariot from Lost In Space. It was created by John Antonellis and the team at Elevator Interior Designs using the original 20th Century Fox blueprints. Incredible detail!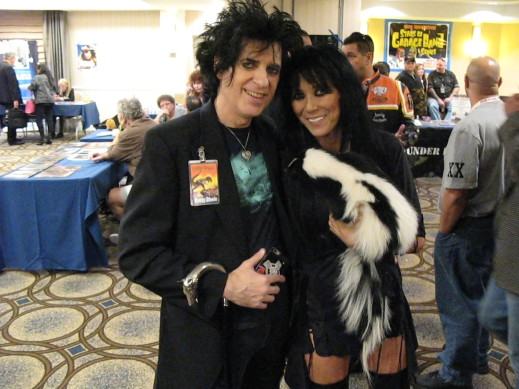 Bobby and Diana Steele of The Undead with a friendly skunk. Pick up their new album "The Morgue… The Merrier" – New Jersey horror punk rock!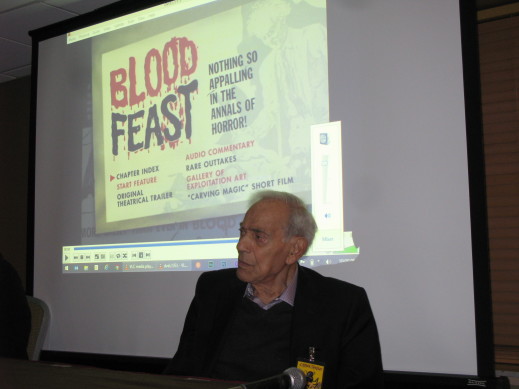 Herschell Gordon Lewis presented the 50th Anniversary of The Blood Trilogy (Blood Feast + Two Thousand Maniacs + Color Me Blood Red). Before the movies started rolling, Herschell spoke about his movie career and delighted the audience to a performance of the theme from Two Thousand Maniacs. All the Chiller maniacs in the seats provided the rebel yell…Yee-Haw!!! Free swag for those in attendance…a vomit bag. Blargh!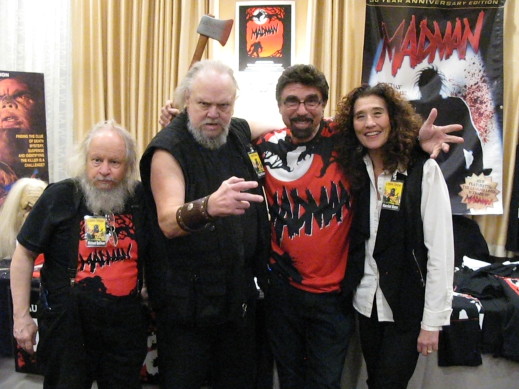 MADMAN cast reunion…from left to right: Michael Sullivan, Paul Ehlers, Gary Sales and Harriet Bass. MADMAN is a 1982 slasher flick where a serial axe-murderer comes back to life to hack, chop and slaughter.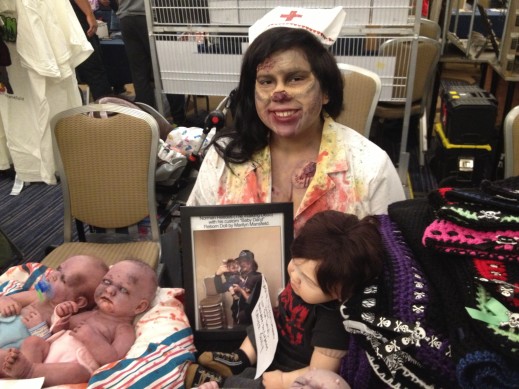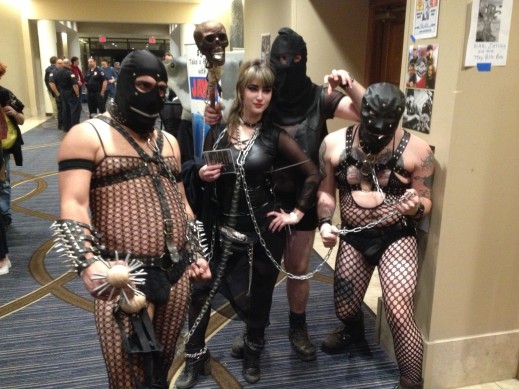 You never know what you'll find in the creepy vendors rooms or what's lurking in the Chiller halls. Possessed baby dolls and nurses plus straight outta your nightmares bondage goons…don't forget the safe word!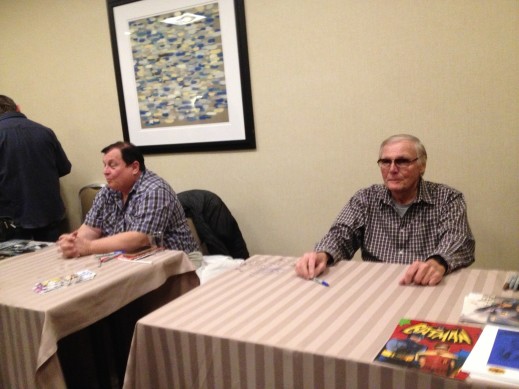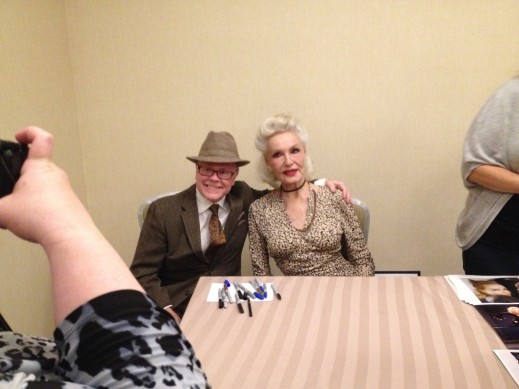 Celebrating Batman's 50th Anniversary with a cast reunion: Adam West, Burt Ward and Julie Newmar. Holy autograph fees! I had to walk away from the room or go broke…deuces! Is that Mickey Rooney with Julie?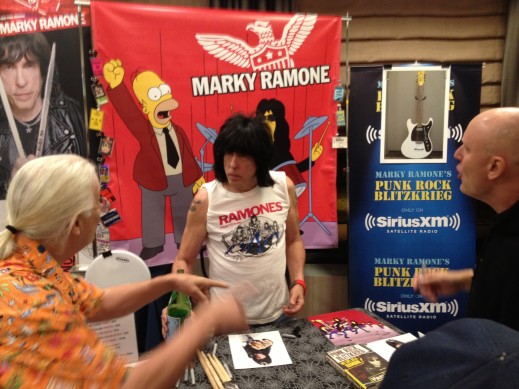 Punk rock drummer extraordinaire…Marky Ramone of The Ramones!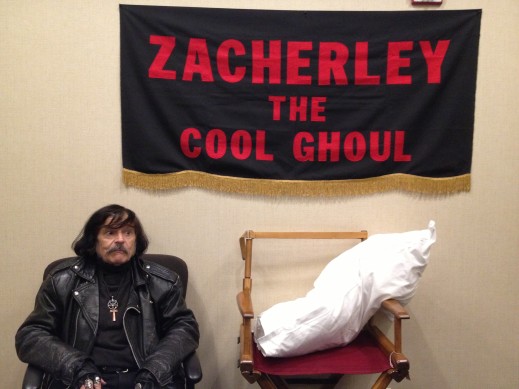 Darnnit…just missed Zacherley! Catch ya next time, Cool Ghoul.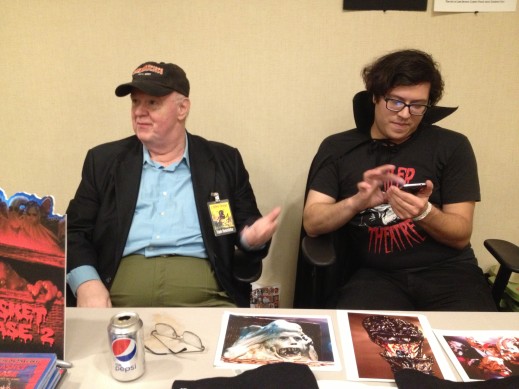 Frank Henenlotter (left) and Mike Hunchback (right). We had a nice conversation with Frank about his love for Jess Franco films and his recollection of meeting Mr. Franco at a Chiller Theatre Expo back in the day. Mike was promoting his book Pulp Macabre: The Art of Lee Brown Coye's Final and Darkest Era. It's chock full of bizarre drawings.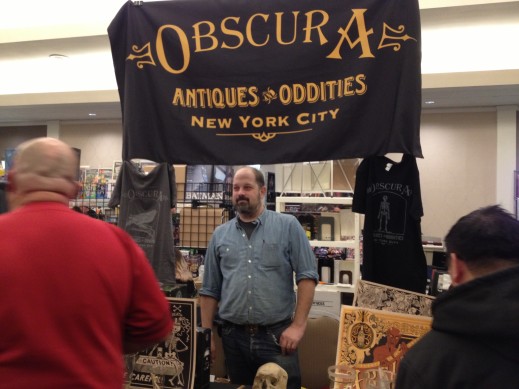 Mike Zohn of the TV Series Oddities about the daily grind at the shop, Obscura Antiques & Oddities located at 207 Avenue A, New York, NY.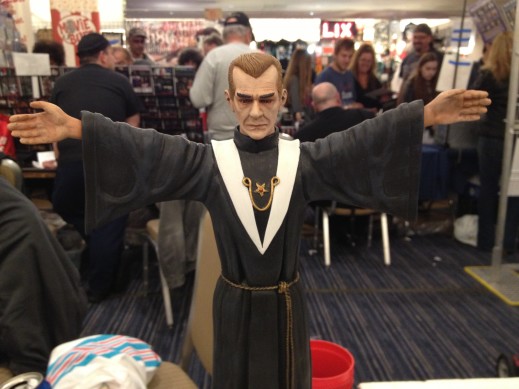 Uncle Boris wants a hug!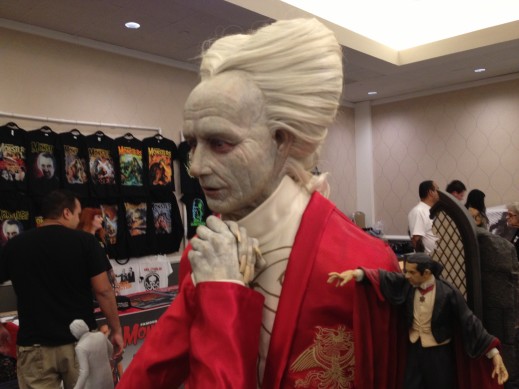 "I am the monster that breathing men would kill. I am Dracula."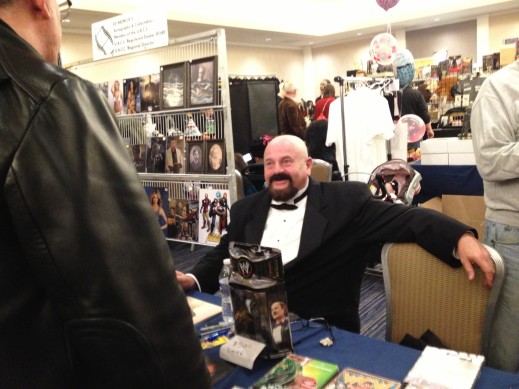 In this corner, from Newark, New Jersey, weighing in at 190 lbs…WWE Hall of Famer and legendary ring announcer, Howard Finkel!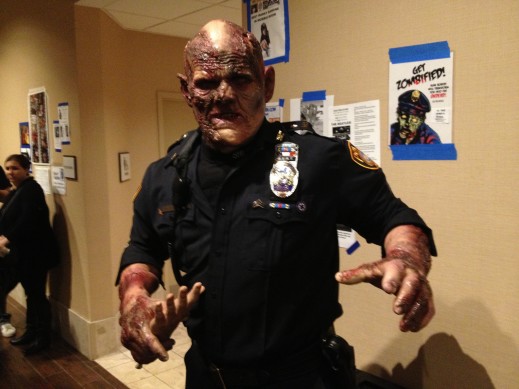 Thank you zombie police officer for making me wet my pants.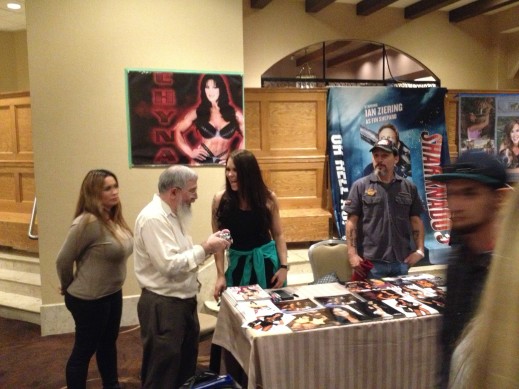 Professional wrestling superstar, CHYNA! The next couple photos below are from the Halloween Costume Contest which took place on Saturday night before the bands took over the stage. My favorite costumes were the R.J. MacReady from John Carpenter's The Thing and Elephant Man.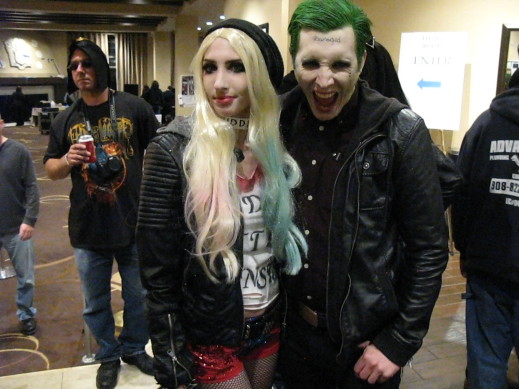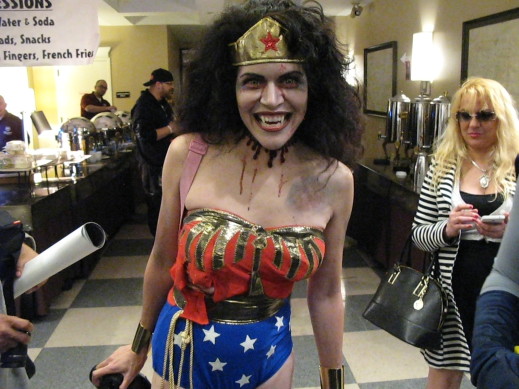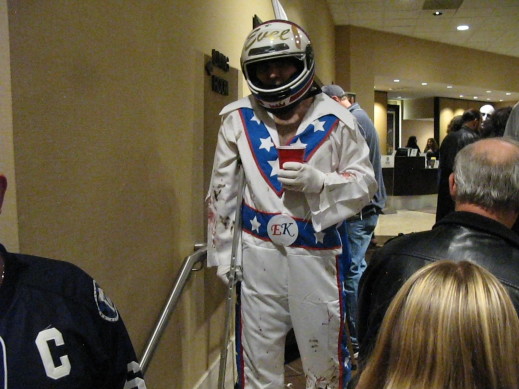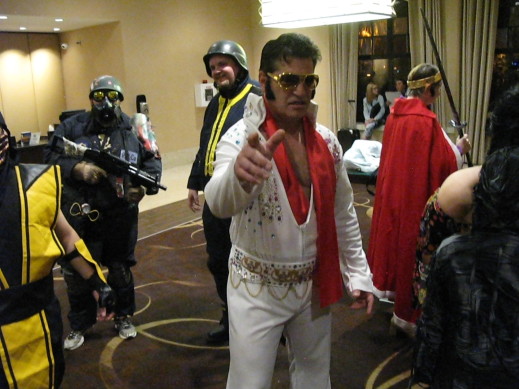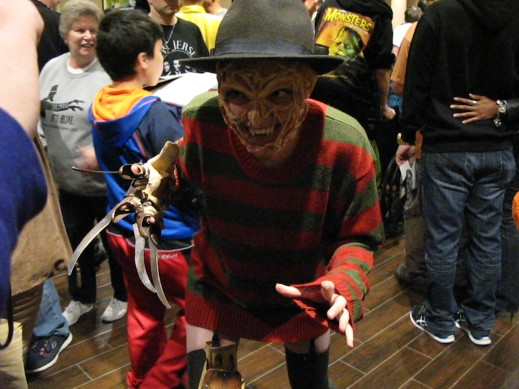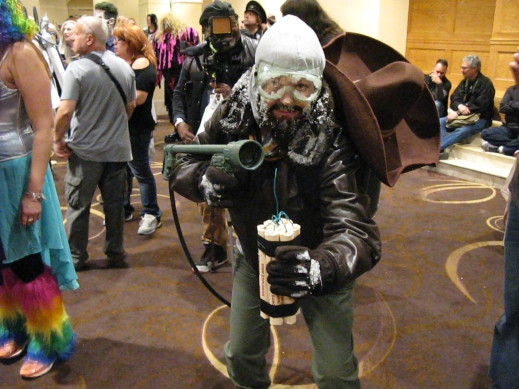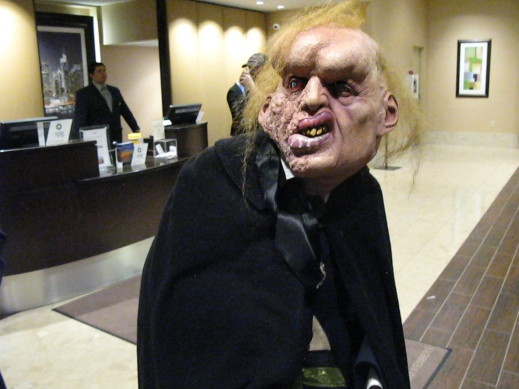 Chocko and Mr. C also ran into the stunning Trina Parks from exploitation films like THE MUTHERS and DARKTOWN STRUTTERS. She also is an accomplished dancer, singer and happens to be the first black Bond Girl after starring as the bikini-clad Thumper opposite Sean Connery in DIAMONDS ARE FOREVER in 1971. A big thank you to Trina for taking the time out to answer some questions. Hope you come back to Chiller soon!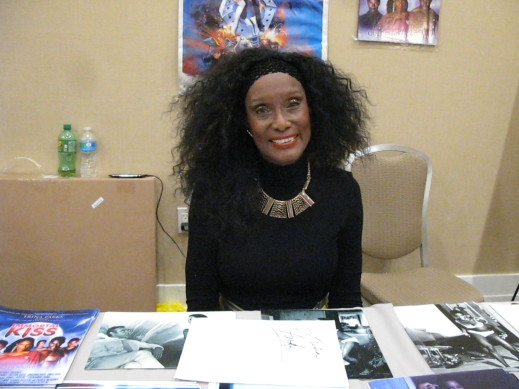 Could you tell us a little bit about the 1976 movie, THE MUTHERS?
Muthers was done in the Philippines. Jayne Kennedy, Rosanne Katon and myself were the three American actresses. Doing the film was wonderful. We did the film on location, we had scenes in Batangas. Riding in taxis there…not the best thing to do there in the summertime. They didn't have airconditioning. I like heat but I almost fainted from the stuffiness and humidity. I had a wonderful time shooting and with this film, we had to go to Guam to dub the whole film. The lead villains were just wonderful to work with and they were completely different from their characters.
What was it like to work with the legendary Filipino sleaze director Cirio H. Santiago?
Cirio Santiago was very good to work with. He was so nice, for instance there was a part where there's a snake that's supposed to bite me and I don't like snakes at all. He was so kind and asked, "How are you with snakes?" and I said,"Not good at all." He said, "Don't worry. We have a rubber snake and the only time the snake will be real is when it comes up your leg." So, he went back and talked to the tech people and they put my sneakers and pants on someone else and they just showed the snake there. He was so great to work with and for the first time to work with him, you just felt very comfortable as I felt like working with Sean.
How did you get that part in the James Bond movie Diamonds Are Forever?
I was a dancer doing concert work and Broadway and then I went to L.A., a friend of mine was working with me as a manager and she invited people because I started doing my own singing act and it was standards with a 3 piece band and she invited the Agency For The Performing Arts (APA) and William Morris and a couple other people. I signed with APA and they got a call from the James Bond people. They wanted someone like myself because I danced plus I did karate. That's how I got the role.
Do you have any memories from the fight scene with Sean Connery?
Oh gosh, the fight scene we shot for two weeks. Each day we shot a little section. It was just wonderful. He was so willing to do a lot of things. It made me feel very comfortable because I had to kick him in the balls. The first time I did it kind of easy. Mr. Hamilton (director) said, "I know you can do it stronger." I said, "Yeah, but I don't want to hurt him." He said, "Miss Parks, he has one of those football things on." Of course when I kicked him, it was the stuntman that fell.
Since we're at Chiller Theatre, what are your favorite horror shows?
I like The Walking Dead, The Strain and American Horror Story.
Check out Chocko (njmisfit) and Mr. C (planetchocko) on instagram.
Follow @planetchocko on Twitter. LIKE us on Facebook too. Thanks!
Tags: adam west, celebrities, chiller theatre, expo, horror movies, interview, Madman, new jersey, sci-fi, The Muthers, trina parks
Posted in art, chocko, interviews, movies, music, photos | Comments (0)