June 2nd, 2015 by chocko
Here are some photos from the Chiller Theatre Spring Spectacular 2015. The next Chiller Theatre Expo is October 23 -25, 2015. Just a quick suggestion: Get your tickets in advance when they go on sale unless you like to stand in a that moves like one of those old school Romero zombies. It should be a great time…live bands, films, panels and can't wait to see who the guests will be! Start making plans and come to the party in your best costume. See you nasty freaks in October.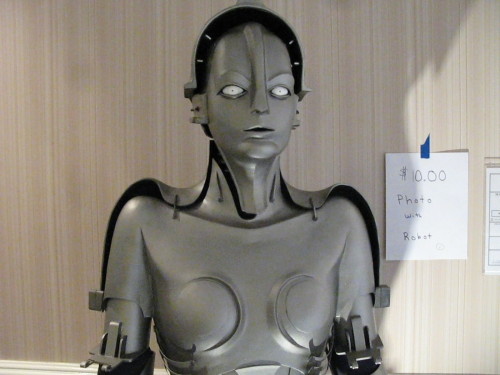 A recent replica of the "Maria Robot" from Fritz Lang's Metropolis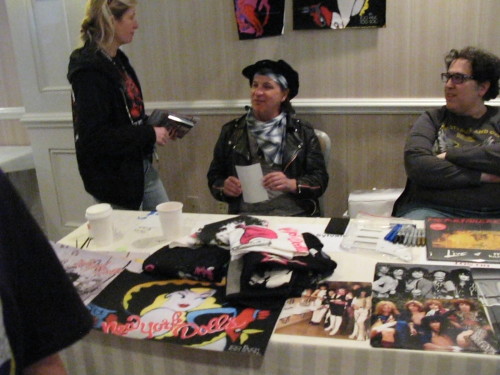 Sylvain Sylvain from the legendary New York Dolls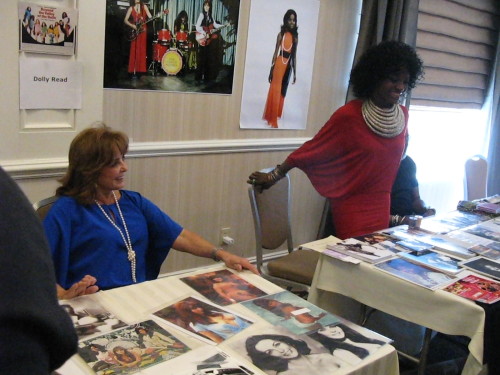 Dolly Read and Marcia McBroom from Beyond The Valley Of The Dolls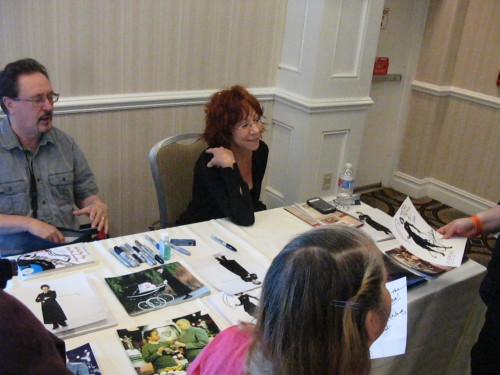 Mindy Sterling (Frau Farbissina in the Austin Powers movies)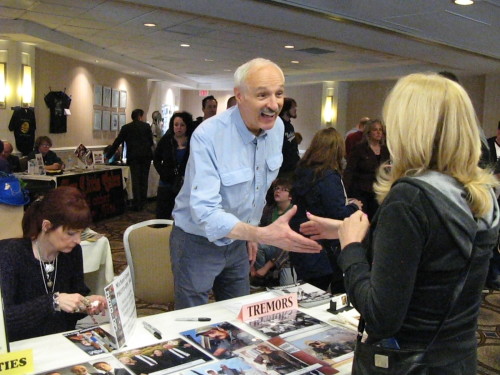 Alex P. Keaton's pops from Family Ties, Michael Gross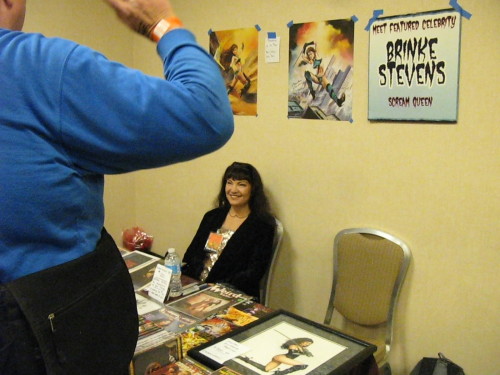 Scream Queen icon, Brinke Stevens

Michelle Bauer, of the B-movie classic Hollywood Chainsaw Hookers

Fred Olen Ray signing for his Veterans charity The Gallant Few. Chocko got him to sign a Hollywood Chainsaw Hookers DVD which he directed along with his 2004 Tomb Of The Werewolf which starred Michelle Bauer and Paul Naschy in his last role as a werewolf named Waldemar Daninsky.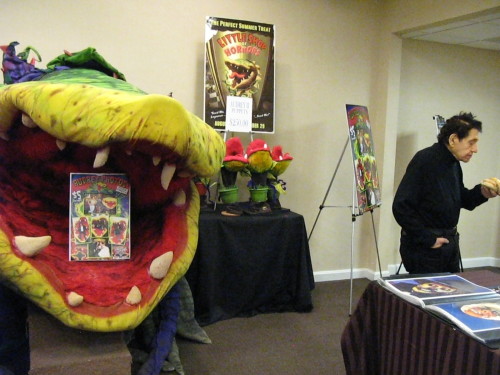 "Feed Me!" the monstrous Little Shop of Horrors puppet, created by Bill Diamond. Looks like the always friendly Basil Gogos (legendary artist from Famous Monsters of Filmland) might be Audrey II's next meal. Look out!

Josh Mostel among many actors from the movie Jesus Christ Superstar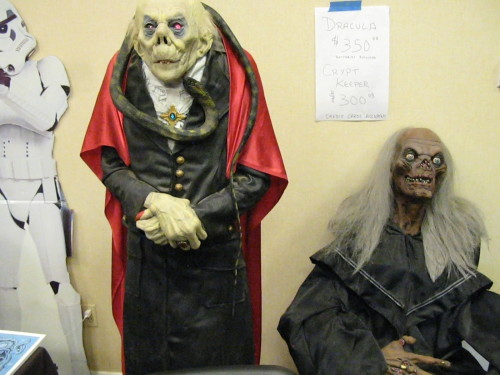 Is it me or are the crowds at Chiller Theatre getting older?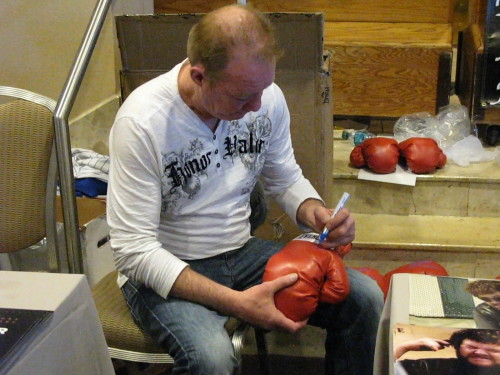 "The Pride of Lowell" Boxing Legend, Dicky Eklund.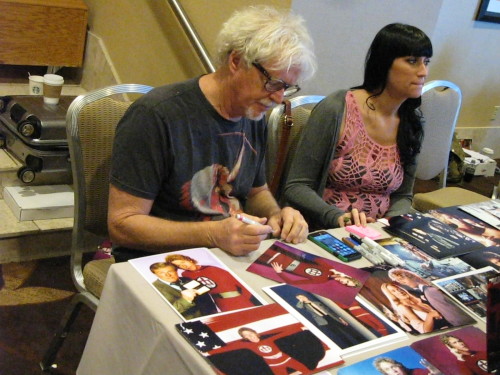 William Katt best known for his role in the 80's tv series, "The Greatest American Hero." It's also true that he auditioned for the part of Luke Skywalker in The Star Wars movies. Here's a VIDEO of William Katt along with Kurt Russell auditioning for the roles of Han Solo and Luke.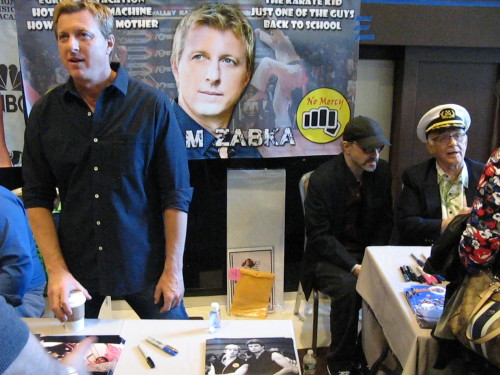 It's the Karate Kid's nemesis, William "No Mercy" Zabka (left) and Gavin MacLeod (right) aka Captain Stubing from "The Love Boat"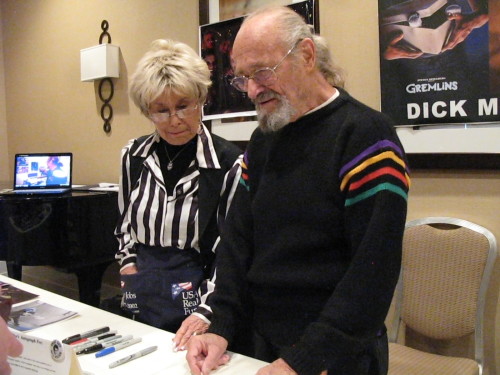 Dick Miller, a character actor from The Bronx who's been in over 100 movies including Gremlins and The Terminator. There's a doc about him titled That Guy Dick Miller which recently screened at the Anthology Film Archives in New York City during a series dedicated to his films.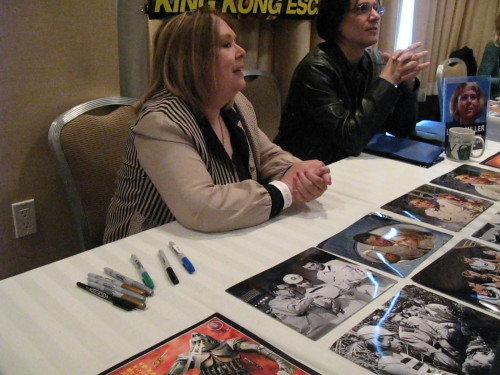 Linda Miller of King Kong Escapes (1967)

Naomi Grossman of American Horror Story looking good.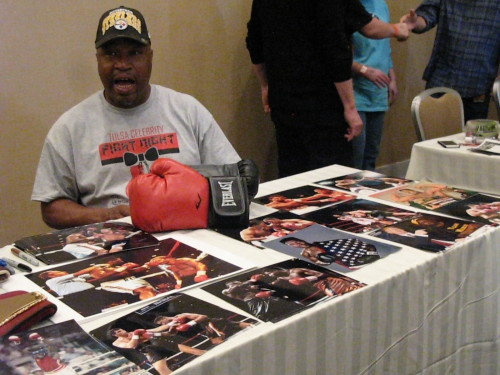 The Champ is here…Merciless Ray Mercer.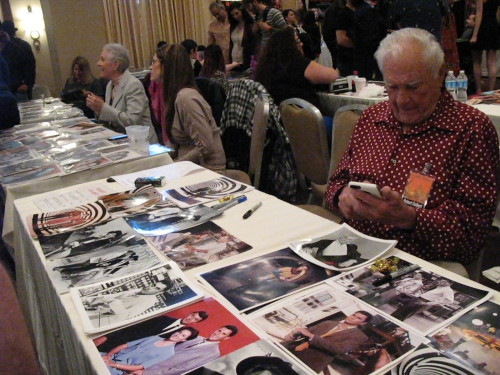 Straight outta The Time Tunnel Lee Meriwether sitting at the far left of the table and Robert Colbert on his phone looking Young and Restless.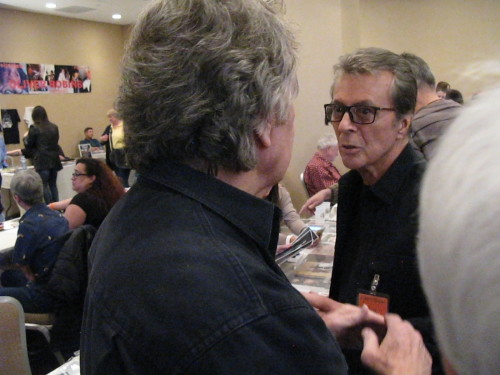 In the stylish glasses, James Darren, the third guest from The Time Tunnel chatting with Michael Cole from another 60's tv series, The Mod Squad. The older ladies in the room swooned at the sight of these two.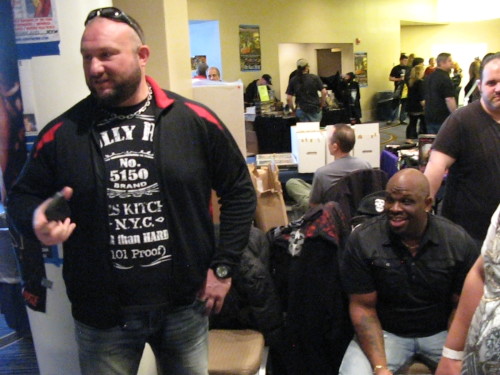 Wrestler Bully Ray and surprise guest, Devon…The Dudley Boyz!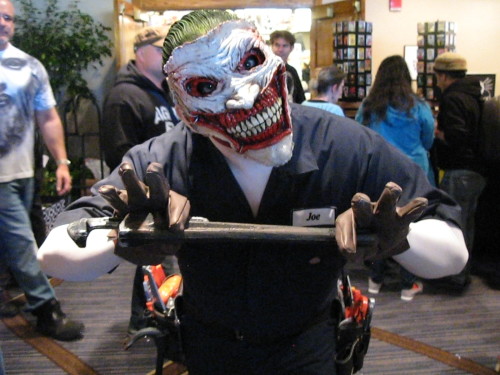 Creepiest cosplay goes to this guy…Andrew Arkham Cosplay.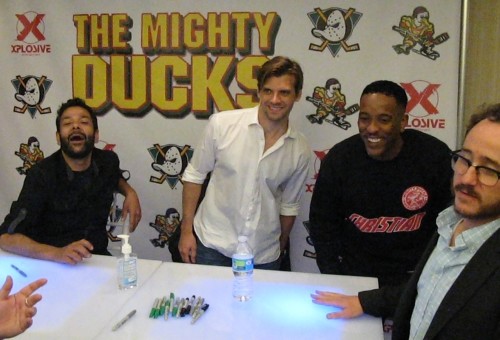 Get da puck outta here, it's The Mighty Ducks Reunion…from left to right Shaun Weiss, Vincent LaRusso, Brandon Adams and Matt Doherty.

Josip Elic chatting it up with the alluring Lee Meredith.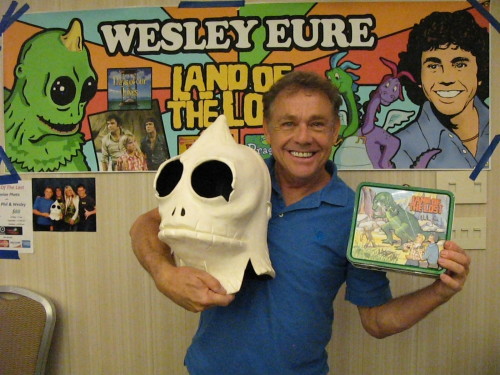 Wesley Eure (Will from Land Of The Lost) and a severed Sleestak head.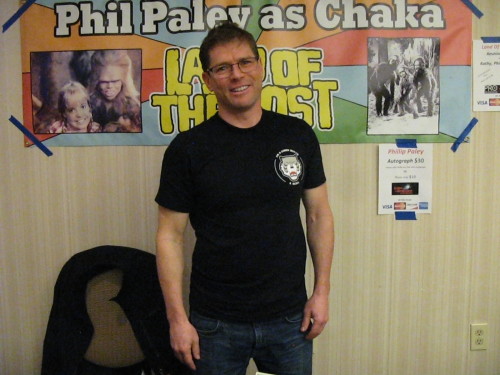 Phil Paley (Chaka from Land Of The Lost)

Land Of The Lost cast members Kathy Coleman, Wesley Eure and Phillip Paley (pictured above) reunited at Chiller. I got my lunchbox signed by all 3 guests. Chocko vs. Chaka in a street fight? Chaka got no chance even if he brings that baby brontosaurus with him and a posse of Sleestak.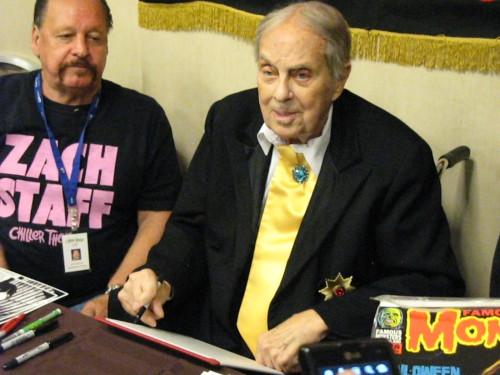 John Zacherle "The Cool Ghoul" horror movie host legend!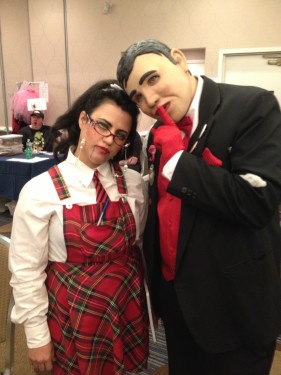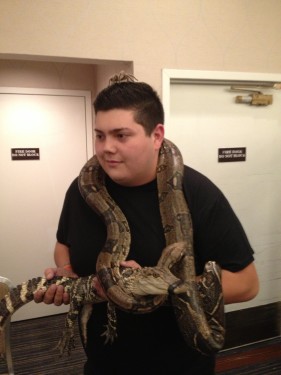 The costumes just keep getting more nightmarish and getta a load of this kid. Talk about the heebie-jeebies. He's holding a baby alligator, has a boa constrictor around his neck and a tarantula on top of his head!
Check out Chocko (njchocko) and Mr. C (planetchocko) on instagram.
Follow @planetchocko on Twitter. LIKE us on Facebook too. Thanks!
Tags: american horror story, b-movies, chiller theatre, dick miller, dudley boyz, king kong escapes, land of the lost, scream queens, spring, the mighty ducks, the time tunnel, zacherle
Posted in chocko, movies, photos, TV | Comments (0)