February 6th, 2014 by chocko
The next Chiller Theatre Expo will take place at Sheraton Parsippany in Parsippany, N.J. on April 25 – 27, 2014. It's not just the best place to pick up horror collectibles and movies but it's also a great way to meet some favorite stars of film and television. The first wave of guests were recently announced including Special Guest Zacherley The Cool Ghoul, actors from The Sopranos and Sons of Anarchy, actors from horror and b-movies, artists, musicians and former wrestlers. I'm looking forward to seeing Patty Mullin from the movie Frankenhooker, Bob McGrath from Sesame Street and former WWE Tag Team Champions, Demolition. The Planet Chocko crew is also ready to shake things up when Bobby Steele of The Undead hits the stage on Saturday night. Make plans and buy your tickets in advance and see you at the expo! Here's a little recap of what went down last October on a spooky Saturday night. Pictured below are some of the many people dressed up in costume at Chiller Theatre!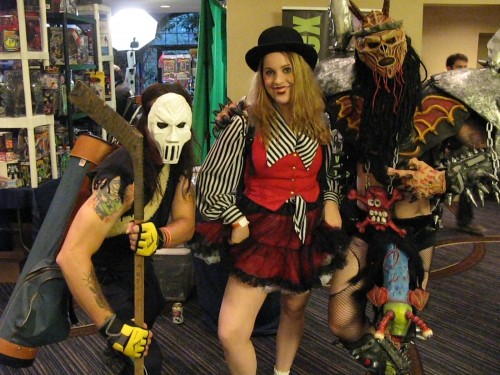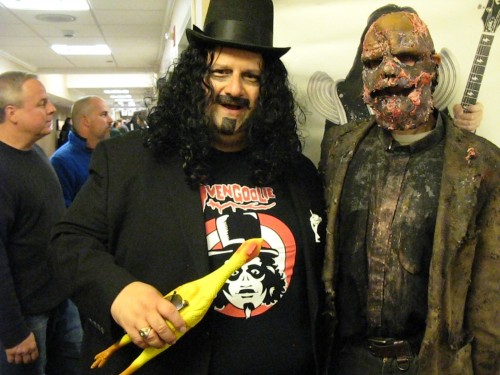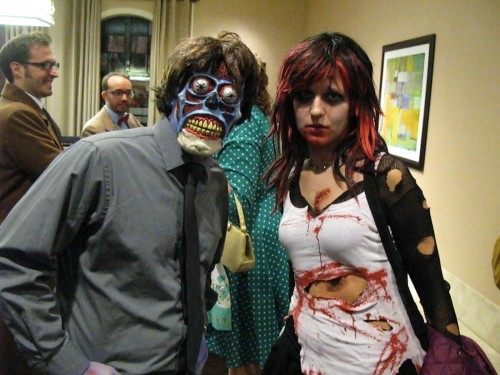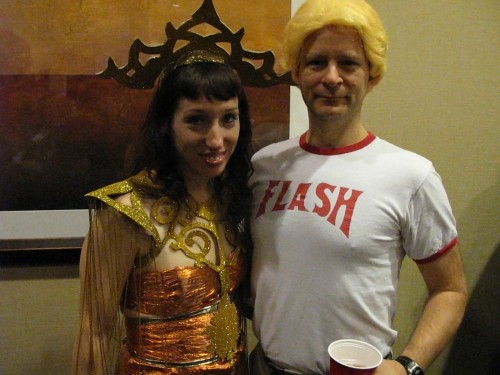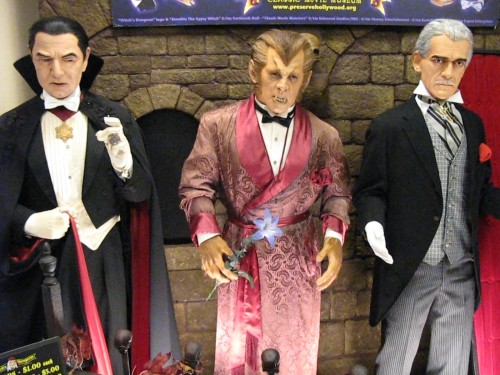 Here are some lovely models straight outta The Witch's Dungeon Classic Movie Museum which has been around since 1966 in Bristol, Connecticut.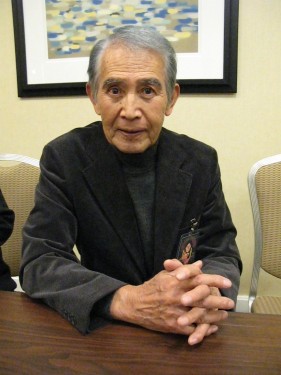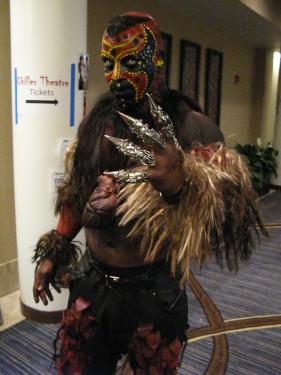 Kenji Sahara (left) starred in many Godzilla movies in the late 1950's and beyond made a rare convention appearance. Marty Wright (right) aka professional wrestler "The Boogeyman" looked ready to battle.

Left to right: Kevin Sean Michaels (director of documentaries about Vampira, Ingrid Pitt and Ted V. Mikels), Alexia Anastasio (actress and director of Adventures In Plymptoons!) and rockabilly musician, wrestling manager, and co-director of "My Breakfast with Blassie" Johnny Legend.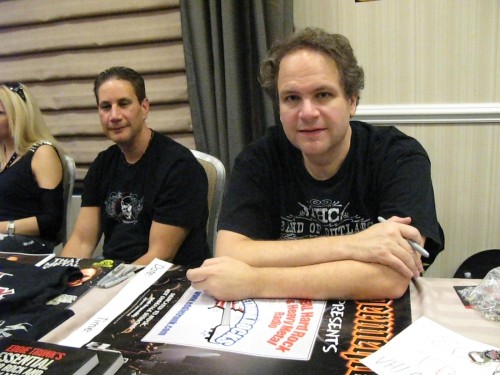 The walking encyclopedia of all thing Heavy Metal, Eddie Trunk. Check him out on TV on THAT METAL SHOW and on the radio live in the NYC area on Q104.3 during "Friday Night Rocks" from 11PM-2AM every Friday.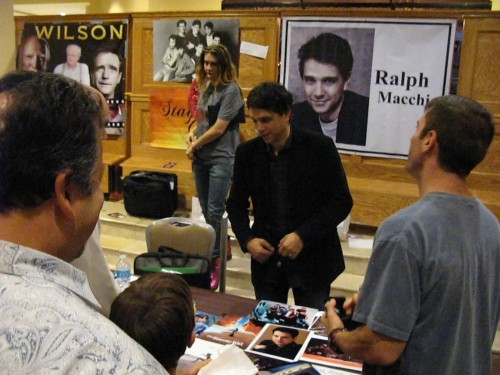 The master of the crane and the drum technique, The Karate Kid and all around nice guy, Ralph Macchio. Check him out in Wax On, F*ck Off.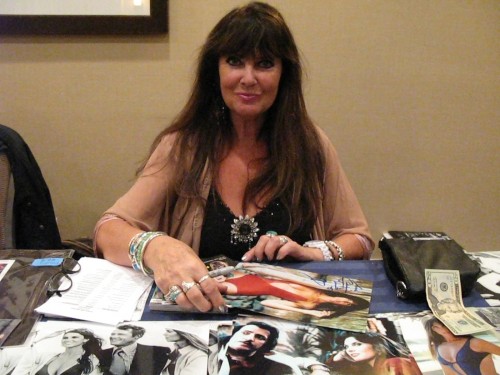 I got an autographed photo from Caroline Munro. She has starred in many fantasy, horror and sci-fi films including The Golden Voyage of Sinbad (I remember seeing this as a kid thinking, "Damn, she looks good!"), Dracula A.D. 1972 and the James Bond movie The Spy Who Loved Me.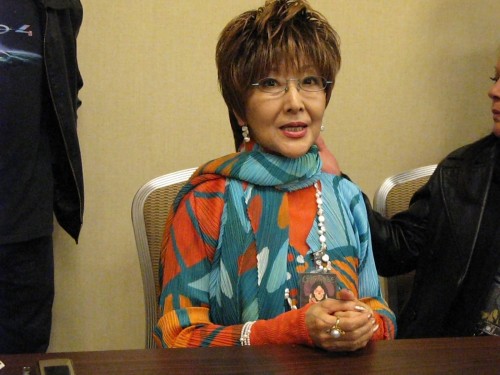 Yukiko Kobayashi star of Japanese television and movies like Destroy All Monsters and Yog: Monster From Space made a rare Chiller appearance.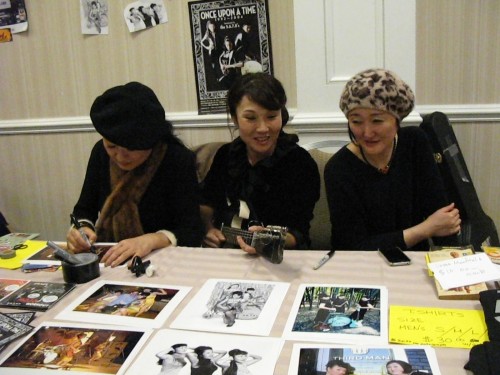 The 5.6.7.8's were in town for Chiller and a show at the Bell House in Brooklyn. Many moons ago, me and Mr. C went to see them at a place in St. Mark's called Coney Island High. It was good to see the ladies from Tokyo, Japan once again. I got a photo signed by the band and after recovering from some movie and collectible shopping, went out to eat then came back with the crew to catch some musical performances.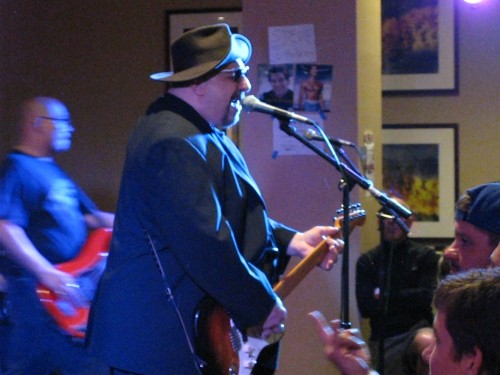 The Smithereens performed early during the Chiller Saturday Night Party. Pat DiNizio and the rest of the jersey gang including Dennis Diken on drums, Jim Babjak on guitar and Severo "The Thrilla" Jornacio on bass, performed some blistering, power pop classics including Top of The Pops, Behind The Wall of Sleep, House We Used To Live In and A Girl Like You.

The demonic horror hostess Skel-pira introduced Michale Graves to the stage who killed it, performing an acoustic set of monster mash tunes from his Misfits-era days including the crowd favorite Dig Up Her Bones, Crying On A Saturday Night and Scream. Newer tunes included the catchy and horrific Zombie off his new album titled Supernatural. Get it now!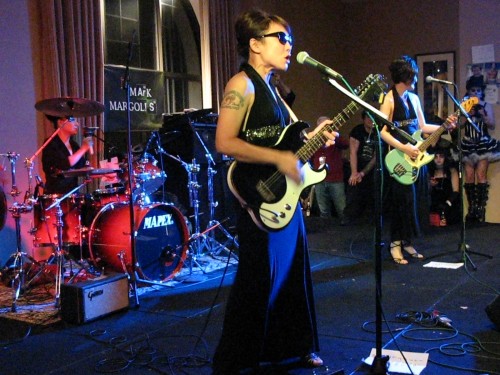 We stuck around for The 5.6.7.8's who people may know as the band from the movie Kill Bill and from their cover of The Rock-A-Teens song Woo Hoo. They performed a solid set of garage rock and covers while elegantly dressed in evening gowns making the rest of us zombies look like some hillbilly schmucks. Check out some videos from the show below if you dare and let the countdown for the next Chiller Theatre begin!
The Smithereens performing "Behind The Wall of Sleep" at Chiller Theatre

Michale Graves performing "Scream" at Chiller Theatre

The 5.6.7.8's performing "Hanky Panky" at Chiller Theatre

The 5.6.7.8's performing "Three Cool Chicks" at Chiller Theatre

Follow @planetchocko on Twitter.
LIKE us on Facebook too. Thanks!
Tags: 5.6.7.8's, caroline munro, chiller theatre, horror, kenji sahara, michale graves, the smithereens, yukiko kobayashi
Posted in chocko, movies, music, photos | Comments (0)