May 1st, 2013 by chocko
Chocko and Mr. C busted through the doors of Chiller Theatre once again to celebrate pop culture, horror and b-movies, sci-fi and everything else in between. This spring was another huge event with a lot of guests from the world of movies, television, music and professional wrestling. A lot of temptations await at Chiller if you are a fan of movies and one of the vendors we tend to gravitate towards is the VHSPS booth. The VHS Preservation Society believes in your right to watch movies as they were first seen on VHS. They pretty much transfer long forgotten or Out Of Print movies on VHS and transfer them to DVD. I picked up "The Making Of Star Wars" (1977) which came with the bonus Star Wars Holiday Special. I haven't seen the Holiday Special since it aired on tv a long time ago, in a galaxy far, far away…it should've stayed there! I never realized how terrible it was and I would rather kiss a Wookie than have to sit through it again. There is a really cool animation segment featuring Boba Fett that does make up for the rest of the tv special. I also stopped by the Skreem Magazine booth that has the best deal in the house. If you bought their magazine, you got a random movie. I got The Funhouse (1981) by the director Tobe Hooper (The Texas Chainsaw Massacre).
(L-R) Handsome Dick Manitoba of Dictators, Butch Patrick (Eddie Munster of The Munsters) and Pat DiNizio of The Smithereens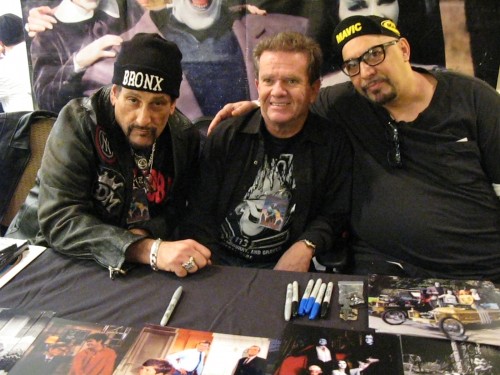 Who knows what lurks in the halls of Chiller Theatre…Ahhh! Rocky Horror!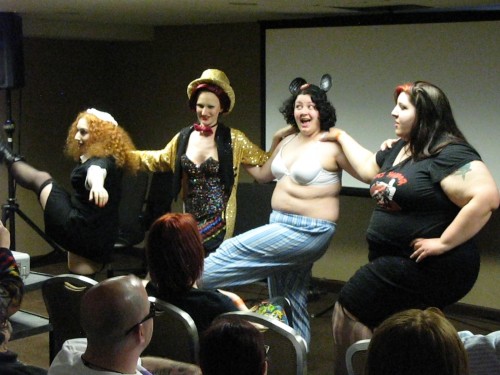 Chris Holmes, a founding member of the heavy metal band W.A.S.P.

Jerry "The King" Lawler reacts to a Chocko silent but deadly funk blast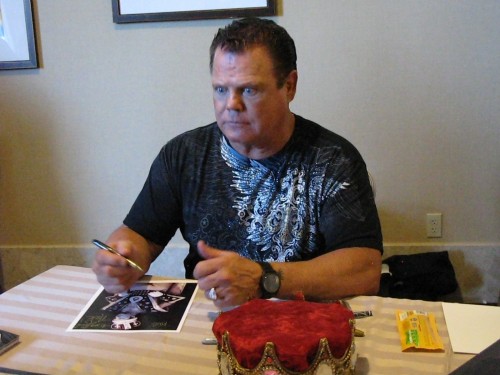 (L-R) Ricou Browning (legendary actor who played the Gill-man. Browning is the last surviving original Universal Monster) and Texas musician and actress Patricia Vonne (Sin City and MACHETE KILLS).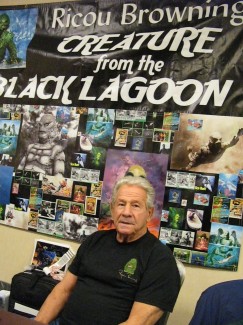 Akira Takarada of the GODZILLA films discusses his career at a panel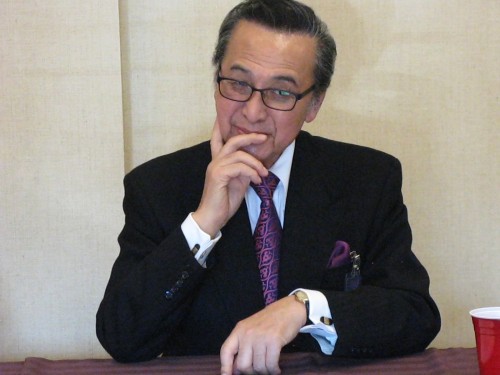 (L-R) Marky Ramone of The Ramones (have you tried his sauce?) and Rockabilly outlaw musician, producer wrestling manager Johnny Legend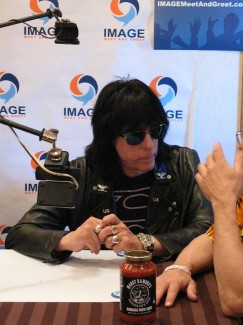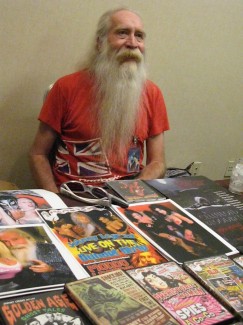 William Forsythe and boxing's Jake Lamotta hanging out in the lobby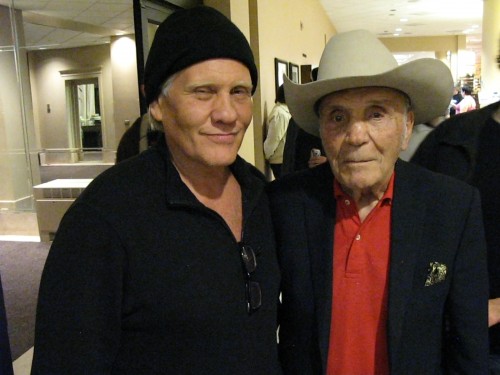 We always get a kick outta seeing the guys and ghouls at Chiller Theatre all dressed up like it's Halloween in April. Sometimes it was hard to tell if people were in costume or in their usual mondo bizarro getup. The photos below were taken during the Chiller Theatre "Live" Rock & Roll Monster Surf Party. The Dead Elvi played their monster surf tunes and invited a number of special guests to the stage including Zacherley the COOL Ghoul who sang "Come With Me To Transylvania" and "Monster Mash." Denny Laine of Wings performed 2 songs with the band "Live and Let Die" and "Band On The Run." Handsome Dick Manitoba of the Dictators hopped up and down while singing The Stooges classic "I Wanna Be Your Dog" and the MC5's "Kick Out The Jams." Kane Roberts performed 2 Alice Cooper songs "Freedom" and "School's Out" with Joe Von T on vocals. More heavy metal thundered through the room when Chris Holmes stepped on stage for "Blind In Texas" by W.A.S.P. Akira Takarada was also invited to the stage where he surprised the crowd with a Misfits cover. Just kidding, he blew out the candles on a Godzilla birthday cake. The Next Chiller Theatre is October 25 – 27, 2013!
Zacherley The COOL Ghoul still got some monster chops!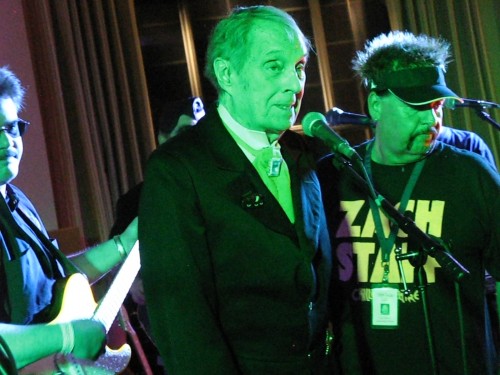 (L-R) Kevin Clement and John Kullberg of THE DEAD ELVI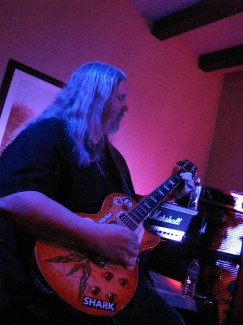 The Dead Elvi with Denny Laine performing "Band On The Run"

The Dead Elvi w/ Manitoba performing "I Wanna Be Your Dog"

Follow @planetchocko on Twitter.
LIKE us on Facebook too. Thanks!
Tags: 2013, akira takarada, chiller theatre, horror convention, spring, the dead elvi, zacherley, zombies
Posted in movies, music, photos, TV | Comments (0)