September 17th, 2012 by Mr. C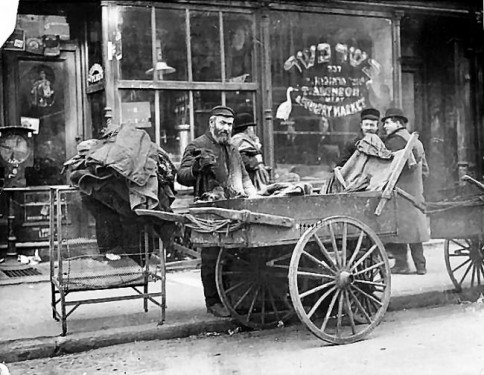 (Pushcart Peddler on the Lower East Side of NYC in the late 1800's – Photo courtesy of the NY Public Library digital gallery)
From the same vibe, struggles, and DNA of the storied New York pushcart peddlers of the past have come a new generation of street food vendor warriors walking the path of entrepreneurship and self-employment. With the ever rapid changes of 'New Yawk' at the speed of thought and dollars come the high rent and gentrification pricing out the local mom and pop shops out of the box in a New York minute. In comes the business model of the mobile food carts/trucks as a viable alternative for businesses with big hearts and passion for their products who can't compete with corporations for the storefronts. That being said, surviving as a street vendor in NYC is no easy task in itself with no help from the City of New York. But thanks to organizations like the Street Vendor Project, a non-profit entity that helps unite the vendors together to create a movement of change, awareness of legal rights, instilling education as well as providing a voice to their members, the game is slowly changing for the better for our sidewalk vending warriors!
Fast forward to last Saturday where we had a chance to celebrate the gathering of the Best Street Food Vendors in New York City with an event which some dub as the "Oscars of food for the real New York". The 8th annual Vendy Awards took place at Governor's Island with about 24 vendors in the mix serving their pride and joy for all attendees to taste. Awards will be given. Bellies would be full. A few notches on the belt buckle would be cranked up and a fun time was had by all as well as a message of unity will be sent to the City of New York along with a note that the strength and community of the mobile food business is only getting stronger with every successful meeting at this event!
(The lovely ladies at the Merch/Vote Vendy table)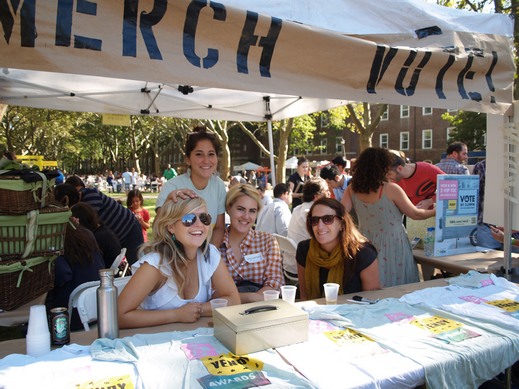 While writing this on Monday afternoon, a full 2 days after the Vendy Awards, I still haven't fully recovered from the self induced food coma after sampling most of NYCs favorite street food vendors at Governors Island! I tried so many great eats that day that I almost needed someone to escort me out on a wheel barrow! Of the 24(Cambodian Cuisine was absent) 23 vendors at the awards, I was only familiar with one of the streetcarts which is based in Chinatown located underneath the Manhattan Bridge – Xin Jiang Prosperity Kebabs. My final tally was that I sampled 18 out of the 23 contestants! My favorites out of the bunch included Parantha Alley, Cinnamon Snail, Phil's Steaks, Okadaman, Uncle Gussy's, and Imperial Woodpecker SnoBalls! Every vendor brought a slice of the tasty, though! Congratulations to all of the Vendy Award participants as well as to all of the 20,000+ street vendors of NYC! You guys are the real winners! For more informatioin on the Street Vendor Project organization click HERE.
The official 2012 vendy award winners are:
The Vendy Cup: Piaztlan Authentic Mexican
Best Dessert: Melt Bakery
Best Market Vendor: Lumpia Shack
Rookie of the Year: Phil's Steaks
People's Taste Award: Cinnamon Snail
Checkout some photos that we took at the Vendy's when we weren't gorging out on food! We hope to get invited back to next year's festivities!
———————————————————————————————————————-
Phil's Steaks
www.philssteaks.com
Location: varies
Check Twitter: @PhilsSteaks
Food: Cheesesteaks
Phil's Steaks won the 2012 Rookie of the Year Vendy Award! Congratulations!
(Team Phil greeted me with open arms worth of cheesesteaks and blessed me with my first eats of the day at the Vendy Awards! The bread was firm, tasty, & had a nice bite. The bread proved to be a great carrier with holding in the chopped up tender steak dressed with cheese whiz which melted into my mouth at first bite!)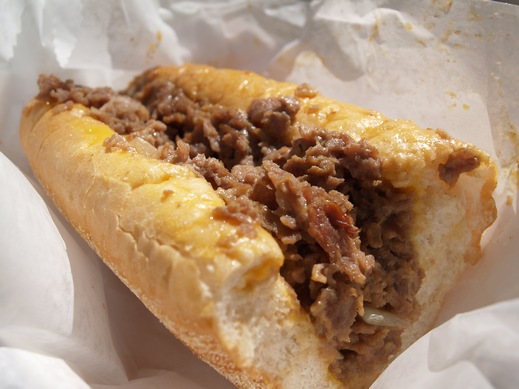 ———————————————————————————————————————-
Xin Jiang Prosperity Kebabs
Forsyth & Division Street
Chinatown (Manhattan Bridge)
Food: Xian Jiang style kebabs
(Awesome Lamb kebabs with spices unique to XinJiang cooked on charcoal.)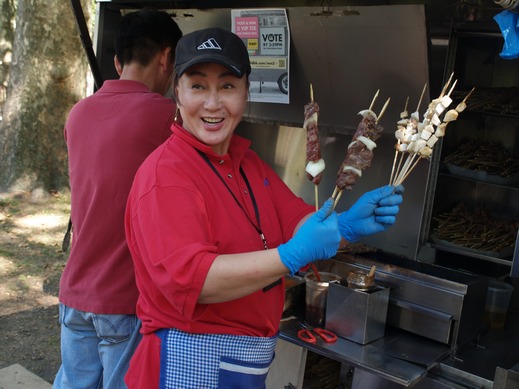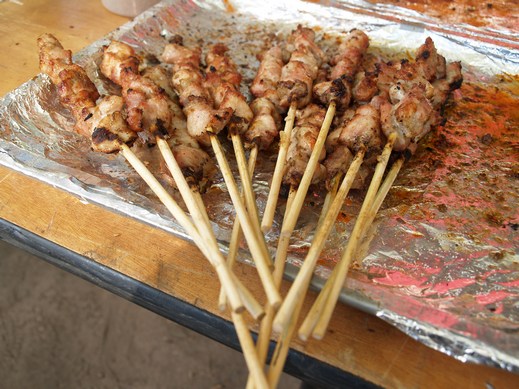 ————————————————————————————————————————-
Imperial Woodpecker Sno-Balls
www.iwsnoballs.com
Twitter: @imperialSNO
124 Macdougal Street
Food: New Orleans style shaved ice
(I voted for the Imperial Woodpecker SnoBall team as my favorite dessert pick!)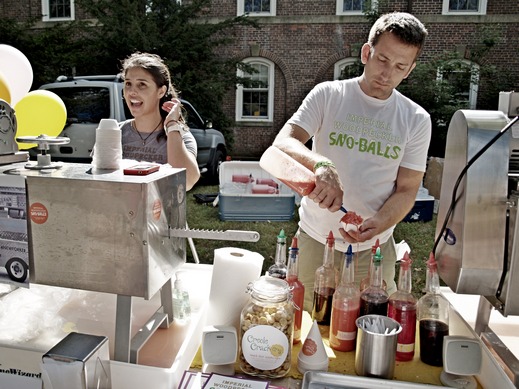 (The nectar cream and Mardi Gras King Cake flavors were divine on the shaved ice. Not too sweet – perfection!)


———————————————————————————————————————-
Parantha Alley
www.paranthaalley.com
Twitter: @paranthaalley
Located at the Smorgasburg Market in Williamsburg
Food: Spicy Indian fillings in whole wheat roti
(working the parantha grill!)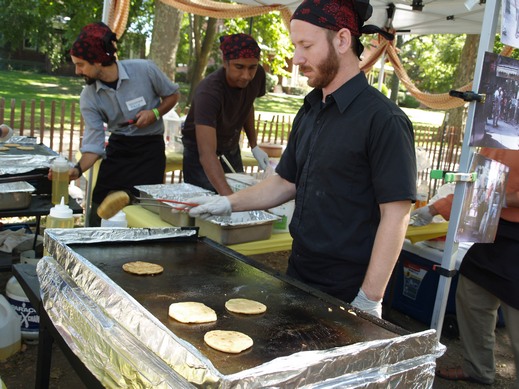 (Parantha sampler: ground chicken,potatoes+peas, & Goat cheese. The side chutneys included the cilantro chutney, spicy pickled mango, cucumber spiced yogurt, & the radish relish.)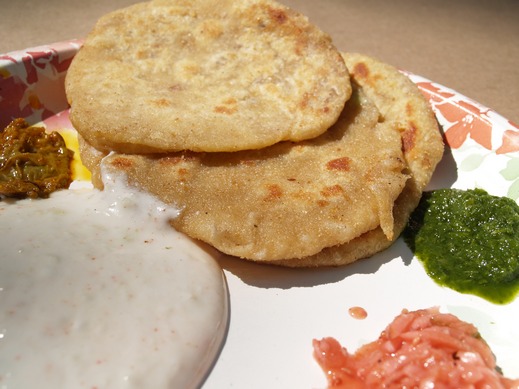 ———————————————————————————————————————-
Monsieur Singh Lassi
www.monsieursingh.com
Twitter: @monsieursingh
Location: check twitter
Food: all natural yogurt based drink and popsicle
(Lassi Drinks and Lassi Pops)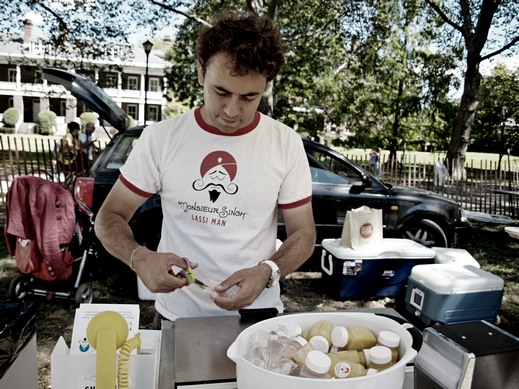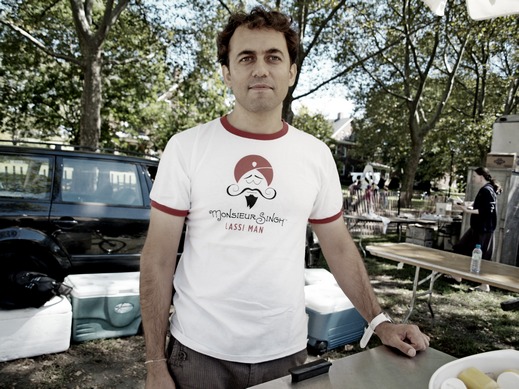 (Rose lassi pop)


———————————————————————————————————————-
Uncle Gussy's
http://unclegussys.com/
Twitter: @unclegussys
51st Street & Park Ave.
Food: Greek food
(Nicholas Karagiorgos serving me the sampler platter)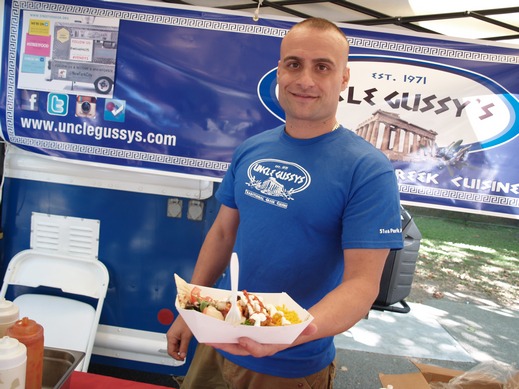 (One of the most delicious platters of the day that almost stopped me in my eating tracks. The food seemed to keep regenerating itself after a few bites! The platter consisted of sliced lamb, gyro meat, grilled BBQ Chicken,pork souvlaki,greek salad, rice, & fries. Wheew!! I voted for Uncle Gussy's to win the Vendy Cup!)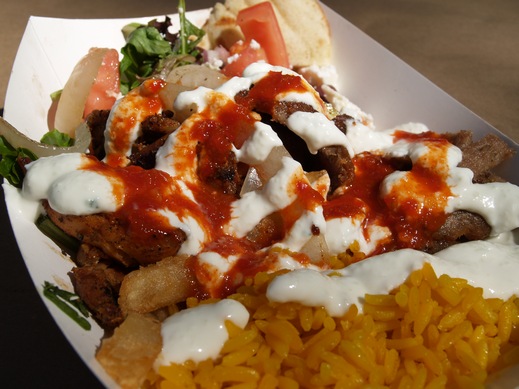 ———————————————————————————————————————-
The Cinnamon Snail
www.cinnamonsnail.com
Twitter: @veganLunchTruck
Location: Check twitter
Food: Spicy, bold organic vegan food, & fresh made donuts & pastries.
The Cinnamon Snail captured the people's hearts by winning the 2012 People's Taste Vendy Award! Congratulations Team Snail!
(This was my 2nd favorite vendor of the day and a surprise to me considering it was vegan food. My friends had raved about this food truck when it hovered in Hoboken, NJ but I didn't believe them because it was Vegan food for god's sake! I'm a believer now!)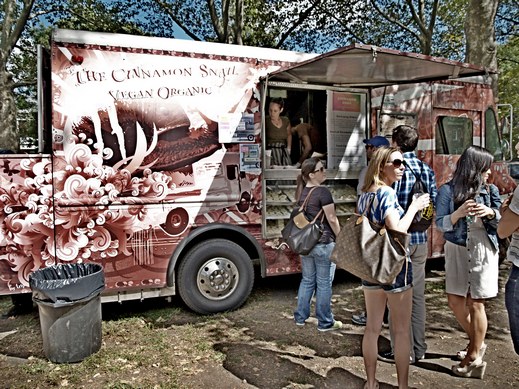 (The fresh fig pancakes were out of this world!)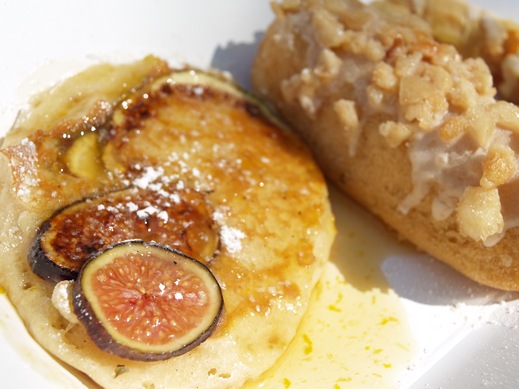 (The white chocolate macadamia twinkie was delicious! I can't/won't forget about the chamomile cake & lemon lavender glaze donut as well! Hostess who?)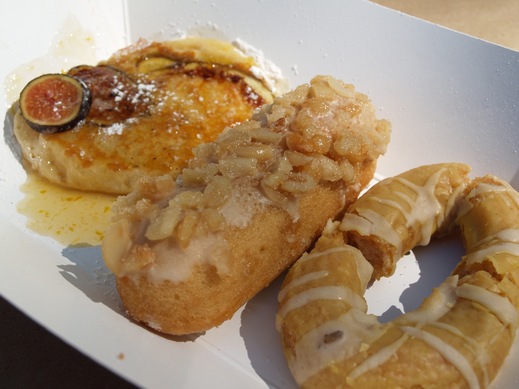 ———————————————————————————————————————-
Piaztlan Authentic Mexican Food
www.facebook.com/piaztlanBK
Twitter: @PiaztlanBK
Location: Saturday & Sunday 10a-8pm May-October Red Hook Ball Fields in Brooklyn
Food: mexican street food
(The winners of the 2012 Vendy Cup!)


(The delicous taco sampler of Goat, Al Pastor, & Carne Asada)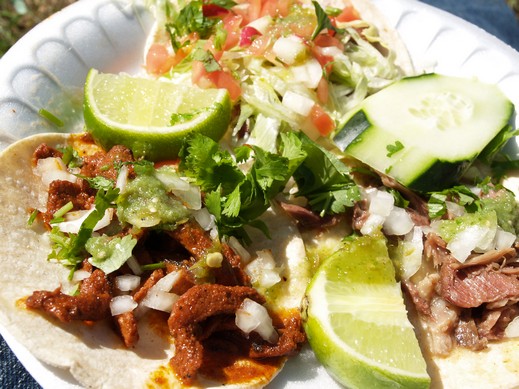 ———————————————————————————————————————-
Melt Bakery
www.meltbakery.com
Twitter: @meltbakery
Location: Highline daily
Food: Ice Scream sandwiches
(Melt won the Vendy Award for best dessert!)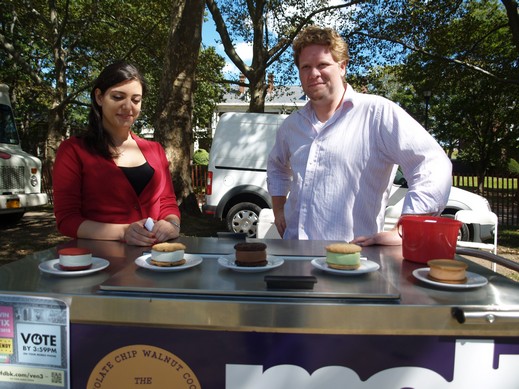 (The Zen Ice Scream sandwich – Ginger cookie sandwich with green tea ice cream! Yes, the combo tastes as good as it sounds!)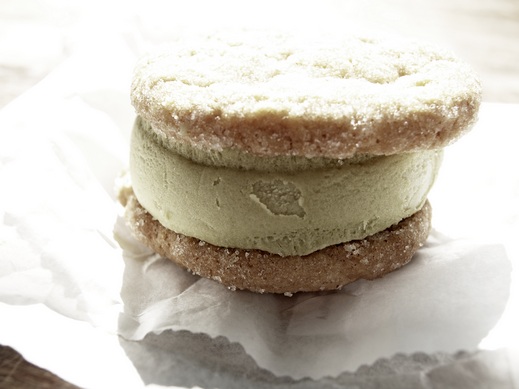 ———————————————————————————————————————-
Baby Got Back Ribs
www.babygotbackribs.com
Twitter: @babygotbackribs
Location: Smorgasburg (summer) & Madison Square Eats (Fall)
Food: Ribs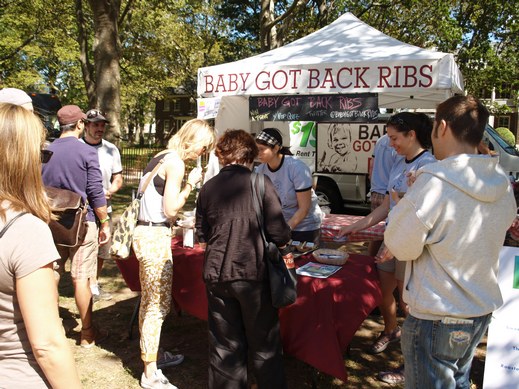 (The ribs were tender and fell off the bone. Loved the slaw & cornbread!)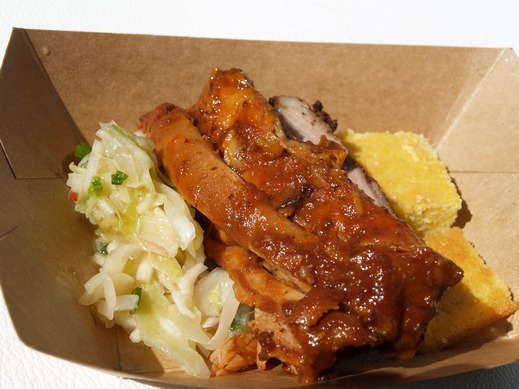 ———————————————————————————————————————-
Okadaman
www.okadamannyc.com
Twitter: @OkadamanNYC
Location: check twitter
Food: Authentic Japanese street food
(The chef that wore many hats that day at least for the first batch of Vendy attendees.)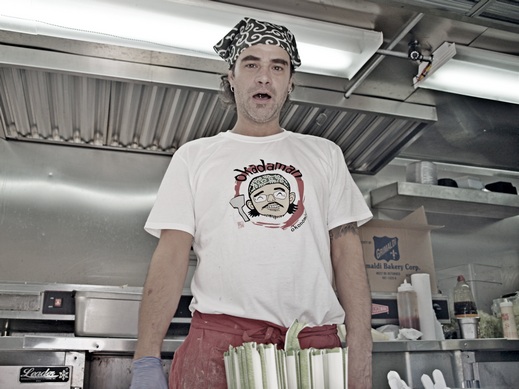 (Crispy, tasty, & tender Karage served with rice & shredded lettuce.)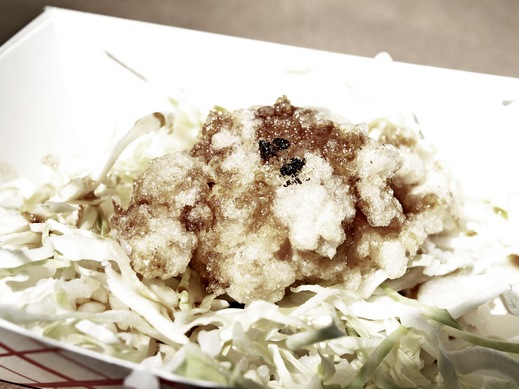 (Loved this rendition of the Osaka style Okonomiyaki. Pan fried omelete to a crisp with fresh veggies and of course octopus & squid topped with seaweed flakes!)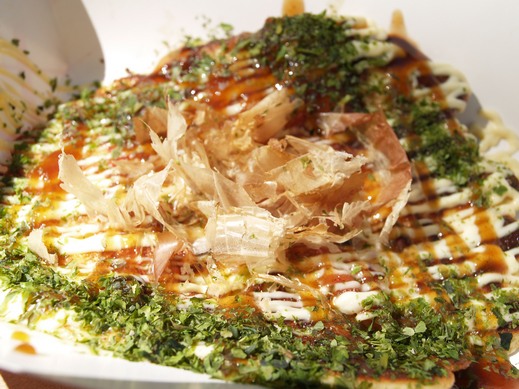 ———————————————————————————————————————-
Chinese Mirch
www.chinesemirch.com
Twitter: @chinesemirch
Location: Check twitter
Food: Chinese with indian flavors, just the way you would get in India!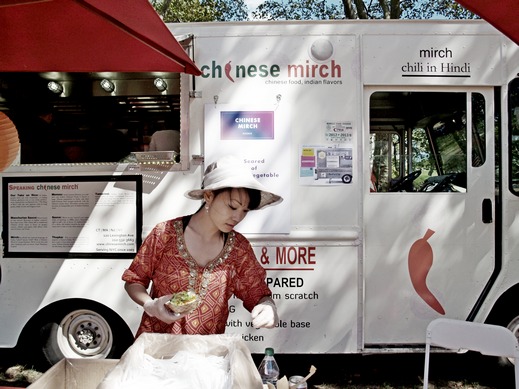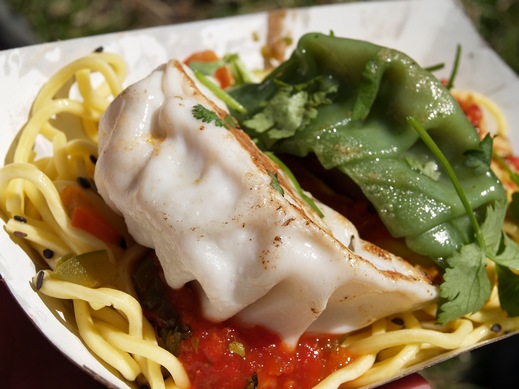 ———————————————————————————————————————-
Lumpia Shack
www.lumpia-shack.com
Twitter: @LumpiaShack
Location: Saturdays at Smorgasburg
Food: Filipino inspired spring rolls
(The Lumpia Shack were the 2012 Vendy award winners for the Market Vendor category.)


(Real crispy spring rolls with thin wrappings and tasty fillings. They were serving Truffled adobo mushroom,Peking duck,Adobo chicken, & Original pork. The adobo chicken is below.)



———————————————————————————————————————-
CoolHaus
eatcoolhaus.com/locations
Twitter: @CoolHausNY & @CoolHaus
Location: check website
Food: signature item is the made to order ice cream sandwich.
Tags: 2012 vendy awards, street vendors, vendy awards
Posted in community, food, mr. c, photos | Comments (0)