October 30th, 2014 by Mr. C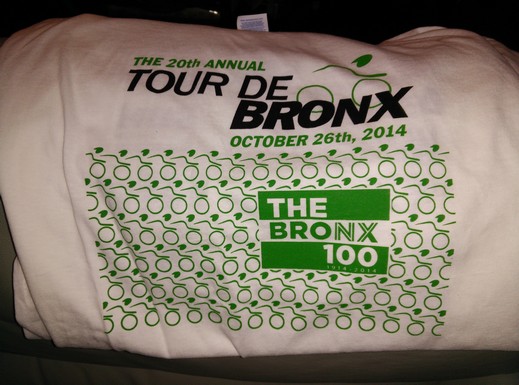 (My ride parked outside of the Banana Deli on 161st Street)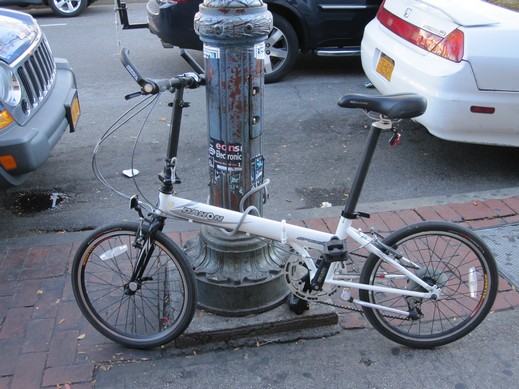 On Sunday October 26th, I biked the 25 mile leg of the Tour De Bronx! It's one of my favorite bike rides if not most favorite of the year eclipsing the NYC 5 borough bike ride, Tour de Brooklyn, & Tour de Queens. Not only is the ride free but the vibe and flow of the tour is just plain better than the rest. The rules are not strict as well. It's recommended that folks wear helmets but I've seen plenty of the young & not so young, dumb, & the cool – ride in the tour without much regards for their noggin' but hey that's their decision. The streets in the Bx were not closed to traffic but were manned by NYPD for the most part to let the riders flow through! The sun was out and the temperature was a nippy 60 at best with a decent amount of wind to keep things interesting at times. This year I decided to park my car a little bit closer to the Botanical Garden which is where the finish line was at. I left the 4 wheel cager in the Belmont section of the Bronx on Arthur Avenue right in front of the Madonia Bakery a few doors down from the famous Arthur Ave retail market. I loaded up with some freshly baked scones at the Madonia. These tasty morsels served as fuel during my rest stops! I unloaded my foldup bicycle and headed towards Yankee Stadium. 1st stop – the Banana deli on 161st Street! The Banana deli used to serve as a religious pre-stop for the Planet Chocko crew before going to Yankee games. Today, I go for the breakfast of champions – 2 eggs over easy on a roll with sausage! Next, I waddled over to the Bronx County Building, checked-in for the ride, & anxiously waited for that horn to blow at 10.40am! Bronx Borough President Ruben Diaz greeted the 6000+ cyclists and off we went!
(Check-in at the Bronx County Building)

The bike ride itself was great fun! I was pretty impressed with my Dahon folding bicycle and the way she handled the urban terrain! I had the bike since 2001 mainly riding in NJ parks and paved paths. This is the first time that I've taken it out of its domain besides a few manhanttan runs. As for the tour, there were a few bottlenecks and choke points mainly at entrances into the greenways but in no time the bottleneck turned into a KRS – BDP posse freestyle in da Bronx! We were definitely boom-bapin' through beautiful urban landscapes, zagging through crotona park, styling and profiling through the greenway paths along the Bronx River Parkway, paid respects while touring St. Raymond's Cemetary, and stepped into a World of Bx neighborhoods along the waterfront! We were offered bagels with cream cheese, water, energy bars, & juice throughout the 3 rest stops. At the final resting point at the Botanical Gardens we were greeted with pizza and a free t-shirt for those participating in the ride! Right on! I love this ride! Can't wait to do it all again next year. Maybe we'll try the 40 mile trek next year!
(Parked in front of the Madonia Bakery – great bread there!)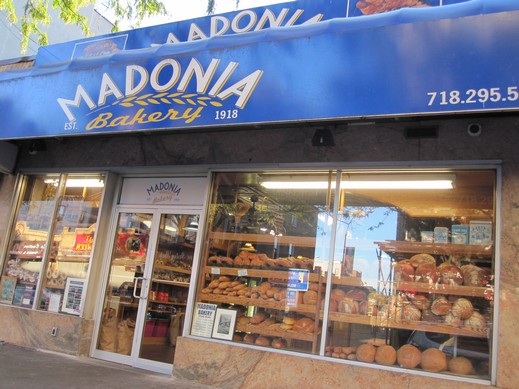 (Passed the Kool Herc mural on the Grand Concourse enroute to the Yankee Stadium area)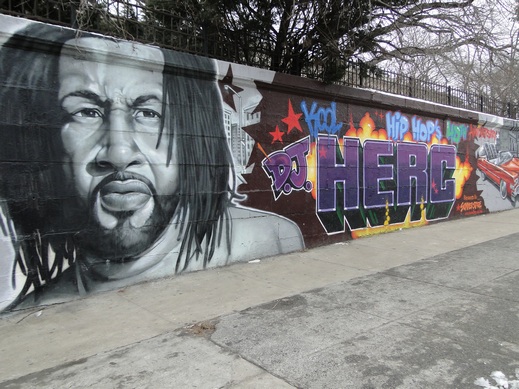 (The Banana Deli on 161st St. Had to grease up before the ride)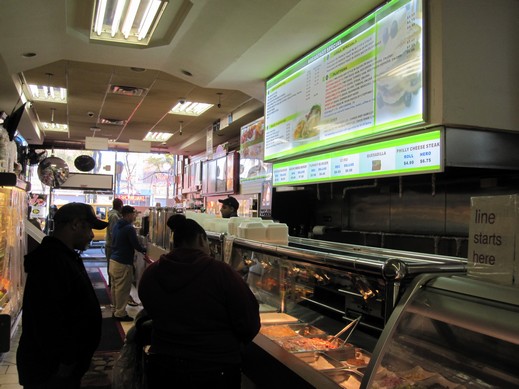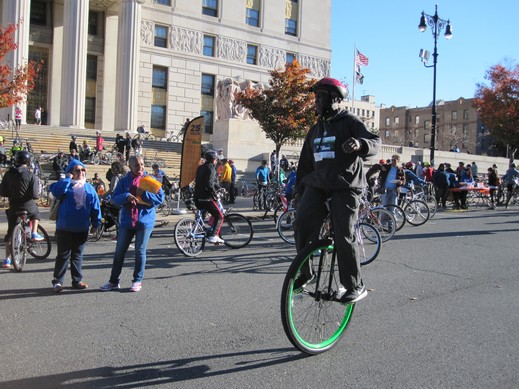 (1st stop of the day – Get those bagels on! – Crotona Park!)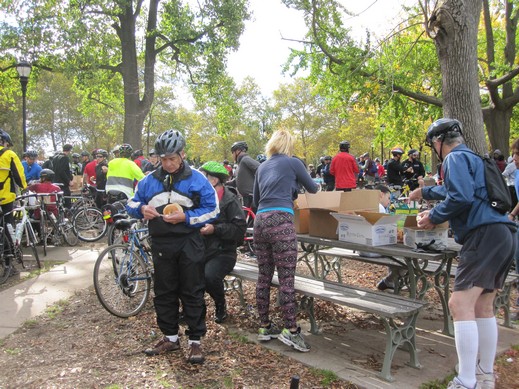 (YMCA rest stop overlooking the Whitestone Bridge)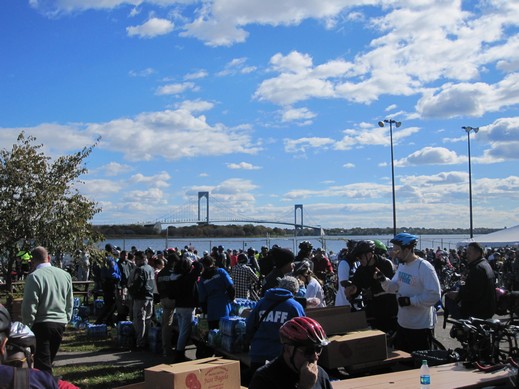 (My bike staring at the Whitestone Bridge!)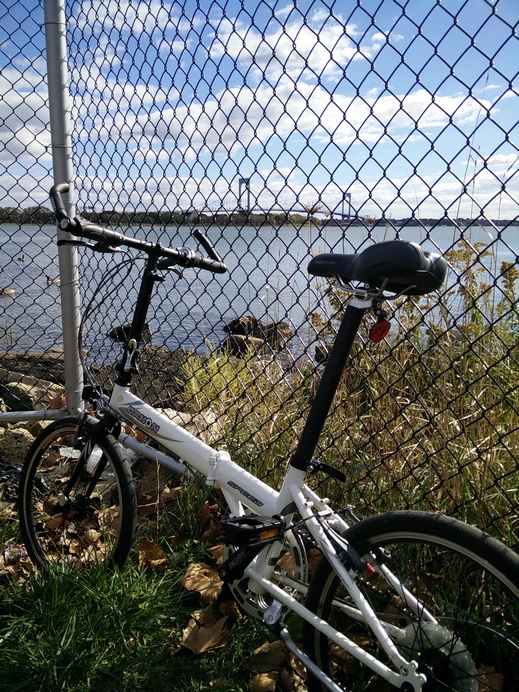 (The Hulk bicycle stretching its muscle at St. Raymond's cemetary)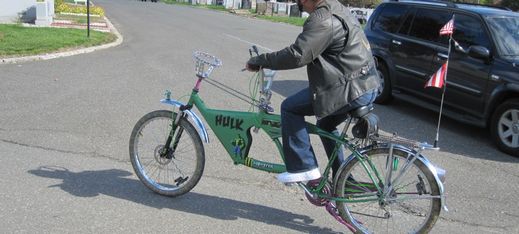 />
(Mike's Deli inside the Arthur Ave market)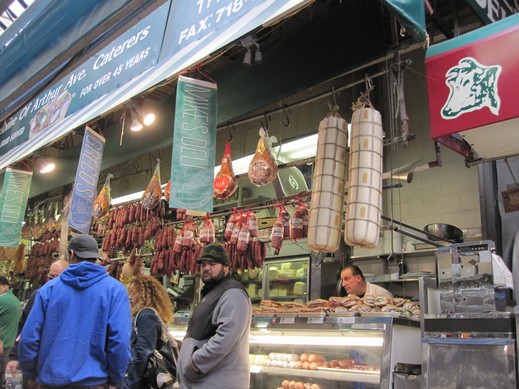 (Treated myself to a Big Mike Sub!)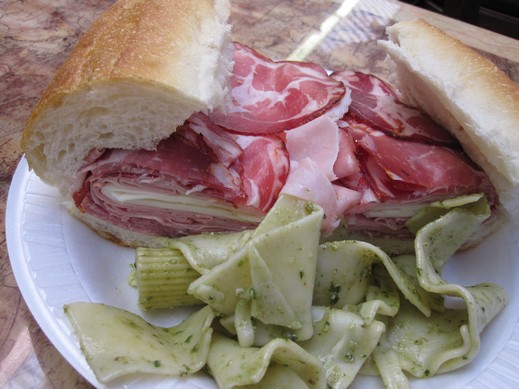 Posted in community, mr. c, photos, sports | Comments (0)
October 12th, 2014 by Mr. C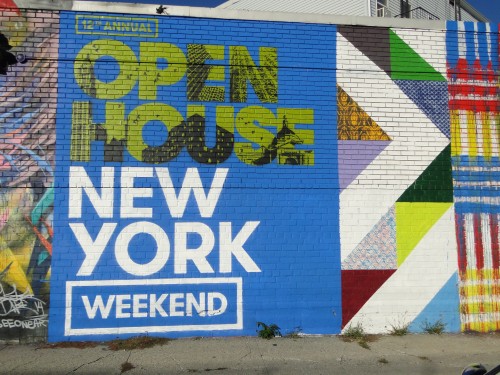 Though it was part of the Open House New York offerings this past weekend – a great weekend when all 5 boroughs of NYC opens up its doors to many of its establishments,events,landmarks, and businesses in order to celebrate the city – The Welling Court Mural Project in Astoria, Queens has opened up it's "outdoors" for 5 years strong now – providing beautiful artwork on display on its concrete walls 24 hours a day, 7 days a week! The Welling Court Mural Project is a collection of local and international street artists whose sole mission is to unify,celebrate,beautify, and provide hope to their community. The network of all star aerosol artists mashes up a mix of old school legendary artists with up and coming young guns as well as a blend of talented writers from abroad. I honestly didn't find out about this Astoria Queens collective until a few months ago, mostly being overshadowed by the late great & defunct 5 Pointz and the similiar street art community in Brooklyn – The Bushwick Collective.
Earlier today, we strolled through the Welling Court Mural surroundings and was astonished at how creative and gorgeous some of the pieces on the wall and metal shutters were! Familiar artists like Cern,Too Fly,Lady Pink,Fumero,Mr Prvrt to just name a few, really adorned the neighborhood with pieces of eye candy on the concrete slabs to celebrate street culture at its finest! Below are a few photos we took from Welling Court and the surrounding neighborhood in Astoria. Enjoy! Also, if you end up stopping by to check out the murals in person, a really good cafe in the area to hang out and just ponder over with the out of sight graffiti that you just witnessed is the Astor Bake Shop on Astoria Boulevard. Really good coffee and delightful pastries! I loved the almond croissant!
Astor Bake Shop
12-23 Astoria Blvd, Astoria – Queens
—————————————————————————————————————
(Cey Adams – from Def Jam – OG in the creative designs)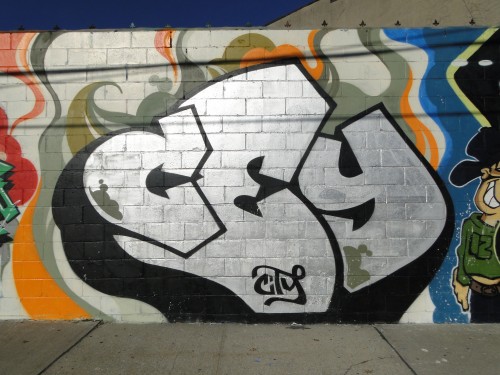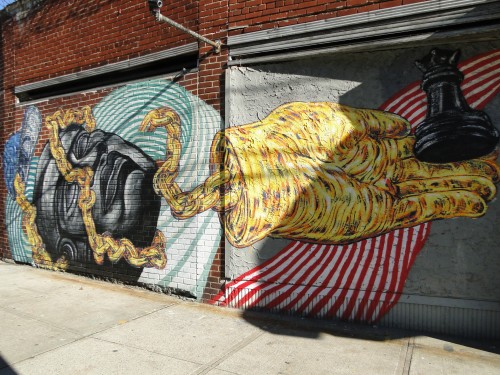 (Left-Danielle Mastrion & Lexi Bella;Right-Pyramid Oracle)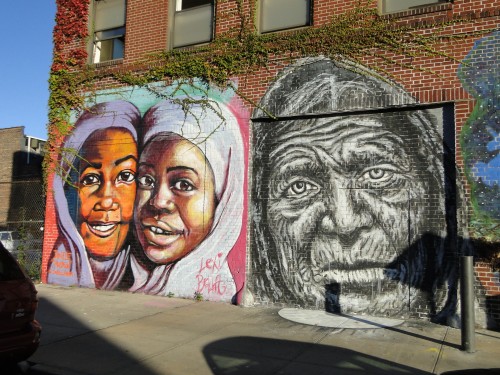 Posted in art, community, mr. c, photos | Comments (0)
September 28th, 2014 by Mr. C
Lately, I've been looking for more & more excuses to stay on the Jersey side of the hudson river due to time contraints and in general just trying to take advantage of some events we easily dismiss in the Garden State. Yesterday 9/27 Saturday gave me a good opportunity to not exercise my old EZPASS toll thingama-jingy' because of a local street fair headlined by the live tunes of funk/R&B/Soul by way of the Average White Band! Average they are NOT! At first the band's name didn't ring a bell but as I listen to some of their old hits from the 70s, I was like oh crap! Everyone has got to have heard "Pick up the pieces" at one point in their life as well as "Cut the Cake". Quite a few hip hop/rap groups have also sampled a tune or two from the Average White Band arsenal! My jaw dropped when I heard "Schoolboy Crush". Pretty impressive!
(Alex Gorrie – bass/vocals original member of AWB)

(Brent Carter – brought the vocals!)

It sounds like AWB has gone through a few reincarnations and iterations of band members. The bass player/vocals – Alan Gorrie is the only common denominator from the original crew to the present. All original band members or not, the Average White Band that I saw at the Hackensack Street Fair sounded pretty damn good! The band melded together and in sync like they have been playing together for years. Guitarist David Spinnoza who has worked with the Beatles, James Taylor, Paul Simon, & others was a hired gun for the tour. The vocals from Brent Carter was amazing especially when he reached deep for that falsetto! Some of my favorite performances from their set at the street fair included Marvin Gaye's – I want you, Pick up the Pieces, Oh Maceo, & The Isley Brothers' – Work to do. Original band member Alan Gorrie gave a shoutout to The Isley Brothers and their own record label T-Neck (Teaneck) records which is a neighboring town by Hackensack. I've included the setlist below and some videos of their performance. Enjoy!
I had a good time strolling through the street fair as local vendors from the town opened up shop on the sidewalk. Food was the only thing on my mind and latin food was well represented in the fair as well as a few asian choices. Wondee's, an authentic Thai restaurant on the block for years had a small stall for their excellent drinks like their delightful Thai Iced Tea. Morton's Steak house had a setup going offering gourmet sliders.
Another fun performance from the day included the African drum and dance routine. Have a look see at some of the African percussions and soulful dancing! Visit the Center for Modern Dance Education at 84 Euclid Avenue Hackensack,NJ 07601.
(Audience participation – learning African dance)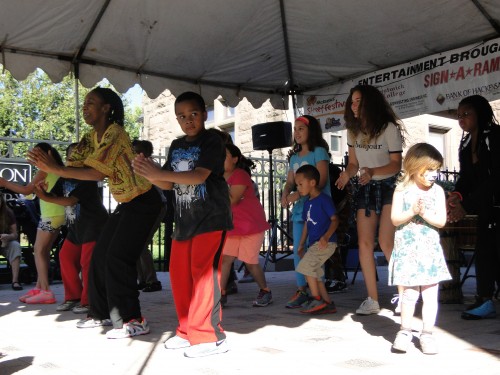 New Jersey senator and former mayor of Newark was also roaming around the premises to meet and greet people as well as endorse Hackensack resident Roy Cho in running for Congress.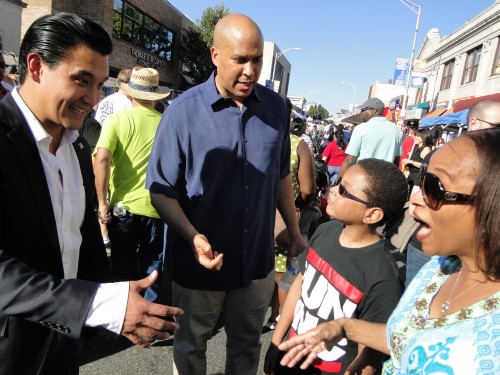 Hackensack residents unite! Johnson Public library on main street needs your help! Please head into the libary and sign the petition to help save the library from getting drastic budget cuts. The Johnson Public Library had a $2 fill a bag with books specials.
Average White Band Setlist
Got the love
Whatcha gonna do for me
I just can't give you up
I want you (Marvin Gaye)
If I ever lose this heaven
Oh Maceo (Maceo Parker)
Work to do (Isley Brothers)
Cut the Cake
A Love of your own
Put it where you want it
Schoolboy Crush
Person to Person
Pick up the pieces
Posted in community, mr. c, music, photos | Comments (0)
September 23rd, 2014 by chocko
The Ramones

The CBGB Music And Film Festival 2014 will take place in New York City from October 8 through 12. I went last year and checked out a few events during my limited schedule at the time. Blank Generation was being screened at Anthology Film Archives with director Ivan Kral in the house. The black and white, diy movie featured Ivan's home movies which followed the early punk scene in New York City. Bands such as The Ramones, Talking Heads and Blondie are featured on and off stage while old band demos and rare recordings provide the audio backdrop to the whole documentary. It is an interesting slice of history but don't expect a narrative or any mind blowing commentary. Definitely check it out for the old school NYC bands, clubs and music from an era long gone. The black and white photos above and below were stills taken from the movie screen. The photos feature some important bands that originally played at CBGB and blazed a trail for all bands to later follow. The Ramones are in the photo above. Below are The Heartbreakers featuring from left to right: Johnny Thunders, Richard Hell and Walter Lure. Also pictured below are David Byrne of Talking Heads and Deborah Harry of Blondie.
The Heartbreakers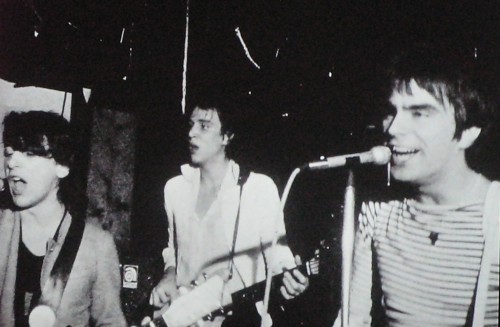 David Byrne of Talking Heads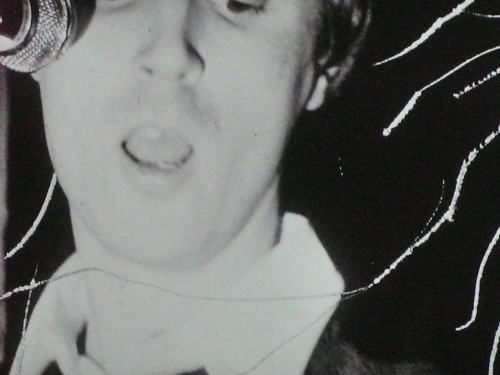 Deborah Harry of Blondie

Pink Slips at Pianos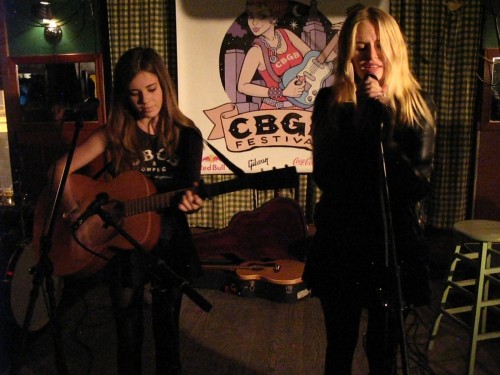 I checked out the debut of the band, Pink Slips at Pianos in the Lower East Side. The band features Jamie Brooks and Duff McKagan's (GUNS N' ROSES) 16-year-old daughter Grace McKagan. They performed acoustic covers from some of their favorite musicians such as Amy Winehouse, First Aid Kit and Death Cab For Cutie. They ended their set with a Grimes cover of "Oblivion" with Duff joining in on guitar. Check out the video of that song below. Nowadays the band features Grace with a more aggressive attitude and punk vocals (I think somebody got inspired at CBGB Fest!) and a bunch of dudes backing her up. Come back to NYC!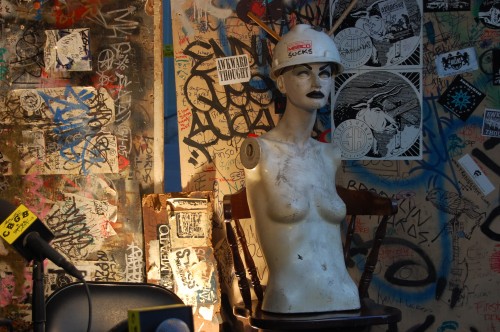 This highlight of the festival was the free Times Square event which featured two stages of music. Vendors such as downtown record store Other Music and food trucks lined the street and tourists and music fans rubbed elbows as bands such as My Morning Jacket and Grizzly Bear rocked out. James Murphy (LCD Soundsystem) spun some tunes during his DJ set that got the booties gyrating. Pictured above are some of the actual walls of the sacred landmark that was CBGB. Check out the untouched graffiti scrawlings and flyers! Times Square was the place to be…artists also collaborated to create murals and skateboarders did their thing on a half pipe built for the special occasion. More photos below!
#EnMasseProject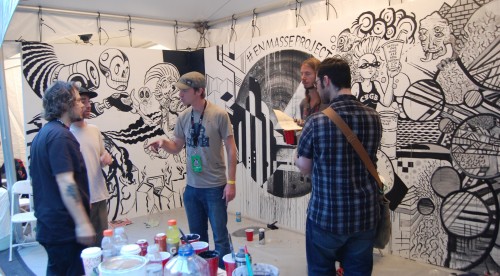 skate or die!


James Murphy on the turntables


tourists and music fans on the Red Stairs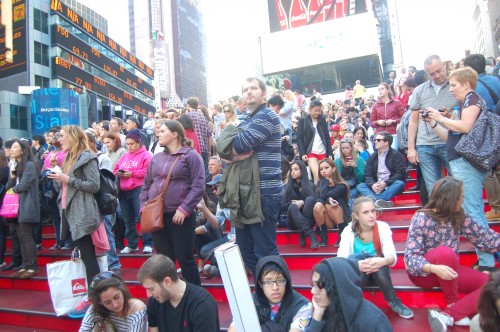 Grizzly Bear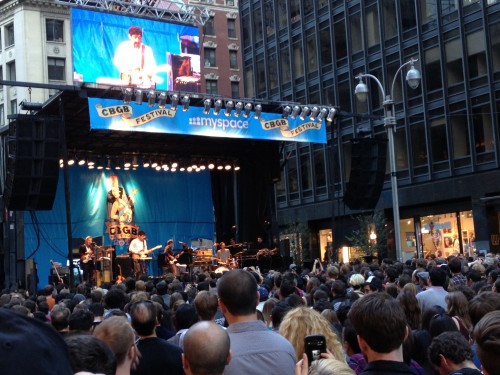 Get psyched for the CBGB Music & Film Festival in October. See ya there!
Follow @planetchocko on Twitter.
LIKE us on Facebook too.
Chocko (njchocko) is on instagram. Check it out. Thanks!
Tags: art, blank generation, cbgb, cbgb music festival, film, indie rock, manhattan, movie, music, music festival, new york city, nyc, pink slips, punk rock, ramones
Posted in art, chocko, movies, music, photos | Comments (0)
September 21st, 2014 by Mr. C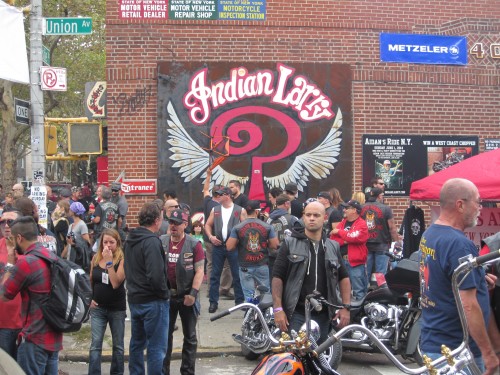 Indian Larry's Legacy Shop 400 Union Ave South Williamsburg, Brooklyn NYC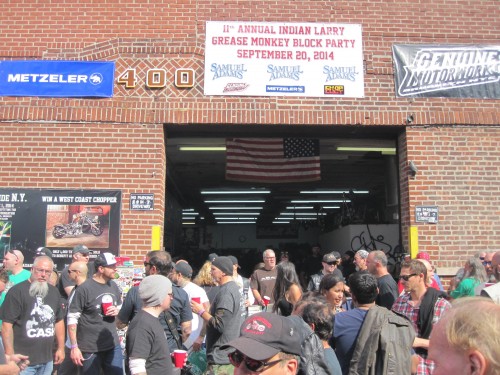 Indian Larry was a legendary motorcycle builder influenced by 1950s & 1960s style choppers, hot rods, & hot rod art & its sub culture. Some aesthetics of his old school choppers included small gas tanks, no front fenders or front brakes, ape hanger handlebars, suicide clutches, modern tech in engine mechanics, & what initially sucked me into Indian Larry's bikes was his sick – signature TWISTED downtube motorcycle frame that he designed and built. Yes, twisted metal for the downtube on the frame! If you look at Ed Roth's Rat Fink art, you can clearly see Indian Larry's monster hot rod choppers come to life.
Indian Larry built motorcycles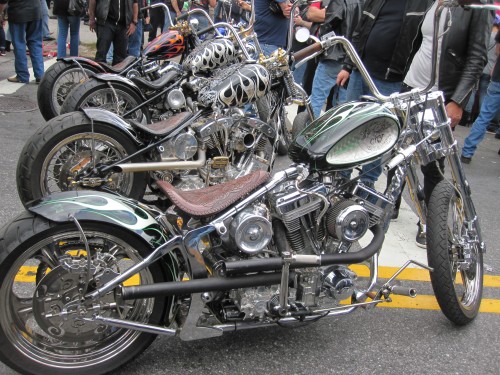 Indian Larry lived life fast, hard, & furious and unfortunately he was taken away from us too soon in 2004 while performing a stunt on his motorcycle. The Indian Larry legacy lives on with his compatriots at Indian Larry's Legacy motorcycle shop in Brooklyn. Fast forward 10 years later and today Sept 20th – Saturday, we still celebrate & appreciate Larry for his passion with the motorcycle culture. 9/20/14 marked the 11th Annual Indian Larry grease monkey block party! Hot dogs or hamburgers for $5 with a drink, Donuts from Brooklyn's own Dough, live music by Sea Monster, Wrench, Judas Priestess, Scrapers, & Big House Pete and of course a bike show competition. Face painting for the kids and plenty of vendors for your motorcycle accessory needs! I couldn't stay for the whole event but I did soak in the beautiful custom motorcycles on hand and the familiar sounds of Sea Monster! And yes that donut from Dough Brooklyn was deelish!
David Peel & Arthur (lead vocalist Sea Monster)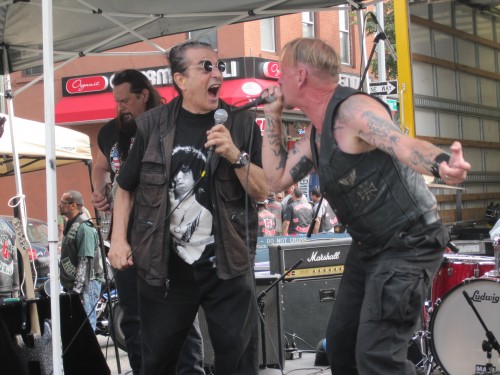 Sea Monster performs!



WRENCH performs!


(Best Vintage & Best overall)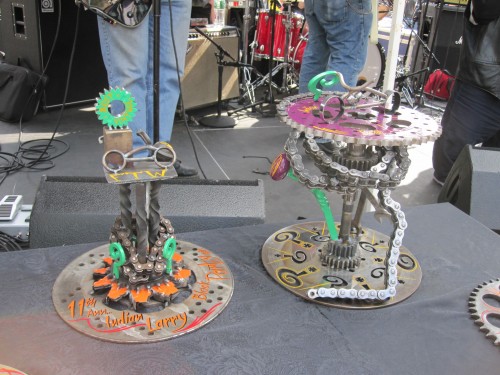 Tags: indian larry, motorcycles
Posted in art, mr. c, music, photos | Comments (2)
September 20th, 2014 by chocko
Buzzcocks at Webster Hall – 09.06.14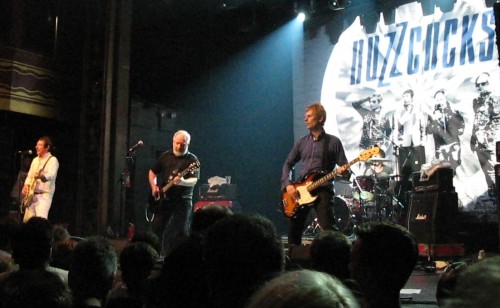 Titus Andronicus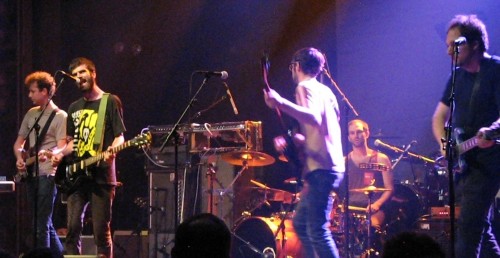 U.K. punk vets BUZZCOCKS rocked a furious set at Webster Hall in New York City. They scheduled shows around their Riot Fest appearances and this time around we got to see them with scrappy Jersey punks, Titus Andronicus opening up the evening. When the Buzzcocks hit the stage the first thing you notice is Pete Shelley rocking a beard looking more like an English professor than a legendary punk rocker. He sounded amazing along with guitarist Steve Diggle provided the relentless energy that got the crowd pumped up and dancing. They played a bunch of new songs off their brand new album THE WAY which is still not available in the United States. The encore was fantastic…Diggle took the lead vocals on "Harmony In My Head" then Shelley closed the night with "Ever Fallen In Love" and "Orgasm Addict." The Buzzcocks will be back in the U.K. in October for a tour with The Dollyrots. Check out a photo of the set list below and some videos I recorded from the show at Webster Hall.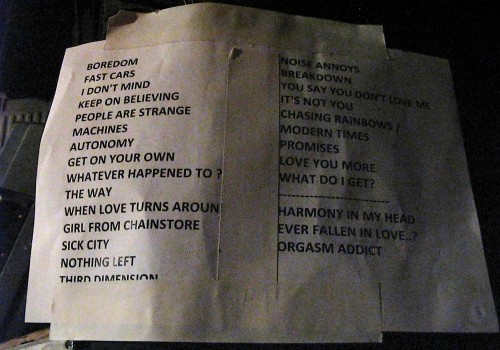 Harmony In My Head

Noise Annoys + Breakdown

I Don't Mind

Tags: buzzcocks, new york city, nyc, pete shelley, punk rock, steve diggle, titus andronicus, webster hall
Posted in chocko, music, photos | Comments (0)
September 19th, 2014 by chocko
Geez, time is just passing by so quickly. It's that time of year once again for the CHILLER THEATRE HALLOWEEN EXTRAVAGANZA which takes place October 24 – 26 at Sheraton Parsippany Hotel in Parsippany, NJ. The guests coming through this time around include Hulk Hogan, Traci Lords, Barbara Steele, Zacherle The Cool Ghoul, plus loads more including a Good Times Reunion, The G-3 Godzilla Summit and Musical Guests including Marky Ramone, Cherie Curie and Lita Ford. Tickets are on sale now. Definitely get your tickets in advance. Here's a quick look at some of the guests at Chiller Theatre which took place a couple months ago.

Bobby Steele of legendary punk band, The Undead. Bobby was also in the horror punk band Misfits before Doyle joined the band. We interviewed Bobby many moons ago and one day we'll have to do an updated version.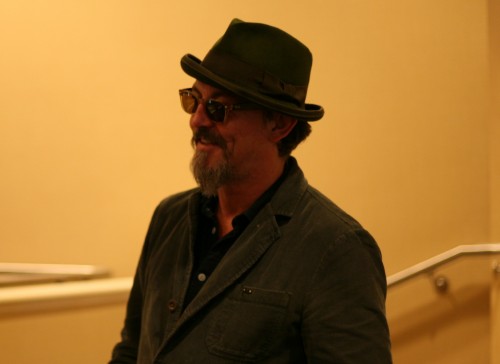 Tommy Flanagan (Sons Of Anarchy) looking dapper in the chapeau.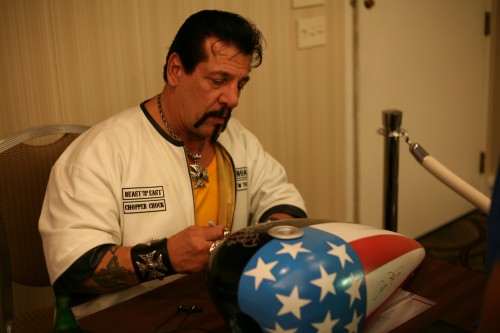 Chuck Zito (Sons Of Anarchy) signing motorcycle parts.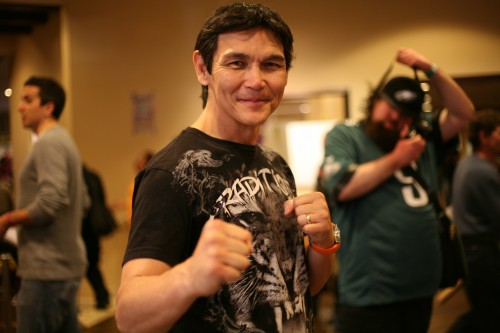 Don "The Dragon" Wilson (Bloodfist) can still kick your ass.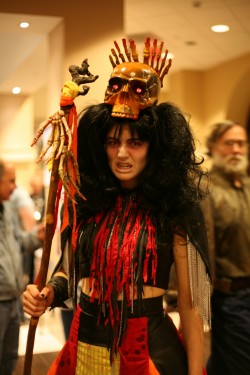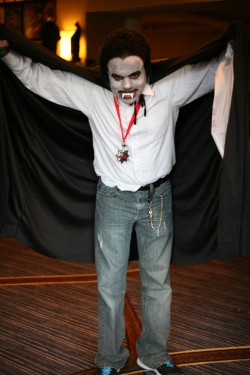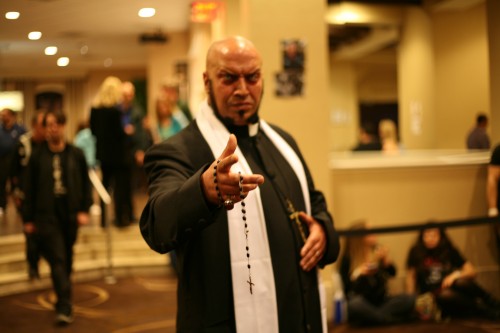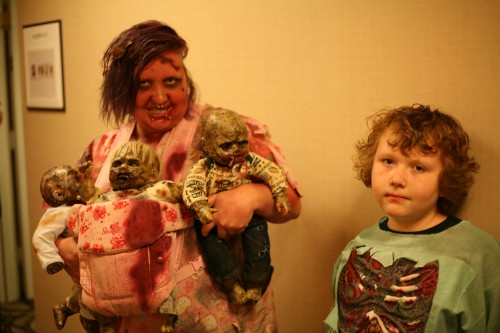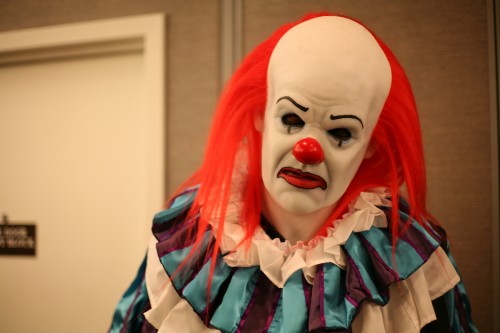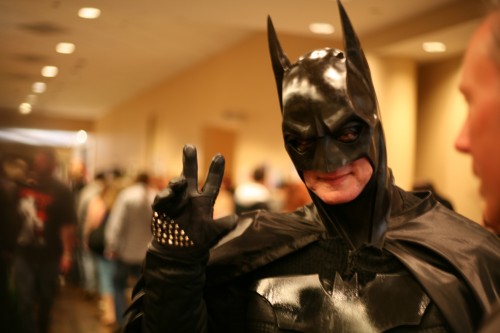 Some of the attendees look nightmarish and creepy. Shoutout to Blacula!

Alison Arngrim (Little House On The Prairie)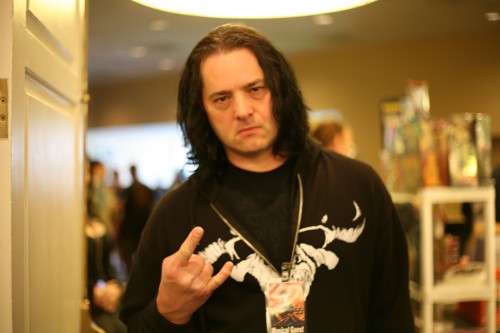 Steve Zing (Samhain)…big fan of the bands he's been associated with over the years playing bass and drums! Thanks for stopping for a pic.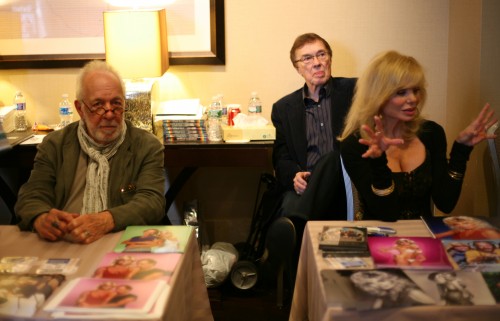 WKRP In Cincinnati Reunion with Howard Hessman and Loni Anderson

Josip Elic (One Flew Over The Cuckoo's Nest)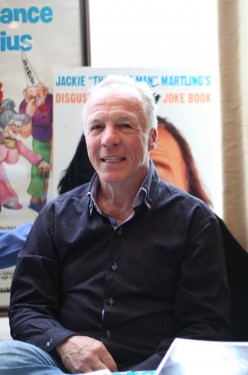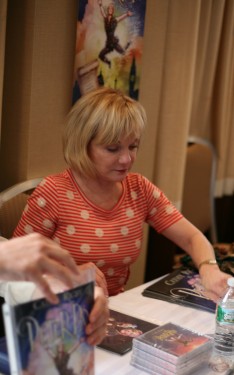 Jackie "The Jokeman" Martling (left) and Cathy Rigby (right)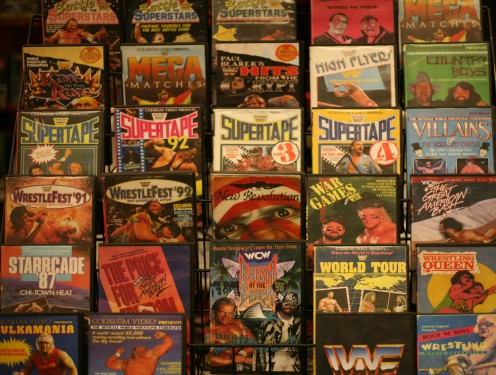 VHSPS sure knows how to reel 'em in. I want all your wrestling DVDs!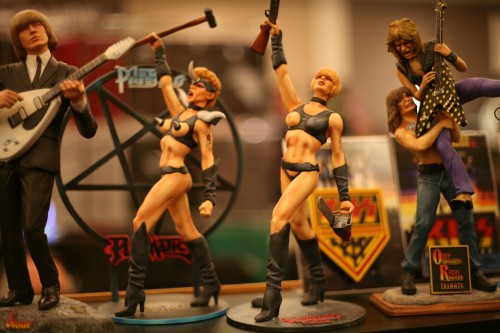 Very cool models of rockers no longer with us. Can you name them all?

Shirley Jones (The Partridge Family..yo, loved that show back in the day)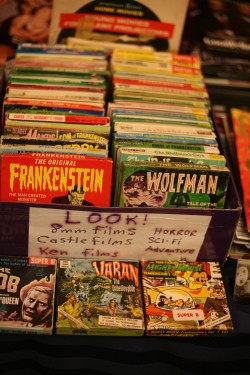 Donna Wilkes (Angel, Jaws 2) and 8mm horror and sci-fi goodies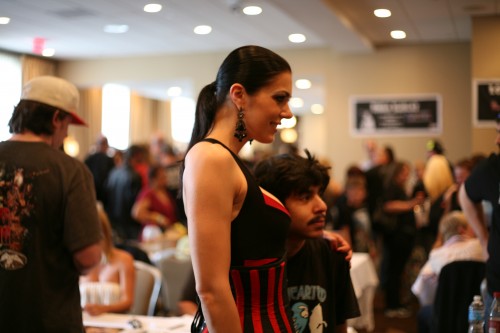 Adrianne Curry (America's Next Top Model) posing with a fan.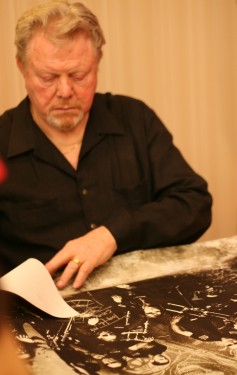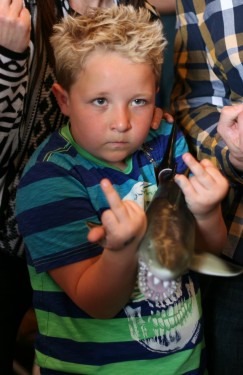 William Lucking (Sons Of Anarchy) and Jackson Nicoll (Bad Grandpa)

You'll find it all at Chiller Theatre. See you guys and ghouls in October!
Follow @planetchocko on Twitter.
LIKE us on Facebook too.
Chocko (njchocko) is on instagram. Check it out. Thanks!
Tags: chiller theatre, convention, halloween, horror, new jersey, nj, zacherle
Posted in art, chocko, movies, photos, toys | Comments (0)
September 3rd, 2014 by chocko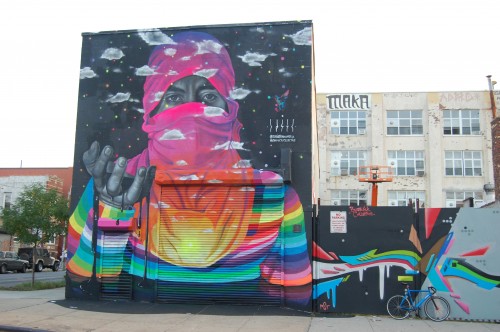 I was wandering the Bushwick Collective in Brooklyn recently with Ariela of the blog Vegan In The Big Apple and Joey Teacups. While checking out some of the street art in the neighborhood and taking photos, we came across the Chilean born artist, Danic Fernandez who just finished an amazing mural that will hopefully be up for a long time. A huge thanks to Dasic for taking the time out to talk to us and answer our questions.
Tell us a little bit about this brand new piece on Troutman Street and Wyckoff Avenue. How long did it take you to do?
I just finished it yesterday morning and been working on it for four days with some friends around. I had some people help me with the ladders and stuff, but I did it all by myself.
How did you get into street art and graffiti?
When I was a kid, thirteen or fourteen years old, I got into graffiti through hip hop culture. I was very involved, so my way to contribute to the culture was through graffiti and emceeing. I tried to dance a little bit too, but graffiti was my thing.
Do you tend to work on pieces with a political message?
Sometimes, I think everything that we create is political. When you're creating something, you're always leaving a statement behind no matter what you're doing. Some are more evident than other ones, probably.
What is your statement on this latest piece and does it have a name?
This is called "Hand of Protest." I always like to leave it open for people. It talks about all the different struggles and fights around the world in different neighborhoods, different countries, and different cultures.
How did you choose the colors?
I'm always trying to put the colors together in harmony. It's like a composition of color where every color has a place to be.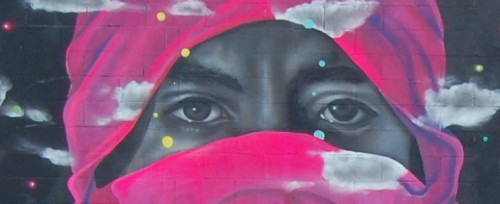 Do you plan to collaborate with other artists?
If there is a chance to do it, then yes why not? Pretty much, I just paint with my crew who are graffiti artists who write pieces and burners. Most of the time I paint by myself.
Does somebody commission you guys to paint?
The guys from Bushwick Collective, the community organizers here put the stuff together to get the walls, permits and supplies. They invited me to paint the wall. They showed me some walls around, so I'm probably going to be painting other walls here.
How often do they change the walls?
I think the one before was up for two years. Hopefully, it will be up for a year for the people to appreciate it. New York is not an easy place to get walls. I get used to having my murals painted over.
Do you have any closing comments?
Enjoy it and take your time to take a look at it. Check out my instagram! @dasicfernandez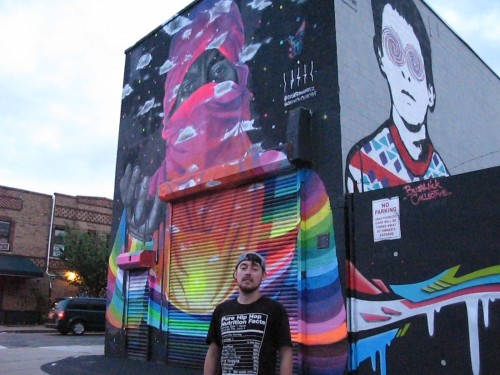 For more information and photos of Dasic's work…check out his blog!
Tags: artist, bushwick collective, dasic fernandez, graffiti, interview, street art
Posted in art, chocko, interviews, photos | Comments (0)
September 3rd, 2014 by chocko
All the photos below were taken recently in the neighborhood of Bushwick in Brooklyn, NYC. Some of the photos were taken near Morgan Ave. and around Troutman Street and Saint Nicholas Ave, a one of a kind outdoor gallery also known as The Bushwick Collective. It's so simple to get to via subway…take the L train and get off at Jefferson St. Walk around, grab some yummy food in the area (this time around, I housed a burrito at LA Burrito. Damn good!) and soak in the sights. The murals are spread out over a couple blocks, so give yourself some time to check out the art. We spotted Jerkface painting. We also ran into Dasic Fernandez who just finished a mural. We did a quick interview with Dasic and that should be up shortly but in the meantime, check out some photos.
Follow @planetchocko on Twitter.
LIKE us on Facebook too.
Chocko (njchocko) is on instagram. Check it out. Thanks!
Tags: brooklyn, buff monster, chocko, graffiti, jerkface, new york city, nyc, street art
Posted in art, chocko, photos | Comments (0)
August 28th, 2014 by chocko
Corey Glover and Vernon Reid of Living Colour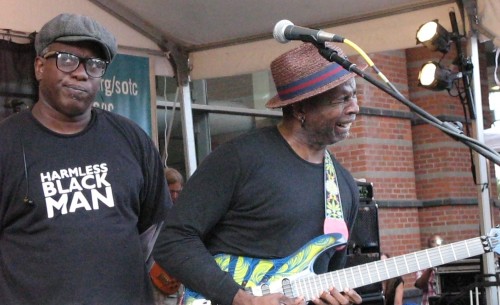 The soul and funk metal sounds of Living Colour blasted through the Theater Square at NJPAC last week. The free show got music fans from Newark and beyond to assemble for a night of loud music. Due to the threat of some nasty weather, the show got an early start with opener Danielia Cotton warming up the crowd with her band and powerhouse vocals. She ended her set with a Prince cover of "Purple Rain" that almost had me waving my lighter in the air. Her latest release is titled The Gun In Your Hand which Mr. C picked up from the merch table. Perhaps a review coming soon. In the meantime, check out Danielia's website or follow her on twitter for information on her upcoming shows and music updates.
After perusing the food trucks, we joined the crowd that surrounded the stage eagerly anticipating the headliners: Vernon Reid (guitarist), Will Calhoun (drummer), Doug Wimbish (bassist) and Corey Glover (vocalist)…aka Living Colour. It's been years since I checked out one of their shows…yeah, what is my problem? What a treat to be soaking it all in while in the front and watching Vernon Reid play the guitar! Their set list comprised of their many hits including "Open Letter To A Landlord" which showcased some acrobatic vocals by Corey Glover. Also on tap were many songs including "Middle Man," "Elvis Is Dead," "Time's Up" and "Love Rears Its Ugly Head" all while Corey was chilling on top of a speaker on the side of the stage. Not only can he sing but Corey can run the social media side of things while on stage, taking videos and selfies with the crowd and even liking one of my instagram pics. I enjoyed hearing Will Calhoun play a drum solo which featured what Vernon described as "the beat your mother warned you about." The other half of the rhythm section, Doug Wimbish also quite impressive on the bass. Toward the end of their set, the band played their monster hit "Cult of Personality" which got a lot of smartphones and cameras up in the air.
Some quick news…the band will be dropping a brand new album titled Shade in the fall along with a tour celebrating the band's 30th anniversary. Corey recently fronted the Bad Brains for a couple songs at last week's Afro Punk Fest in Brooklyyn. He totally killed it. Check it out HERE. Vernon is back in Newark on August 28 for a free performance with Burnt Sugar The Arkestra Chamber. Doug is organizing the WimBash 2014 which happens at Sully's Pub & Tiki Bar in Hartford, CT on Sept 13 which features a stellar lineup of musicians. Check out more photos and videos from the Living Colour show at NJPAC in Newark, NJ below.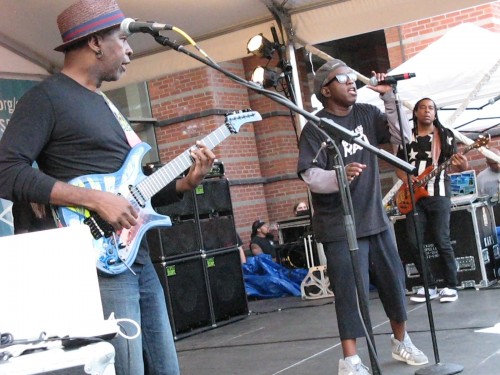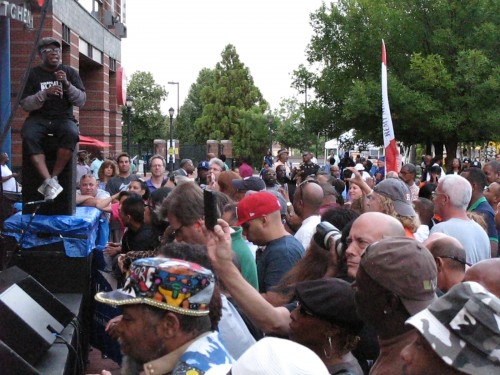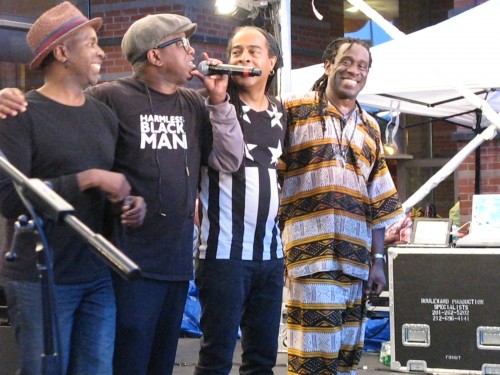 Tags: corey glover, danielia cotton, doug wimbish, living colour, new jersey performing arts center, newark, njpac, theater square, vernon reid, will calhoun
Posted in chocko, mr. c, music, photos | Comments (0)
August 3rd, 2014 by chocko
Exodus/Kirk Hammett and Rob Trujillo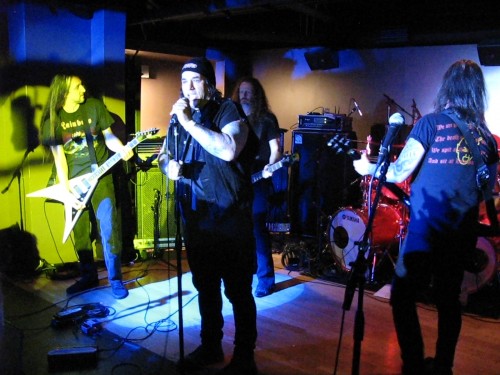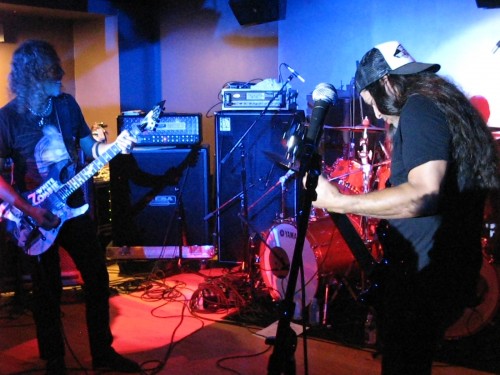 I was super lucky to be in San Diego last weekend for The Comic-Con because I got to go to Kirk Von Hammett's Fear FestEvil After Party. The show started late at a downtown club on F Street called F6ix. The thrash metal band EXODUS started the evening dedicating their set to original singer Paul Baloff. It was great to see Steve "Zetro" Souza back in the lineup on lead vocals along with longtime band member Gary Holt on guitars. Exodus plowed through a killer set of bone crunching, headbanging hits which included "Bonded By Blood," "Scar Spangled Banner," "Blacklist" and "Toxic Waltz." After Exodus played their set, Kirk Hammett of Metallica joined the band on stage along with Mark Osegueda of Death Angel for some covers. First they performed Judas Priest's "Grinder" with the help of some lyrics off a cellphone. Next cover was "Lowrider" by WAR then a performance of Blue Oyster Cult's "Godzilla." Then, Robert Trujillo walked on the stage (half of Metallica was in the house!) to play the Metallica classic "Seek and Destroy."
After a brief break, Kirk and Robert came back out with Richard Christy (Death) on drums to jam out on more covers with the help of Mark Osegueda and Doug Pinnick (King's X) on vocals. Doug did an amazing job on songs such as the Jimi Hendrix classic "Purple Haze" and "Jailbreak" by Thin Lizzy. Mark took the vocals on the Metallica song "Am I Evil" from their first album Kill 'Em All. Kirk and Robert seemed really excited to take a crack at an Ozzy Osbourne cover of "Diary Of A Mad Man" with Mark on vocals as well. There were so many great moments during the night like when Stephen Perkins of Jane's Addiction joined the crew on drums for the classic Jane's song "Mountain Song." The musicians on stage were all having fun and jamming out until the last song which was believe it or not "Jungle Boogie" by Kool And The Gang. It was an awesome heavy metal show that felt like a party and I will remember it for a long time. Check out some vids from the show below!
CHILDREN OF A WORTHLESS GOD

GRINDER

SEEK & DESTROY

JAILBREAK

Tags: after party, exodus, fear festevil, heavy metal, jane's addiction, kirk hammett, kirk von hammett, metallica, recap, review, robert trujillo, san diego, sdcc, thrash
Posted in chocko, music, photos, travel | Comments (0)
July 22nd, 2014 by chocko
Bible thumpers vs. geeks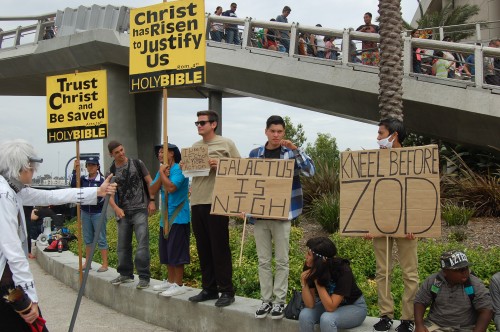 Taimak from THE LAST DRAGON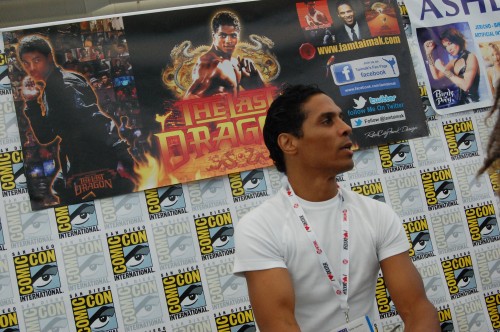 Oderus Urungus (left) RIP and Reggie Bannister (right) "The Hardest Working Man In Horror"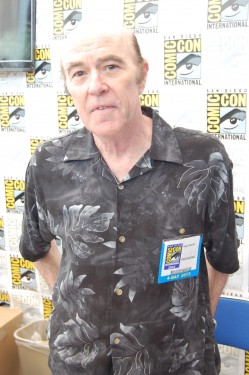 ADULT SWIM Fun House! Enter if you dare.

The filled to the gills exhibit floor…a lot of unhappy faces!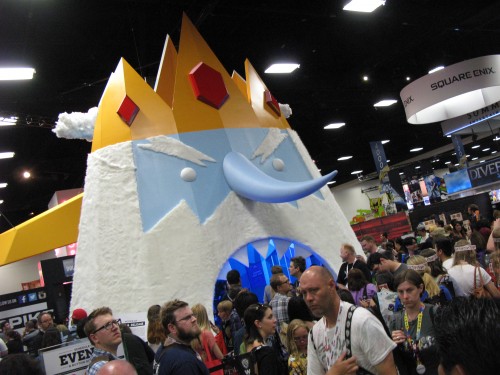 Sean and Tara McPherson (left) and Azog (right) from THE HOBBIT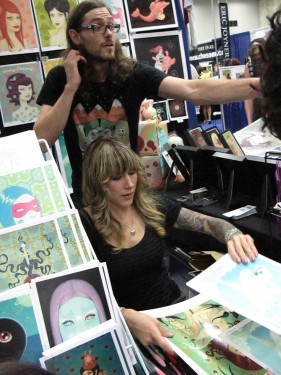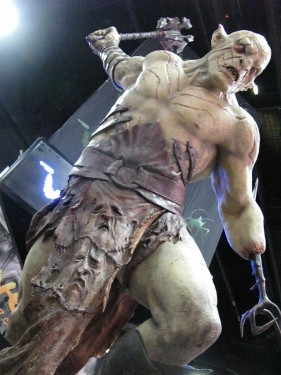 Dolph Ziggler and other WWE superstars talk about action figures at the MATTEL panel

The Miz takes a seat during the MATTEL panel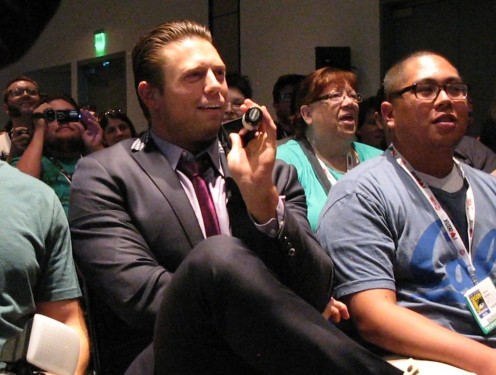 MICK FOLEY was in the house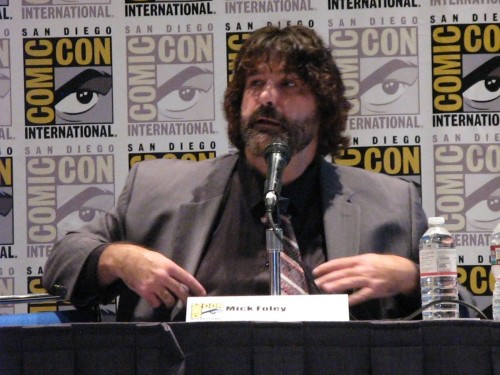 The Winner Twins (left) and Jhonen Vasquez creator of INVADER ZIM (right)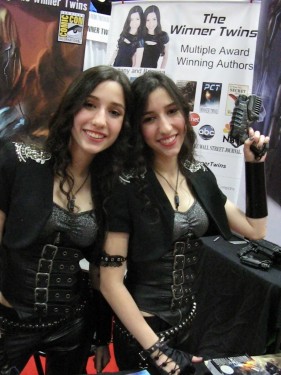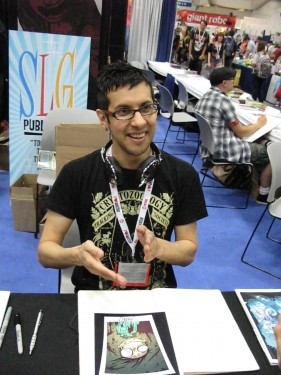 Chocko may or may not have taken part in the Silent Dance Party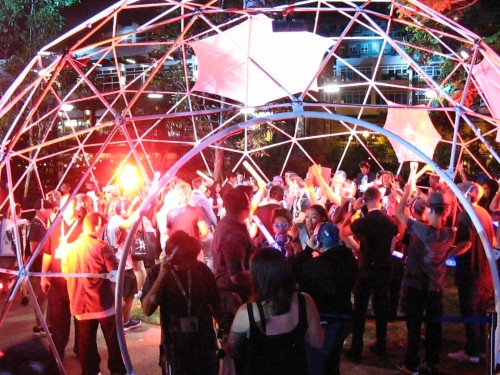 A truly moving moment at Comic Con…Surviving Milestone founders Derek Dingle, Michael Davis and Denys Cowan receive INKPOT Awards for their work on MILESTONE COMICS. Well deserved and it's about time!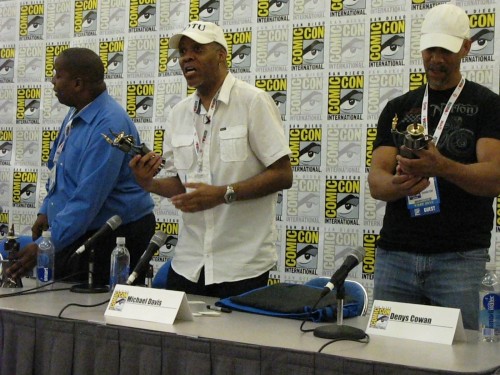 Gillian Anderson and Chris Carter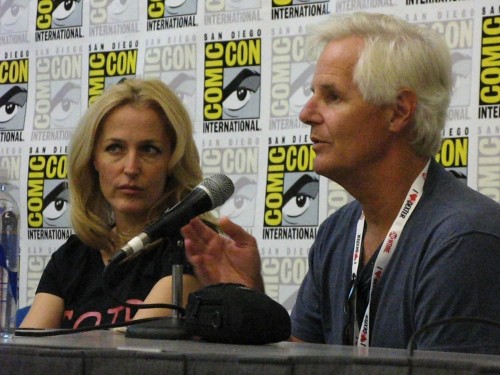 Number 13 artist and writer: Robert Love and Badazz Mofo David Walker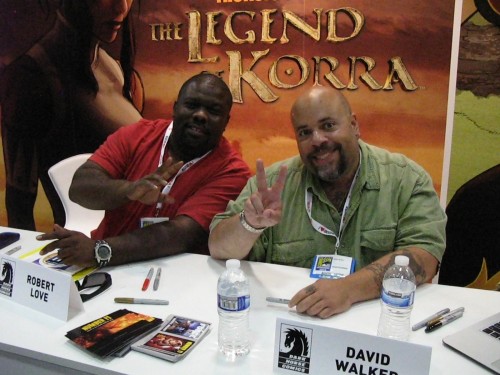 Asa Akira and David Choe at a signing. Choe signed my Munko!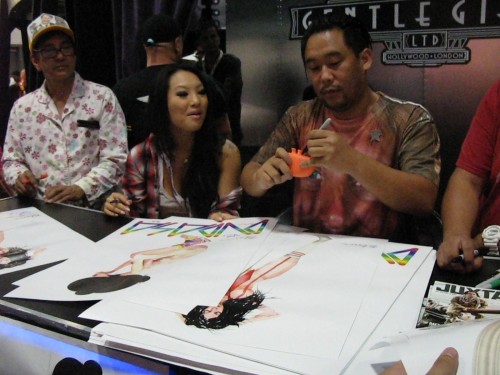 Yeah, you might want to check Deadpool for weapons. Good call.

Orphan is the new black.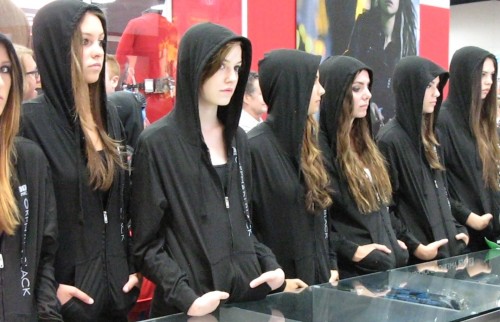 The Hernandez Family signing at the Fantagraphics booth.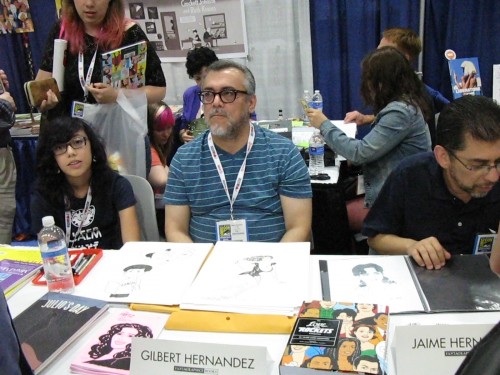 Leonard Maltin!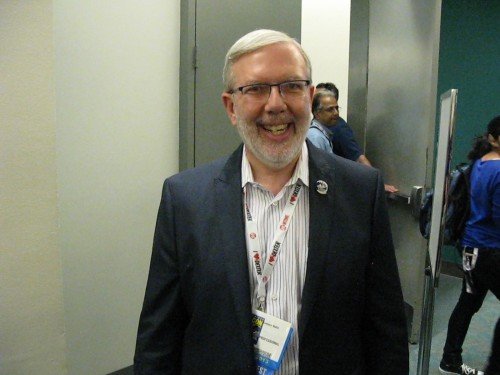 Artist Robert Williams (right) after his panel where he discussed art, his recent art sculptures and shared stories about Big Daddy Ed Roth. Tony Shafrazi (left) and William Stout (middle) were in the building.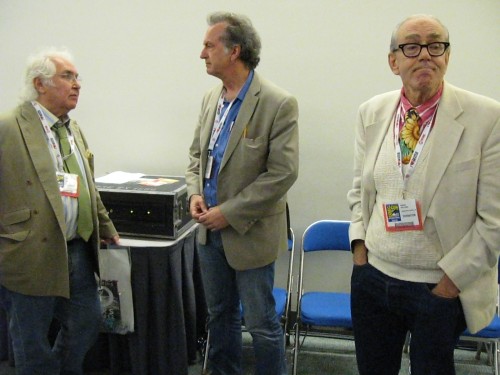 Robert Carlysle (Once Upon A Time, Trainspotting) was spotted in the hotel lobby. Nice guy!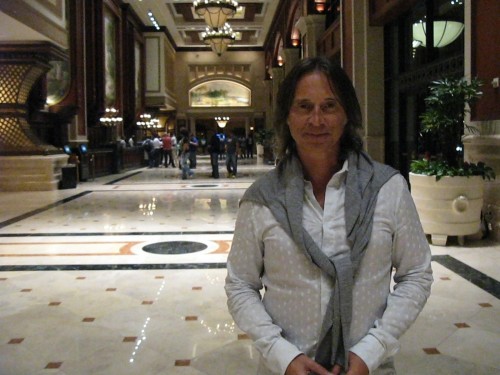 Is it me, or do I get older and The Suicide Girls just keep getting younger?

Alan Robert of Life Of Agony, makes some creepy comics too!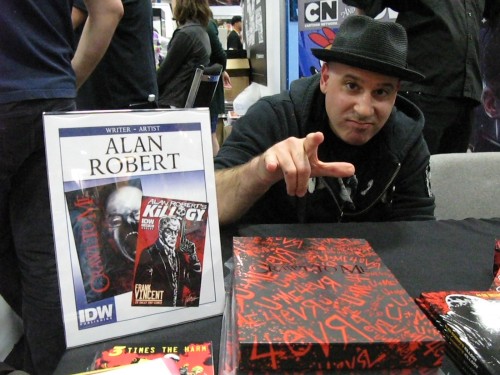 Georgia congressman and John Lewis signed copies of his new graphic novel memoir, 'March: Book 1,' along with his co-author Andrew Aydin.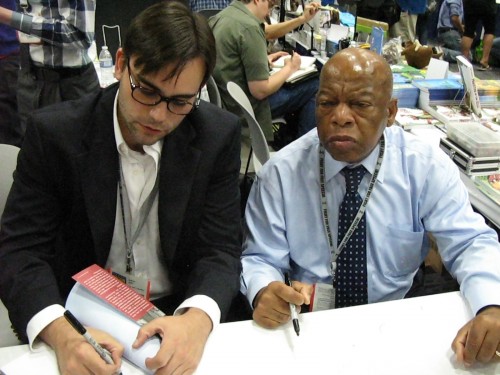 Kirk Von Hammett at The Fangoria Booth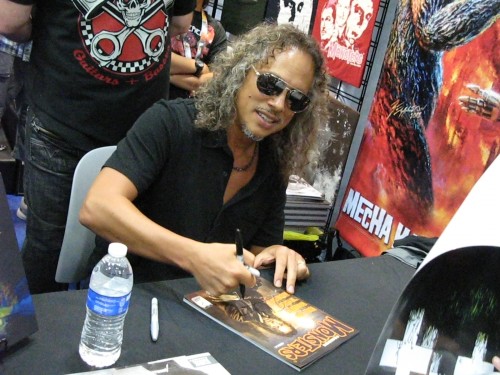 One of the highlights for me was sitting at the final Futurama panel and then watching a Draw Off to the Death featuring Matt Groening and Edmund Fong. Groening was caught cheating…Death by Snoo Snoo!

Follow @planetchocko on Twitter.
LIKE us on Facebook too.
Chocko (njchocko) is on instagram. Check it out. Thanks!
Tags: 2013, comic con, futurama, gillian anderson, photos, robert williams, san diego, sdcc, the suicide girls, wwe
Posted in art, chocko, comic books, movies, music, photos, toys, travel | Comments (0)