June 27th, 2016 by Mr. C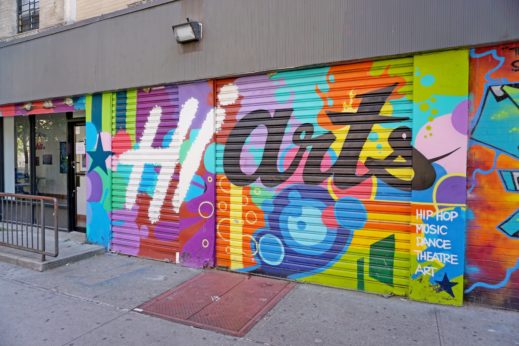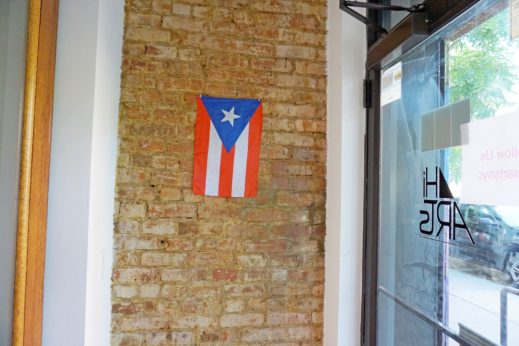 ————————————————————————————————————-
The triple headed monchhichi crew at Planet Chocko did our fair share of exploring NYC last Saturday as we covered Spanish Harlem all the way
down to Chinatown. Some of the notable events that we attended included stopping by two art exhibits powered by two iconic female street artists.
Hi-ARTS Gallery hosted "A Rose in Spanish Harlem" which featured the works of Sandra Fabara aka Lady Pink. Pink is a legendary 1st generation graffiti artist from NYC,renowned painter,muralist,educator, & just a plain one woman badass outlaw solely responsible for inspiring a whole new generation of street artists – male or female. A Rose in Spanish Harlem includes Lady Pink's latest prints, paintings, & woodcuts that displays various stages of her creativity these past several years. The subjects she paints almost always involves a strong female figure that emanates the beauty and power of femininity all the while being graceful. Lady Pink's exhibition will be on display from July 16th – July 30th, 2016. Viewing hours: Tuesdays,Thursdays, & Saturdays 2-7pm
Hi-Arts Gallery
304 E 100th St, New York, NY
www.hi-artsnyc.org
————————————————————————————————————–
Meanwhile, 100 blocks down south on the same Island of Manhattan – lives a fun designer Toy Store on Forsyth Street called My Plastic Heart. Here is where another renowned graffiti artist & designer from NYC – Maria Castillo aka TooFly is having her "Love Warrior" art print exhibition. Love Warrior represents feminine power and a heightened sense of spirituality. The drawings of Toofly's warrior figure reminds me of the indigenous and tribal type that symbolizes
strength and power! Castillo's Ecuadorian heritage and upbringing on the streets of New York City serves as the inspiration that helped put her ancestral experiences into a form of art in order to relay the message of love, spirituality, & freedom. I absolutely love the style, colors, & bubble lettering of Toofly and Lady Pink. The flow and boldness of their hand lettering expressed on wall murals in aerosol – amazing! Toofly and Lady Pink are superhero writers in my book!
Love Warrior exhibit runs until July 1st. Get that Native Soul!
My Plastic Heart
210 Forsyth Street
New York NY 10002
—————————————————————————————————————-
(Master Shi Yan Ming + RZA at introduction of Five Element Ninjas @ Metrograph)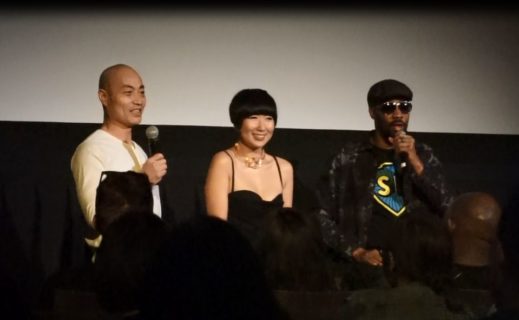 To cap off the night, I attended a screening of one of my favorite classic Shaw Brother Kung Fu films directed by Chang Cheh – 5 Element Ninjas (1982) aka Super Ninjas aka Chinese Super Ninjas as RZA would remind us! I knew it as Chinese Super Ninjas from my VHS bootleg copy that I bought from the great 43rd Chamber store! This event was billed as RZA's dream double grindhouse feature including 5 Element Ninjas + Shaolin vs Wutang. Shortly after the press release, the theater announced they couldn't get the print of Shaolin vs Wutang on time and House of Traps would be the replacement. RZA was still scheduled to introduce the films and be present for a Q&A afterwords. Throw the WU's in the air! As to no surprise, 5 Element Ninjas is a blood soaked revenge film with an evil school of renegade kung fu fighters scheming to eradicate another school in order to reign supreme in the kung fu world. Shaw Brothers made sure to throw in the stereotypical anti-japanese sentiment with the ruthless and heartless Japanese ninjas as they dispatch the chinese by any means necessary! Those sneaky japs! 5 Element Ninjas is an encyclopedia of excellent weapons fight choreography with video gamish like battles and background settings. The only thing that wasn't retro about the screening which I actually appreciated was that the film was not english dubbed but in its native mandarin. 5 Element Ninjas is a vicious little film that displays first rate acrobatic kung fu skills especially with traditional weapons. The movie is filled with wall to wall action, has colorful content, violent with guts and gore, and what else, contains lots and lots of ninjas! Five Element Ninjas is available from various distributors including Tokyo Shock and Celestial. This one belongs in your Kung Fu DVD database for sure! Oh, don't forget to see and hear what RZA had to say about his experiences
with Kung Fu films and how it influenced him and his Clan at the Q/A after the film below!
Posted in community, movies, mr. c, music, photos | Comments (0)
June 12th, 2016 by Mr. C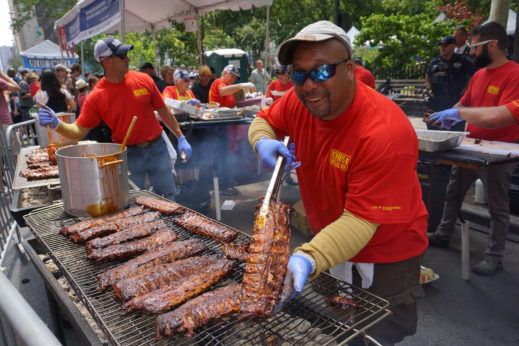 (Memphis Barbecue and their baby back ribs. Loved the enthusiasm of the pit crew! Ribs were amazing!)
I had a smokin' good time with friends at the 14th annual Big Apple Barbecue Block Party in Madison Square Park on Saturday. We didn't stay for too long but just enough to sample 5 'cue plates that included a succulent whole hog pulled pork sandwich, a pulled pork shoulder sandwich, baby back ribs, smoked wings, beef brisket, & smoked sausage. We noticed that Ed Mitchell and his BBQ team made a triumphant return to the block party this year but we did not have enough room in the belly to get in a round of Ed's wonderful smoked creations. What we did have was the familiar Big Bob Gibson's pulled pork shoulder sandwich accompanied by their delicious spicy mustard cole slaw. Shoveling their tasty cole slaw in with the sandwich is messy but a necessity! Moist pulled pork with the mayonnaise based white sauce is hog heaven! Our next victim would be another pulled pork sandwich and my favorite from the day and from Big Apple BBQ block party past. Thank you Skylight Inn/Sam Jones BBQ! They served a smoked whole hog with the entire carcass roughly chopped & mixed with vinegar & various spices by a master butcher with knife skills that everyone should be scared of! The double action cleavers that he used to dispatch the carcass and his rebel yells made things interesting and fun! What I love about Skylight's whole hog sandwich is the moist meat with the tasty spices and crunchy cracklings that randomly get tossed in with the pulled pork mixture. Add that in with the tangy sauce and slaw and hmmmmmm hmmmmmm – words fail me! Another Big Apple BBQ block party favorite is Texas based Salt Lick. They killed it again this year with their tender beef brisket and smoked sausage with cheese. The sausage had a little snap upon contact with your teeth and the smoke flavor was apparent! The Salt Lick BBQ sauce had a happy blend of sweet, smoke, & spice! The white bread was the perfect vehicle to carry or should we say mop up the brisket, sausage, & sauce!
(The Cue crew hard at work minding the bbq block party!)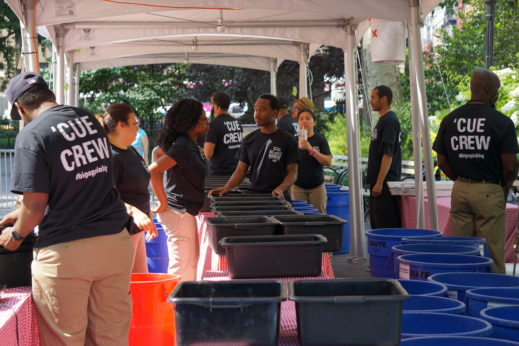 Our next plate was the tender baby back ribs from Memphis Barbecue. The meat fell off the bone with minimal contact and the sauce was tasty. I just wish there was more ribs to the order! I think I needed a whole rack! The last plate was my least favorite of the day. It was the smoked Alabama white wings from Blue Smoke in NYC. First, I thought the wings were too soggy and gloppy from the sauce. I didn't like the texture of the wings nor the taste of the sauce. Something tasted gamy to me. Was it cheese or something else? Not sure but I wasn't fond of the taste. It almost seemed like the wings were stewed in with the sauce. Maybe this dish is far too difficult to execute with the amount of covers they needed to churn out for the block party.
(Skylight meat handler showing his knife skills!)

(The whole hog pulled pork sandwich from Skylight. My favorite of the day. One word – cracklings!)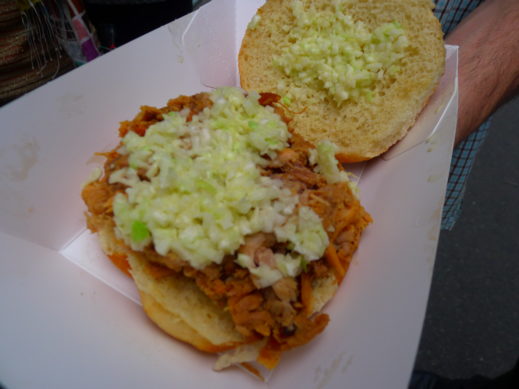 (Salt Lick BBQ before the storm)

(The Salt Lick team before the opening bell of the block party!)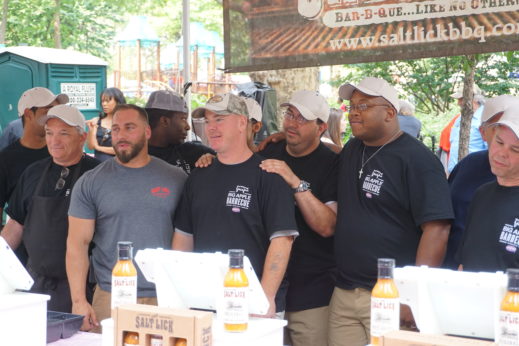 (Salt Lick beef brisket & smoked sausage!)

(Ed Mitchell's BBQ team – hard at work)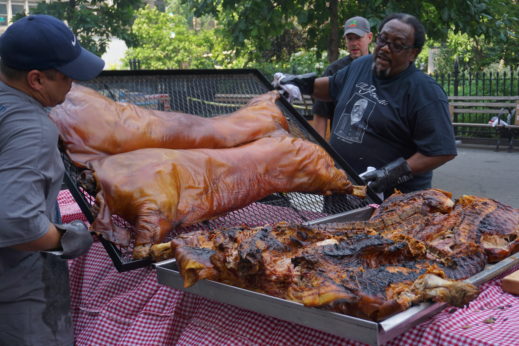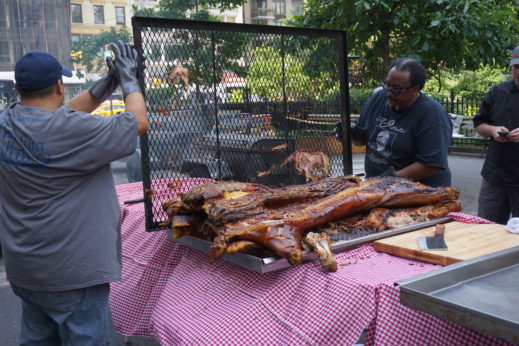 (Ed Mitchell himself making sure things are smooth!)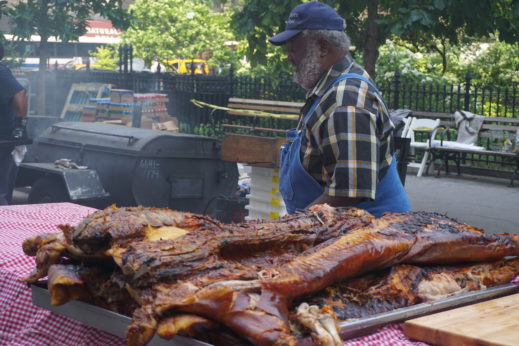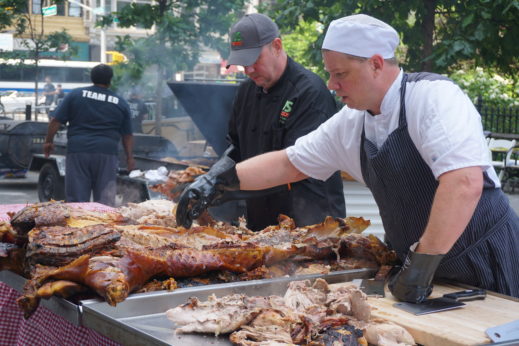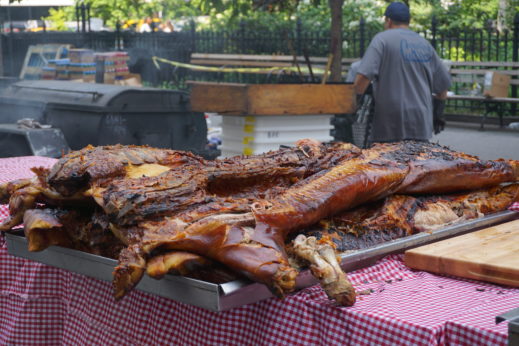 (Memphis BBQ with some basting and grilling of the baby back ribs)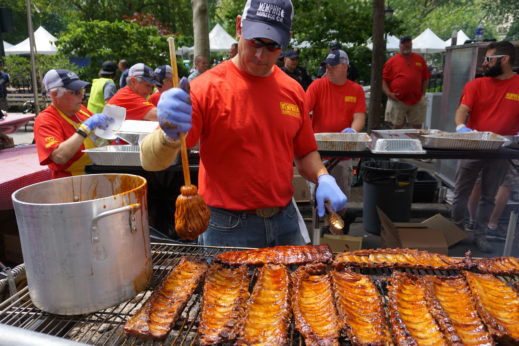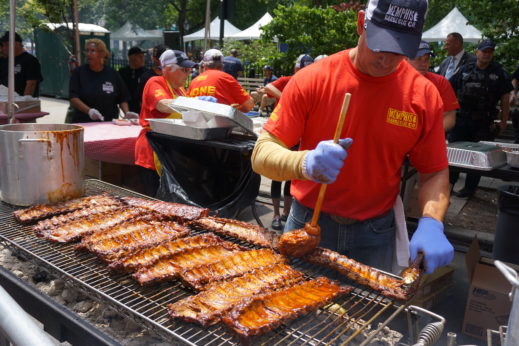 (Memphis BBQ baby back ribs with smoked beans)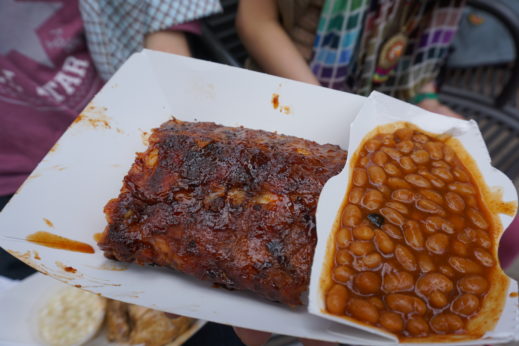 (Big Bob Gibson's pork shoulder sandwich – steady & delicious every year!)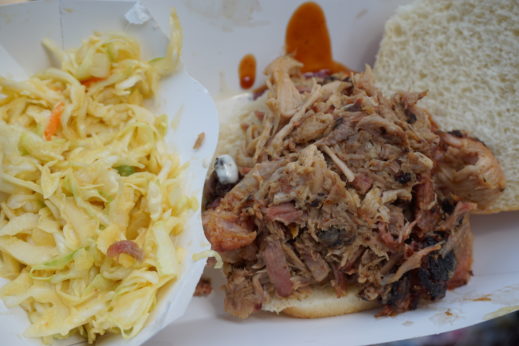 (Mike Mills and his 17th Street BBQ team)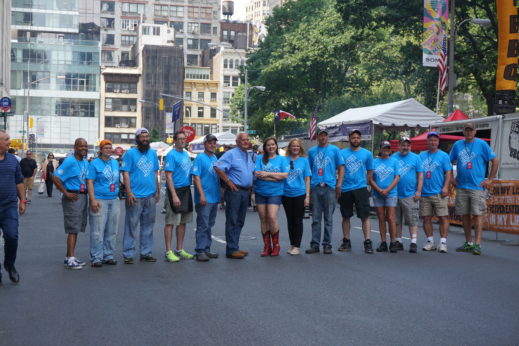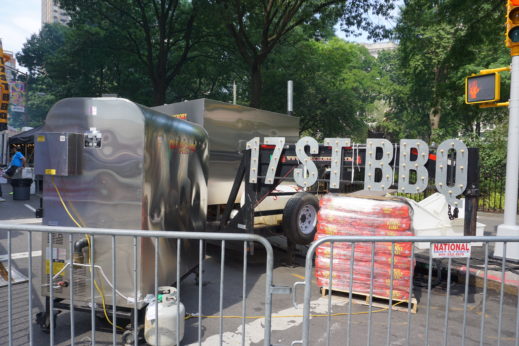 (Impressive setup by Skylight Inn/Sam Jones BBQ)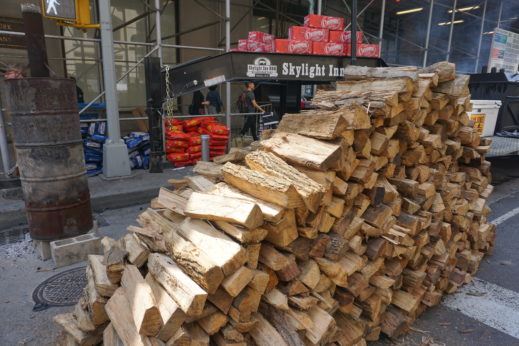 (What a rig of smokers by Sam Jones/Skylight Inn)

(The Dinosaur BBQ street team & Ubon's BBQ street team in a little bit of verbal debate for competition in which line you should get into before the crowds magnify)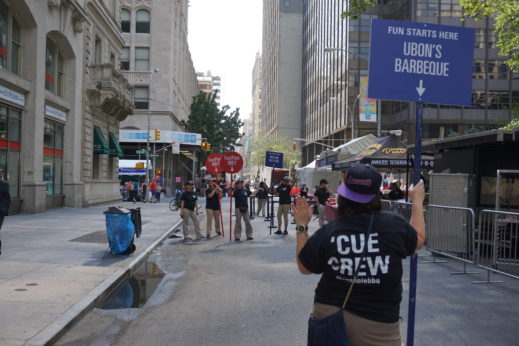 Tags: BBQ, big apple barbecue block party, ed mitchell, food, pitmasters
Posted in community, food, mr. c, photos | Comments (0)
June 7th, 2016 by chocko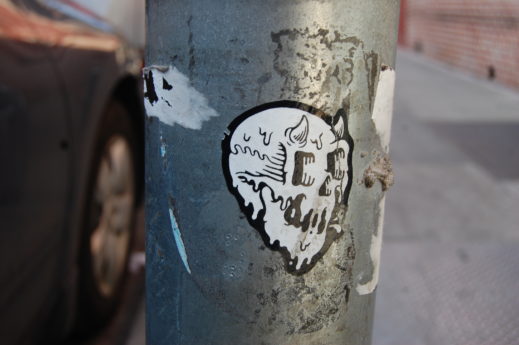 K-NOR is a Brooklyn based artist and who's absolutely killing it on the streets with creepy images of drippy skulls and skeletons oozing in brighter than day colors. A couple of months ago K-NOR collaborated on some bolt-ups with another Brooklyn artist CB23 and Staten Island's Robots Will Kill. The bolt-ups were placed in different parts of Manhattan and Brooklyn. These small pieces of art were not easy to find…working on subtle clues on instagram and after many hours of Joey Teacups working diligently in the cave in Encyclopedia Brown-mode, we were able to find the bolt-ups locations. The first three photos below are of the tag team bolt-ups and the rest are of stickers, wheat paste, graffiti and street art by talented artists in various locations around Brooklyn, NYC.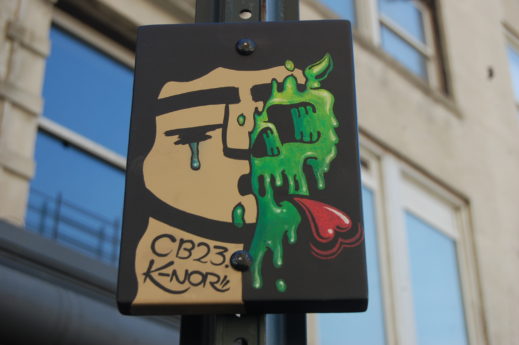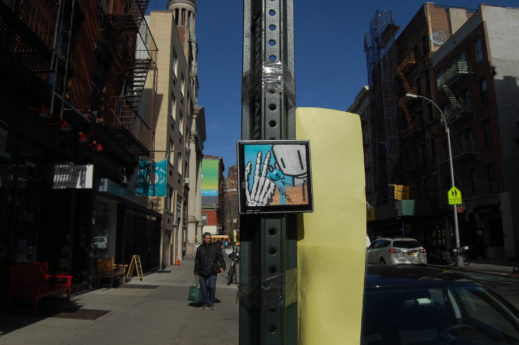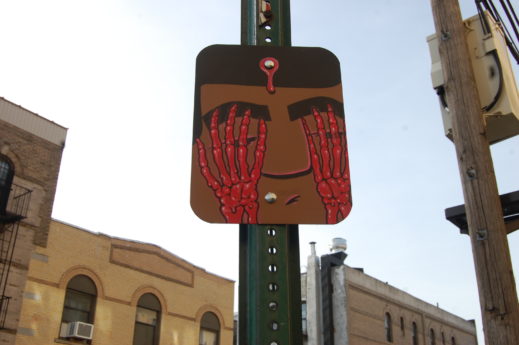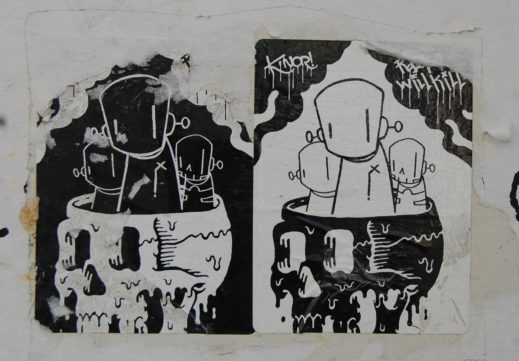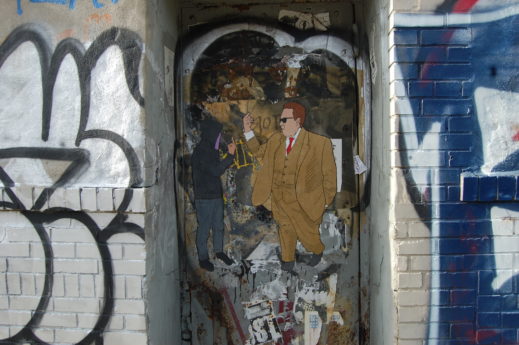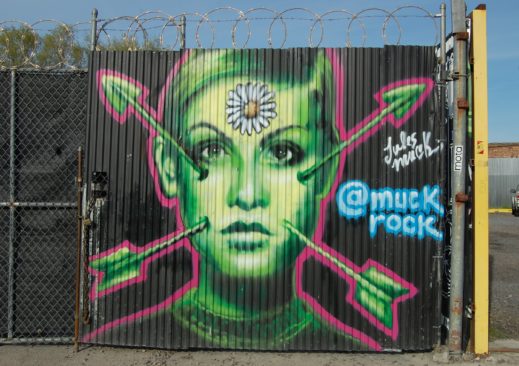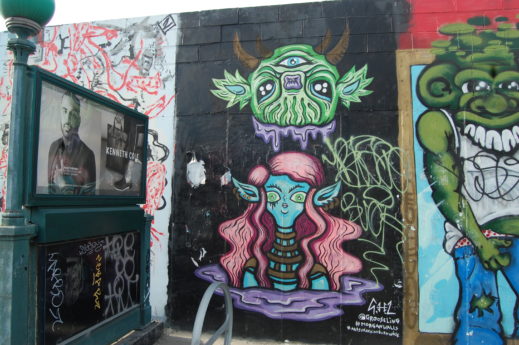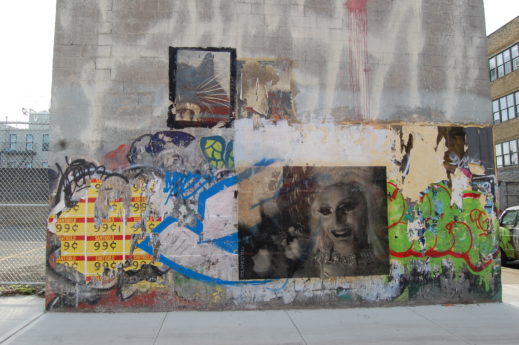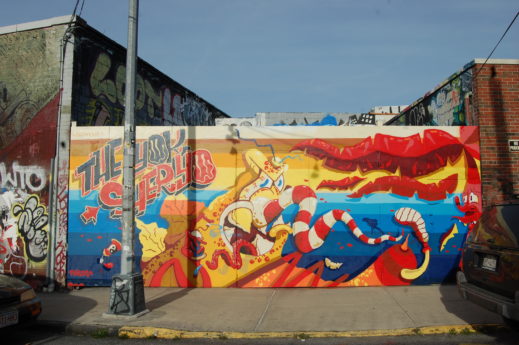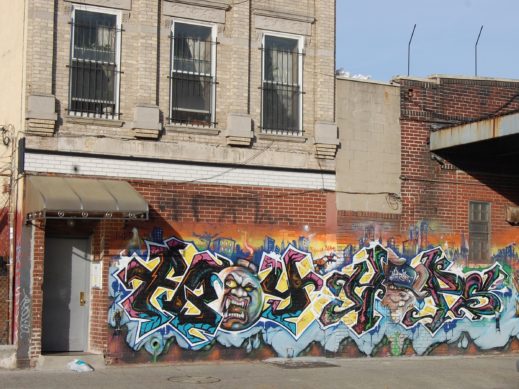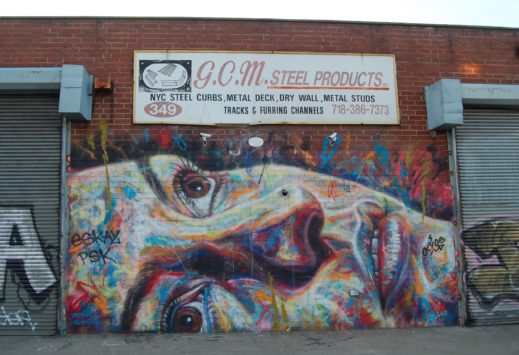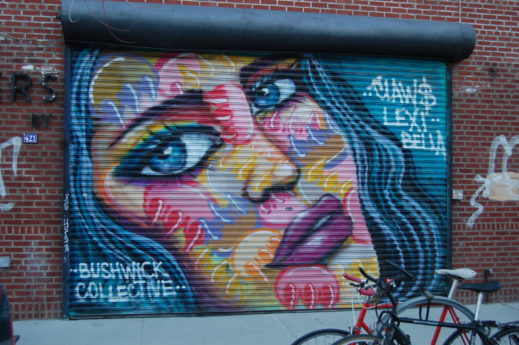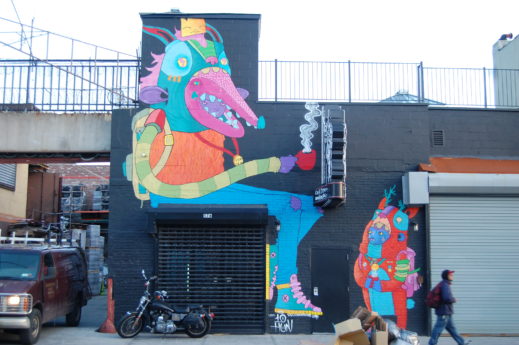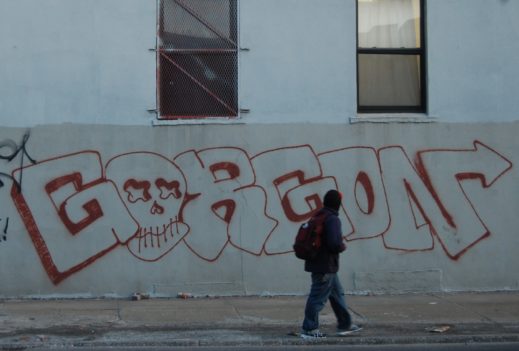 Tags: art, bolt-ups, CB23, graffiti, K-NOR, new york city, nyc street art, Robots Will Kill, street art, wheat paste
Posted in art, chocko, photos | Comments (0)
June 6th, 2016 by chocko
Frankie Cosmos at Other Music March 31, 2016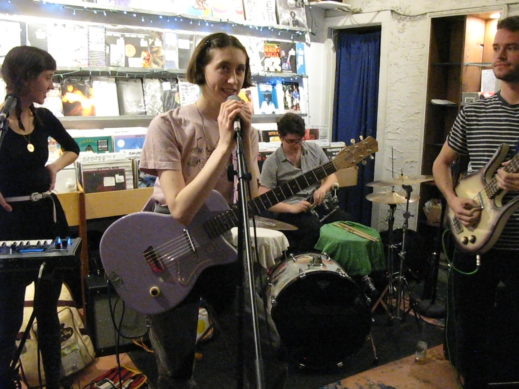 Greta Kline records sweet and shimmering indie pop under the name Frankie Cosmos. Her new album Next Thing dropped a couple months ago and Frankie Cosmos performed a decent chunk of the new record at the intimate and soon to be gone forever, Other Music in New York City. The lineup at the in-store consisted of Gabrielle Smith (eskimeaux) on synths, David Maine on the bass, Luke Pyenson on drums and Greta Kline on guitars and vocals. They played a fantastic set of melodic and poetic pop songs and threw in some synchronized dance moves to boot. Their next show in the NYC area will be at Rough Trade for the Northside Festival along with Ava Luna and Deradoorian. Frankie Cosmos will be playing songs from Liz Phair's Exile in Guyville which should be worth the price of admission. Check Frankie Cosmos on some upcoming dates below.
Sat-Jun-11 Brooklyn, NY @ Rough Trade (Northside Festival: Playing songs from Liz Phair's Exile in Guyville)
*with Warehouse
*Wed-Jul-27 Baltimore, MD @ Windup Space
*Thu-Jul-28 Richmond, VA @ Strange Matter
*Fri-Jul-29 Asheville, NC @ Mothlight
Sat-Jul-30 Macon, GA @ Bragg Jam Music Festival
*Mon-Aug-01 Nashville, TN @ The End
*Tue-Aug-02 St. Louis, MO @ Off Broadway
*Wed-Aug-03 Bloomington, IN @ The Bishop
*Thu-Aug-04 Columbus, OH @ Ace of Cups
*Sat-Aug-06 New York, NY @ Bowery Ballroom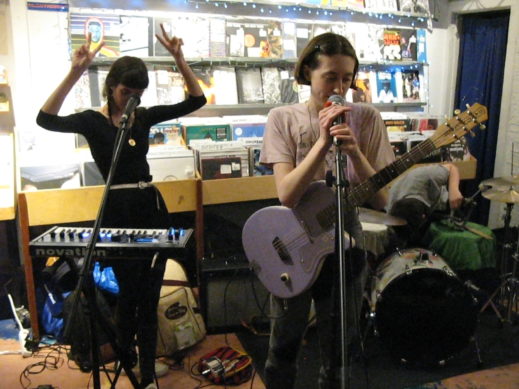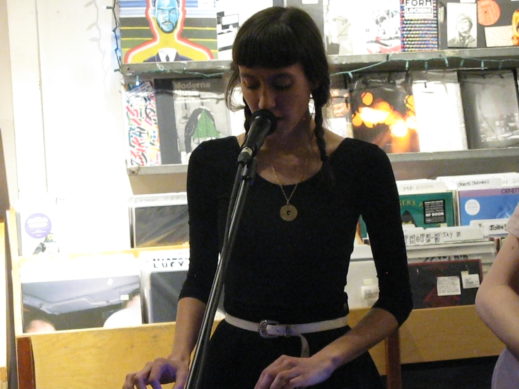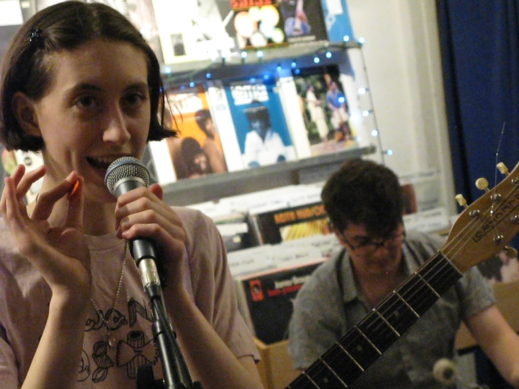 Check out Chocko (njmisfit) and Mr. C (planetchocko) on instagram.
Follow @planetchocko on Twitter. LIKE us on Facebook too. Thanks!
Tags: frankie cosmos, greta kline, in-store, live, new york city, nyc, other music, performance, record store
Posted in chocko, music, photos | Comments (0)
June 4th, 2016 by chocko
Spike Polite of Sewage NYC at Tompkins Square Park May 29, 2016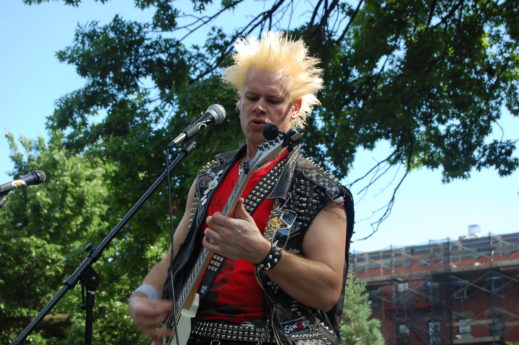 Hey ladies and germs! It's that time of year again and there's nothing like a free punk show at Tompkins Square Park in The Lower East Side, NYC. I look forward to them every year. This particular edition, The Memorial Day Punk Show was organized by the SHADOW, Time Warp Zine, and Uncle Don Yippie. Chocko arrived late to the party but was still able to catch a couple bands play. First up was the straight outta da prison system and back in da park, Spike Polite and Sewage NYC. Spike's been away for 10 years and in that time, the NYC landscape has changed drastically…CBGB is closed, Tompkins Square Park has been cleaned up and the Lower East Side and Brooklyn have been gentrified beyond belief. It's good to hear Spike's gritty punk anthems in the park again. Welcome back and stay outta trouble! Next up was the band, The Omega Men…decked out in matching black outfits with neon green ties. They played a solid set of psychobilly tunes that got the zombies on Ave. A doing a two step with their caramel lattes. The Omega Men are awesome, I've never heard of them before but they happen to be from NYC and playing a bunch of shows this summer including the Johnny Thunders Birthday Bash at Bowery Electric on July 14. If you're into that rockabilly, surf punk sound then check them out. They're hard at work on their upcoming record, so all you mutants keep on the lookout for that too.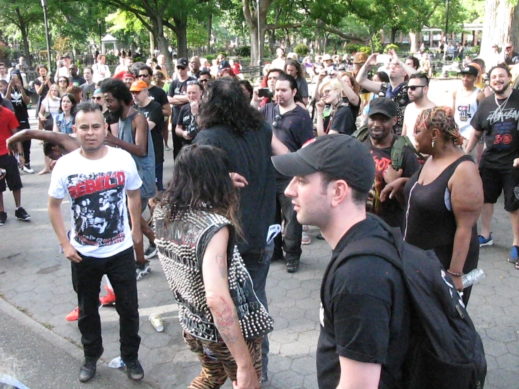 Legendary horror punk rockers, The Undead headlined the show with a pummeling mix of classic Undead material, Misfits songs and new stuff off their new album, THE MORGUE THE MERRIER. I always enjoy their Neil Sedaka cover of "I Go Ape" and when bassist Paul Mauled takes over the lead vocals on "I Got Your Number" (not to be confused by the Cock Sparrer song with the same name), swing those elbows and start up the mosh pit! The present lineup features Bobby Steele, his wife Diana Steele on the keys, Paul Mauled on bass and Boris on drums. There were some new faces that popped up during The Undead set at Tompkins: Ethan (Son of Boris) played a bunch of songs with the band and Ryan on the bass when Paul Mauled terrorized on lead vocals. The Undead capped off their set with a 1963 Allan Sherman cover of "Rat Fink", a song which gained popularity when the Misfits covered the song on the B-Side of their 1979 single "Night Of The Living Dead." Look, videos below!
The Undead at Tompkins Square Park May 29, 2016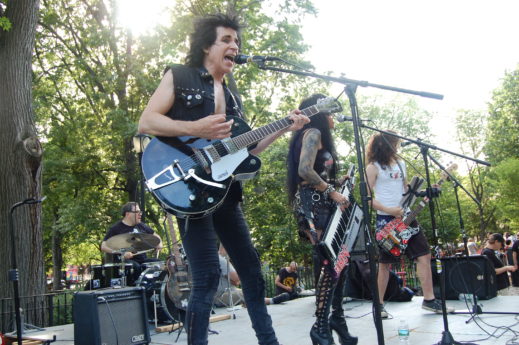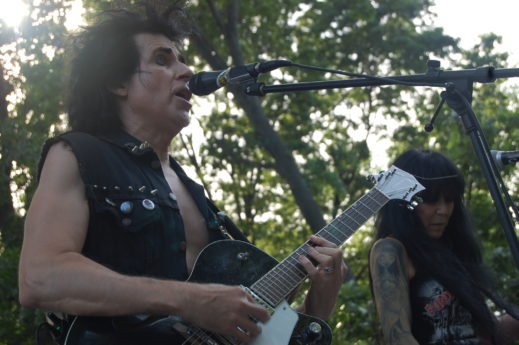 Check out Chocko (njmisfit) and Mr. C (planetchocko) on instagram.
Follow @planetchocko on Twitter. LIKE us on Facebook too. Thanks!
Tags: Bobby Steele, horror punk, new york city, nyc, punk, punk rock, sewage nyc, spike polite, the omega men, The Undead, tompkins square park
Posted in chocko, music, photos | Comments (0)
May 30th, 2016 by Mr. C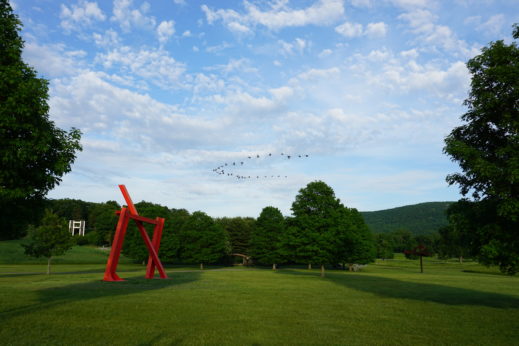 ————————————————————————————————————-

Memorial day weekend's adventure had us going out to Storm King Art Center located in New York State / Lower Hudson Valley region. Storm King is a magnificently well manicured 500 acre outdoor playground of abstract heavy metal sculptures on steroids which are strategically placed throughout the campus. The art center is about 20 minutes north of Woodbury Commons Shopping Outlet which I'm sure everyone's mother's brothers sister in the Tri-state (NY/NJ/CT) + PA has probably been to. Ironically, I ended up meeting part of our Wild Chocko team at the outlets before we headed to the art center and boy, this bargain high-end shopping center has grown exponentially since I've been here last! Woodbury Commons is most definitely an oasis for those seeking for brand name clothing & accessory deals! Hell, they bus them in from all over the area! Planet Chocko shopping outlet bus tours? – just saying! For me though, Woodbury Commons was less about the shopping and more about the scenic drive alongside the forests, mountains, and Palisades Interstate Park!
I've always wanted to hike the Storm King mountain (West of the Hudson River) but it looks like I would have to settle with the tame but not lame hike at the Storm King Art center first! By NO means did we exhaust every nook & cranny of the art center and actually to the contrary. We only spent a little less than 3 hrs seeing what we saw today and there's much much much – more that we didn't see! You really need multiple all day visits to the park in order to explore the whole terrain. The different landscapes and textures of the land made the exploring that much more fun! You can hike, bike, casually walk, or even take the shuttle tram through the grounds. The massive & quirky sculptures on the hillside and those in the forest often made you wonder how they were constructed and what inspired their creations. I'm not in a position to judge art but some of these large installations simply just looked amazing backed by mountains and countryside! On the day that we went, there was a wedding ceremony and reception being held on the grounds of Storm King! What a way to exchange your vows! Get a glimpse of what you might see at the Storm King Art center with the photos below!
Storm King Art Center
1 Museum Rd
New Windsor, NY 12553
————————————————————————————————————–
(Wedding ceremony – can't help but think of torture and sacrifice with those huge metal structures a la Mad Max?!)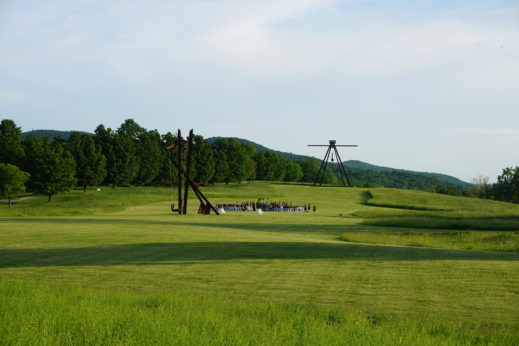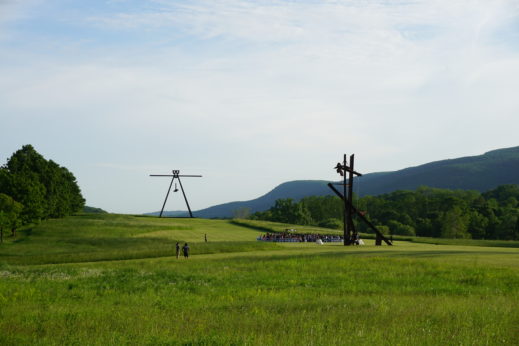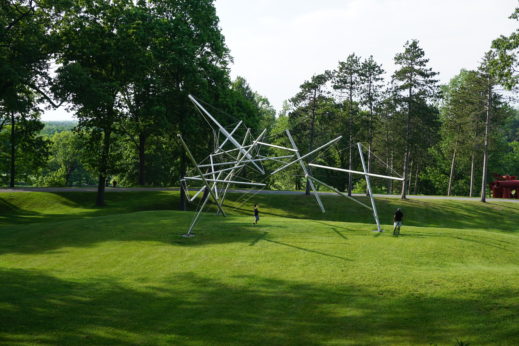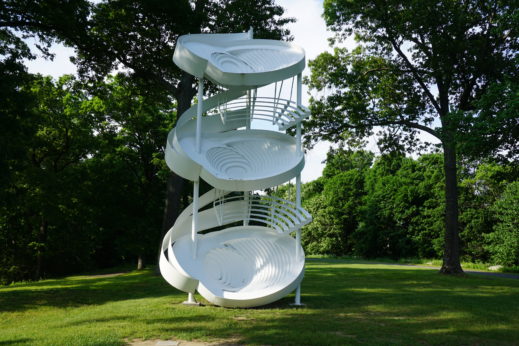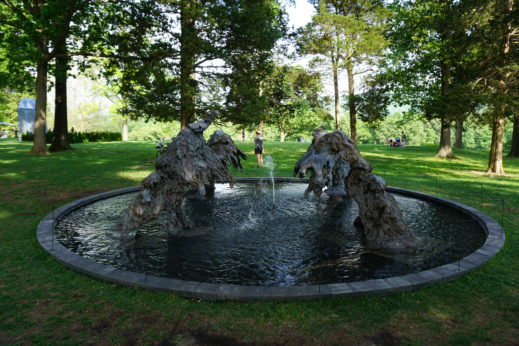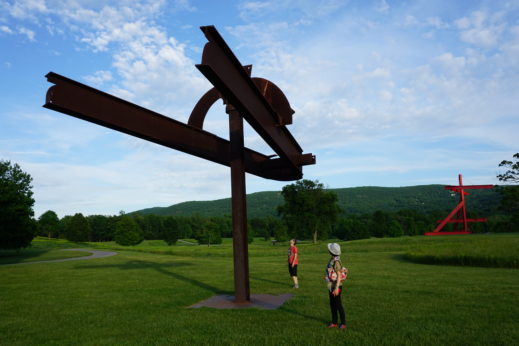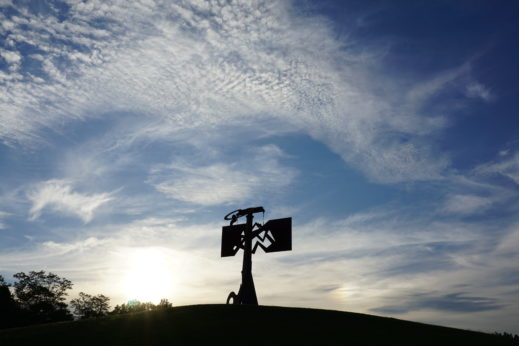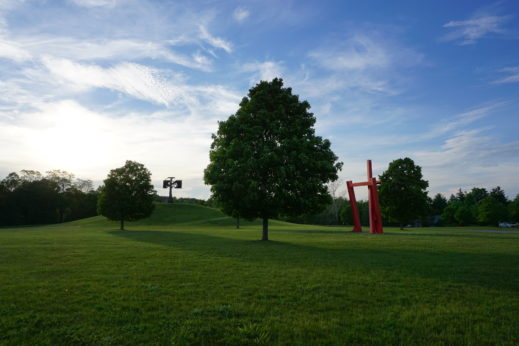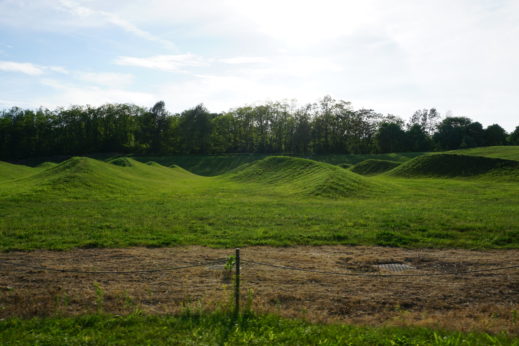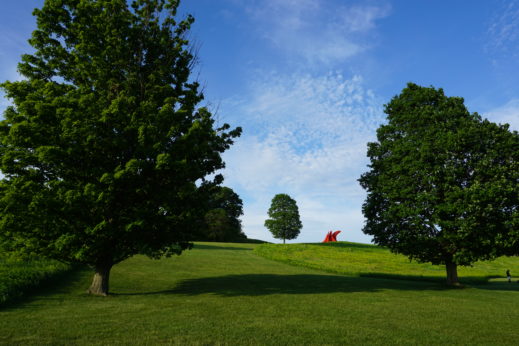 Tags: hiking, hudson valley, nature, new york state, sculptures, storm king art center
Posted in art, community, mr. c, photos | Comments (0)
May 27th, 2016 by chocko
Rod Argent and Colin Blunstone of The Zombies at Rough Trade NYC May 12, 2016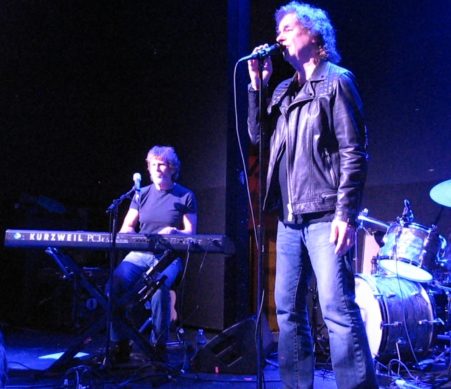 UK psychedelic relics, The Zombies played an intimate show at Rough Trade in New York City recently and treated the crowd to a sweet, 30 minute set. The lineup was whittled down to the duo of Rod Argent on keyboards and Colin Blunstone on vocals, both original members of the band which formed in 1962. Their second album with the misspelled title Odessey and Oracle is a critically acclaimed classic which features the 1969 hit "Time Of The Season." Lots of great songs on that slab of wax from yesteryear…many still resonate generations later. The first song on the album, "Care Of Cell 44" was covered by many artists including Elliot Smith and "This Will Be Our Year" has been covered by artists such as Avett Brothers and Foo Fighters. The Zombies started their set with two tracks off their 2015 release Still Got That Hunger, "Moving On" and "Edge OF The Rainbow" a bluesy track that showcased the duo's talents and love for performing. The Zombies also played "Care of Cell 44", "Tell Her No", "Time OF The Season", and "She's Not There". Blunstone's huge smile and outstretched arms encouraged the crowd to sing along and harmonize. The show ended with their cover of George Gershwin's "Summertime." The band stuck around to sign their new album. Check them out when they play a venue near your jungle hut. They're playing a whole bunch of festivals in the UK this summer then coming back to the States in September to play shows all over California, Arizona and Colorado. Check out some videos from their Rough Trade show below!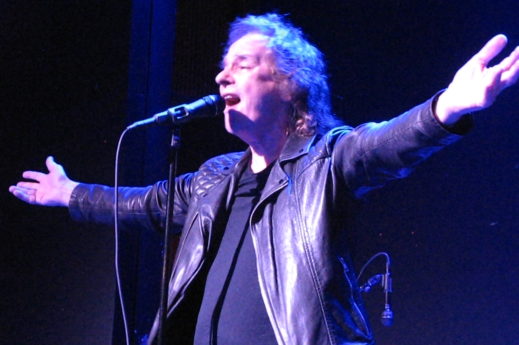 Check out Chocko (njmisfit) and Mr. C (planetchocko) on instagram.
Follow @planetchocko on Twitter. LIKE us on Facebook too. Thanks!
Tags: in-store, live, odessey and oracle, performance, rough trade, rough trade nyc, show, the zombies
Posted in chocko, music, photos | Comments (0)
May 27th, 2016 by Mr. C
————————————————————————————————————
The Presby Memorial Iris Gardens in Montclair is one of those hidden treasures of sanctuary that I like to roam around in during blooming season. Wandering around the city and walking around the grounds of a well manicured garden such as the Presby are some of my favorite types of exploration. There's something about the calming effect to walk the presby and just let the eyes scatter around absorbing the beauty of the irises which at that moment lets the mind escape the everyday mundane & troubled times. Peak bloom time is usually around mothers day but this year, the irises bloomed really late. As it stands, the best time to see the irises at the Presby Gardens is now through Memorial day! So NYC, get those zip cars ready for a trip into suburban NJ! The colors of these many many varieties of Irises and its hybrids at the Presby are amazing! I'm not a horticulturist – don't pretend to be, and far from a connoisseur of irises or any plant life for that matter. I just appreciate the beauty of these plants when they bloom which also signifies a change into the summer season. Live jazz bands play on the grounds of the presby every weekend in May. The free Summer Series – movies under the stars is also another fun event. The Presby Iris Gardens is one of the venues for the free movies under the stars. Check the Summer Series schedule! In the meantime, go checkout the Presby Iris Gardens this weekend for the booming blooms! If you get the bug to grow irises, definitely check out the plant sale they have at the Presby Memorial Iris gardens every weekend in May. All the iris plants on sale at the garden have been cultivated onsite! All proceeds go right back into the preservation of the garden! The cycle of life!
"The Citizens Committee funds and manage the operations of the iris gardens. The public/private partnership with the County of Essex allows for the continuation of this historic and beautiful site so that it can be enjoyed by new generations of iris lovers and garden enthusiasts alike."

The Presby Memorial Iris Gardens
474 Upper Mountain Ave
Montclair, NJ 07043
————————————————————————————————————–
Tags: hikes, montclair, nature, nj, plants, presby iris gardens
Posted in community, mr. c, photos | Comments (0)
May 22nd, 2016 by Mr. C
(rain-maker maybe not needed as much – since it's been raining a lot lately, but yes to artificial snow!)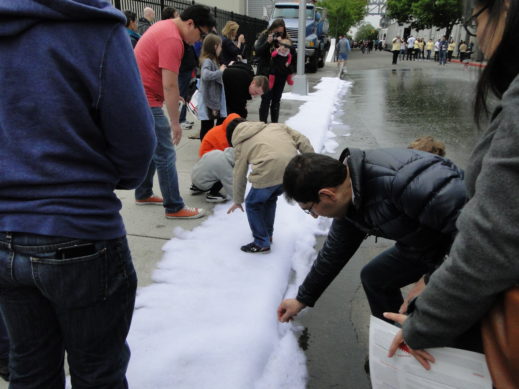 ———————————————————————————————————–
It was a great time wandering around NEW YORK ON LOCATION in Astoria Queens NYC today, an all-day Street fair and celebration where they take you behind the scenes of film production so you can see the nuts and bolts of a film shoot. Thanks to the Museum of the Moving Image, Kaufman Astoria Studios, Theatrical Teamsters, the Motion Picture Studio Mechanics Local 52, & probably many other unsung behind the scenes staff that made this all happen! I have to say this is one of the better annual events if not the best that NYC has to offer that can be enjoyed by the whole family and even some of the rough-necks out there! And if that wasn't enough – adding to the festivities, the Museum of the Moving Image had free admission all day long! By coincidence or not, the Moving Image just opened up the Arcade Classics exhibition where they have for your playing pleasure, 30 classic arcade games released from 1972-1993 that you can get your hands on and play! The classics are all there: Asteroids, Donkey Kong,Pac Man,Space Invaders,Centipede,Qbert,Mortal Kombat,Pong,Breakout…more!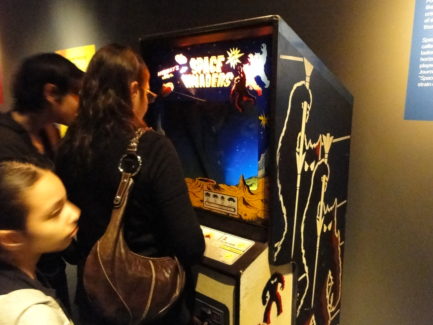 ————————————————————————————————————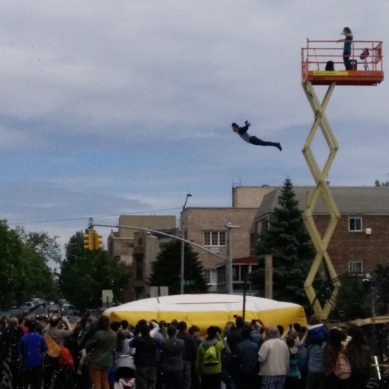 (Thought this was cute – The father with her leading lady!)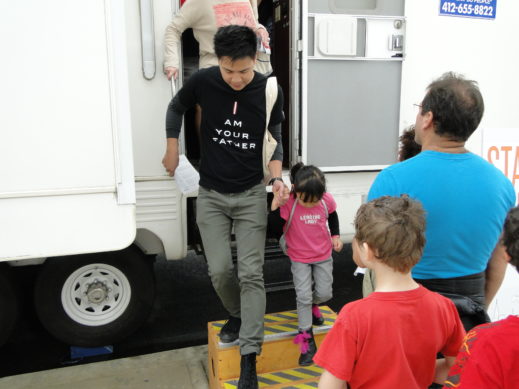 ————————————————————————————————————–

Some of the highlights of the day included the special demonstrations with the High falls where stunt performers take some daring plunges, the car stunts, the street fighting segment where stunt performers rehearse fights throughout the day, and the fire stunt where performers set themselves on fire. Another popular segment of NY on location was the hair and makeup trailers. Lots of folks were interested in the makeup portion of the set! I dipped in, dipped out of these trailers in order to let the connoisseurs get in on the facial action! Overall, it was fun seeing all the trailers including the stars hangout, production trucks like the grips, cameras, electric, props, wardrobe, & honey wagons! Oh, I didn't forget our favorite trucks – the movie catering & treats truck!
As with most of our updates, we'll let the photos do the talking! We can't wait till next year so we can do this all over again!
Kaufman Astoria Studios
12, 34-12 36th St, Astoria, NY 11106
The Museum of the Moving Image
36-01 35th Ave, New York, NY 11106

————————————————————————————————————–
(Street Fighting segment – demonstrating fight rehearsals)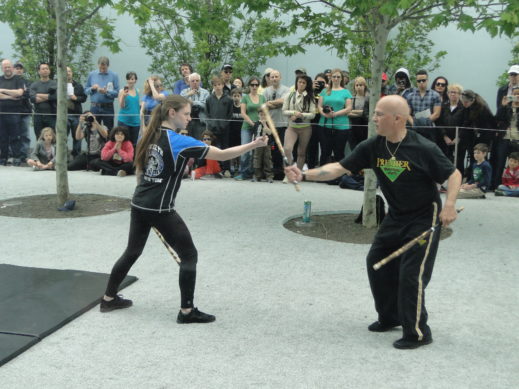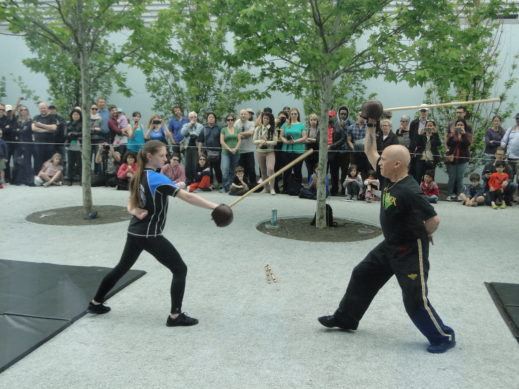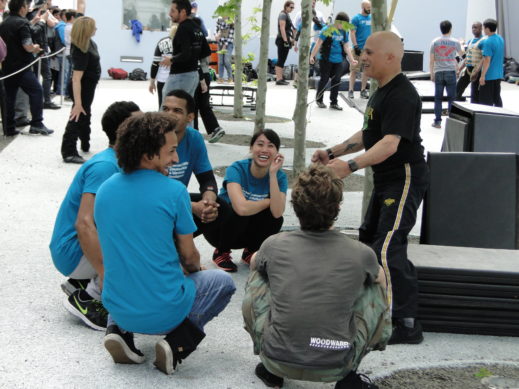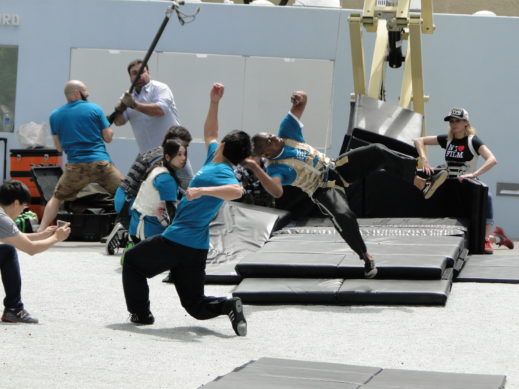 (A focused man or a concerned man!)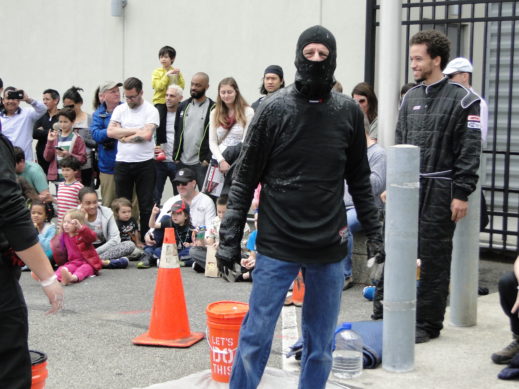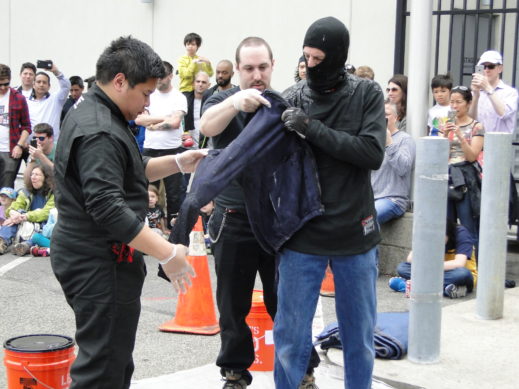 (the kids were having a grand time getting done-up,too!)

(The Honey wagons – portable bathrooms & dressing rooms. The cast,directors,and crew have separate rooms. Desi here, Lucy there!)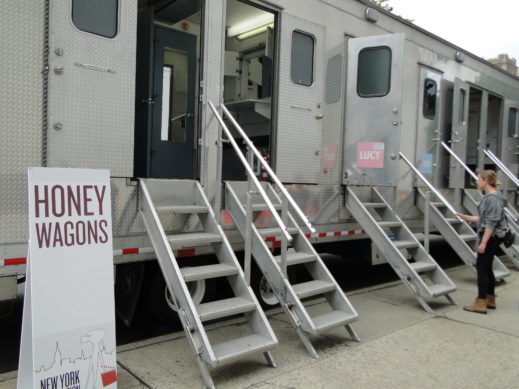 (Prepping the road for the drivers!)

(is that a planet chocko UFO up there? – oh, just a drone)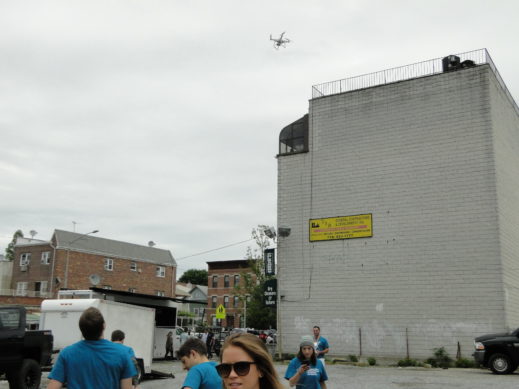 (Astor Room customers enjoying the show from the sidewalk)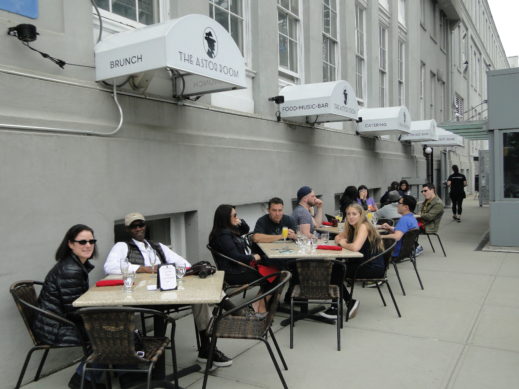 (I take a little break myself from the action with a slice of old NY at Rizzo's Fine Pizza on Steinway Street. Thin & saucy sicilian slice w/ mozzarella cheese. a nice representation of a classic NY slice! I recommend!)
(Smart car – ultimate camera setup)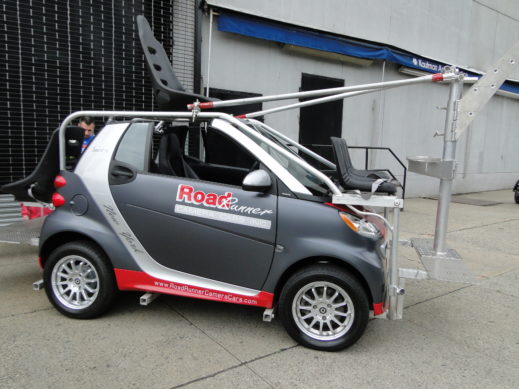 (I almost had a heart-attack upon discovering the neighborhood kids playing stickball on the street where I parked my car)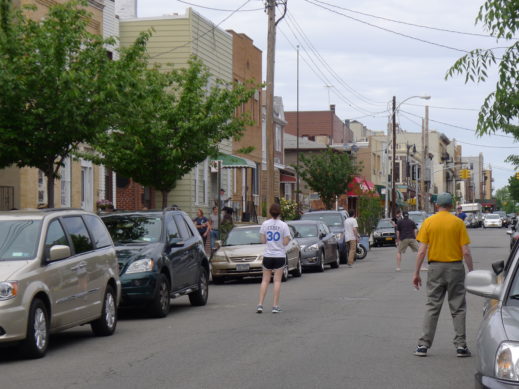 (It makes perfect sense to learn how to drive in a Corolla before getting in the Ferrari!)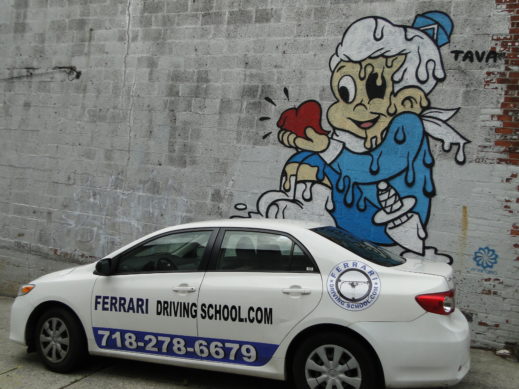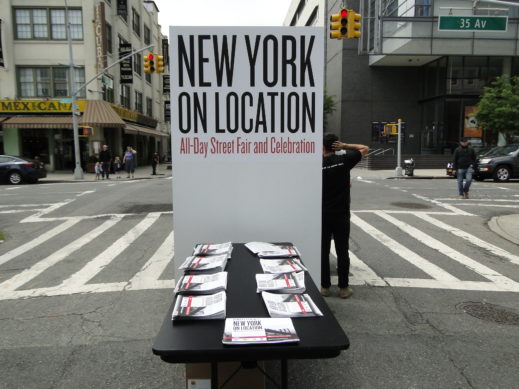 Tags: astoria queens, film, film production, kaufman studios, museum moving image, new york on location, street festival
Posted in art, community, movies, mr. c, photos, theatre | Comments (0)
May 19th, 2016 by Mr. C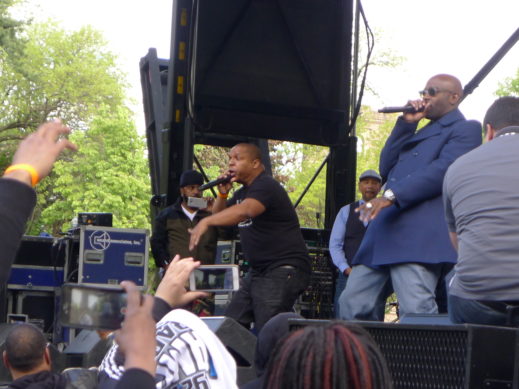 (Vinnie & Treach from Naughty By Nature)

(Judy Torres performing Sad Morning + Love you, Will you love me at the 2016 Bronx Week celebrations)
—————————————————————————————————————-
Planet Chocko and the old school crew headed over the Hudson and sauntered towards the Mosholu to celebrate Bronx Week last Sunday with live performances by Tito Nieves, Judy Torres, & Naughty by Nature plus special guests! This years lineup was as action packed and relevant as last years with the familiar triple phat decker Bronx music sandwich composed of salsa, latin freestyle dance, & classic hip hop! It started off with Tito Nieves working up the puerto rican centric crowd with some happy feet of the pitter patter variety – 2 step dance moves along with that rhythmic twist of the hips! Nieves ignited the crowd to party people status with "I like it like that". The audience was esta loca with the dancing feet and clapping hands. Tito is going to be a hard act to follow!
Bronx's own – born & bred – Judy Torres came out next! For those not in the know, Torres had more than a handful of dance hits in the late eighties into the nineties. Her genre of dance music was known as freestyle dance which was a blend of synthesizers,high tempo looped percussions mixed with an early form of electro/hip hop beat like Afrika Bambaataa's Planet Rock which was a big influence to freestyle. Throw in some sampling and that rounded off the instrumentals which married with lyrics of love and heartbreak. For those that remember, Freestyle dance/Top 40/House music reigned supreme on HOT 97 back in the late 80s and early 90s until R&B and Hip Hop eventually took the cake away which then prompted 103.5 WKTU to be the new home of Top 40. Enough of the boring history lesson and back to Judy Torre's performance! Judy belted out her hits including "No Reason to Cry", "Come into My Arms","Sad Morning", "Love You, Will You love me", & more! She was still a powerhouse performer on the stage combining singing, dancing, and just overall mic skills to rile up the crowd! Her story about her niece who knows nothing about freestyle dance and often questions its validity was quickly put into perspective with Judy Torres' analogy – "you have Rihanna – we had Cynthia. you have Justin Bieber – we have George Lamond. You have One Direction – we had TKA – You have Lady Gaga – we have La India." The crowd went buck wild! It was an overall fun, throwback performance by Judy Torres!

(Judy Torres performing No Reason To Cry – video by Loopyvids/Chocko)
After freestyle dominated the stage, Bronx Borough President Ruben Diaz Jr. stepped out in the limelight with his charming and relatable self to take control of the mic to stall for time! It's no secret Ruben is a late 80s/90s hip hop aficionado and freestyle dance music freak as well! Both genres of music that originated in da BRONX! It came to no surprise Bronx Prez Ruben Diaz turnt this muther out with his performances of Doug E Fresh's "The Show", Eric B & Rakim's "Paid in Full", & Slick Rick/Doug E Fresh's "La di da di". Ruben may have just found another career as a rapper after his reign as boro Prez of the bronx is ova !
(Bronx Borough President Ruben Diaz Jr. smooth operator on the mic!)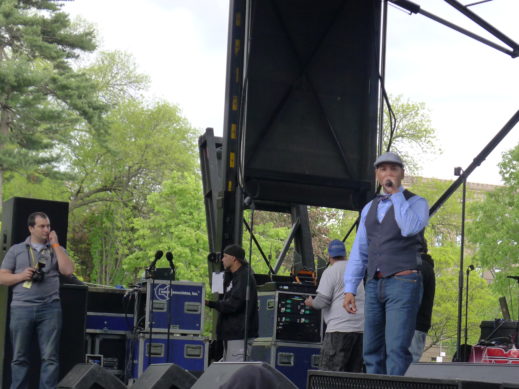 (SexxyLexxy & Miss Moe Money – BBOD (Photo courtesy of Chocko))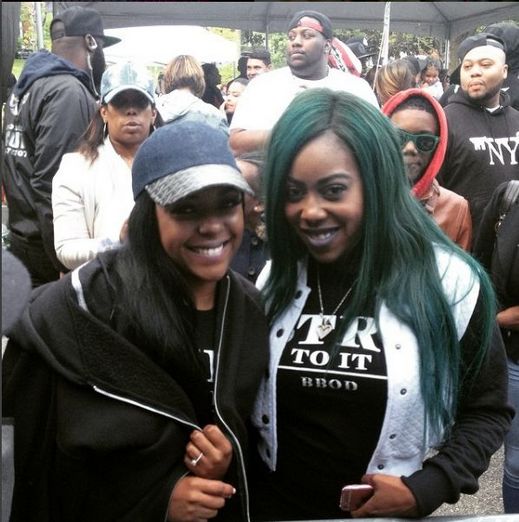 (Naughty By Nature performing a classic hip hop medley + Everything is Going to be alright – video by Loopyvids/Chocko)
Of course, Naughty By Nature would not be outdone by the performances earlier in the day as Uncle Vinnie, Treach, & DJ Kay Gee rocked the stage! It's no coincidence that Naughty is celebrating 25 years of longevity in the game! Vin & Treach would show that they still have that crazy mad lyrical juggling and onstage presence that really amps you up with energy! Naughty would not leave the stage without performing their iconic hip hop anthems including OPP, Everything's Gonna Be Alright, Uptown Anthem, & Hip Hop Hooray! Vin & Treach then introduced BBOD (Bad Beauties On Deck) to the stage and the young'ins in the crowd seemed to eat up the catchy rap flow of SexxyLexxy and Miss Moe Money! I was not familiar with them but apparently BBOD are on VH1s Docu-series – Love and Hip Hop. Checkout BBOD's performance below!
(BBOD performing Hell of a night – video by Loopyvids/Chocko)

(SexxyLexxy & Miss Moe Money – BBOD)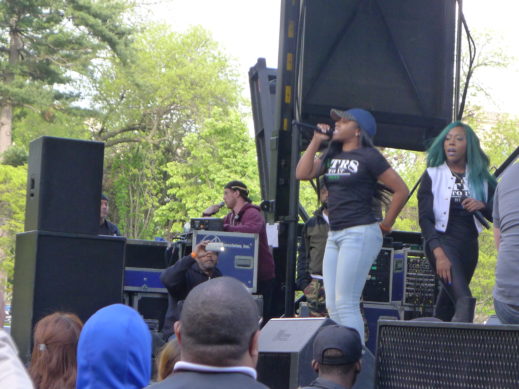 And if that wasn't enough, Naughty by Nature brought up special guests – Smif N Wessun to perform another iconic hip hop anthem from the 90s – Bucktown! The Smif n Wessun performance most definitely blew up the crowd to smithereens! I'm glad no-one carried around Smith and Wessons for fear of firing up up to the sky with glee!


(Smif N Wessun performing Bucktown – video by Loopyvids/Chocko)
At this point I was ready to go home happy with my tail wagging between my legs from the Bronx Week performances but Naughty by Nature would add more layers of fondant and icing to the cake! Treach & Vin would introduce rap legends that are closer to the top of the hip hop tree – Master Gee (Sugar Hill Gang), Grandmaster Caz (Cold Crush Brothers), & Melle Mel (Furious 5) to grace the stage! The trio performed Sugar Hill Gang's Rappers Delight and Grandmaster Flash/Furious 5's – The Message with much gusto and creed! Fun times celebrating Bronx Week! Can't wait to see who is on the lineup next year! We know the musical formula, though!

(Melle Mel,Master Gee,& Grandmaster Caz performing Rappers Delight + The Message – video by Loopvids/Chocko)
—————————————————————————————————————
Tags: bronx week, freestyle dance, grandmaster caz, hip hop, judy torres, master gee, melle mel, music, naughty by nature, smif n wessun
Posted in community, mr. c, music, photos | Comments (0)
May 13th, 2016 by chocko
Peelander-Yellow at IFC Center (photos by chocko)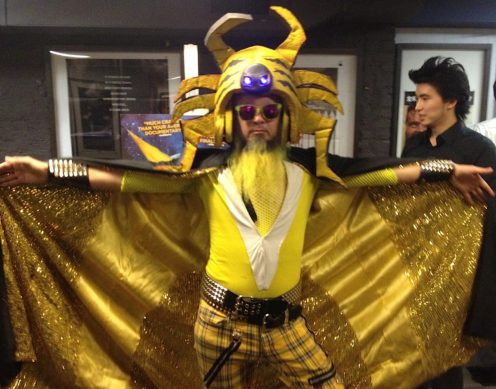 The documentary MAD TIGER recently wrapped up its run at IFC Center in NYC but not without going out with a blast. MAD TIGER features the Japanese punk rockers Peelander-Z, a happy, fun and wacky costume wearing band whose shows consists of a lot of crowd participation and fun activities such as human bowling. The movie focuses on the effects of the friendship between original band members, Yellow (Kengo Hioki) and Red (Kotaro Tsukada), after Red decides to leave the band. Can Yellow, the head honcho, keep his cool and keep the band going after a close bandmate bounces, then shortly after their drummer Green decides to call it quits too? The movie offers an inside look at a volatile period of time with punk rockers from another planet just trying to make a living and spread some joy. Unseen Films calls MAD TIGER "Truly Great…An Absolute Must See." Directors Jonathan Yi and Michael Haertlein and band members Peelander-Yellow and Purple were in the house for a Q&A at last Tuesday's 9:30 PM screening at IFC. Check out the pics and video below!

Peelander Yellow says "YES! YES! YES!" to MAD TIGER.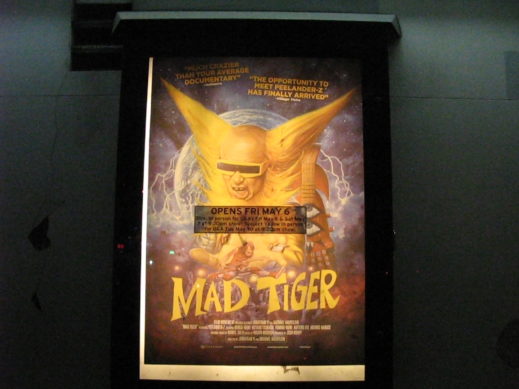 The movie poster hanging outside of IFC Center on Sixth Avenue.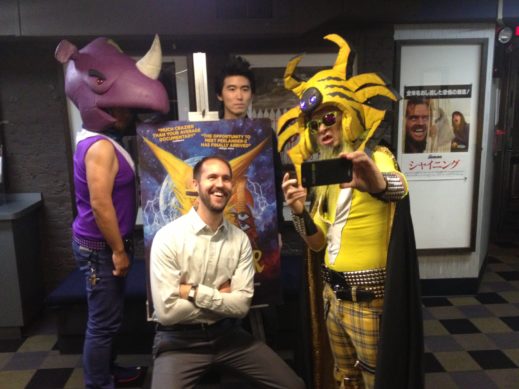 The directors of MAD TIGER pose for a selfie with Yellow and Purple.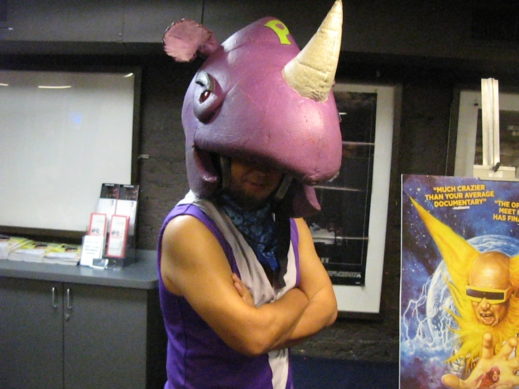 The strong and lean Peelander Purple or is that Double J? Stay focused.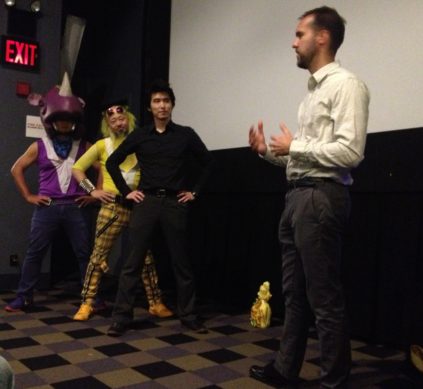 Posing for the next album cover at the Q&A.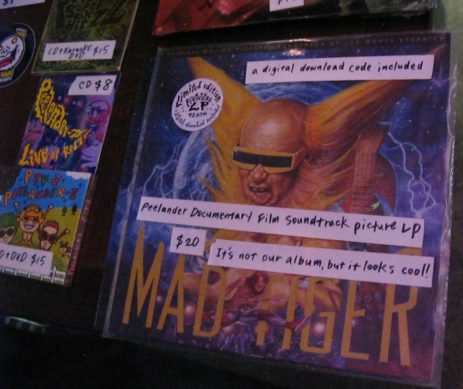 Peelander Yellow and Purple stuck around at the merch table!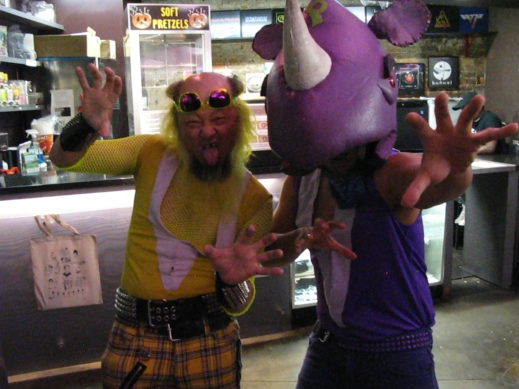 Chocko got some records and CDs signed. I love these guys..good luck to Yellow and the gang! Go see MAD TIGER. Check out their website for future screenings and be on the look out for a DVD release later in 2016.
Check out Chocko (njmisfit) and Mr. C (planetchocko) on instagram.
Follow @planetchocko on Twitter. LIKE us on Facebook too. Thanks!
Tags: documentary, IFC Center, jonathan yi, kengo hioki, kotaro tsukada, Mad Tiger, michael haertlein, movies, new york city, nyc, Peelander Yellow, Peelander Z
Posted in art, chocko, fashion, movies, music, photos | Comments (0)
April 29th, 2016 by chocko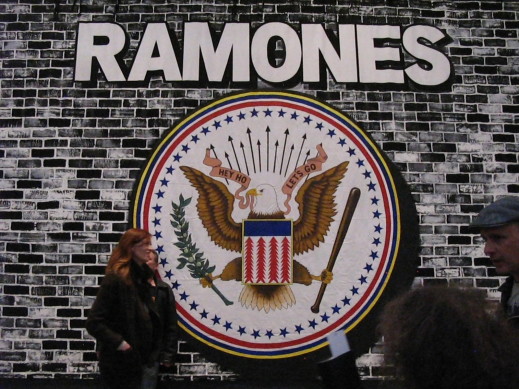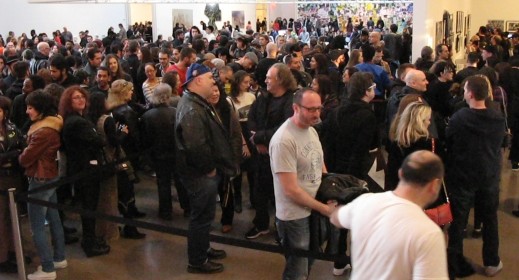 The Planet Chocko goon squad hopped in our flying saucer and landed in Queens to check out the opening day of the exhibition, Hey! Ho! Let's Go: Ramones and the Birth of Punk at the Queens Museum. By the time we got to the doors, the fire department had come in to limit the amount of cretins allowed into the building to see the exhibit dedicated to The Ramones, whose self-titled debut album turns 40 this month. We eventually got in, the place was packed and there was no way we were going to see the exhibit…the line snaked through the lobby and we were told the wait was more than two hours. We took photos of some of the many posters, memorabilia, photos and shirts from doorways we couldn't enter. One room easily accessible was screening a Ramones concert from London 1977, Shepard Fairey paintings of the original Ramones lineup were hanging on a wall in the back and their awards for the Rock And Roll Hall Of Fame and Grammy for Lifetime Achievement were on display.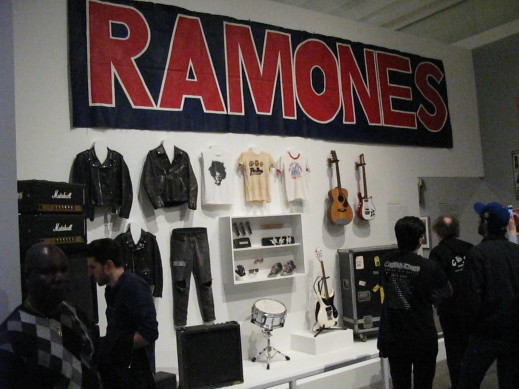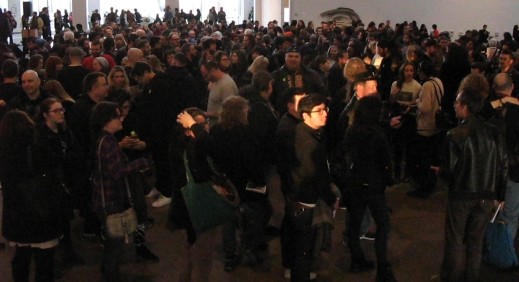 We were able to catch the NYC band Show Me The Body. A mosh pit formed in front of the stage and there was little museum security could do to maintain control. The young and rowdy elbowed and crowd surfed to the stage, reciting their favorite lyrics. It was a smashing set of hardcore tunes from the Queens natives but it would have been icing on the cake if they played a Ramones cover or two. Check out some videos from the mosh pit sidelines below including a brand new song, "Aspirin."
Show Me The Body at Queens Museum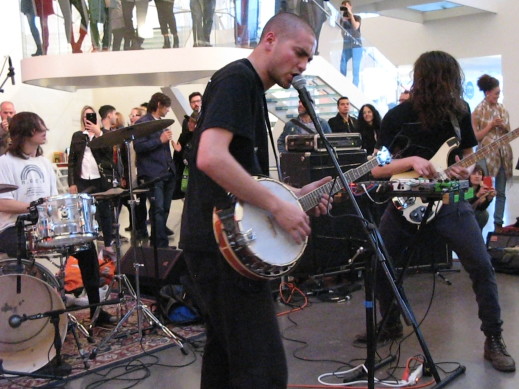 Come on down…Hey! Ho! Let's Go: Ramones and the Birth of Punk will be on view at the Queens Museum through July 31, 2016. We'll have to make a trip back to the museum soon, but until then…Adios, Amigos!
Tags: dee dee ramone, exhibit, exhibition, hey! ho! let's go!, joey ramone, johnny ramone, new york city, punk, punk rock, queens museum, ramones, the ramones, tommy ramone
Posted in chocko, fashion, music, photos | Comments (0)