December 15th, 2014 by Mr. C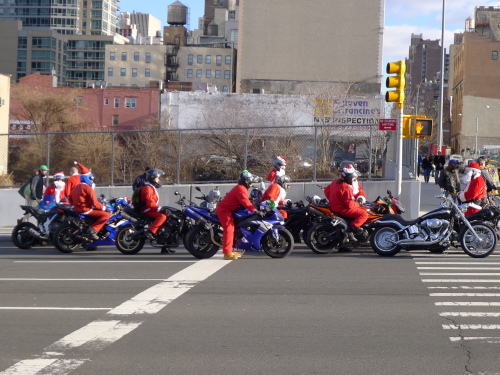 (Santa riders ripping & roaring outside the Motorcyle Show/Jacob Javitz enjoying Santa Con!)
The Last time we covered the Motorcycle show we were in zine form from the late 90s to early 2000s with a print output of no more than 300 copies per issue. So much has changed since then and apparently the cycle show has too!
My thoughts on the 2014 Progressive International Motorcycle show in NYC – not as grandiose as in yesteryear shows that's for sure but still a good time had with felllow cycle lovers! It was great to see KTM, Triumph, and Ducati reign supreme with their displays but Suzuki, Kawasaki, & Yamaha continue to spread cheer showing off their new models. I was interested in seeing the new 2015 Suzuki GSX-S750 and it looks great in person! It's a minimalist looking streetfighter bike but those lines really shows off her curves! I was also interested in sitting on the new Yamaha FZ-07 and I was picturing tearing her up on the streets of NYC when I did mount her! Perfect size bike to troll the urban terrain! The FZ-07 seemed very comfy and upright, the steering felt nimble and light to the touch, and the foot controls were comfortable. I always love looking at the custom bikes and cruisers but Victory's model – the High-ball custom cruiser with ape hangers almost had me wanting to reserve one! I really loved the black matte color paint scheme on the High-Ball! Though I must admit when I sat on the High-Ball it made me feel small. Not to outdo the Victory bike but it really did, I felt quite at home when sitting on the Harley Davidson Sportster seventy-two. The Seventy-Two is cleverly named so because of the 1970s Chopper Look and I love it! I also love the spoke wheels! The candy speckled paint job looked great. The gas tank was on the smaller side but I really digged the look and shape of it. My days of ragging on Harley Davidsons might be over. I might have to add one to the collection in the foreseable future! Vroom Vroom! I also sat on the retro Triumph Scrambler, a bike that I've been coveting for awhile with those cool looking exhaust pipes hanging by the legs. It's a tall bike for the vertically challenged and a pretty heavy bike at that too. Overall, the Suzuki GSX-S750, the Yamaha FZ-07, The Victory High-Ball, and the Harley Davidson Sportster Seventy-Two were winners in my book! Royal Ensfield, a company that I wasn't familiar with but looks to have a long history in making motorcycles,bicycles, & lawn mowers from the late 1800's in the UK but now licensed to India had a really neat display of retro looking bikes called the bullet 500. The bikes looked great but remains to be seen with the point of presence and ridership in their bikes to be able to sustain the ride for upkeep. In that same vain, a bike shop in Yonkers, NY called Johnny Pag Motors also had a very busy display showing off the 320cc Ventura Chopper priced to sell at $4995! The engine displacement might be on the smaller side but the stance on the chopper looked pretty darn mean!
I couldn't leave Midtown west without paying respects to Hideki Matsui and Go! Go! Curry! on 38th Street! Of course, I hit a Grand Slam takeout!
All in all, a great day was had at the bike show with good friends. Cheers!
(I salute you Matsui and Go! Go! Curry!)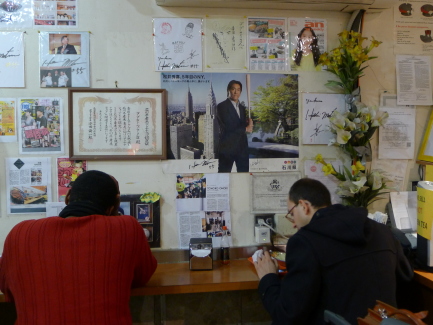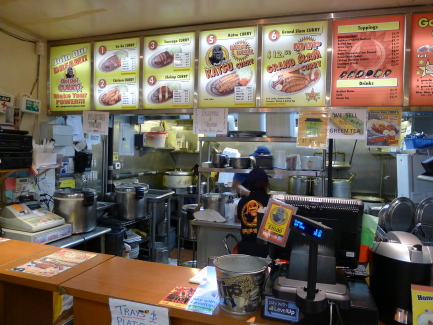 (Harley Davidson Sportster Seventy-Two)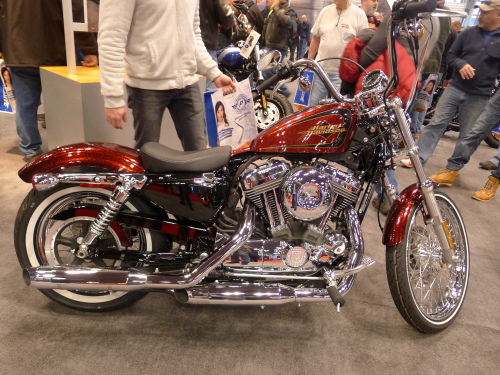 (Johnny Pag Motors – Ventura 5000)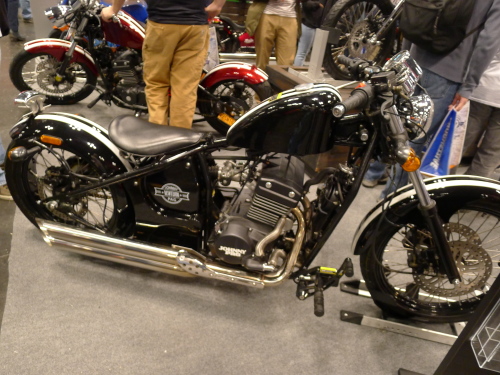 (Indian Larry custom wishbone-rigid frame)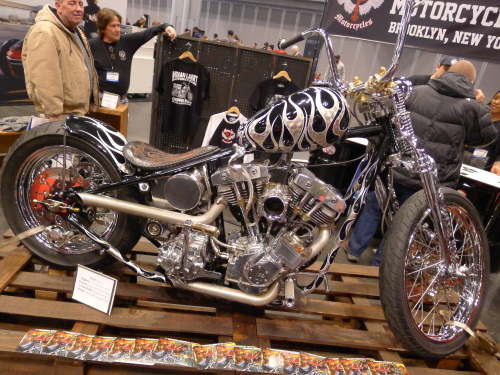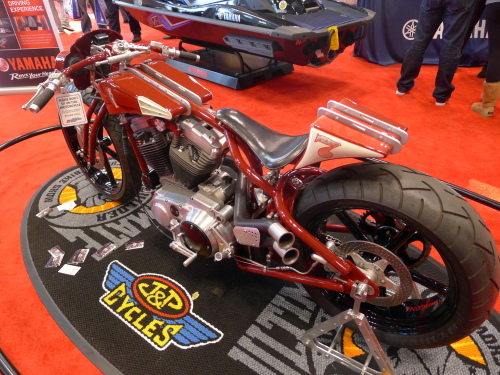 Posted in mr. c, photos, sports | Comments (0)
December 13th, 2014 by Mr. C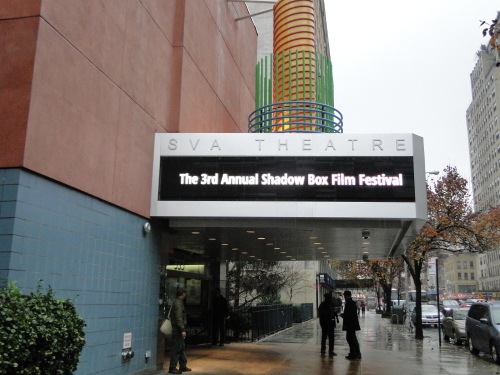 We were able to bob & weave into a few Shadow Box Film Festival screenings which was held at the School of Visual Arts Theater on 23rd Street despite the relentless rain we had last weekend. It was the 3rd edition of this low profile gathering marketed as the world's only ALL-BOXING Film Festival! You have got to love a film festival whose major sponsors included a Termite and Pest Control company! Talk about eradicating opponents in and out of the ring!
(Heather Hardy at the Shadow Box Film Festival – photo by Chocko)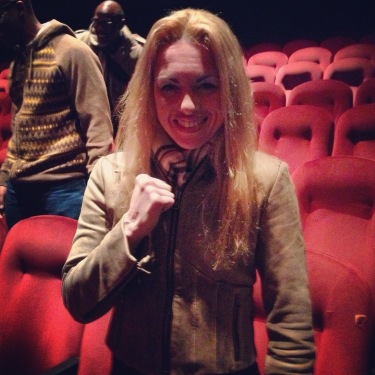 On Friday night of the festival, we jetted out of the traffic free super-highway slabs over the GWB during usual gridlock holiday time to head downtown Manhatty to SVA Theatre. I'm sure the rains had to do a lot with the emptier roads for we made it just in time for the great roundtable discussion on the state of woman's boxing with whatever content the ladies & Dibella wanted to bring to the forefront! The panel included Lorraine Price (Director of Doc: Last Woman Standing) which was part of the program/screening that we missed that night; Lou Dibella (Boxing promoter and Executive Producer of Hardy), and Heather Hardy (Boxer and subject of Doc: Hardy). The roundtable was moderated by Steve Farhood (Showtime Boxing commentator/anaylyst & Broadway Boxing commentator). Farhood did a great job in asking pertinent questions to tender the subject of woman's boxing and how the business is changing for the ranks of lady pugilists. Thanks to Chocko for recording the roundtable for further review!
(video by NJChocko)

(Photo op after the Roundtable panel included: Lorraine Price,Lou Dibella,Michael Bentt,Heather Hardy,Steve Farhood – Photo by Chocko)

After the panel, We saw the HARDY documentary again and loved it even more the 2nd time around. The film follows Gerritsen Beach, Brooklyn's own Heather Hardy as she realizes her dream of boxing at a later stage in life. Hardy is really an inspirational story about searching for self esteem & identity and chasing after your dreams. More is at stake here than first glance,as boxing is also the means of survival for Hardy and her daughter. It was interesting before the screening as Executive Producer Lou Dibella mentioned that the director of the film – Natasha Verma did a great job with her first film but he (Lou Dibella) also changed the film into a very good film. I wondered what he changed and what he really meant by this?!
(Former WBO Heavyweight Champion – Michael Bentt at the Shadow Box Film Festival – photo by Chocko)

On Saturday, I returned to catch the short films segment. I was mostly looking forward to the films – Greatness: The Story of Floyd Patterson and Sunnyside but ended up seeing some other eye opening shorts!
Greatness: The Story of Floyd Patterson
This doc was more about the greatness of Floyd outside of the ring and in his personal life. We all have heard stories of the boxing genious of Floyd Patterson but the humble, quiet, & gentlemen stature of the great Floyd Patterson reigns supreme here! Several of Floyd's more successful boxing students Andrew Schott and adopted son Tracy Harris Patterson step out of the shadows to relive some of their teacher's glory in and out of the ring. Much of the film is spent on Floyd's life after boxing at Floyd's gym in New Paltz, NY as he passed on his boxing chops just like Cus D'mato did for him.
Sunnyside is a documentary that unearthed a New York City boxing club/arena in Sunnyside, Queens that I did not know existed! This legendary fight club full of boisterous fans and lure of smoke from cigarettes & cigars had its heyday from 1947-1977. I'm pretty familiar with the area that this former legendary boxing venue was located which is on Queens Boulevard & 45th Street which is now the grounds of fast food chain Wendy's! The 59th Street Queensboro bridges is just a hop,skip, & a jump away! If I can remember correctly, it costed $4000 to rent out a night of boxing cards at the Sunnyside. This film honored the history of the Sunnyside Gardens Arena as one of New Yorks most influential fight club and unfortunately one of the last as well. It was hailed as the minor leagues, the training grounds for fighters before/if they get called to fight at Madison Square Garden. Some boxers and wrestlers that trolled through the Sunnyside are Floyd Patterson, Gerry Cooney, Bobby Cassidy, Bobby Bartels, Lenny Mangiapane, & Bruno Sammartino to just name a few.
Champion was a charming documentary that highlighted a decorated Iraqi boxer who fled his country to seek a better life for himself. Fast forward to the present as this former Iraqi Champion boxer is living a happy life in Chicago with his wife and children as he drives a taxi to support his family. This film was very inspirational and touching as the love between husband and wife was the real story behind this documentary – less about the boxing.
Round 10 was a re-enactment of one of the most infamous rounds in boxing history. It was the first fight between Jose Luis Castillo and Diego 'Chico' Corrales on May 7th, 2005 at the Mandalay Bay in Las Vegas. To call this fight and 10th round dramatic would be an understatement. Now, I want to see Round 9 re-enacted from the Mickey Ward vs Arturo Gatti – 1st fight! Any takers?
Babyface was a documentary that followed 19 year old James 'babyface assassin' Tennyson who was on his way to becoming the youngest Irish Boxing Champ in 65 years. Raw footage full of thumping blows from the babyface assassin while training at a satellite Kronk gym in Ireland! R.I.P. Emmanuel Steward.
Tags: documentary, hardy, shadow box film festival
Posted in movies, mr. c, photos, sports | Comments (0)
December 8th, 2014 by chocko
Bumblefoot at Two Boots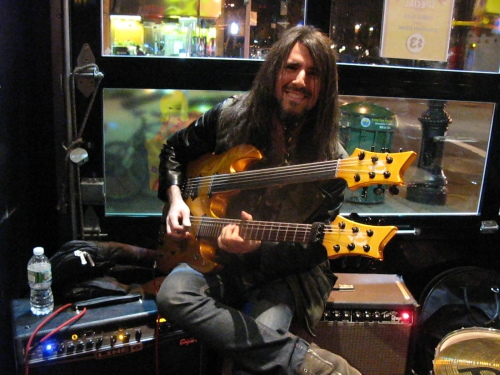 Last month, Two Boots pizzeria opened a new location at 284 5th Ave. in Park Slope, Brooklyn. The Cajun-themed pizza joint celebrated their grand opening with a night of free food, booze and live music by guitarist extraordinaire, Bumblefoot and Brooklyn all female band, Sharkmuffin. I walked through the doors and the place was packed, free slices of pizza were being given out at the counter along with wine and beer. A huge tray stacked with sliders made it through the room and they definitely had a kick which was provided by the key ingredient of Bumblefoot Hot Sauce. Yes, so not only is Bumblefoot presently in Guns N Roses but he also makes hot sauce. A band from the neighborhood, Sharkmuffin kicked off the live music portion of the night. The all female trio blasted through a set of songs that ran the gamut from pop, garage and punk rock. It was the first time for me to see the band play and I can't wait to see them again which will be January 4, 2015 at Knitting Factory. According to the band's website, their debut album "Chartreuse" will be coming out in the summer of 2015 and features Patty Schemel (Hole) on drums.
Sharkmuffin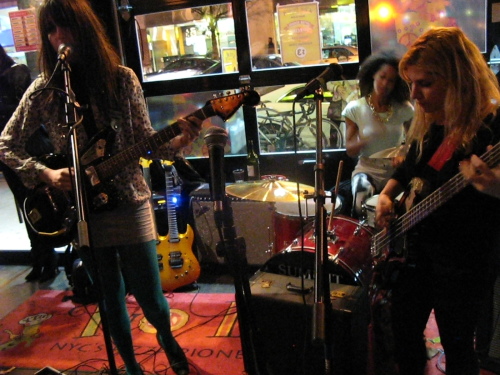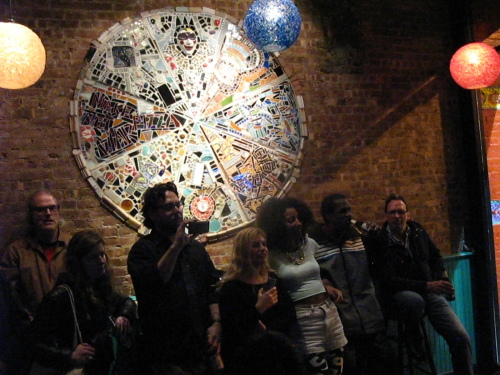 Rachel Lorin, Tony Harnell and Bumblefoot

Ron Thal a.k.a. Bumblefoot capped off the evening with his double neck guitar and classic metal and rock songs. He started out his set with a cover of "Used To Love Her" by Guns N' Roses and an impromptu Kiss request of "Detroit Rock City." He was joined by Tony Harnell (lead singer of Norwegian power metal band TNT) for a few songs including a mashup of Boston's "More Than a Feeling" and the Guns N' Roses classic "Sweet Child O' Mine." Harnell was awesome along with Rachel Lorin who also stepped on stage for a cover of a Heart song, "Alone." I wish I recorded a video of her singing…whatta set of pipes! Great singing, powerful vocals. Definitely be on the look out for Rachel Lorin. My favorite part of the evening was when Tara of Sharkmuffin requested Journey's "Don't Stop Believin'" which had everybody dropping their slices to move around and sing a long. It was a great moment and I left shortly after knowing it would be hard to top that. Check out some videos from that night below!
Tags: brooklyn, bumblefoot, new york city, nyc, park slope, pizza, rachel lorin, sharkmuffin, tony harnell, two boots
Posted in chocko, food, music, photos | Comments (0)
November 19th, 2014 by Mr. C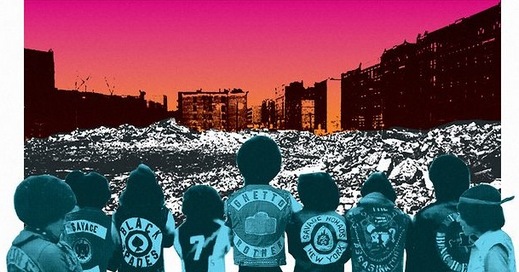 Rubble Kings was a great documentary film on the state of gangs in NYC during the 1960s & 70s. It primarily focused on why they came to be, their rights of passage, & their savageness in the streets when someone, anyone who stepped on their turf who didn't have the same colors. Most gangs formed because of the social movement going on during those times of socio-economic upheaval and inequality. It was a way to protect themselves in their own neighborhood. Meanwhile, unfathomable amounts of gangs formed in the urban jungle across all boroughs of NYC. The scene didn't look too far fetched as depicted in the movie "The Warriors". Actually the film was tame compared to the battle cries of the real scenario. Some gangs that were noted in the film included the Savage Nomads, the Black Spades, Savage Skulls, The Harlem Turks, Dirty Ones, The Chockos, and the Seven Immortals to just name a few of the players. All would turn for the worse regarding turf wars as Martin Luther King Jr., Malcolm X, and John F. Kennedy were assassinated. Civil rights and the Vietnam war brought even more social & political unrest to the concrete slabs. The 1970s was a turbulent time in the streets of NYC. Heroin was being introduced to the streets and the zombies took over as well as the irrational fight between the inner city gangs. This was the time when the magic word of "urban renewal" took flight as modern NYC architect Robert Moses instituted a plan to create the Cross Bronx Expressway which unfortunately meant wiping out established homes, businesses, & hearts of the folks in the bronx. This was the infamous time when the bronx was in decay. Landlords would burn down their own buildings to try to collect insurance. The wealthy in the Bronx fled to the burbs. The city was just an urban wasteland. As you can imagine gangs would continue to flourish in order to just survive the day to day in this urban decay.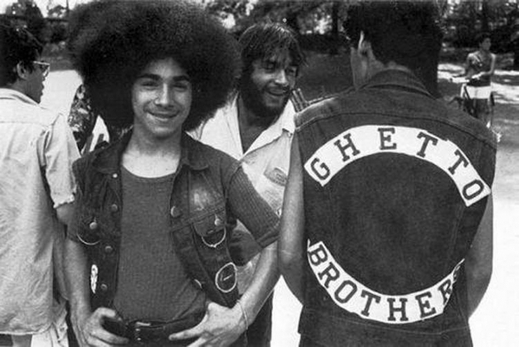 Documenting the nasty side of this chaos was just part of the story. Rubble Kings went on to inspire as one particular gang in the Bronx called The Ghetto Brothers looked beyond the infighting between all the gangs in NYC. They wanted to get more education and wanted to stop the drug epidemic. They fought political & social injustice. In the Ghetto Brother territories which spread beyond the Bronx, they made sure to push the pushers out. They tried to rehab the junkies in their area by looking after them 24×7 so they can go cold turkey off the dope. The Ghetto Brothers in turn tried to influence other gangs throughout NYC by promoting stop the violence as all gangs are one and that they should fight against society, the government, and the City instead of spending energy fighting themselves. This is exactly what the government wanted, the gangs to desecrate themselves. The peace treaty that the Ghetto Brothers would organize in the YMCA on Hoe Avenue in the Bronx amongst all leaders of the gangs in NYC would be a game changer going forward.
Another layer of bringing community together to heal was music! The Ghetto Brothers besides being the peacemakers, were talented jamming out as a band. They played latin funk and it really brought out the fun and sense of brother & sisterhood to ALL when they opened up the party to EVERYONE. Bring out your bongo or your favorite instrument and just jam out was their motto! The mastermind behind the peace sign in the Ghetto Brothers was founder 'Yellow' Benji Melendez. The muscle behind the clan was Karate Charlie from the Marines!
Afrika Bambaataa would also play a big part in the film as he eventually morphed the badass Black Spades gang into the Zulu Nation promoting peace, community, and Hip Hop. Bambaattaa had his part in using DJ'ing and block parties as he blended music into the new gang culture as a way to battle amongst each other using tunes instead of fists. A whole segment in the film gave props to Kool Herc and other DJs in uniting the community and using Hip Hop, though the term probably did not exist at that time, as an outlet instead of gang banging. The new battle cries would be in the form of b-boy'ing, graffiti, EMCing, and DJ'ing. These competitions against each others crew with dancing, rapping, DJ'ing and tagging art in public spaces would prove to be more productive as it formed a new culture! Grandmaster Caz,Flash,AJ amongst others were mentioned. DJ Red Alert and Jazzy Jay had a few talk back moments in the film as well.
Folks, if you get the chance, please see RUBBLE KINGS! It's an eye opener and just part of the history of New York City! Appreciate! Rubble King's screens today at DOC NYC at 5:20pm at the IFC Center on 6th ave.
As a note, another film which documents street gangs in the south bronx during the 1970s that is worth seing is 80 Blocks from Tiffany's. Rubble Kings and 80 Blocks from Tiffany's really brings the subject matter to context.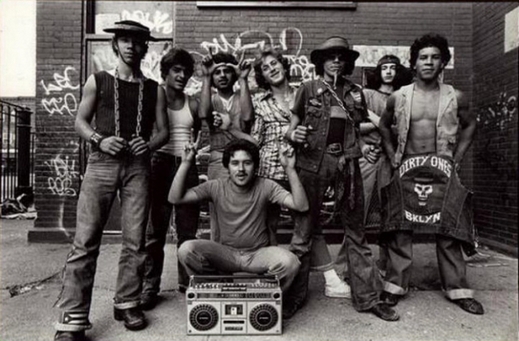 Tags: doc nyc, documentary, new york gangs, rubble kings
Posted in movies, mr. c | Comments (0)
November 16th, 2014 by Mr. C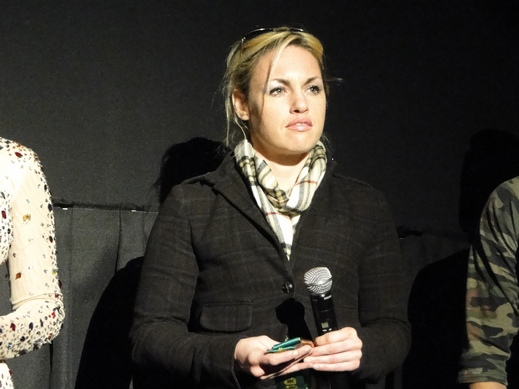 (Pro Boxer – Heather "The Heat" Hardy at DOC NYC – Bow Tie Cinemas in Chelsea)
————————————————————————————————————-
Director: Natasha Verma
Film subject: Boxer – Heather 'The Heat' Hardy
Documentary
—————————————————————————————–
Hardy was a documentary film that debuted at DOC NYC which screened at Bow Tie's Chelsea Cinemas. I limited myself to seeing 3 films at the Festival this year due to time constraints and monetary reasons. Suffice to say I picked 3 topics/subjects that I enjoy very much. The first film was on street art – Banksy Does New York. The 2nd film was on punk music – Salad Days: The birth of punk in the Nation's Capital, and last but not least a film on boxing – Hardy!
(L-Director/Natasha Verma,R-Heather Hardy at DOC NYC)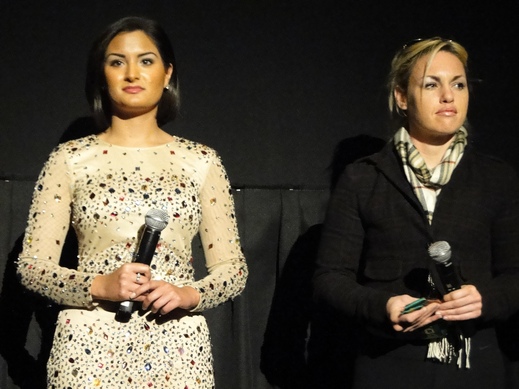 Hardy was a documentary that told the story of female boxer – Heather Hardy – born & bred in blue collar full of city of new york workers (sanitation,NYPD,FDNY) Gerritsen Beach, Brooklyn not very far from Coney Island,Brighton Beach, & the Manhattan Beach areas. Born to a 3rd generation Irish american family all raised on Gerritsen Beach, Hardy had a funny line in the movie when she said that she could spit anywhere on Gerritsen Beach and she would hit 3 of her cousins before the spit would hit the ground! The film started out with Heather jogging across the Brooklyn Bridge into the arms of the world famous Gleason's Gym in the DUMBO section of Brooklyn. Her first boxing trainer at Gleason's was WBO woman's champion Alicia Ashley until Alicia's trainer – her brother Devon Cormack took the reigns of Hardy's hardships in/out of the ring. You can see Hardy's passion, dedication, & drive in her eyes with boxing. Something just clicked in Heather when she had her first amateur bout which made her want to make this a fulltime profession. Maybe it was the intense competition between two people in the ring – part of it was the independence – some of it was the energy of the crowd, and a lot of it was the feeling she felt when she was able to slowly chop her opponent down between the ropes. She had big dreams of being the female version of Mike Tyson. Um, that's a pretty bold statement! Let's crawl before we shadowbox!
Director Natasha Verma shadowed Heather with her training, boxing career, and personal life during the filming. We soon found out that though the main draw of the doc was about a female boxer, the underlying story was really about a woman trying to find herself, find her soul. She had a tough life growing up and has had a traumatic experience in her adolescence that she still struggles with to this day. Hardy wanted more than to be just a housewife or house mom taking care of her child. She noted that there's nothing wrong with staying at home but it was obvious that she had bigger dreams for herself. After she separated from her husband – the drive in finding this something else would explode in her!
I really liked the character, the story, and the vibe of the subject matter at hand. Besides the boxing which I adore very much – it was the interactions that Heather had with her family, her daughter, sister, and trainer (turned boyfriend) that opened up her heart and vulnerabilities fpr everyone to see, not to mention the stress & struggles of a woman trying to get booked for a fight in a male dominated arena. The documentary reveals that many if not all boxing promoters require all boxers (maybe just the woman?) to sell a certain amount of tickets for that particular boxing event which you can imagine would influence the decision of that said promoter to put that fighter in the undercard or not. That sounds pretty darn crooked if you ask me! I guess I shouldn't be surprised with the cut throat boxing business. I found the dynamics of the relationship between Heather Hardy and her trainer to have so many layers of potential troubled waters that it made me fascinated. I mean dating your mentor/trainer who was so much older than yourself – adoring and falling in love with this person but also finding yourself being disciplined by the same man – it just sounds so damn hard to do. It really comes down to being able to separate the business from the personal and THIS business – professional boxing is not just any old storefront. So yeah, the relationship between student and trainer and in the big picture – the big boss fight promoter in this case Lou Dibella Entertainment really drew me into the film. The main objective for Heather was to get signed to a full time contract with Dibella as she goes through a few undercard fights with him to see how she does. Did I also mention that Hurricane Sandy on October 29th, 2012 would turn Gerritsen beach into one big recovery effort like many shore towns up and down New York & New Jersey.
(Boxing promoter – Lou Dibella)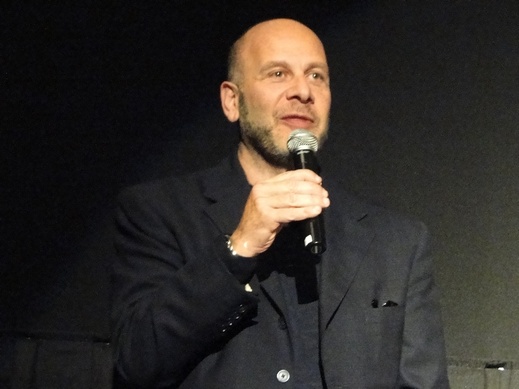 After the screening Lou Dibella, Natasha Verma (director), and Heather Hardy were in attendance for a brief Q/A! See below video of the Q/A that we took at the event!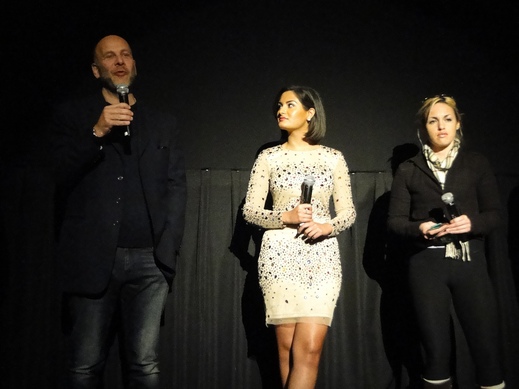 Heather's next fight is at BB King's Blues Club with Broadway Boxing/Lou Dibella Entertainment's undercard on December 3rd! See the movie to see how she made out with Dibella Entertainment! http://dbe1.com/popular-female-boxer-heather-hardy-subject-of-the-new-documentary-hardy-added-to-dibella-entertainments-next-broadway-boxing-event/
Do you want to take private/semi-private boxing or kickboxing classes with Heather Hardy? Go here for more info > http://www.heathertheheathardy.net/Schedule—Classes.html
Hardy the Documentary looks like it will be screening at the 2014 Shadow Box Film Festival in NYC coming in December – lookout for it!
After the film, Steve from Unseen Films and I crossed the street to grab lunch at Boston Market and Steve Farhood – famous boxing historian,analyst, and commentator on Showtime Boxing & ShoBox happened to be standing right behind us on the line. He was at the Hardy screening as well and said he really enjoyed the movie! We asked Farhood who were some of the competitive female boxers around nowadays, and he mentions a really good fighter from Germany that I can't remember for the life of me. We'll get back at him on social media to find out! He also was the one that reminded us of Heather's next fight at Broadway Boxing on December 3rd at BB King's. Maybe we'll see you at the fights!
Tags: 2014 doc nyc, doc nyc, documentary, heather hardy, sports documentary
Posted in movies, mr. c, photos, sports | Comments (0)
November 13th, 2014 by chocko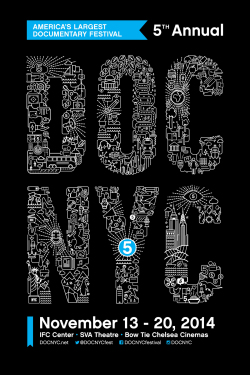 If you love documentaries and live in the NYC area, then you are in the right place at the right time! The 5th Annual DOC NYC (America's largest documentary festival) is in full effect starting November 13 to November 20. DOC NYC will feature over 150 film and events including panels, workshops and Q&A's with filmmakers and special guests. Get your tickets and head over to either IFC Center, SVA Theatre or Bow Tie Chelsea Cinemas. Get those eyeballs ready because there's plenty to see!
The following are some reviews or a couple words on some DOC NYC films we've seen in advance. The first three movie reviews in this post are by our special guest writer, Ariela from Vegan in the Big Apple. She went to see Banksy Does New York, A Small Section Of The World and Back On Board: Greg Louganis. Chocko reviewed Still Dreaming and Meet The Patels. Keep it locked for more updates and DOC NYC reviews.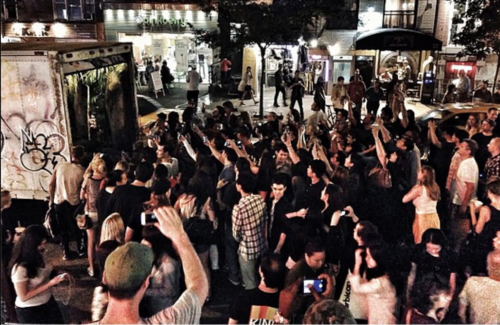 BANKSY DOES NEW YORK
DIR: Chris Moukarbel
"Banksy Does New York" is a documentary about Banksy's month long residency in New York City. The first thing we find out, is that Banksy has no affiliation to the documentary.
Banksy, a British street artist, posted a photo a day on his website, without announcing the location of the piece. The documentary travels day by day to the various art that Banksy created throughout the city, interviewing Banksy fans, art critics and gallery owners. Many fans considered it a 31 day scavenger hunt. The film often follows two dog walkers, who are also known as Banksy Hunters (anyone trying to find Banksy's art, is considered a Banksy Hunter), who try finding Banksy's work by clues on Instagram and Twitter. Often, hoping they will find it before it was removed or before someone graffitied over it. Much of, if not the majority of, the film, shows the public's reactions to his work, both via interviews and via Twitter "tweets".
An interesting part of the film, is that we also get to see some of the people who helped preserve Banksy's work, such as the two lovely gentleman who own Zabars on the Upper West Side, as well as seeing some of the people who had "stolen" Banksy's work, to which they say "it wasn't reported missing, so it wasn't stolen".
This is a fun, light film, which also includes some New York history of street art. From Banksy's point of view "the outside is where art should live, amongst us, where it can act as a public service, promote debate, voice concerns and forge identities. Don't we want to live in a world made of art, not just decorated by it?"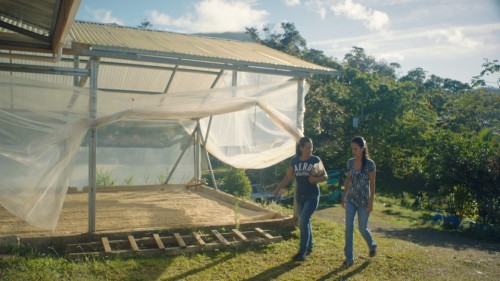 A SMALL SECTION OF THE WORLD
DIR: Lesley Chilcott
"A Small Section of the World" is a very inspiring and moving documentary. It shows how a group of women in Costa Rica form a coffee growing collective, called ASOMOBI(Association of Organized Women of Biolley- the M because in Spanish women is mujeres) They build a place to make coffee, without knowing anything about growing coffee or having a business. They sold it to several people who told them it was awful. They connect with a local exporter, also a woman, who appreciates what they are trying to do, and appreciates their dedication, and gives them advice on firstly, how to actually grow coffee! You will be surprised to learn where coffee beans actually come from! Few know, even those who are coffee addicts. Through the help of this woman, they eventually become an international coffee company.
This film shows that anyone is capable of doing anything if you don't give up. They have been there for 17 years, it took them a long time and obstacles to get started but they were committed and kept at it, and thrived in the end.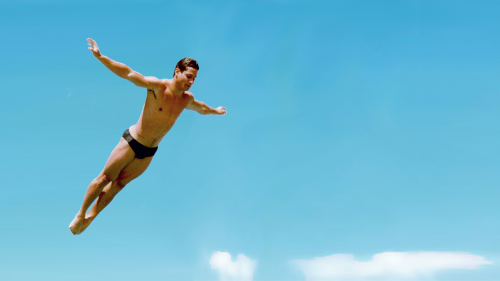 BACK ON BOARD: GREG LOUGANIS
DIR: Cheryl Furjanic
"Back on Board" is the story of 4-time- gold medal Olympian diver Greg Louganis. He's considered the greatest diver of all time with diving records yet to be beaten. He won his first gold medal at the age of 24. At the age of 26, he found out he was HIV positive and decided to still compete. While being a diver, he always felt that he didn't fit in, he didn't make friends, some having to do with jealousy, but much of that having to do with being gay. No one wanted to room with him. He later became one of the first openly gay men in sports,opening the world for other gay athletes. I was not familiar with Greg Louganis prior to watching this documentary. I noticed myself rooting for him throughout the movie. The documentary was inspiring and moving. The Nov 16 screening is sold out!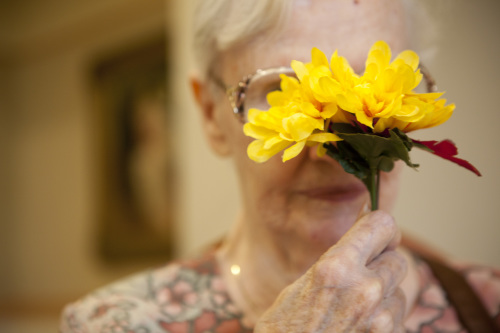 STILL DREAMING
DIR: Hank Rogerson and Jilann Spitzmiller
This film is about the elderly, retired performers who reside at the Lillian Booth Actors Home in Englewood, New Jersey (not too far from Manhattan!), an assisted living facility that cares for retired entertainers and their family members. Young professional Broadway directors are brought into the picture to help prepare the elderly entertainers as they take on the challenge of performing the Shakespearean play, A Midsummer Night's Dream.
I loved this documentary! Some of the characters that you will come across from the sweet old grandmas to the rebel-loner types, will have you cheering them on as they rise above the limitations that come with old age. I enjoyed the stories of the old folks recalling their early days in entertainment and watching the movie made me think that you could certainly learn a thing or twenty from the elderly. The movie is about second chances, respecting your fellow human beings, taking on challenges and realizing that life is short. I highly recommend this film.

MEET THE PATELS
DIR: Geeta V. Patel and Ravi V. Patel
This is a highly entertaining and funny documentary about Ravi Patel, a first-generation Indian-American who is looking for his perfect mate. Lighthearted animation sequences are scattered throughout the film which starts off with perhaps a homage to "When Harry Met Sally" where Indian couples recall how they met and talk about their happy marriages. Ravi, the subject of the film is fast approaching 30, recently breaks up with his secret white girlfriend of 2 years and due to his parents' wishes and pressures of his Indian culture, sets out on a quest to find the perfect Indian bride.
Ravi's adventures include blind dates all across the country and Canada, looking for brides in India and attending a Patel matrimonial convention. All of this is captured on camera by his sister, Geeta. The film is not only hilarious but it's also an eye-opening look at Indian culture and customs. Ravi is fun to watch as well as his persistent, matchmaking parents. This is a film I cannot wait to see again.
Follow @planetchocko on Twitter.
LIKE us on Facebook too.
Chocko (njchocko) and Mr. C (planetchocko) are on instagram. Check it out. Thanks!
Tags: A Small Section Of The World, ariela, Banksy Does New York, doc nyc, documentaries, documentary, film festival, Meet The Patels, movies, new york city, reviews, Still Dreaming
Posted in art, chocko, movies, travel | Comments (1)
November 12th, 2014 by Mr. C
(Jimmy Wong Yu pays respects to the audience as we give him an ovation!)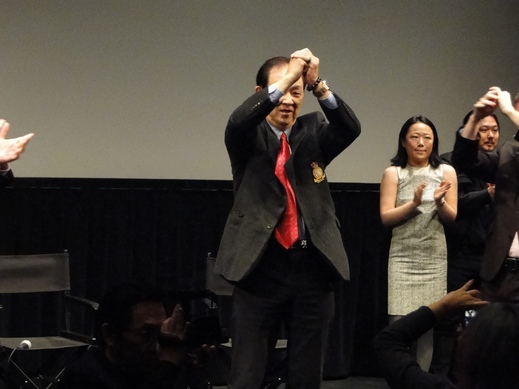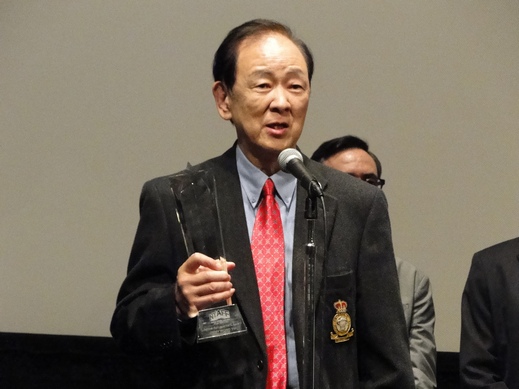 Last night we had the privilege of attending "An evening with Jimmy Wong Yu" held at the Walter Reade Theater on 65th Street which included a screening of The Master of the Flying Guillotine and a Q&A with the man himself after the movie. The event was basically a continuation on a failed punt return from last summer at The New York Asian Film Festival because of Wong Yu's visa issues. AND I can say this punt return was a total success leading to an unmolested touchdown! The Lifetime Achievement Award was handed over successfully to the guest of honor – thank you! Thanks to the folks at Subway Cinema for being persistent and being radical as always! We weren't able to make it to the reception but Chocko did manage to elbow check and rope a doped a few nerds to get ahead of the line at the end of the reception to get his Master of the Flying Guillotine DVD signed!
It was fun to revisit the film as it was many many years since I've seen it and it was in the english scrub a dub dub phase! I honestly had forgotten that it was directed by our guest of honor. With the balls to the wall fight choreography by the late great Lau Kar Leung and the manhua/manga style presentation of the characters, this was destined to be a midnight, grindhouse movie gem! I appreciated the original language mandarin version in 35mm format for the screening. The print itself was bluish hued and faded but you know what – like they always say, we love the imperfections, sounds, and character that film films create. The upbeat guitar and electro music soundtrack was pretty off the wall too! We caught Fab 5 Freddy in the audience nodding to the beat! We wanted to ask FAB if he had seen Master of the Flying Guillotine at one of the Grindhouse Theaters in Times Square back in the days, but FAB did the Yo! MTV Raps shuffle pretty darn quick after the Q/A!
(Gavin Smith from Lincoln Center introduces the Subway Team)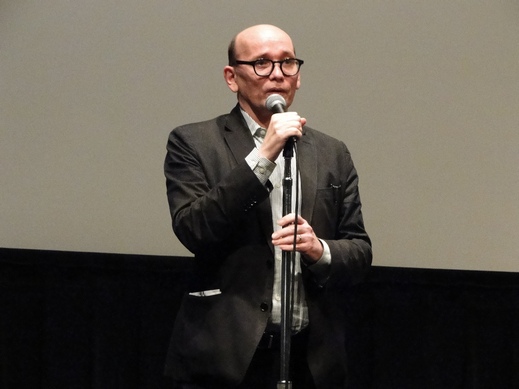 (Team Subway Cinema – Grady Hendrix starts to cook the Wang Yu entrance to the audience!)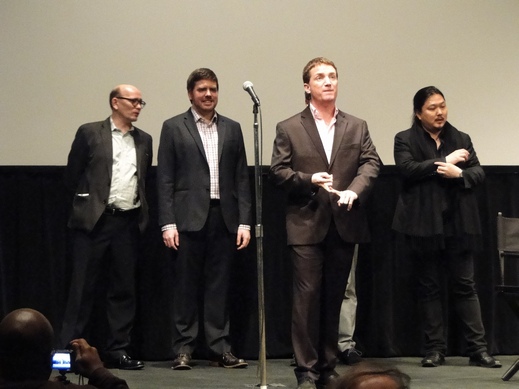 (The one armed bandit picks the winners of the Shout!Factory Jimmy Wang Yu box set!)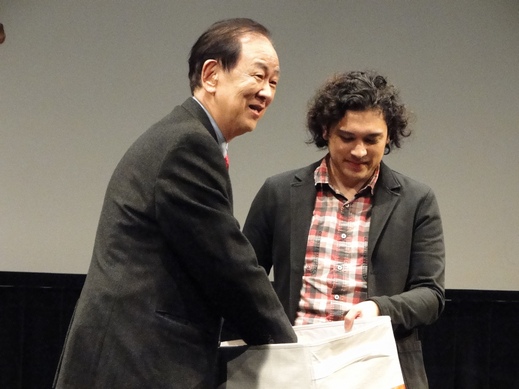 (Grady Shouts! out the names of the winners! It's not me!)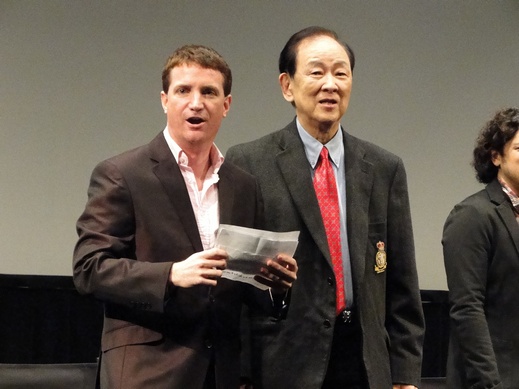 As much as how the film rocked with the crazy kung fu tournament and the blind monk assassin looking for revenge with his flying guillotine contraption, the Q&A session moderated by Grady Hendrix was even more fun! Grady danced and pranced and tried to lure in Wang Yu with questions regarding the Shaw Brothers, triads, the infamous Jackie Chan contract, and the Oliver Reed incident! And oh yeah, Wang Yu even performed a floating ring slight of hand trick to boot. Wait, I didn't mention that he reminded us that he can still jog at 71 years young even after his stroke in 2011! It was just a privilege to be able to see the man we've grown up watching in the wuxia and old school kung fu movies – totally come to life in person with his outrageous and no holds barred personality! Check out some of our videos below of the Q/A from that night. Enjoy!
Posted in movies, mr. c, photos | Comments (0)
October 30th, 2014 by Mr. C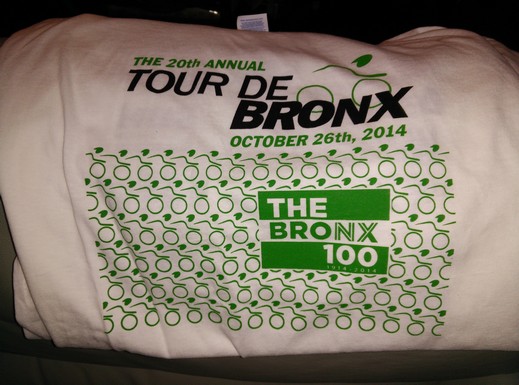 (My ride parked outside of the Banana Deli on 161st Street)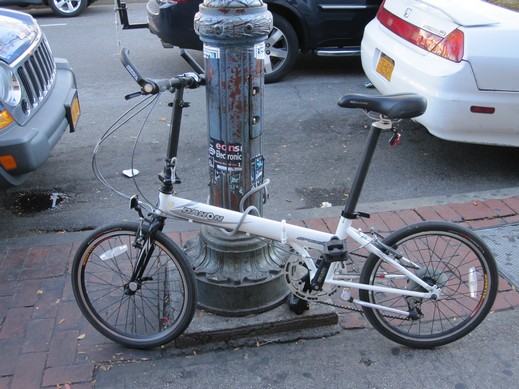 On Sunday October 26th, I biked the 25 mile leg of the Tour De Bronx! It's one of my favorite bike rides if not most favorite of the year eclipsing the NYC 5 borough bike ride, Tour de Brooklyn, & Tour de Queens. Not only is the ride free but the vibe and flow of the tour is just plain better than the rest. The rules are not strict as well. It's recommended that folks wear helmets but I've seen plenty of the young & not so young, dumb, & the cool – ride in the tour without much regards for their noggin' but hey that's their decision. The streets in the Bx were not closed to traffic but were manned by NYPD for the most part to let the riders flow through! The sun was out and the temperature was a nippy 60 at best with a decent amount of wind to keep things interesting at times. This year I decided to park my car a little bit closer to the Botanical Garden which is where the finish line was at. I left the 4 wheel cager in the Belmont section of the Bronx on Arthur Avenue right in front of the Madonia Bakery a few doors down from the famous Arthur Ave retail market. I loaded up with some freshly baked scones at the Madonia. These tasty morsels served as fuel during my rest stops! I unloaded my foldup bicycle and headed towards Yankee Stadium. 1st stop – the Banana deli on 161st Street! The Banana deli used to serve as a religious pre-stop for the Planet Chocko crew before going to Yankee games. Today, I go for the breakfast of champions – 2 eggs over easy on a roll with sausage! Next, I waddled over to the Bronx County Building, checked-in for the ride, & anxiously waited for that horn to blow at 10.40am! Bronx Borough President Ruben Diaz greeted the 6000+ cyclists and off we went!
(Check-in at the Bronx County Building)

The bike ride itself was great fun! I was pretty impressed with my Dahon folding bicycle and the way she handled the urban terrain! I had the bike since 2001 mainly riding in NJ parks and paved paths. This is the first time that I've taken it out of its domain besides a few manhanttan runs. As for the tour, there were a few bottlenecks and choke points mainly at entrances into the greenways but in no time the bottleneck turned into a KRS – BDP posse freestyle in da Bronx! We were definitely boom-bapin' through beautiful urban landscapes, zagging through crotona park, styling and profiling through the greenway paths along the Bronx River Parkway, paid respects while touring St. Raymond's Cemetary, and stepped into a World of Bx neighborhoods along the waterfront! We were offered bagels with cream cheese, water, energy bars, & juice throughout the 3 rest stops. At the final resting point at the Botanical Gardens we were greeted with pizza and a free t-shirt for those participating in the ride! Right on! I love this ride! Can't wait to do it all again next year. Maybe we'll try the 40 mile trek next year!
(Parked in front of the Madonia Bakery – great bread there!)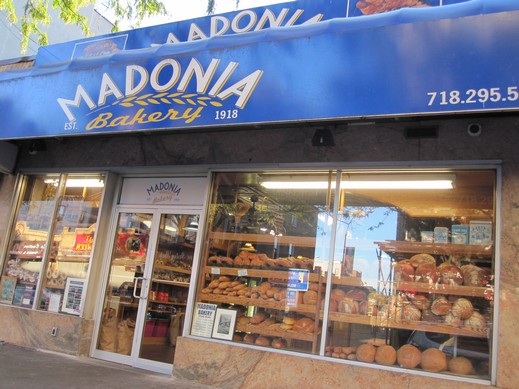 (Passed the Kool Herc mural on the Grand Concourse enroute to the Yankee Stadium area)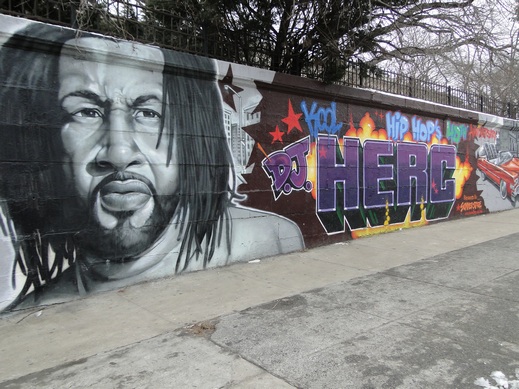 (The Banana Deli on 161st St. Had to grease up before the ride)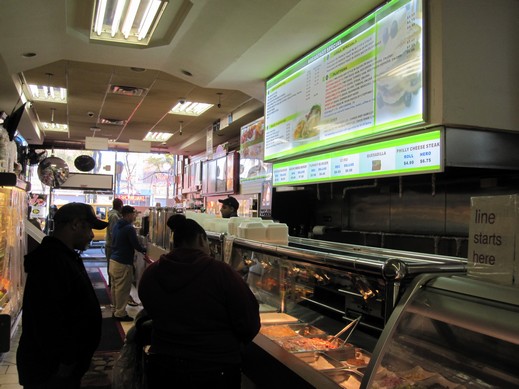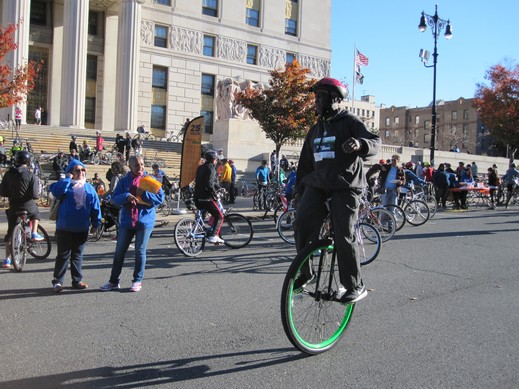 (1st stop of the day – Get those bagels on! – Crotona Park!)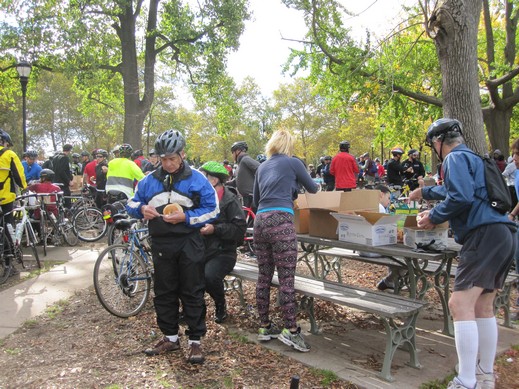 (YMCA rest stop overlooking the Whitestone Bridge)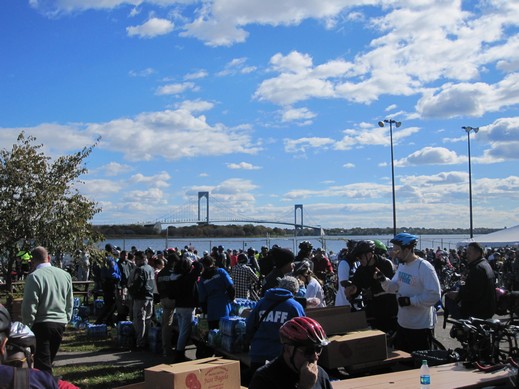 (My bike staring at the Whitestone Bridge!)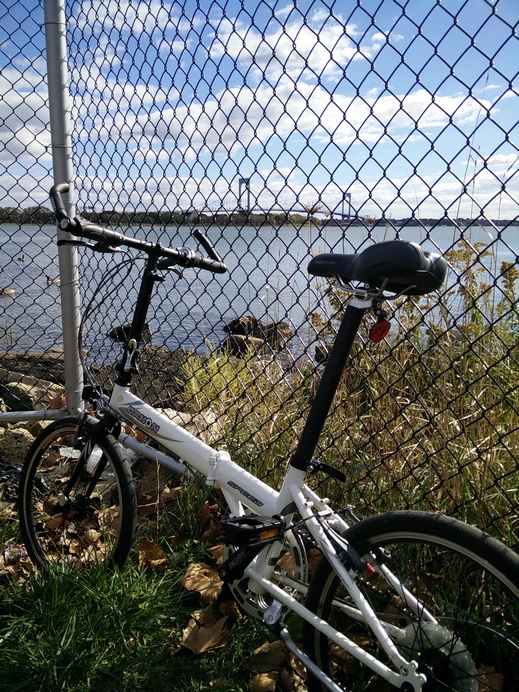 (The Hulk bicycle stretching its muscle at St. Raymond's cemetary)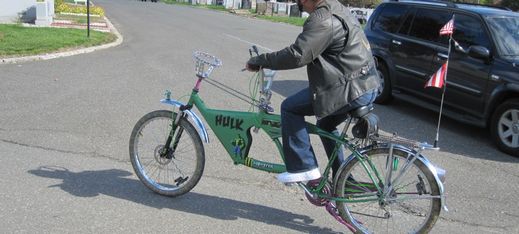 />
(Mike's Deli inside the Arthur Ave market)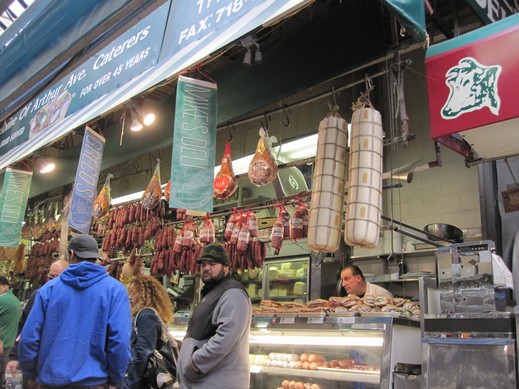 (Treated myself to a Big Mike Sub!)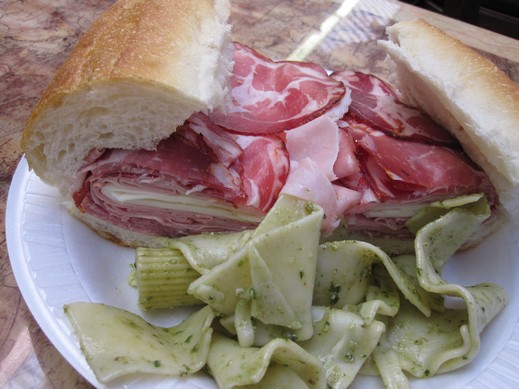 Posted in community, mr. c, photos, sports | Comments (0)
October 12th, 2014 by Mr. C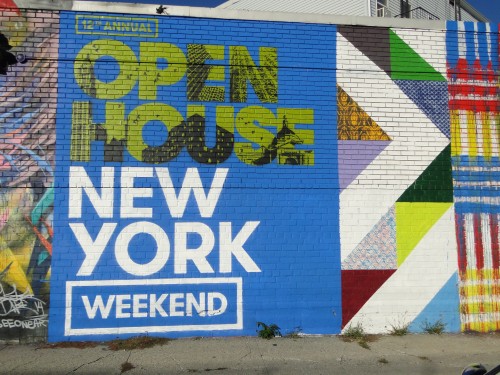 Though it was part of the Open House New York offerings this past weekend – a great weekend when all 5 boroughs of NYC opens up its doors to many of its establishments,events,landmarks, and businesses in order to celebrate the city – The Welling Court Mural Project in Astoria, Queens has opened up it's "outdoors" for 5 years strong now – providing beautiful artwork on display on its concrete walls 24 hours a day, 7 days a week! The Welling Court Mural Project is a collection of local and international street artists whose sole mission is to unify,celebrate,beautify, and provide hope to their community. The network of all star aerosol artists mashes up a mix of old school legendary artists with up and coming young guns as well as a blend of talented writers from abroad. I honestly didn't find out about this Astoria Queens collective until a few months ago, mostly being overshadowed by the late great & defunct 5 Pointz and the similiar street art community in Brooklyn – The Bushwick Collective.
Earlier today, we strolled through the Welling Court Mural surroundings and was astonished at how creative and gorgeous some of the pieces on the wall and metal shutters were! Familiar artists like Cern,Too Fly,Lady Pink,Fumero,Mr Prvrt to just name a few, really adorned the neighborhood with pieces of eye candy on the concrete slabs to celebrate street culture at its finest! Below are a few photos we took from Welling Court and the surrounding neighborhood in Astoria. Enjoy! Also, if you end up stopping by to check out the murals in person, a really good cafe in the area to hang out and just ponder over with the out of sight graffiti that you just witnessed is the Astor Bake Shop on Astoria Boulevard. Really good coffee and delightful pastries! I loved the almond croissant!
Astor Bake Shop
12-23 Astoria Blvd, Astoria – Queens
—————————————————————————————————————
(Cey Adams – from Def Jam – OG in the creative designs)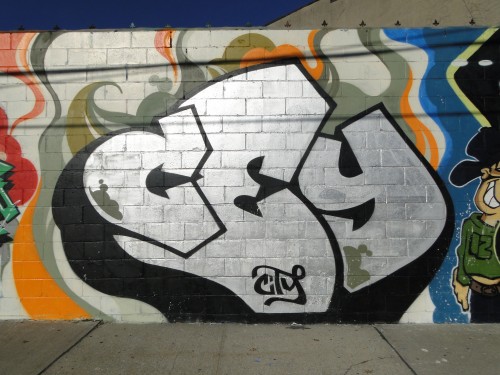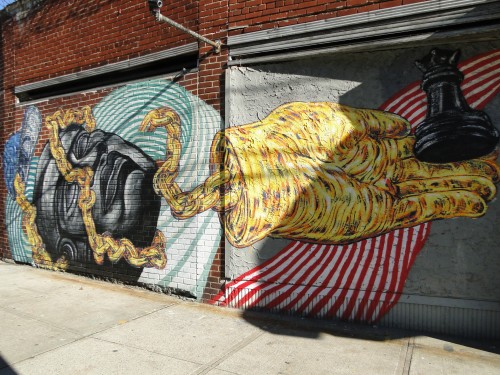 (Left-Danielle Mastrion & Lexi Bella;Right-Pyramid Oracle)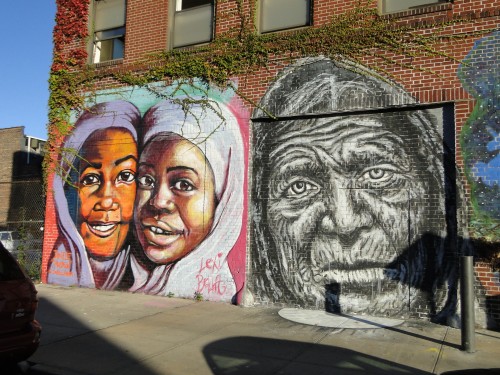 Posted in art, community, mr. c, photos | Comments (0)
September 28th, 2014 by Mr. C
Lately, I've been looking for more & more excuses to stay on the Jersey side of the hudson river due to time contraints and in general just trying to take advantage of some events we easily dismiss in the Garden State. Yesterday 9/27 Saturday gave me a good opportunity to not exercise my old EZPASS toll thingama-jingy' because of a local street fair headlined by the live tunes of funk/R&B/Soul by way of the Average White Band! Average they are NOT! At first the band's name didn't ring a bell but as I listen to some of their old hits from the 70s, I was like oh crap! Everyone has got to have heard "Pick up the pieces" at one point in their life as well as "Cut the Cake". Quite a few hip hop/rap groups have also sampled a tune or two from the Average White Band arsenal! My jaw dropped when I heard "Schoolboy Crush". Pretty impressive!
(Alex Gorrie – bass/vocals original member of AWB)

(Brent Carter – brought the vocals!)

It sounds like AWB has gone through a few reincarnations and iterations of band members. The bass player/vocals – Alan Gorrie is the only common denominator from the original crew to the present. All original band members or not, the Average White Band that I saw at the Hackensack Street Fair sounded pretty damn good! The band melded together and in sync like they have been playing together for years. Guitarist David Spinnoza who has worked with the Beatles, James Taylor, Paul Simon, & others was a hired gun for the tour. The vocals from Brent Carter was amazing especially when he reached deep for that falsetto! Some of my favorite performances from their set at the street fair included Marvin Gaye's – I want you, Pick up the Pieces, Oh Maceo, & The Isley Brothers' – Work to do. Original band member Alan Gorrie gave a shoutout to The Isley Brothers and their own record label T-Neck (Teaneck) records which is a neighboring town by Hackensack. I've included the setlist below and some videos of their performance. Enjoy!
I had a good time strolling through the street fair as local vendors from the town opened up shop on the sidewalk. Food was the only thing on my mind and latin food was well represented in the fair as well as a few asian choices. Wondee's, an authentic Thai restaurant on the block for years had a small stall for their excellent drinks like their delightful Thai Iced Tea. Morton's Steak house had a setup going offering gourmet sliders.
Another fun performance from the day included the African drum and dance routine. Have a look see at some of the African percussions and soulful dancing! Visit the Center for Modern Dance Education at 84 Euclid Avenue Hackensack,NJ 07601.
(Audience participation – learning African dance)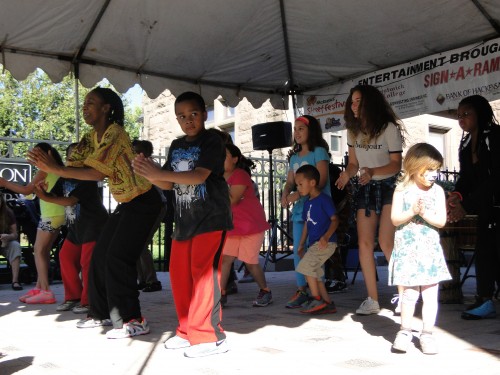 New Jersey senator and former mayor of Newark was also roaming around the premises to meet and greet people as well as endorse Hackensack resident Roy Cho in running for Congress.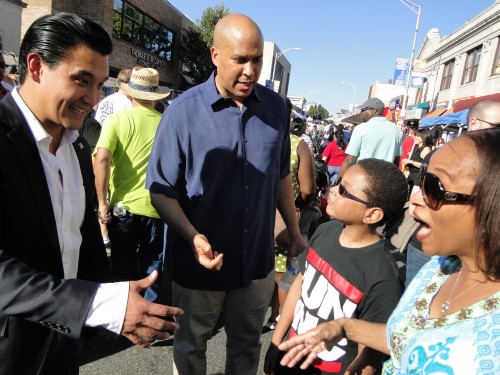 Hackensack residents unite! Johnson Public library on main street needs your help! Please head into the libary and sign the petition to help save the library from getting drastic budget cuts. The Johnson Public Library had a $2 fill a bag with books specials.
Average White Band Setlist
Got the love
Whatcha gonna do for me
I just can't give you up
I want you (Marvin Gaye)
If I ever lose this heaven
Oh Maceo (Maceo Parker)
Work to do (Isley Brothers)
Cut the Cake
A Love of your own
Put it where you want it
Schoolboy Crush
Person to Person
Pick up the pieces
Posted in community, mr. c, music, photos | Comments (0)
September 23rd, 2014 by chocko
The Ramones

The CBGB Music And Film Festival 2014 will take place in New York City from October 8 through 12. I went last year and checked out a few events during my limited schedule at the time. Blank Generation was being screened at Anthology Film Archives with director Ivan Kral in the house. The black and white, diy movie featured Ivan's home movies which followed the early punk scene in New York City. Bands such as The Ramones, Talking Heads and Blondie are featured on and off stage while old band demos and rare recordings provide the audio backdrop to the whole documentary. It is an interesting slice of history but don't expect a narrative or any mind blowing commentary. Definitely check it out for the old school NYC bands, clubs and music from an era long gone. The black and white photos above and below were stills taken from the movie screen. The photos feature some important bands that originally played at CBGB and blazed a trail for all bands to later follow. The Ramones are in the photo above. Below are The Heartbreakers featuring from left to right: Johnny Thunders, Richard Hell and Walter Lure. Also pictured below are David Byrne of Talking Heads and Deborah Harry of Blondie.
The Heartbreakers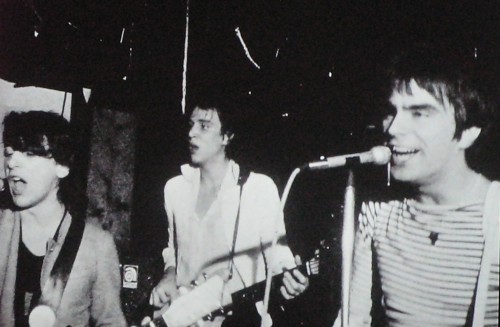 David Byrne of Talking Heads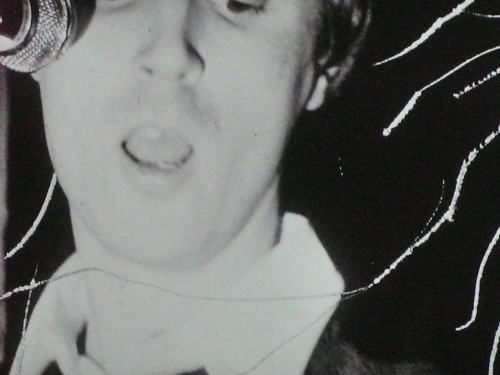 Deborah Harry of Blondie

Pink Slips at Pianos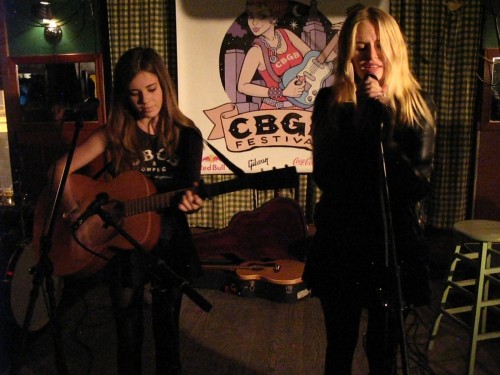 I checked out the debut of the band, Pink Slips at Pianos in the Lower East Side. The band features Jamie Brooks and Duff McKagan's (GUNS N' ROSES) 16-year-old daughter Grace McKagan. They performed acoustic covers from some of their favorite musicians such as Amy Winehouse, First Aid Kit and Death Cab For Cutie. They ended their set with a Grimes cover of "Oblivion" with Duff joining in on guitar. Check out the video of that song below. Nowadays the band features Grace with a more aggressive attitude and punk vocals (I think somebody got inspired at CBGB Fest!) and a bunch of dudes backing her up. Come back to NYC!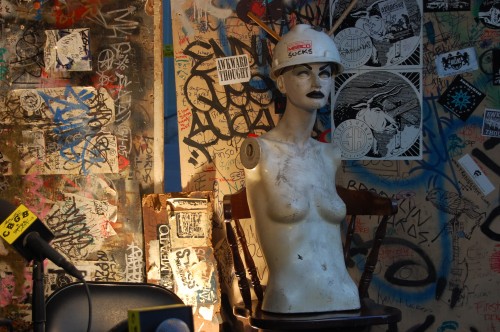 This highlight of the festival was the free Times Square event which featured two stages of music. Vendors such as downtown record store Other Music and food trucks lined the street and tourists and music fans rubbed elbows as bands such as My Morning Jacket and Grizzly Bear rocked out. James Murphy (LCD Soundsystem) spun some tunes during his DJ set that got the booties gyrating. Pictured above are some of the actual walls of the sacred landmark that was CBGB. Check out the untouched graffiti scrawlings and flyers! Times Square was the place to be…artists also collaborated to create murals and skateboarders did their thing on a half pipe built for the special occasion. More photos below!
#EnMasseProject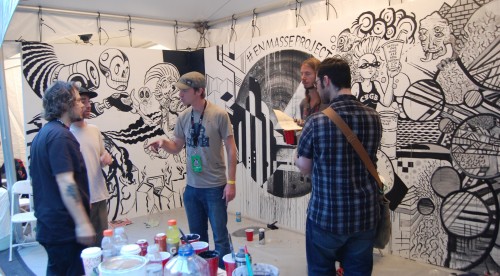 skate or die!


James Murphy on the turntables


tourists and music fans on the Red Stairs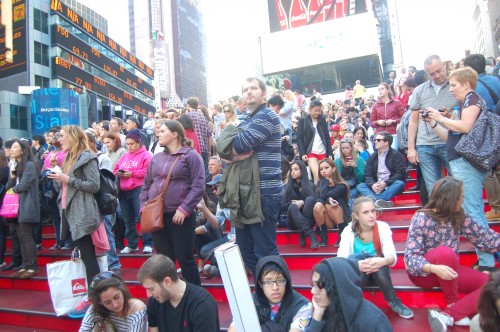 Grizzly Bear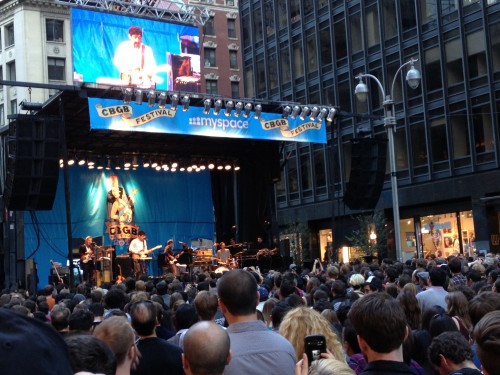 Get psyched for the CBGB Music & Film Festival in October. See ya there!
Follow @planetchocko on Twitter.
LIKE us on Facebook too.
Chocko (njchocko) is on instagram. Check it out. Thanks!
Tags: art, blank generation, cbgb, cbgb music festival, film, indie rock, manhattan, movie, music, music festival, new york city, nyc, pink slips, punk rock, ramones
Posted in art, chocko, movies, music, photos | Comments (0)
September 21st, 2014 by Mr. C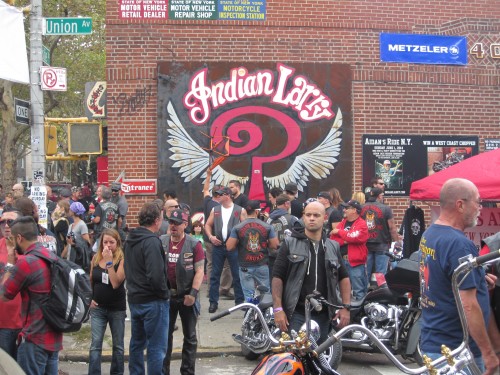 Indian Larry's Legacy Shop 400 Union Ave South Williamsburg, Brooklyn NYC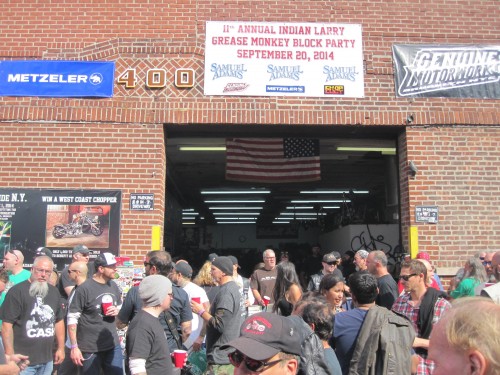 Indian Larry was a legendary motorcycle builder influenced by 1950s & 1960s style choppers, hot rods, & hot rod art & its sub culture. Some aesthetics of his old school choppers included small gas tanks, no front fenders or front brakes, ape hanger handlebars, suicide clutches, modern tech in engine mechanics, & what initially sucked me into Indian Larry's bikes was his sick – signature TWISTED downtube motorcycle frame that he designed and built. Yes, twisted metal for the downtube on the frame! If you look at Ed Roth's Rat Fink art, you can clearly see Indian Larry's monster hot rod choppers come to life.
Indian Larry built motorcycles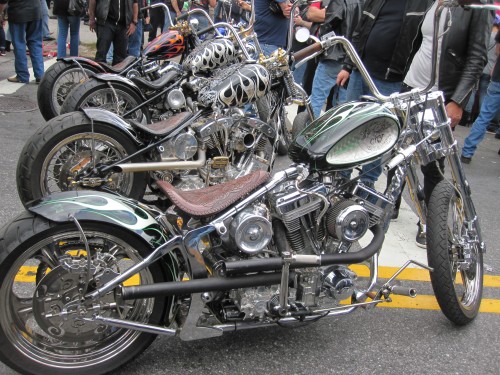 Indian Larry lived life fast, hard, & furious and unfortunately he was taken away from us too soon in 2004 while performing a stunt on his motorcycle. The Indian Larry legacy lives on with his compatriots at Indian Larry's Legacy motorcycle shop in Brooklyn. Fast forward 10 years later and today Sept 20th – Saturday, we still celebrate & appreciate Larry for his passion with the motorcycle culture. 9/20/14 marked the 11th Annual Indian Larry grease monkey block party! Hot dogs or hamburgers for $5 with a drink, Donuts from Brooklyn's own Dough, live music by Sea Monster, Wrench, Judas Priestess, Scrapers, & Big House Pete and of course a bike show competition. Face painting for the kids and plenty of vendors for your motorcycle accessory needs! I couldn't stay for the whole event but I did soak in the beautiful custom motorcycles on hand and the familiar sounds of Sea Monster! And yes that donut from Dough Brooklyn was deelish!
David Peel & Arthur (lead vocalist Sea Monster)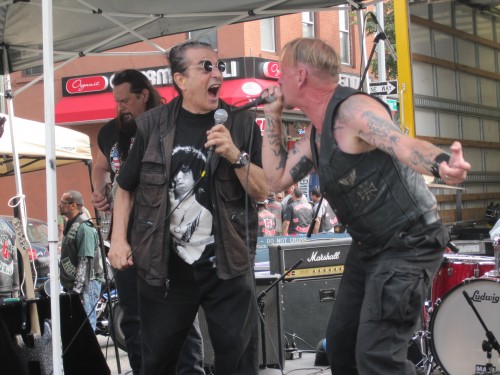 Sea Monster performs!



WRENCH performs!


(Best Vintage & Best overall)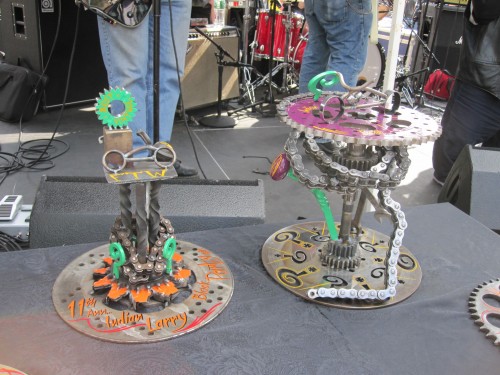 Tags: indian larry, motorcycles
Posted in art, mr. c, music, photos | Comments (2)