July 4th, 2015 by chocko
Here are some photos from the interior of Demolition Exhibition located at the former Pep Boys at 410 Marin Blvd, Jersey City, NJ 07302. 100 Artists/30,000 Square Feet of Graffiti inside and outside of a huge building. You gotta see it to believe it…last chance to dance is July 4 open to the public from 12:00 PM – 8:00 PM. Come check out the latest Green Villain production before the wrecking ball comes through.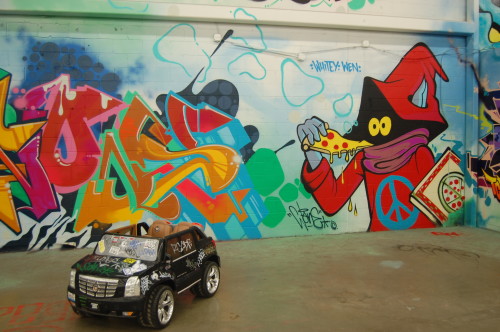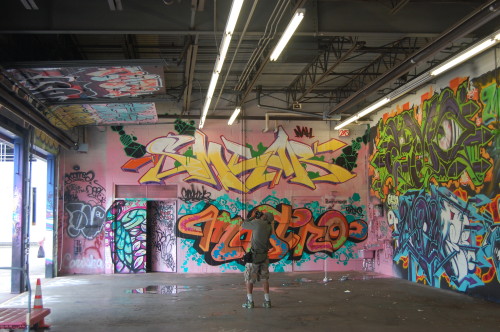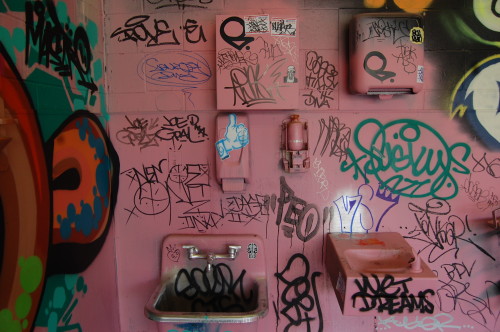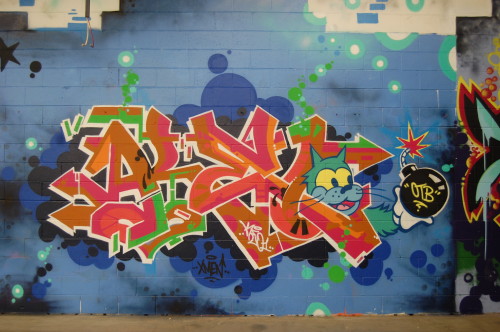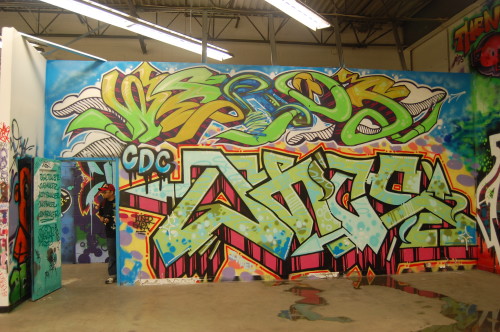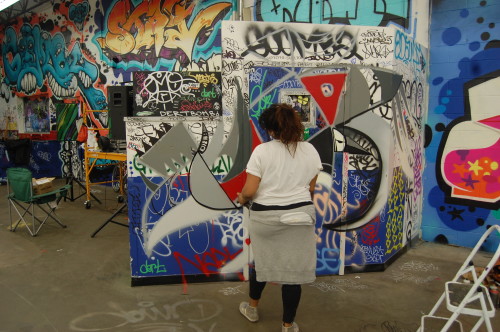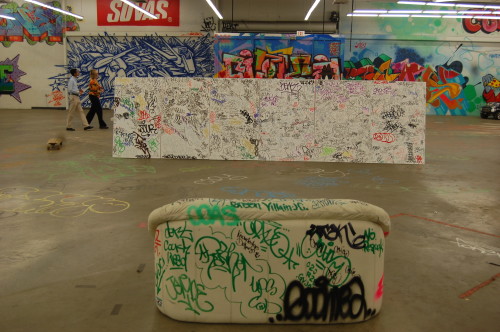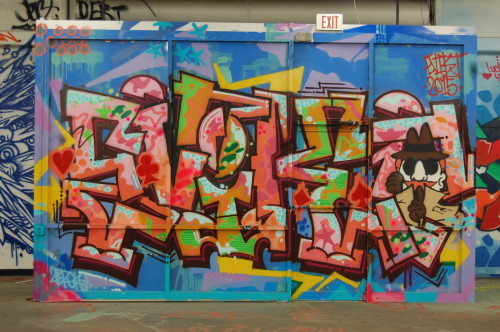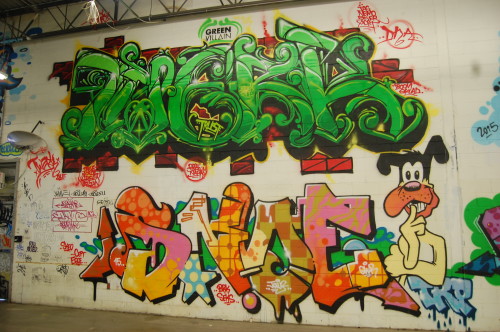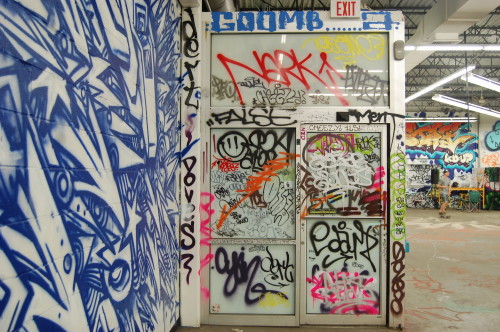 Check out Chocko (njchocko) and Mr. C (planetchocko) on instagram.
Follow @planetchocko on Twitter. LIKE us on Facebook too. Thanks!
Tags: Demolition Exhibition, graffiti, Green Villain, GVM004, jersey city, new jersey, street art
Posted in art, chocko, photos | Comments (0)
July 1st, 2015 by chocko
Here's a little change of pace for a movie that screened opening weekend at The New York Asian Film Festival 2015. No swordplay, ninjas, or gangsters shooting it out in this movie…just a love story, plain and simple. It's Already Tomorrow In Hong Kong is a movie about two strangers, Josh (Bryan Greenberg) and Ruby (Jamie Chung), who meet in a foreign city which happens to be Hong Kong. Josh happens to be on a smoke break outside of a party where he meets Ruby fumbling with her phone, in need of directions. Josh offers Ruby some help and they walk and talk through the crowded neon-lit streets, drink at cool local bars and the sparks fly. Josh and Ruby split up and after a chance meetup a year later, pick up where they left off and continue wandering the streets, having conversations about relationships, Seinfeld and facebook.
The streets of Hong Kong are shot beautifully and many unsual characters are met along the way as Josh and Ruby try to get to know each other. One particular scene features a fortune teller played by a popular comedic actor from Hong Kong, Richard Ng. Props to Director, Emily Ting on her homage to Richard Linklater's Before Sunrise but Josh and Ruby meandering through HK are no match to the epic walk and talks of Linklater's Jesse and Celine. Not a bad movie, I didn't doze off and would definitely recommend it to fans of romantic comedies.
Director Emily Ting and stars of the movie, Jamie Chung and Bryan Greenberg were present at the screening and stuck around for a Q&A moderated by Samuel Jamier (Co-Director of Subway Cinema). Check out a video of the Q&A below along with some photos. NYAFF 2015 continues through July 11 at Film Society of Lincoln Center and School Of Visual Arts Beatrice And Silas Theatres in New York City. Be there!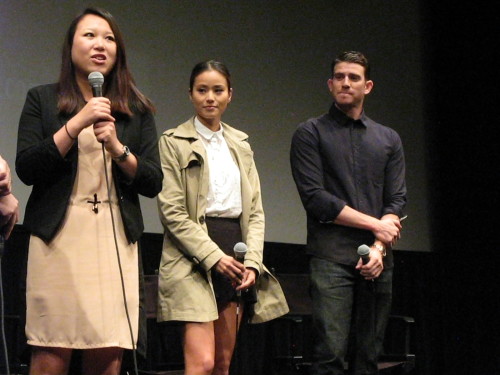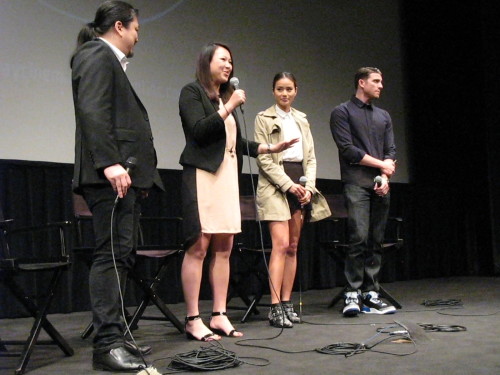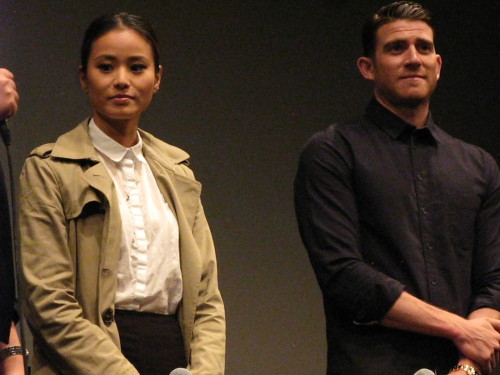 Tags: Bryan Greenberg, Emily Ting, It's Already Tomorrow In Hong Kong, Jamie Chung, new york asian film festival, NYAFF 2015
Posted in chocko, movies, photos | Comments (0)
June 29th, 2015 by Mr. C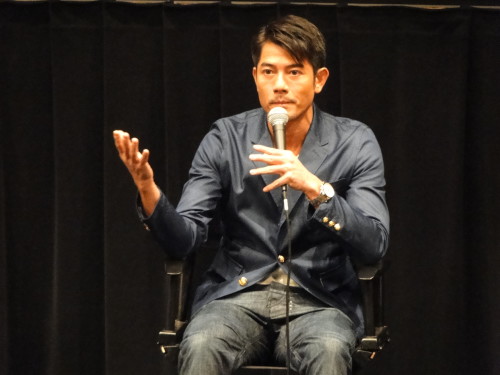 (Heartthrob Aaron Kwok after the Port of Call screening at NYAFF2015)
My first foray into the New York Asian Film Festival 2015 was based on a true murder mystery of a 16 year old sex worker.
Port of Call is a story of the murder of a young woman from mainland China who struggles to find herself and her identity. She is not content with the living conditions with her mom and sister in a low income housing project in Hong Kong as the prospects of her wanting more and seeking more will get her skin deep in trouble. This film was a real slow burner and creeper throughout which made me feel uncomfortable at times but I liked what the film was doing to me emotionally and visually. Port of Call really painted a picture of a dark & grim and mostly hopeless Hong Kong as well as offering that slight stroke of hope shining the good of a few individuals trying to make a difference as with the character that Aaron Kwok was playing. The usual heartthrob inducing Kwok played a seasoned but dilapidated detective on the hunt for the truth of the senseless murder of the 16 year old. Loneliness was the common denominator that the movie kept on driving home to the viewers. The cinematographer Christopher Doyle did a great job in working with camera angles and filming behind inanimate objects like a curtain or the shower that layered through to the subject that just made the mood of the scene very secretive and eerie. There were a few graphic blood soaked scenes as well as some sexual content but for the most part, I considered this a quiet film with a lot of drama in unraveling the story and psyche of a troubled individual similiar to peeling an onion only to find multiple layers of bitter tears. The ambient soundtrack added to the transient mood of the film. Aaron Kwok churned in a great performance playing a grey haired & burnt out quirky detective obsessed with solving his crime cases which lead to the downfall of his own relationship with his family. Dare I say the film was a bit charming in ways such as with the scenes involving the grizzled detective and his ex-wife and kid but was mostly over-shadowed by the dark side of Kowloon!
New York Asian Film Festival runs through July 11th. Go get yours!
(Grady Hendrix & Aaron Kwok at the Q/A session)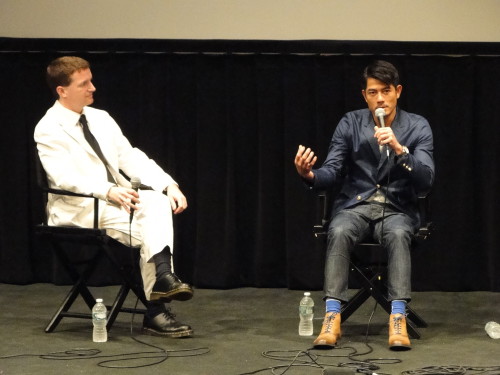 Posted in movies, mr. c, photos | Comments (0)
June 24th, 2015 by chocko
G.B.H. at Gramercy Theatre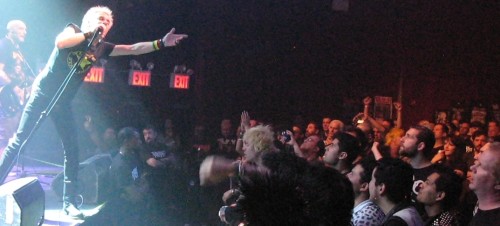 Total Chaos at Gramercy Theatre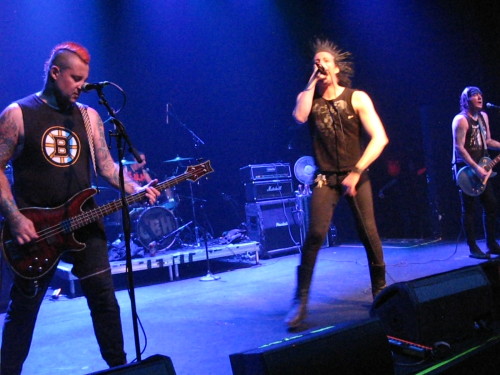 UK street punk vets, GBH stopped by Gramercy Theatre in NYC which marked their 35th show and 5th country on their most recent tour. Fellow punk rockers from California, Total Chaos opened up the show which featured lots of new tunes from their new album, World Of Insanity. A good amount of the songs on the album seem to come from a point in lead singer, Rob Chaos' life living in Berlin and getting ratted out for something. He mentioned it briefly on stage, not going into detail but then busting out songs like "Sold Me Out" and "Police Rat." I tried recording some songs but the Security force at the venue shut me down. The sedated NYC crowd stood around posing for most of the Total Chaos set but by the last song, people started moving and grooving in the pit.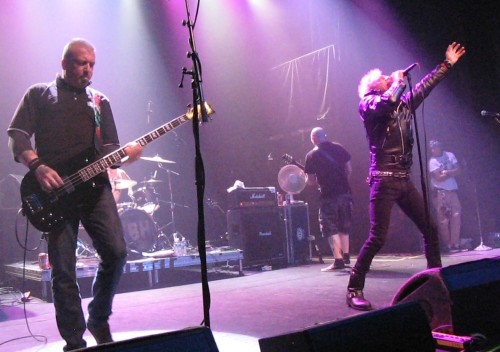 Charged GBH, but commonly known as GBH stepped on the stage, people with mohawks came out of the woodwork and there was a sudden surge to the front. The lineup from the Birmingham, England band featured the original core trio of Colin Abrahall on lead vocals, Jock Blyth on guitar and Ross Lomas on bass. Scott Preece rounded out the lineup and is certainly not a rookie with nearly 20 years banging the drums with GBH. The spikey haired Col sounded amazing and was flanked by two gnarly looking dudes..Ross looked like he could curb stomp a bull and Jock looked like he could punch through a brick wall. Their nearly 25 song set comprised of tunes from 30 years of UK street punk. Songs such as "Necrophilia," "Slit Your Own Throat" and "City Baby Attacked By Rats" were performed while the crowd danced in a circle pit, sang along or like the dude next to me fist pumped and punched the air like he was trying to knock out Kimbo Slice. All the running amok got the security distracted and I was able to record a couple songs including "Cadillac One" where the bass player from Total Chaos was invited back on stage to perform the shuffling punk tune. The band closed out their set with "Maniac" which you can also check out below. GBH continues to tour around the globe…next stop, Mexico! June 25 Tijuana at You Revolution, June 26 Monterrey at Cafe Iguana, June 27 Queretaro at Club de Los Leones and June 28 Guadalajara at Foro C3. See them at a club near you.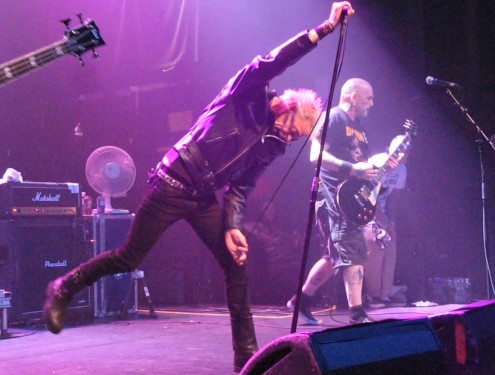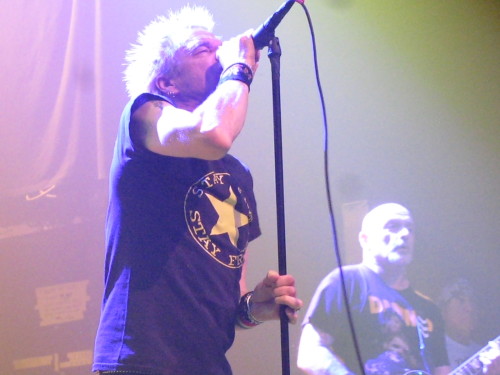 Check out Chocko (njchocko) and Mr. C (planetchocko) on instagram.
Follow @planetchocko on Twitter. LIKE us on Facebook too. Thanks!
Tags: Charged GBH, GBH, Gramercy Theatre, new york city, nyc, photos, punk rock, review, show, street punk, Total Chaos
Posted in chocko, music, photos | Comments (0)
June 21st, 2015 by chocko
Punk Island is mere hours away….rain or shine! It's taking place on Sunday, June 21 2015 from 10:00 am to 9:00 pm at Staten Island Pier 1. 100 bands including Crack Rock Steady 7 and RVIVR. It's gonna be insane. Check out some photos and videos from Punk Island 2014.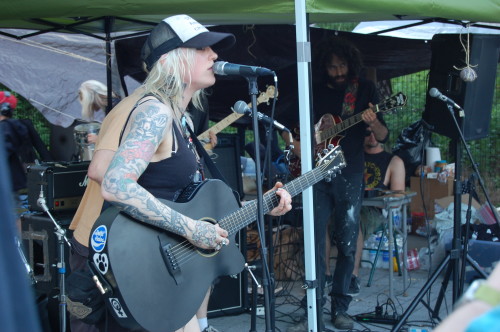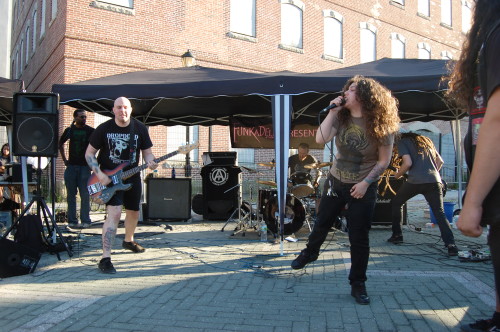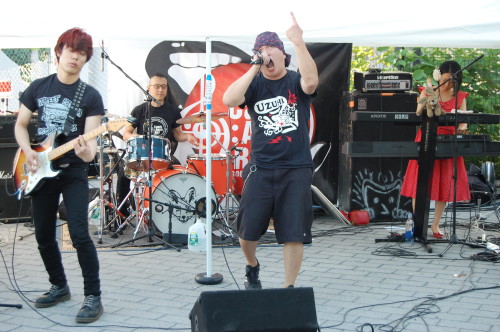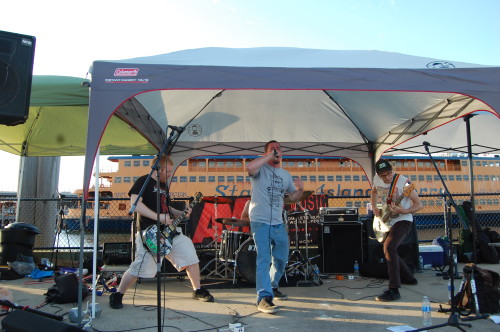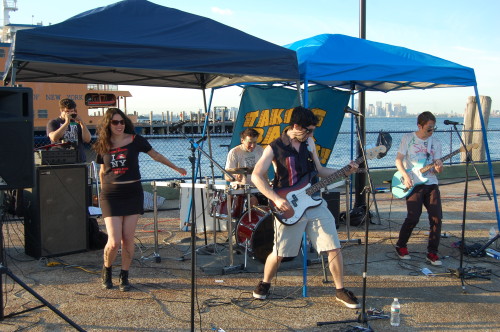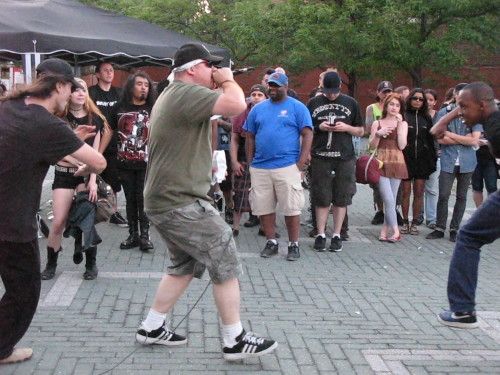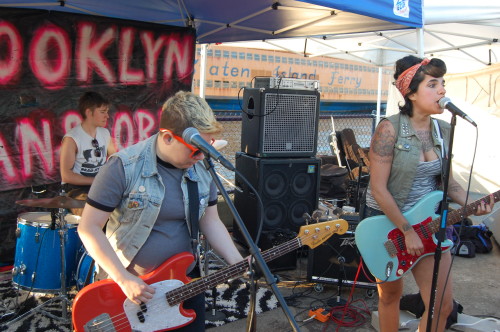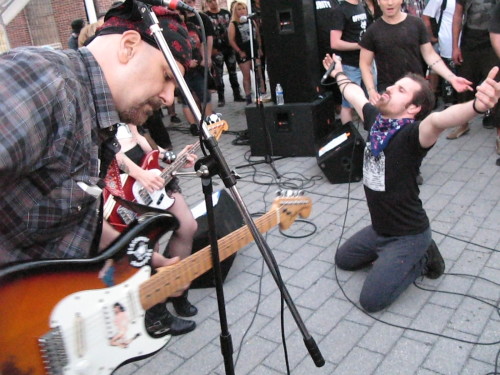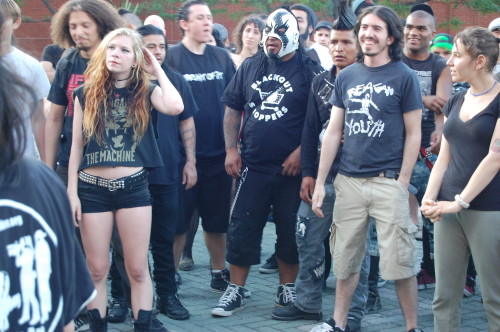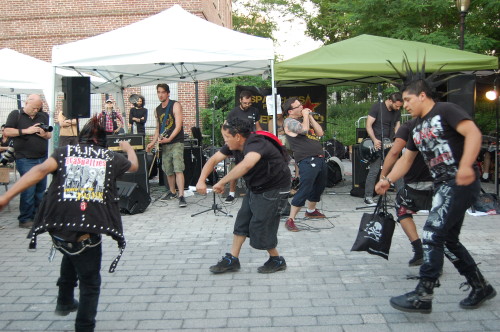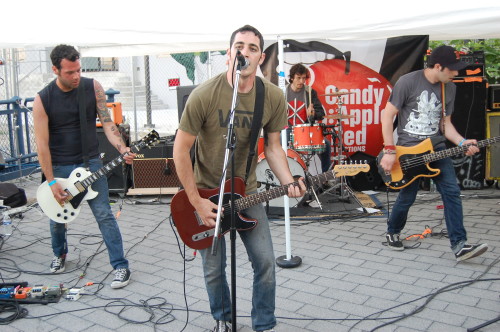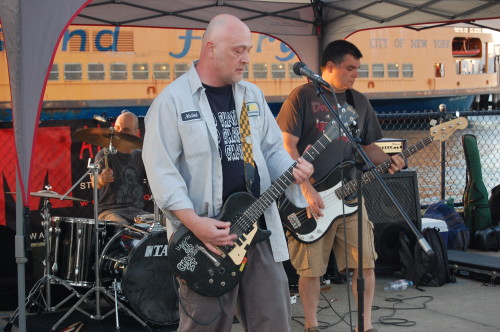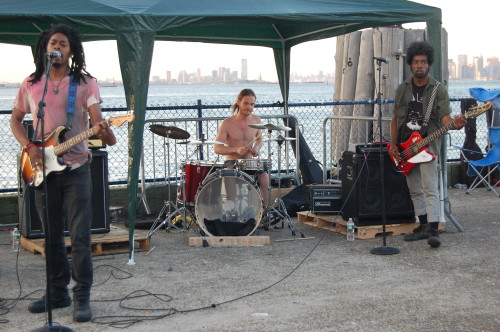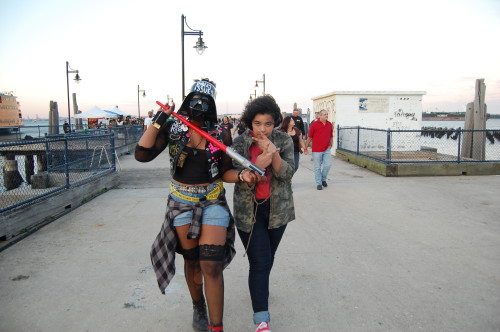 Tags: cop problem, punk island 2014, punk island 2015, punks
Posted in chocko, community, music, photos | Comments (0)
June 21st, 2015 by chocko
Biz Markie at Herbert Von King Park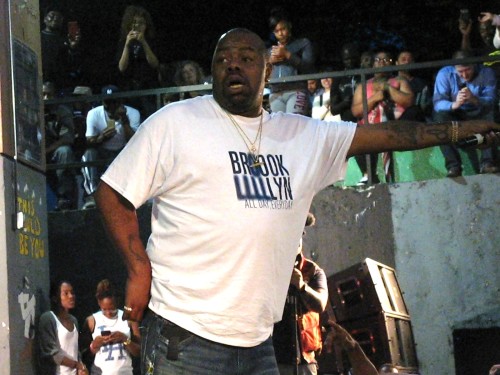 Masta Ace at Herbert Von King Park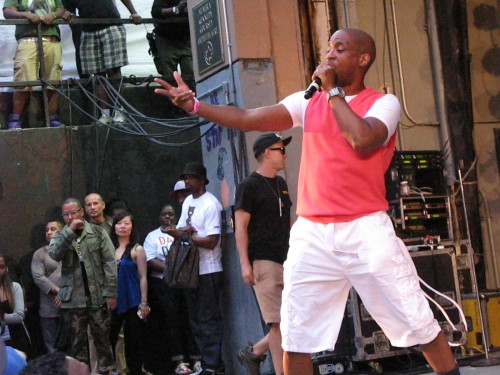 Old school hip hop was in the house at Herbert Von King Park last Wednesday night with a free Summerstage show featuring Biz Markie and Masta Ace. After driving around Bed Stuy like Mr. Magoo and finally parking in a spot near the park, Chocko followed the booming sounds, skipped down the steps of the crowded, outdoor amphitheater and made my way to the front. Masta Ace had just begun his set and the lyrically gifted, Brooklyn native entertained the crowd with mostly old songs from deep in the catalog including his verses from "Crooklyn" and "Symphony." Kind of fitting for the show, Masta Ace also performed a 1990 track titled "Me & The Biz" where Ace does his best Biz Markie impersonation. Was this track a homage to Biz or done out of necessity because Biz couldn't make it to the studio to perform on the song? This song always confused me…I hope one day they just record this properly with both Ace and Biz together on a track. Somebody make it happen!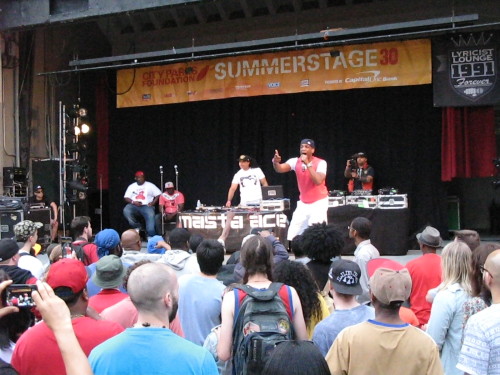 Ace also got the crowd participation going by performing snippets of some well known hip hop songs by other artists and letting the audience fill in the blanks. He finished off his set with "Good Ol' Love" from his 2004 album, A Long Hot Summer. Check out some videos below!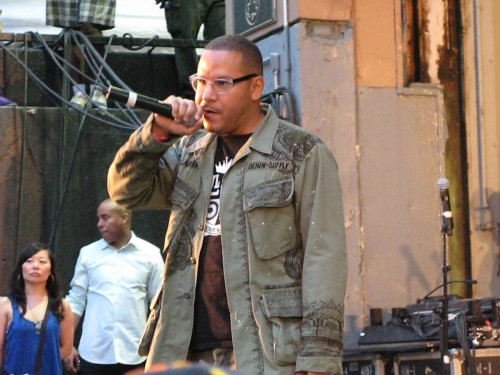 Danny Castro of Lyricist Lounge killed some time between sets by talking with the crowd and asking the audience questions like "Who's better, Mobb Deep or Smif N Wesun?" or "Who's better, Jay-Z or Nas?" or "Mos Def or Q-Tip?" You get the picture…Hip Hop fans could sit around and debate these type of questions to the break of dawn, but at the show it was decided by how loud the crowd cheered. Believe it or not, Nas won over the Brooklyn crowd. I demand a recount! It was a relief to see DJ Cool V, Biz's long time DJ and cousin behind the turntables which meant that the show was about to get bonkers. Biz Markie did not disappoint!
DJ Cool V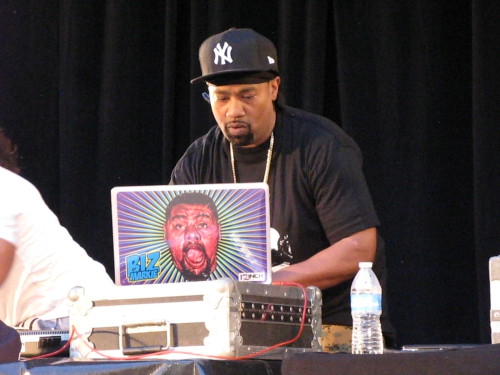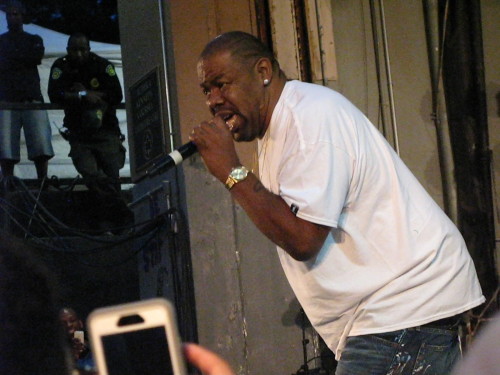 The Diabolical Biz Markie started off the show with a showcase of his beatboxing skills. "The Clown Prince of Hip Hop" perfectly mimicked the beatboxing of some of his peers including Doug E. Fresh and Buffy of the Fat Boys. Biz proceeded to entertain by performing tracks from his debut album Goin' Off including "Goin' Off," "Pickin' Boogers" and "Make The Music With Your Mouth, Biz." Songs by Rick James and Michael Jackson were also performed. Uncle Ralph McDaniels of Video Music Box was standing in the back of the stage but grinning along with the audience to Biz mumbling the lyrics and singing out of tune renditions of "Mary Jane" and "I Want You Back." Biz closed out the show with "The Vapors" and his monster hit "Just A Friend" which got everybody in the park singing along. Check out more videos below and be on the look out for the next free Lyricist Lounge show featuring The Jungle Brothers and Kool DJ Red Alert at Crotona Park on June 25 at 7:00 pm. See you in The Bronx!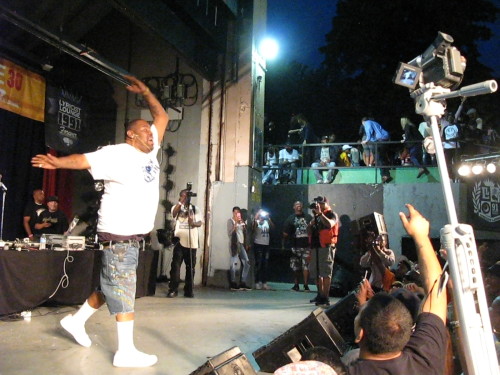 Tags: bed stuy, biz markie, free show, herbert von king park, hip hop, masta ace, new york city, old school, summerstage
Posted in chocko, music, photos | Comments (0)
June 18th, 2015 by chocko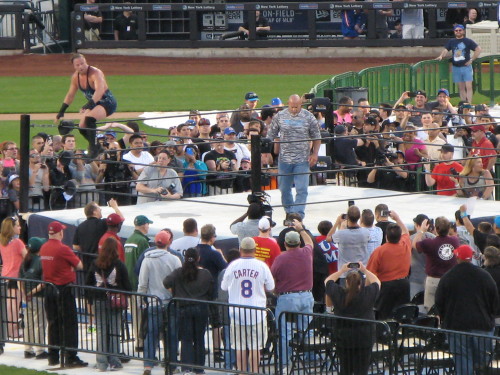 This under the radar professional wrestling event happened in early June at the home of the New York Mets, Citi Field in Queens, NYC and featured old wrestling legends battling it out in the ring after autograph and Q&A sessions. A few thousand were in attendance at the baseball stadium and the wrestling ring was where second base would be, surrounded by VIP seats. If you weren't sitting in the premium seats, you were most likely watching the action on the jumbotron because the ring was situated so far from the stands. When me and Joey Teacups arrived, we just missed "Hacksaw" Jim Duggan win his match against Robbie E. The other matches we missed included Brian Myers defeating Tyrus and Flex Armstrong and Andrew Anderson (w/ Greg "the Hammer" Valentine) beating Mr. T.A. and Bam Shaw (w/ John Cena Sr.). John Cena Suuucks!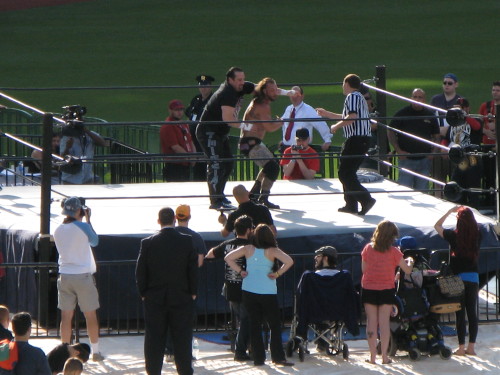 Tommy Dreamer trampled over Wes Briscoe for the victory. It was good to hear some "ECW" chants throughout the match. The commentary mostly provided by Matt Stryker and later joined by Tyrus, was heard throughout the evening over the PA system. Been to a lot of sporting and wrestling events over the years, and never experienced that.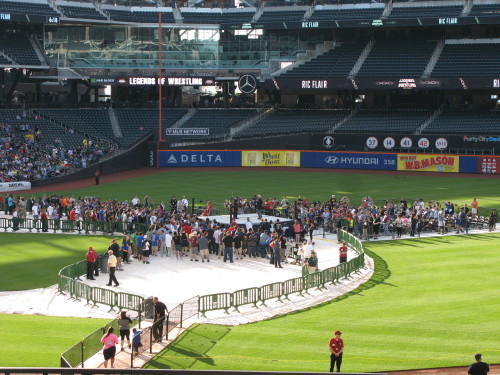 Ric Flair walked to the ring and began a pro-NYC promo only to be rudely interrupted by Mr. Anderson and Knux who were representing Aces & Eights. Flair called upon the Nasty Boys to even the odds. Brutality!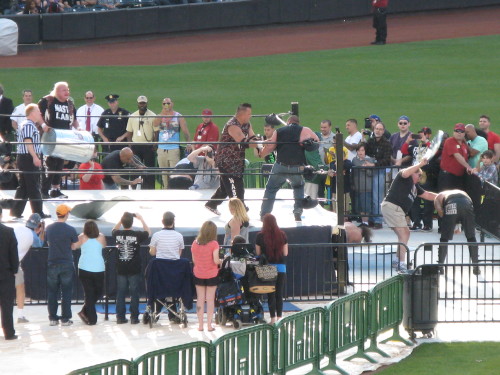 The Nasty Boys took care of Aces & Eights after some sloppy, hardcore brawling. Baking trays and garbage cans to the head made the street trash brawl more buck wild than it already was. Mullets and fists were flying! Wes Briscoe, Doc Gallows and Demolition showed up to the match and joined in on the melee and The Nasty Boys walked away with the win.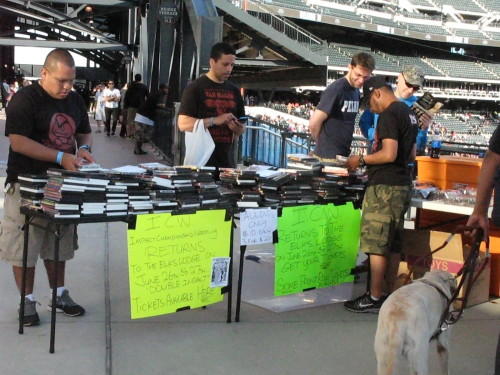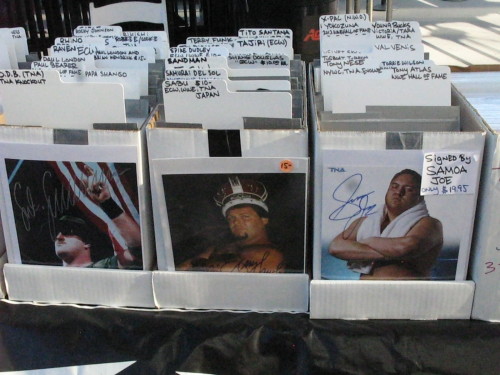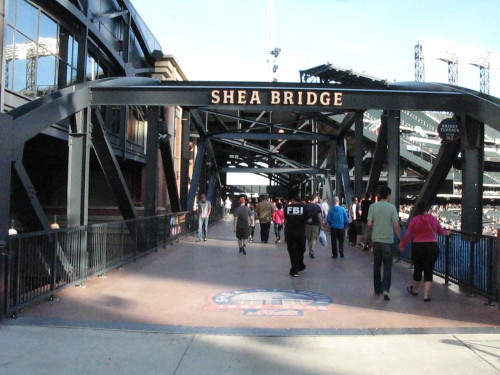 During a brief break from wrestling, we took a walk over Shea Bridge behind Center Field and pounded down some tasty burgers from Shake Shack. Two Boots could have been an option but they weren't open. The Mets game was briefly shown on the jumbotron while I housed a double shack and checked out the wrestling merchandise which included tables of DVDs, memorabilia and autographed photographs. I also picked up a flyer for Wrestling Universe a one stop shop for all your wrestling needs. They host a lot of autograph signings at their Flushing, Queens shop (34-29 Francis Lewis Blvd). Looks like it good be worth the road trip!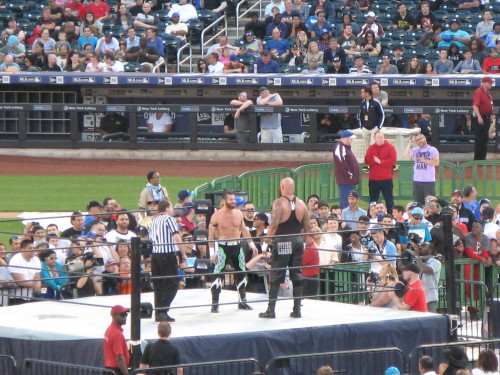 A bit of a size difference in the match after the break – "Reborn" Matt Sydal squared up against Doc Gallows, representing the Bullet Club. Sydal defeated the 6'8″ Gallows for the upset and goofiest match of the card.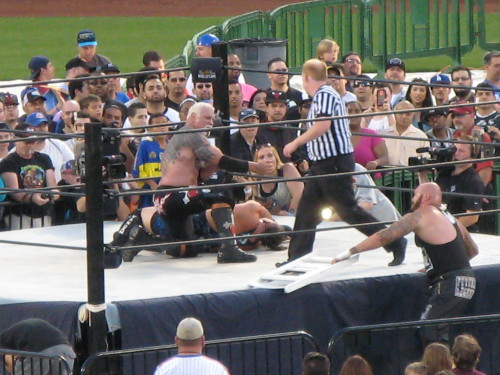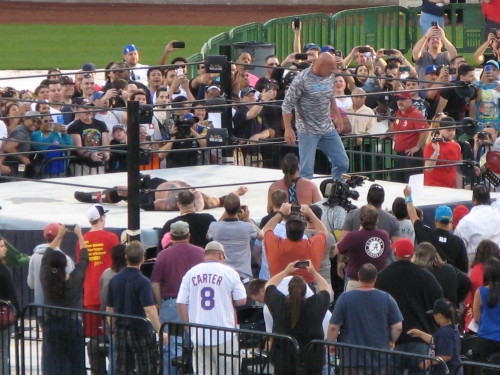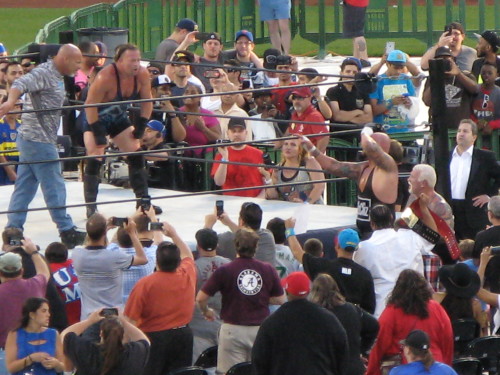 The best and final match of the day came from the clashing of Scott Steiner aka Big Poppa Pump and Rob Van Dam. Before the match there was a brief promo with RVD followed by Steiner who says something like "Let's bring this mystery opponent out." Oy vey. Steiner, accompanied by Doc Gallows gets to the ring and grabs the microphone and calls Hulk Hogan a bitch and starts mouthing off to the hecklers. RVD brings out the legendary Bret Hart for a brief appearance and mic time. After some anti-Mets remarks like "This town belongs to The Yankees," Steiner sneak attacks RVD and the pummeling begins. Doc was in total heel mode and threw in every cheap shot at RVD that he could get in. RVD got the victory after a chair thrown in the ring by Gallows was used to Van Dam's advantage and RVD connects with the Van Daminator. After the victory, RVD got jumped by the two jacked up heels and then Goldberg runs in to save the day. He spears Steiner and Doc got the Jackhammer! heat3mia uploaded some great footage of the match. Check it out HERE!
Tags: Citi Field, Doc Gallows, Legends Of Wrestling, nyc, pro-wrestling, professional wrestling, results, Rob Van Dam, RVD, Scott Steiner, sports entertainment
Posted in chocko, photos, sports | Comments (0)
June 15th, 2015 by Mr. C
(The calm before the smoke at 10:00am at the Big Apple BBQ block party on Saturday)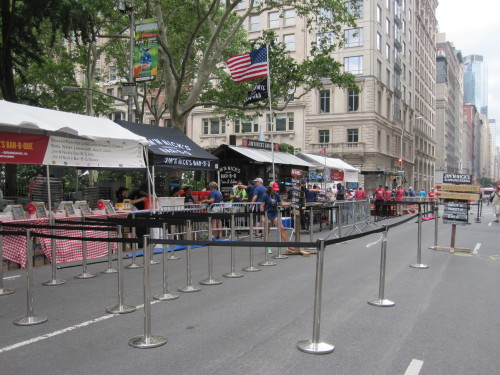 (my accomplices at the BBQ fest – no forks – no problem!)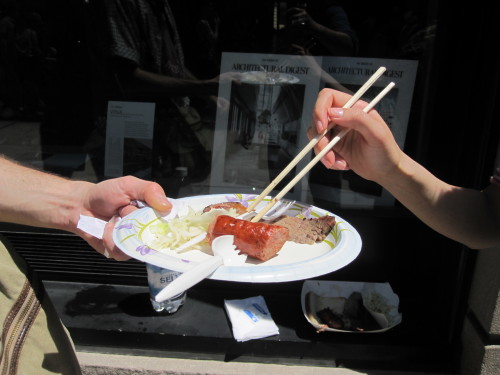 The 13th annual Big Apple BBQ Block party at Madison Square Park came and went last weekend. About 17 BBQ pitmasters came as far as from Texas & Mississipi and some like Hill Country and Blue Smoke as close as just a few blocks away from the Park. We made no fuss no muss about it as our raggamuffin foodie crew with a non-foodie attitude grabbed 4 plates of 'Cue from 4 different vendors, poked & probed it with our chopsticks until finally making it disappear. We usually get there early, around 10.30am – parse the crew to the different vendors to get on the queue for the 'Cue – wait till the opening cow bell opening at 11am & we're off in slow smoked whole hog heaven! This year we made sure that we covered the big three proteins: lamb,beef,& pork! We tried 2 newcomers to the block party or at least new to us. The Jamaican Jerk St. Louis Ribs with Caribbean Slaw from Hometown Bar-B-Cue located in nearby Red Hook, Brooklyn was just another victim! I prefer the smaller & fattier pork ribs but the bigger beef counterpart in that well smoked Hometown BBQ state with that tingly-spicy jerk marinade had me attempting to talk like a rastafarian – mon! Definitely left me wanting to reach for a bottle of Ting! The caribbean slaw also had a nice & refreshing bite that talked back to me! Hometown BBQ – Red Hook, Brooklyn – expect a few neon glowing residents from NJ to make a trek out to Crooklyn sometime this summer!
(Hometown BBQ – Jamaican Jerk St. Louis Ribs with Caribbean Slaw)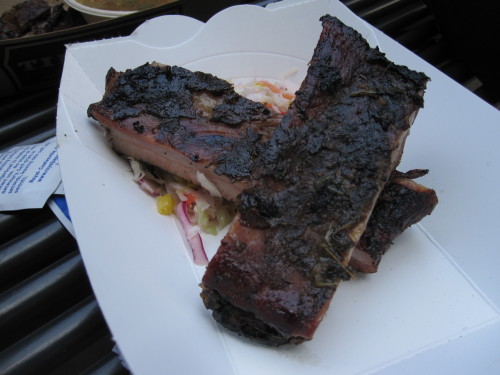 (Canopies made of golden,mirror-polished discs above the walkways at Madison Square Park)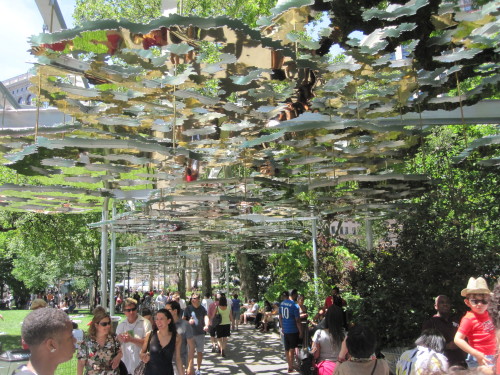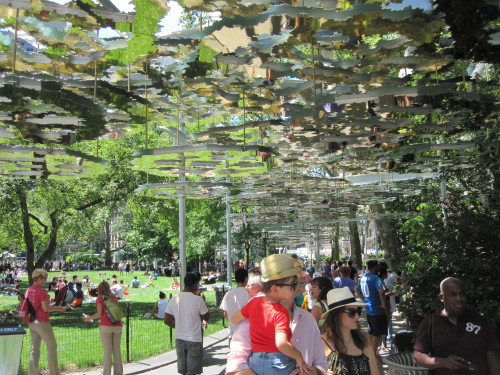 The 2nd new BBQ we tried was the Lamb brisket & borracho beans from The Woodshed Smokehouse from Dallas. I'm usually not a big fan of beans but the consistency from these were light & flavorful – almost like a soup.
The Lamb brisket was quite tasty, fatty, tender, & charred up to my liking though a bit salty if anything. The lamb brisket had that slight kickback of taste to let you know that it was uniquely lamb indeed! If given some rice with this Lamb brisket with the burnt ends – I might still be chowing down on this till no end! You can hold the borracho beans.
(The Woodshed Smokehouse – Lamb brisket & borracho beans)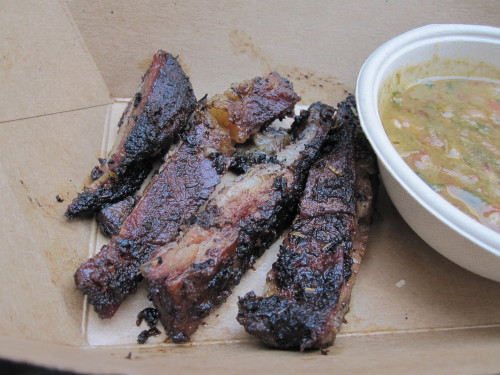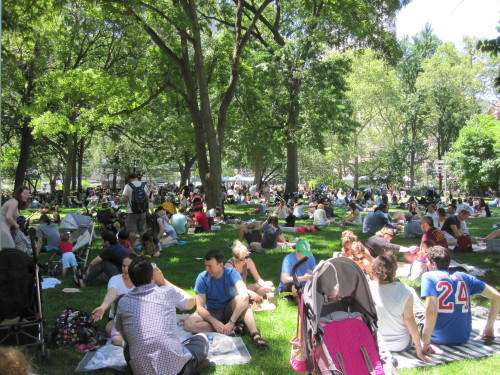 Now for some replays – we couldn't help but to get back at Salt Lick with their Beef Brisket,Sausage, & slaw combination. No burnt ends in sight with the brisket but the meat was well seasoned, silky & tender to the mouth. A nice simple brisket done right. Dip that brisket with some of Salt Lick's champion barbecue sauce and Bang bang Bang..Hmmmm…Hmmmm good! The sausage had the attitude that I was looking for with that snap when my fangs met casing. The peppery mix in the sausage was noticible & delightful especially chasing it down with some of the tangy slaw!
(The Salt Lick crew working hard to get those briskets out!)

(Salt Lick – Beef Brisket,Sausage, & Cole slaw)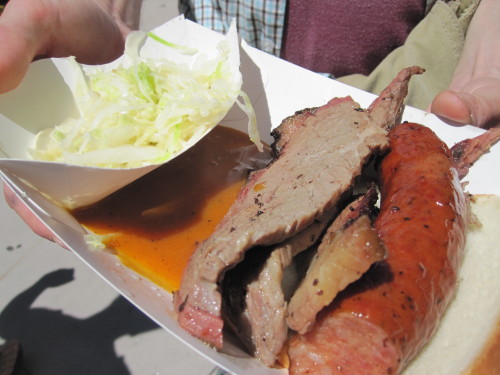 There's no secret here that we are big fans of Big Bob Gibson from Decatur,Alabama with his hickory smoked pulled pork shoulder sandwich. I'm guessing the consistency of how they smoke the shoulder since it's the same part of the pig is more predictable than when constructing a whole hog sandwich with the meat pulled from all over the carcass? Either way, I really enjoy Big Bob's pulled pork because the meat is so succulent and tasty. The natural juices from the meat and the rough chop/pull from the pork as opposed to finer chopped pieces of meat really does the trick for me as the less you mess with the meat, I find it more appealing to the eyes & palate. For the icing on the cake, dab & jab some of that spicy mustard cole slaw in the sandwich and dang – get the heavy artillery out so I can show my gratitude!
(Big Bob Gibson's – pulled pork shoulder sandwich + spicy mustard cole slaw)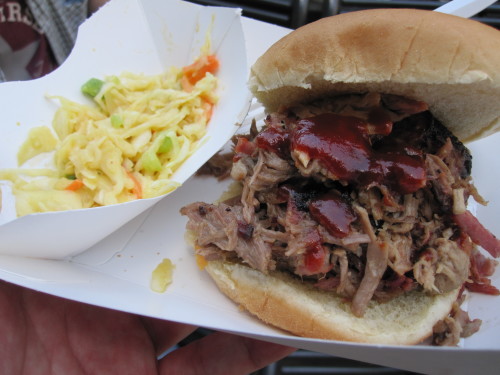 (Jim n Nicks Smoked Sausage – photo by Mondocurry)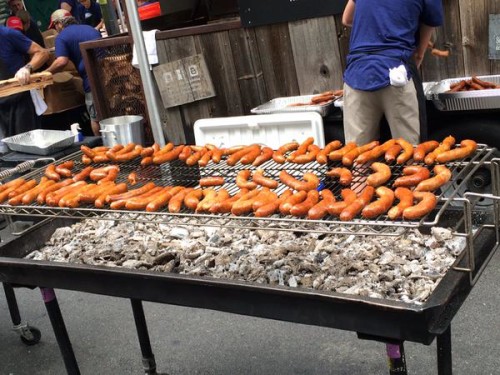 (We even tried a veggie burger made from beans and other mealy ingredients & textures? Not bad but not great either)

Posted in community, food, mr. c, photos | Comments (0)
June 14th, 2015 by Mr. C
————————————————————————————–
In trying to stay with our theme of keeping the jams in Jersey more & more instead of venturing out to NYC, the Planet Chocko goonies – Chocko & Mr. C headed into Jersey City for the Jersey City Record Riot at the Grove Street Path Station. Say What? Outdoors – Free – 35 plus tables of Vinyl LPs,CDs, & memorabilia – Live DJs all day – no brainer – we are there! Let me preface Jersey City by saying that JC is a destination that we often overlooked in the past for fun & entertainment. I came to know JC as a gritty city before venturing into the Holland Tunnel enroute to Lower Manhattan & Chinatown during my childhood in the 80s & 90s. My family worked & drove into Chinatown daily/weekends for 25 years via the Holland Tunnel & let me tell you my sister taught me all the sneaky ways of driving into Jersey City to cut through the local streets to avoid traffic before filtering back out into the queue for the Holland Tunnel. This consisted of driving through the downtown Journal square area to the Grove Street – Newport mall area. I remember driving through JC and thinking boy – bombed out,rough,tough,zombies – what a grimey city! – and many parts of the city still is. Fast forward to the current times and double boy, Jersey City has come a long way. From the restaurants,music,shops,art,lounges,beer gardens,financial companies – to the clean streets. Not saying JC has solved their poverty and crime issues but yes, notable changes for the better in parts of the City. So don't underestimate Jersey City!
(Two Boots Pizza Jersey City – corn meal crusted pizza w/ cajun style toppings)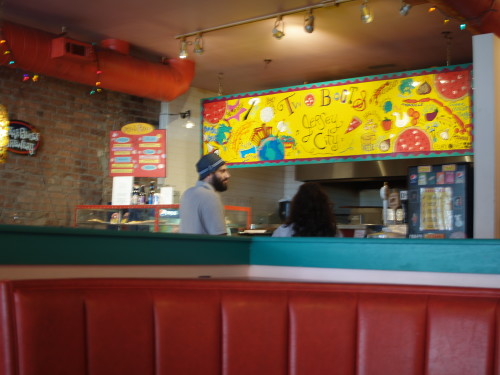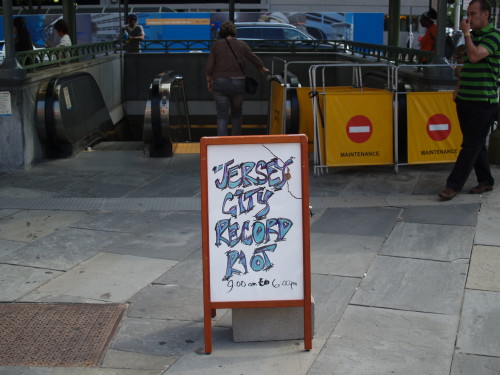 Chocko and I had a great time rediscovering the Grove Street Path station area as well as the Newport mall surrounding area by BJ's Wholesale and Shoprite. Before doing the fingertip walk on the vinyl, we fueled up at Two Boots pizza (an offbeat NYC chain that serves tasty corn meal crusted pizzas with quirky Cajun toppings) on Newark Avenue before the Record Riot shopping! After the Wax attack digging through the crates, we walked around the surrounding area near the Grove Street path station as well as the nearby Newport Mall to discover a revival and appreciation of street art/graffiti/murals in the community! Last but not least, we stepped into a really neat bookstore called – WORD . A nice selection of books for ranging tastes including comic books! WORD felt like a bookstore that was designed for the community in mind rather than structured from a generic cookie cutter standpoint. They even had a cute little cafe nestled in the back! Did I just say cute – what? Chocko has been to the WORD bookstore in Greenpoint,Brooklyn and was pleasantly surprised to see one pop-up in Jersey City, NJ! Support these businesses, y'all! Enjoy our photos from the day!
———————————————————————————————————–
Two Boots Pizza
133 Newark Ave, Jersey City, NJ 07302
Word
123 Newark Ave, Jersey City, NJ 07302
Bon Chon Chicken
172 Newark Ave, Jersey City, NJ 07302
Iris Records
114 Brunswick St, Jersey City, NJ 07302
Barcade
163 Newark Ave, Jersey City, NJ 07302
————————————————————————————————————-
(Romano's Disco Fries food truck "It's a Jersey Thing" on the out at the stoplight by Grove Street! Have to find out where they dole out the Disco Fries)

———————————————————————————
(Murals near the Grove Street Path Station off of Christopher Colombus Drive)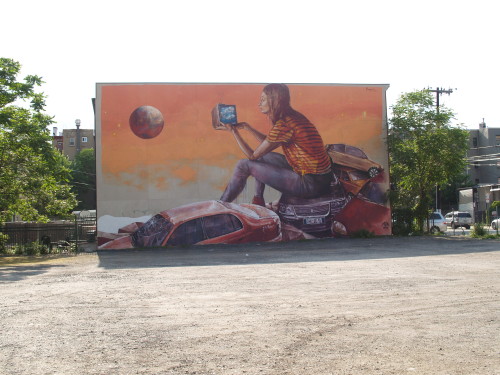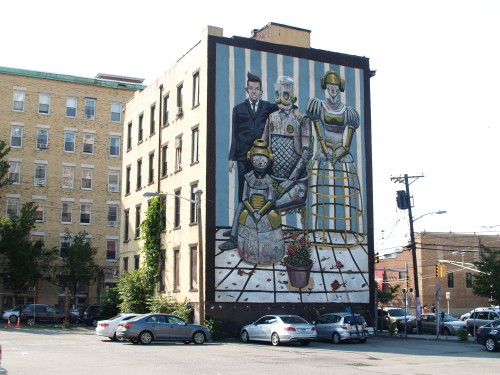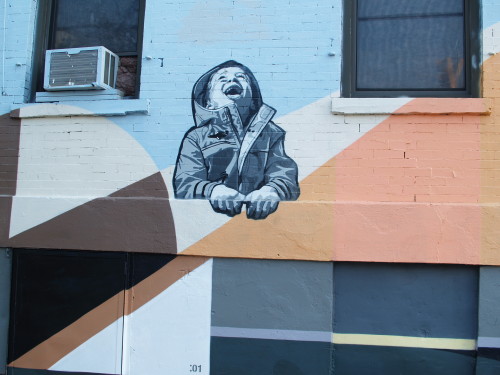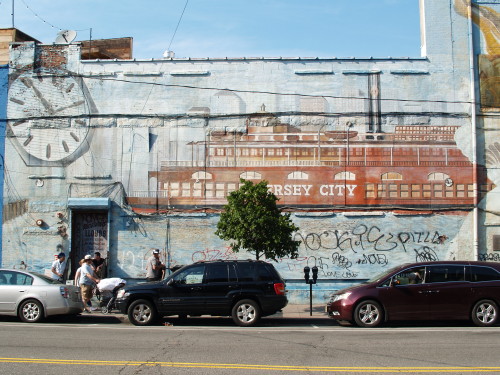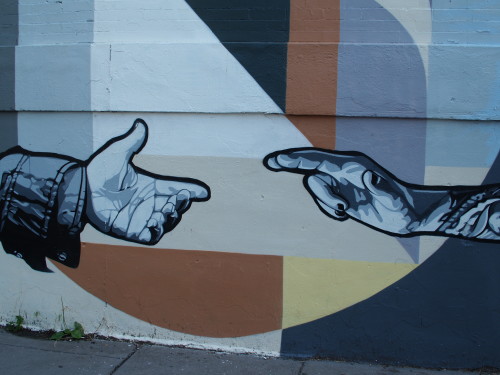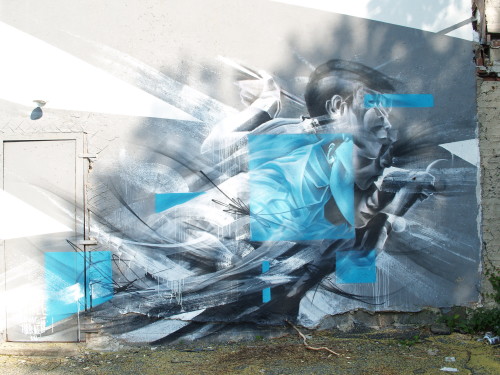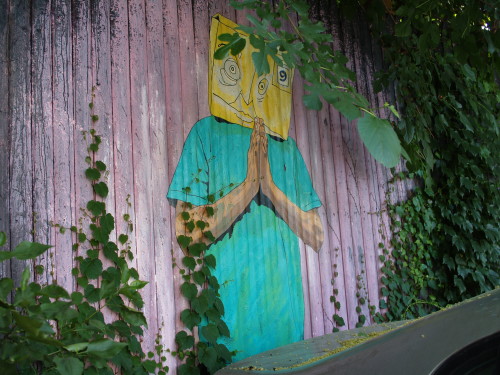 ———————————————————————————-
(Wicked 3D Astronaut! side street by Barcade)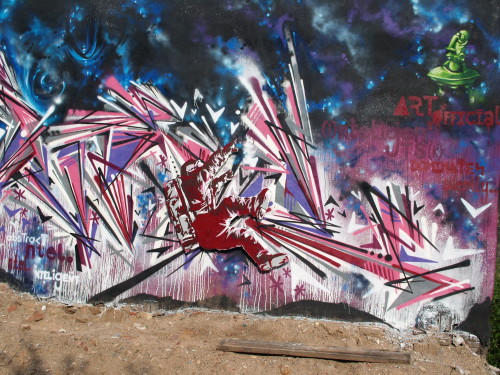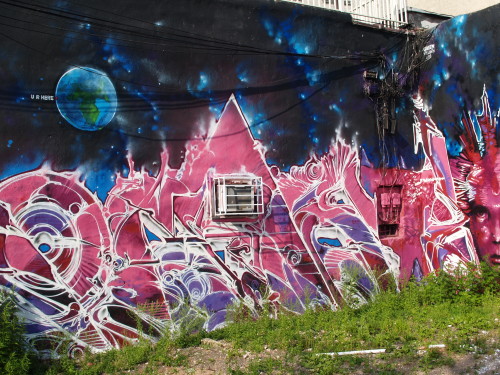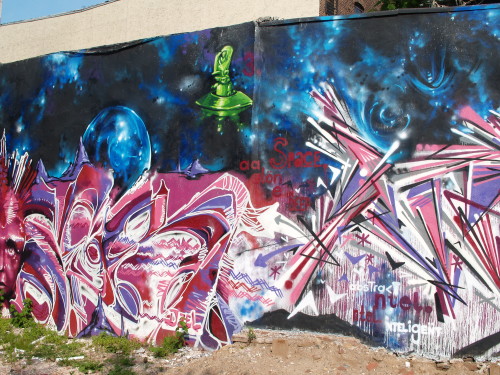 ————————————————————————————
At a former Pep Boys Auto Center off Marin Blvd sandwiched in between Newport Centre Mall and BJ's Wholesale Warehouse/Shoprite was a mix of beautiful aerosol art that wrapped the entire building created by local artists in the NJ/NYC area. By chance I had spoken to Mr. Mustart – one of the many artists that collaborated on the colorful pieces adorned on the former Pep Boys building. Mustart was very humble and friendly. He told me the artwork has been at this location for a few months now. Pep Boys moved to another Jersey hood – Paterson. Local arts organization – Green Villain is responsible for strategizing the beautification of street art in Jersey City! Mark your calendars folks – on June 27th – Demolition Exhibition, there will be a party at this Pep Boys location to celebrate the local street arts before destruction of the building in order to build those skyscrapers?! Print releases,food,beer,softgoods, & Green Village DJ sets will be onhand! See Green Villain for more details!
(former Pep Boys Auto Center off Marin Blvd by BJ's Warehouse)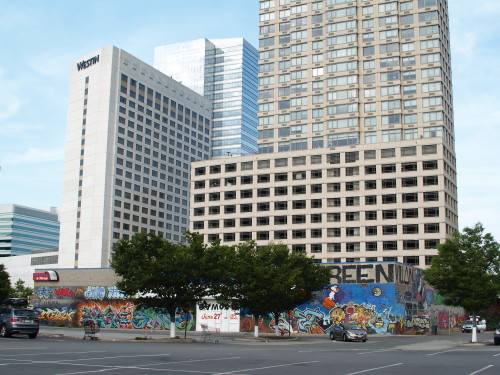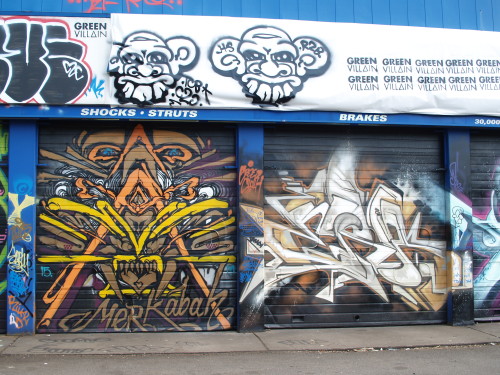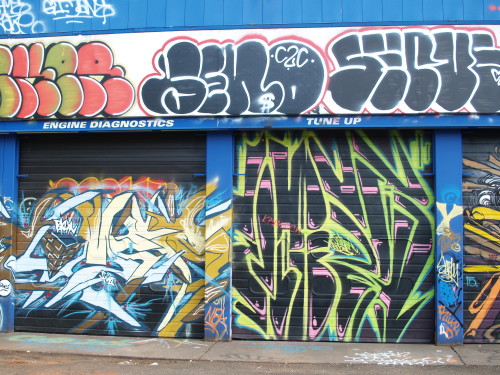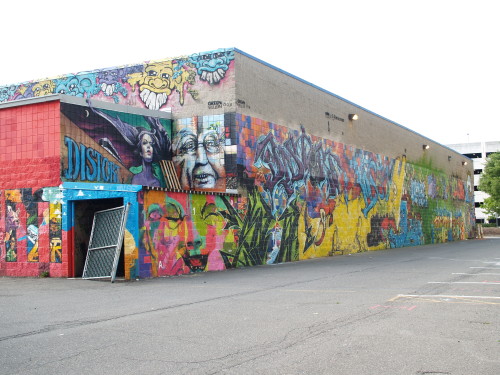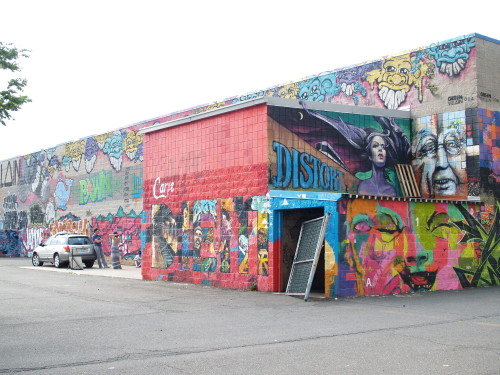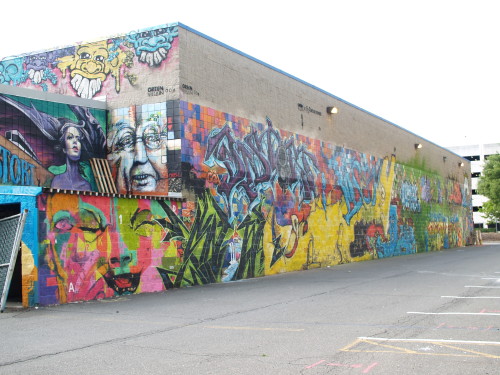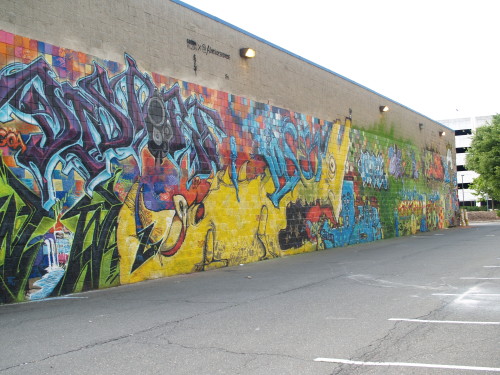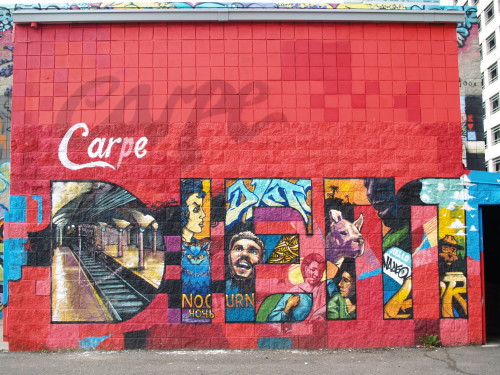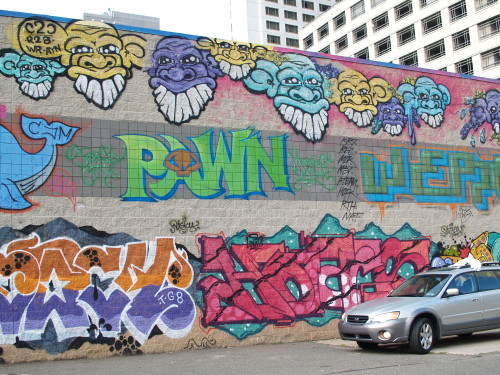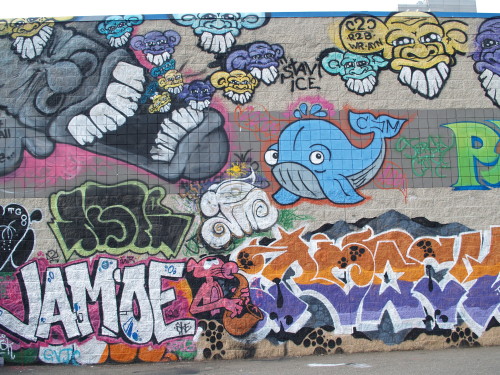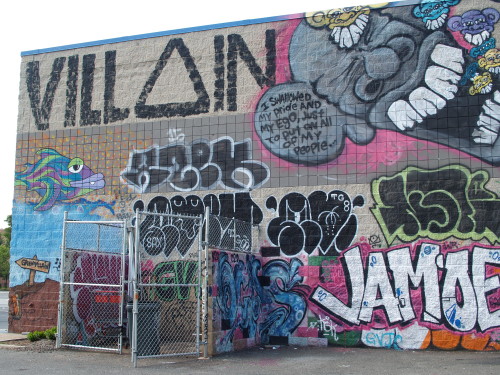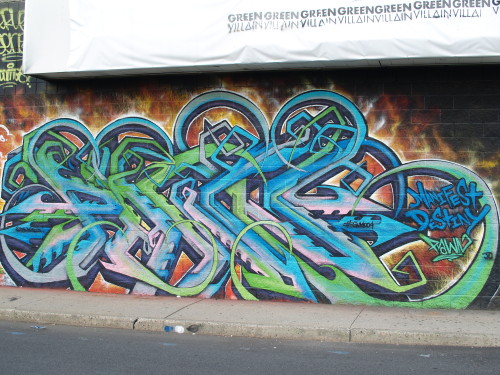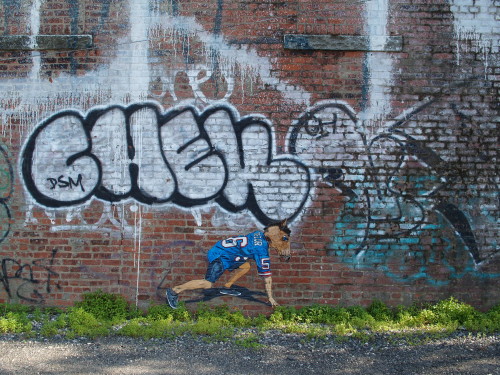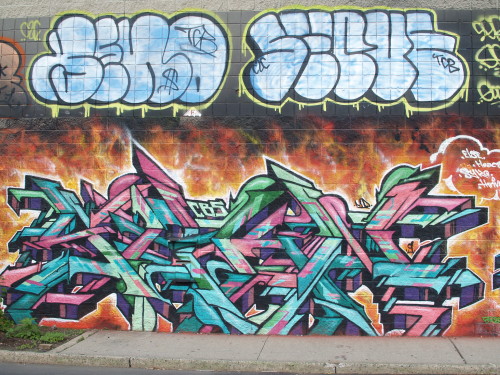 Posted in art, community, mr. c, photos | Comments (0)
June 12th, 2015 by chocko
3 1/2 Minutes, Ten Bullets (Marc Silver)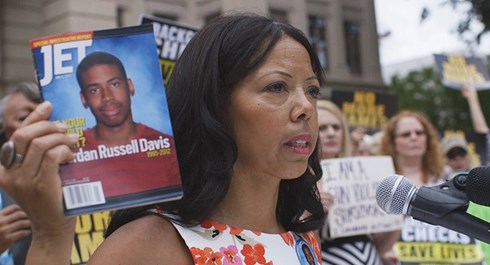 The Human Rights Watch Film Festival in New York will be screening movies from June 11-21 at the Film Society of Lincoln Center and IFC Center. The film festival focuses on films that deal with social injustices and human rights violations. It is a film festival in its 26th year and features 17 award-winning films that cover a lot of ground and deal with some deep issues. This year's festival focuses on themes such as Art Versus Oppression, Changemakers and Justice and Peace. I had the pleasure of seeing 3 films in advance including the opening night film 3 1/2 Minutes, Ten Bullets. This documentary tells the story of four unarmed African American who were shot at a gas station in Jacksonville, Florida in November 2012. The teens were playing their stereo too loud, there is an altercation with a person from another vehicle and seconds later the bullets fly. The shooter, Michael Dunn, claimed he shot in self defense because he thought one of the teens had a gun. That teen, 17-year-old Jordan Davis died after 10 bullets were fired into the car he was in. The film follows Jordan's parents as they fight for justice in a state that favors the Stand Your Ground self-defense laws.
The Wanted 18 (Amer Shomali and Paul Cowan)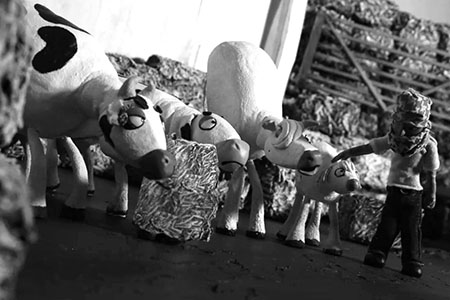 The Wanted 18 tells the "moo-ving" story of how a group of Palestinians peacefully protested the Israeli occupation of the West Bank by purchasing 18 cows and producing their own milk. The undercover dairy operation was declared "a threat to the national security of the state of Israel" and hundreds of soldiers took part in the search for the illegal bovines. The movies is told with a mix of funny stop motion animation and interviews with activists from the town of Beit Sahour where the collective farm was located. It screens on June 13 at 6:30 p.m. at the Film Society of Lincoln Center and opens theatrically in NYC on June 19.
Life Is Sacred (Andreas Dalsgaard)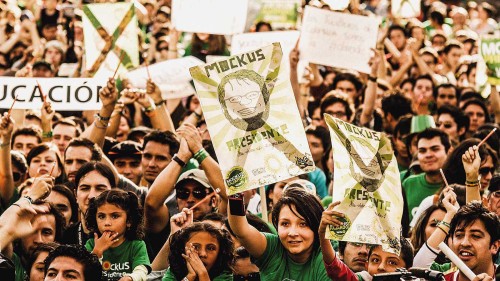 The third movie I saw was titled Life Is Sacred and deals with life and politics in Colombia, a country in constant turmoil due to clashes and widespread violence between the military, guerrillas, paramilitaries and drug cartels. Along comes the presidential candidate Antanas Mockus who galvanizes the public with creative ideas and catchy phrases, with a promise to end the violence and make some much needed changes. As mayor of Bogota, Mockus dressed up as a superhero in a cape to take on crime in the streets and had mimes on street corners directing traffic. This portrait of the anti-establishment icon follows the ups and downs of a political figure who loves his people and just wants to make a difference. The movie also makes its New York premiere screening on Thursday June 18 at 7:00 p.m. at the IFC Center and Saturday June 20 at 9:00 p.m. at the Film Society of Lincoln Center. Plenty of movies to see at this film festival…get information on tickets HERE. Check out the trailer for the Human Rights Watch Film Festival 2015 below!
Tags: 3 1/2 Minutes, documentary, film festival, Film Society of Lincoln Center, Human Rights Watch, Human Rights Watch Film Festival, IFC Center, Life Is Sacred, movies, new york city, nyc, review, Ten Bullets, The Wanted 18
Posted in chocko, movies | Comments (0)
June 10th, 2015 by chocko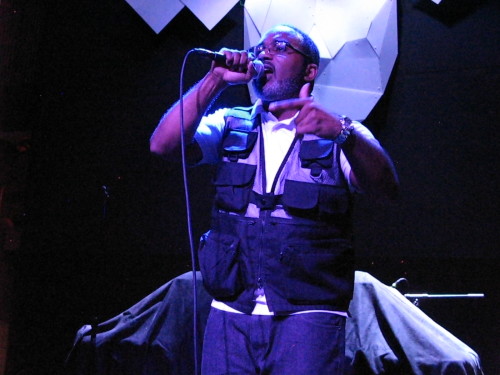 The Legendary Hip Hop Producer and MC, Large Professor was in the house at Rough Trade NYC for the release of his latest album re:living. The performance space at Rough Trade slowly filled up early in the evening while Large Pro waited for some late guests to arrive to the venue. The new album played through the speakers and thirty minutes after the scheduled start time, Large Professor plugged his phone into the sound system and started the show. Large Pro warmed up the crowd with some early songs from his career including "Just Hanging Out" which is off the Main Source album Breaking Atoms. Main Source was the underground hip hop group which Large Professor was a founding member of and I can't say enough about the importance of the album "Breaking Atoms" but it did feature Nas on the track "Live at the Barbeque," which was the first appearance of Nas on a record. After performing some familiar songs, Large Pro showcased some of the verses off the new album and sounded smooth despite fumbling and forgetting some of the lyrics from the new material. There was also a slight hiccup in the performance when the beat stopped, but that's what you get when you play the instrumentals off your phone and you receive a text!
The album re:living is highly recommended if you're a fan of that old hip hop that featured banging beats and dope lyrics. Turntablists Rob Swift, DJ Boogie Blind and DJ Eclipse are credited for their scratches and the album features guests such as Sadat X, Lord Jamar, Cormega, Roc Marciano all on one track titled "Industry Remix 2." My favorite tracks right now are "New Train Ole Route" a jazzy cut which will get your head snapping back and forth in no time and "In The Scrolls" which is a tribute to Nas and features G-Wiz. Check out some videos below from the performance. Pick up the album, it's out now on Fat Beats Records.
Check out Chocko (njchocko) and Mr. C (planetchocko) on instagram.
Follow @planetchocko on Twitter. LIKE us on Facebook too. Thanks!
Tags: brooklyn, hip hop, Large Pro, Large Professor, re:living, rough trade nyc, show
Posted in chocko, music, photos | Comments (0)
June 8th, 2015 by Mr. C
(the mixologists making my chocolate egg cream with the classic Fox's Ubet chocolate syrup!)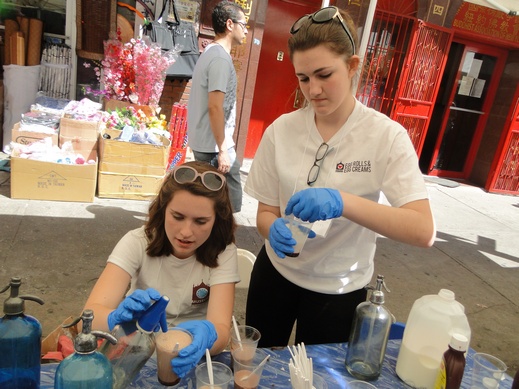 (Peking Opera – Monkey King performance)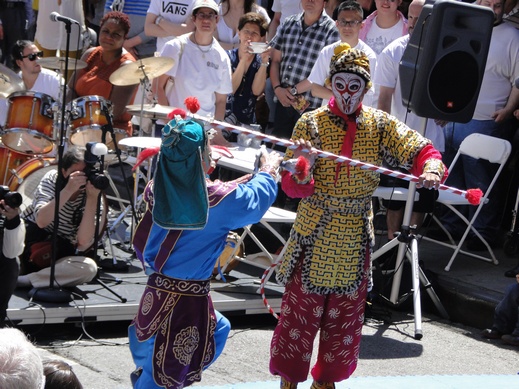 The 15th annual Egg Rolls and Egg Creams Festival & this year – Empanadas were added to the Eldridge street mix! The festival provides a fun opportunity to celebrate the joint cultural heritages of the historic Lower East Side and Chinatown with food, music, arts, & crafts! Jewish, Chinese, and now Puerto Rican culture were honored on this great day! On this 15th anniversary of the Festival, The Museum at Eldridge Street Synagogue wanted to showcase the contributions of the Puerto Rican community to the Lower East Side so hence the addition! Some highlights of this annual ethnic block party includes Chinese opera and acrobats, klezmer performances, bomba and plena music, Puerto Rican mask making, Hebrew and Chinese scribal art, & more! Last but not least – the stars of the show – kosher egg rolls, egg cream, & empanadas were for sale!
(Northern style chinese dumpling making)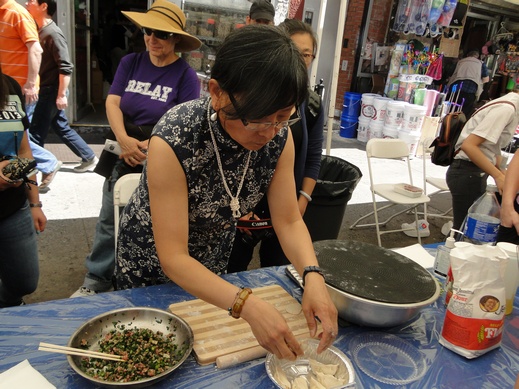 (Yiddish lessons by mark sommerstein)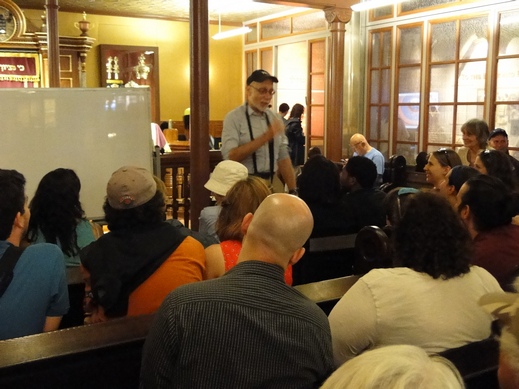 (Chess is for the birds – Mah Joong is where it's at!)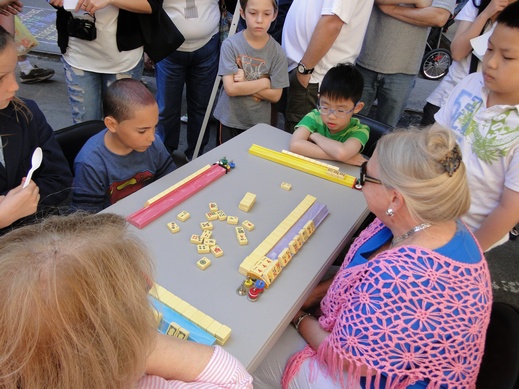 (Sifu Ken Lo can kick your ass w/ his Kung Fu techniques but before he does that he will share his knowledge of the traditional Chinese Tea ceremony)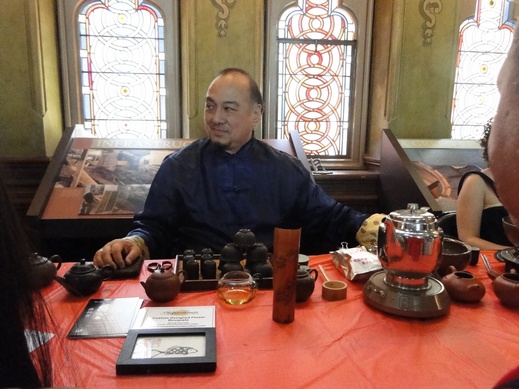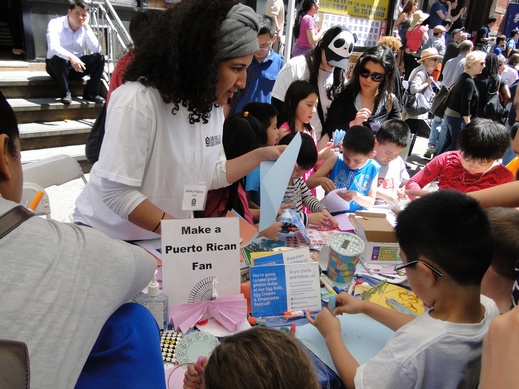 (jewish cantorial music by eric freeman)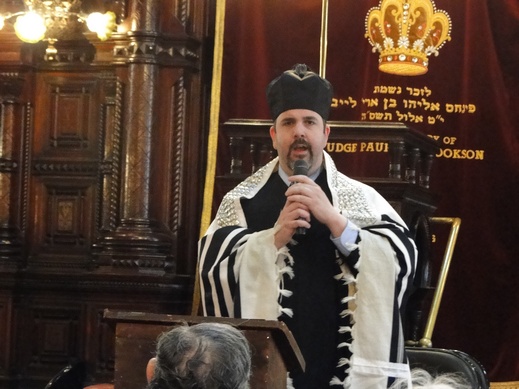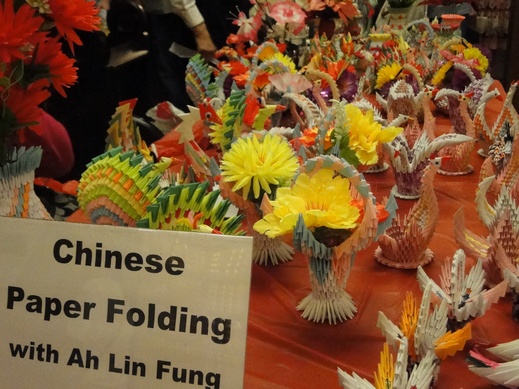 (decorating a chinese porcelain bowl on paper bowl)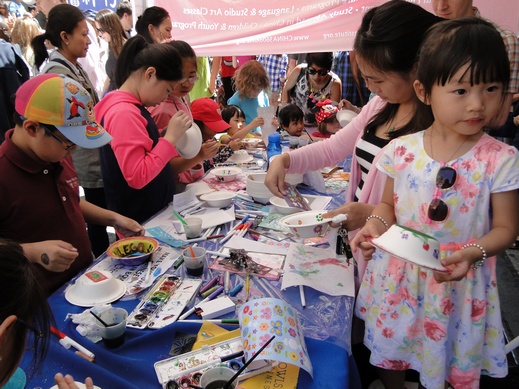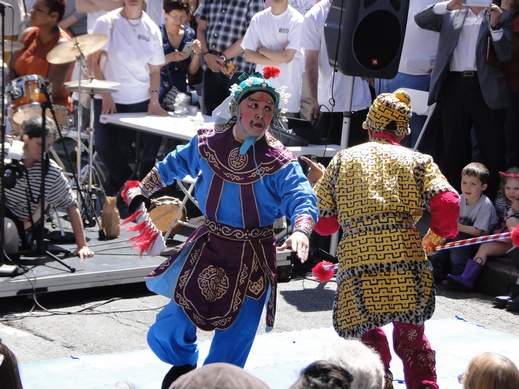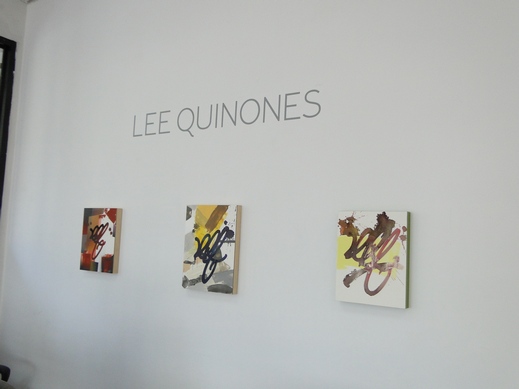 Post celebrations of the festival had us appreciating more of the Lower East Side at an art gallery on 291 Grand Street by Eldridge. It happened to be the last day of a solo exhibit by an old school Nuyorican street artist who grew up in the LES – Lee Quinones. Leave it up to us to make the exhibit on the very last day. We are big fans of Lee's aerosol art and his appearance in Wild Style the movie turned us on! It's great to see that Lee Quinones' art work remains relevant to this day! Lee's pop-up solo exhibition puts on a display of his early, never been seen before drawings as well as his current works which collectively spans from 1975 to the present. This exhibition sheds light on Quinones' love for drawing. From aerosol bombing of NYC subway trains to NYC public concrete walls, and now (has been) taking it to the studio – Lee Quinones' work is still evolving as political and social messages are still be doled out throughout his art no matter what format he chooses!
Posted in community, food, mr. c, photos | Comments (0)