July 26th, 2015 by Mr. C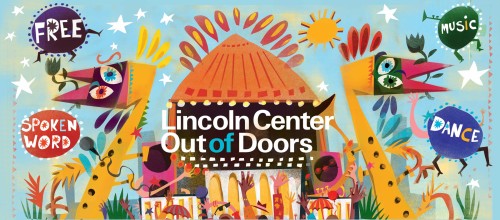 (Chinese Martial arts on display)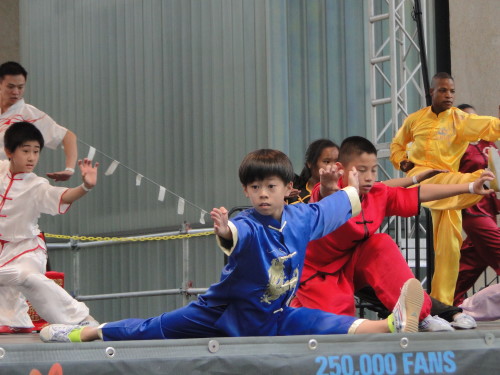 The Lincoln Center Out of Doors free summer events boasts one of the most diverse menu of cultural offerings of Arts that NYC has to offer! Sunday was no different as the Chinese American Arts Council and their extraordinary players provided us with a dynamic performance which they named From Chinatown With Love which consisted of traditional chinese martial arts & dance, classical martial art inspired operas, & a touch of modern dance! The performance is best captured by watching it live. Stills, video, & words do it no justice at all but for archiving & journal purposes. The show was less than an hour long but was very breathtaking and awe-inspiring as the traditional arts are harmoniously melded with the modern. The Chinese martial arts demo in the show seemed to be a mix of modern wushu and traditional. Some portions of the performance seemed very wushu'ey while others seemed more traditional. It was good overall blend of Northern Chinese styles for miles & miles! For more on the Chinese American Arts Council go here. For more on excellent programs and events at the Lincoln Center Out of Doors click here.
(Kung Fu Demonstration)

Posted in art, community, mr. c, photos | Comments (0)
July 25th, 2015 by Mr. C
(One of the battle art aerosol pieces by Carlos Game)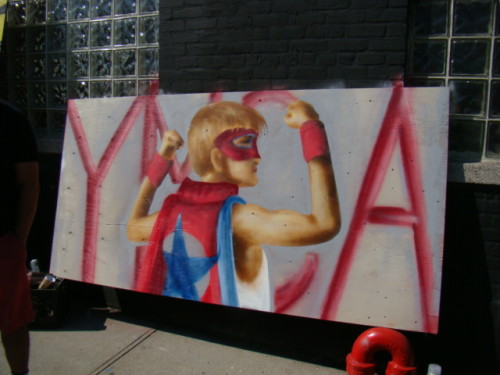 The spirit of the urban collective once known as 5 Pointz (more than just graffiti) came back earlier today in another form. A block party celebrating the culture of 5 Pointz held around the perimeter of The Skyline Auto Group on Vernon Blvd and 45th ave in Long Island City was alive and well! DJs,bboys-bgirls,a car show,aerosol art battles, & just maxin-relaxin and getting the hustle on to support the LIC YMCA was the name of the game! The Long Island City YMCA and co-sponsors of the event – the creatives behind 5 Pointz most notably Meres-One, Marie Cecile Flageul, & Gianna Cerbone-Teoli were the ones to thank for this gathering to celebrate the importance of the YMCA and to bring back the spirit & karma of the 5 Pointz collective. The LIC-Y & 5 Pointz Creates wanted to award 3 legendary individuals with their excellence in sharing & teaching their skills to the community at large. Congratulations and a big thank you to Graffiti legend Lady Pink, Legendary Hip Hop producer/DJ/Artist – Marley Marl, & Master of the Arts – Danny Simmons! Unfortunately Lady Pink & Danny Simmons couldn't make it to the event because of prior obligations but Marley Marl was live & direct to show his appreciation & offered his voice on WBLS to spread the cause!
Thanks to the battle art painters – Meres One, Lexi Bella, Carlos Game, James Rocco, & Topaz. The dancers: Dynamic Rockers & DJ Gabriel Dredel. Also a big shoutout to those that drove their gorgeous cars to the event like the Lambos, Ferraris, Aston Martins, the 1925 Fords, the classic Mercedes & Porsches, the classic 500 Fiats, and of course those Ducati Motorcycles!
Before the main event at the block party, I gathered with some friends to take a peek into the Long Island City Food & Flea market on 46th Ave by the river – a hop, skip, & a trip away from Gantry Plaza State Park! After a bit of eye-candy, a thai iced tea, & some grilled skewered meats, we ventured into the sights at Gantry Plaza before the humpty dumpty shuffle into the block party. Enjoy the photo journal!
(Marley Marl's speech at the award ceremony)

(Meres and Gianna – 5 Pointz creates with a speech about the event & programs)

(Before the jamz commenced, we ventured into the Long Island City Flea)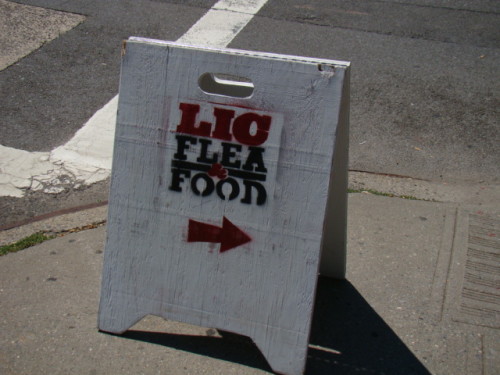 (Quiet before the LIC flea storm!)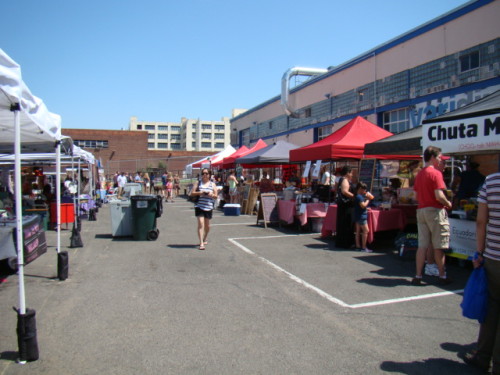 (Some of us got recruited to play the Ultimate Battle)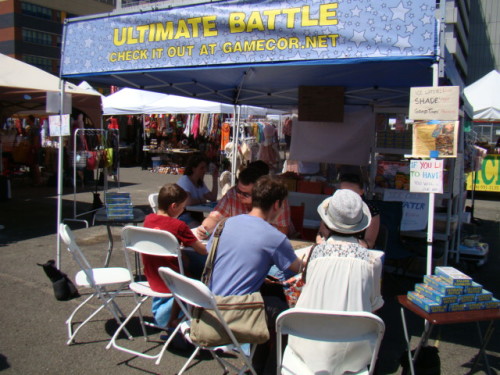 (Thai eats at Khao)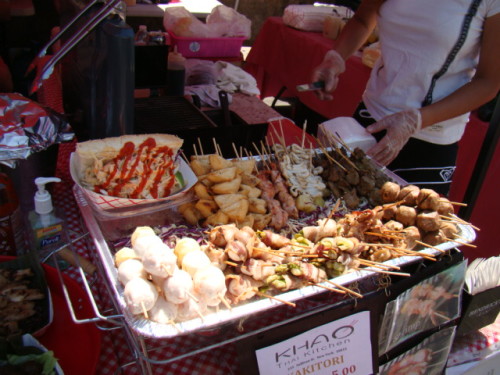 (Seafood balls,Beef Balls, & Squid Yakitori)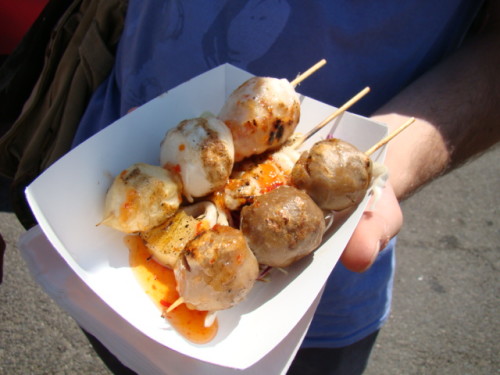 (Gantry Plaza State Park just a few blocks away)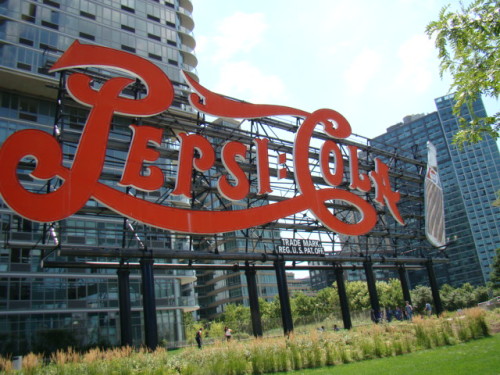 (View of the Manhattan skyline)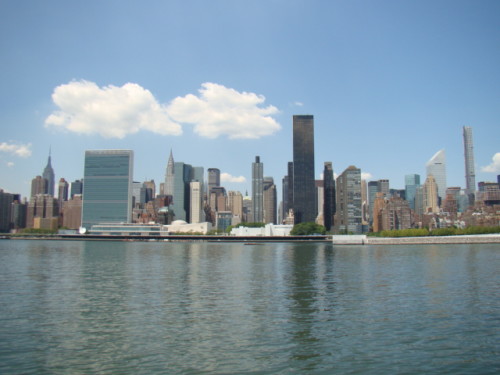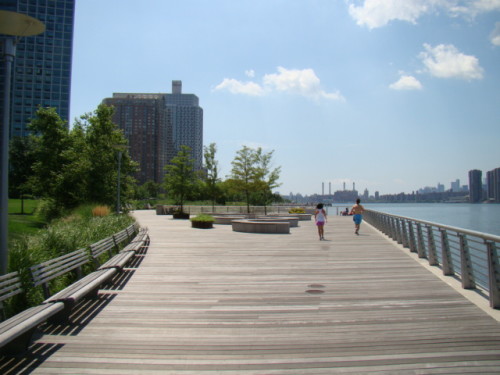 (Distant view of the Queensboro 59th St Bridge)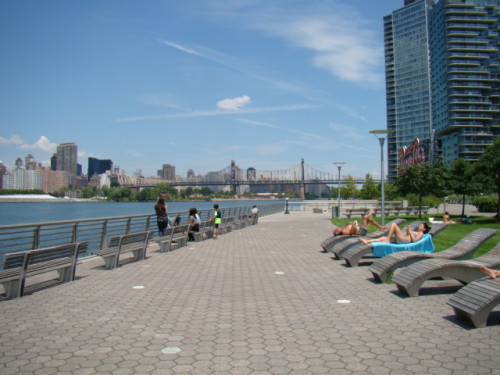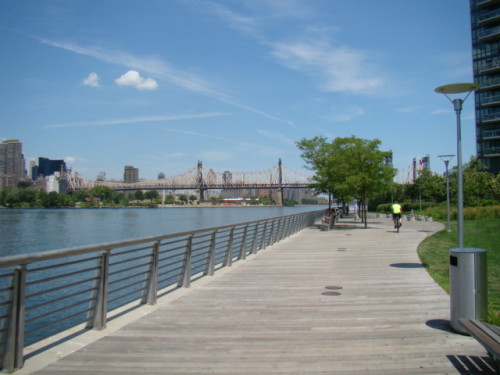 (YMCA block party on Vernon Boulevard at The Skyline Auto Group)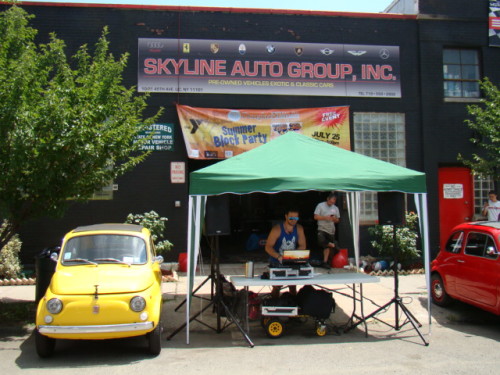 (Lexi Bella touch ups on her portrait of Lady Pink)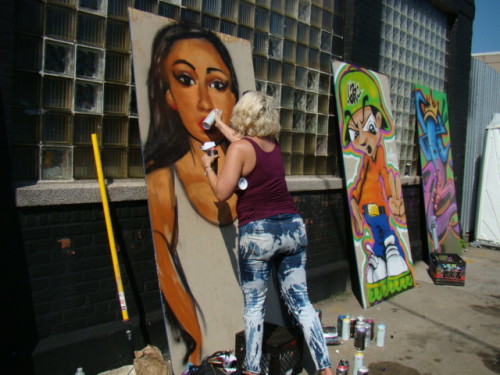 (Meres-One with the finishing touches)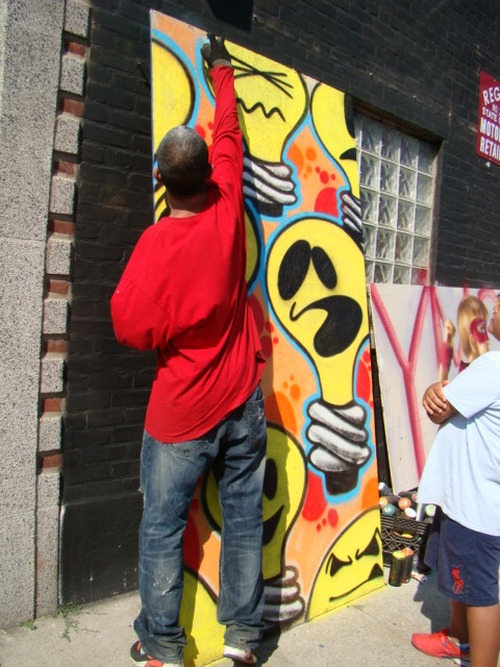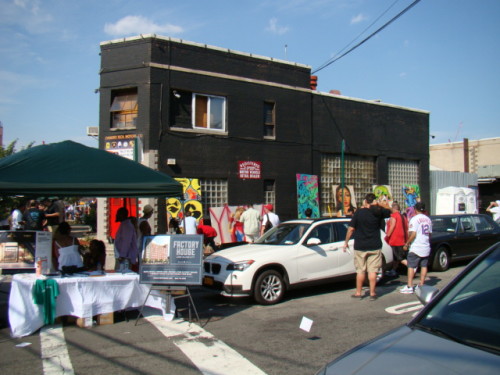 (At the car show inside the garage – Mustang)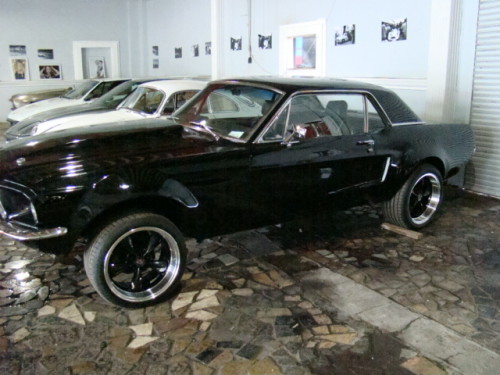 (Classic Mercedes & Porsches)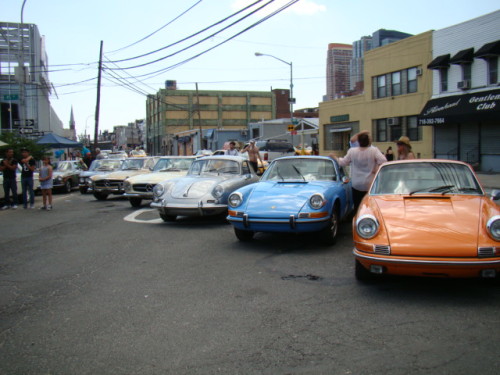 (Ferraris)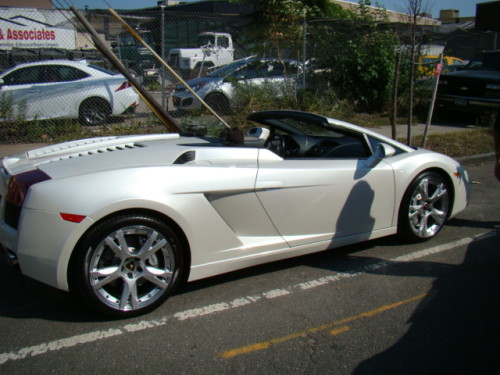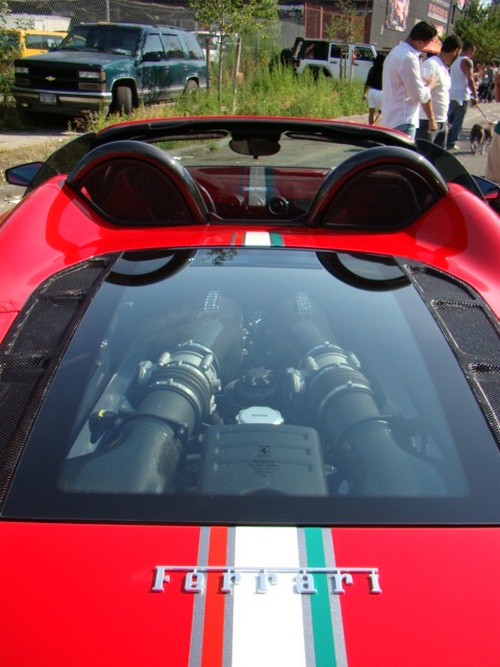 (1925 Ford tow truck!)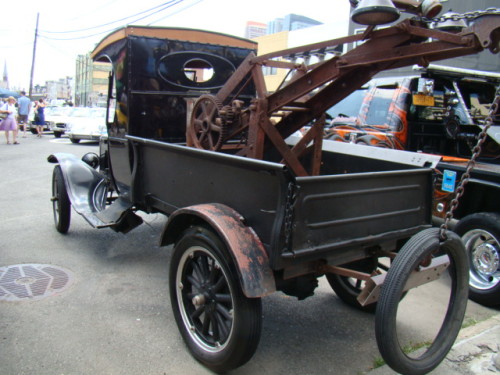 (Aston Martin)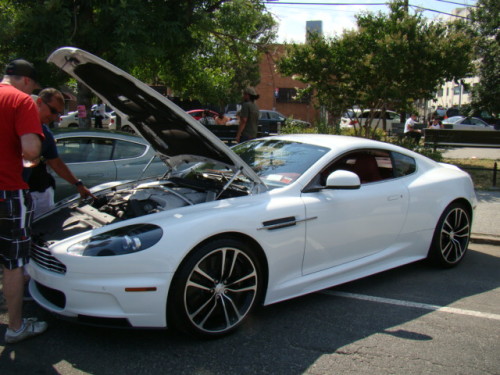 (Volvo)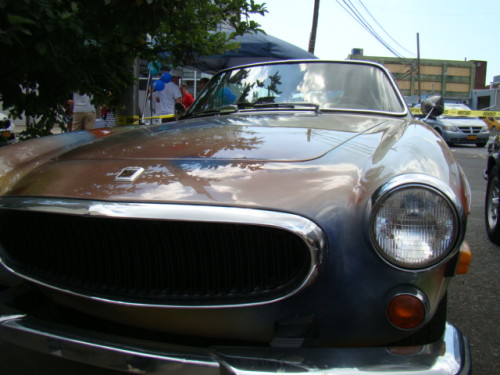 (Not part of the car show, but Mad Max badass for a mobile home – parked a block away from the party)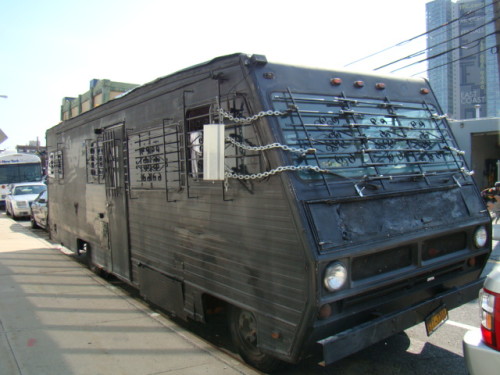 (We stepped away to the John Brown Smokehouse around the corner at 10-43 44th Dr, Long Island City, NY 11101)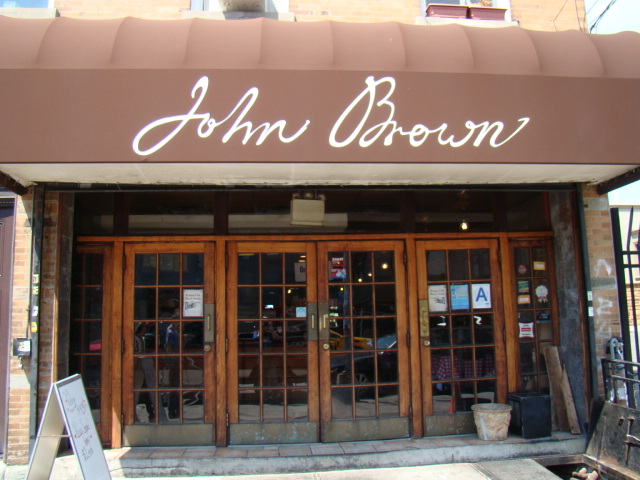 (Smoked pecan wings/Smoked Sausage/Cole Slaw)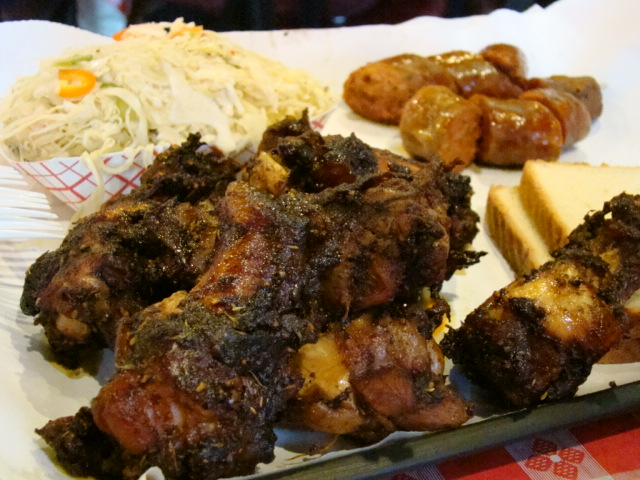 (Beef Brisket Burnt Ends on white bread)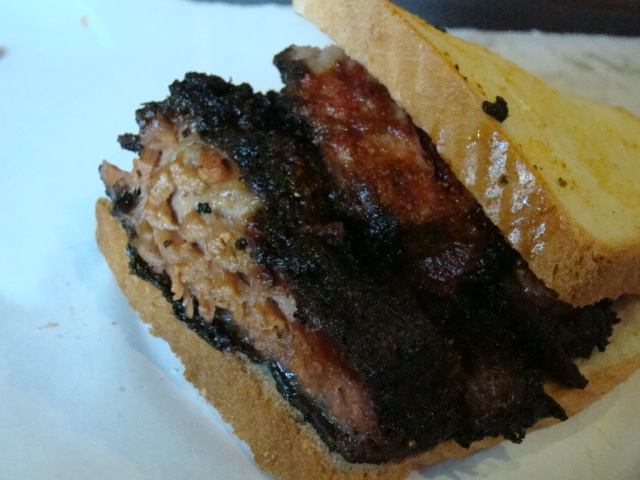 (Shiro's mural art in the dining area outside in the back of John Brown's Smokehouse)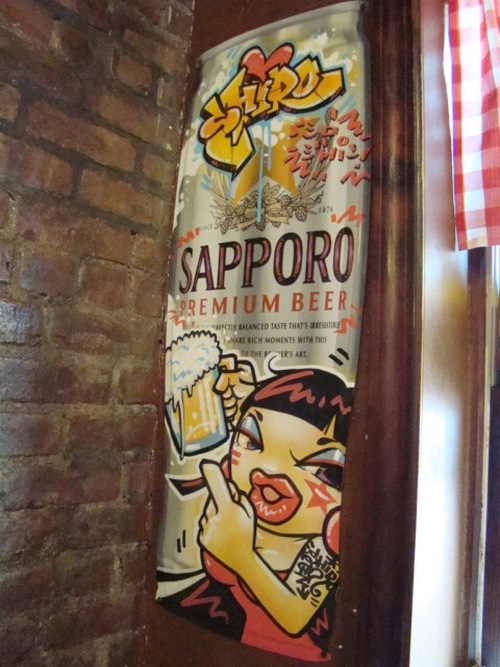 (Back to the Block party – YMCA spokesperson)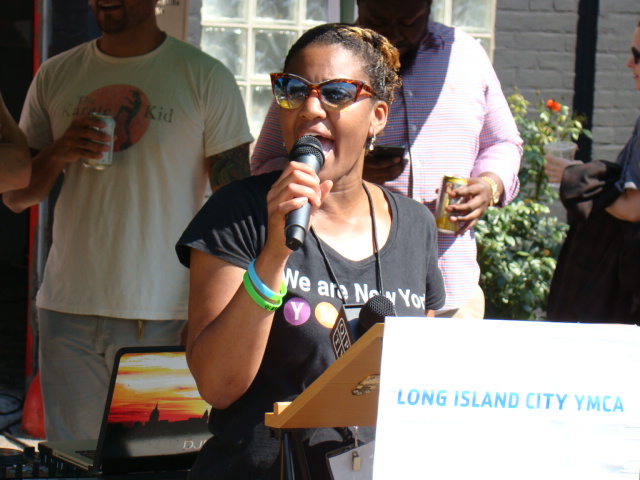 (L to R: Ricky,Director of Rubble Kings: Shan Nichols,Marley Marl)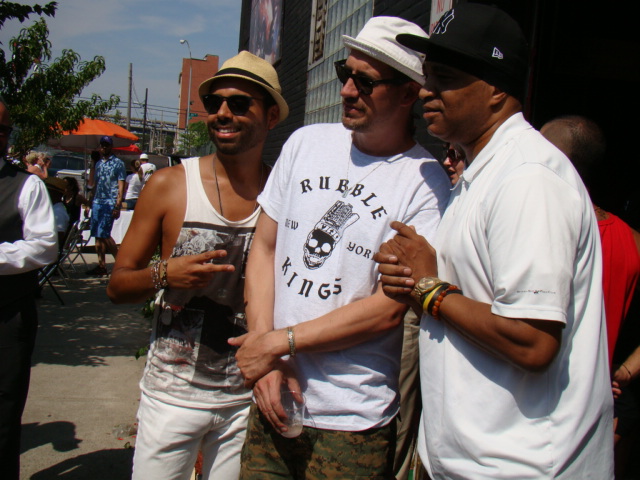 (Shan Nichols/Director of Rubble Kings)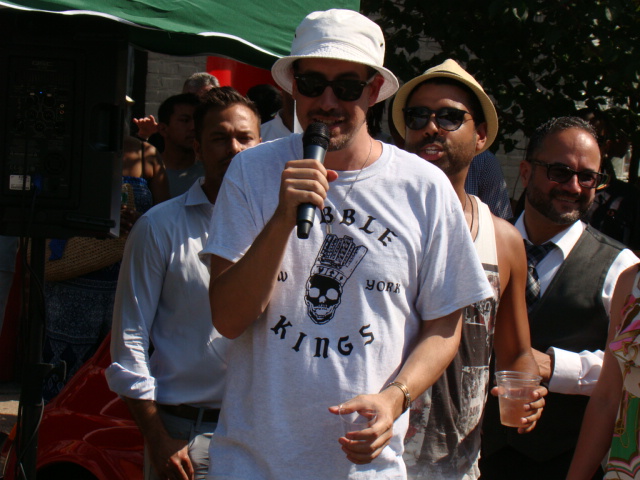 (Marley Marl chatting with Marie Cecile Flageul)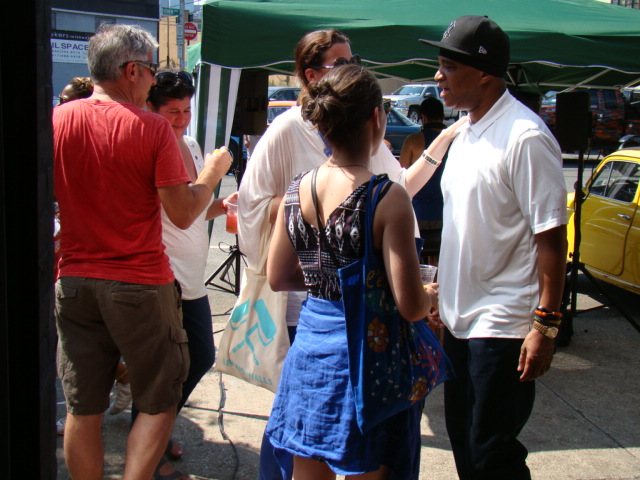 (Inside the garage of Skyline Auto Group)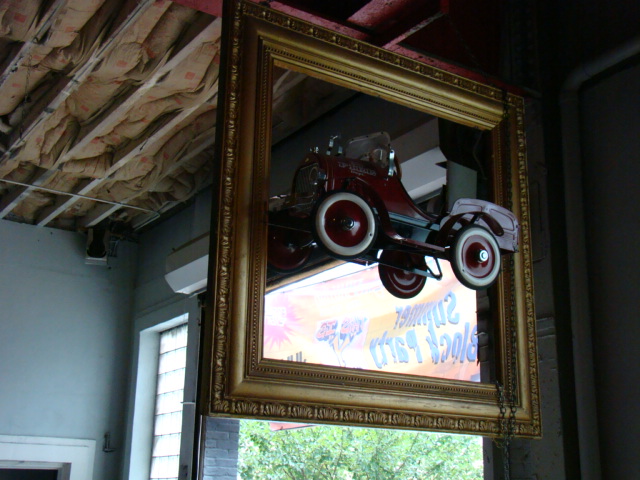 (Talk about a wall ornament for speedracers)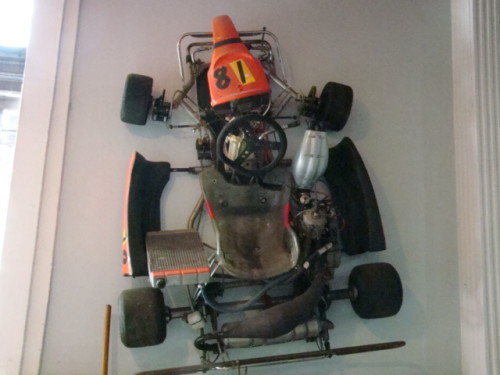 (Our favorite Taxi Cab company/depot – 55 Stan Operating Corporation from DRIVERS WANTED documentary)
(across the street from the block party on Vernon Boulevard)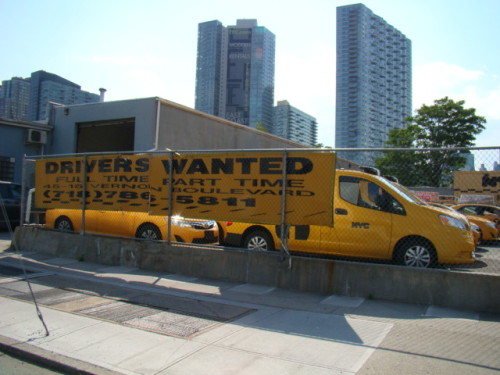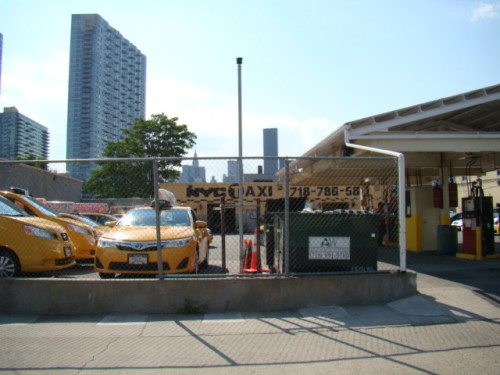 Posted in community, mr. c, music, photos | Comments (0)
July 13th, 2015 by Mr. C
Thanks to legendary local graff writer ZAR from Paterson, NJ for turning us onto these great old school Wildstyle pieces at School 15. We met ZAR a few years ago at the Hoboken Arts Festival at his table selling his aerosol art on canvas,T-shirts, & on spray paint cans! Only until recently did we finally make the hop, skip, & Psss.pssss.Psss over to School 15! What the hell took us so long? We love the large mural pieces that have been injected into everyday street life in NYC as of late but our admiration of the aerosol art form really takes us back to this complex form of lettering known as WildStyle! We like the burners, too! Anyway, enjoy the visuals!
Posted in art, community, mr. c, photos | Comments (0)
July 12th, 2015 by Mr. C
(the NY Mini 9 man volleyball tournament at Seward Park)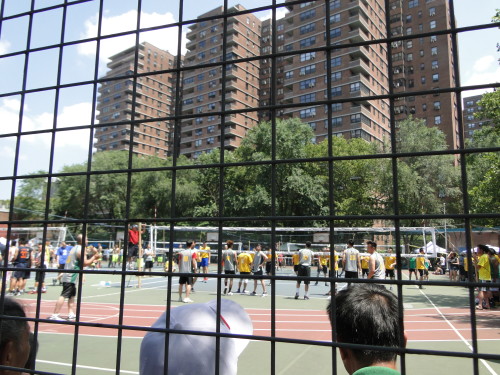 (Marissa Paternoster/Screaming Females at the 4Knots music festival on Pier 84/Hudson River Park)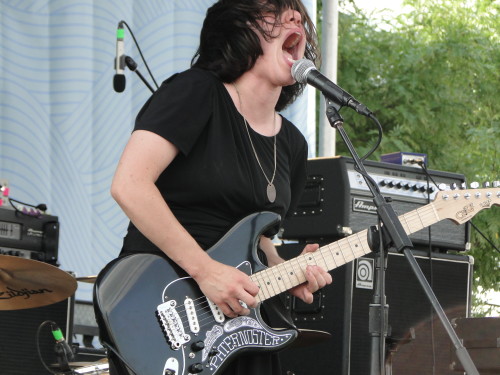 Last Saturday, Joel NJ Dev and I braved the midday heat and caught a little bit of a 9 man volleyball tournament exclusive to teams/players with Chinese american heritage. The game was stemmed from 80 years of history with this variant form of volleyball made popular in the Southern Chinese city of Toisan which spilled over to Chinatowns throughout the U.S. and Canada. I actually should know more about this 9-man game since my family is from Toishan and my family laid their root's in NYCs Chinatown in the 1960s. But since we moved to NJ in the early 80s, I didn't mesh into the community of Chinatown on the everyday. My family continued to work in chinatown but I basically was a weekend warrior to C-town. Come High School and competitive volleyball was a big part in my life playing for my high school varsity team with none other than with my other brothers from another mother at Planet Chocko! We had short stints playing at beach volleyball tournaments at the Jersey shore which is a whole other game in itself. So, yeah, came and went this 9 man volleyball tournament called the NY Mini last Saturday which was held at the track/tennis courts at Seward Park in the lower east side of manhattan. We appreciated & enjoyed the intense nature and athletic ability of these 9 men to a team!
(9 man volleyball tournament at the Seward Park tennis courts on Essex Street)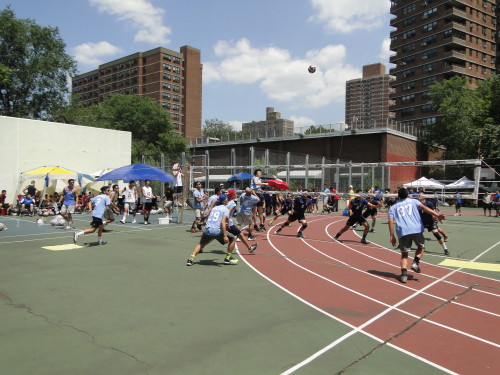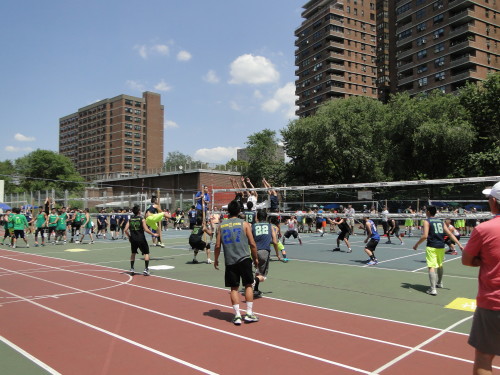 From the lower east side of Manhattan, NJ devil & I dashed over to 44th Street & West Side Highway at Pier 84 for the 4Knots Music festival! We planned on catching the poppy alternative rock band from London – Happyness at 2:45 and then one of the hardest working DIY bands known to man & ladykind – Screaming Females – with their set at 3:45. With a little bit of parking karma and technical difficulties from the sound, we dipped into the Happyness set with plenty of time remaining to get a nasty farmers tan before the music commenced! I've been getting into Happyness with their electro fuzzed out catchy vocals and fiery chords blended in with the whispering vocals and fuzzed out guitars! Screaming Females came out with their no-nonsense form and blasted through a set of fiery, howling vocals from Marissa along with her intense guitar riffs and solos! Marissa has so much energy and passion playing that guitar that it really is intoxicating. Jarrett on drums and King Mike on the bass help orchestrate the Screaming Fuckers madness! I recorded a few songs (Rose Mountain and Sheep) from the Screaming Females set but the bass distorted a lot of the sound. It basically blew up my camera. The visuals & vibe still worth watching because of Marissa's performance, though! See below! Also, check out Happyness' performance of Montreal Rock Band Somewhere – good shit!
(Happyness at the 4knots music festival)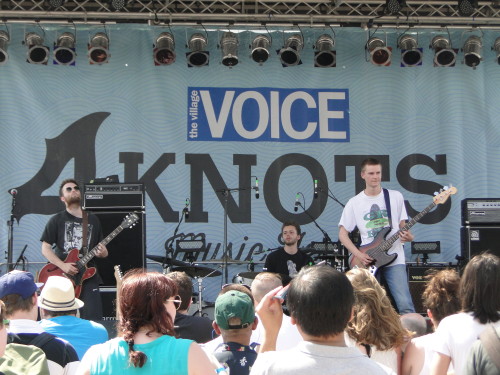 (Benji Compston/Happyness: Guitar-Vocals-keyboard)

Posted in community, mr. c, music, photos, sports | Comments (0)
July 9th, 2015 by chocko
The San Diego Comic Con International is now in full swing. I'm not going there this year. I'll be missing the Con for the first time since 1998. It's been a good run, but it really has been a pain in the neck trying to get tickets and it's very expensive and nearly impossible to get a hotel near the Convention Center. It's also not fun waiting all day for a panel just to get rejected. The Con is just getting too big for it's own good, but enough of my whining, here are some photos of the Cosplay action at last year's Con. Hopefully I'll be back at the San Diego Comic-Con soon!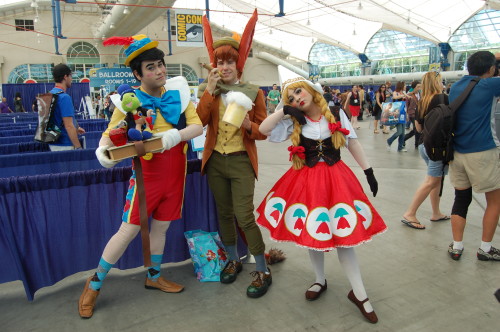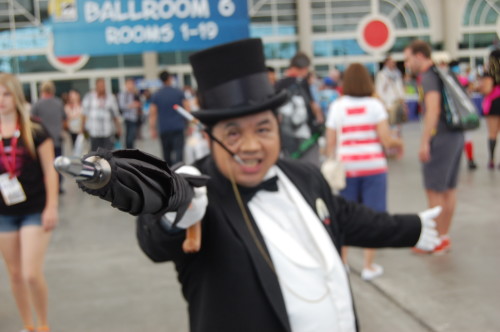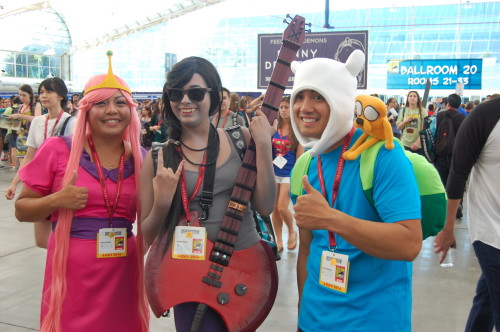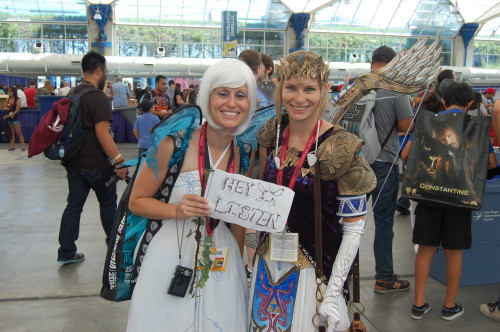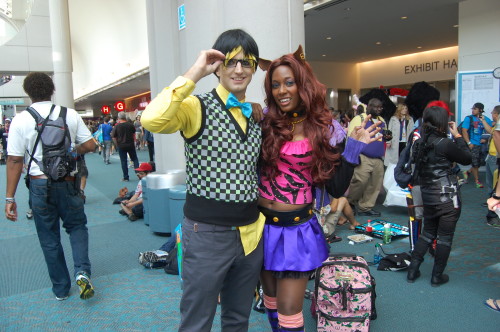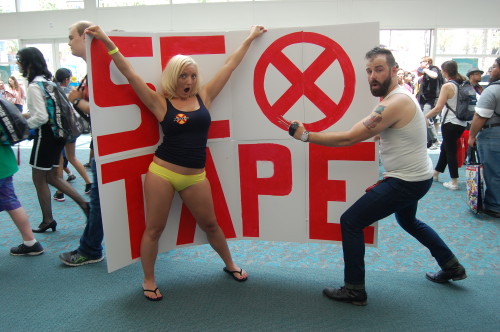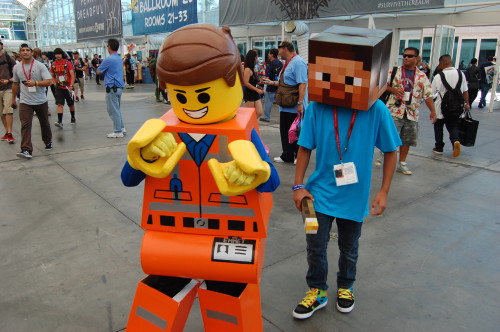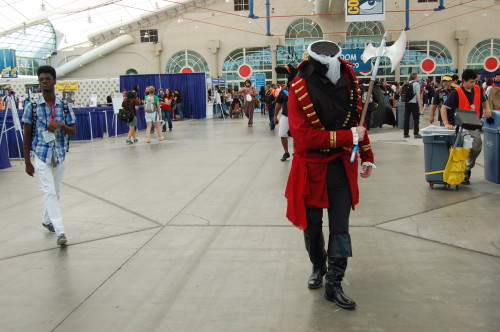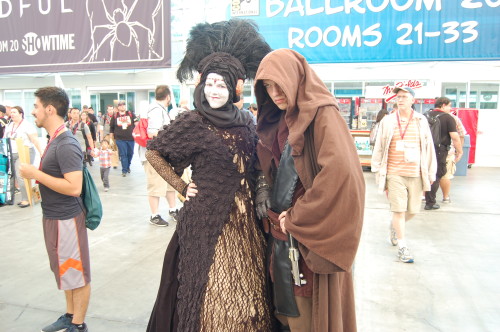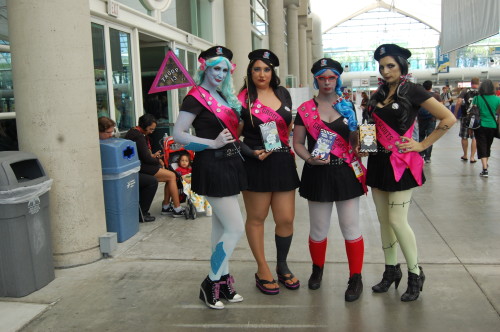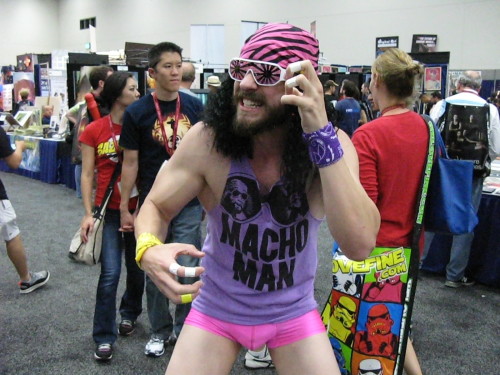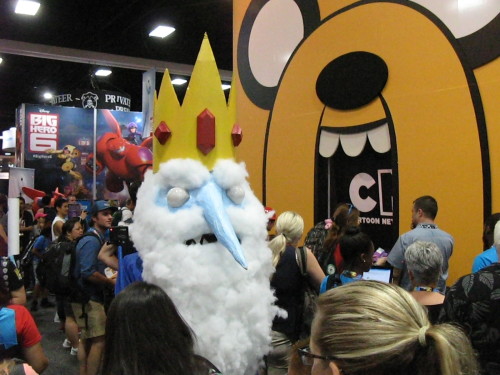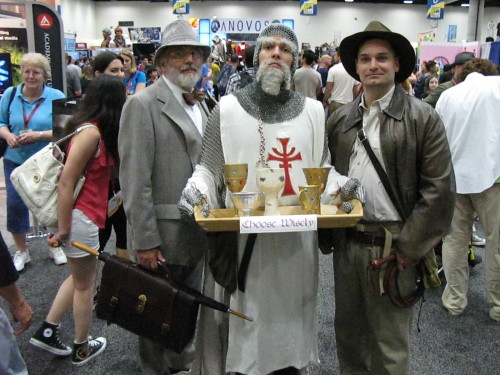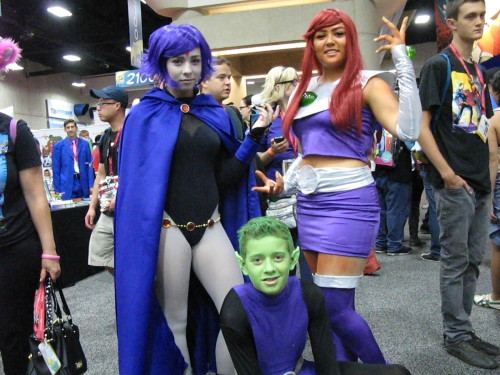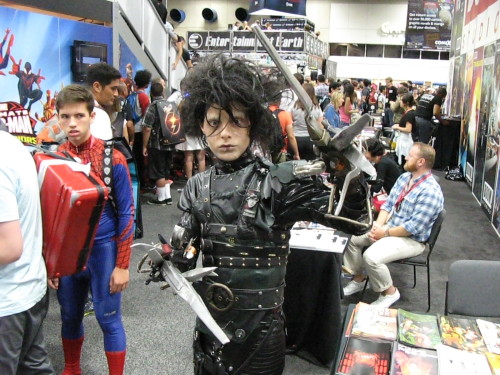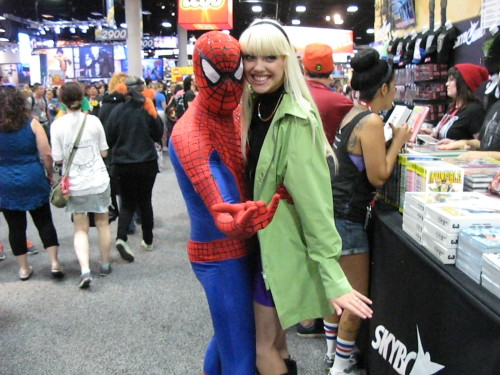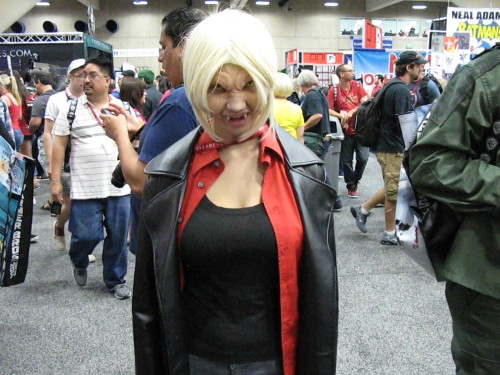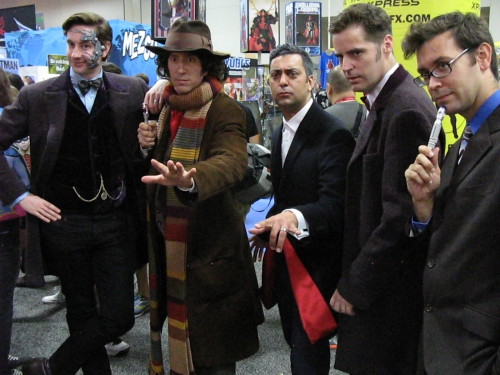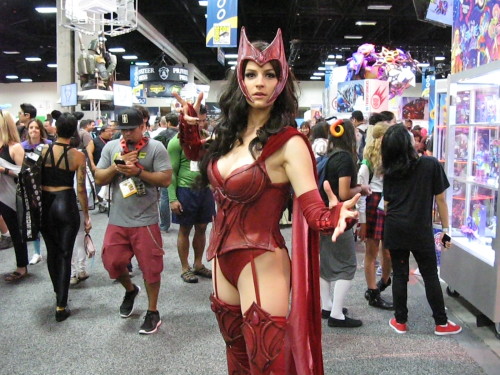 Ok, one more…this guy was killing it as Ace Ventura!

Tags: 2014, california, comic books, comic convention, comic-con international, cosplay, costumes, geeks, nerds, photos, san diego, sdcc
Posted in art, chocko, comic books, movies, photos, toys, travel | Comments (0)
July 8th, 2015 by chocko
Brian Wilson at PNC Bank Arts Center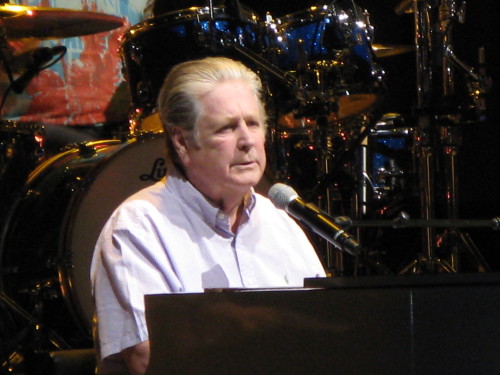 Rodriguez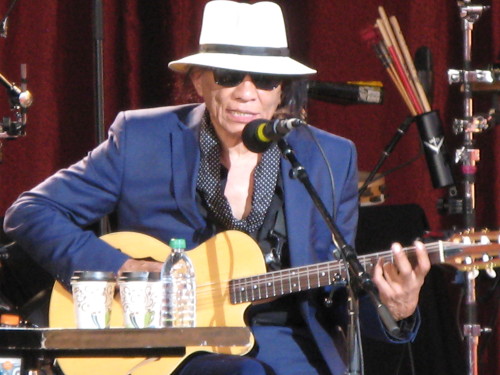 Rodriguez played an excellent set opening up for Brian Wilson at PNC Bank Arts Center at Holmdel, New Jersey last week. If you don't know who Rodriguez is, stop what you're doing right now and go see the documentary Searching For Sugar Man. You can thank me later. The seventy-something singer from Detroit found some new found appreciation for his music recently thanks to the documentary and Sixto Rodriguez did not disappoint at the NJ show. I've seen him over the last couple of years in different venues, from City Winery to Radio City Music Hall and it has always been a thrill to check him out. He always seems to sound better than the last time I saw him perform. Rodriguez started off the night with "Inner City Blues" and "Crucify Your Mind" both off his debut album Cold Fact. Rodriguez stayed humbled and interacted with the audience, often times shrugging off declarations of love with, "I know it's the alcohol." I heard some covers sprinkled in the set including "Fever" which I've heard him do before but also one I've never heard him perform, "Learnin' The Blues" a 1955 song made famous by Frank Sinatra…I prefer the Louis Armstrong and Ella Fitzgerald version any day. I also heard some songs that I didn't recognize. Hopefully they were new songs and yes, I would love to hear Rodriguez record more albums.
Brian Wilson (left) and Al Jardine (right)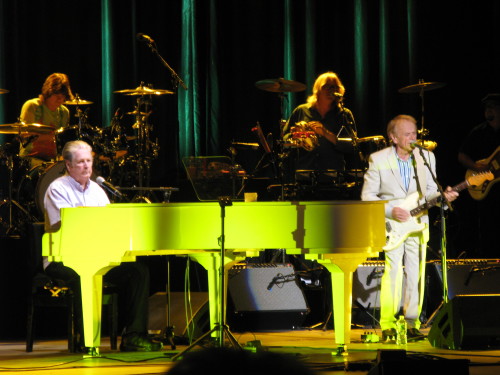 Fresh off the release of both the amazing biopic Love And Mercy and his new album, No Pier Pressure, comes the brilliant mind behind some of The Beach Boys' most loved songs…Brian Wilson was in the house and brought a killer band with him that included another founding member of the Beach Boys, Al Jardine. Al sang lead on a few songs including "Shut Down" and tag-teamed on the vocals of "Little Deuce Coupe" and "Sloop John B" with Brian. Al Jardine also sang a Crystals cover and a Leadbelly tune, "Cotton fields" accompanied by Lina D'Amico, the daughter of a percussionist in Brian's band. Other members of the band took on lead vocals on a few songs such as "This Whole World" and "Darlin" which had long time band member Darian Sahanaja stepping up to the microphone. The impressive Matt Jardine took on songs that needed that higher octave such as "Don't Worry Baby" and "Wouldn't It Be Nice." Blondie Chaplin, best known for being in the Beach Boys in the early 1970's and playing with The Rolling Stones in the late 90's, also made an outstanding appearance for a bunch of songs including "Wild Honey" and "Sail On, Sailor." My favorite moment in the show was Brian Wilson's performance of what is arguably his best song ever, "God Only Knows" off the album Pet Sounds, which was beautiful and amazing to hear performed live by the person who wrote it. Pet Sounds celebrates its 50th Anniversary next year and it is probably one of most important and influential albums to ever come out. Definitely get it and give that record a spin if you don't have it in your collection. Another highlight was when Brian started off a song and encouraged the audience to sing a long. That song was "Row Row Row Your Boat" and you haven't lived until you've participated in an epic concert sing a long like that. I'm pretty sure every person in the house was smiling. The encore featured a special guest, Bruce Springsteen who came out of nowhere and joined the band for some "Barbara Ann" and stuck around for "Surfin' U.S.A." armed with his guitar. The Boss stood by Al Jardine and Blondie Chaplin for a triple threat of guitar chords mixed with some Jersey bred vocals. The night ended with "Fun, Fun, Fun" and "Love And Mercy." The U.K. Fall Tour is postponed until next year but there are 5 more performances of the Brian Wilson show here in the United States…be there! Check out some videos below.
Bruce Springsteen on stage at PNC Bank Arts Center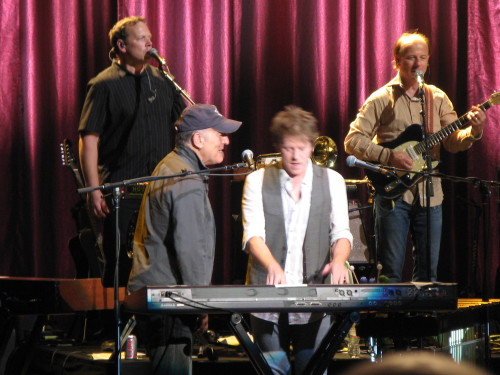 Check out Chocko (njchocko) and Mr. C (planetchocko) on instagram.
Follow @planetchocko on Twitter. LIKE us on Facebook too. Thanks!
Tags: Al Jardine, Blondie Chaplin, Brian Wilson, new jersey, nj, PNC Bank Arts Center, review, Rodriguez, show, Sixto Rodriguez, The Beach Boys
Posted in chocko, movies, music, photos | Comments (0)
July 4th, 2015 by chocko
Here are some photos from the interior of Demolition Exhibition located at the former Pep Boys at 410 Marin Blvd, Jersey City, NJ 07302. 100 Artists/30,000 Square Feet of Graffiti inside and outside of a huge building. You gotta see it to believe it…last chance to dance is July 4 open to the public from 12:00 PM – 8:00 PM. Come check out the latest Green Villain production before the wrecking ball comes through.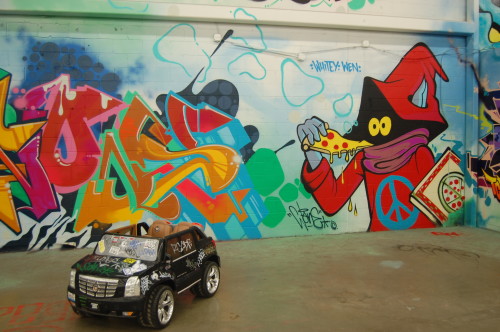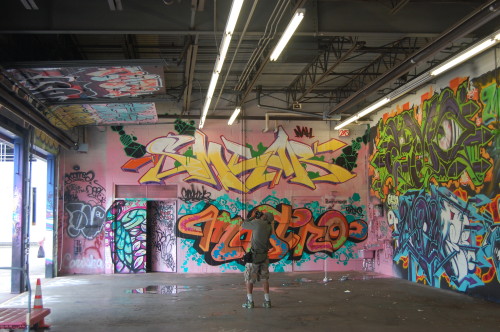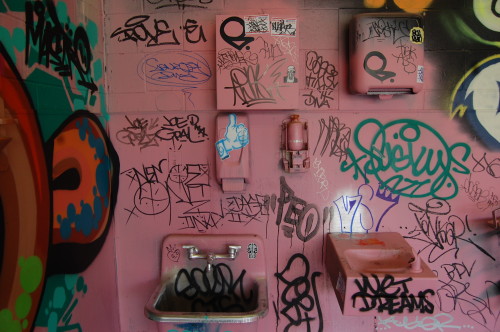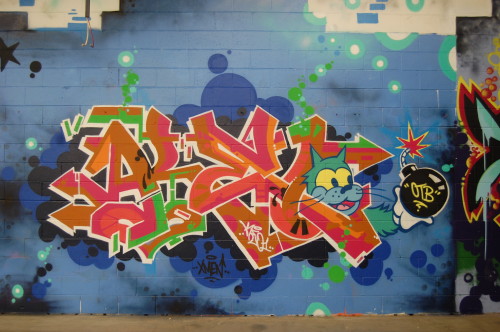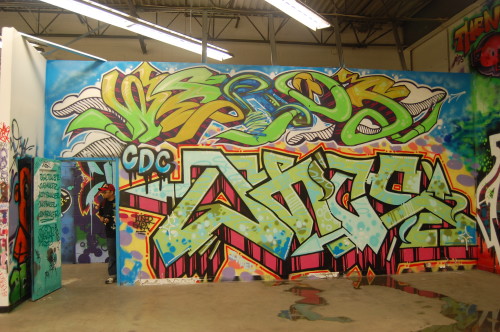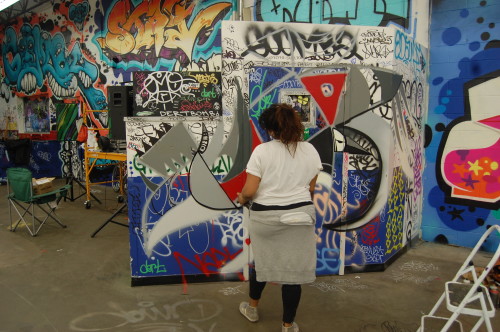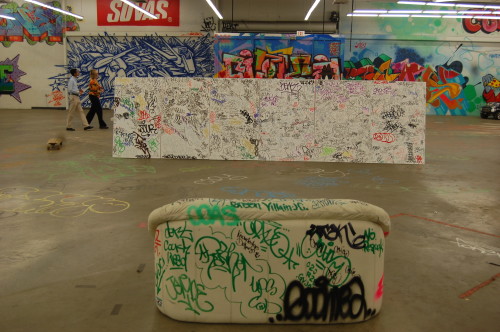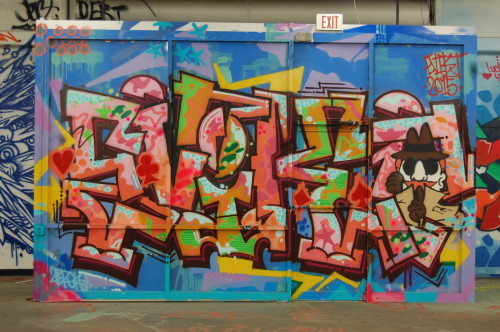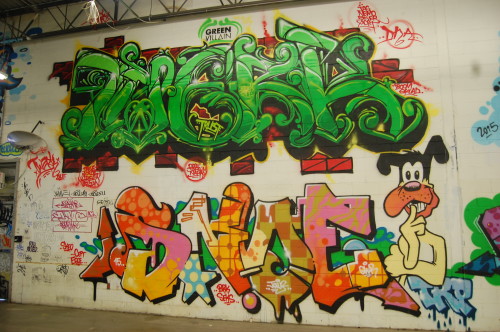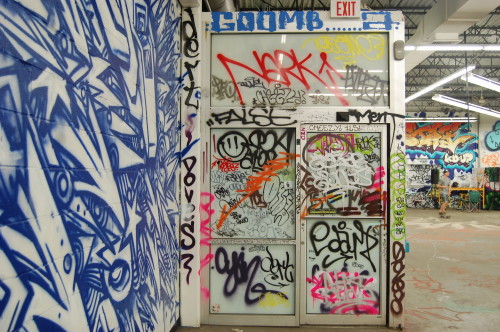 Check out Chocko (njchocko) and Mr. C (planetchocko) on instagram.
Follow @planetchocko on Twitter. LIKE us on Facebook too. Thanks!
Tags: Demolition Exhibition, graffiti, Green Villain, GVM004, jersey city, new jersey, street art
Posted in art, chocko, photos | Comments (0)
July 1st, 2015 by chocko
Here's a little change of pace for a movie that screened opening weekend at The New York Asian Film Festival 2015. No swordplay, ninjas, or gangsters shooting it out in this movie…just a love story, plain and simple. It's Already Tomorrow In Hong Kong is a movie about two strangers, Josh (Bryan Greenberg) and Ruby (Jamie Chung), who meet in a foreign city which happens to be Hong Kong. Josh happens to be on a smoke break outside of a party where he meets Ruby fumbling with her phone, in need of directions. Josh offers Ruby some help and they walk and talk through the crowded neon-lit streets, drink at cool local bars and the sparks fly. Josh and Ruby split up and after a chance meetup a year later, pick up where they left off and continue wandering the streets, having conversations about relationships, Seinfeld and facebook.
The streets of Hong Kong are shot beautifully and many unsual characters are met along the way as Josh and Ruby try to get to know each other. One particular scene features a fortune teller played by a popular comedic actor from Hong Kong, Richard Ng. Props to Director, Emily Ting on her homage to Richard Linklater's Before Sunrise but Josh and Ruby meandering through HK are no match to the epic walk and talks of Linklater's Jesse and Celine. Not a bad movie, I didn't doze off and would definitely recommend it to fans of romantic comedies.
Director Emily Ting and stars of the movie, Jamie Chung and Bryan Greenberg were present at the screening and stuck around for a Q&A moderated by Samuel Jamier (Co-Director of Subway Cinema). Check out a video of the Q&A below along with some photos. NYAFF 2015 continues through July 11 at Film Society of Lincoln Center and School Of Visual Arts Beatrice And Silas Theatres in New York City. Be there!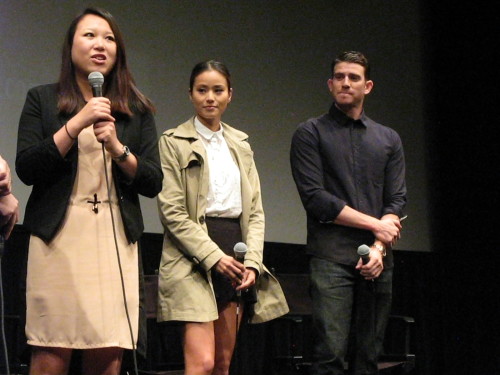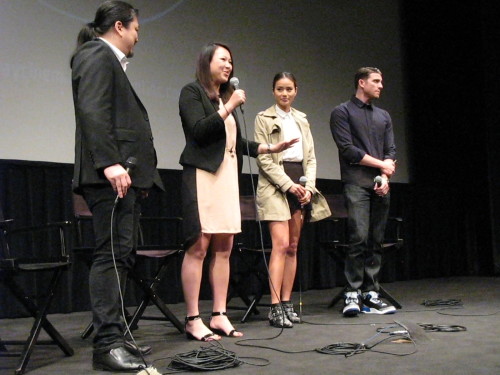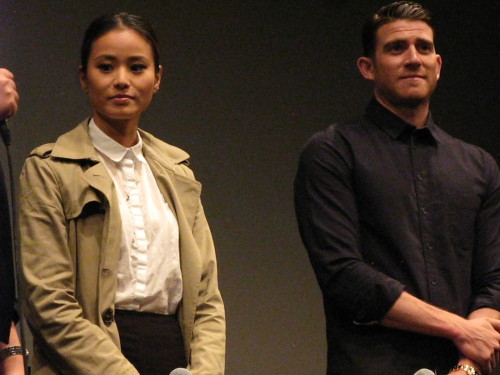 Tags: Bryan Greenberg, Emily Ting, It's Already Tomorrow In Hong Kong, Jamie Chung, new york asian film festival, NYAFF 2015
Posted in chocko, movies, photos | Comments (0)
June 29th, 2015 by Mr. C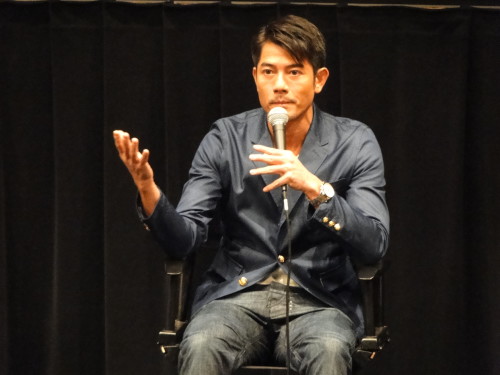 (Heartthrob Aaron Kwok after the Port of Call screening at NYAFF2015)
My first foray into the New York Asian Film Festival 2015 was based on a true murder mystery of a 16 year old sex worker.
Port of Call is a story of the murder of a young woman from mainland China who struggles to find herself and her identity. She is not content with the living conditions with her mom and sister in a low income housing project in Hong Kong as the prospects of her wanting more and seeking more will get her skin deep in trouble. This film was a real slow burner and creeper throughout which made me feel uncomfortable at times but I liked what the film was doing to me emotionally and visually. Port of Call really painted a picture of a dark & grim and mostly hopeless Hong Kong as well as offering that slight stroke of hope shining the good of a few individuals trying to make a difference as with the character that Aaron Kwok was playing. The usual heartthrob inducing Kwok played a seasoned but dilapidated detective on the hunt for the truth of the senseless murder of the 16 year old. Loneliness was the common denominator that the movie kept on driving home to the viewers. The cinematographer Christopher Doyle did a great job in working with camera angles and filming behind inanimate objects like a curtain or the shower that layered through to the subject that just made the mood of the scene very secretive and eerie. There were a few graphic blood soaked scenes as well as some sexual content but for the most part, I considered this a quiet film with a lot of drama in unraveling the story and psyche of a troubled individual similiar to peeling an onion only to find multiple layers of bitter tears. The ambient soundtrack added to the transient mood of the film. Aaron Kwok churned in a great performance playing a grey haired & burnt out quirky detective obsessed with solving his crime cases which lead to the downfall of his own relationship with his family. Dare I say the film was a bit charming in ways such as with the scenes involving the grizzled detective and his ex-wife and kid but was mostly over-shadowed by the dark side of Kowloon!
New York Asian Film Festival runs through July 11th. Go get yours!
(Grady Hendrix & Aaron Kwok at the Q/A session)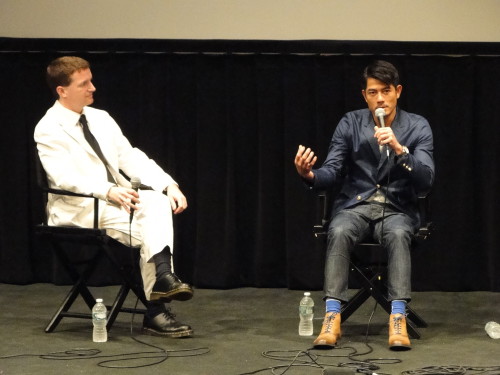 Posted in movies, mr. c, photos | Comments (0)
June 24th, 2015 by chocko
G.B.H. at Gramercy Theatre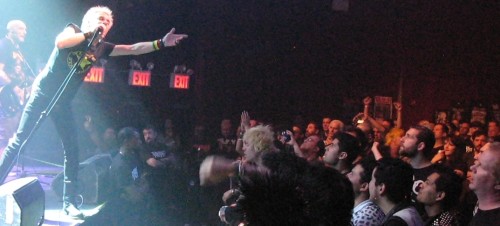 Total Chaos at Gramercy Theatre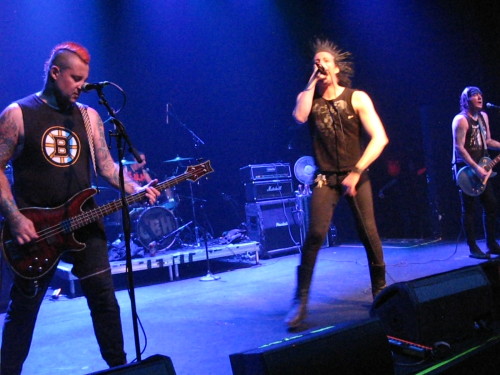 UK street punk vets, GBH stopped by Gramercy Theatre in NYC which marked their 35th show and 5th country on their most recent tour. Fellow punk rockers from California, Total Chaos opened up the show which featured lots of new tunes from their new album, World Of Insanity. A good amount of the songs on the album seem to come from a point in lead singer, Rob Chaos' life living in Berlin and getting ratted out for something. He mentioned it briefly on stage, not going into detail but then busting out songs like "Sold Me Out" and "Police Rat." I tried recording some songs but the Security force at the venue shut me down. The sedated NYC crowd stood around posing for most of the Total Chaos set but by the last song, people started moving and grooving in the pit.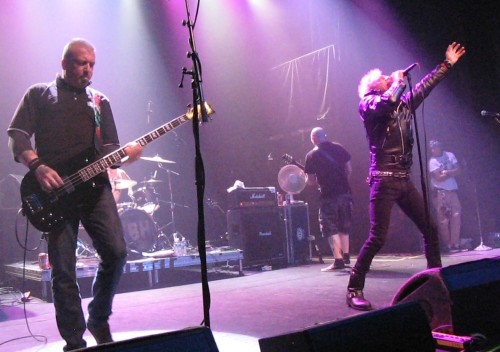 Charged GBH, but commonly known as GBH stepped on the stage, people with mohawks came out of the woodwork and there was a sudden surge to the front. The lineup from the Birmingham, England band featured the original core trio of Colin Abrahall on lead vocals, Jock Blyth on guitar and Ross Lomas on bass. Scott Preece rounded out the lineup and is certainly not a rookie with nearly 20 years banging the drums with GBH. The spikey haired Col sounded amazing and was flanked by two gnarly looking dudes..Ross looked like he could curb stomp a bull and Jock looked like he could punch through a brick wall. Their nearly 25 song set comprised of tunes from 30 years of UK street punk. Songs such as "Necrophilia," "Slit Your Own Throat" and "City Baby Attacked By Rats" were performed while the crowd danced in a circle pit, sang along or like the dude next to me fist pumped and punched the air like he was trying to knock out Kimbo Slice. All the running amok got the security distracted and I was able to record a couple songs including "Cadillac One" where the bass player from Total Chaos was invited back on stage to perform the shuffling punk tune. The band closed out their set with "Maniac" which you can also check out below. GBH continues to tour around the globe…next stop, Mexico! June 25 Tijuana at You Revolution, June 26 Monterrey at Cafe Iguana, June 27 Queretaro at Club de Los Leones and June 28 Guadalajara at Foro C3. See them at a club near you.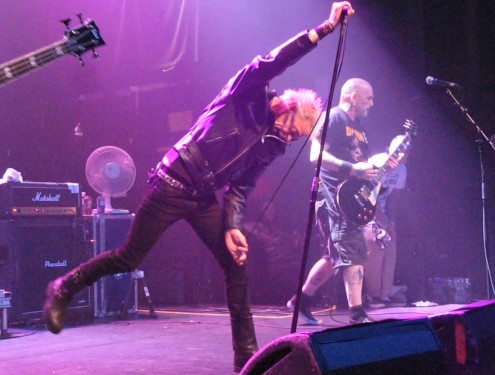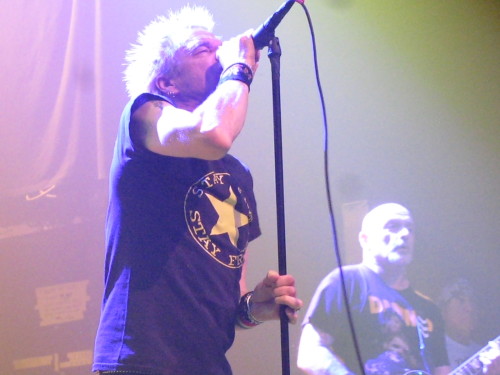 Check out Chocko (njchocko) and Mr. C (planetchocko) on instagram.
Follow @planetchocko on Twitter. LIKE us on Facebook too. Thanks!
Tags: Charged GBH, GBH, Gramercy Theatre, new york city, nyc, photos, punk rock, review, show, street punk, Total Chaos
Posted in chocko, music, photos | Comments (0)
June 21st, 2015 by chocko
Punk Island is mere hours away….rain or shine! It's taking place on Sunday, June 21 2015 from 10:00 am to 9:00 pm at Staten Island Pier 1. 100 bands including Crack Rock Steady 7 and RVIVR. It's gonna be insane. Check out some photos and videos from Punk Island 2014.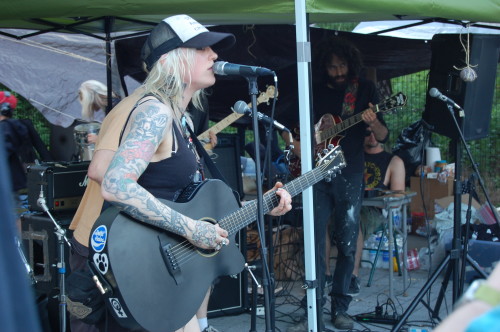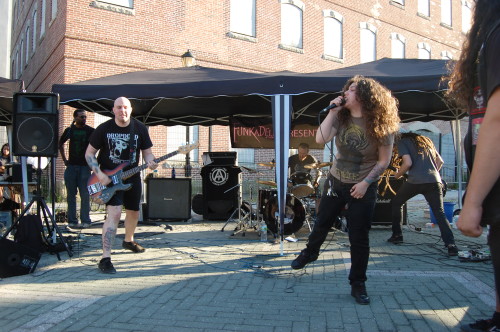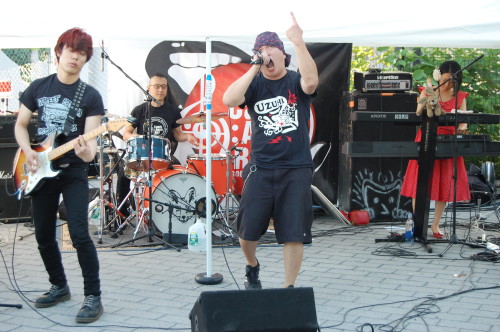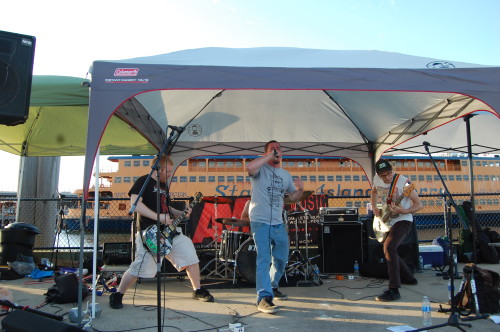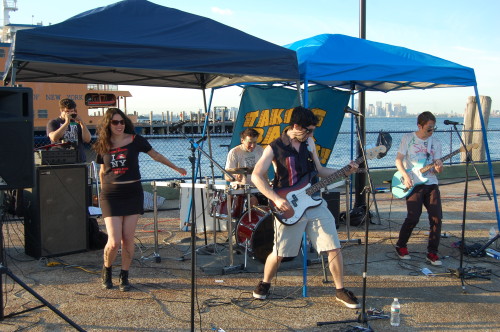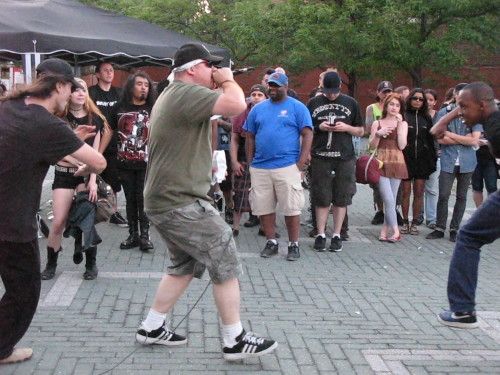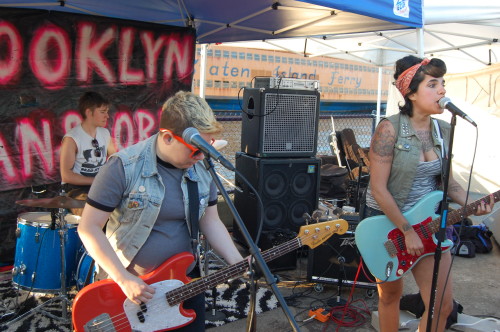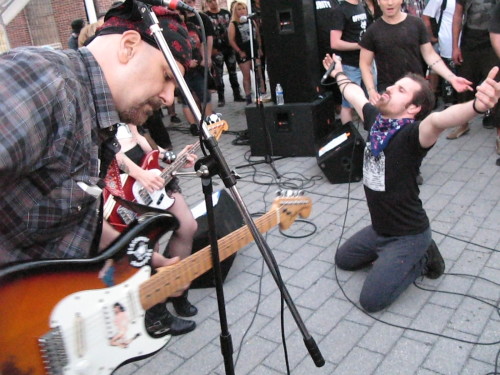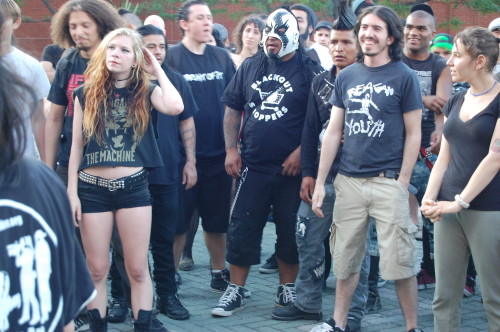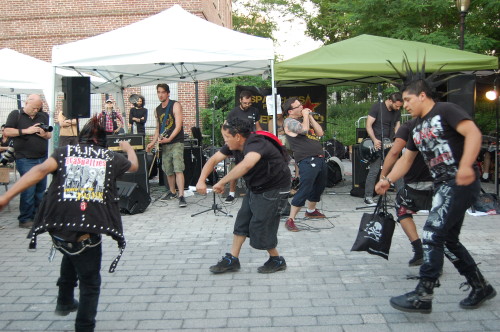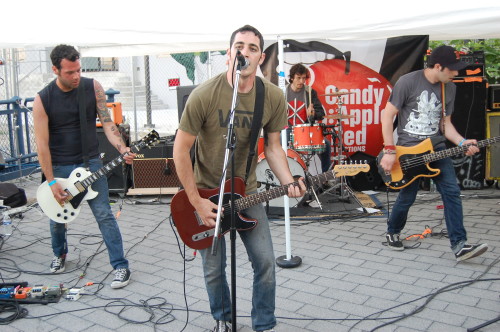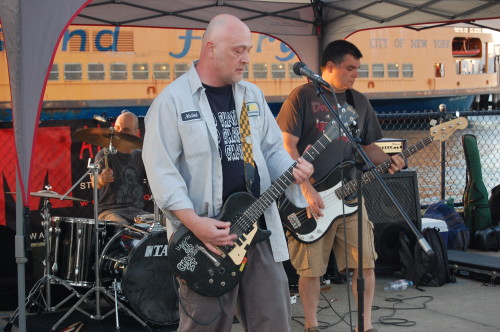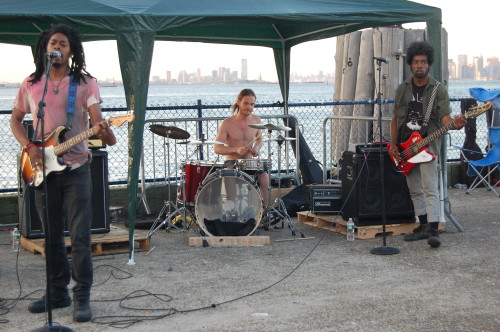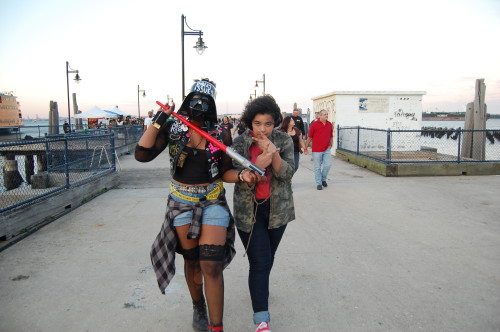 Tags: cop problem, punk island 2014, punk island 2015, punks
Posted in chocko, community, music, photos | Comments (0)
June 21st, 2015 by chocko
Biz Markie at Herbert Von King Park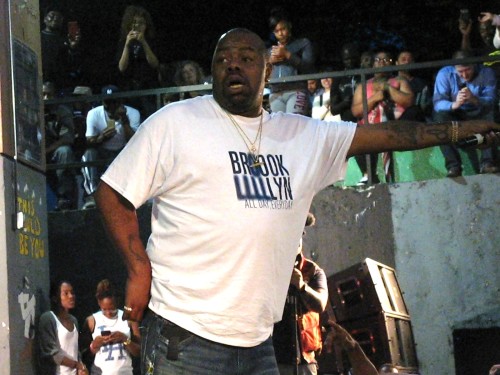 Masta Ace at Herbert Von King Park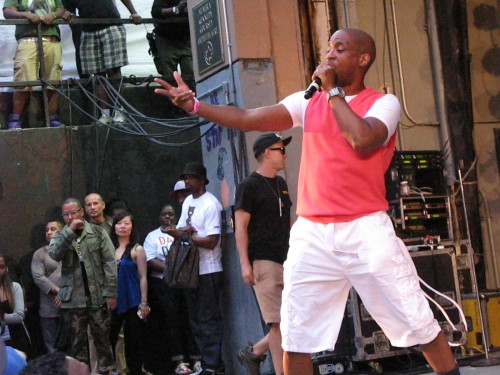 Old school hip hop was in the house at Herbert Von King Park last Wednesday night with a free Summerstage show featuring Biz Markie and Masta Ace. After driving around Bed Stuy like Mr. Magoo and finally parking in a spot near the park, Chocko followed the booming sounds, skipped down the steps of the crowded, outdoor amphitheater and made my way to the front. Masta Ace had just begun his set and the lyrically gifted, Brooklyn native entertained the crowd with mostly old songs from deep in the catalog including his verses from "Crooklyn" and "Symphony." Kind of fitting for the show, Masta Ace also performed a 1990 track titled "Me & The Biz" where Ace does his best Biz Markie impersonation. Was this track a homage to Biz or done out of necessity because Biz couldn't make it to the studio to perform on the song? This song always confused me…I hope one day they just record this properly with both Ace and Biz together on a track. Somebody make it happen!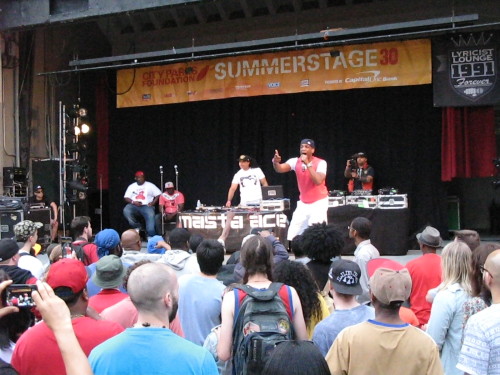 Ace also got the crowd participation going by performing snippets of some well known hip hop songs by other artists and letting the audience fill in the blanks. He finished off his set with "Good Ol' Love" from his 2004 album, A Long Hot Summer. Check out some videos below!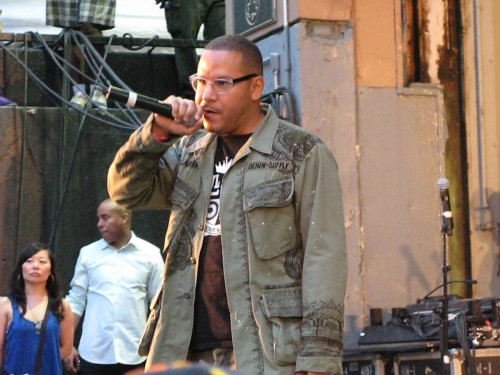 Danny Castro of Lyricist Lounge killed some time between sets by talking with the crowd and asking the audience questions like "Who's better, Mobb Deep or Smif N Wesun?" or "Who's better, Jay-Z or Nas?" or "Mos Def or Q-Tip?" You get the picture…Hip Hop fans could sit around and debate these type of questions to the break of dawn, but at the show it was decided by how loud the crowd cheered. Believe it or not, Nas won over the Brooklyn crowd. I demand a recount! It was a relief to see DJ Cool V, Biz's long time DJ and cousin behind the turntables which meant that the show was about to get bonkers. Biz Markie did not disappoint!
DJ Cool V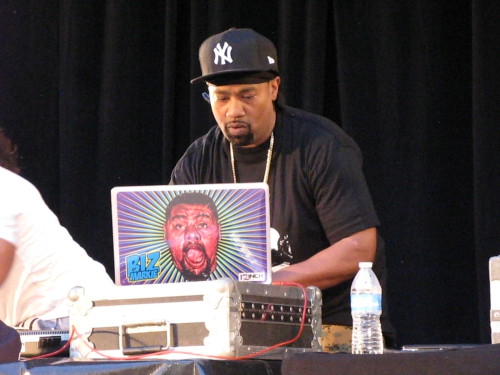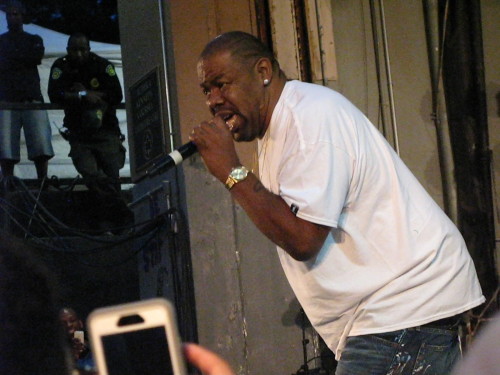 The Diabolical Biz Markie started off the show with a showcase of his beatboxing skills. "The Clown Prince of Hip Hop" perfectly mimicked the beatboxing of some of his peers including Doug E. Fresh and Buffy of the Fat Boys. Biz proceeded to entertain by performing tracks from his debut album Goin' Off including "Goin' Off," "Pickin' Boogers" and "Make The Music With Your Mouth, Biz." Songs by Rick James and Michael Jackson were also performed. Uncle Ralph McDaniels of Video Music Box was standing in the back of the stage but grinning along with the audience to Biz mumbling the lyrics and singing out of tune renditions of "Mary Jane" and "I Want You Back." Biz closed out the show with "The Vapors" and his monster hit "Just A Friend" which got everybody in the park singing along. Check out more videos below and be on the look out for the next free Lyricist Lounge show featuring The Jungle Brothers and Kool DJ Red Alert at Crotona Park on June 25 at 7:00 pm. See you in The Bronx!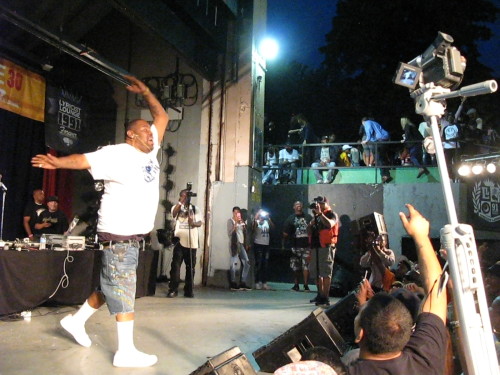 Tags: bed stuy, biz markie, free show, herbert von king park, hip hop, masta ace, new york city, old school, summerstage
Posted in chocko, music, photos | Comments (0)