August 28th, 2014 by chocko
Corey Glover and Vernon Reid of Living Colour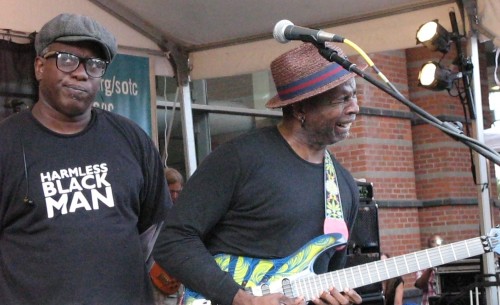 The soul and funk metal sounds of Living Colour blasted through the Theater Square at NJPAC last week. The free show got music fans from Newark and beyond to assemble for a night of loud music. Due to the threat of some nasty weather, the show got an early start with opener Danielia Cotton warming up the crowd with her band and powerhouse vocals. She ended her set with a Prince cover of "Purple Rain" that almost had me waving my lighter in the air. Her latest release is titled The Gun In Your Hand which Mr. C picked up from the merch table. Perhaps a review coming soon. In the meantime, check out Danielia's website or follow her on twitter for information on her upcoming shows and music updates.
After perusing the food trucks, we joined the crowd that surrounded the stage eagerly anticipating the headliners: Vernon Reid (guitarist), Will Calhoun (drummer), Doug Wimbish (bassist) and Corey Glover (vocalist)…aka Living Colour. It's been years since I checked out one of their shows…yeah, what is my problem? What a treat to be soaking it all in while in the front and watching Vernon Reid play the guitar! Their set list comprised of their many hits including "Open Letter To A Landlord" which showcased some acrobatic vocals by Corey Glover. Also on tap were many songs including "Middle Man," "Elvis Is Dead," "Time's Up" and "Love Rears Its Ugly Head" all while Corey was chilling on top of a speaker on the side of the stage. Not only can he sing but Corey can run the social media side of things while on stage, taking videos and selfies with the crowd and even liking one of my instagram pics. I enjoyed hearing Will Calhoun play a drum solo which featured what Vernon described as "the beat your mother warned you about." The other half of the rhythm section, Doug Wimbish also quite impressive on the bass. Toward the end of their set, the band played their monster hit "Cult of Personality" which got a lot of smartphones and cameras up in the air.
Some quick news…the band will be dropping a brand new album titled Shade in the fall along with a tour celebrating the band's 30th anniversary. Corey recently fronted the Bad Brains for a couple songs at last week's Afro Punk Fest in Brooklyyn. He totally killed it. Check it out HERE. Vernon is back in Newark on August 28 for a free performance with Burnt Sugar The Arkestra Chamber. Doug is organizing the WimBash 2014 which happens at Sully's Pub & Tiki Bar in Hartford, CT on Sept 13 which features a stellar lineup of musicians. Check out more photos and videos from the Living Colour show at NJPAC in Newark, NJ below.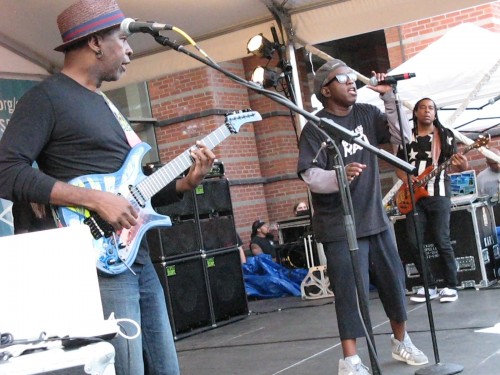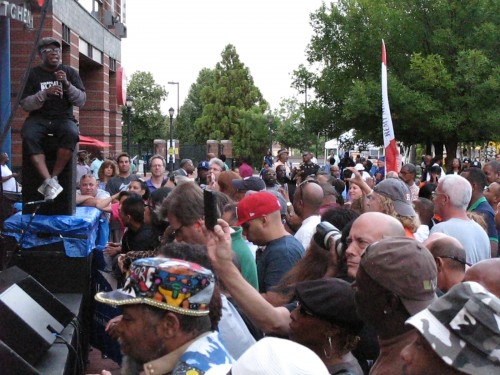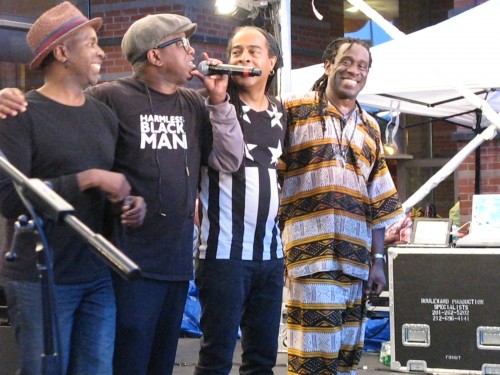 Tags: corey glover, danielia cotton, doug wimbish, living colour, new jersey performing arts center, newark, njpac, theater square, vernon reid, will calhoun
Posted in chocko, mr. c, music, photos | Comments (0)
August 3rd, 2014 by chocko
Exodus/Kirk Hammett and Rob Trujillo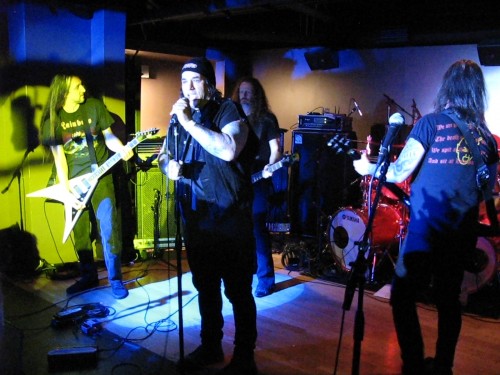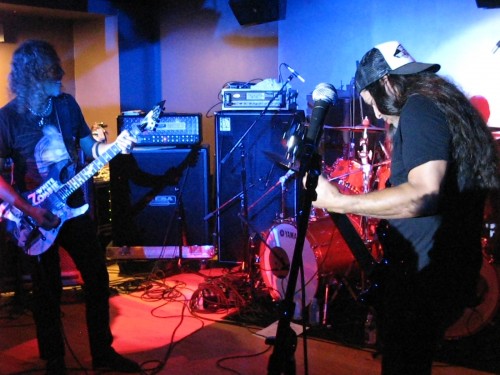 I was super lucky to be in San Diego last weekend for The Comic-Con because I got to go to Kirk Von Hammett's Fear FestEvil After Party. The show started late at a downtown club on F Street called F6ix. The thrash metal band EXODUS started the evening dedicating their set to original singer Paul Baloff. It was great to see Steve "Zetro" Souza back in the lineup on lead vocals along with longtime band member Gary Holt on guitars. Exodus plowed through a killer set of bone crunching, headbanging hits which included "Bonded By Blood," "Scar Spangled Banner," "Blacklist" and "Toxic Waltz." After Exodus played their set, Kirk Hammett of Metallica joined the band on stage along with Mark Osegueda of Death Angel for some covers. First they performed Judas Priest's "Grinder" with the help of some lyrics off a cellphone. Next cover was "Lowrider" by WAR then a performance of Blue Oyster Cult's "Godzilla." Then, Robert Trujillo walked on the stage (half of Metallica was in the house!) to play the Metallica classic "Seek and Destroy."
After a brief break, Kirk and Robert came back out with Richard Christy (Death) on drums to jam out on more covers with the help of Mark Osegueda and Doug Pinnick (King's X) on vocals. Doug did an amazing job on songs such as the Jimi Hendrix classic "Purple Haze" and "Jailbreak" by Thin Lizzy. Mark took the vocals on the Metallica song "Am I Evil" from their first album Kill 'Em All. Kirk and Robert seemed really excited to take a crack at an Ozzy Osbourne cover of "Diary Of A Mad Man" with Mark on vocals as well. There were so many great moments during the night like when Stephen Perkins of Jane's Addiction joined the crew on drums for the classic Jane's song "Mountain Song." The musicians on stage were all having fun and jamming out until the last song which was believe it or not "Jungle Boogie" by Kool And The Gang. It was an awesome heavy metal show that felt like a party and I will remember it for a long time. Check out some vids from the show below!
CHILDREN OF A WORTHLESS GOD

GRINDER

SEEK & DESTROY

JAILBREAK

Tags: after party, exodus, fear festevil, heavy metal, jane's addiction, kirk hammett, kirk von hammett, metallica, recap, review, robert trujillo, san diego, sdcc, thrash
Posted in chocko, music, photos, travel | Comments (0)
July 22nd, 2014 by chocko
Bible thumpers vs. geeks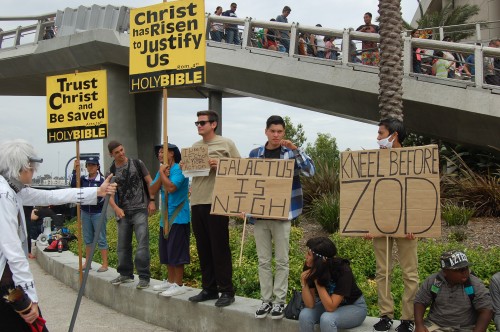 Taimak from THE LAST DRAGON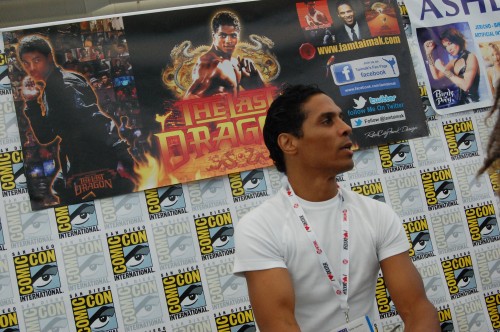 Oderus Urungus (left) RIP and Reggie Bannister (right) "The Hardest Working Man In Horror"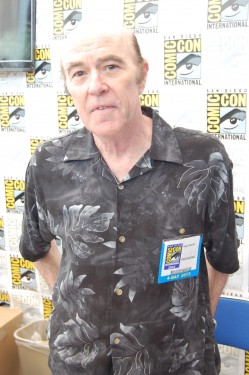 ADULT SWIM Fun House! Enter if you dare.

The filled to the gills exhibit floor…a lot of unhappy faces!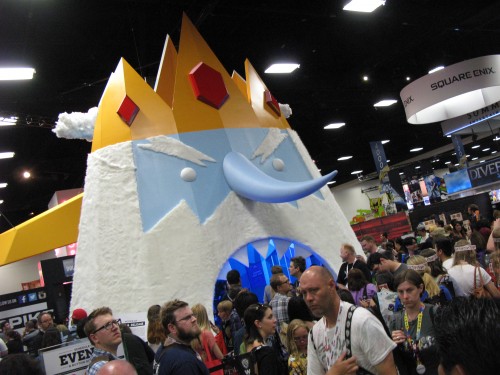 Sean and Tara McPherson (left) and Azog (right) from THE HOBBIT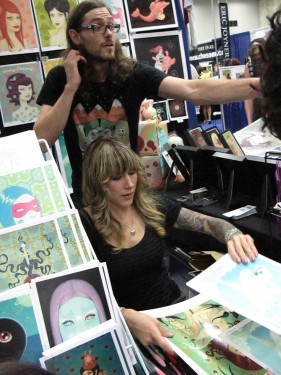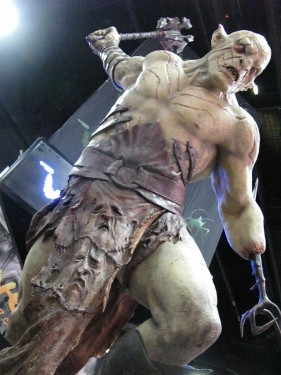 Dolph Ziggler and other WWE superstars talk about action figures at the MATTEL panel

The Miz takes a seat during the MATTEL panel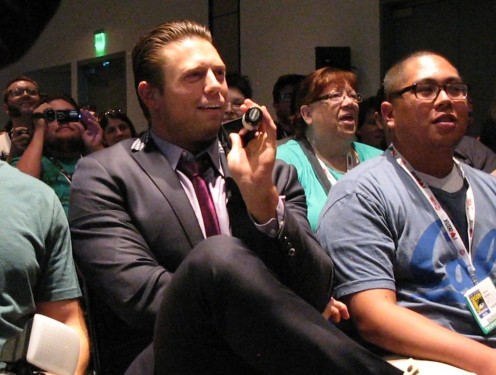 MICK FOLEY was in the house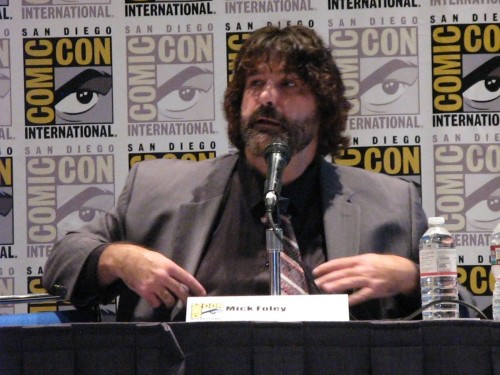 The Winner Twins (left) and Jhonen Vasquez creator of INVADER ZIM (right)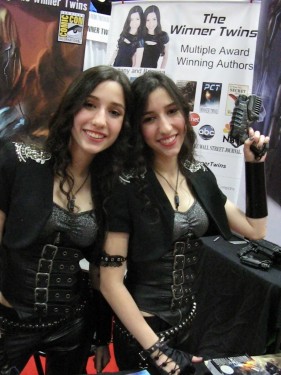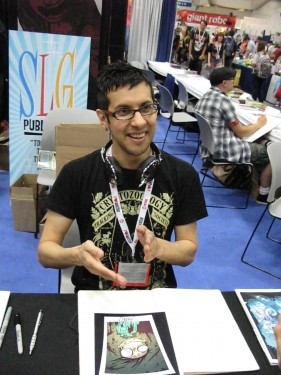 Chocko may or may not have taken part in the Silent Dance Party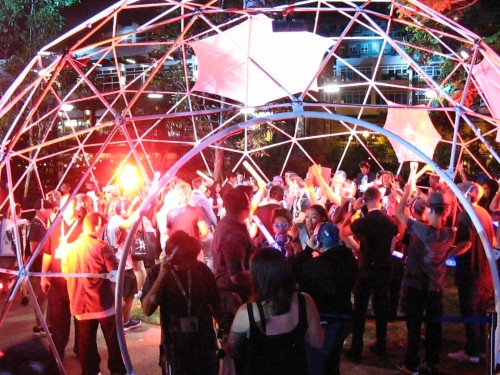 A truly moving moment at Comic Con…Surviving Milestone founders Derek Dingle, Michael Davis and Denys Cowan receive INKPOT Awards for their work on MILESTONE COMICS. Well deserved and it's about time!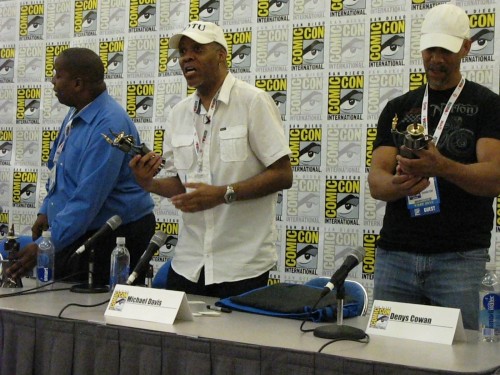 Gillian Anderson and Chris Carter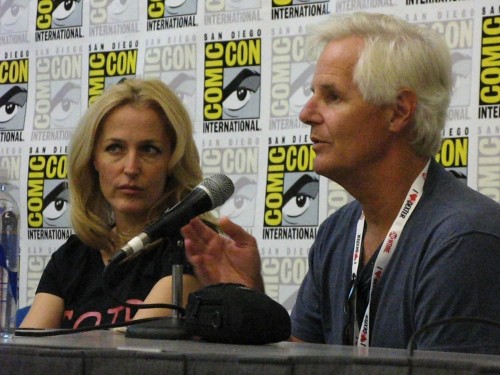 Number 13 artist and writer: Robert Love and Badazz Mofo David Walker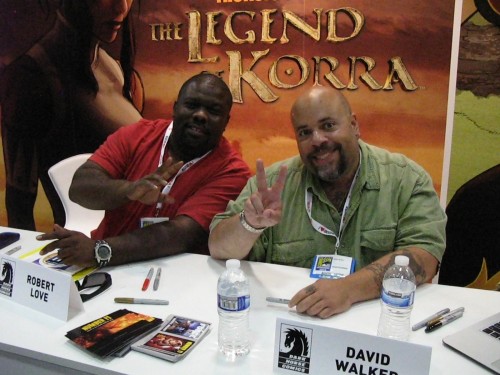 Asa Akira and David Choe at a signing. Choe signed my Munko!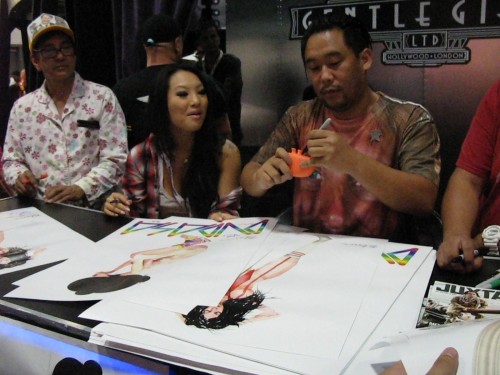 Yeah, you might want to check Deadpool for weapons. Good call.

Orphan is the new black.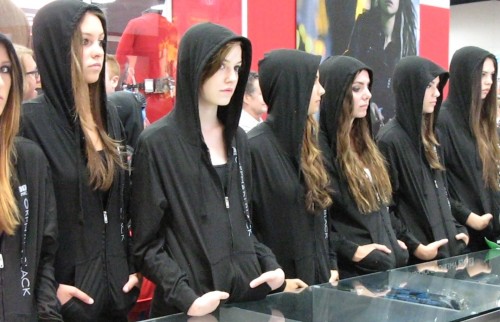 The Hernandez Family signing at the Fantagraphics booth.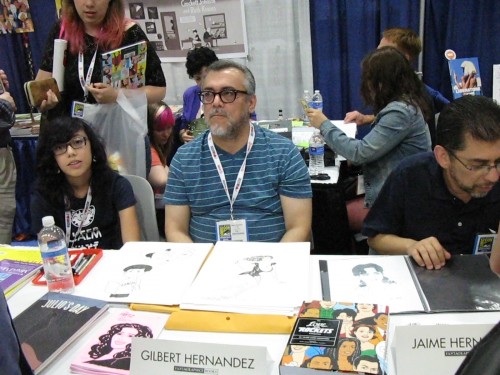 Leonard Maltin!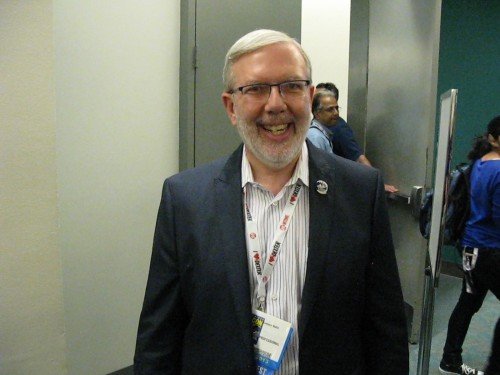 Artist Robert Williams (right) after his panel where he discussed art, his recent art sculptures and shared stories about Big Daddy Ed Roth. Tony Shafrazi (left) and William Stout (middle) were in the building.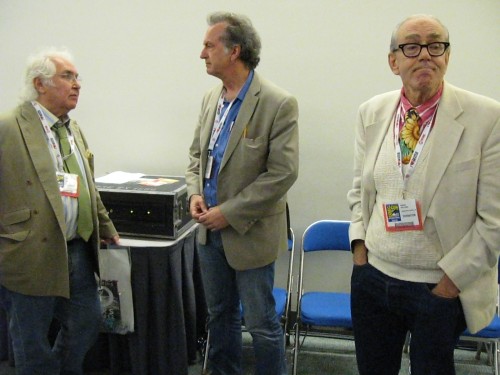 Robert Carlysle (Once Upon A Time, Trainspotting) was spotted in the hotel lobby. Nice guy!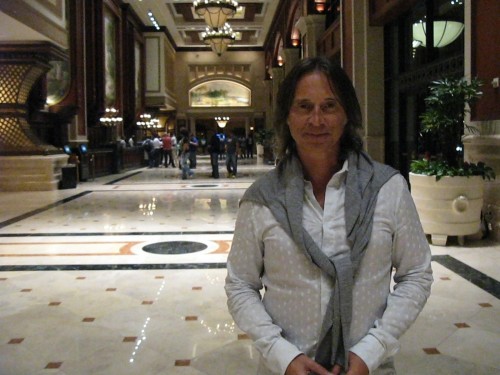 Is it me, or do I get older and The Suicide Girls just keep getting younger?

Alan Robert of Life Of Agony, makes some creepy comics too!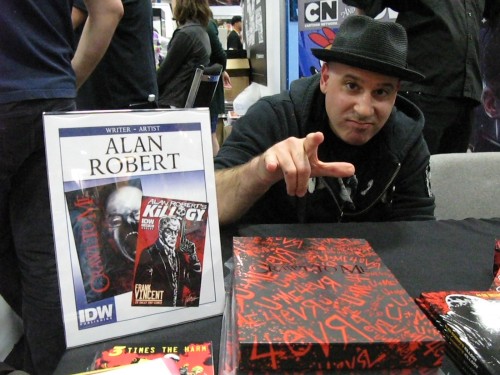 Georgia congressman and John Lewis signed copies of his new graphic novel memoir, 'March: Book 1,' along with his co-author Andrew Aydin.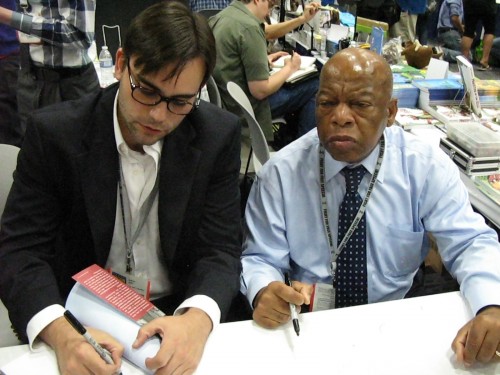 Kirk Von Hammett at The Fangoria Booth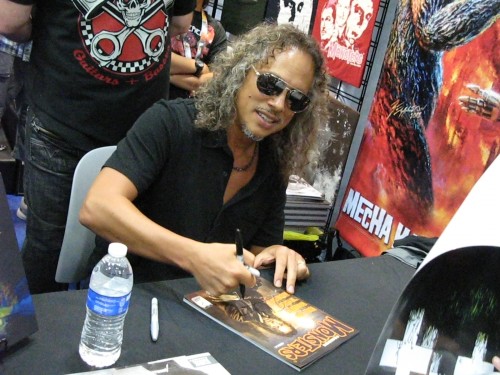 One of the highlights for me was sitting at the final Futurama panel and then watching a Draw Off to the Death featuring Matt Groening and Edmund Fong. Groening was caught cheating…Death by Snoo Snoo!

Follow @planetchocko on Twitter.
LIKE us on Facebook too.
Chocko (njchocko) is on instagram. Check it out. Thanks!
Tags: 2013, comic con, futurama, gillian anderson, photos, robert williams, san diego, sdcc, the suicide girls, wwe
Posted in art, chocko, comic books, movies, music, photos, toys, travel | Comments (0)
July 14th, 2014 by chocko
Any WWE fans out there? Chocko recently sat in the stands at the world famous arena, Madison Square Garden to check out some live professional wrestling. This wasn't a television taping or pay-per-view event, just a house show with straight up matches. All killer, no filler. Here's some photos and a quick recap of what went down at da Garden on July 12, 2014. The next house show at MSG is on Dec. 26. Be there!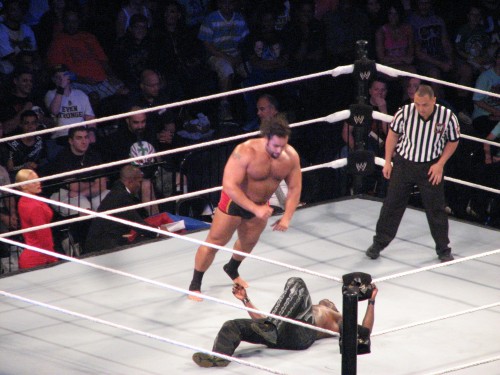 The evening began with R-Truth on the microphone, running around the ring performing his theme song "What's Up" with the crowd rapping along. The Luscious Russian, Lana got on the microphone and brought out R-Truth's opponent, The Bulgarian brute, Alexander Rusev. The match ended with Rusev crushing his opponent and applying his finishing move, The Accolade which looks like a camel clutch. Before Rusev could celebrate his win, Jack Swagger and his manager, Zeb Colter walked into the ring to challenge Rusev to a match. The overly patriotic and pro-Swagger crowd went nuts. Both opponents got into the ring but as soon as Swagger paused to do a "We The People" salute with the arena, he got caught off guard with his back turned and as he turned back to fight, got knocked out by Rusev. Not a good look for Swagger.

Some Diva action was up next…Nikki Bella and Natalya (the niece of Bret Hart) in a tag team match against some NXT wrestlers, Sasha Banks and NXT Women's Champion Charlotte (Ric Flair's daughter). An excellent match with Nikki and Natalya defeating Sasha and Charlotte. Nikki sure knows how to clean house! Nikki pinned Sasha Banks 1-2-3 for the win!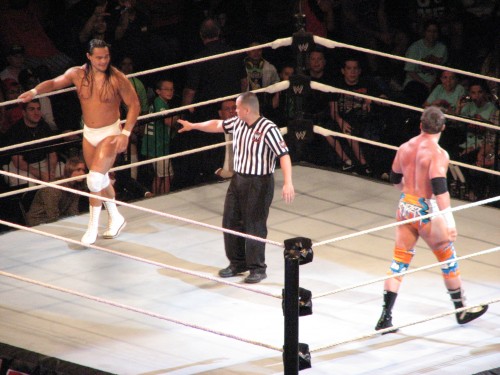 The inspiring Bo Dallas defeated Zack Ryder in an easy victory for Bo who victory lapped the ring quite a few times during the match. Bo gave an inspiring speech about The New York Rangers coming so close to winning The Stanley Cup. Maybe they'll win next year. You just have to…BOLIEVE.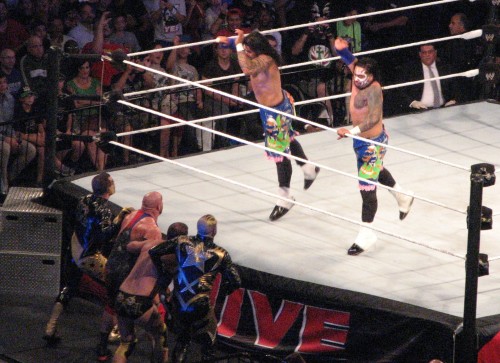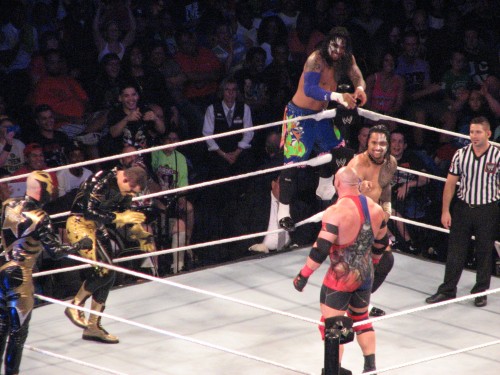 The next match was easily the most entertaining and one of the best fights of the night. The triple threat tag team match had the belts on the line. Champions, The Usos faced the team of Goldust and Stardust and RybAxel (Ryback & Curtis Axel). An impromptu dance battle began halfway into the match between the Usos and The Dust Brothers. Partypooper Ryback wasn't having it and started a "Feed Me More" chant. At one point in the match it looked like the team of RybAxel was going to implode into a slugfest, but in a surprising and funny moment, the two grizzly beasts hugged it out. The Usos successfully defended their titles, The Rhodes Bros. stuck around and shook hands with their Uso opponents. Stardust, a fairly new character got a lotta pop!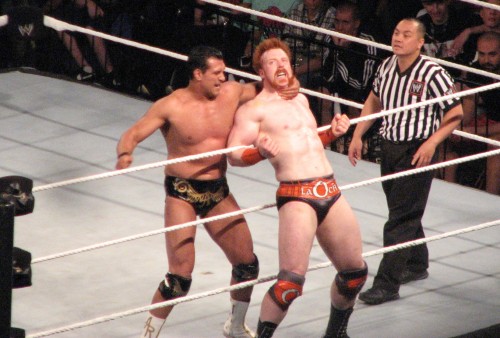 The next match had the US Champion Sheamus versus Alberto Del Rio. Del Rio hobbled into the ring on a crutch and claimed that he had torn some ligaments in a previous match and had to forfeit the match. Sheamus was in disbelief and once his back was turned, Del Rio smashed him over the head with the crutch, officially starting the match. At one point in the match, Del Rio gave Sheamus a taste of his own medicine by performing the Beats of the Bodhrán and bashing his forearm repeatedly into the pale one's chest while Sheamus was tangled in the ropes. Sheamus eventually wins the match and perhaps the longest exit after a match occurred when Sheamus high fived everybody within reach.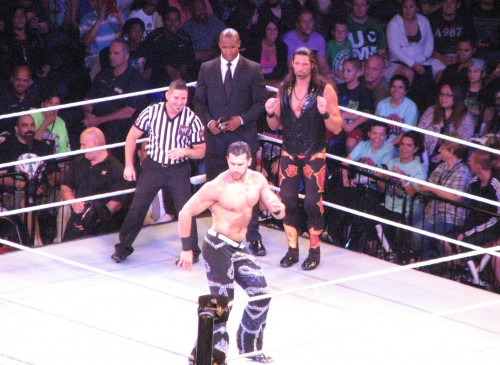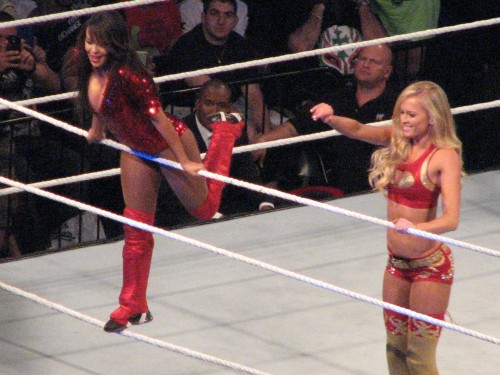 After a short break the votes were tallied and the crowd decided there would be a dance-off rather than a match between Adam Rose and Fandango. Fandango started the dance-off with some smutty hip gyrations but when it was Adam Rose's turn to bust a move, Fandango went on the attack! Layla and Summer Rae stormed into the ring and unleashed some fury on Dance Fever and sent him running. Layla and Summer Rae lovingly locked eyeballs and teased the crowd not once but twice with what looked like a possible game of tonsil hockey, but the two ladies pulled back and innocently played it off. Close, but no banana!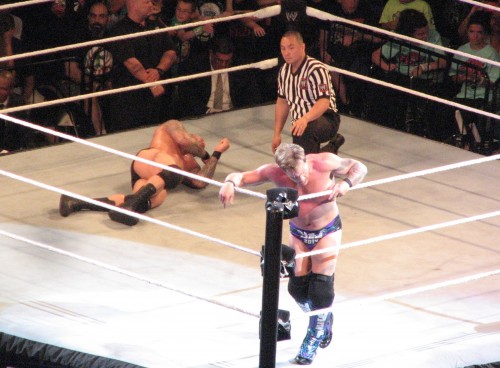 The next match featured Chris Jericho versus Randy Orton. The clash between the two WWE superstars was classic, however it was probably the slowest pace match of the night. Early in the match, if things got too physical, Randy would slither out of the ring away from harm's way. I'm not sure if it was intentional, but the lights went out and some people thought the Wyatts were going to interfere with the match. The lights came back on, a Y2J Codebreaker connected and Jericho got the win.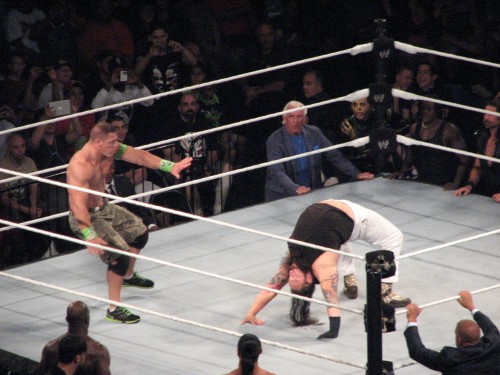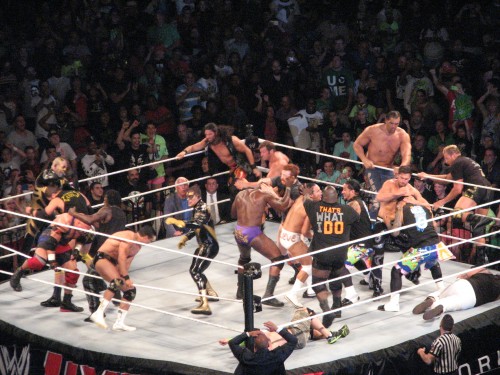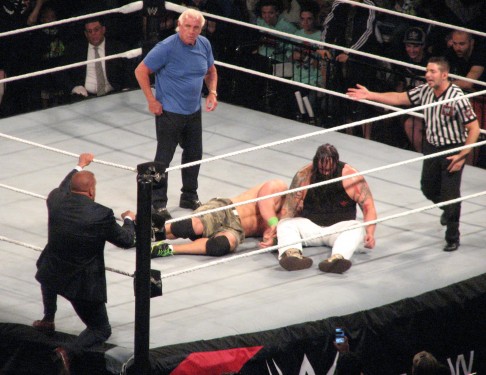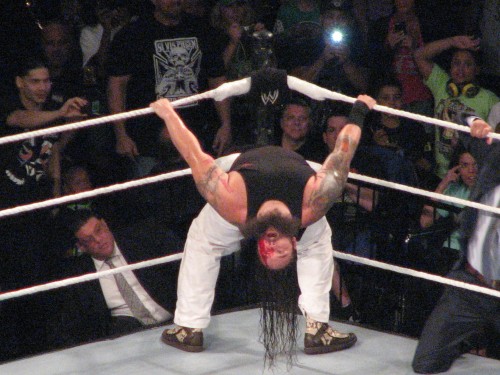 The Main Event featured John Cena against Bray Wyatt in a lumberjack match. Titles on the line. "The Nature Boy" Ric Flair and Triple H both brought out their own set of lumberjacks including Mark Henry, The Great Khali and Titus O'Neal. So, in case you don't know, each team of lumberjacks (wrestlers) surround the ring and prevent the opponents of the match from escaping. If a wrestler does manage to get out of the ring, the lumberjacks swarm for a beat down and toss the wrestler back into the ring. Cena was tossed out of the ring and clocked Bo Dallas in the face getting the pro-Cena crowd hyped. Another point in the match had Cena fall out of the ring into the not so loving arms of Mark Henry who shoved Cena's spine into the ring post. Chaos ensued when both teams of lumberjacks decided to duke it out in the ring. Triple H came into the ring toward the end of the match and knocked Cena out with a Pedigree. Flair and Bray went at it with Flair connecting, busting open Bray. Cena successfully defended the title. A stare down between him and Triple H at the end of the match led to Triple H getting an Attitude Adjustment courtesy of the Champ. Flair came in to celebrate the win to end a great night of sports entertainment at Madison Square Garden.
Follow @planetchocko on Twitter.
LIKE us on Facebook too.
Chocko (njchocko) is on instagram. Check it out. Thanks!
Tags: 2014, bray wyatt, cena, john cena, july, live, madison square garden, msg, new york city, nyc, professional wrestling, results, ric flair, sheamus, wwe
Posted in chocko, photos, sports, TV | Comments (0)
July 9th, 2014 by chocko
The San Diego Comic Con (July 24 – 27, 2014) at the San Diego Convention Center is nearly upon us. There will be lots to see and write about, but first here are some photos of the Cosplay action at last year's Comic Con. More photos of nerds, misfits, freaks and geeks coming soon!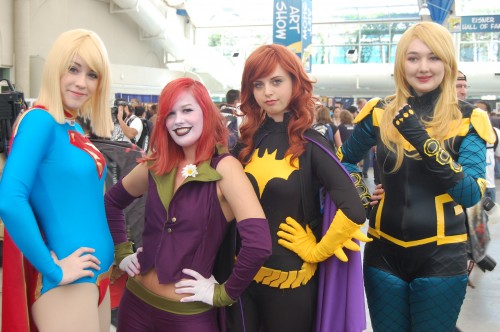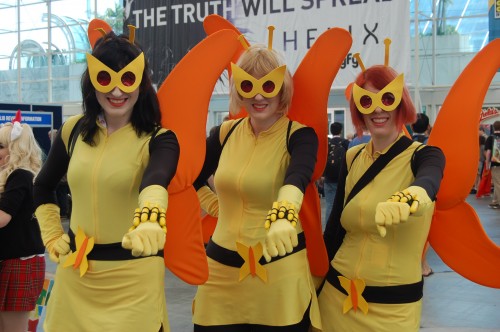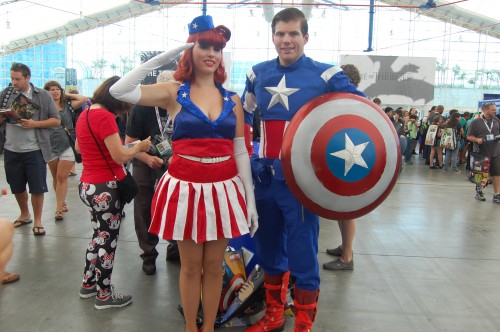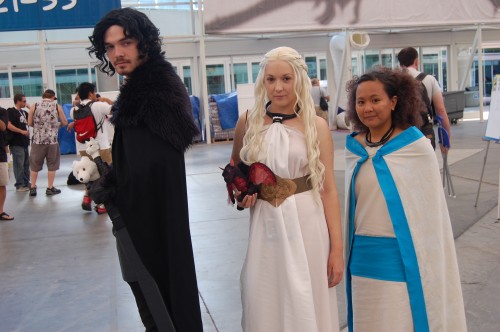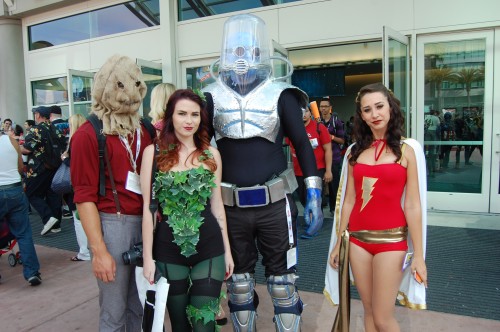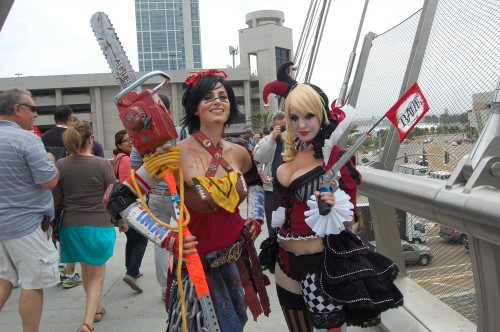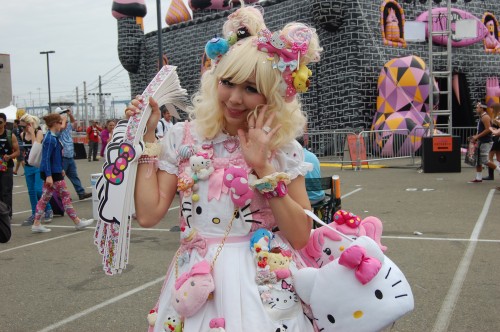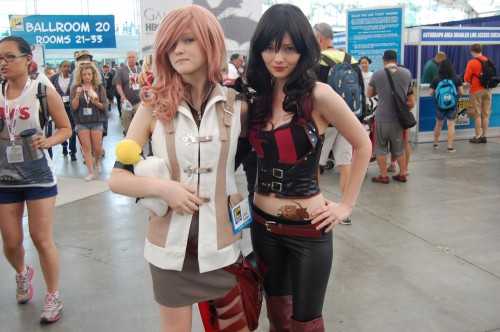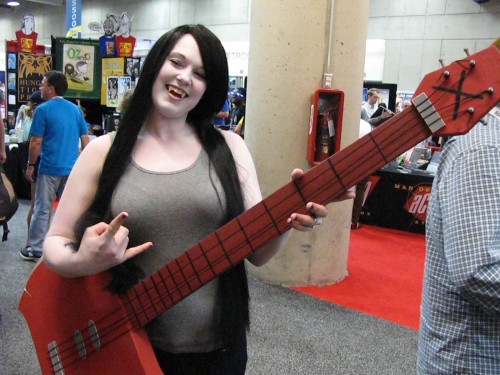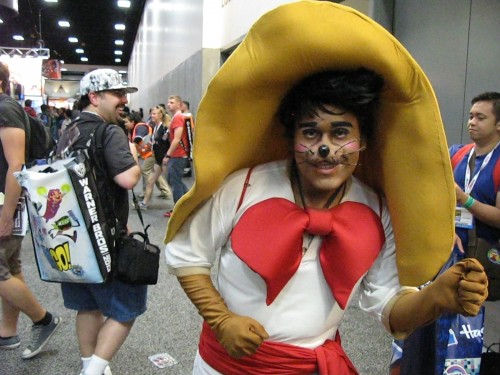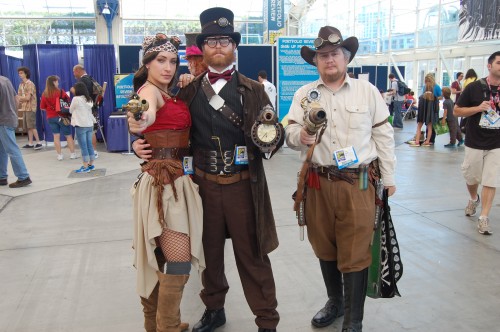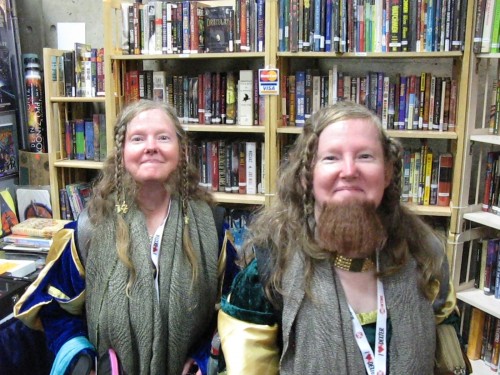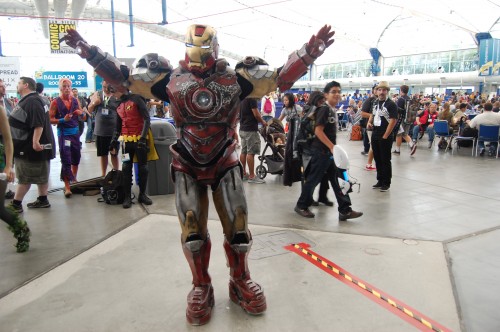 Follow @planetchocko on Twitter.
LIKE us on Facebook too.
Chocko (njchocko) is on instagram. Check it out. Thanks!
Tags: comic con, comic-con international, cosplay, costumes, nerds, san diego, sdcc
Posted in art, chocko, comic books, fashion, movies, photos, toys | Comments (0)
July 7th, 2014 by chocko


Dead Kennedys at Irving Plaza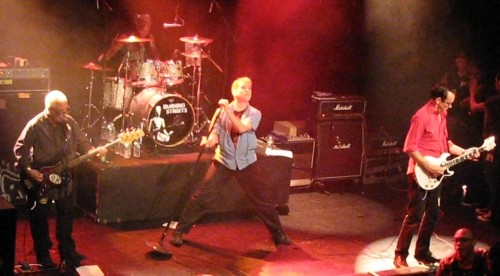 Is this Joan Jett and Slash…no, it's Tibbie X and Paul Cripple of Reagan Youth!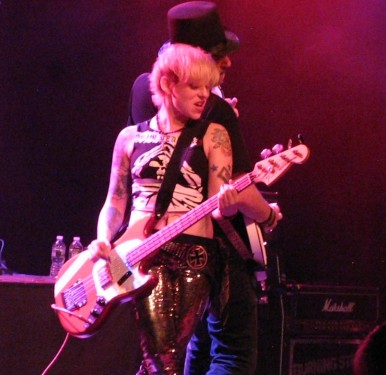 A couple weeks ago, I went to see two legendary punk bands, Dead Kennedys and Reagan Youth play Irving Plaza in New York City. Burning Streets from Boston, MA opened up the evening. I walked in on the Reagan Youth set and did not recognize the band at all. I haven't seen the band play since a Tompkins Square Park gig a few years back. The only original member left in Reagan Youth is guitarist Paul "Cripple" Bakija and the rest of the current lineup is Tibbie X (X-Possibles and Kissy Kamikaze) on bass, Stig Whisper on drums and Trey Oswald on lead vocals. The present lineup pumps new life into Reagan Youth's angry, aggressive, 80′s hardcore punk tunes. They were amazing at Irving Plaza and absolutely killed it at the Punk Island event a couple days later.
D.H. Peligro of Dead Kennedys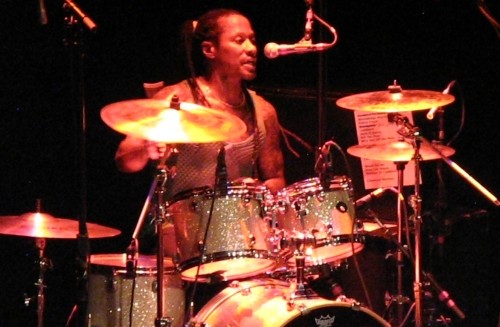 I've noticed at recent shows at Irving Plaza that they charge you extra to watch the show from the balcony. Normally, I'm not down with such nonsense but I caved in and decided to watch the rest of the show up in the balcony where for an extra $25 you get to lean over a rail with a free drink, away from the sweaty throngs of moshers and crowd surfers. Not very punk rock to be up in there but after working all day, do you blame me for not wanting to square up with mosh pit juggernauts in lucha libre masks? Maybe next time. Dead Kennedys…the legendary San Francisco hardcore punk band came to town and they sounded incredible. Although the O.G. and irreplaceable Jello Biafra is no longer fronting the band at this point in time, Skip McSkipster (Brooklyn represent!) fills in as lead singer just fine. The rest of the stellar lineup features mainstays East Bay Ray on guitar, Klaus Fluoride on bass and D.H. Peligro on drums. Dead Kennedys cranked it up and played a set list of greatest hits including California Über Alles, Too Drunk To Fuck and Holiday In Cambodia. They also played some new stuff like "MP3 Get Off The Web" which was played shortly after Skip busted a person in the front exhibiting poor punk rock etiquette and texting during the show. Catch these Cali punk legends later in the summer. They'll be across the Big Pond in Belgium and the UK in August playing festivals and clubs. Start limbering up now for some insane circle pits, acrobatic stage dives and put those phones away!
SET LIST
Rawhide
Winnebago Warrior
Police Truck
Insight
Let's Lynch The Landlord
Jock-O-Rama
Kill The Poor
MP3 Get Off The Web
I Kill Children
Too Drunk To Fuck
Moon Over Marin
Nazi Punks Fuck Off
California Über Alles
ENCORE 1
Bleed For Me
Viva Las Vegas
Holiday In Cambodia
ENCORE 2
Chemical Warfare
Follow @planetchocko on Twitter.
LIKE us on Facebook too.
Chocko (njchocko) is on instagram. Check it out. Thanks!
Tags: dead kennedys, irving plaza, live, new york city, nyc, punk, reagan youth, show
Posted in chocko, music, photos | Comments (0)
June 20th, 2014 by chocko

Here is a super duper late review of last year's Punk Island which moved from Governor's Island to its present location at the Staten Island Pier. I am typing this on the eve of Punk Island 2014 which should be a blast! See you in a few short hours at Pier 1 right off the Staten Island Ferry on June 21 (10AM- 9PM) Punk Island is FREE and feature over 90 punk bands on 7 stages. "no racist /// misogynist/// homophobe /// crazy right wing /// backwards bullshit! Just good times, and aggression."
Blackout Shoppers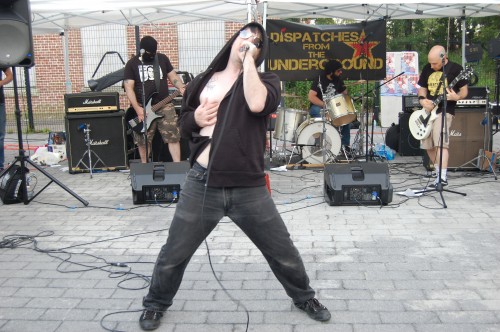 Last year's Punk Island took place on Pier 1 in Staten Island and featured 90 bands on 7 stages for FREE. Due to work, extreme napping and driving to Manhattan like Mr. Magoo and fumbling through subway stations and riding the Staten Island Ferry for the first time, I finally made it to Punk Island around 7:30 pm, but I made the best of my short time at the festival. The first band I encountered after getting patted down by security and waltzing past the food trucks and abandoned buildings was Blackout Shoppers at the "Dispatches From The Underground" Stage.
I walked along the pier with the ferry boats in the distance, passed by some vendors and came across the pop punk sounds of The Homewreckers which made me want to pogo. I am a huge fan of this band and I enjoy lead singer Cristy C. Road's books and art and Jackie O. on the bass rules. I like her other band Girlcrush too. They sound like Screeching Weasel with female vocals. Please put out a new Girlcrush album! I wandered off for a couple minutes and when I came back to the Brooklyn Transcore stage, Cristy invited some friends from other bands to form the super group Lez Go! which got the crowd shaking it.
Evan of The Vegan O'Brien Baking Company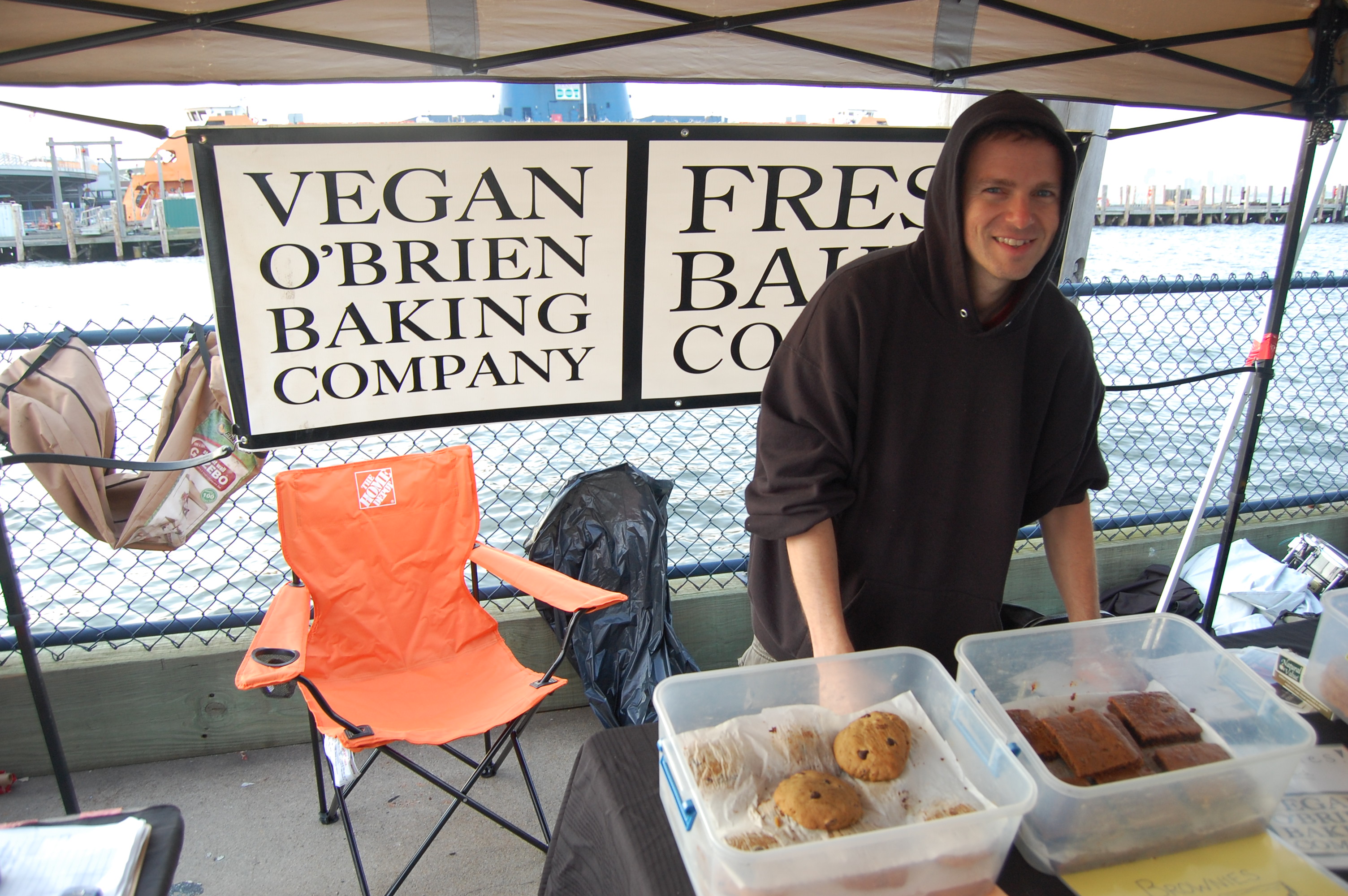 It's always a pleasure to run into Evan of The Vegan O'Brien Baking Company. I've seen him set up shop at hardcore matinees at ABC NO RIO, tried his vegan chocolate chip cookies and became hooked. Good stuff and a great way to get a boost of energy before diving into the mosh pit.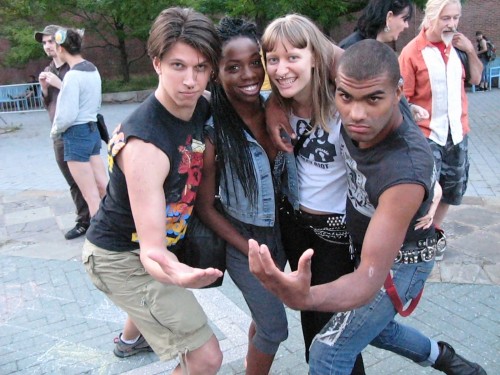 Habits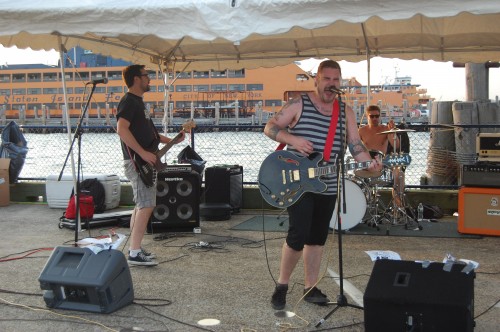 Honah Lee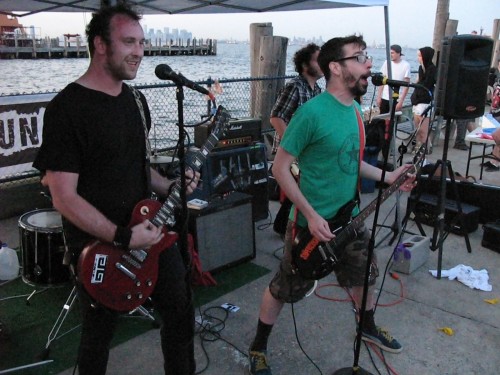 Aye Nako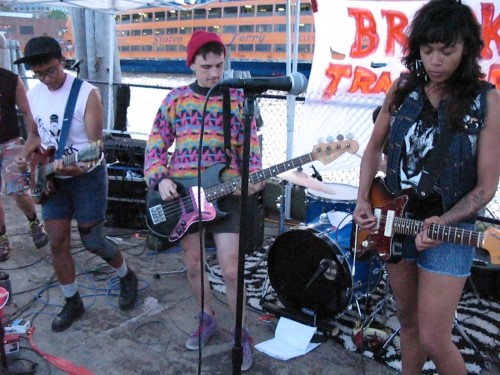 UZUHI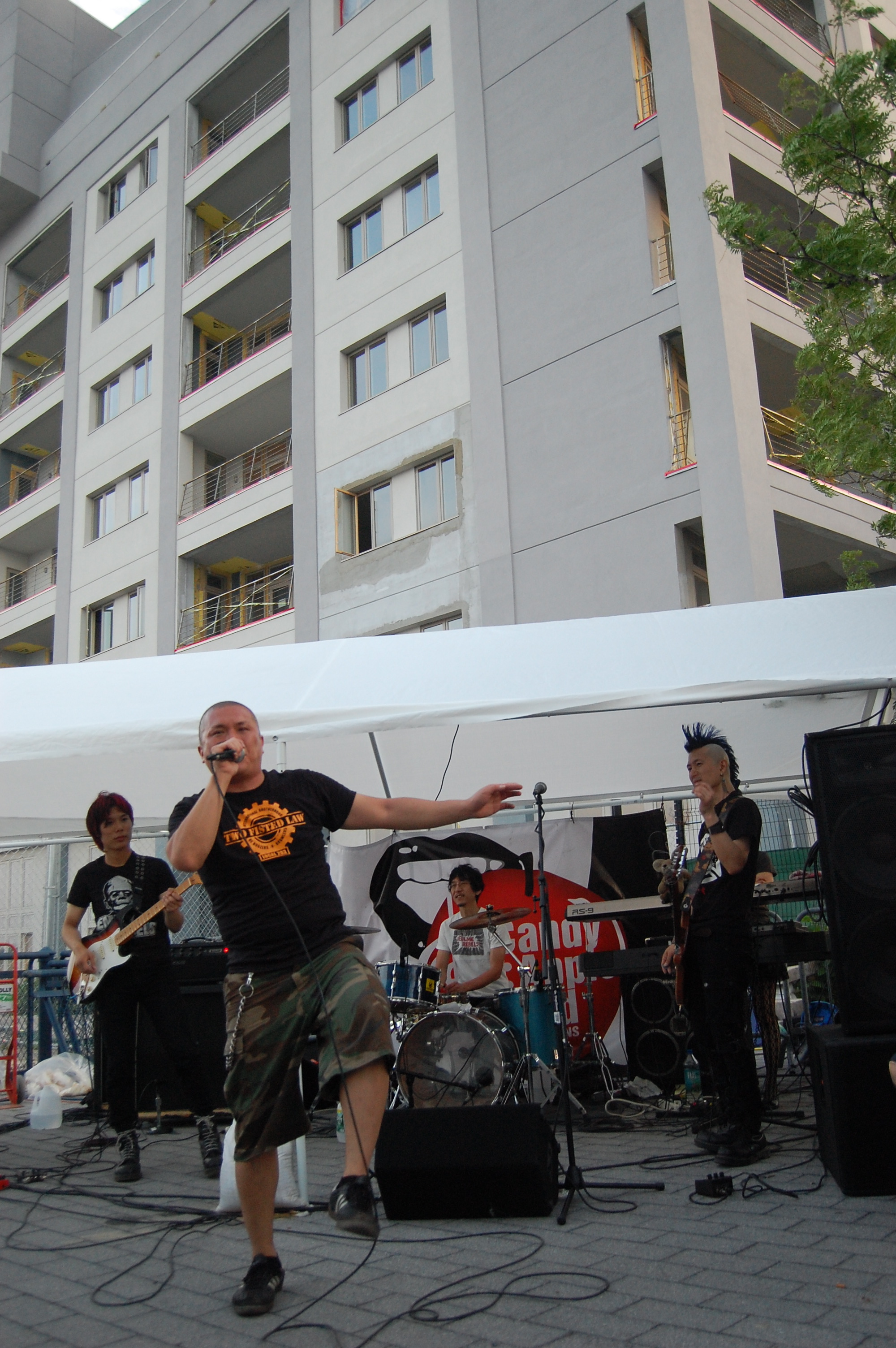 UZUHI were in the house at the Candy Apple Red Stage..totally insane Japanese pop punk with a hopping, lunatic on lead vocals. I enjoyed their set a lot and and the positive energy all around was infectious. I stuck around while the next band was setting up. I was impressed by the gritty hood folk and story-yelling of a band outta Boston, The Old Edison. Banjo, Violin, all kinds of real instruments mixed with some gravelly vocals. Somebody pass that singer a lozenge. Dark came soon after and the night of punk music wrapped up with two legendary hardcore bands….Antidote, a band who've been rocking the NYHC scene since the early 80′s and The F.U.'s from Boston. Both bands came out and rocked some brutal, brick to the face sets. Check out some more pics and videos below. That's it for now. See you back at the Shaolin Pier in 2014.
Antidote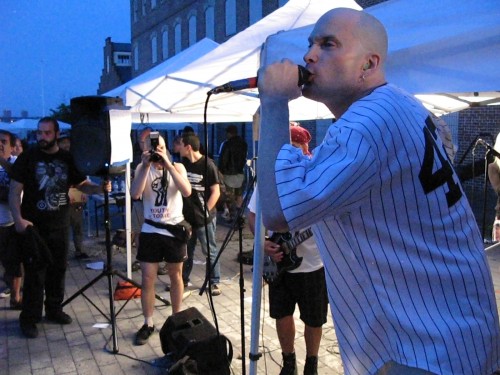 The F.U.'s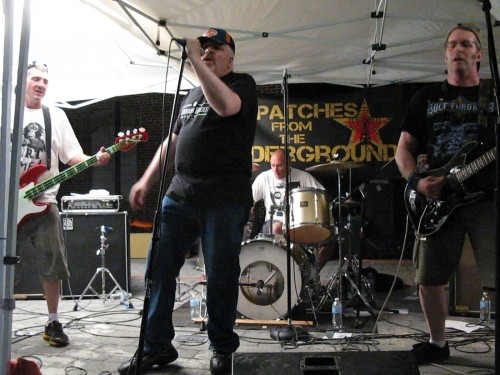 Follow @planetchocko on Twitter.
LIKE us on Facebook too.
Chocko (njchocko) is on instagram. Check it out. Thanks!
Tags: 2013, antidote, aye nako, diy, hardcore punk, make music, nyc, punk, punk island, punx, review, staten island, the f.u.'s, the homewreckers, the old edison, uzuhi
Posted in chocko, music, photos | Comments (1)
June 8th, 2014 by chocko
Fucked Up at Bowery Ballroom (photos by chocko)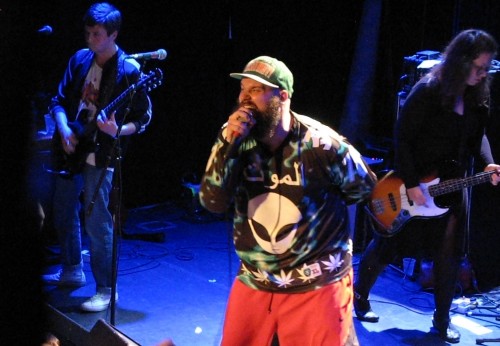 Big Ups at Bowery Ballroom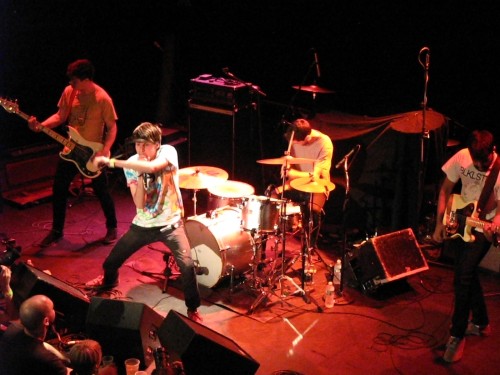 Fucked Up crushed and pulverized in NYC, playing a Sold Out Bowery Ballroom on Friday (6/6), with openers In School and Big Ups. I regret walking into the venue late and missing In School but I did hear that the all female NYC based, punk rockers played an awesome set of raging tunes. The all dude band Big Ups played pissed off post-hardcore songs which harkened back to the days of classic Minor Threat, Descendents and Black Flag. Lead vocalist, Joe Galarraga got some funky moves and definitely knows how to rock the microphone, going from anxious punk vocals to downshifting to spoken word vocals on songs such as "Wool."
The Toronto hardcore punk band, Fucked Up blazed through a set which showcased their latest all killer/no filler album Glass Boys (out now on Matador Records). They started their set with the first song on their new album titled "Echo Boomer" which features some heavy pounding drumming. Lead vocalist, Damian Abraham started off the set fully dressed but in no time baseball cap and shirt were tossed aside to join the sweaty mess of a crowd. Just in case you don't know-during a Fucked Up show, Damian spends just as much time off stage in the crowd as he does on stage with the rest of the band. Damian is always fun to watch and listen to…he quickly noted that it was the first time the band played in front of their own banner. It must be a milestone for the band in its thus far, 13 year career…check it out in the photo below. The crowd was insane and bodies were flying and piling up everywhere. The rest of the band were anchored on the stage and provided backup vocals…I love me some backup Fucked Up vocals, more Sandy please! Towards the end of the set, Damian teased at a possible all "Zodiac" encore which would be comprised of their songs inspired by the Chinese Zodiac. That didn't happen but they did close their set with "Glass Boys" and "Police" followed by a quick encore of "The Other Shoe." Check out more photos below and some videos from the Planet Chocko balcony cam.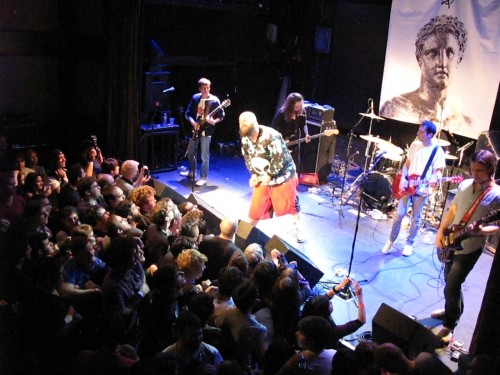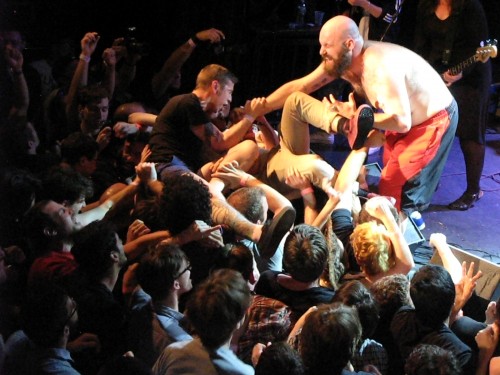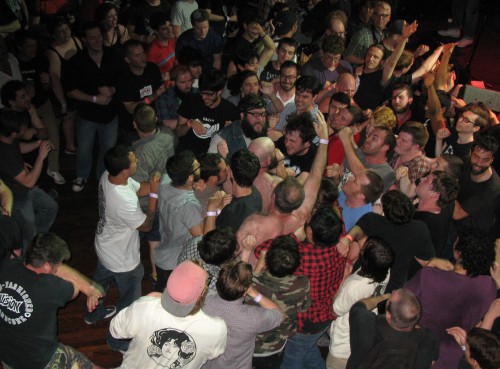 Follow @planetchocko on Twitter.
LIKE us on Facebook too.
Chocko (njchocko) is on instagram. Check it out. Thanks!
Tags: 2014, big ups, bowery ballroom, fucked up, glass boys, hardcore punk, june, nyc, punk, review, show, toronto
Posted in chocko, music, photos | Comments (0)
April 30th, 2014 by chocko
Tori Amos at Rough Trade NYC (photos by chocko)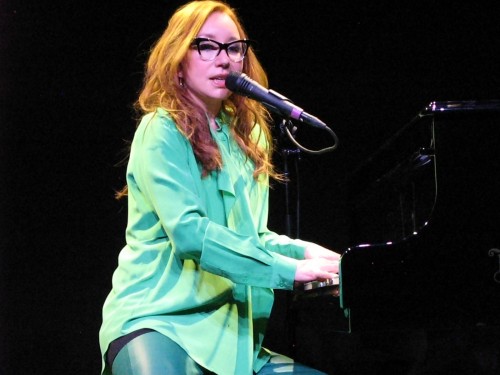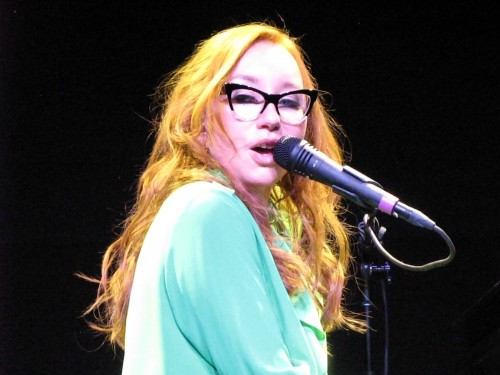 Lucky fans of Tori Amos got the chance to check out a super intimate performance yesterday with the pre-purchase of her latest album titled Unrepentant Geraldines. Her newest album is her 14th studio release and will be dropping on May 13. The in-store event happened at the Rough Trade NYC performance space which recently reopened after a long hiatus due to acoustic issues. The passionate crowd cheered and wept as Tori Amos, seated at her piano, performed a short but sweet set of songs including two new tracks, "Selkie" and "Trouble's Lament." Tori started the set with "Parasol" and continued with "Strange" after an impromptu song about a cord getting tangled on her high heeled shoe. Later in the set, she made up a funny song about having to now wear glasses. Tori Amos is a weird one, and I do mean that in a loving way. "Ribbons Undone" was also performed and early on, she took it back to 1992 with "Take It To The Sky" which was a b-side to "Winter" from the album Little Earthquakes. She sounded amazing and I'm digging the glasses! Tori stuck around to sign autographs and take photos with fans.
Tori Amos will be embarking on an ambitious summer tour which will take her all over Europe, Russia, South Africa and North America. She'll be back in New York City on August 12 and 13 when she plays The Beacon Theatre for a sure not to be missed performance. Be sure to check out her website for details on the upcoming tour. Check out 2 videos below from her in-store performance at Rough Trade NYC courtesy of loopyvids!
Tori Amos performing "Strange" at Rough Trade NYC

Tori Amos performing "Take It To The Sky" at Rough Trade NYC

Follow @planetchocko on Twitter.
LIKE us on Facebook too. Thanks!
Tags: in-store, live, performance, rough trade, rough trade nyc, tori amos
Posted in chocko, music, photos | Comments (0)
April 29th, 2014 by Mr. C
With the recent cancer rash in the mouth of Los Angeles Clipper's owner Donald Sterling with his alleged racial comments, No No: A Dockumentary takes a more refreshing outlook and inspirational view of Major League Baseball pitcher Dock Ellis but not without his own flaws on display of course. It's basically Dock's story of baseball colliding with pop culture. Dock was a strong individual that was battling racial equality amongst other non-discriminating demons in his life. You can definitely classify him as an outlaw, a controversial and angry man, a black militant that wasn't afraid to stick it to your face. Perhaps the single most thing that he was known for in his career besides that drop dead looping curveball was throwing a no-hitter against the San Diego Padres while under the influence of LSD. It wasn't a pretty no-hitter as he walked and hit a few batters to boot but a no-hitter is a no-hitter especially when he was under the persuasion of narcotics! Apparently Ellis was under the influence of acid and/or alcohol in ALL of his Major League starts as reported by him! Amazing in a very bad way!
The film takes us on a journey of his outrageous antics mostly as a Pittsburgh Pirate like when he wore curlers in his hair at the games so that he can quickly reach for a curler and instantly get a grip for his spit balls or the time when he play-sparred with Muhammad Ali in the clubhouse! He was affectionately known as the Muhammad Ali of baseball as his boisterous voice and gift of gab would get him in hot water but would also serve as a barking message to others for standing up for what he believed in. Dock had a whole host of characters and raggamuffins as mentors in his Pittsburgh Pirate upbringing such as the legendary Roberto Clemente, Willie Stargell, Dave Parker, Al Oliver, Steve Blass, and Manny Sanguillen. Another influence (pardon the pun but well justified in this case) of Ellis was Negro league pitcher & Pittsburgh Pirate scout – Chet Brewer who should also be talked about in the same sentence as the legendary Satchel Paige.
This documentary went on to show that Dock was a controlled type of a crazy enigmatic. He was selective in what he went ballistic on and pretty much had a method to his madness. Unfortunately the addiction of drugs and alcohol would take a toll on him. A great example of when Dock would play mental games to get the upper hand was in the 1971 All Star Game.
Vida Blue was already selected to start the All Star game for the American League and Dock Ellis was on the National League All Star lineup. The leading vote getters to get the nod to start for the National League were either Tom Seaver or Steve Carlton. Of course Dock Ellis put the word out that they would NEVER pit two african american starting pitchers against each other.and low & behold – the pressures that be would stack two african americans for the very first time against each other in the All Star game!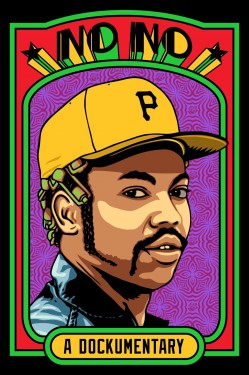 The film did a great job of getting the right talking head interviews from Dock's baseball teammates as well as from his personal life. Dock himself was a great interview! One of my favorite moments in the documentary was when Ellis was reading the Jackie Robinson letter that was addressed to him. It was such a moving letter! You get a feeling that Jackie and Dock came from the same seeds in the pod! Just the thought that Dock knew that Jackie approved of his stand and praised his actions to the fullest brought tears to his eyes.
The latter part of the film would be a story of redemption for Ellis. After a career of MLB and the abuse of drugs to medicate himself to deal with failure, he was able to reform himself and actually be the healer to others with issues of drug and alcohol addiction. From a man that said he used to "out-milligram" any opponent by taking a max of 15-17 pills of dexamyl to being a soul that preaches to just believe in yourself. Dock Ellis was a rebel, an outlaw, a spirited man that created waves against society. He had the spirit of Jackie Robinson but did things completely opposite of Jackie. A more in your face, unapologetic, & kick you in the nuts mentality. In Jackie's letter to Dock Ellis, he mentioned to him – "You might want to give up" but Dock never did.
The archival footage of the MLB games involving Dock Ellis and the cartoon work used for illustration in the documentary were visually appealing! The soundtrack to the film also matched the funky and soulful rhythm of the personalities in question. The only thing that didn't quite flow well for me was that the scenes kept on jumping back and forth from the latter years to the early years and then back again. The storytelling and editing seemed fragmented but the subject in question definitely made the trip worth it!
No No: A Dockumentary (about Dock Ellis) screens at the 2014 Montclair Film Festival on Saturday – May 3rd 2:00pm at the Clairidge Cinema on Bloomfield Avenue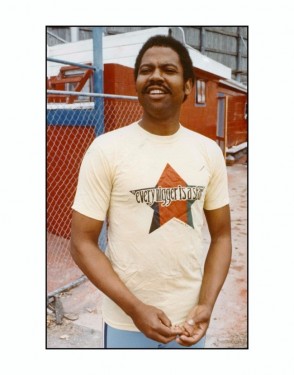 Tags: 2014 Montclair Film Festival, documentary, sports
Posted in movies, mr. c, sports | Comments (0)
April 14th, 2014 by chocko
You already know the deal…Planet Chocko pooperazzi time. All photos by Chocko!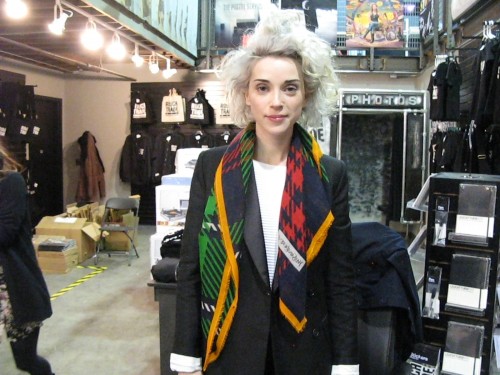 St. Vincent a.k.a. Annie Clark signed her brand new self-titled album at Rough Trade NYC last February prior to a performance on The Colbert Report (I was lucky to get tickets!) and a sold out show at Terminal 5.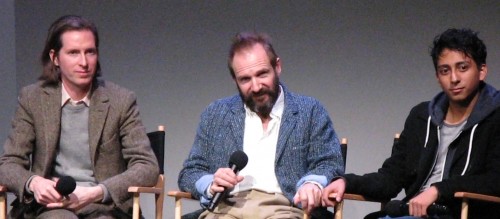 Filmmaker Wes Anderson and actors Ralph Fiennes and Tony Revolori were at the Apple Store in Soho where they discussed their new film, THE GRAND BUDAPEST HOTEL. The movie is funny, smart and features a huge cast which also includes Tilda Swinton, Willem Dafoe and Harvey Keitel.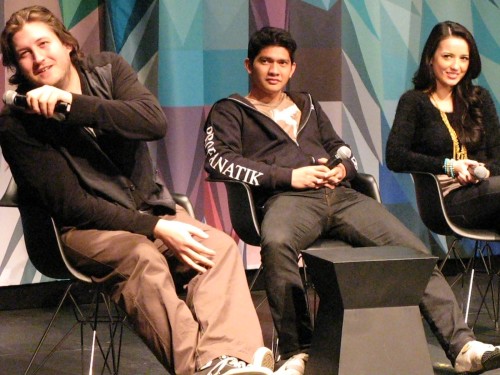 THE MUSEUM OF THE MOVING IMAGE held a preview screening of THE RAID 2: BERANDAL, the sequel to the action packed, frenetic martial arts movie THE RAID. Director Gareth Evans and actors Iko Uwais and Julie Estelle were in the house to answer questions after the screening. They all stuck around for photos and signed stuff like my Raid Blu-Ray. Yes!

Questlove, Talib Kweli, A-Trak and DJ Peanut Butter Wolf were among the guests at the Q&A panel following the SOLD OUT Manhattan Premiere of OUR VINYL WEIGHS A TON at Village East Cinema. Definitely check out the documenttary which chronicles the enigmatic, Los Angeles based record label which has been releasing classic hip hop albums since 1996. My only beef with the movie was there wasn't even a mention of Percee P, an MC from the Bronx who had a number of releases on Stones Throw including his debut album Perseverance. Percee was briefly mentioned during the Q&A by Questlove and Talib Kweli who were trying to recall the MC's on J-Dilla and Madlib's collaborative album titled CHAMPION SOUND. The only MC's on that classic album were Talib Kweli, Guilty Simpson and Percee P. Damn, I'm going off on a tangent…go see OUR VINYL WEIGHS A TON. Dope movie featuring a lot of talented hip hop artists like J-Dilla, Madlib and MF Doom! Shout out to the cyptic Folerio.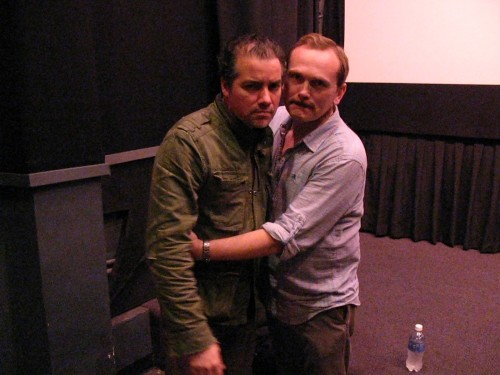 Kevin Corrigan and Pat Healy hug it out after a Q&A and screening of the movie CHEAP THRILLS at Cinema Village. The movie is a weird, brutal and fascinating story about the limits of what people will do for money. MONDOCURRY wrote a great review of the film which you can check out on the UNSEEN FILMS BLOG and if you want to check out more pics and video footage of the Q&A at Cinema Village, do check it all out HERE.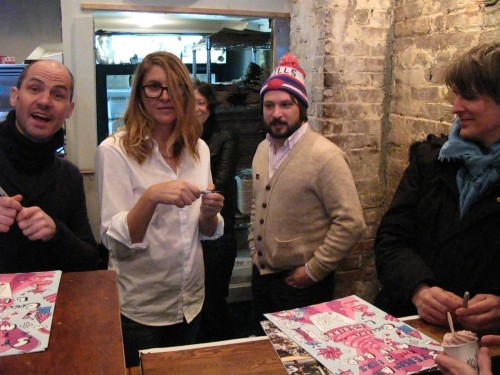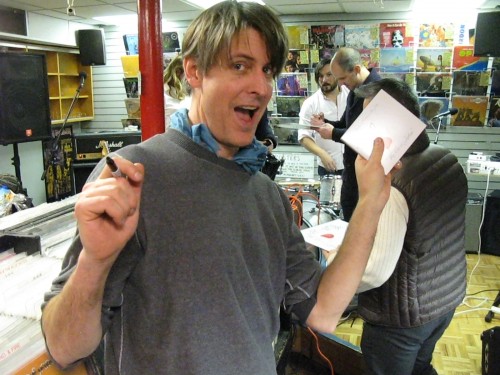 To say I geeked out on the release day of the Stephen Malkmus (lead singer of PAVEMENT…one of my most favorite bands) would be a gross understatement. So, the day started with trekking over to Momofuku Milk Bar in Brooklyn on the coldest day of the winter with a Polar Vortex barreling down on NYC to taste the "Cinnamon and Lesbians" ice cream flavor inspired by a lyric off the new album WIG OUT AT JAGBAGS. Sthephen Malkmus & The Jicks were in the house signing a Gary Panther designed poster which commemorated the momentous occasion. The band also played an in store at Generation Records. I recorded a bunch of songs but haven't gotten around to uploading them. Stephen and the band signed my CD which is my favorite of his solo albums. Get it now!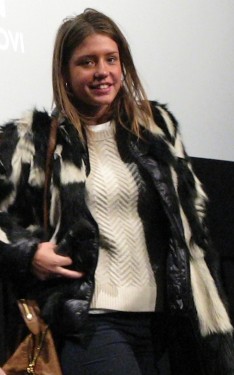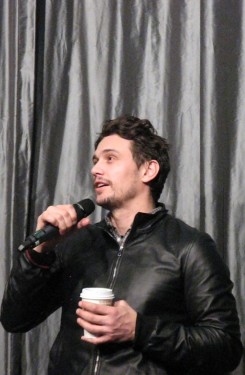 Adèle Exarchopoulos made a recent appearance at IFC Center to promote the controversial French movie BLUE IS THE WARMEST COLOR, a love story based on a graphic novel. Check out the Q&A HERE. James Franco got his own festival at the theater recently. I checked out his short films and he showed up for a bunch of Q&A's which were a lot of fun. You definitely get the impression that he truly loves film and acting.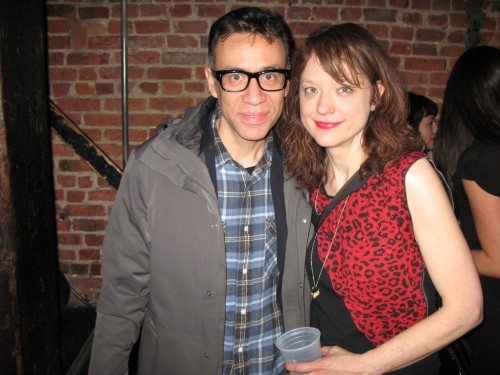 Fred Armisen was seen at The Mercury Lounge following a smoldering set by the power trio EX HEX. Here his is with lead singer and guitarist of EX HEX, Mary Timony. You might recognize her from her other bands, Wild Flag and Helium. EX HEX just released a 7″ on Merge Records featuring "Hot and Cold" b/w "Waterfall" and "Everywhere."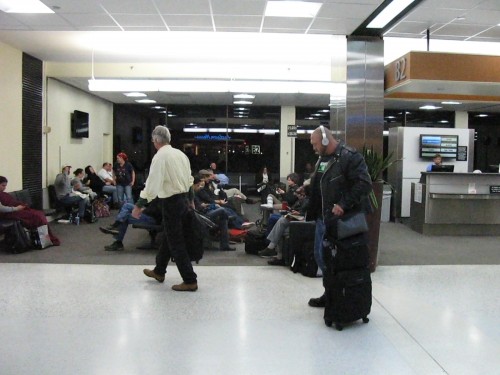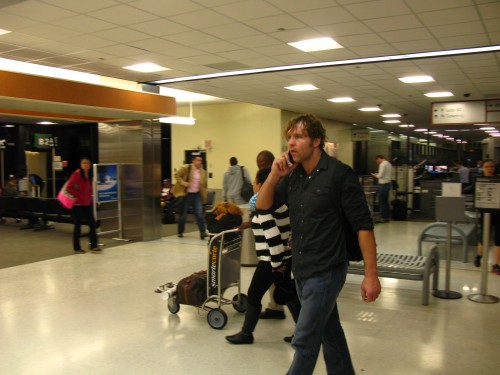 After Wrestlemania XXX and RAW in New Orleans, Chocko spotted a bunch of wrestlers at the Louis Armstrong International Airport. Ryback (top) didn't want to be bothered with fans and selfies…he kept his headphones on and kept it moving. You can't blame him, after all it was the ungodly hour of 6 A.M. A member of THE SHIELD, Dean Ambrose (middle) successfully avoided the handful of wrestling fans that recognized him. Natalya (bottom) is a Total Diva, but was nice and posed for photos. Also seen at the airport: Jack Swagger, Roman Reigns, Titus O'Neil, Kofi Kingston, Eva Marie, R-Truth and Bray Wyatt.
Follow @planetchocko on Twitter.
LIKE us on Facebook too. Thanks!
Tags: Adèle Exarchopoulos, annie clark, cheap thrills, dean ambrose, Iko Uwais, james franco, natalya, paparazzi, raid 2, st. vincent, stephen malkmus, wes anderson, wrestlemania, wwe
Posted in chocko, movies, music, photos, TV | Comments (0)
April 1st, 2014 by chocko
The Grouch & Eligh at Highline Ballroom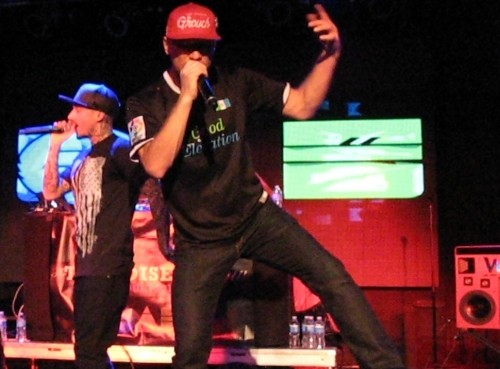 West Coast indie hip hop legends, The Grouch & Eligh played Highline Ballroom (3/19) with Eliot Lipp, Pigeon John and DJ Fresh. Grouch and Eligh, both founding members of Los Angeles hip hop collective, Living Legends took to the stage to debut songs from their new triple album The Tortoise And The Crow. The new album features a disc with brand new Grouch songs, one with Eligh rocking it solo too and a disc with the collaborative effort of The Grouch & Eligh. The album features cameos by the likes of Pigeon John, Slightly Stoopid, Pretty Lights, Ant of Atmosphere, Zion I, Kreayshawn and Blu & Exile. Check out footage recorded of two new songs "All These Lights" and "ANX" below.
The show at Highline Ballroom was so much fun…the small but enthusiastic crowd was dancing around and yelling out lyrics the whole time. The Grouch has a laid back and smooth lyrical delivery that complements Eligh's faster flow on the mic. The songs especially the new ones sounded fantastic live and I dare you to stand still at a G&E show. It's not happening. Even Chocko had to put the camera away for a minute to wave my hands in the air and do some spin moves. Tour opener, Pigeon John joined the duo on stage for a few songs. After nearly an hour set which included a 3 song encore, the crowd wanted more. On the way out, I noticed Grouch at the merch table greeting the duo's loyal fans. It's always nice to see performers go the extra mile and hang out and meet some fans after a show. The tour's winding down but if you live in Phoenix, AZ or Los Angeles or Pomona, CA definitely check out The Grouch & Eligh rock the stage. Once again, the new album is The Tortoise And The Crow. Pick it up at a record store near you!
Follow @planetchocko on Twitter.
LIKE us on Facebook too. Thanks!
Tags: eligh, highline ballroom, hip hop, new york city, nyc, show, the grouch
Posted in chocko, music, photos | Comments (0)