June 23rd, 2017 by chocko
The Dr. Octagon Experience Tour recently wrapped up at NYC's Irving Plaza. The tour celebrated the 1996 underground smash from outer space, the album titled Dr. Octagonecologyst. DJ Herbert Holler from the Freedom Party NYC shows, opened up the evening with a 45 minute set of real hip hop…heavy on the old school east coast stuff like Wutang Clan, Bootcamp Clik and Mobb Deep represented. Dr. Octagon featured the triple threat of producer Dan The Automator, Kool Keith on the microphone and DJ Qbert on the turntable…yup he's so good he only needs to scratch on one. They were accompanied by a bassist and percussionist who along with Dan and Qbert donned surgical masks and lab coats. Kool Keith stepped on stage with a blood splattered lab coat, shades, and a sequined head wrap which reminded me of something Blowfly would wear. Behind the band was a screen which projected lots of tasty softcore visuals which would have made Jess Franco proud.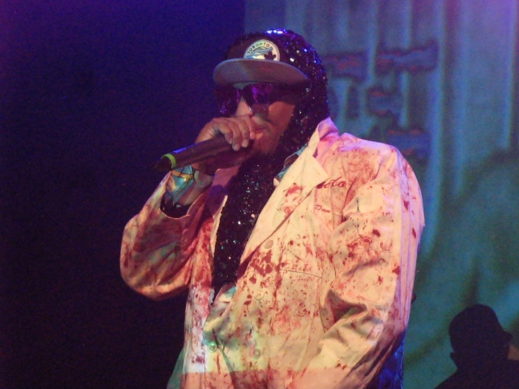 Kool Keith kept the crowd moving, whether fists were being pumped or arms were being waved side to side. A lot of tracks off the 1996 Octagonecologyst album were performed including 3000, Earth People, No Awareness, Blue Flowers, Girl Let Me Touch You. The crowd also got a taste of some new Dr. Octagon with "Operation Zero" which was first performed live a couple months ago on the West Coast. "Black Hole Sun" was on the set list but unless I missed it, that song was not performed.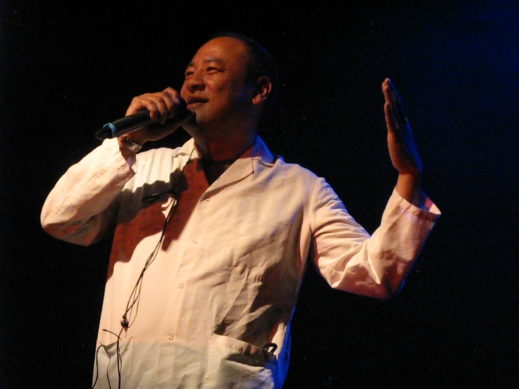 Dan The Automator (pictured above) took some time to talk to the crowd despite being heckled by most likely some drunken fool. Being the producer of the Octagonecologyst album he was asked to tour but he insisted on bringing along the world's best DJ, DJ Qbert. Both Dan and Qbert then broke into a "Bear Witness" routine which made turntablist enthusiasts cream their jeans, I'm sure. After the jedi-master scratching clinic, Kool Keith performed a few more tunes including "Wild And Crazy."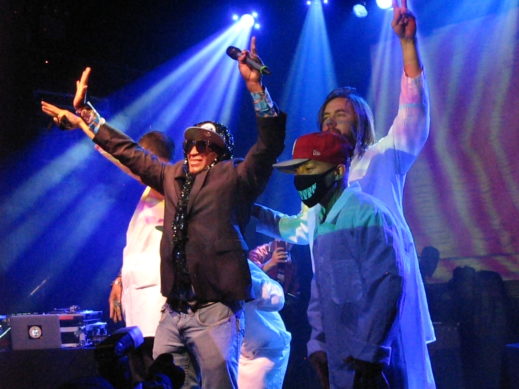 After a quick break, The Dr. Octagon Experience wrapped up the show with "Blue Flowers" (Remix) and "I'm Destructive." DJ Qbert requested Kool Keith do some old school popping b-boy moves. At The conclusion of the set, Kool Keith obliged with some funky-fresh robotic popping that got the crowd hyped! Check that out in one of the videos below!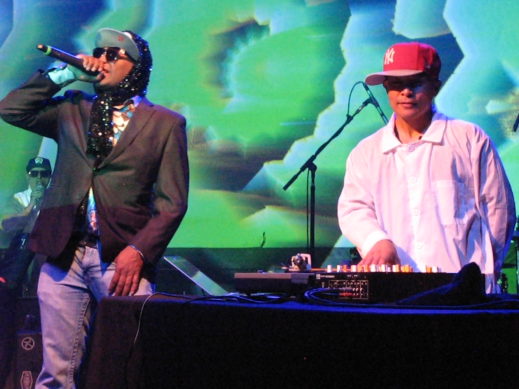 Check out Chocko (njmisfit) and Mr. C (planetchocko) on instagram.
Follow @planetchocko on Twitter. LIKE us on Facebook too. Thanks!
Tags: dan the automator, dj qbert, dr octagon, hip hop, irving plaza, kool keith, new york city, nyc
Posted in chocko, music, photos | Comments (0)
June 12th, 2017 by Mr. C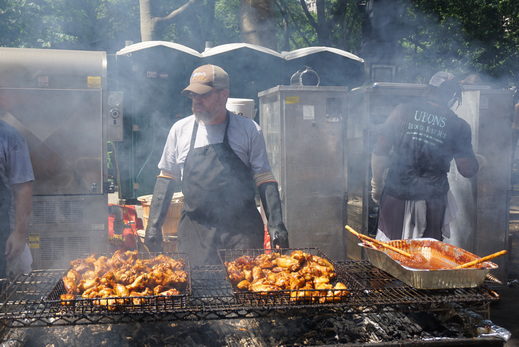 (the Ubons BBQ team getting their smoked wings on – finishing things on the grill)
hey folks, Mr. C is back on the scene again! It's been more than a NY minute since I reported on my insignificant findings & frolickings about in the little village on the prairie. I've been uber busy tending to family health issues & doing my filial piety duties. However, I was able to escape into uncle Jessie's pickup truck for a few hours on sunday to have a mild mannered, hazard county boss hog type of escapade at the boar's nest! Thanks to Chocko for holding down the Planet Chocko depository with reports on his forever misadventures in the motherland and beyond while I get things sorted out at the home/storm front.
(I started the day pumping liquid caffeine into my bloodstream at the very rustic & homey feel of Birch Coffee on 27th Street by Madison Avenue. I'm taking notes and having no prisoners here! Are you on my list?!)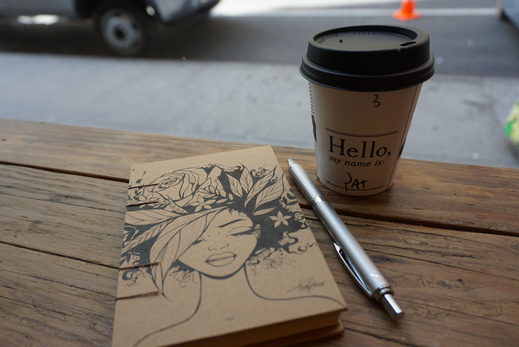 All I know was that the annual Big Apple BBQ Block party was happening and that I must partake in some feedings! I met up with the always epicurious Mondocurry for a tag team action of porky pig hide & go eat! Our first victim and our BBQ block party favorite for some years now is Chris Lilly of Big Bob Gibson Bar-B-Que serving their ever sumptuous pulled pork sandwich with a spicy mustard coleslaw! We always go swinging for the fences and start with something good & predictable & Big Bob Gibson is always that. Their pulled pork meat is moist & roughly chopped with a few slivers of nicely charred pork among the mix. Add the famous white sauce, & habanero BBQ sauce and
hog heaven is where I'm at.
(When Pigs Fly or When Doves Cry? – OK. bad joke)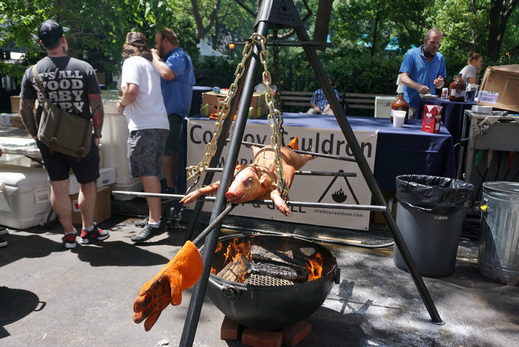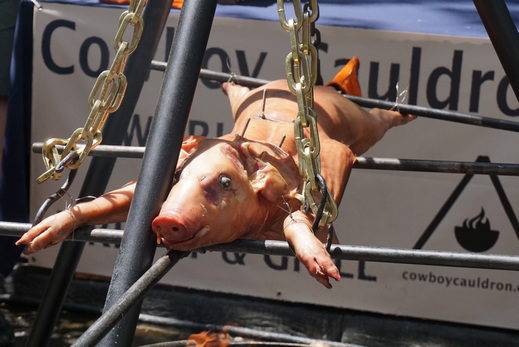 (Shake Shack was doing their thing – BBQ block party or not. With 90 degree temps, a custard or shake sounds like a great idea!)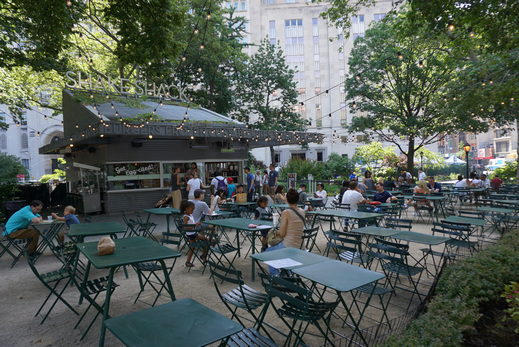 (Fox Brothers BBQ from Atlanta had a tasty combo of brisket & jalapeño-cheddar sausage with potato salad. I think Fox Brothers was overshadowed by the ever famous Salt Lick out of Texas serving pretty much the same combo. Fox Brothers for the underdog win!)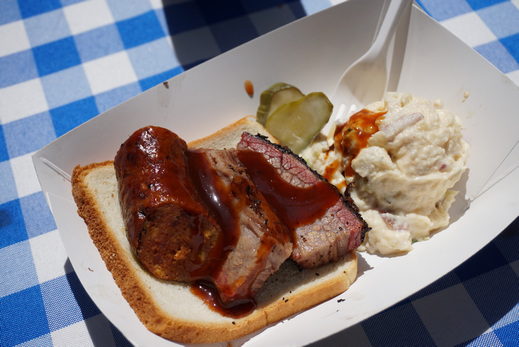 (From out of left field and literally just blocks away, arguably my favorite protein of the day besides Big Bob Gibson were local veterans from NYC, Blue Smoke. They served brisket burnt ends with chipotle barbecue sauce, & summer corn salad! Charred, smokey, tender, and the chipotle sauce was A-OK! The hot/BBQ sauce in the squeeze bottle was dyno-mite! Almost reminded me of the hot oil infused with the ground chili peppers found in some chinese restaurants! Sign me up for another round of these burnt ends in mass!)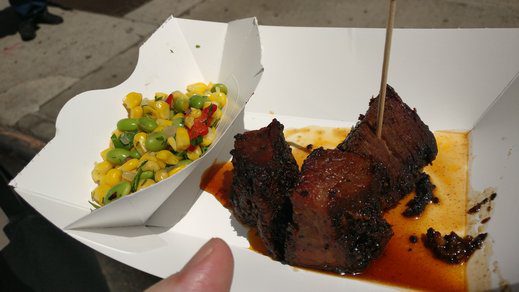 (Next, we had the Chicken Wings and Sausage plate from the Ubons crew from what I hailed as having the best side-dish of the day, Bloody Mary Cucumber Salad! The Wings had a nice refreshing & smokey taste to them but not as done up charred as I would have liked but that bloody mary salad was aiight!!)

(Time was running out for this prince but I had just enough in the hour-glass to cool down with some treats at Grace Street Cafe in Korea Town on 32nd Street. This 90+ degree day filled with the other white meat in the tummy called for some Korean shaved ice to fan the flame!)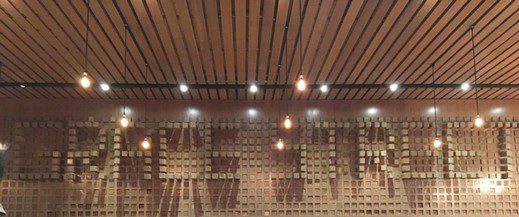 (This Black Sesame Bing Su certainly hit the spot! Black Sesame Snow + Strawberry + Mochi + Red Bean + Misugaru + Condensed Milk)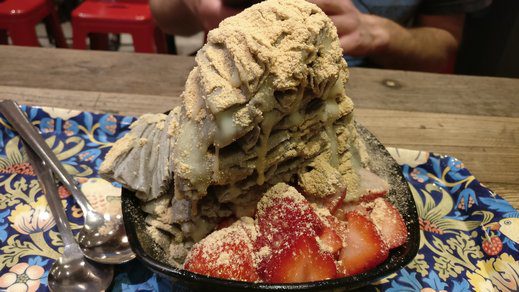 Posted in community, food, mr. c, photos | Comments (0)
May 3rd, 2017 by chocko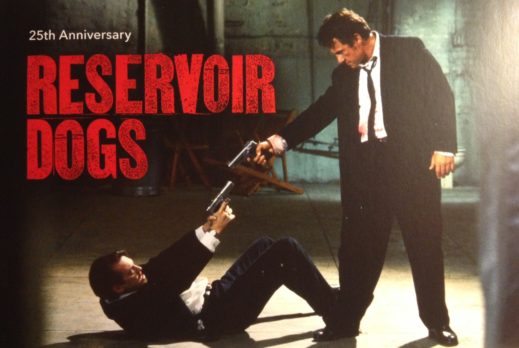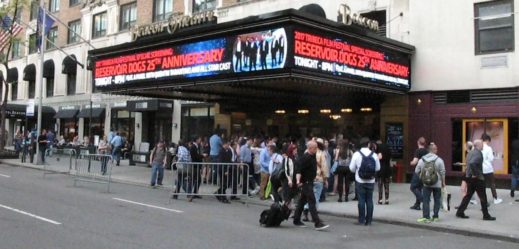 One of the special events that took place at the 2017 Tribeca Film Festival was the 25th Anniversary screening of RESERVOIR DOGS in glorious 35 mm at The Beacon Theatre. Quentin Tarantino's super cool movie about potty-mouthed gangsters and a jewel heist gone bad first screened at the Sundance Film Festival in 1992. It was screened there again this year to celebrate the world's first introduction to movies by Tarantino and last week Tribeca Film Festival gathered the rowdy masses to commemorate RESERVOIR DOGS along with a post screening discussion featuring Quentin Tarantino, Tim Roth, Steve Buscemi, Harvey Keitel and Michael Madsen. Mr. Brown, Mr. Orange, Mr. Pink, Mr. White and Mr. Blonde all sat with Lynn Hirschberg of the New York Times for an interesting conversation that revealed a lot of fun facts including Tarantino admitting that Tom Waits read for the part of Mr. Brown. If there's footage of Tom Waits doing the Madonna speech, let's see it! Another fact revealed by Tarantino is that Wes Craven walked out of a festival movie screening. The director of NIGHTMARE ON ELM STREET may have found the torture scene with Mr. Blonde carving off a cop's ear a bit too much. It was also fun to hear the origin of Mr. Blonde's dance which Madsen admits came from watching a James Cagney movie. Check it all out below…we've got some photos by Chocko from the Loge section and the audio from the post screening conversation. A huge thank you to Ariela at Unseen Films for sneaking Chocko into the building.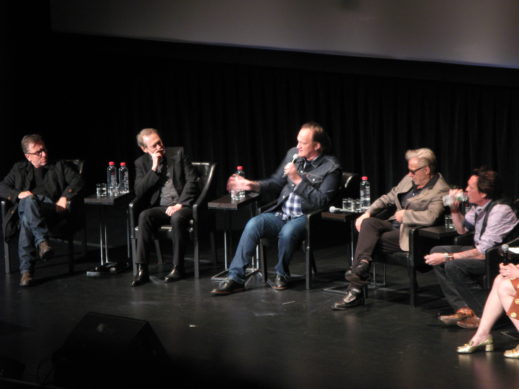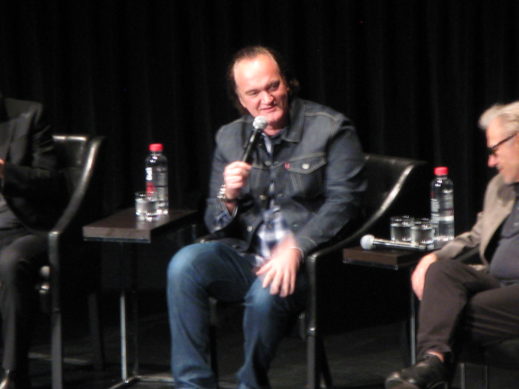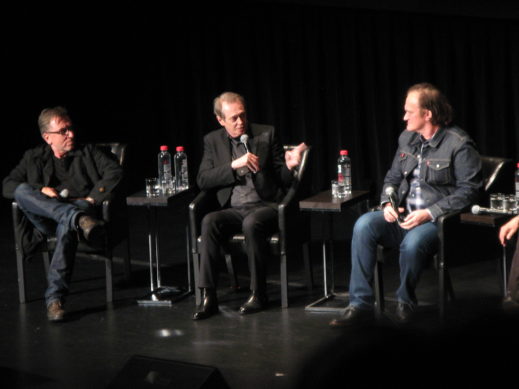 Tags: 2017, 25th Anniversary, Beacon Theatre, cinema, movies, quentin tarantino, Reservoir Dogs, tribeca film festival, Tribeca2017
Posted in chocko, movies, photos | Comments (0)
April 28th, 2017 by chocko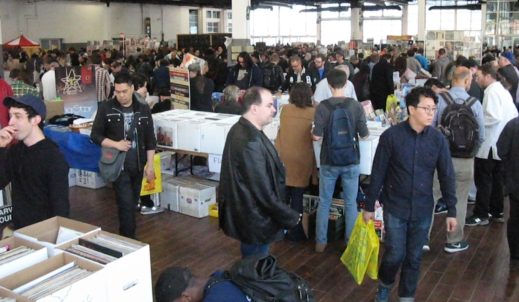 Drop all your plans and get down to the 2017 WFMU Record Fair this weekend (April 28-30) located in Greenpoint, Brooklyn at the Brooklyn Expo Center, 79 Franklin Street. Get ready to dig through crates and boxes of records, CDs and DVDs so start limbering up those fingers and get your scrawny legs ready to squat and crawl under tables for the ultimate obstacle course in buying music. There will be live bands and broadcasts to keep you busy including Bloodshot Bill playing at 2pm on April 29 during the Fool's Paradise with Rex broadcast. Shortly after, Todd-O-Phonic Todd will be broadcasting live with guests Atlantic Thrills (3:30PM), Baby Shakes (4:30PM) and Ronnie Fujiyama of the 5,6,7,8's (5:30PM). Also on April 30 check out some live music with Matmos with Chuck Bettis (3PM) and Laurice (4PM). The Movie Lounge will be hosting screenings including THE LOST ARCADE and DANNY SAYS on Saturday April 29 which will be followed by a Q&A with director Brendan Toller. Screenings on Sunday includes a great documentary MISS SHARON JONES! about soul singer Sharon Jones who passed away last year. As far as food, Two Boots Pizza and DUB Pies will be in the house to make sure your belly stays full and happy while you shop for records. The photos and videos in this post are from the 2016 WFMU Record Fair which feels like it was just yesterday. Thanks for checking us out!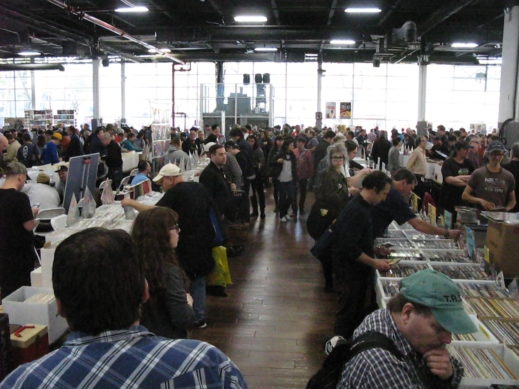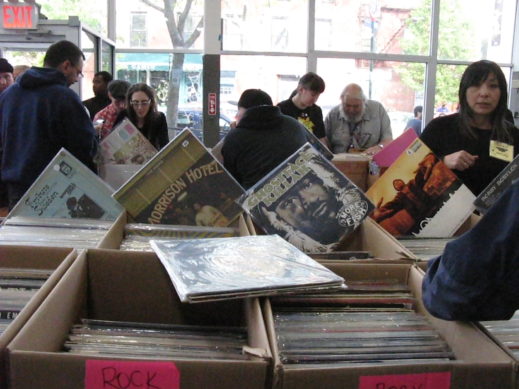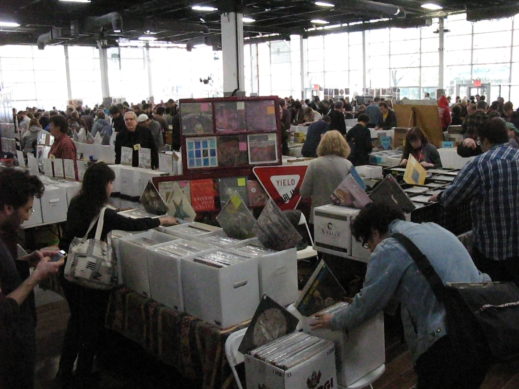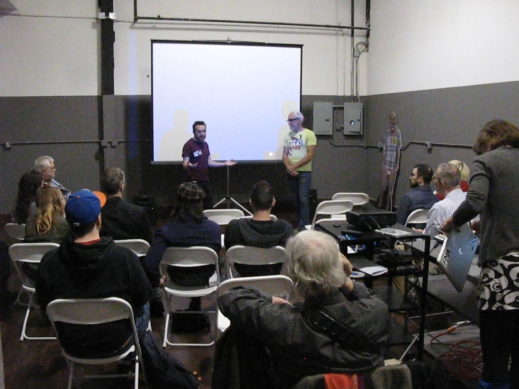 Be sure to check out movies in the A/V Lounge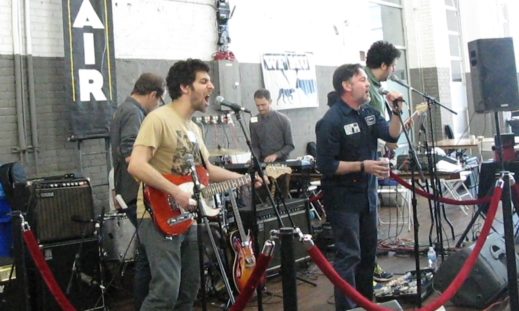 The Moles live at the Brooklyn Expo Center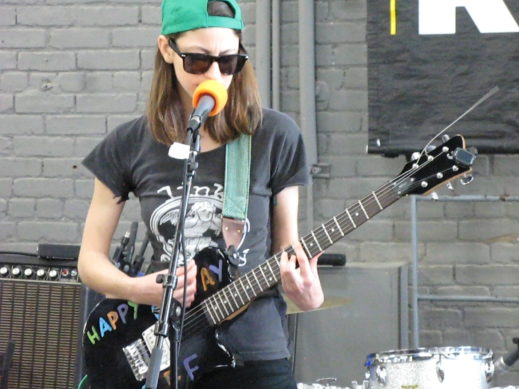 Colleen Green provided the pop punk soundtrack to your record shopping!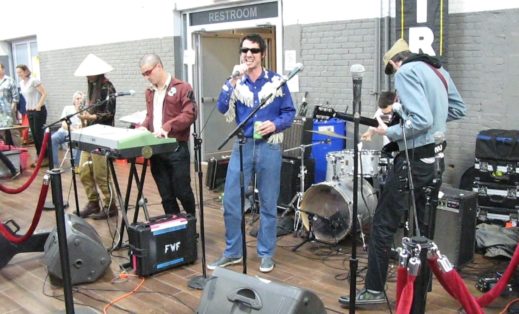 The not-so acoustic Fat White Family!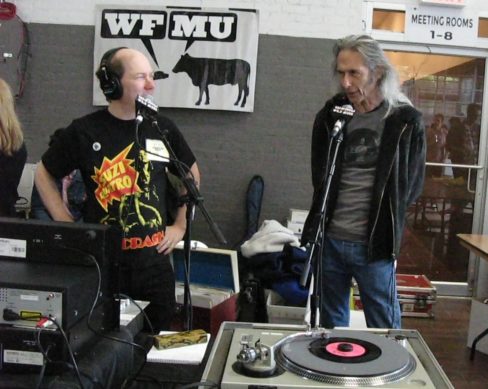 Lenny Kaye stopped by to chat with Todd-O-Phonic Todd.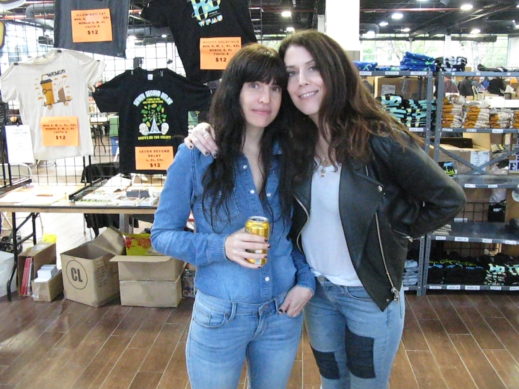 The highlight of my weekend…meeting these lovely ladies, Michele and Frangry of SHUT UP, WEIRDO a fun show on WFMU on Fridays 6PM.
Tags: brooklyn, brooklyn expo center, greenpoint, nyc, record fair, records, shut up weirdo, vinyl, wfmu
Posted in chocko, movies, music, photos | Comments (0)
April 26th, 2017 by chocko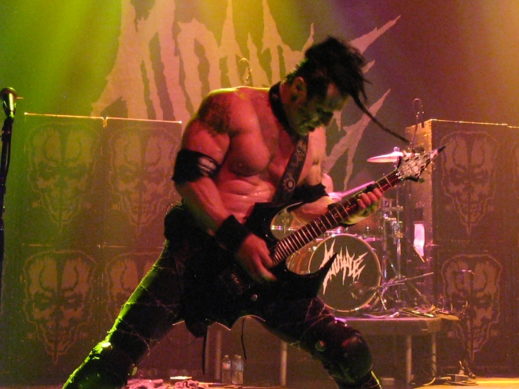 Doyle recently brought the horror business to Gramercy Theatre which I believe is his first NYC show since last year's Misftis reunions at Riot Fest in Denver and Chicago. Doyle's band, simply named Doyle features the following lineup: DOYLE WOLFGANG VON FRANKENSTEIN-Guitar, ALEX STORY-Vocals, BRANDON PERTZBORN-Drums and BRANDON STRATE-Bass. Watching Doyle stomp around the stage and pummel his guitar with his Frankenstein fists of fury made me feel like a teenager from Mars. The band played an excellent mix of music from Doyle's first album "Abominator" along with some new tracks from the upcoming new release Doyle II: "As We Die" and a monster mash mix of Misfits songs. There was a missed opportunity to drag Doyle's brother and original Misfits member Jerry Only to the stage for some songs. He was in attendance cheering from the seats in the back of the venue. I'm sure he wouldn't have had a problem greasing up the ole devil lock and slapping the bass for some tunes. But I digress. Alex "Wolfman" Story on vocals is a formidable lead singer with similarities to Glenn Danzig's vocal stylings, sometimes sounding like Rob Zombie especially on the track "Valley Of The Shadows." He's also in another band, CANCERSLUG that kicks ass like a vampire with a 10th degree black belt. The rhythm section was solid as well with both Brandon's bringing the rage and power to the stage. The Misfits songs got the crowd pumped up in the mosh pit, but I really enjoyed the band's KISS cover of "Strutter." You can PREORDER Doyle II: "As We Die" now on MONSTERMAN RECORDS! Catch Doyle on tour as he continues to abominate a city near you, starting in June! All you Jersey fiends better represent at Dingbatz in Clifton, NJ on June 28. Be there!
Shoutout to Oh My Rockness, a super cool website with great contests. Thanks for the tickets! Check them out and get on their list, ya dig?!?
Check out Chocko (njmisfit) and Mr. C (planetchocko) on instagram.
Follow @planetchocko on Twitter. LIKE us on Facebook too. Thanks!
Tags: Abominator, Alex Story, Doyle, Doyle Wolfgang Von Frankentstein, Gramercy Theatre, horror punk, live, misfits, new york city, nyc, punk rock, show
Posted in chocko, music | Comments (0)
March 31st, 2017 by chocko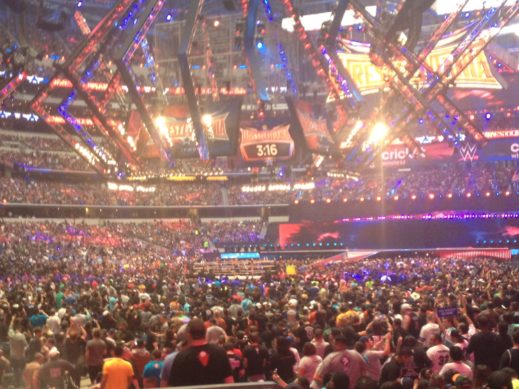 Wrestlemania weekend is upon us once again, so look for Chocko in the stands munching on a bowl of Booty-O's and a turnbuckle on the side, cheering on all the fist flying and off the top rope action which should be kicking like Bruce Lee's Chinese Connection. Here's a quick look back at last year's trek to Texas for our annual pilgrimage to the pandemonium in the squared circle. Traveling for Chocko usually involves record store shopping, checking out graffiti, street art and enjoying lots of local eats.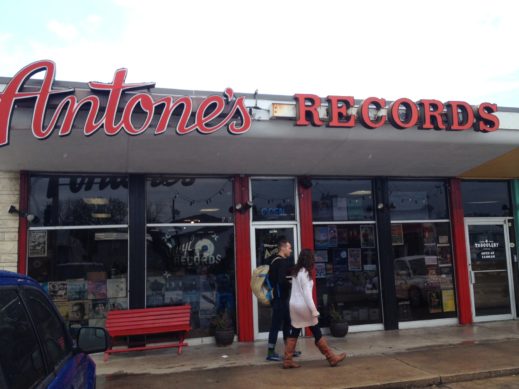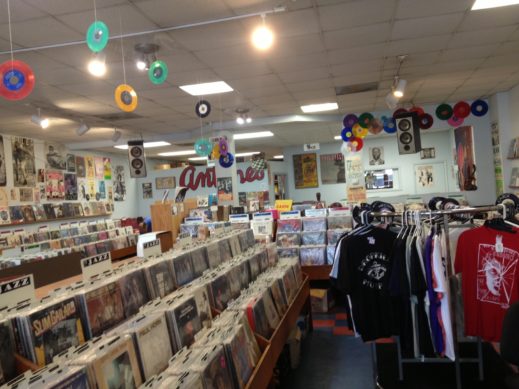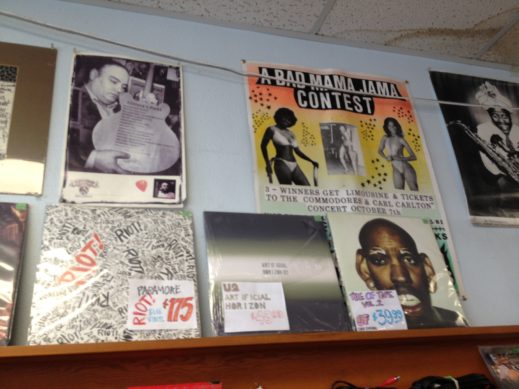 My first stop after landing in Austin, Texas was Antone's Record Shop (2928 Guadalupe St. Austin, TX 78705). A quick history about the place is that in 1975 Clifford Antone opened a blues nightclub which became successful and legendary. In 1987 he opened a record store across the street from the club where it has remained ever since. The shop specializes in the blues and local artists. Great amount of used vinyl, CDs to keep you busy digging around if you're into that. I bought a bunch music including "West Side Soul" by Magic Sam…a great album of electric blues which came out in 1967. There's a DVD I picked up on a previous trip to Austin and it's titled "Antone's Home Of The Blues" and if you can track that down it's a really interesting documentary about the history of Antone's nightclub and it's jam packed with stories, great music and performances by B.B. King, Pinetop Perkins, Buddy Guy, and Hubert Sumlin. Trust me, you gotta see it. The amount of talent that walked through the doors and played at Antone's is absolutely mind blowing.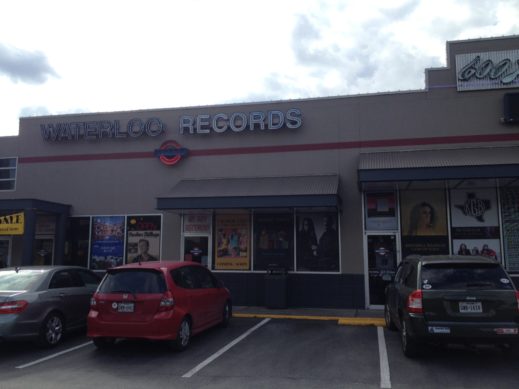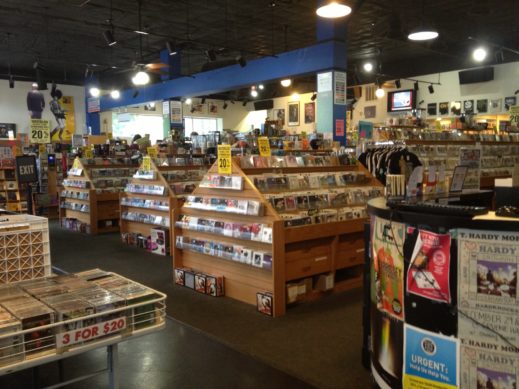 Waterloo Records & Video (600 A North Lamar Blvd, Austin, TX 78703) is always a must. Don't let the challenge of finding a parking spot in their packed lot deter you from stepping in. They have a large amount of new and used vinyl, CDs and an awesome selection of movies. They also have a lot of toys and shirts. They have all their CDs alphabetized and they aren't separated by genre…not sure if that's a good thing. Among my findings in the Used section was "HEARTATTACK! 1954-1965: WILD AND CRAZY L.A. R&B" which kept the driving around town entertaining. The deep fried and greasy tracks on the album had me wanting more.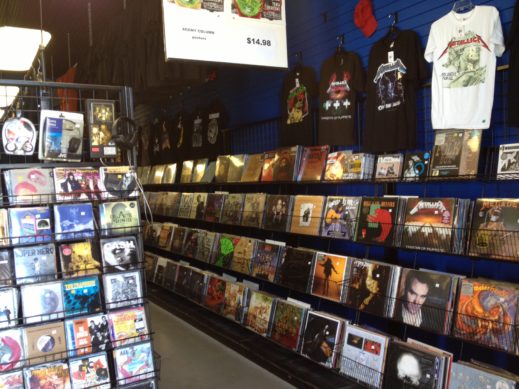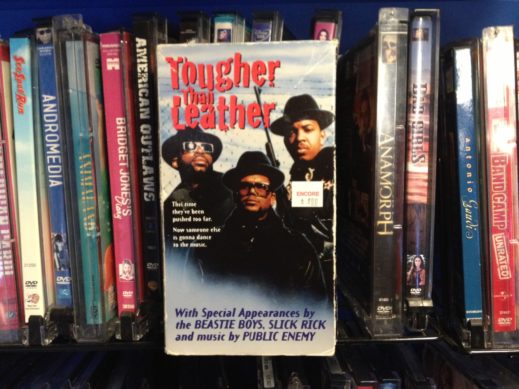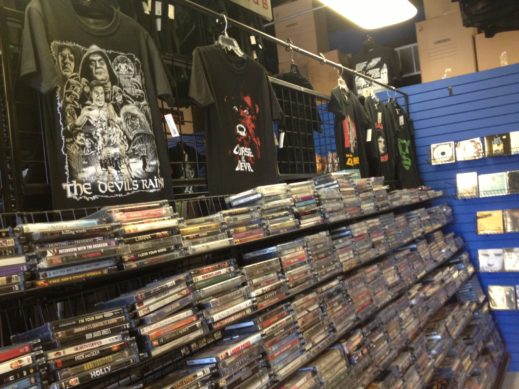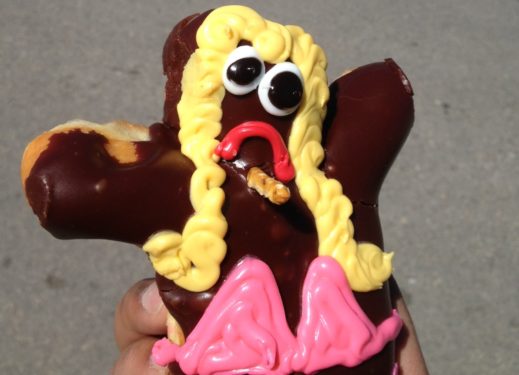 Encore Records (809 E. 6th St. Austin, TX 78702) is a decent walk from Congress Ave. Bridge where we parked. Recommended stop for sugar and and energy for the walk is Voodoo Doughnut (212 E 6th St, Austin, TX 78701) an Oregon-based shop that serves some weird looking doughnuts and off the wall flavors. Encore has a great amount of new and used music with an emphasis on Metal and Hardcore. They had a huge amount of shirts and movies. I bought a bunch of movies on DVD and VHS.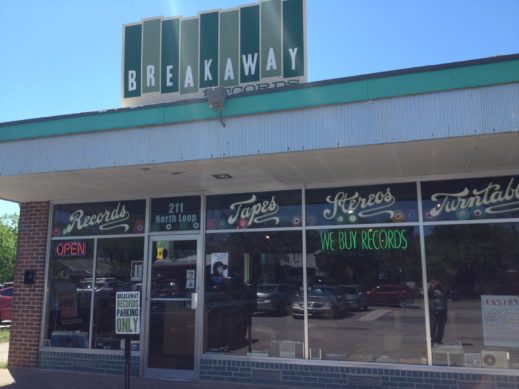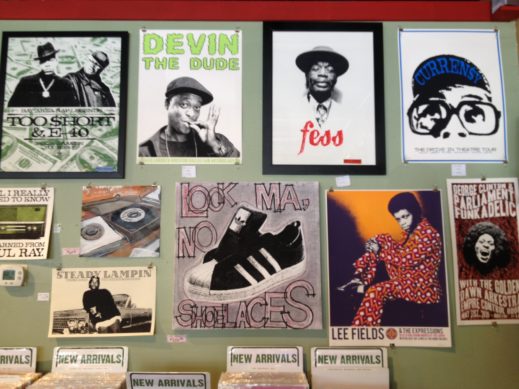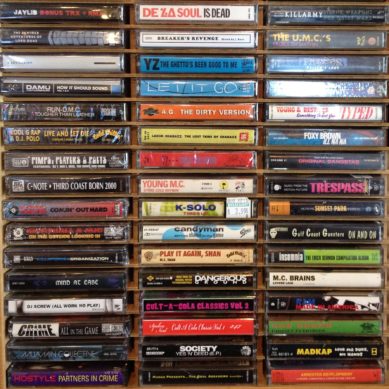 Breakaway Records (211 W. North Loop Blvd. Austin, TX 78751) was nicely organized with records specializing in Soul, R&B, jazz and rock. There's lots of equipment to check out too like turntables, speakers and receivers. The record stores I visited was just a few of many to check out. There's a small guide available for free at most of the local record stores titled Vinyl Around Austin which lists more than a dozen record stores in the Austin area. The guide also includes a small but helpful map.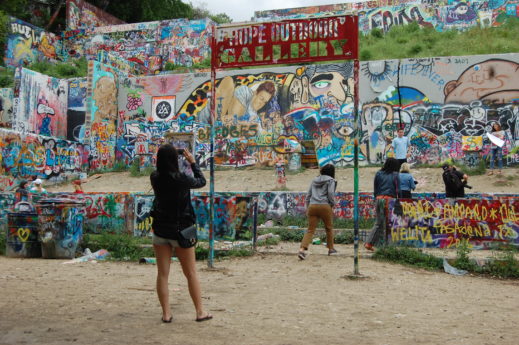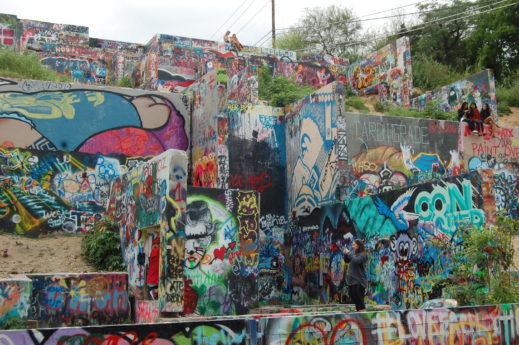 The photos above were taken at the HOPE Outdoor gallery where graffiti and street art reign supreme. Some of the art is spectacular but it looks like anything goes, lots of great stuff gets tagged quickly by amateurs picking up a half empty (or half full) can of spray paint and going at it.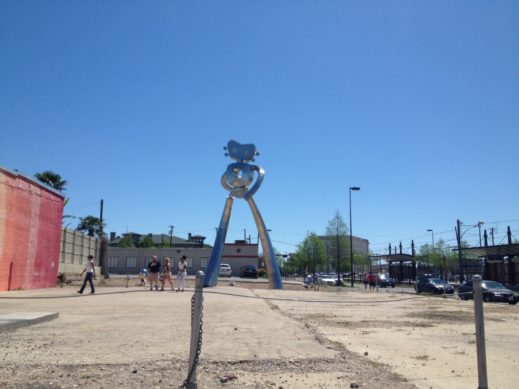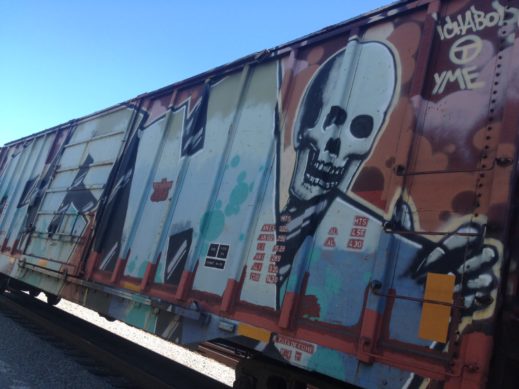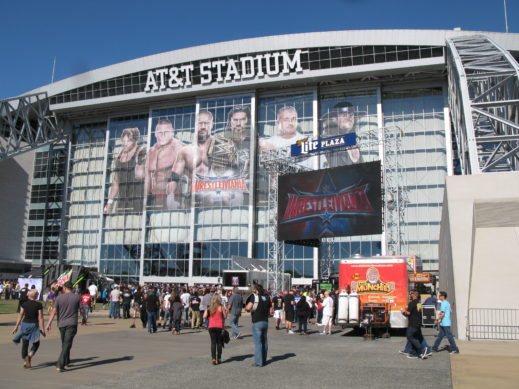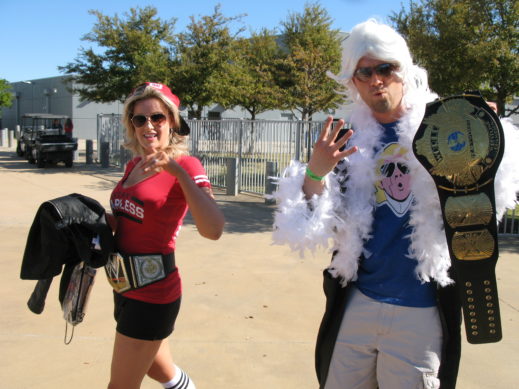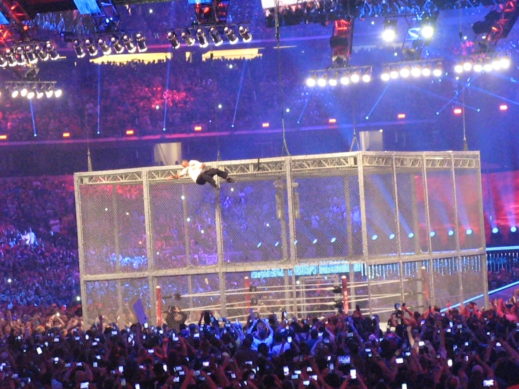 The last photos above are from Dallas, Texas where Wrestlemania took place last year. Looks like a fun city to check out, but we just didn't have the time. Gotta go and catch a flight to Wrestlemania 33 in Orlando!
Tags: austin, dallas, graffiti, record stores, street art, texas, wrestlemania
Posted in chocko, food, photos, sports, travel | Comments (0)
March 7th, 2017 by chocko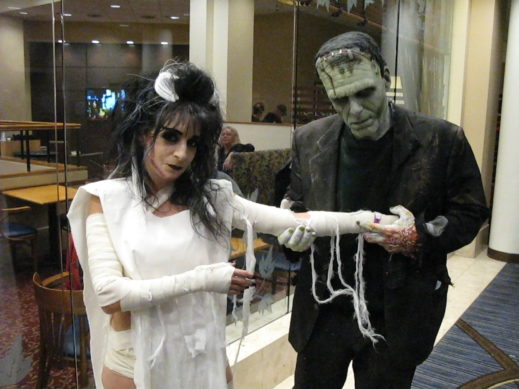 Hey stank azz zombies and all you mummies! It's Chiller Theatre time once again..a biannual celebration of all things horror, sci-fi and everything else in between. It's the ultimate toy, model and film expo you will kick yourself in the pants if you miss. Get up out of your coffins, shake out the cobwebs and head out to Parsippany, New Jersey from April 21 – 23 and party with all the NJ toxic hombres and Sasquatch mountain mamas. Chiller Theatre will be at a new Horror Hotel. Chiller's back at the Hilton Parsippany Hotel! The guests this time around is a doozy- Fred "The Hammer" Williamson, Tom Savini, Bai Ling, Flavor Flav, a Fright Night reunion and so much more. There will be a special auction of some of Zacherle's personal collection including his Cool Ghoul costume. Here's a look back at Chiller Theatre in October 2016 through some photos and some videos below of some of the musical guests.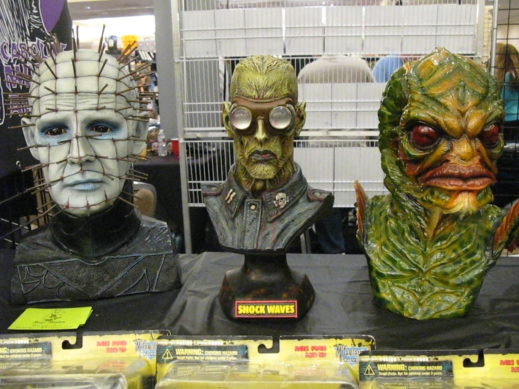 Heads are gonna roll if you don't buy your tickets in advance!

Zach, you will be missed! RIP

Don't you just want to snuggle with one of these dolls?

Alice, you look so young. What is your secret?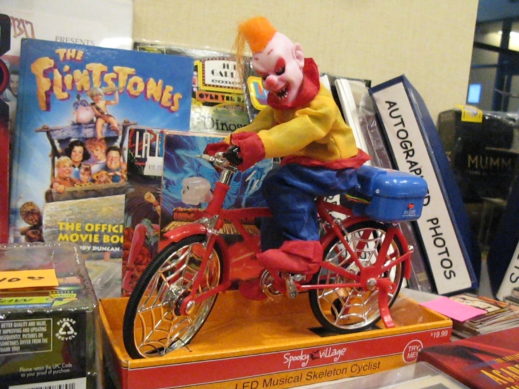 Imagine seeing this sucker peddling in the bike lane.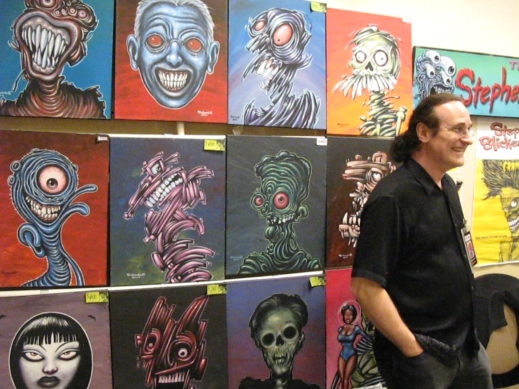 Stephen Blickenstaff and his creepy, fantastic art.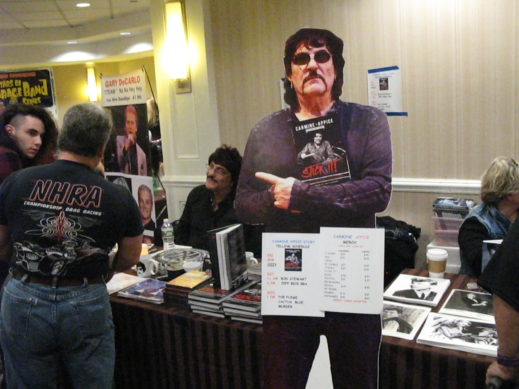 Will the real Carmine Appice, please stand up?!?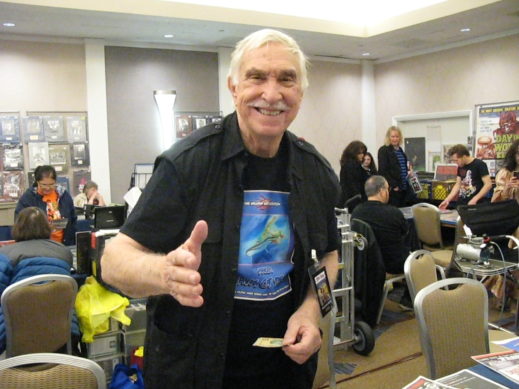 Nice to meet you, Director William Grefe!

Sara Karloff, Daughter of Frankenstein.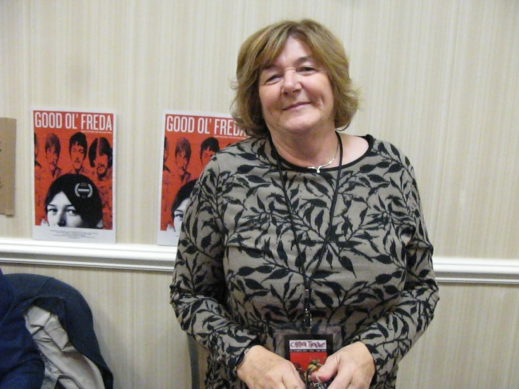 Freda Kelly, fan club secretary of band, The Beatles. Heard of them?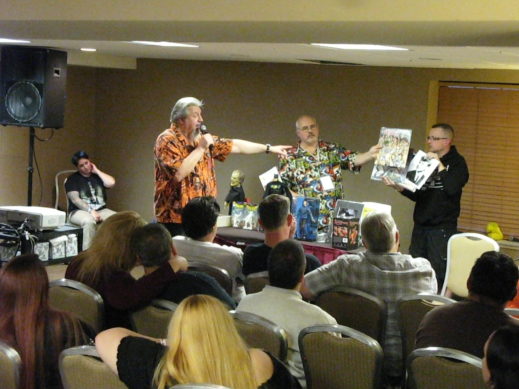 Ted A. Bohus working it at the Chiller Theatre auction.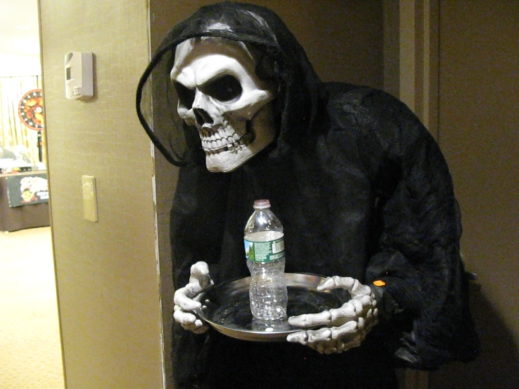 Drink, Drink, Drink My Darling!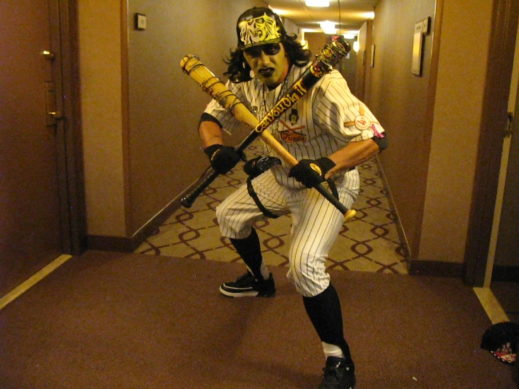 Is it baseball season already?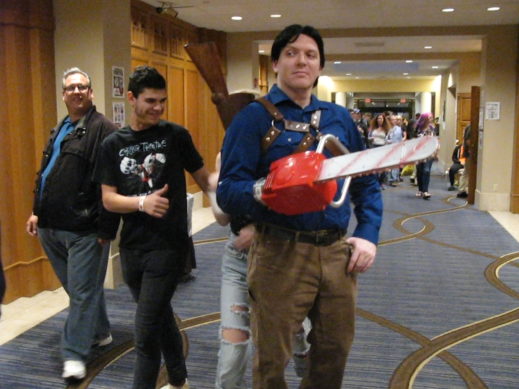 Ash standing proud but looks like he's about to get punked by some kids.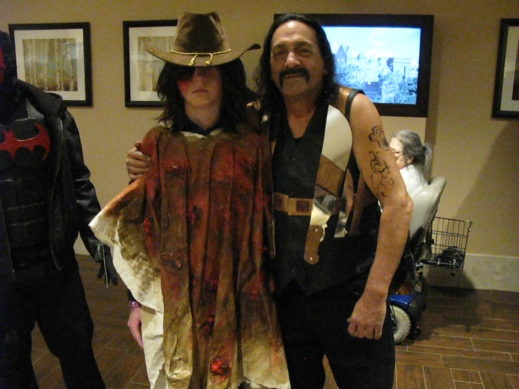 Looks like Machete found himself a friend.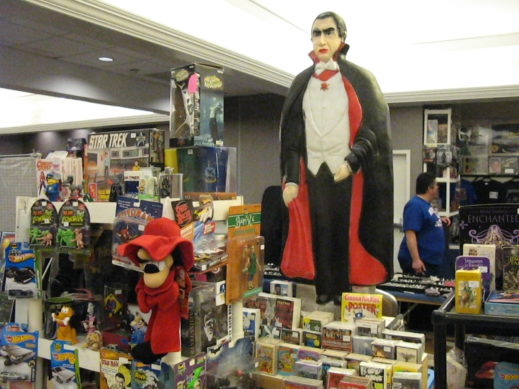 So much to buy at Chiller Theatre. Bring the pickup truck.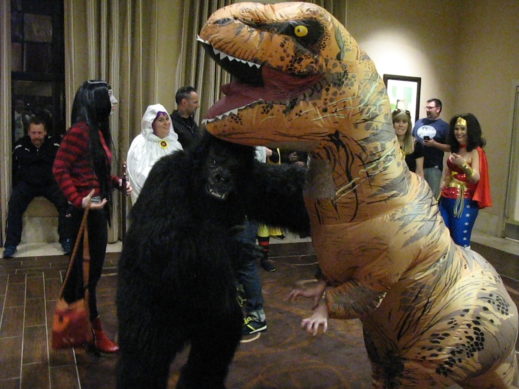 King Kong versus a T. Rex in a hotel lobby. Only at Chiller!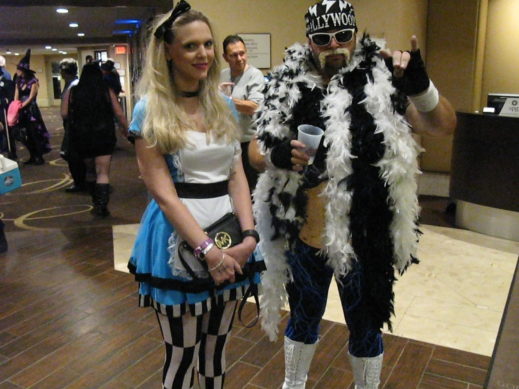 Hollywood Hogan accompanied by his manager Alice. NWO indeed.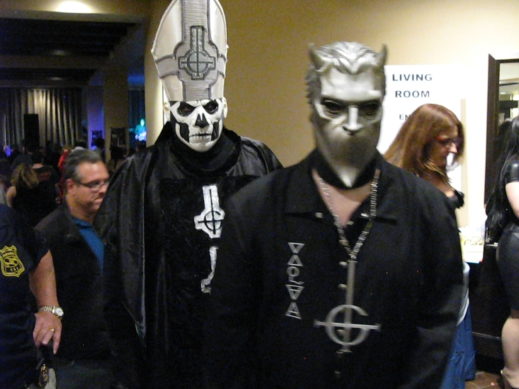 Papa Emeritus and a Nameless Ghoul roaming the halls.

a scene from CREEPSHOW!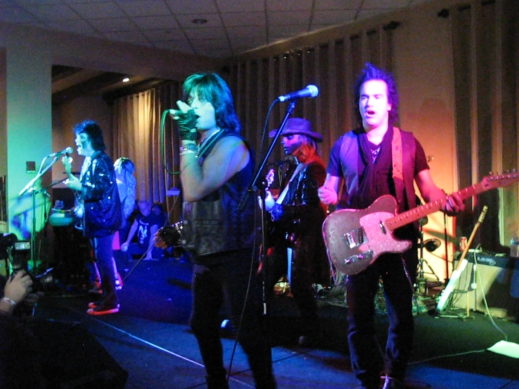 I didn't stay too late on Saturday night when all the bands play. I saw The Dead Elvi play a great set of tunes that will haunt your brain, followed by former Rainbow and Deep Purple singer, Joe Lynn Turner belt out a few tunes. First The Dead Elvi accompanied JLT for some "Smoke On The Water" (Deep Purple) followed by "I Surrender" (Rainbow). There was a quick change in the lineup. Former members of Quiet Riot, Rudy Sarzo and Frankie Banali joined Joe but somehow, Joe's guitarist went missing. A young guitarist was pulled from the crowd and the show was able to continue with "Highway Star" (Deep Purple) and after another guitarist joined the stage, JLT closed out the set with a SLADE song made popular by Quiet Riot, "Cum On Feel The Noize." Check out the videos below!
Check out Chocko (njmisfit) and Mr. C (planetchocko) on instagram.
Follow @planetchocko on Twitter. LIKE us on Facebook too. Thanks!
Tags: chiller theatre, cosplay, halloween, horror, horror movies, Joe Lynn Turner, movies, new jersey, sci-fi, the dead elvi
Posted in art, chocko, movies, music, photos, toys, TV | Comments (0)
December 30th, 2016 by chocko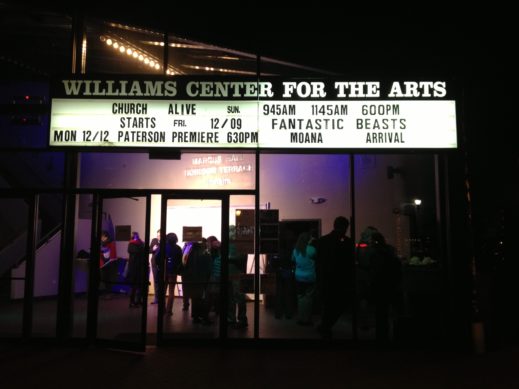 Earlier in December, The William Carlos Williams Center for the Performing Arts in Rutherford, New Jersey hosted a special screening of Paterson with the writer and director of the film, Jim Jarmusch in attendance. Jarmusch was in the house during a pre-reception in the lobby of the historic building and also to introduce the film to the sold out event. I just wanted to write briefly about the history of the Williams Center which has been bringing entertainment such as theater, music, dance and film to the NJ masses for more than 70 years. It was originally known as the Rivoli Theatre where top vaudville acts of the 1920's would perform on the swanky, grand stage which also was home to the screenings of many silent films complete with live organ accompaniment, MovieTone news reels and all the Hollywood Golden Era cinematic greats. The theater was named after the great American poet, William Carlos Williams who was born in Rutherford, New Jersey in 1883. He was a family doctor by trade but was also a successful writer of plays and stories but was best known for his poetry. One of his best known works was an epic poem Paterson which was published in five volumes from 1948 to 1956.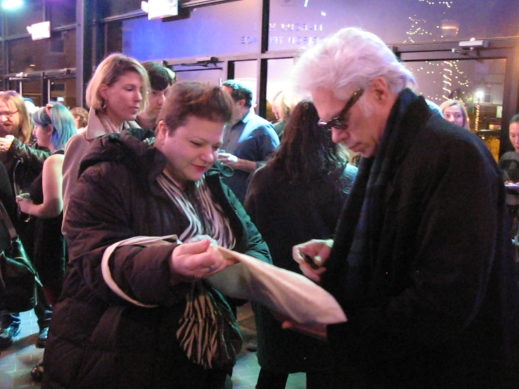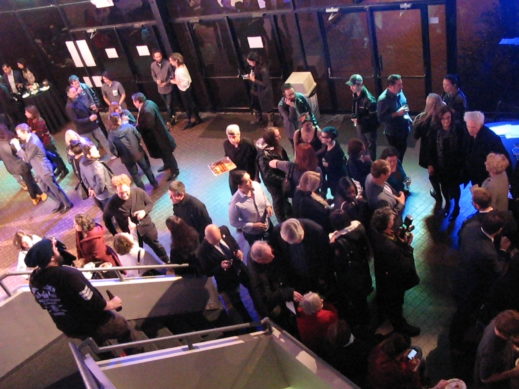 I arrived fashionably late, finding perfect parking across the street. Nothing beats free parking even if it's after 7pm. Jim Jarmusch wasn't too hard to find in the crowded lobby where film enthusiasts from the NYC and NJ area converged for drinks, hors d'oeuvres and the latest project from the legendary, idiosyncratic director who has given us films such as Ghost Dog: The Way Of The Samurai, Dead Man and Mystery Train. It was great to see him taking selfies with fans and signing autographs. Darn, I should have brought some DVDs with me to get signed. A nice gift for those in attendance was a blank journal (pictured below). Once you see the movie Paterson, you'll understand and start jotting down modernist poetry in no time just like Adam Driver's character named Paterson in the movie also by the same name.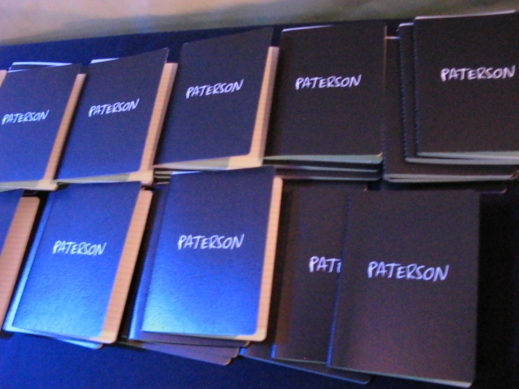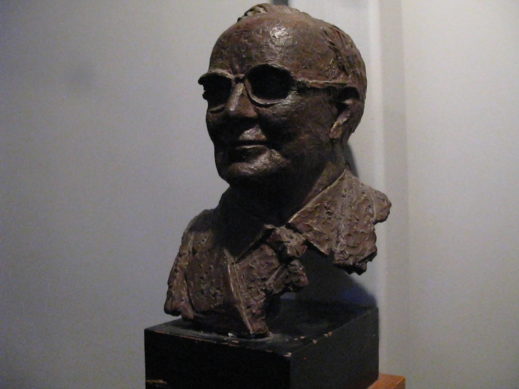 A bronze bust sculpture with the likeness of Rutherford's beloved physician and poet William Carlos Williams. I noticed the striking sculpture while chomping away at some free food. Not only does the Williams Center house a 624 seated theatre, but it is also home to 3 cinemas fully equipped with digital projectors. Located downstairs, is also a concession stand with reasonable prices and a huge dining area. There are a couple arcade games to keep the young and young at heart busy. I also dig the decorations which features pop culture icons such as Frankenstein, David Bowie, Adam West as Bat-Man and Creature From The Black Lagoon.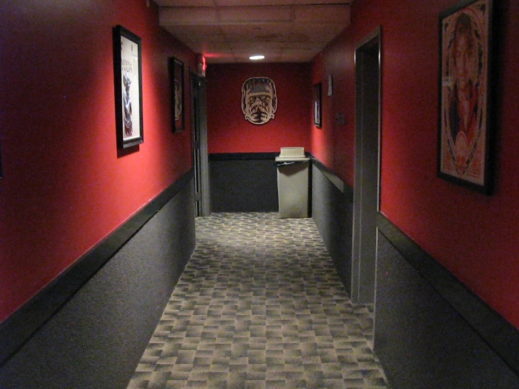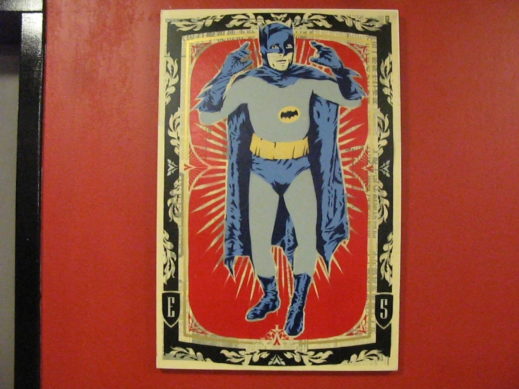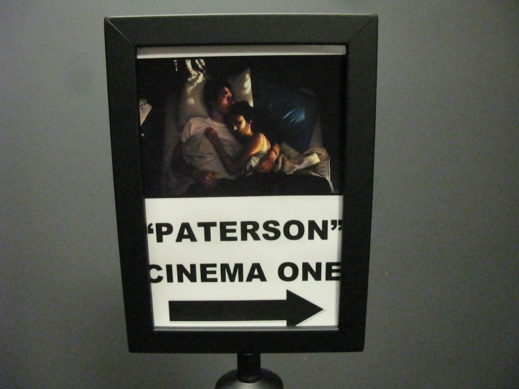 In the movie Paterson, the main character is a bus driver named Paterson (Adam Driver) inspired by the works of William Carlos Williams, he writes poems and finds beauty during his daily routines. He walks his dog Marvin every night and lives a mundane life with his wife, Laura (Golshifteh Farahani) who has big dreams of being an artist, singer or perhaps a famous cupcake maker. Paterson, New Jersey is the backdrop of this movie and scenes with The Great Falls of The Passaic River and Lou Costello Memorial Park populate the cinematic landscape while Paterson drives his bus route. Quirky characters pop up during the movie, sometimes we only overhear a conversation or we get to know characters a little better as we watch a couple's breakup go sour. Definitely go see this special, brilliant film. Just be warned, you might get inspired and start writing poems or seeking out poetry in your local bookstore after seeing the movie! It's presently playing in New York City, Columbus, Los Angeles and Hollywood. Go see it this weekend.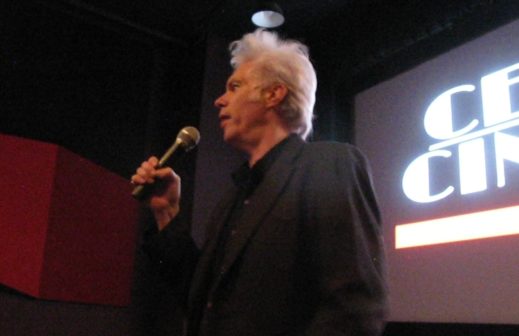 Jarmusch introduced the film to the audience at the Williams Center. He pretty much said that if you're looking for a movie with a lot of conflict or violence, this is not it. He mentioned that producers of the movie were also in the house along with the poet, Ron Padgett. Padgett's poems "Love Poem," "Glow," "Pumpkin," and "Poem." were featured in the film.
Check out Chocko (njmisfit) and Mr. C (planetchocko) on instagram.
Follow @planetchocko on Twitter. LIKE us on Facebook too. Thanks!
Tags: Adam Driver, cinema, Jim Jarmusch, movies, new jersey, nj, paterson, poems, poetry, rutherford, William Carlos Wiliams, Williams Center
Posted in art, chocko, community, movies, music, photos, theatre | Comments (0)
December 12th, 2016 by Mr. C
———————————————————————————————————————
When most others are busy shopping or sipping hot chocolate while thinking Bad Santa thoughts on a freezing day in NYC, we hobbled over to the west side of Manhattan for the annual Progressive International Motorcycle Show over at the Jacob Javitz Convention Center. It seems like on the same weekend in December when the motorcycle show happens by coincidence or not – Santa Con is also scheduled on that same Saturday. It seems like that for the past 5 years or so anyway! Santa Con for those that don't know is a day when adults over 21 get dressed in Santa gear and go bar hopping all day long or until Santa gets hosed and incapacitated. It sounds like fun, I guess but we're more interested in the bikes over on the west side!
———————————————————————————————————————-
(Flo's Chop Shop for the motorcycle enthusiast that needs a little grooming!)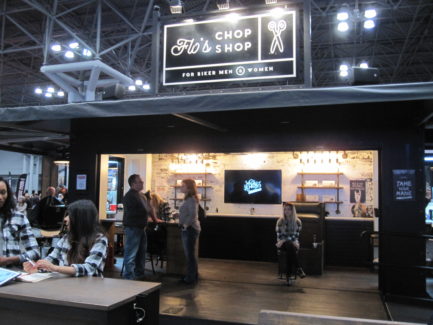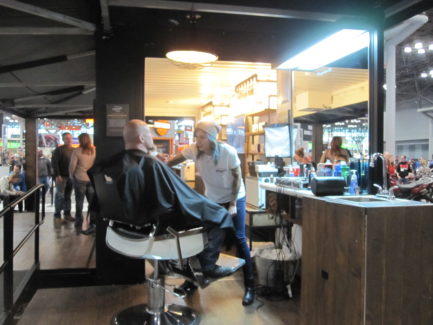 ———————————————————————————————————————–
There was nothing in particular with new model year motorcycles that I had in mind to check out. Instead, I always look forward to soaking in the custom bike builds and the collection of vintage bikes on hand! We missed the motorcycle stunt show but did catch Ricky Gadson, a legendary drag race champion tell a few stories on stage! Call me crazy but these past several years the motorcycle show seems to have gotten smaller & smaller exhibitor and crowd wise. That being said there still is a rabid fan base of bike nuts from all over the surrounding NYC area that have descended upon the Javitz Center to gawk, pose, take photos, & dream big dreams of their favorite motorcycles, ATV's, & shop for accessories to compliment their ride! The major manufacturers were represented including BMW, BRP, Ducati, Harley-Davidson, Honda, KTM, Indian, Kawasaki, KTM, Suzuki, Triumph, Victory, Yamaha, & a chinese bike company called Lifan?!
———————————————————————————————————————–
(After exiting the Port Authority Bus Terminal Wasteland, did some perusing around at the Hell's Kitchen Antique Market on 39th Street before marching over to the Jacob Javitz Center)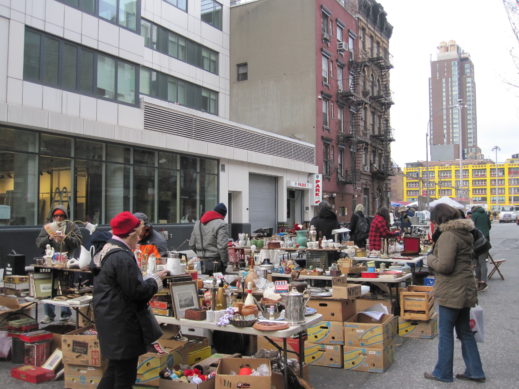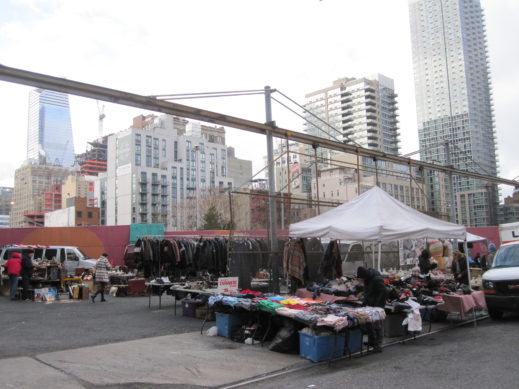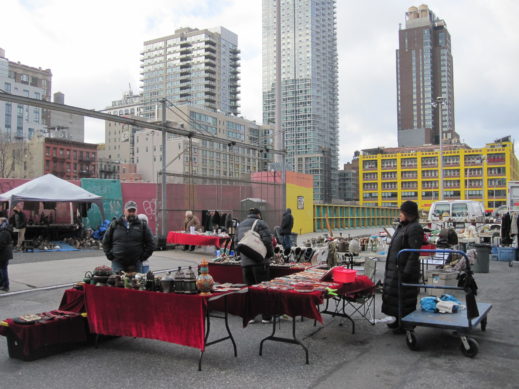 (had to inject myself with some caffeine at the Cafe Grind)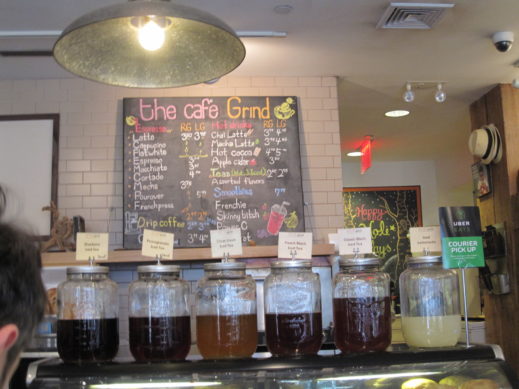 (By far my favorite section of the show – Vintage Motorcycles)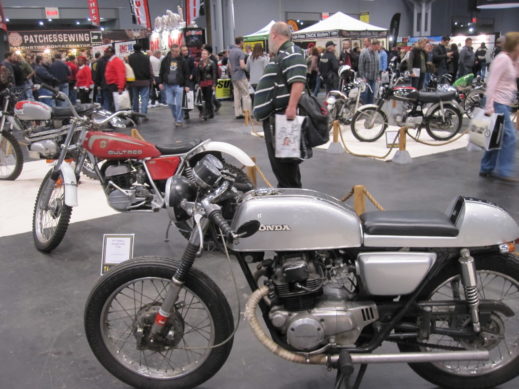 (gorgeous cafe racer from yesteryear)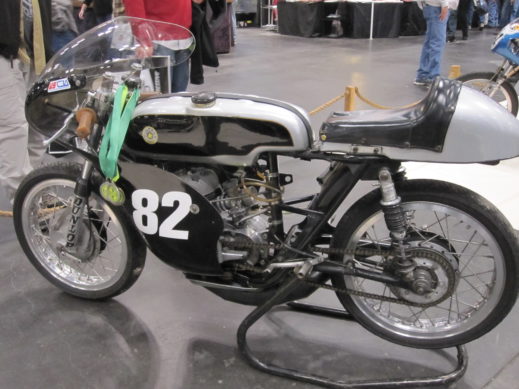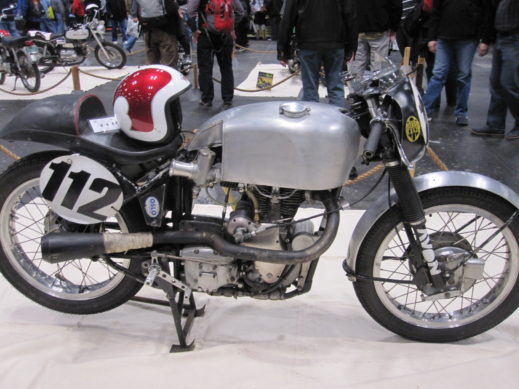 (A Victory that has been around the world)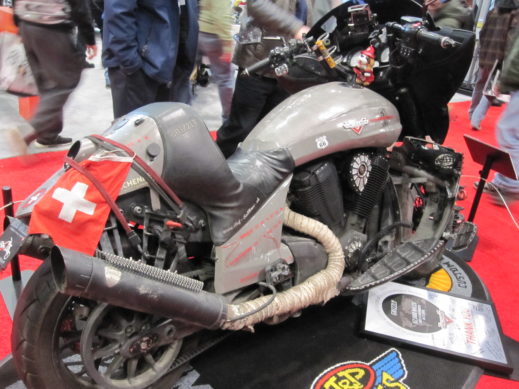 (Rickey Gadson – 11 time drag race champion)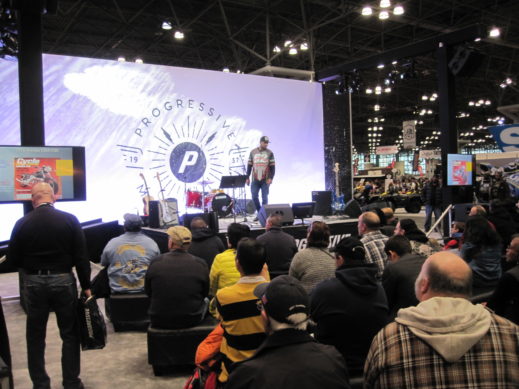 (Lifan – a Chinese motorcycle manufacturer w/ headquarters in Chongqing,China)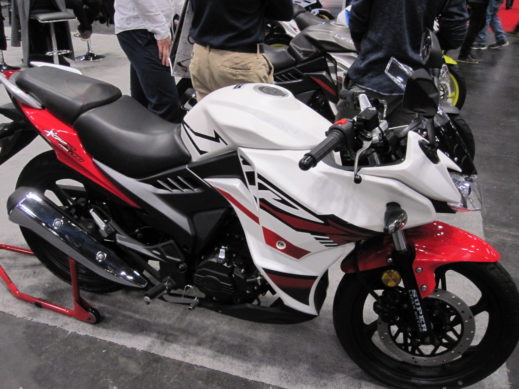 (a really sweet looking custom shovelhead)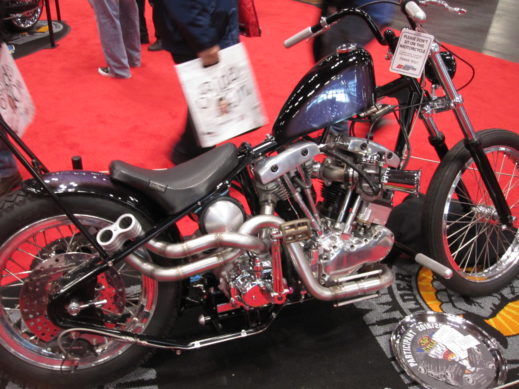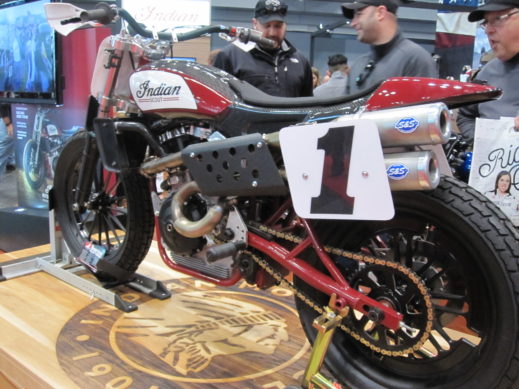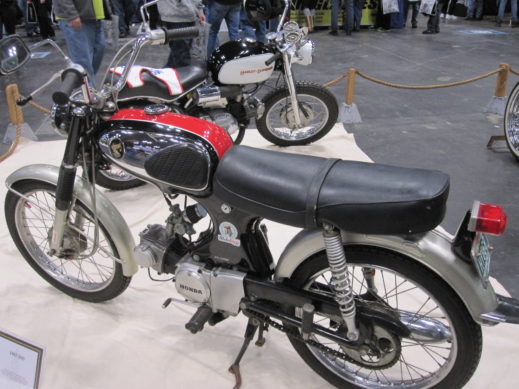 (this new 2017 Harley Davidson 48 is going to be mine!)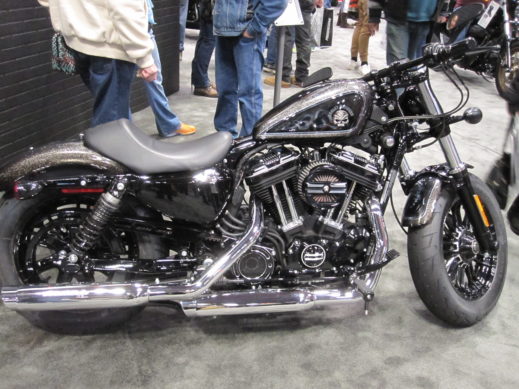 (After the Motorcycle show we marched into Brother Jimmy's BBQ with a bunch of Santa Clauses enjoying Santa Con)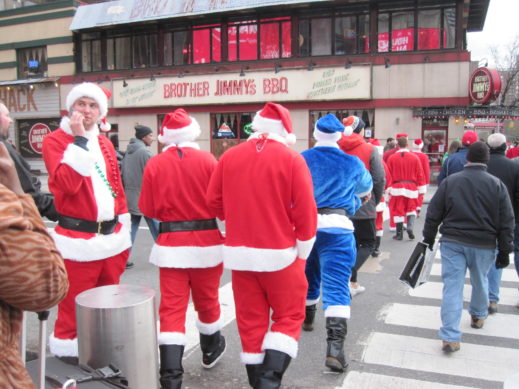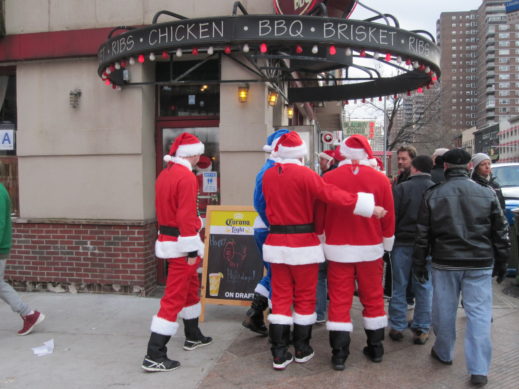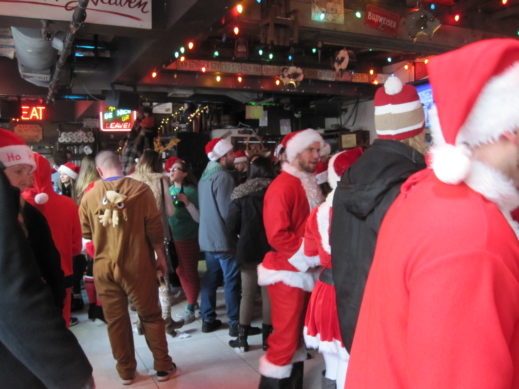 (Rest assured this was not Santa singing xmas carols on the steps of the Post Office across from Penn Station)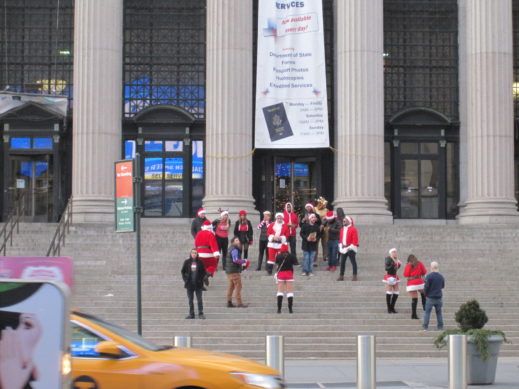 Tags: IMS, international motorcycle show, motorcycles, progressive international motorcycle show
Posted in mr. c, photos | Comments (0)
December 6th, 2016 by chocko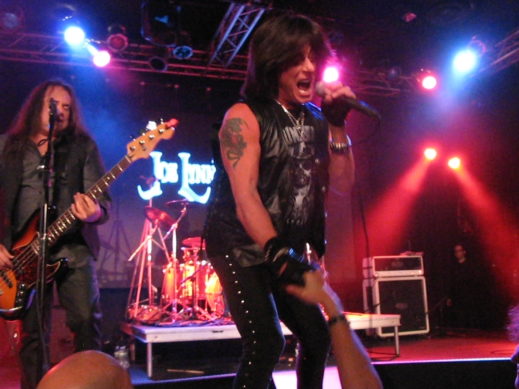 Joe Lynn Turner rocked the stage at Highline Ballroom recently along with a band that featured Craig Goldy (Dio/Budgie) on guitar. Just some quick history on the legendary JLT for those not familiar with the hard rock singer from Hackensack, New Jersey: his first band Filet of Soul featured J.T. Taylor who would later join the popular soul and funk band, Kool And The Gang. JLT is best known for fronting the band Rainbow in the early 80's and over the years has lent his pipes to bands such as Deep Purple and Yngwie Malmsteens's Rising Force but also has a successful career as a solo artist. The show at Highline Ballroom did not disappoint. The youthful Joe Lynn Turner was ready to rumble and treated the audience to set list jam packed with power vocals and Rainbow songs such as "Death Alley Driver," "Stone Cold"(Rainbow's first Top 40 pop hit), and "I Surrender." Turner also played a song from one of his many bands, "Edge of Tomorrow" by Sunstorm. Another non Rainbow performed was "Rising Force" from his collaboration with Swedish metal guitarist Yngwie Malmsteen. Joe Lynn Turner concluded his show with the hard rocking, pedal to the metal Deep Purple song "Highway Star."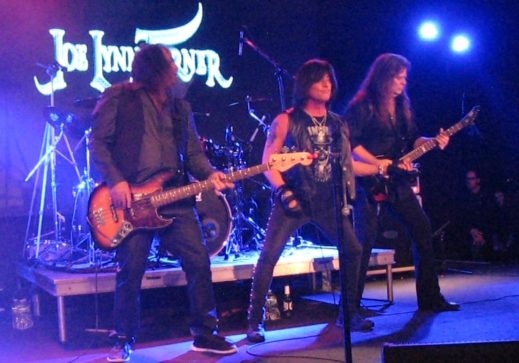 I thought it was funny when JLT layeth the smackdown and two teenage dudes got kicked off the stage. So, apparently one of the roadies thought it was alright to bring up some strapping young lads to enjoy the show from the side of the stage. The kids were there for a good chunk of the show, not bothering anybody but as soon as JLT saw them, he was like "get outta here, I'm not kidding. It's a distraction." JLT briefly ranted that he's been performing for 45 years and you have to earn it to be on stage. A "JLT" chant started from the back of the room. JLT wasn't a total heel and offered to sign anything they had after the show.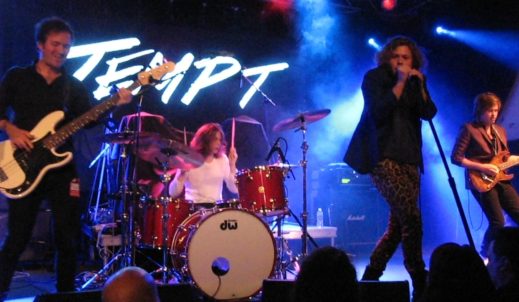 One of the openers I was able to catch was Tempt out of New York City. I liked them a lot. They had great vocals and killer guitar solos. The band looked like they were having a great time playing 80's inspired hard rock and metal songs. Their songs reminded me of early Def Leppard and Survivor. One of their songs sounded like it would have fit in perfectly in one of those Rocky movies where Stallone's working out and getting ready to knock out his next opponent. I can't wait to see Tempt again. Their debut album, "Runaway" is out now. Definitely check them out.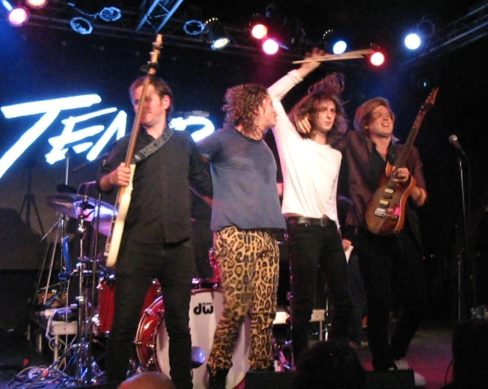 Check out Chocko (njmisfit) and Mr. C (planetchocko) on instagram.
Follow @planetchocko on Twitter. LIKE us on Facebook too. Thanks!
Tags: Deep Purple, hard rock, heavy metal, highline ballroom, Joe Lynn Turner, new york city, nyc, Rainbow, review, Tempt
Posted in chocko, music, photos | Comments (0)
December 3rd, 2016 by Mr. C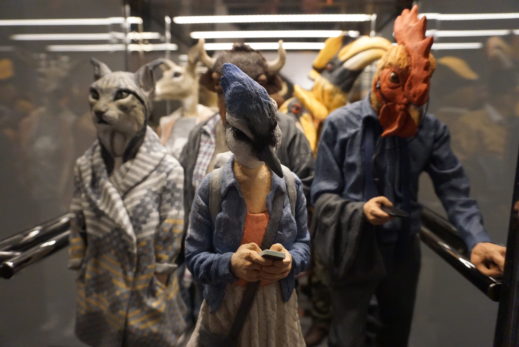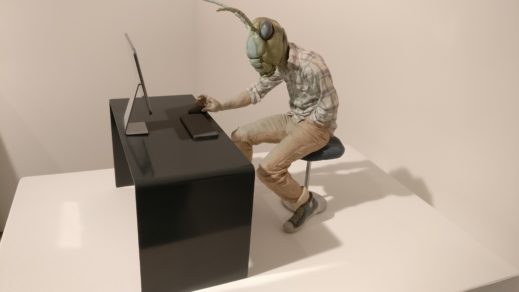 —————————————————————————————————
We usually make a bad habit of attending must see art exhibits on the last day of the show but not this time! Italian artist Alessandro Gallo is currently showing his 2nd solo exhibit of ceramic sculptures at the Jonathan Levine Gallery. The show runs from November 19 – December 17, 2016. Gallo's 2 foot sculptures infuses elements of the human body with the head of an animal! This hybrid creature creation from the artist looks so creepy, surreal, sarcastic, & comical – all at the same time! There is so much more than meets the eye as Gallo seems to be poking fun and mocking our current human disposition of living in a world of materialism, technology, and selfishness. Hell, I even seem to fit a few molds metaphorically with some of these sculptures he had on hand! The Jonathan Levine Gallery press release below describes the meaning behind the artwork by Alessandro Gallo far much better than I. The sculptures on display at the exhibit looks so real & uncanny right down to some of the tattoo's present on the body of some of these hybrid creatures of creation! I took some photos of the sculptures but they don't really do it justice as seeing it in person! Step down to the Jonathan Levine Gallery and see it for yourself. The "For Some Reason" art exhibit runs till December 17th!
Jonathan Levine Gallery
529 West 20th Street, 9th floor
New York, NY 10011
—————————————————————————————————–
From the Jonathan Levine Gallery Press release.
ALESSANDRO GALLO
FOR SOME REASON

Solo Exhibition
November 19 – December 17, 2016
Opening Reception: Saturday, November 19 from 6—8pm
NEW YORK, NY (November 1, 2016) — Jonathan LeVine Gallery is pleased to present For Some Reason, a series of new works by Italian artist Alessando Gallo in what will be his second solo exhibition at the gallery.

'For some reason' is an idiom used to acknowledge when something exists despite the fact that it defies explanation and perfectly characterizes Gallo's uncanny ceramic sculptures. His impeccably crafted hybrid creatures with human bodies and animal heads stand approximately two feet tall and question mankind's relationship with the natural world, as well as our need to postulate a sense of logic when it otherwise appears to be missing.

Gallo's mixed-media process is rooted in realism and he begins by photographing a model from multiple angles. The resulting photographs are then used in conjunction with images from animal wildlife books as references while sculpting. He adorns his mutant species with clothing, tattoos and other attributes of typical city-dwellers, and positions them within mundane human circumstances, such as standing in an elevator or taking out the garbage. The title of Gallo's 2014 exhibition, Strani Incontri (Strange Encounters), is a term he continues to use when referring to his surreal subjects and artistic process. He describes, "I find myself invested in unexpected combinations that are strange or surprising even to me and to the viewer facing my work."

By placing his compositions within the minutia of daily life Gallo views his work as psychological portraits that embark upon themes of alienation, boredom and loneliness. Whether originally derived from nature or culture, his characters effectively embodying the values and vices of human nature.

ABOUT THE ARTIST

Alessandro Gallo was born in 1974 in Genoa, Italy. He is currently based in Genoa, Italy and London, United Kingdom. After studying Law at the University of Genoa, Gallo did a foundation course at Saint Martin's College of Art in London followed by a BA at Chelsea School of Art, graduating in 2002. While in college studying painting he began experimenting with digital photography and manipulated images to create scenes of animals in familiar city settings. By 2005, he had transitioned into digitally making hybrids and decided to give his creatures a physical presence by sculpting them from clay. Gallo and his anthropomorphic characters have received widespread popularity in Europe, with his works being featured in the 237th Annual Summer Exhibition at the Royal Academy of Arts in London and the 54th Venice Biennale in 2011. In 2012, he received a first place grant from the Virginia A. Foot Foundation.
——————————————————————————————————–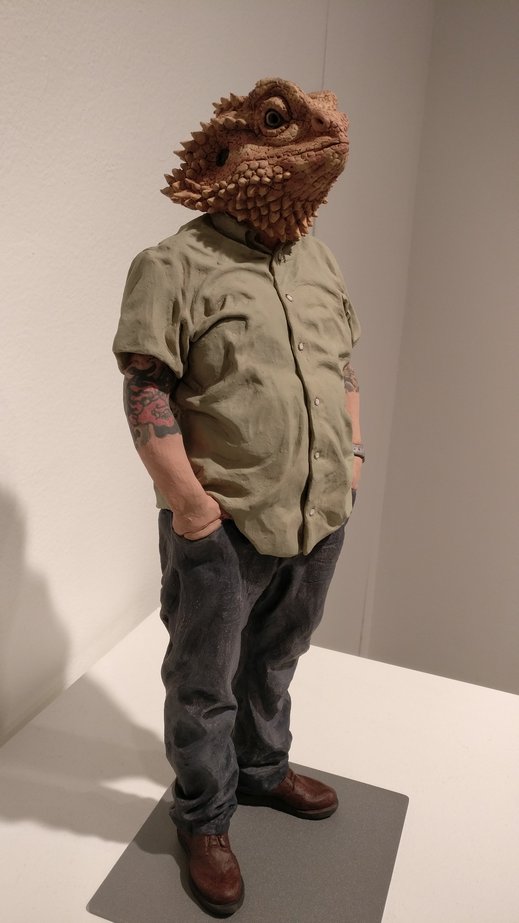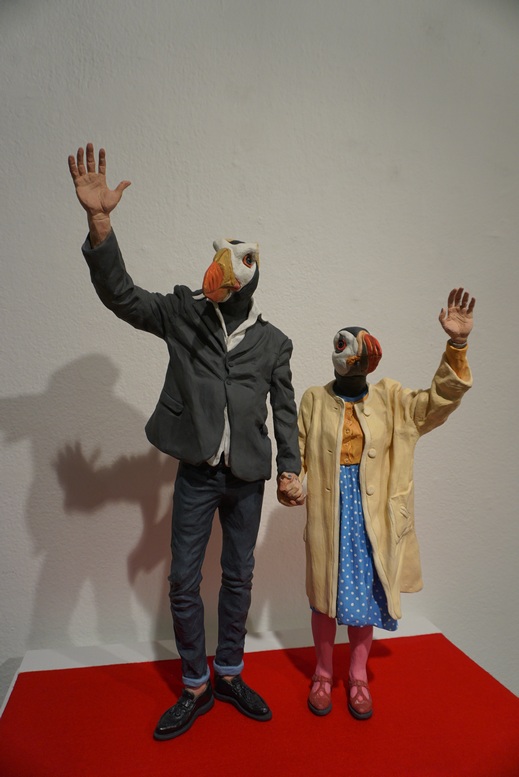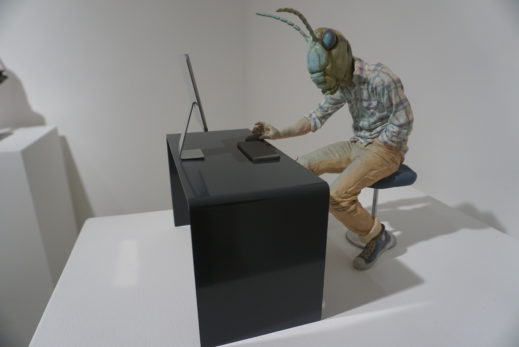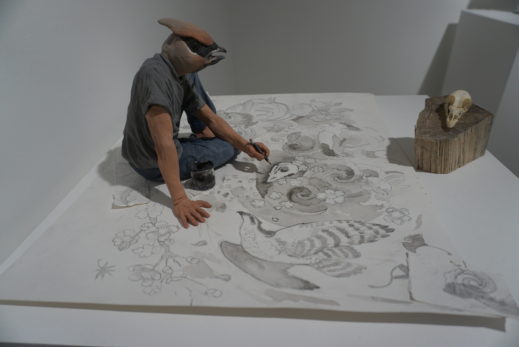 Tags: alessandro gallo, art, italian artist, jonathan levine gallery, nyc.ceramic sculptures, sculptures
Posted in art, community, mr. c, photos | Comments (0)
November 27th, 2016 by Mr. C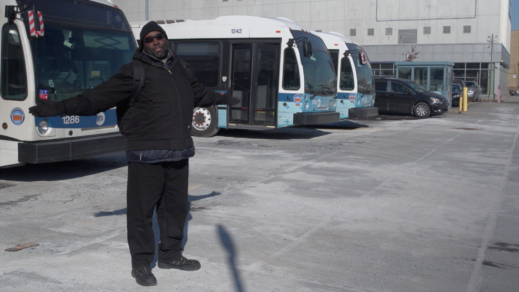 —————————————————————————————————————–
OFF THE RAILS : Documentary
Director: Adam Irving
Producer: Adam Irving, Glen Zipper
Production Company: Gemini Pictures, Zipper Brothers Film
Runtime: 87 min
——————————————————————————————————————
Off the Rails documentary continues the New York State of complicated minds with a fascinating & compelling story of a one of a kind character in a one of a kind City. This unbelievable but true story of Darius McCollum, a man/child with Asperger's syndrome who has a strong obsession with the New York City transit system such that his krptonite is impersonating NYC bus drivers and subway conductors to drive their routes. Fortunately, Darius' intention is not to cause harm but instead his fascination with trains and buses have him wanting to desperately be a part of MTA and to perform the job duties of getting passengers to their destination safely. Too bad NYPD and the New York Transit authority do not agree with his thinking which ultimately landed McCollum in jail over 30 times and 23 years & still counting of hard times at Rikers Island! Yes, Rikers Island! One of the most if not THE MOST corrupt and dangerous penitentiaries in the U.S.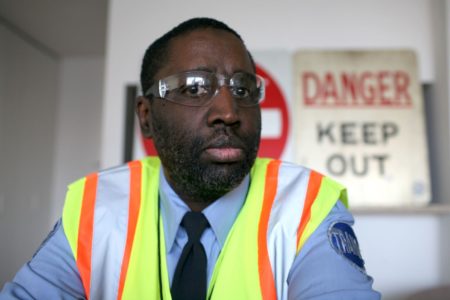 I highly recommend watching this documentary for the sheer 'off the meat rack' behavior of the subject. I still couldn't wrap my head around this story. It would seem this would make a great case study for psychologists, social workers, lawyers, and our justice system in general. Here you have a very bright and well spoken for individual in Darius McCollum but since a teenager, he has found himself defying authority in what basically comes down to wanting to become a part of the MTA to become a train conductor or bus operator. We will agree that Darius did not approach this the right way from the very beginning which hampered the whole becoming one of them down the drain. What is strange is that Mccollum continues to hijack trains & buses but still his intent was just to perform the job duties of the conductor in a safe manner which he has done on each occassion of hijacking (sounds funny but not funny?!). That is a terrible conflict of interest isn't it?! But still everytime Darius gets arrested & spends a decent amount of time in Rikers with no mental help,no rehab,no recognition that there is a real problem underneath all these layers.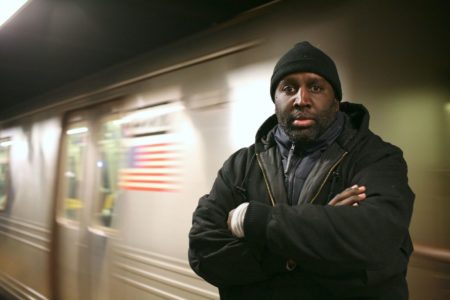 It was really frustrating for me as viewer at times because I was teetering back and forth siding with Darius and then the authorities. On one hand, we have a subject that has been arrested over 30 times trespassing and impersonating the MTA. On the other hand, the subject is willing to commit these crimes over and over again (with no harm intended and property damage ever) which lands him in the most corrupt & heinous jails but that does not phase or scare Darius whatsoever. Spending enormous amounts of time at Rikers Island was not even a deterrent. His love for the train system would push him back into the fray of the tracks even if it meant spending most of his life in jail. This dichotomy of behaviour I just couldn't comprehend. The mind and chemical imbalance of one's brain is a complex thing. There are more than a few circuits missing here. Perhaps I just don't understand Aspergers disease and our justice system surely has no clue in how to deal with this either. Who is really the victim here? Darius' addiction could of been drinking, sex, or drugs and he would have received more help if he had one of those diseases. Despite the lack of answers, I whole heartedly recommend watching Off The Rails! The documentary provoked many of my senses. At times it made me feel sympathetic, frustrated, & aggravated. It also made me smile, laugh & made me feel that there was hope for the individual & society. It also took me to a very dark area of doom & gloom.
All in all, the case study & story of Darius McCollum was very captivating! I never knew that such an individual can be so grandiose, so narcissistic requiring so much attention yet that same person seemed so gentle, so naive, and passionate despite serving the amount of hard time in prison! It was just so confusing but yet so enthralling! One thing is for sure, the man loves his trains and his mom! Go see OFF THE RAILS and maybe you can solve the puzzle! Be very careful though, watching this might make you feel like you've touched the 3rd rail! It will leave a few skidmarks on your mind!
Off The Rails is currently screening at The Metrograph on Ludlow Street in downtown NYC.
————————————————————————————————————————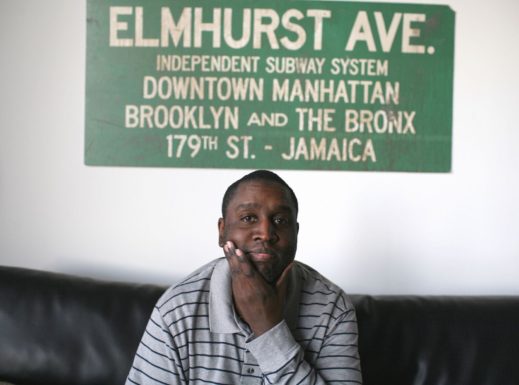 Tags: aspergers, documentary, mta, new york port authority, nyc, off the rails
Posted in community, movies, mr. c, thoughts | Comments (0)