November 19th, 2015 by chocko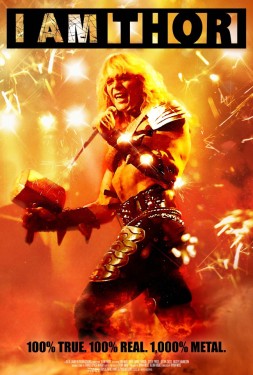 Back in the prehistoric times of the 70's and 80's, a Heavy Metal God like no other stepped on the scene. Jon Mikl Thor appeared to have been chiseled from stone or perhaps leapt from a Frank Frazetta painting…on stage he was a hulking figure fronting the band THOR with a long cape and bulging muscles on top of muscles! His long flowing, golden locks and spiked attire completed the Norse God appearance which would have made Odin gleam with pride. The songs THOR performed were catchy and the live shows were theatrical, complete with feats of strength. Thor blew up rubber hot water bottles until they burst. No show was complete unless Thor smashed bricks over his chest and head and bent a steel bar in the middle of the set much to the amazement of his fans. Thor toured extensively through United States and Canada and recorded killer albums, but unfortunately did not achieve the fame and fortune of its peers. Thor walked away from the music scene in the late 80's to live a mortal life.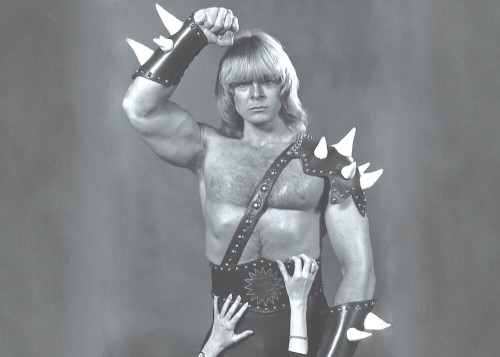 The documentary I AM THOR directed by Ryan Wise tells the true story of the straight outta Vancouver, Thor from the early bodybuilding and heavy metal days to the resurrection of Thor after retiring from show business after suffering a nervous breakdown. This is a pleasing to the viewer underdog trying to make it big type of documentary but I also enjoyed it because it is a movie about music and that music being heavy metal was a bonus. The movie reminded me of the Anvil documentary that came out a couple of years ago which I loved and recommended to anybody that would listen. The movie has a lot of old footage (would have loved to see more old school THOR) and trivial facts thrown in to keep any viewer interested and entertained. Thor starred in a few cult movies cult classics ROCK 'N' ROLL NIGHTMARE and ZOMBIE NIGHTMARE. I was also surprised that Thor was contacted to be a possible lead singer of The Misfits after the band broke up. I'm a huge fan of the Misfits and imagining Thor singing in that band got my brain reeling. I highly recommend checking out the movie and seeing it in a theater if you can.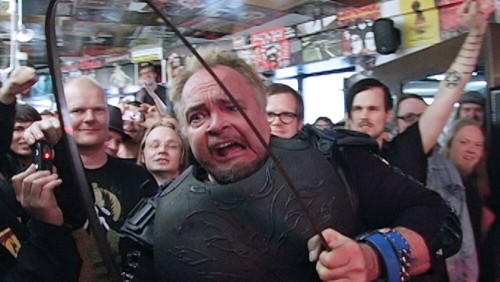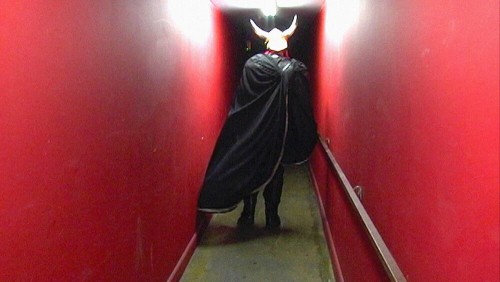 I AM THOR hits theaters and digital download on Friday, November 20!
Brace yourselves NYC…THOR is invading BROOKLYN this weekend!
I AM THOR MIDNIGHT SCREENING with Pre-show Q&A with Jon Mikl Thor moderated by Richard Christy
Saturday, November 21 at 12:00 a.m.: Brooklyn, NY
Nitehawk Cinema
136 Metropolitan Avenue
Brooklyn, NY 11249
Order tickets here
THOR: "I AM THOR" Documentary Screening and Performance
Sunday, November 22 at 8 p.m.: Brooklyn, NY
Saint Vitus Bar
1120 Manhattan Avenue
Brooklyn, NY 11222
Order tickets here
For more on I AM THOR, check out its official website and Facebook page.
Tags: chocko, documentary, heavy metal, I AM THOR, Jon Mikl Thor, movie, review, Thor band, trailer
Posted in chocko, movies, music | Comments (0)
November 15th, 2015 by Mr. C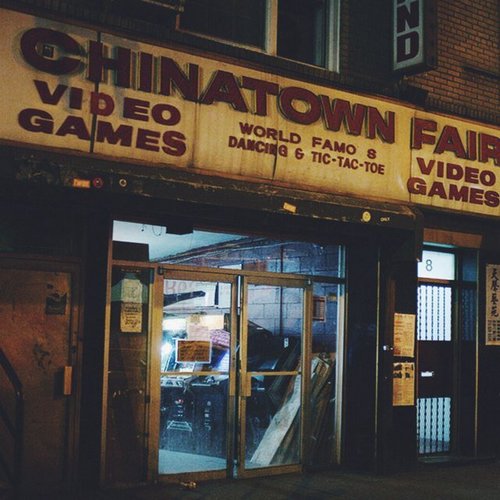 You could tell from the rowdiness and enthusiasm of the audience that this was going to be a fun film to watch! The Lost Arcade was a story of an old dive of an arcade on Mott Street known as the Chinatown Fair which dates back about 5 decades old. The Chinatown Fair was housed on the ground floor and an even more historic tenant lived on the 2nd floor dating back from 1897. It was Chinatown's earliest & finest restaurant – Port Arthur. This restaurant closed its door in 1974. I asked my family about the the Port Arthur & the Chinatown Fair and they remembered it vividly. My grandfather had immigrated to NYC in the late 1960s living in a tenement building on Elizabeth Street between Broome and Spring. My parents shortly followed.
(the dark,dank,& narrow Chinatown Fair)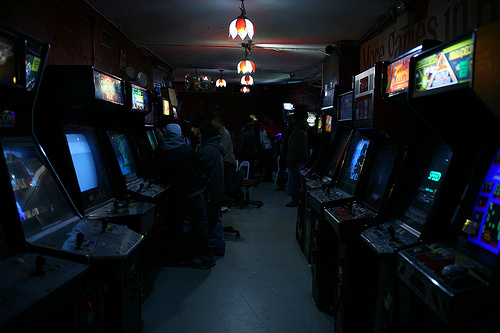 (Port Arthur Chinese Restaurant from 1897-1974 – 2nd floor above Chinatown Fair)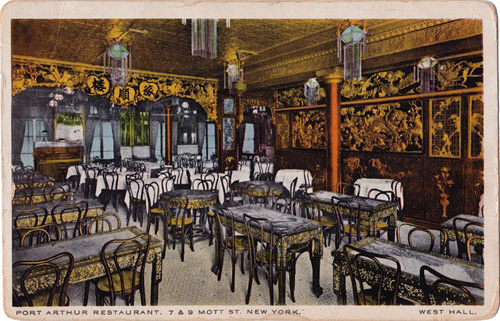 (Photo by China Press)
(Dancing Chicken at the Chinatown Fair circa 1975 courtesy of Channel Ed/Youtube)

The Lost Arcade doesn't spend too much time going back in history but they did have some great archives of video footage and stills of the arcade from the 70s & 80s including the famous dancing chicken and tick tack toe chicken! Poor chicken with the heat pad under its feet! I always thought it was an electrical shock that moved the chicken! Director Kurt Vincent and writer/producer Irene Chin followed the culture and cult community of fighting gamers from the Chinatown Fair when they heard rumblings that the Fair was closing.
(L to R – Director/Kurt Vincent, Producer/Writer/Irene Chin, Akuma/gamer/former employee @ Chinatown Fair)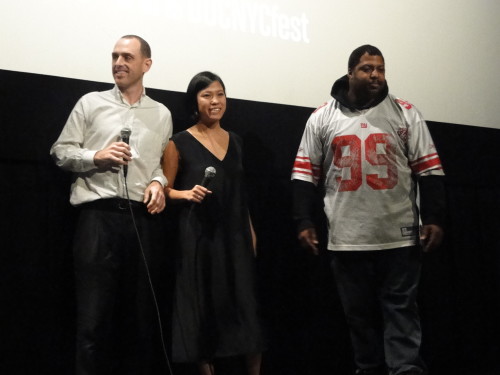 The heart and soul of the Chinatown Fair community was diverse to say the least including the Pakistani owner himself – Sam Palmer. Sam was the enabler and papa smurf that everyone came to trust and love often leaving the arcade open until 3-5am.The 2 main characters that the documentary followed was Henry – a street fighter game enthusiast turned employee of the Chinatown fair and Akuma, a foster kid being shuffled between families until he started living on the streets, subways, and spending his days in the arcade. When Sam is forced to close the Chinatown Fair, Henry and Akuma stepped up to create the next generation of gaming arcades they called Next Level. Though Next Level is located on 8th ave in Brooklyn, the scene and DNA encompassed what the Chinatown Fair left behind. The original Chinatown Fair on Mott Street eventually reopened with new owner Lonnie Sobel at the helm but the arcade games were less of the fighting kind and more on the dance/music themed arcades as well as concentrating on more family oriented games.
An honorable mention from the production of The Lost Arcade has to go to the music composer Gil Talmi. The soundtrack of the film added 1 more bit of excellence to the party! The analog composition of electronica with synth truly complimented the mysterious Chinatown Fair. The OST made me feel submerged in the 8 bit circuit of a Donkey Kong game while the music of William Lustig's Maniac and John Carpenter films messed with my mind! The Q/A after the screening of The Lost Arcade on Saturday revealed that Gil Talmi used a synth module that contained a synth chip from the old old Commodore 64 to make spontaneous – unpredictable sounds! Amazing! I'll have to track down The Lost Arcade soundtrack when it becomes available!
(L to R – Lonnie Sobel/Current owner Chinatown Fair, Music composer/Gil Talmi, Dir/Kurt Vincent, Producer/Irene Chin, Akuma/former employee Chinatown Fair, Anthony/long time gamer Chinatown Fair)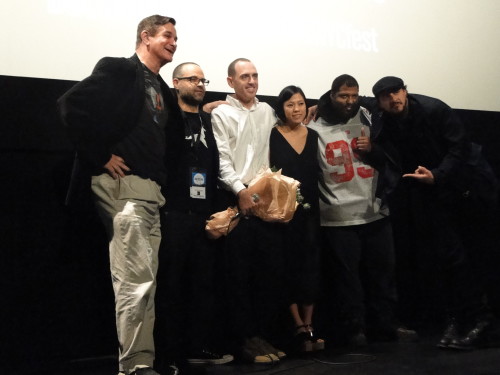 The traditional arcade, one that doesn't depend on food, alcohol, or any types of entertainment besides the games itself is a dying breed. Get a glimpse of one of the oldest ones still surviving in the City – THE LOST ARCADE!.
The Lost Arcade screens at 12:45 PM, Wed Nov 18, 2015 | IFC Center. Click HERE for more info.
Posted in community, movies, mr. c, photos | Comments (0)
November 14th, 2015 by chocko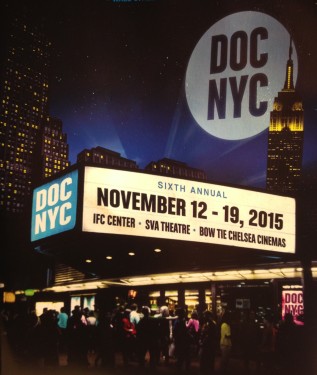 If you love documentaries and you happen to be in the NYC area, then you might want to make plans to camp out downtown! The 6th Annual DOC NYC (America's largest documentary festival) is in full swing starting November 12 to November 19. DOC NYC will feature more films and events than ever including panels, workshops for aspiring filmmakers and Q&A's with filmmakers and special guests. Get your tickets and head over to either IFC Center, SVA Theatre or Bow Tie Chelsea Cinemas. Get caffeinated, grab a seat and get comfy because there's plenty to see!
The following are some short reviews of some DOC NYC films we've seen in advance. Keep it locked for more updates and DOC NYC reviews.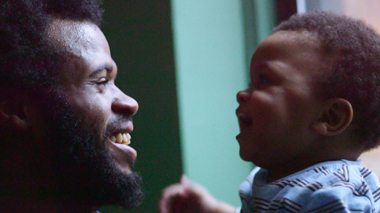 DADDY DON'T GO
DIR: Emily Abt
This movie profiles four disadvantaged men in New York who struggle to be good fathers even though the odds are stacked against them. Nelson, 26, of the South Bronx is a former Latin King and is unemployed while caring for three children. Omar, 34, of the North Bronx has full custody of three children with special needs and learning disabilities. Roy, 28, of Long Island has full custody of his toddler son and struggles with the demons of his criminal past and rocky relationship with his father. Alex, 26, of Harlem has sole custody of his toddler son while living in a shelter and dealing with unemployment and possible time in the slammer for previous crimes. This is a heavy film to watch but absent fathers is a reality and epidemic that's running rampant in this country. You'll find yourself cheering the film's subjects as they knock down stereotypes and fight to be good fathers. Be sure to check this documentary out!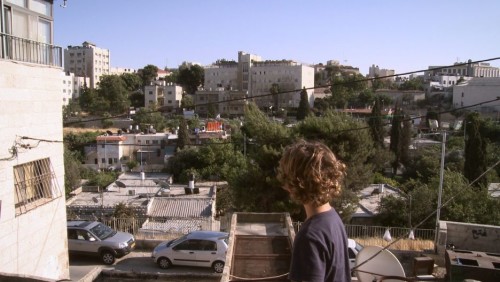 P.S. JERUSALEM
DIR: Danae Elon
Filmmaker Danae Elon grew up in Jerusalem and was the daughter of a respected Israeli journalist Amos Elon. After relocating in New York City and longing for "home" Danae decides to move her family which includes her husband and two young sons back to Jerusalem. The kids become enrolled in a school with Jewish and Arabic children, seem to assimilate but have some deep questions about war and the settlements. Danae's husband Philippe seemed to be having the roughest time in Jerusalem coping with the politics, violence and difficulties finding work as a photographer. Danae desperately hopes her family gains a sense of belonging but as this emotional film shows, in the three years it chronicles, maybe living in Brooklyn wasn't such a bad idea after all.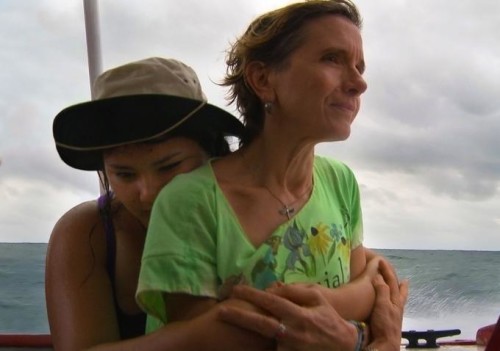 THE ANTHROPOLOGIST
DIRS: Seth Kramer, Daniel A. Miller, Jeremy Newberger
There are so many aspects to anthropology but to sum it up, it's about studying, understanding and describing the behavior of other people. This documentary tells the parallel story between Margaret Mead, the best known anthropologist in the world and environmental anthropologist Susie Crate. In this film, Susie travels the globe with her teenage daughter Katie researching the impact of climate change. Their travels take them to Siberia where the permafrost is melting at an alarming rate, Kirabiti in the South Pacific where rising ocean tides threaten homes and Huarez, Peru where the receding glaciers are a constant reminder that a water crisis could happen in our lifetime. I liked this movie on many different levels. This movie is definitely one to check out at DOC NYC!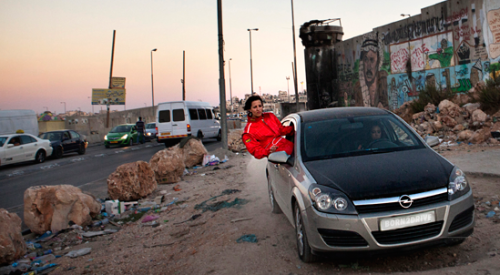 SPEED SISTERS
DIR: Amber Fares
This documentary was a fun ride from start to finish. The Middle East's first all-female race-car team, the Speed Sisters are the focus here smashing stereotypes and dominating racing events in empty parking lots in Palestine. The team is a totally likeable bunch. Marah Zahalqa is a fierce competitor in the male dominated sport and is a bit of a rebel. Noor Daoud tried so many sports such as boxing before becoming an award-winning drift racer. Betty Saadeh is a force of nature with pinup model looks and the need for speed. Mona Ennab has been racing for ten years and feels the pressure to get married. Maysoon Jayyusi is the team leader that knows when to break up and squabbles that may arise within the team. You put these young Arab women together, and they are absolutely unstoppable. Don't miss this must-see documentary!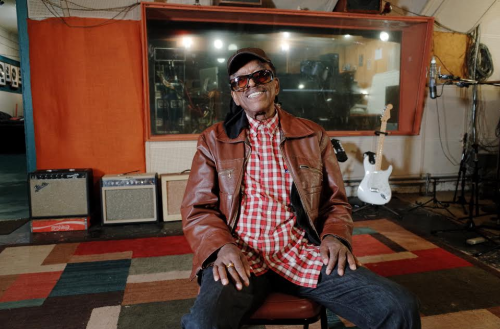 SYL JOHNSON: ANY WAY THE WIND BLOWS
DIR: Rob Hatch-Miller
This movie profiles the soul singer behind the 1967 song "Different Strokes" which was sampled by countless hip hop acts such as RUN DMC, Boogie Down Productions, Wu-Tang Clan and Jay-Z. The documentary tells the history of the gritty, soul singer who traveled from Mississippi to Chicago to be part of the music scene along with the likes of Muddy Waters, Howlin' Wolf and Junior Wells. The film follows Johnson's career, warts and all. If you're like me and you love documentaries about music and musicians then be sure to check this out. Get your tickets now!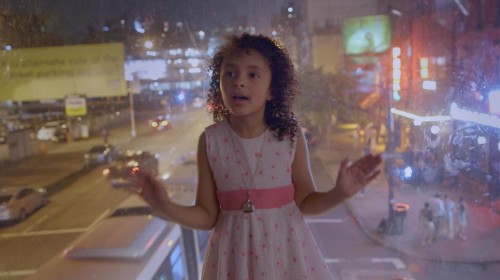 CLASS DIVIDE
DIR: Marc Levin
This documentary focuses on the gentrification in the neighborhood of the Chelsea section of NYC near Highline Park. The brief history of West Chelsea is that it used to be all industrial warehouses, factories, docks and tenement houses but now it's a happening neighborhood. There are apartments there for sale that go for millions of dollars, a private school, Avenues: The World School which can cost about $40,000 a year to attend and right across the street are the Chelsea-Elliot Houses which provides low-income public housing, aka the projects. The movie focuses on kids that attend the costly private school Avenues and kids that live in the Elliot Houses trying to figure it all out and find some common ground.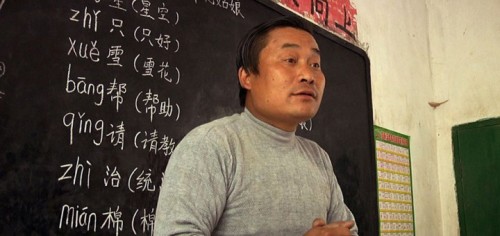 ON THE RIM OF THE SKY
DIR: Xu Hongjie
Located up in the mountains in China's Sichuan province, the isolated village of Gulu remains untouched by the modern world. There is a school there where a substitute teacher with no credentials, Shen has been teaching for 25 years. In comes Bao, a young, idealistic teacher who wants to modernize the city starting with its school. Shen and Bao let their egos get the best of them, and butt heads over trust issues and clashing ideas. It gets ugly to the point that that the village and children have to pick sides. Too bad both Shen and Bao are unlikable characters. Otherwise, a beautifully shot film that captures a point in time far away.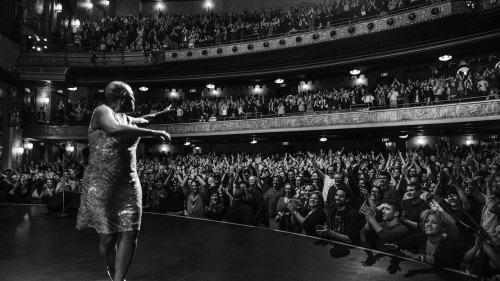 MISS SHARON JONES!
DIR: Barbara Kopple
Sharon Jones is an energetic soul singer signed to Daptone Records who performs with her band The Dap-Kings. Nicknamed "the female James Brown" she wows her audience with her powerhouse vocals and dance moves to match. In this documentary we follow the highs and lows of Jones' battle against pancreatic cancer while maintaining a musical career. It is definitely a crowd pleaser with many tender and honest moments. This movie screened opening night of DOC NYC so be on the lookout when you can seen this film about a vital and inspirational soul singer. The music in the documentary is nothing short of spectacular.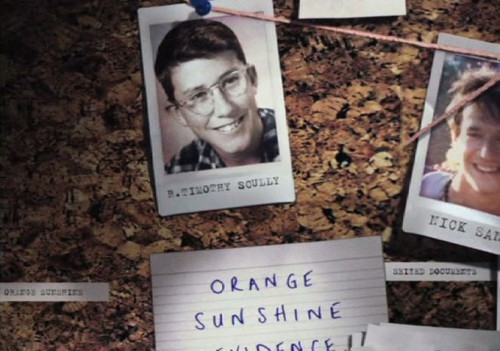 THE SUNSHINE MAKERS
DIR: Cosmo Feilding Mellen
This documentary tells the story of Nicholas Sand and Tim Scully who both believed that in order for the planet to be saved, people needed to drop acid. The hippie duo also tried to get people to try their high quality LSD, Orange Sunshine which Sand and Scully manufactured in huge amounts. Meanwhile, federal authorities are hot on their trails. I couldn't get into it but if any of this interests you, go check the movie out!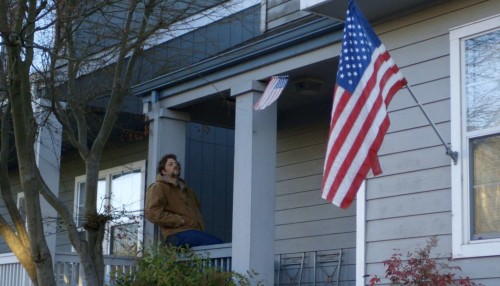 THANK YOU FOR YOUR SERVICE
DIR: Tom Donahue
Military veteran mental health problems and suicides are on the rise. For every soldier killed in battle, 25 die by their own hands. Another startling fact was that in 2012, there were more soldier suicides than soldiers killed in battle. This film is about the effects of war on human life and chronicles the stories of a few veterans struggling with life after experiencing combat and being thrown back into society. It is heartbreaking to know that so many veterans suffer from the unseen wounds of war, combat stress and feel alienated after serving this country. There were rehab programs in effect for soldiers, sort of like a boot camp to prepare a soldier for civilian life but those programs were stopped after World War II. I thought the movie was going to be one heavy, depressing doc but then it did show that there was hope. There were programs out there such as Save A Warrior which implemented the Oglala Sioux Indians methods to heal warriors, breathing exercises among other techniques to help soldiers heal. This documentary was an eye-opening look at an epidemic and the need for change. Go see this.
Check out Chocko (njchocko) and Mr. C (planetchocko) on instagram.
Follow @planetchocko on Twitter. LIKE us on Facebook too. Thanks!
Tags: doc nyc, doc nyc 2015, documentary, IFC Center, movies, sva theare, sva theatre
Posted in chocko, movies | Comments (0)
November 5th, 2015 by chocko
After taking a break from singing and playing guitar in the San Antonio band, Girl In A Coma, Nina Diaz played a ton of solo shows in her home state and began recording solo material. Last month, Nina finally took her show to some NYC area shows which included Brooklyn's Living Room and Rockwood Music Hall Stage 2. I went to the second show at Rockwood Music Hall and walked into the club, Nina already a couple songs into her set and noticed the great lineup of musicians that backed her up. The music sounded a bit on the dance side, but the rest of the song selection proved that Nina's style is diverse. The crowd went bananas over her INXS cover of "Never Tear Us Apart" and props for taking a chance on a not so obvious choice of a Stone Temple Pilots cover of "Big Bang Baby." Hearing that relic from the 90's made me want to dig out my STP tapes and play them loud in my Mitsubishi Eclipse. Get ready for a Nina Diaz solo album to drop hopefully in 2016. Check out some videos from the show below! If you want to get your Nina Diaz or Girl In A Coma fix, you're in luck. Girl In A Coma are playing a LIVE online show on Friday November 6 9:00pm EST. An Online Evening with Girl In A Coma
Tags: convert, giac, girl in a coma, live, new york city, nina diaz, nyc, review, rockwood music hall, show
Posted in chocko, music, photos | Comments (0)
October 26th, 2015 by Mr. C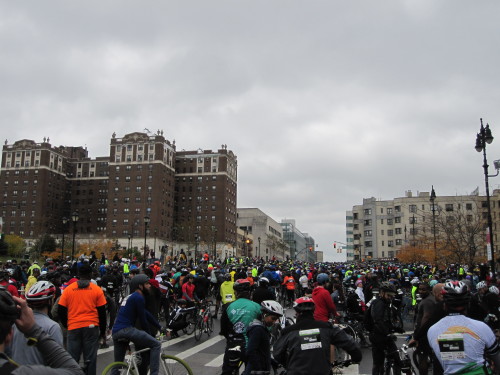 (Starting line for the 40 mile – Tour de Bronx ride)
You know if Halloween is nearing and the Chiller Theatre horror convention in NJ is fast approaching, you will also know that the Tour De Bronx annual bicycle ride is usually monster mashed somewhere in between these two festive occassions! This year was no exception as the 21st annual 2015 Tour de Bronx happened yesterday! The early rains and the gloominess in the morning did not stop this failed lab experiment, though I'm sure the weather did influence some weak neophytes from attending.
(This is what it looked like in my car when I parked on Arthur Ave before unloading the bicycle)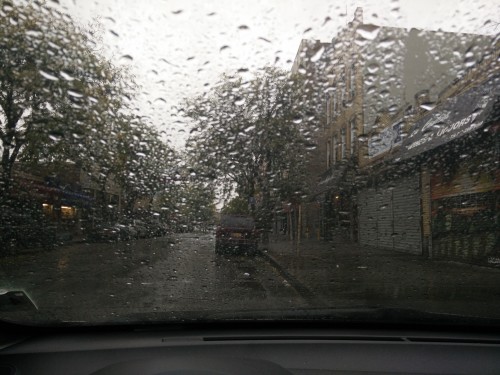 The morning hangover from the previous day/night excursion nerding out at the Chiller Theatre convention is always a concern before one of the best & free bicyling events NYC & the Bronx has to offer but we somehow always get the job done! Once again, the Tour De Bronx proved to be a another great outing with riding in the borough that is least explored by most. Besides the obvious of getting on two wheels which is great exercise, the tour gives a chance for us to see another side of the Bronx that is not part of the stereotype. Everytime I partake in this ride, I'm still amazed at some of the beautiful neighborhoods we whiz by and some of the great pathways/greenways along the river that we ride through! While riding on the Tour yesterday, we saw Bronx Borough President – Ruben Diaz Jr. pedaling along with us which was pretty amazing! Of course the Boro Prez has a method to the madness as he continues to try to encourage Citibike – NYCs bike sharing program to expand out to the Bronx to provide more Transportation alternatives while also paving the way for the City to mark more bike lanes in the future.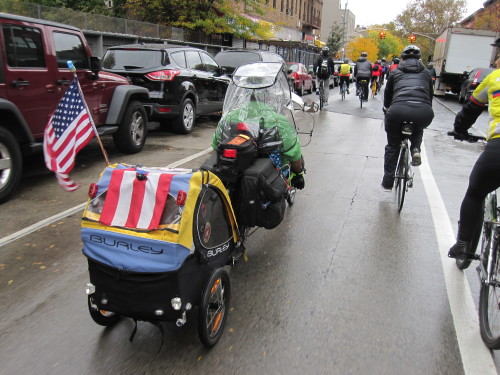 Getting back to the ride itself, it was great seeing folks roll with different styles of bikes! We saw plenty of foldups, recumbents, & tandem bicycles as well as the roadies, hybrids, BMX, lowriders, & mountain bike styles. We spotted more than a few urban assault type hybrid bicycles,too with the large tires ready to take on the marshes and meadowlands! I did not spot the unicyclist guy this year, though! The best thing about the ride besides the nice burn you get in the legs afterwards and a day of some great sightseeing – the appetite afterwards! This year, we ended up at Zero Otto Nove on Arthur Avenue to enjoy a nice Neapolitan style pizza! God willing, we'll be back at the ride again next year! Don't forget about the Bronx, y'all! Visiting NYC would not be authentic if you don't get out to the Bx! You'll be surprised with what you'll find!
(I parked my car in front of Zero Otto Nove – a notable Italian Restaurant on Arthur Avenue. I parked here for strategic purposes of course as you will find out after the ride! I walked across the street to Madonia Bakery for some breakfast and goodies for the ride! Folks, trust me – stop here for your Italian pastries & bread! They even pipe your canolis to order! I pedaled towards Yankee Stadium via the GrandConcourse. Second stop, was the graffiti spot that Legendary hip hop pioneer – DJ Kool Herc resides over. The wall is diagonally across the street from the Bronx Museum of Arts.)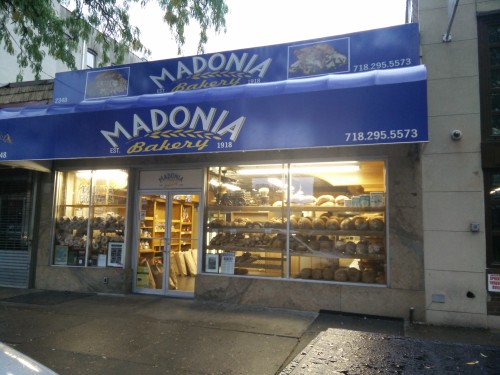 (Here we go – the start of the 25 mile ride!)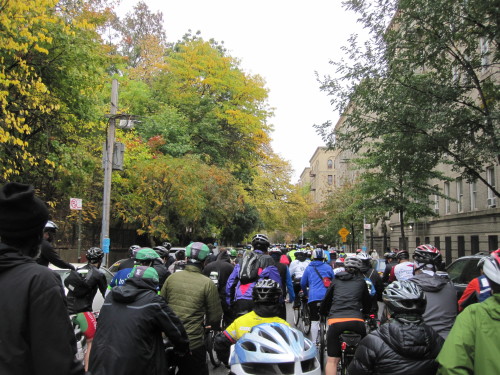 (Unfortunately, I had a flat tire about a mile into the ride. I was on 144th street & third ave. Luckily, we flagged down a marshall from the event who helped me patch the tire. I was very grateful! Thank you sir! You're a gentlemen and a real rider! Lesson learned, carry an extra tire tube or at the very least – a patch kit!)
(After the tire was repaired, we hunkered on down past the South Bronx through Mott Haven to the 1st rest stop at Crotona Park where we caught up with the rest of the stragglers that were left behind. Bagels,juice,power bars, & water were available! I demolished the cranberry scone I got at Madonia.)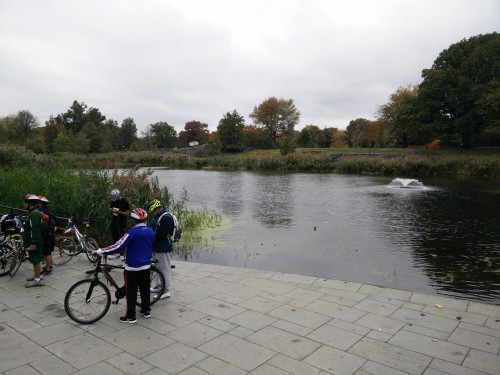 (The next stop was at Castle Hill's YMCA with a view of the Whitestone Bridge and Queens out yonder!)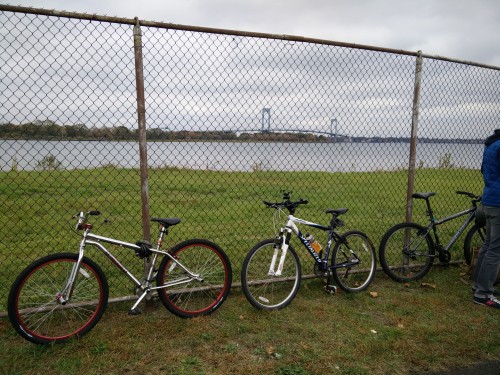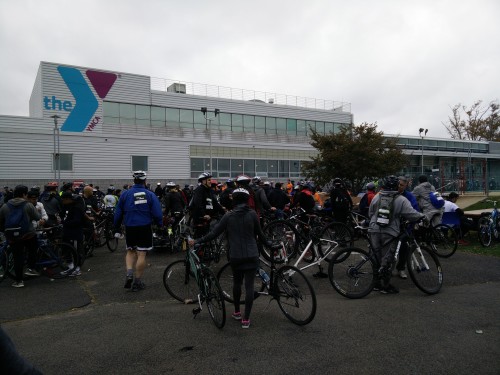 (The 3rd and final rest stop was at Pelham Park Nature center. This stop was mile 18 of 25. I also happened to remember that the last leg of the tour contained that steady hill that kicks some peoples butt including mine. It's not the steepest of hills that I have ever encountered but it's still a drag! I powered through but at the lowest gear. Hey, by any means necessary I say!)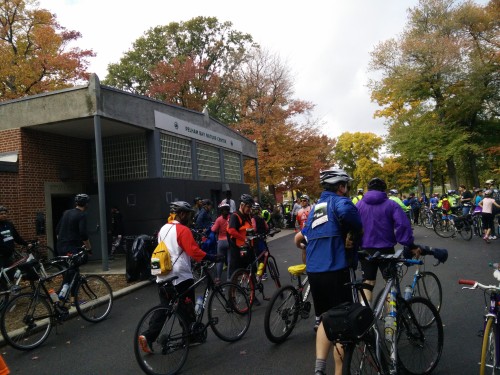 (We are at the Bronx Botanical Gardens now! Finished! It seems like an easy ride based on this photo blog but my body felt pretty stiff the whole night! Pretty much a walking corpse I would say or a walking viagra, perhaps a walking prick?! We picked up our orange Tour de Bronx t-shirts and off we went to Arthur Ave!)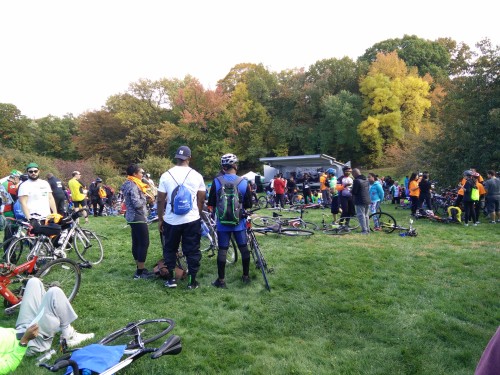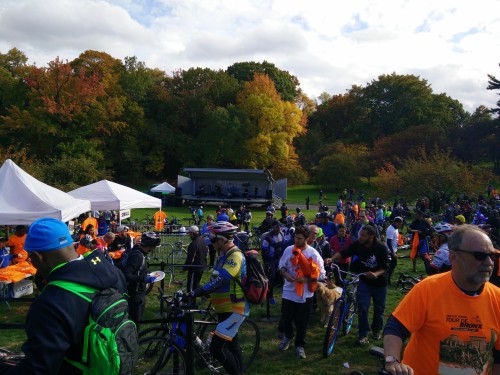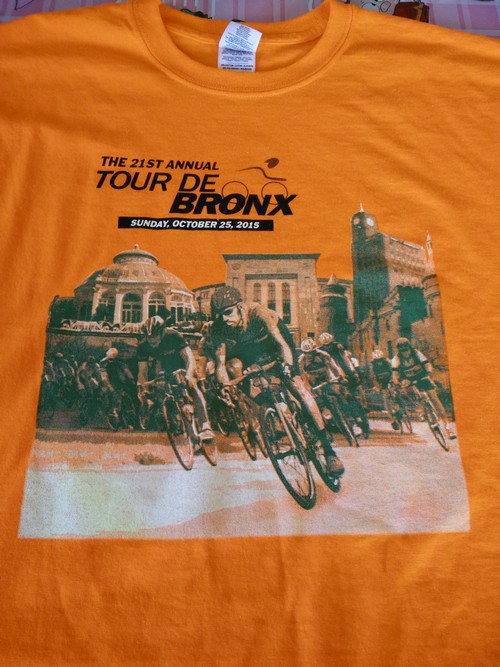 (Now back to that strategic parking I had earlier in the morning which is about a mile away from the Bronx Botanical Garden – here we are at Zero Otto Nove enjoying a nice Linner – Lunch and dinner, fools! And no, that's not my Fiat parked on the sidewalk! Maybe it was the Pope's ride? We know his affinity with Fiats!!)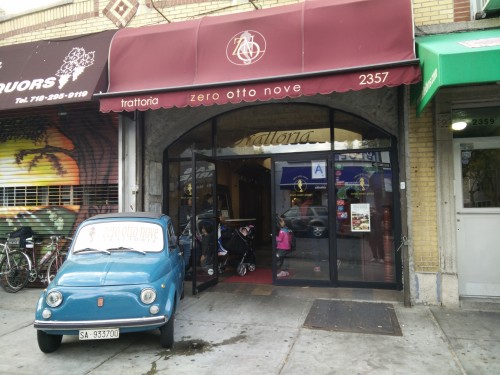 (a delicious Neapolitan pie of puffy & charred crust variety, tomato sauce, fresh mozzarella, & spicy sopressato!)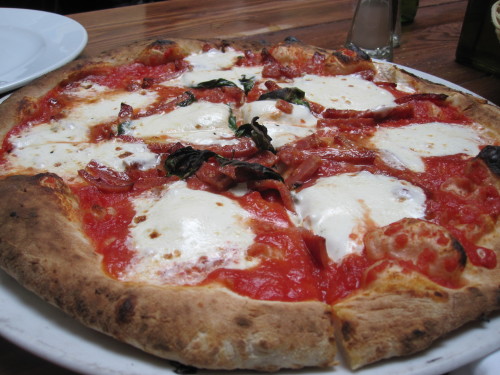 (accompanied by antipasti of squash, gorgonzola, & sweet sausage! The combinations were great! Great together with the pizza crusts, too!)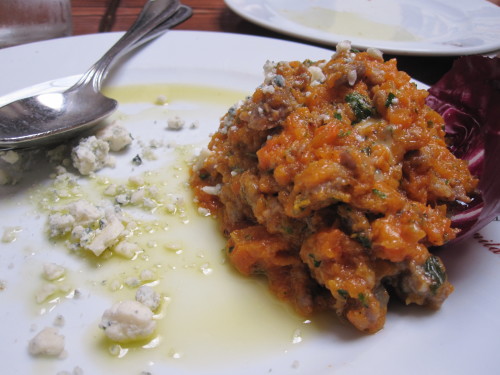 (a look at the decor at Zero Otto Nove – quite the Italian Village and country inn!)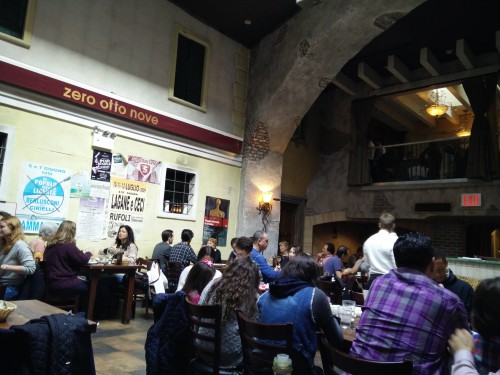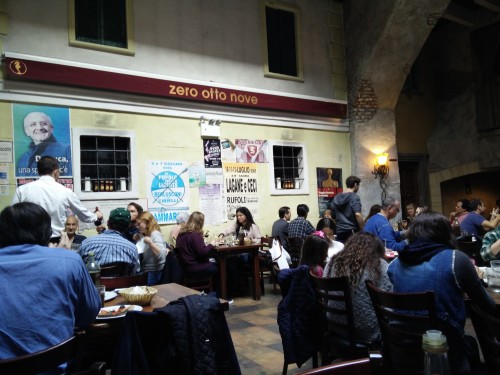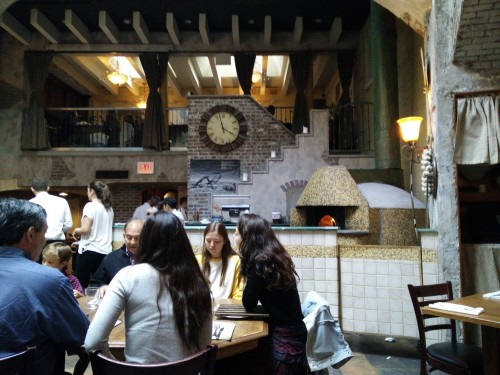 Posted in community, mr. c, photos | Comments (0)
October 8th, 2015 by chocko
The Planet Chocko crew followed the progress of the 147 foot wide Shepard Fairey mural, "Natural Springs" located at Monmouth and 13th Streets in Jersey City, New Jersey. Just a quick note on Shepard if you don't know who he is…his roots are in the skateboarding and punk scene and in the late 1980's, he started the "Andre The Giant Has A Posse" sticker campaign. His street art and graffiti has made him internationally known and he is probably most famous for his Obama "Hope" poster. Make the trip out to Jersey City to see the finished piece. It is awesome and also check out the billboard next to the building for a huge Andre The Giant OBEY wheat paste. Fairey was also in town for the opening of his latest show titled "On Our Hands." It's his biggest show since he exhibited work at the Deitch Projects gallery in 2010. "On Our Hands" features Fairey's recent paintings and collages that tackle subject matter such as corporate greed and power, political corruption and saving the environment. "On Our Hands" opened at Jacob Lewis Gallery (521 W 26th St) in mid September and can be viewed there until Oct. 24, 2015.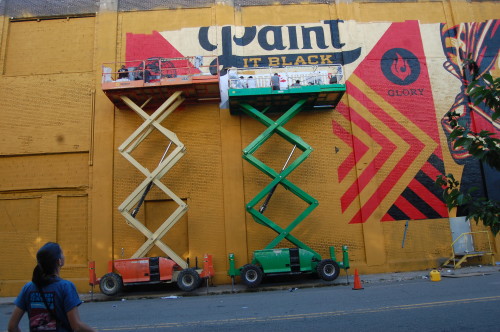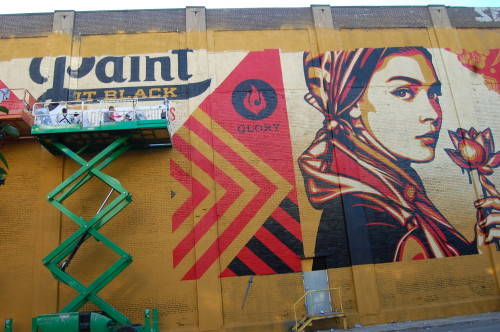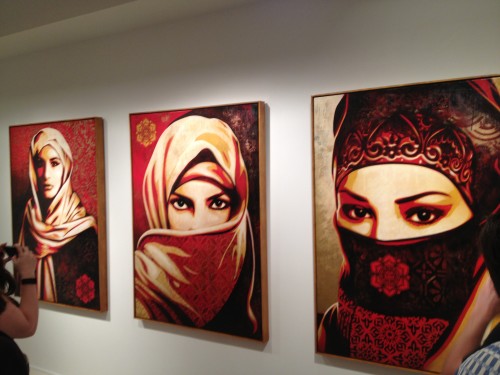 Tags: art, graffiti, Jacob Lewis Gallery, jersey city, Natural Springs, new jersey, On Our Hands, shepard fairey, street art
Posted in art, chocko, photos | Comments (0)
October 1st, 2015 by chocko
GrandMaster Caz Kool DJ Red Alert and DJ Jazzy Jay at Crotona Park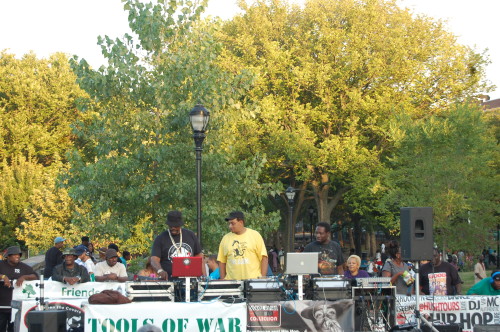 Tools Of War closed out their jams this year at Crotona Park in The Bronx last week with a classic Back To The True School lineup: Grandmaster Caz, Kool DJ Red Alert and DJ Jazzy Jay. The show was dedicated to hip hop warriors who recently passed away including Flyer King Buddy Esquire, Lucky Strike, B-Boy Zip & Take One and Kool DJ AJ Scratch. The show was hosted by GrandMaster Caz who did an excellent job keeping the show moving despite audio problems with the wireless microphone and the power which shut down in the middle of some sets. It was a great place to just sit back and chill with the sounds of classic soul and hip hop tracks playing but ultimately the music will make you get up and dance. Behind the turntables and DJs a circle of b-boys and b-girls formed in an endless flurry of spinning, popping and locking. A lot of hip hop luminaries showed up to check out the jam including Charlie Ahearn (director of Wild Style), Coke La Rock (the first MC in the history of hip hop), Eddie Cheeba (a founding father of rap music) and Lava 1&2 (legendary graffiti artist). Check out the photos below and see you next year at the park. Start practicing those fly dance moves and routines!

Forever Host: GrandMaster Caz of The Cold Crush Brothers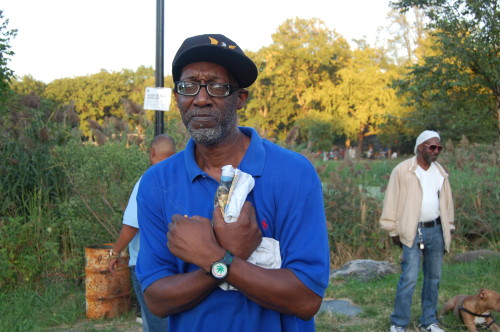 Coke La Rock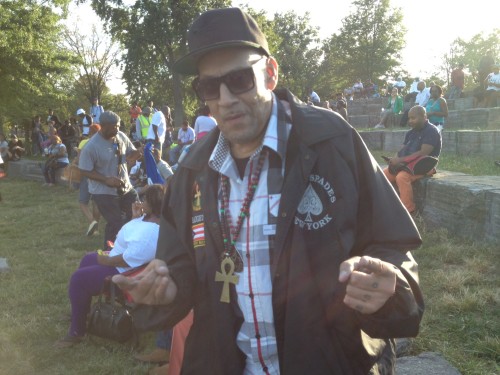 Lava 1&2 (Straightman)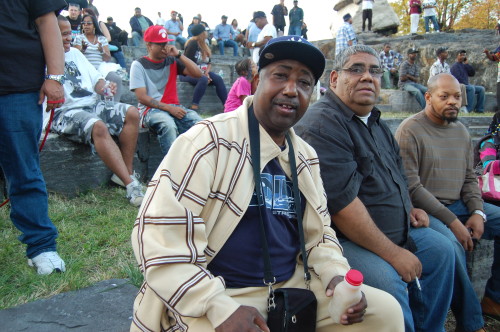 Eddie Cheeba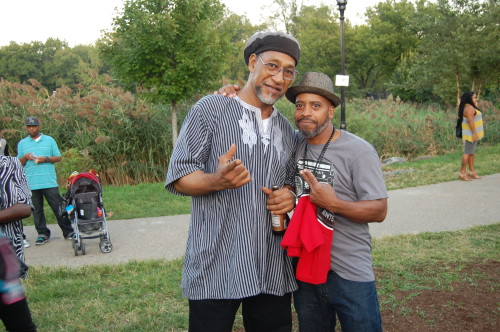 DJ Kool Herc and Supreme of Blunt Squad TV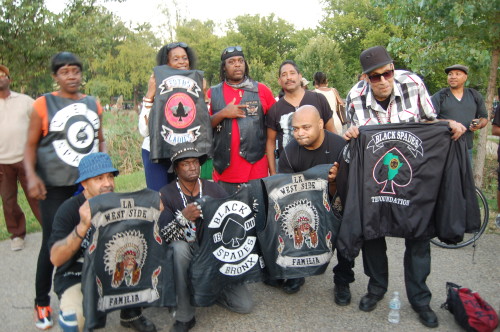 Peace to the Black Spades and La West Side Familia!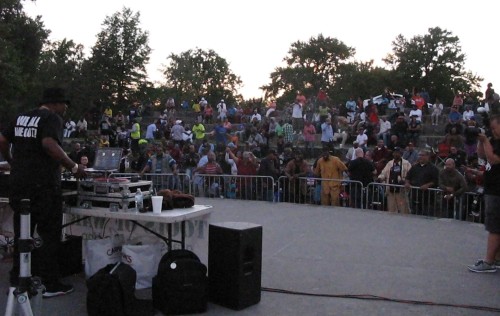 Caz getting the party rocking in The BX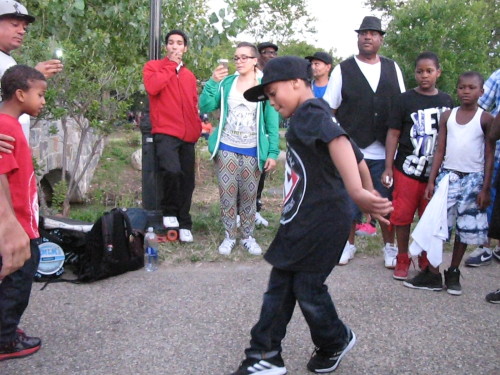 Move Over and Let Me Dance!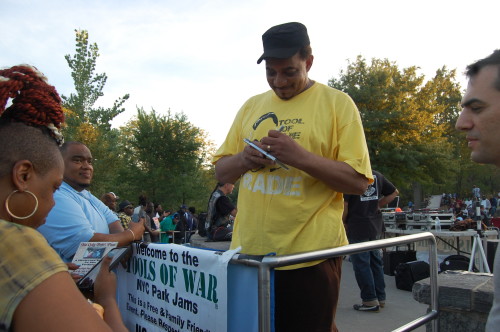 DJ Red Alert signing Chocko's copy of "Beats, Rhymes and Battles."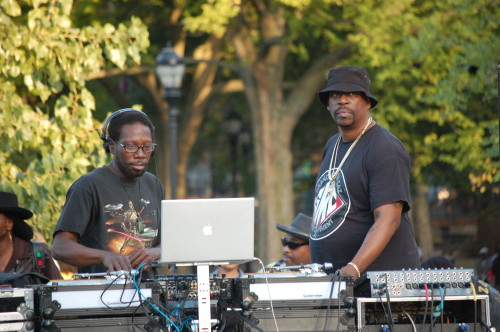 DJ Jazzy Jay and The Captain of The Cold Crush
Check out Chocko (njchocko) and Mr. C (planetchocko) on instagram.
Follow @planetchocko on Twitter. LIKE us on Facebook too. Thanks!
Tags: Coke La Rock, crotona park, DJ Jazzy Jay, Eddie Cheeba, grandmaster caz, hip hop, Kool DJ Red Alert, rap, the bronx, Tools Of War
Posted in art, chocko, music, photos | Comments (0)
September 15th, 2015 by chocko
DMC arriving at Forbidden Planet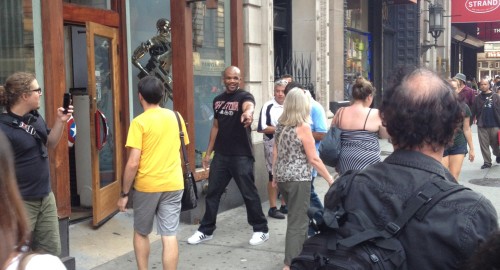 The legendary King Of Rock, DMC signed recent issues of his comic book DMC at Forbidden Planet in early September. DMC brought along a posse which included writer Amy Chu and DMC Comics' Editor-in-Chief Edgardo Miranda-Rodriguez. Darryl "DMC" McDaniels' comic book company Darryl Makes Comics recently published issue #1.5 of DMC which introduces a new character to the storyline which has DMC as a superhero fighting crime while donning a black mask along with his signature Adidas sneakers and track suit. Leticia, is introduced in the newest issue as a young foster child who balances homework with fighting bullies and spray painting the walls. Her graffiti and super hero name is LAK6 and looks like DMC has a worthy sidekick which he'll be sure to need if he's gonna rid the world of all the bad guys. Great art by Allison M. Smith gets even kicked up a notch with Lady Pink doing the graffiti in the panels and on the cover of the book. DMC is one cool and friendly dude who signed just about anything you brought up to the table at Forbidden Planet including my Walk This Way 7″ and It's Tricky 12″ vinyl. Enough of that, buy D's latest book and pick up the last issue too at a comic book shop near you!
left to right DMC, Amy Chu and Edgardo Miranda Rodriguez


It's Tricky 12″ SIGNED by DMC!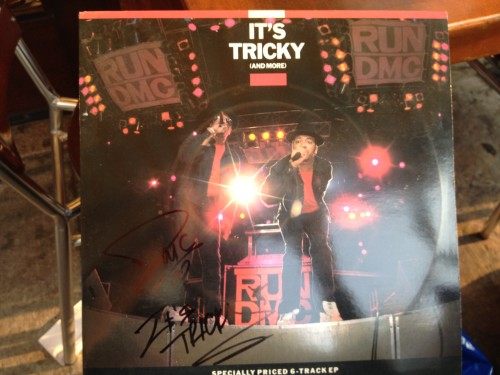 Tags: Amy Chu, art, comic books, Darryl Makes Comics, Darryl McDaniels, DMC, Edgardo Miranda Rodriguez, forbidden planet, hip hop, signing
Posted in art, chocko, comic books, photos | Comments (0)
September 9th, 2015 by chocko
It's a couple days away from Riot Fest 2015 in Chicago. Chocko's all packed and ready to go and psyched to see a bunch of bands from different genres from punk rock, metal and hip hop. The first one I ever went to was in 2013 which was a multi-day, mind blowing mix of live music on several stages, amusement park, wrestling and food trucks galore. Here are some photos and videos from that trip out to Chi-Town.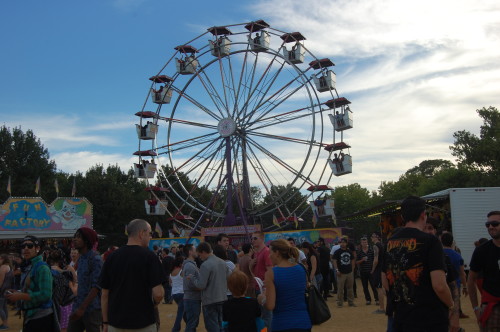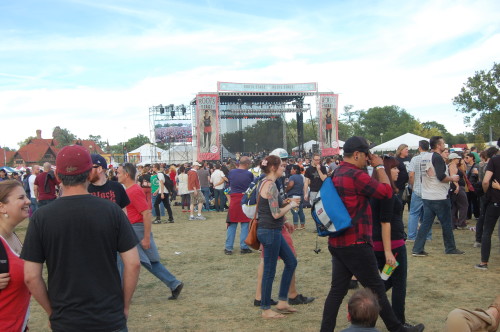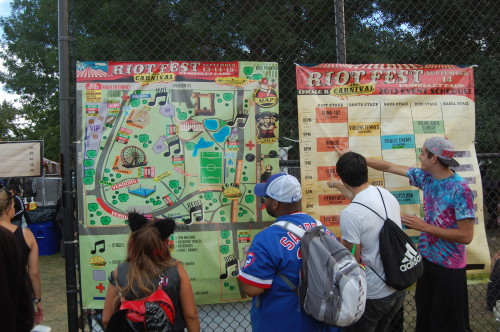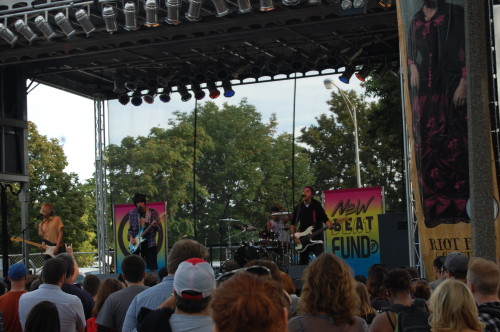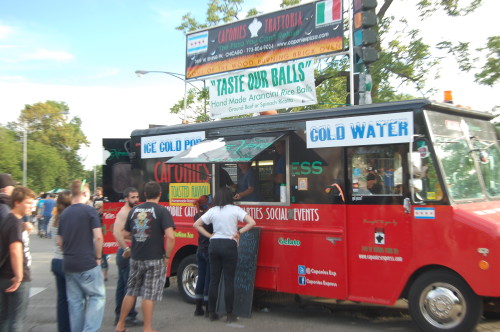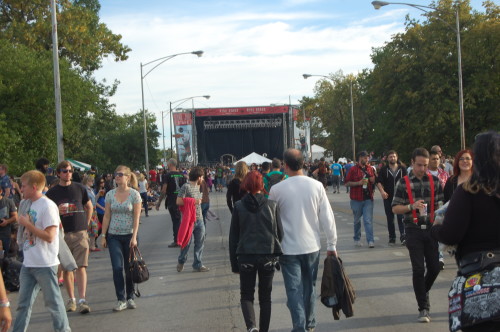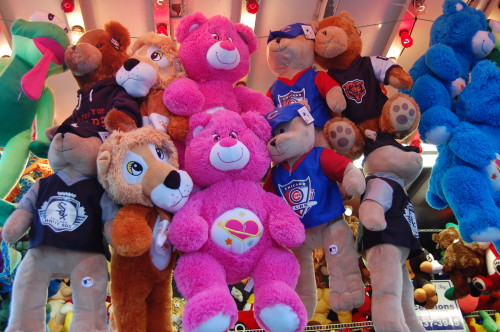 Tags: chicago, riot fest, riot fest 2013, suicidal tendencies, the pixies, twin peaks
Posted in chocko, food, music, photos, travel | Comments (0)
September 7th, 2015 by chocko
SKUZ at ABC No Rio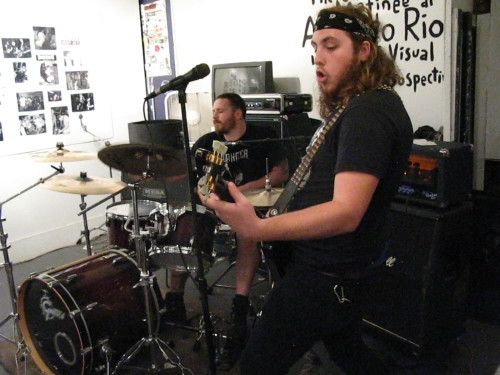 A couple days ago, New Jersey's SKUZ and Ubasute played on the same bill as Boston thrashers Led To The Grave at the Hardcore Matinee at ABC No Rio. I missed the openers but made it just in time to see Ubasute ripping it up in the legendary venue situated in the Lower East Side of NYC. The triple threat from Jersey consisted of drums, bass and a maniacal dude, John Taddel on the vocals. If you're curious about the origin of their bands name…Ubasute: "refers to the custom allegedly performed in Japan, whereby an infirm or elderly relative was carried to a mountain, or some other remote, desolate place, and left there to die, either by dehydration, starvation, or exposure" Lots of brutal heaviness and intense screaming. Thank goodness I didn't forget the earplugs.
Ubasute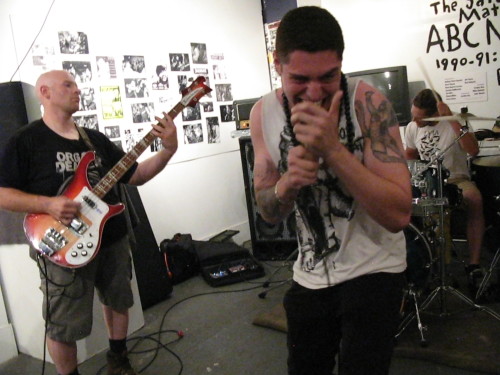 Next up was Led To The Grave from Boston who brought the brutality in the form of heavy death thrash that got the heads in the crowd snapping back and forth and bodies and carcasses moving and grooving. The double guitar attack provided more than enough metal riffs to satisfy the bloodthirsty punk crowd. A couple mini mosh pits broke out and by the time their set ended, I'm sure Led To The Grave won over some new fans. You best believe Chocko will be tracking down their self titled album and everything else they release. Catch them live…Led To Grave will be playing at Middle East in Cambridge, Massachusetts on September 28.
Led To The Grave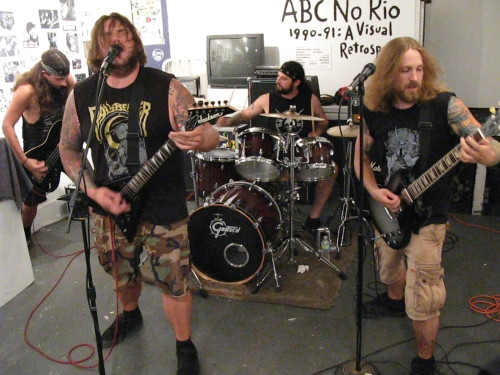 Chris Crobar – guitarist and lead vocalist for Led To The Grave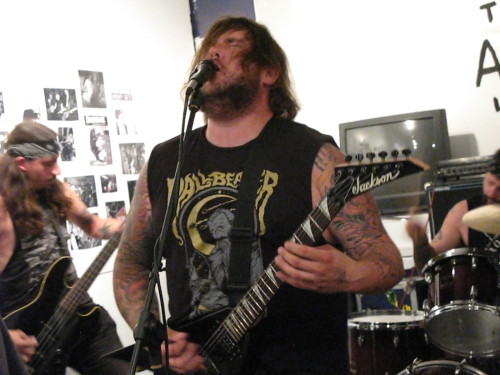 The other Jersey band on the bill and headliners SKUZ played a set of fast paced grindcore. SKUZ from the musty basements of Montclair, NJ consists of the tag team of Trevor Pason on guitar and Josh Walton on drums. Both members take turns on the microphone screaming, squawking and growling while the two piece from the Garden State bang out demon summoning tunes. SKUZ is straight up evil and not for the faint of heart and ear drums beware! Check out some videos from the recent heavy metal thrashing Saturday Matinee at ABC No Rio below!
Check out Chocko (njchocko) and Mr. C (planetchocko) on instagram.
Follow @planetchocko on Twitter. LIKE us on Facebook too. Thanks!
Tags: abc no rio, grindcore, hardcore punk, HC Matinee, Led To The Grave, live, lower east side, new york city, nyc, punk rock, shows, Skuz, thrash metal, Ubasute
Posted in music, photos | Comments (0)
July 26th, 2015 by Mr. C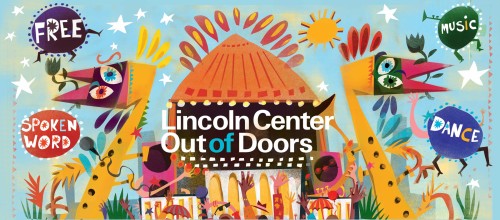 (Chinese Martial arts on display)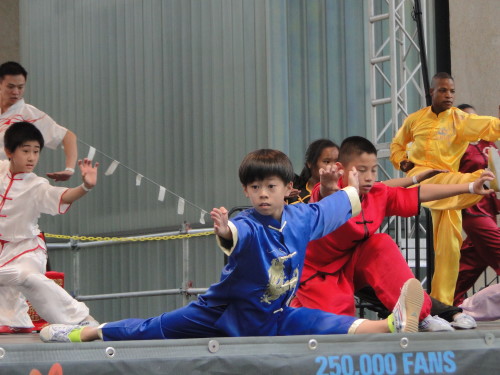 The Lincoln Center Out of Doors free summer events boasts one of the most diverse menu of cultural offerings of Arts that NYC has to offer! Sunday was no different as the Chinese American Arts Council and their extraordinary players provided us with a dynamic performance which they named From Chinatown With Love which consisted of traditional chinese martial arts & dance, classical martial art inspired operas, & a touch of modern dance! The performance is best captured by watching it live. Stills, video, & words do it no justice at all but for archiving & journal purposes. The show was less than an hour long but was very breathtaking and awe-inspiring as the traditional arts are harmoniously melded with the modern. The Chinese martial arts demo in the show seemed to be a mix of modern wushu and traditional. Some portions of the performance seemed very wushu'ey while others seemed more traditional. It was good overall blend of Northern Chinese styles for miles & miles! For more on the Chinese American Arts Council go here. For more on excellent programs and events at the Lincoln Center Out of Doors click here.
(Kung Fu Demonstration)

Posted in art, community, mr. c, photos | Comments (0)
July 25th, 2015 by Mr. C
(One of the battle art aerosol pieces by Carlos Game)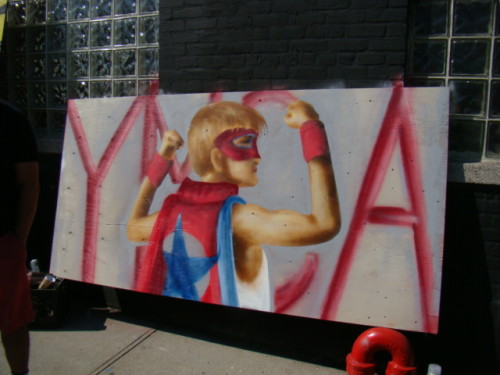 The spirit of the urban collective once known as 5 Pointz (more than just graffiti) came back earlier today in another form. A block party celebrating the culture of 5 Pointz held around the perimeter of The Skyline Auto Group on Vernon Blvd and 45th ave in Long Island City was alive and well! DJs,bboys-bgirls,a car show,aerosol art battles, & just maxin-relaxin and getting the hustle on to support the LIC YMCA was the name of the game! The Long Island City YMCA and co-sponsors of the event – the creatives behind 5 Pointz most notably Meres-One, Marie Cecile Flageul, & Gianna Cerbone-Teoli were the ones to thank for this gathering to celebrate the importance of the YMCA and to bring back the spirit & karma of the 5 Pointz collective. The LIC-Y & 5 Pointz Creates wanted to award 3 legendary individuals with their excellence in sharing & teaching their skills to the community at large. Congratulations and a big thank you to Graffiti legend Lady Pink, Legendary Hip Hop producer/DJ/Artist – Marley Marl, & Master of the Arts – Danny Simmons! Unfortunately Lady Pink & Danny Simmons couldn't make it to the event because of prior obligations but Marley Marl was live & direct to show his appreciation & offered his voice on WBLS to spread the cause!
Thanks to the battle art painters – Meres One, Lexi Bella, Carlos Game, James Rocco, & Topaz. The dancers: Dynamic Rockers & DJ Gabriel Dredel. Also a big shoutout to those that drove their gorgeous cars to the event like the Lambos, Ferraris, Aston Martins, the 1925 Fords, the classic Mercedes & Porsches, the classic 500 Fiats, and of course those Ducati Motorcycles!
Before the main event at the block party, I gathered with some friends to take a peek into the Long Island City Food & Flea market on 46th Ave by the river – a hop, skip, & a trip away from Gantry Plaza State Park! After a bit of eye-candy, a thai iced tea, & some grilled skewered meats, we ventured into the sights at Gantry Plaza before the humpty dumpty shuffle into the block party. Enjoy the photo journal!
(Marley Marl's speech at the award ceremony)

(Meres and Gianna – 5 Pointz creates with a speech about the event & programs)

(Before the jamz commenced, we ventured into the Long Island City Flea)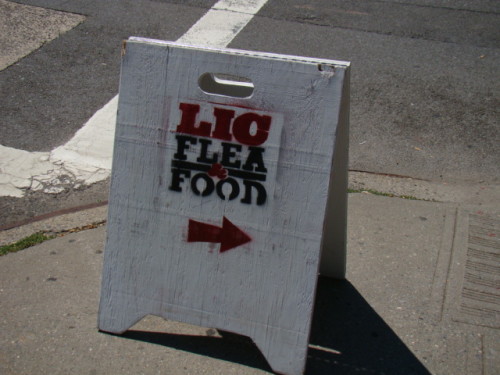 (Quiet before the LIC flea storm!)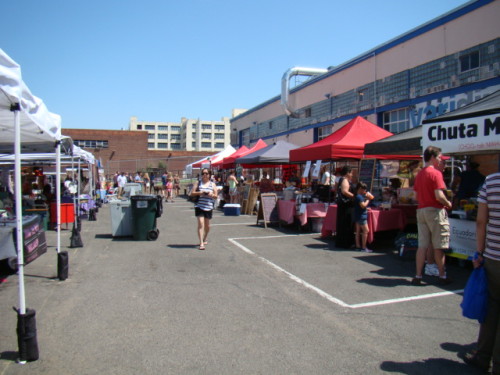 (Some of us got recruited to play the Ultimate Battle)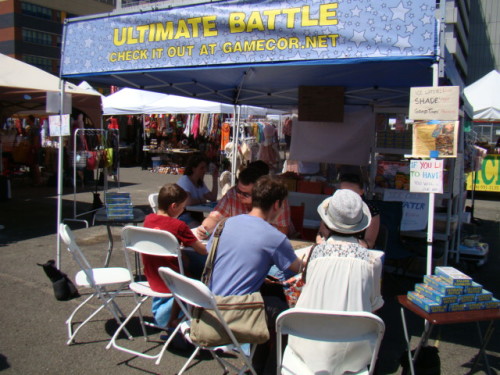 (Thai eats at Khao)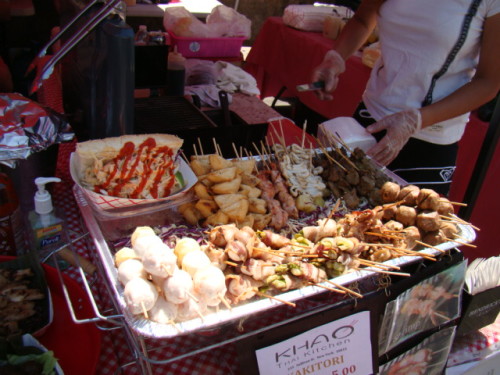 (Seafood balls,Beef Balls, & Squid Yakitori)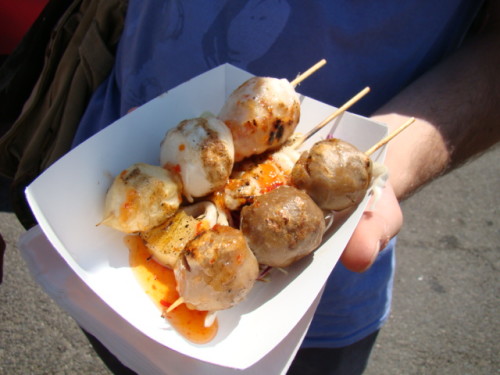 (Gantry Plaza State Park just a few blocks away)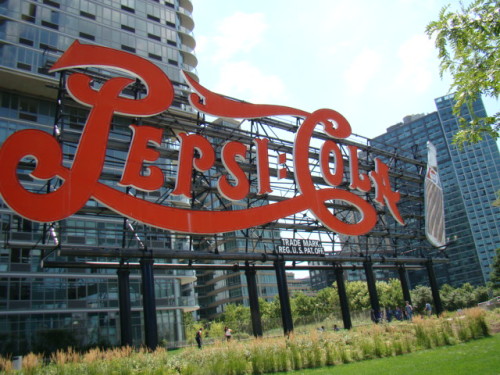 (View of the Manhattan skyline)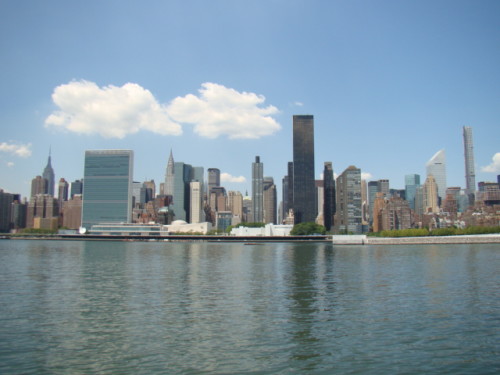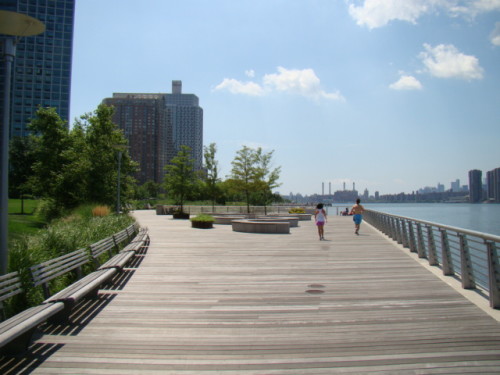 (Distant view of the Queensboro 59th St Bridge)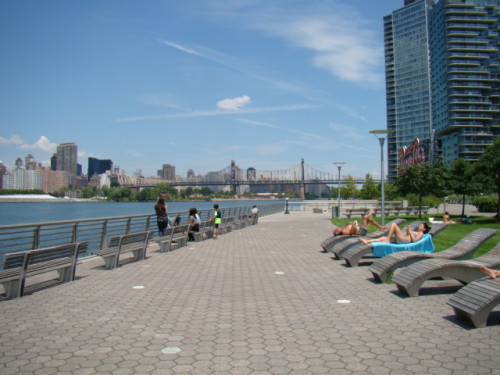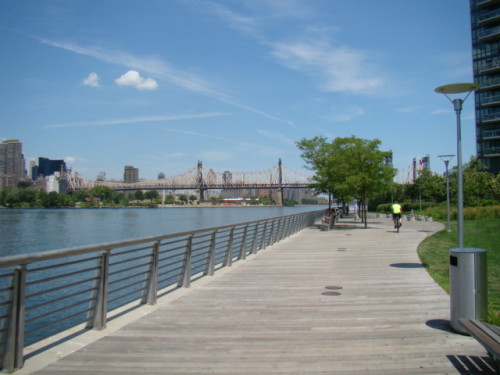 (YMCA block party on Vernon Boulevard at The Skyline Auto Group)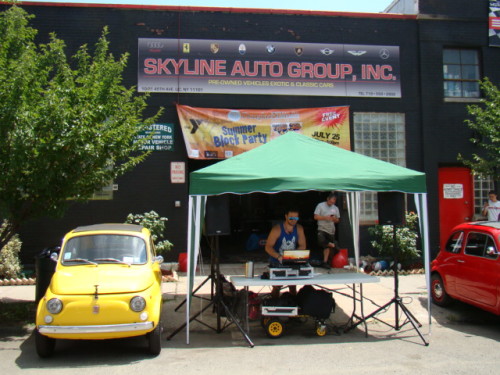 (Lexi Bella touch ups on her portrait of Lady Pink)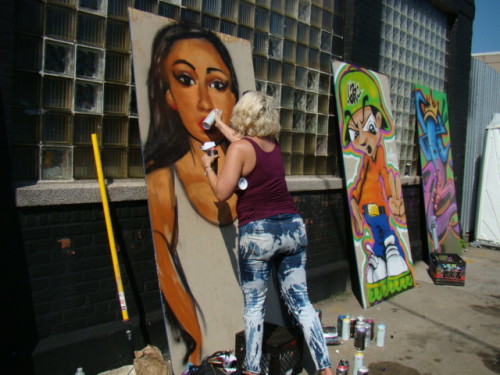 (Meres-One with the finishing touches)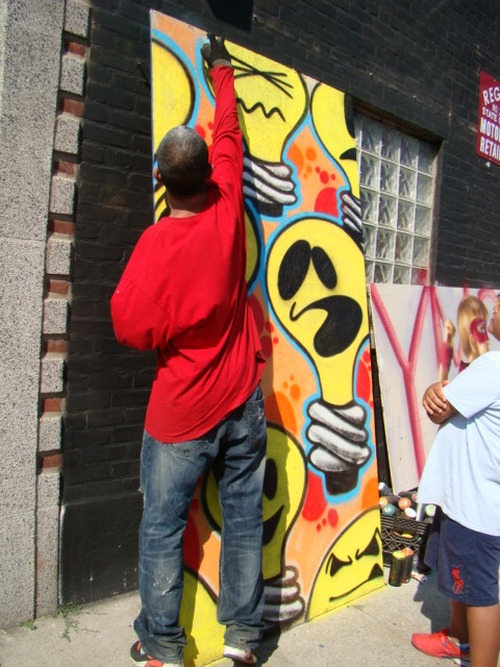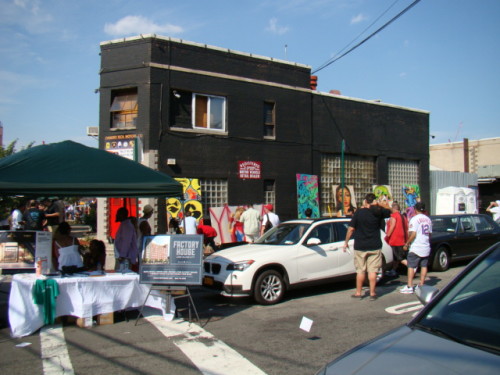 (At the car show inside the garage – Mustang)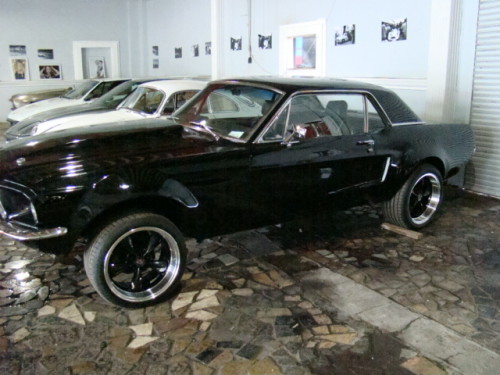 (Classic Mercedes & Porsches)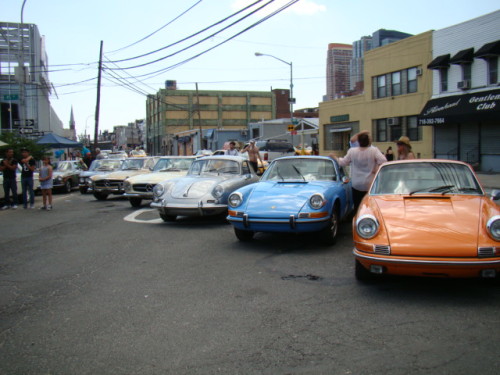 (Ferraris)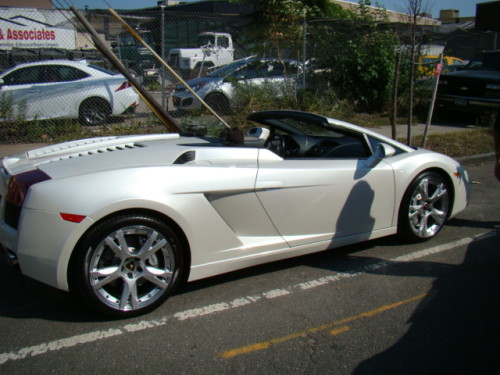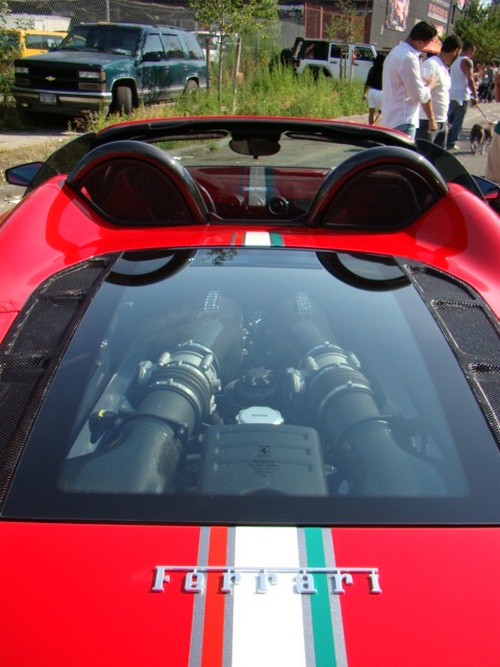 (1925 Ford tow truck!)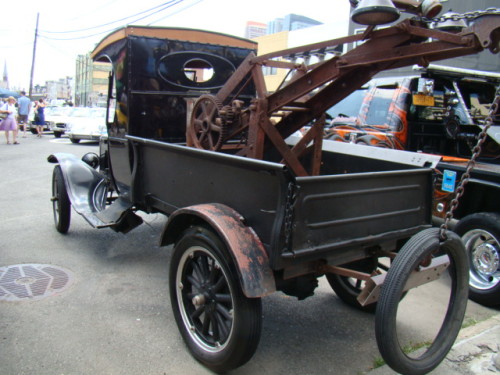 (Aston Martin)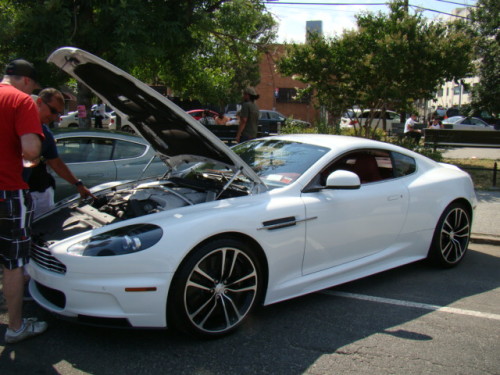 (Volvo)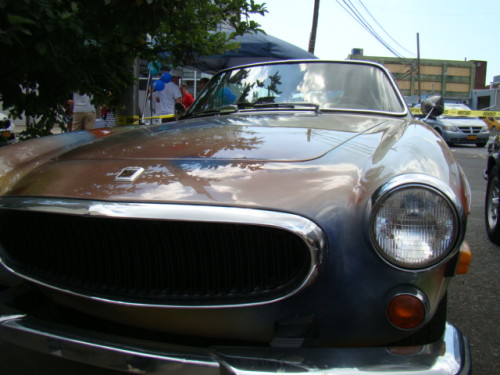 (Not part of the car show, but Mad Max badass for a mobile home – parked a block away from the party)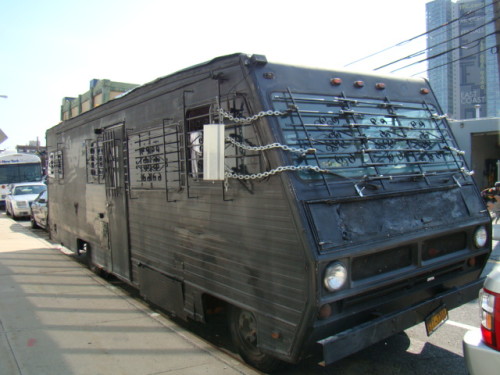 (We stepped away to the John Brown Smokehouse around the corner at 10-43 44th Dr, Long Island City, NY 11101)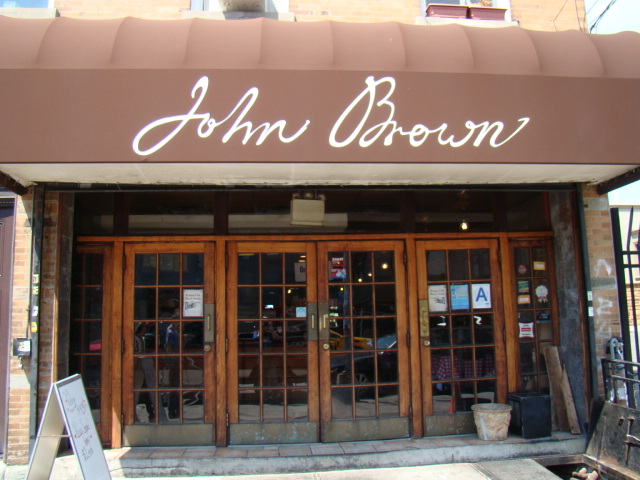 (Smoked pecan wings/Smoked Sausage/Cole Slaw)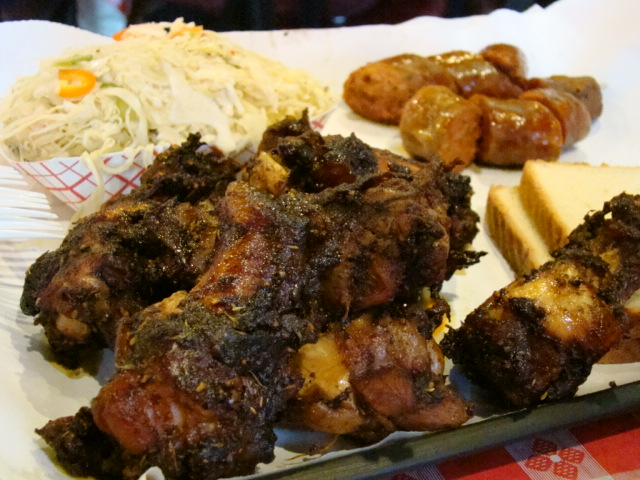 (Beef Brisket Burnt Ends on white bread)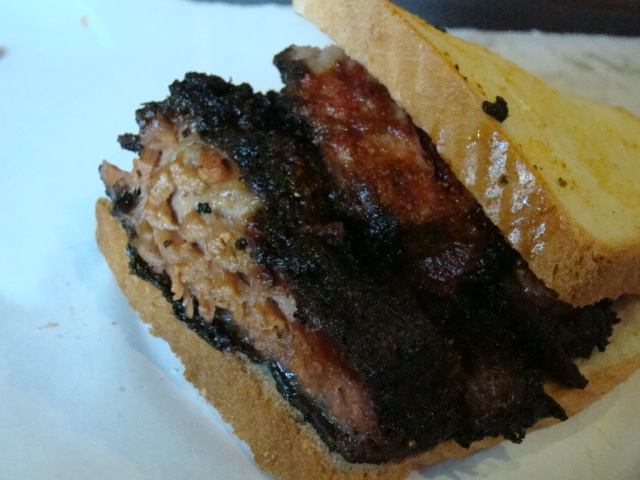 (Shiro's mural art in the dining area outside in the back of John Brown's Smokehouse)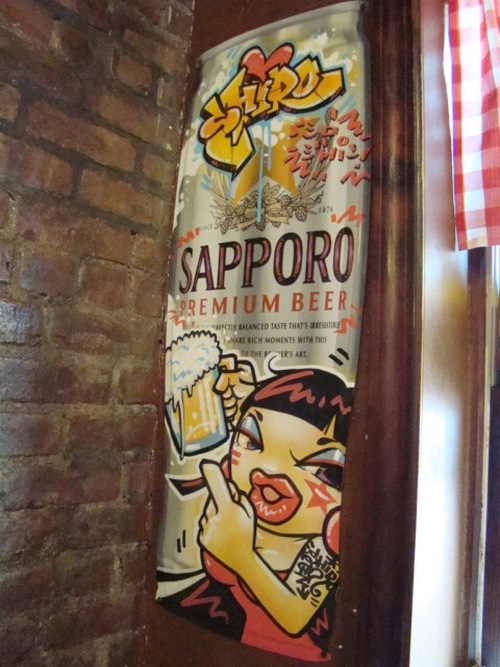 (Back to the Block party – YMCA spokesperson)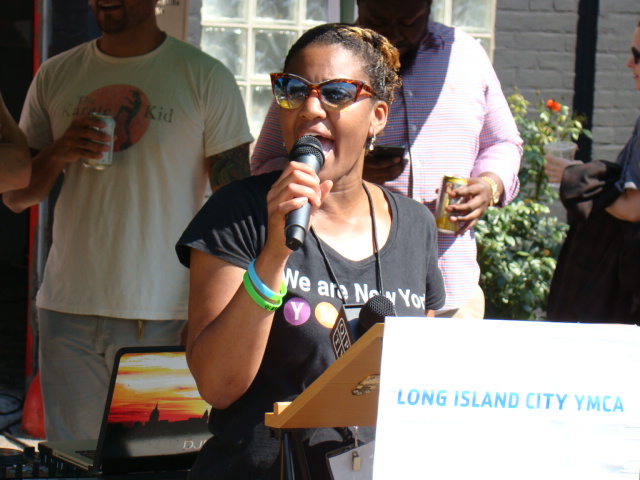 (L to R: Ricky,Director of Rubble Kings: Shan Nichols,Marley Marl)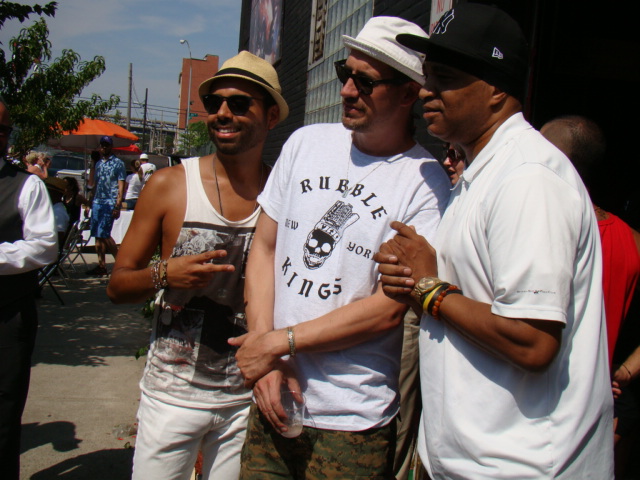 (Shan Nichols/Director of Rubble Kings)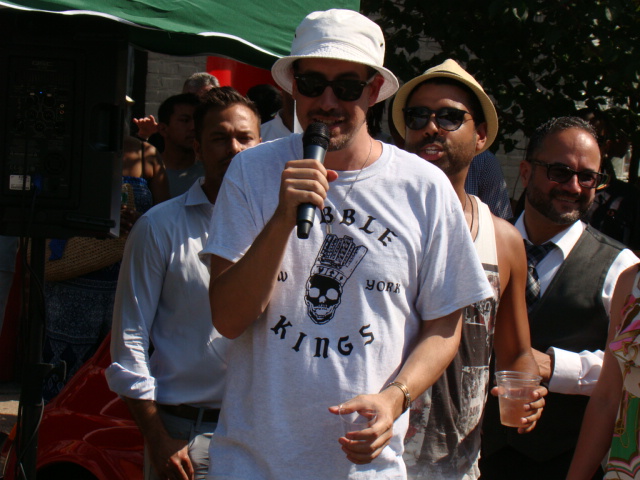 (Marley Marl chatting with Marie Cecile Flageul)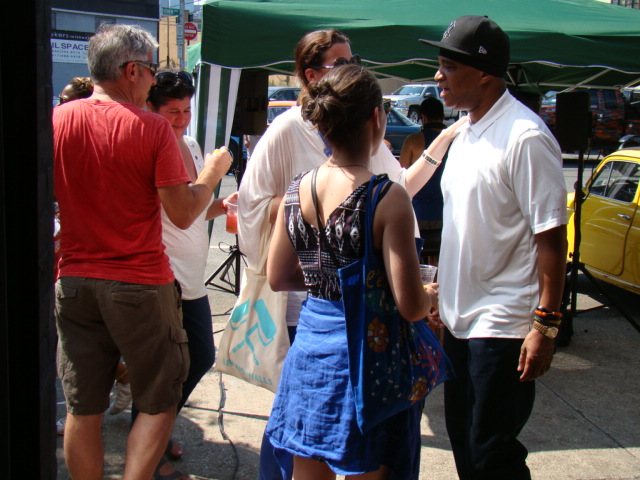 (Inside the garage of Skyline Auto Group)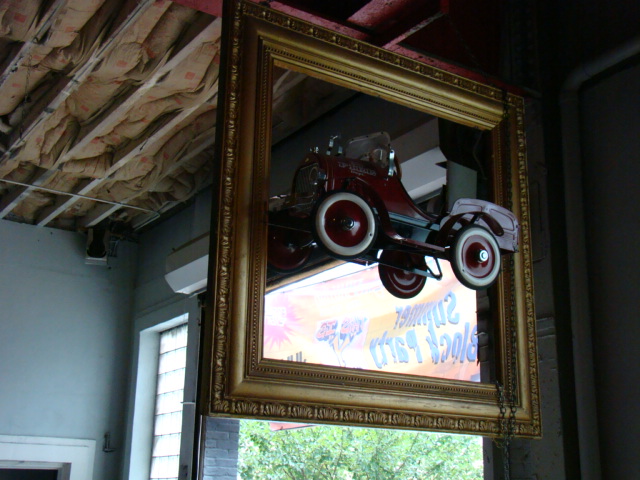 (Talk about a wall ornament for speedracers)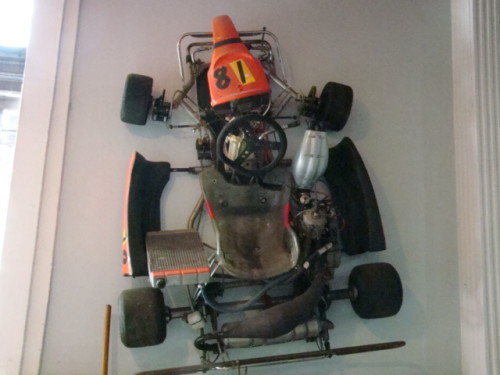 (Our favorite Taxi Cab company/depot – 55 Stan Operating Corporation from DRIVERS WANTED documentary)
(across the street from the block party on Vernon Boulevard)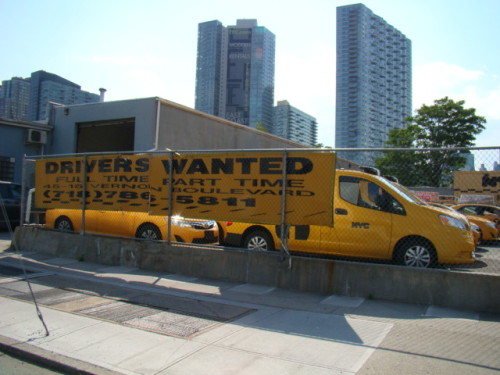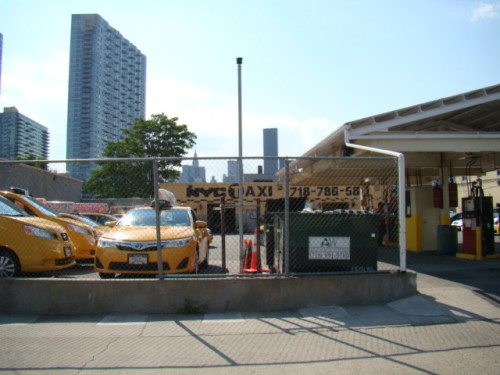 Posted in community, mr. c, music, photos | Comments (0)