March 27th, 2015 by chocko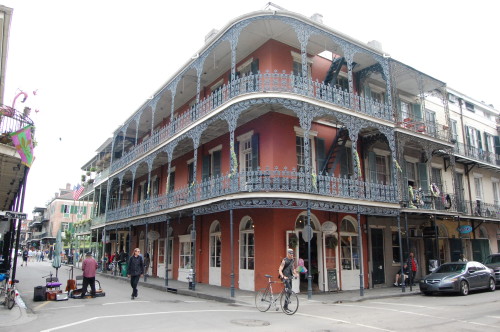 It's almost that time of year again for pro-wrestling biggest event of the year, Wrestlemania which will take place at Levi's Stadium in Santa Clara, California in a couple days. Last year, around this time Chocko and the some members of the crew traveled to the beautiful city of New Orleans, Louisiana for Wrestlemania XXX. The following photos are from that weekend of wrestling, stuffing our faces with Southern fried eats and treats, record shopping, wandering the streets and looking to rumble.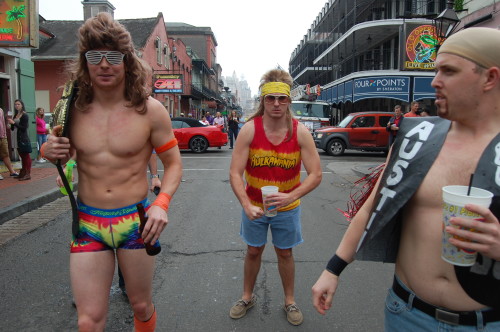 We were lucky to snag a hotel on Bourbon Street in the heart of the French Quarter. We were surrounded by loud bars with Aerosmith cover bands blaring out into the street and drunken wrestling fans cosplaying as their favorite heroes in the ring. I saw about 3 Macho Man's and half a dozen Hulk Hogans withing a 2 block radius. The area was also hustling and bustling with street performers and artists such as Cubs The Poet who can freestyle a poem on an old typewriter like nobody's business.
The French Market located a few blocks from Jackson Square features a farmers market and vendors that sell all sorts of things such as antiques, art, plants and music. I bought a CD titled "The Roots Of American Music: New Orleans" which featured songs by Louis Armstrong, Jelly Roll Morton and Fats Domino. The vendor was super friendly and shared some stories about NOLA which is a city rich in music history. He pointed out a laundromat not too far from the French Market on 840 N Rampart St which was once the home of J&M Studios. It is a musical landmark and perhaps the birthplace of rock & roll which housed sessions by legends such as Fats Domino, Little Richard, Jerry Lee Lewis and Ray Charles!
MOTHER'S RESTAURANT (left) and PARKWAY BAKERY and TAVERN (right)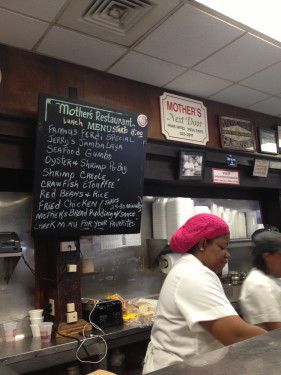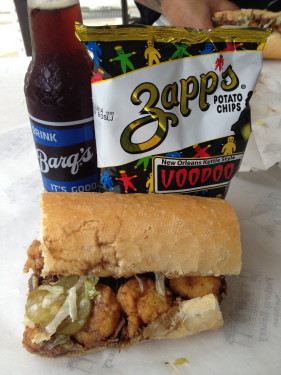 THE GRILL (540 CHARTRES STREET)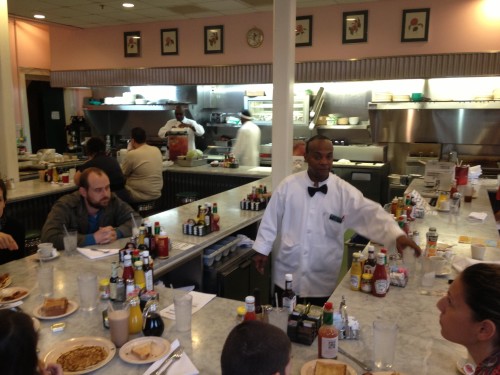 When it comes to food, NOLA is no joke. Pictured above are some of the fine establishments we visited. Mother's Restaurant (top left) features good eats including their world's best baked ham, gumbo and various goodness. I went for the jambalaya which hit the spot. Mother's is located on 401 Poydras and definitely worth the wait to get in. Friendly staff too. Pictured on the top right is half of a Poor Boy, soda and bag of Voodoo chips from Parkway Bakery and Tavern. They're located on the corner of Hagan and Toulouse overlooking Bayou St. John. The Parkway Surf and Turf is highly recommended! Also pictured above is The Grill (540 Chartres Street) located in the French Quarter which has delicious, greasy breakfast food and a work crew that will put a smile on your face. Recommended for eggs, bacon, grits, hash browns, you know the deal.
LOUISIANA MUSIC FACTORY (421 FRENCHMEN STREET)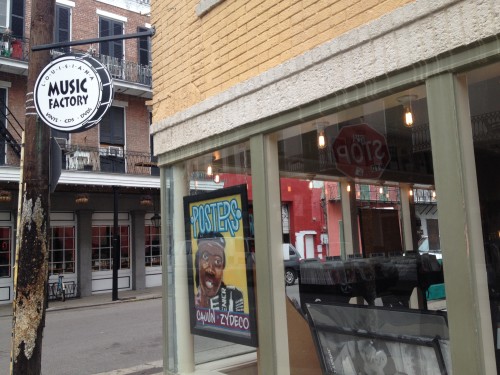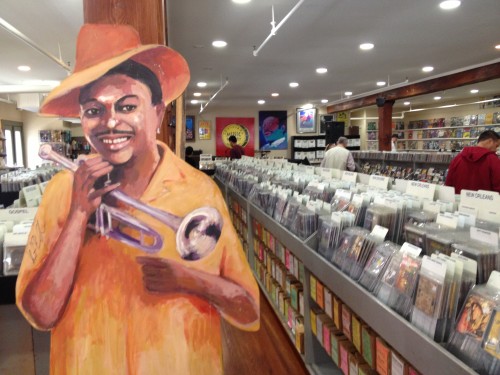 EUCLID RECORDS (3401 CHARTRES STREET)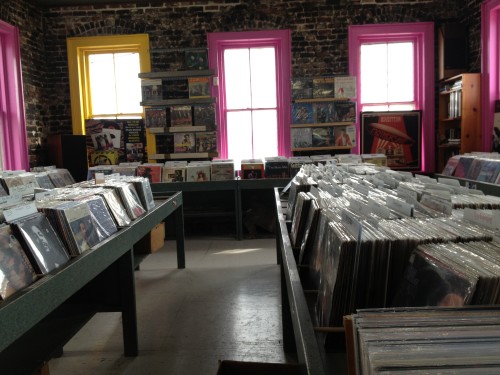 SKULLY'Z RECORDZ (907 BOURBON STREET)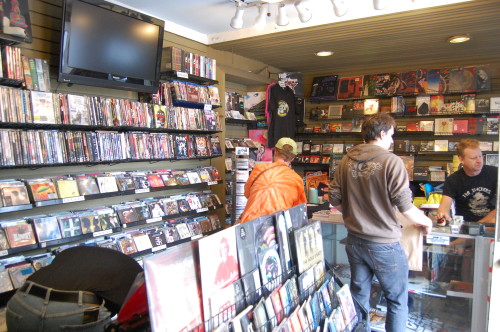 I was able to get some record shopping done and focused on three shops. First stop after browsing around The French Market was The Louisiana Music Factory. I was blown away by the jazz and blues selection here…a lot of local flavor! Aisles of CDs, used CDs, records, books and DVDs will kept me busy. If you only go to one record store in New Orleans, Louisiana Music Factory is the place! I bought a bunch of CDs including one titled "We Got A Party!" featuring The Best Of Ron Records. Great stuff on there featuring music recorded in New Orleans 1958-1962 by the likes of Professor Longhair, Irma Thomas and Eddie Lang. They host a lot of in store concerts, so check out their website for updates. Last year I visited the Euclid Records location in St. Louis and was psyched to see their location in NOLA. I think they just moved into their present location and were still settling in. Despite the rough edges, it was a fun time browsing through the records and CDs. The closest record store to the hotel was Skully'z Recordz. It's a tiny shop but it packs a mean punch. I picked out a lost soul classic from 1973, "In Between Tears" by Irma Thomas aka The Soul Queen of New Orleans. It's a great looking and sounding restored and remastered release which was mostly written and produced by Jerry Williams, Jr. aka Swamp Dogg.
LAFAYETTE CEMETERY NO. 1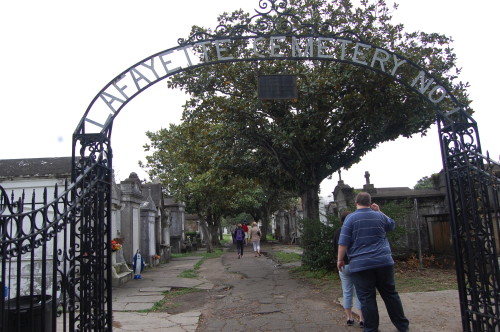 SCULPTURE GARDEN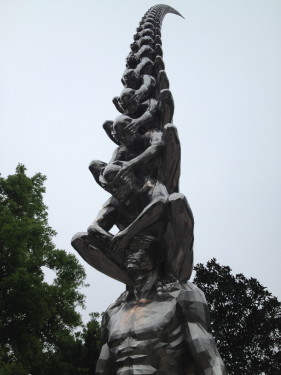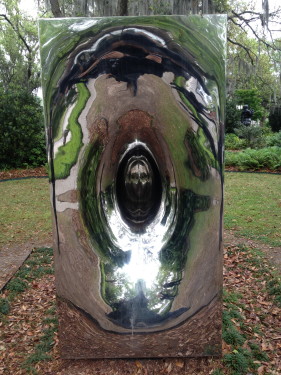 Across from the fancy Commander's Palace Restaurant on Washington Ave. in the Uptown/Garment District is Lafayette Cemetery No. 1. (1833). Anne Rice used to live around the corner and I'm sure wandered the tombs for inspiration. If creepy crypts aren't your thing another fun and free destination to check out is the Besthoff Sculpture Garden which is an outdoor area inside City Park which features 64 sculptures.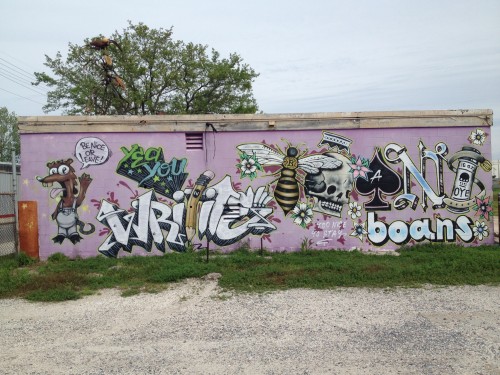 The street art and graffiti game is strong in New Orleans. I stumbles upon walls on my long walk from Louisiana Music Factory to Euclid Records mostly walking along Chartres Street. It was only a mile, but it felt a lot longer. I noticed one piece under plexiglass and stickers. A Banksy?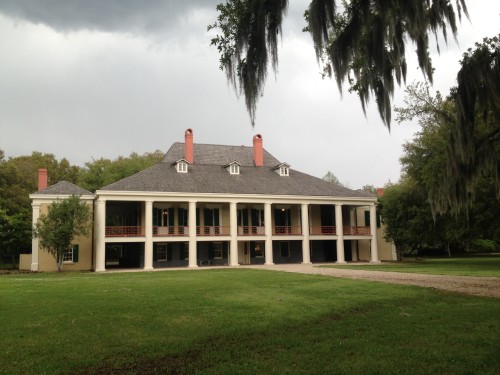 We stopped by The Destrehan Plantation which is the closest plantation from New Orleans. The guided tour is definitely the way to go. It features a tour of the building established in 1787 and you get to see a document signed by Thomas Jefferson. A lot of history to soak in! We stuck around for a carpentry demonstration which almost put me to sleep. For the movie buffs: scenes from the movies "Interview With The Vampire" and "Twelve Years A Slave" were filmed at The Destrehan Plantation.
The Prytania Theater (5339 Prytania St) is a beautiful single screen theater which was built in 1914 and we happened to be in town for a local film festival FilmOrama. We saw the documentary "Finding Vivian Maier" an excellent movie about the discovery of an unknown photographer's undeveloped rolls of film from a lifetime of taking photos and documenting life in the city. You have to see it. I loved the movie.
Oh yes, the reason the trip to N.O. was made…wrestling! So, pictured above are the steps leading to not the Silverdome, but the Superdome where Wrestlemania 30 was gonna go down! On the right is a fan dressed up as Papa Shango. I think he put a spell on me that made me want to eat my body weight in fried chicken at Brothers Food Mart. Good stuff!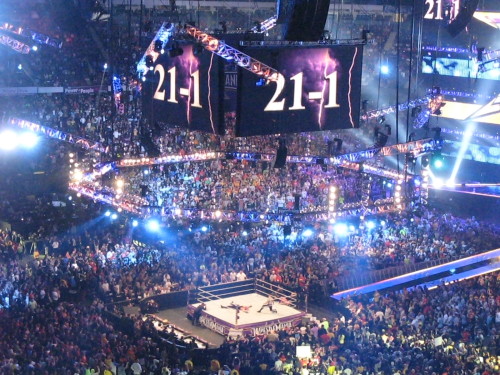 One of the most memorable matches of the night and undeniably the biggest shocker of the evening came when The Undertaker lost to Brock Lesnar. The Beast vs. The Streak ended with a silent crowd, totally dumbfounded while the huge numbers 21-1 were displayed on the screens above the ring along with the faces of shocked fans. We all thought The Undertaker was unbeatable, but looks like he's seen better days. Pictured below is the crowd favorite and underdog Daniel Bryan winning the Championship in front of a hyped up crowd…Yes! Yes! Yes! Yes chants were heard all over the French Quarter that night.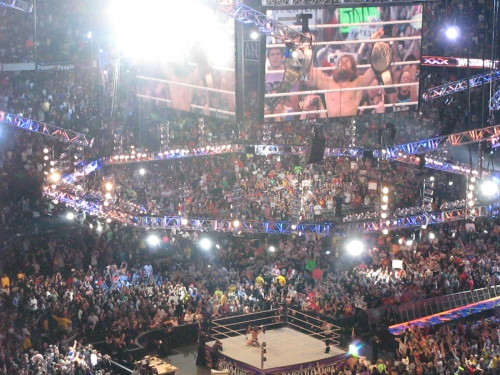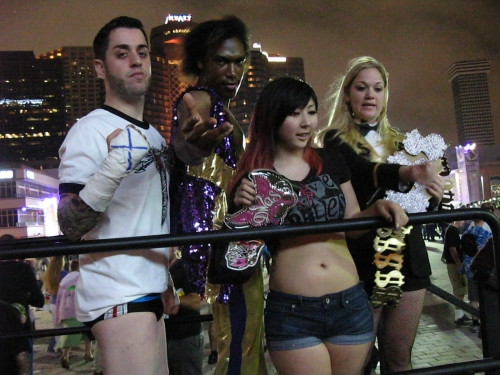 More wrestling cosplay outside the Superdome! I get it the dude on the left is supposed to be C.M. Punk, A.J. Lee in the middle and a Million Dollar Woman (Tina DiBiase?) to the right but who's the guy with the glittery suit supposed to be? Is he supposed to be Blowfly? I don't know.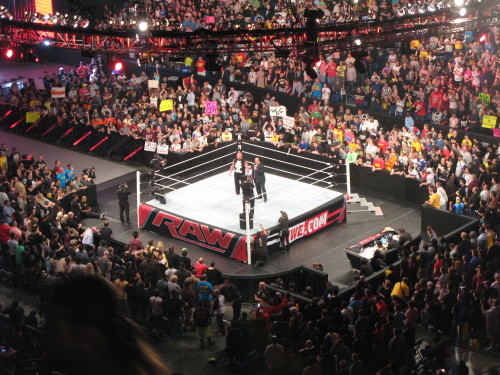 We also were in attendance at the RAW taping at The Smoothie King Center which was just a short walk from the French Quarter as was the Dome. It was a great night of wrestling…The Yes Movement was red hot, saw Cesaro after his impressive victory in the Andre The Giant Memorial Battle Royal and in retrospect, the bittersweet last appearance of The Ultimate Warrior. That's it for now…see you at the next Wrestlemania.
Check out Chocko (njchocko) and Mr. C (planetchocko) on instagram.
Follow @planetchocko on Twitter. LIKE us on Facebook too. Thanks!
Tags: bourbon street, chocko, euclid records, graffiti, louisiana music factory, new orleans, nola, prytania theater, record stores, skully'z recordz, street art, wrestlemania, wrestling, wwe
Posted in art, chocko, food, movies, music, photos, sports | Comments (0)
March 18th, 2015 by chocko
Iris Records (114 Brunswick St, Jersey City, NJ)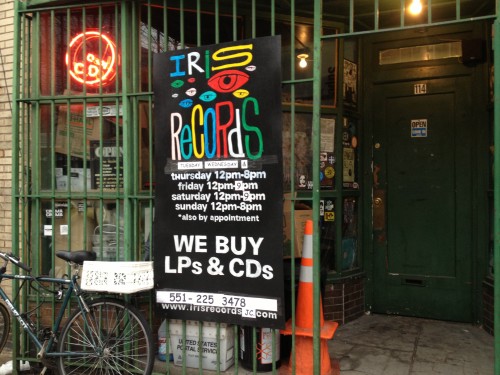 Chocko and Mr. C are a little late to the game when it comes to checking out in-stores at Iris Records in Jersey City. Last weekend we were curious to see how Sharkmuffin and Janet LaBelle, plus vinyl connoisseurs were going to even fit into the already cramped aisles of Iris Records. So, we got there a little after 7 pm last Saturday and watched as a table of 12″ house records got shoved a couple feet towards the back of the store, guitars get plugged into a couple towering speakers and instant stage!
Janet LaBelle at Iris Records

First up, was the lovely chanteuse straight outta New Jersey (now residing in Brooklyn), Janet LaBelle. Great, soothing pop songs while playing the ukulele and sometimes switching up to an acoustic guitar. She shared stories in between songs about her recent vinyl purchases and songs she's been obsessing over including Astrud Gilberto's cover of The Loving Spoonful's "You Didn't Have To Be So Nice" which Janet covered and darn, I wish I recorded it. It sounded sweet. I'm hoping she plays it again at her next show which will be on Thursday, March 19 at The Living Room at their new location 134 Metropolitan Avenue in Brooklyn. I'm sure she'll have some CDs for sale so, definitely go and support live music!
Natalie of Sharkmuffin and Janet (former Sharkmuffin drummer)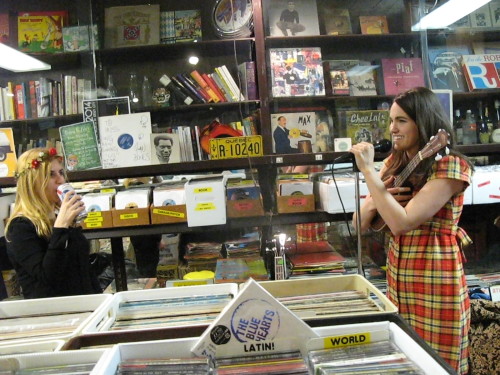 I've seen Sharkmuffin before, so I knew what to expect but wasn't too sure how a show without reverb, drums and amps was going to play out. If you have never heard the Brooklyn trio before, they sound gritty and punk with some garage and pop sprinkled in. If Karen O. of the Yeah Yeah Yeah's joined the Dum Dum Girls and they played Misfits songs…that's Sharkmuffin. Their first song was was a train wreck! Maybe too much Pabst, but the guitar and bass were definitely out of tune. Thankfully, they stopped after their first song to tune their instruments then it was full steam ahead for Tarra Theissen (guitar and vocals) and Natalie Kirch (bass and backup vocals)! They flipped the script when closing out their set with a gentle cover of Velvet Underground's "After Hours." On the way out, I picked up the 7″ singles they had for sale…their debut single and their newest 7″ titled "1097" which was named after the Jersey Shore summer home bassist Natalie lost at sea thanks to Hurricane Sandy. Sharkmuffin are presently in the middle of a tour which will take them through the Southern states to SXSW, the Midwest and back to Brooklyn by the end of March. Check 'em out at a venue near you!
Sharkmuffin at Iris Records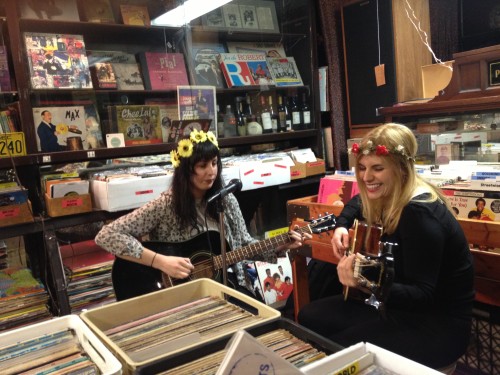 Check out Chocko (njchocko) and Mr. C (planetchocko) on instagram.
Follow @planetchocko on Twitter. LIKE us on Facebook too. Thanks!
Tags: bands, female-fronted, in-store, Iris Records, Janet LaBelle, live, performance, record store, sharkmuffin, vinyl
Posted in chocko, music, photos | Comments (0)
March 13th, 2015 by Mr. C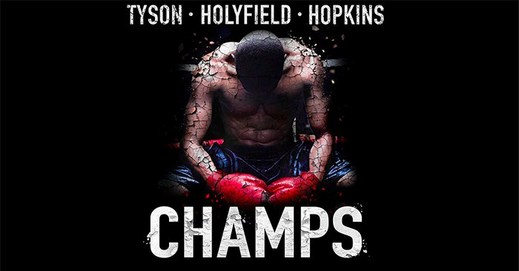 Champs is a boxing documentary that is premiering at the Village East Cinema on 2nd ave starting today – Friday the 13th! We attended the first screening on the night prior to the opening which featured a Q/A panel with director Bert Marcus, George Willis from the NY Post, Lou Dibella – boxing promoter, & last but not least Evander 'The Real Deal' Holyfield! Mike Tyson was in the building for press photos and engaged with the media to promote the movie but was not in the theater for the screening nor for the Q/A afterwards. Bummer, it would of been epic to hear and see Mike Tyson and Evander Holyfield on the same panel but we should be happy enough to see one of the best Heavyweight boxers of All Time in Evander Holyfield in person so no complaining here! By the way, Evander seemed so humble and gentle in his speech and body language. I love that he is such a family & church loving man outside the ropes, but when in the ring – will tear your heart out much like how Manny Pacquiao is.
(Evander "The Real Deal" Holyfield at premier of Champs at Village East Cinema)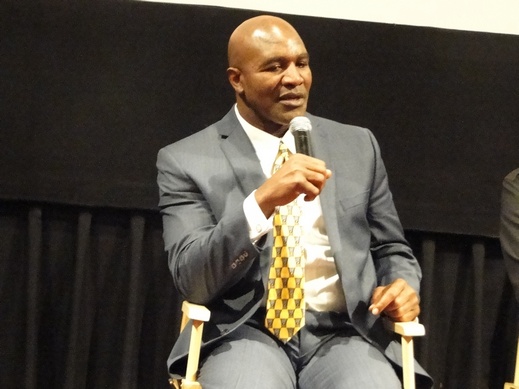 (From L to R: George Willis,Lou Dibella,Evander Holyfield,Bert Marcus)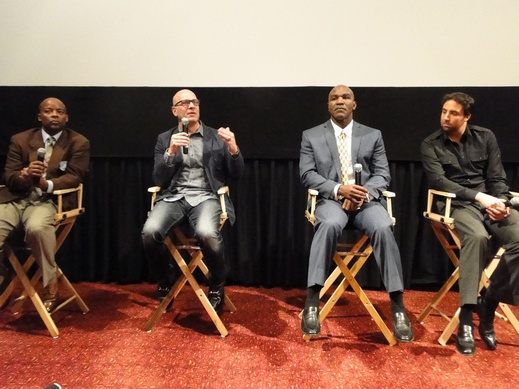 Champs is a very good documentary that profiled arguably 3 of boxing's All-Time Greatest Boxers – certainly on most folk's Greatest Top 50 list & at worst – Top 75! The All Star trio that were storied in the film were Mike Tyson, Evander Holyfield, & Bernard Hopkins. Classic fight footage, talking head interviews with Mark Wahlberg, Denzel Washington, Ron Howard, Spike Lee, Mary J. Blige, 50 Cent, and of course Tyson, Holyfield, & Hopkins themselves – would all add opinions & experiences that mattered. The re-enactments of Evander,Tyson, & Hopkins' early years were done very well! Boxing helped replace the thug passion in Mike Tyson & Bernard while boxing served as Evander's means to gain more confidence to help set long term life goals for himself as recommended by mama. In the end, the movie was greater than the sum of the parts as the psychology and reasoning of why young men enter this brutal sport would unfold. And the consequences that follows a successful career in the ring would rear its ugly head as most of these kids are ill-equipped in handling the pack of wolves that are pre-built into the business of organizing a boxing event and the management of the boxer's own earnings as well. The film serves as a great starting conversation for future endeavors for the up & coming pugilist to educate themselves on the business to help control their own financial situation better and get a stronger stance on deciding their own fate with their career. After all, the fighters are the ones putting their health at jeopardy when clashing in the ring. Meanwhile, boxing promoters, lawyers, and managers end up with a nice chunk of the purse as the boxers are often left with a puffy face and high/dry with the earnings. There are no governing bodies and regulations in professional boxing which leads to the Don King style of capitalism – hook or by crook.
After the film there was a fun & informative Q/A with George Willis, Evander Holyfield, Lou Dibella, & the director of the movie – Bert Marcus. Lou Dibella added some real credibility in his dealings of being a boxing promoter – offering his take on the business. Thanks to Chocko for taping the Q/A!
If you are in the NYC/NJ area, go see CHAMPS at the Village East Cinema on 2nd ave by 12th street. It's also available on iTunes and On Demand or better yet find Champs at a Theater near you!
(Bert Marcus – Director of Champs)

Posted in movies, mr. c, photos, sports | Comments (0)
March 6th, 2015 by chocko
PRhyme (DJ Premier and Royce da 5'9″) at Highline Ballroom 02-22-15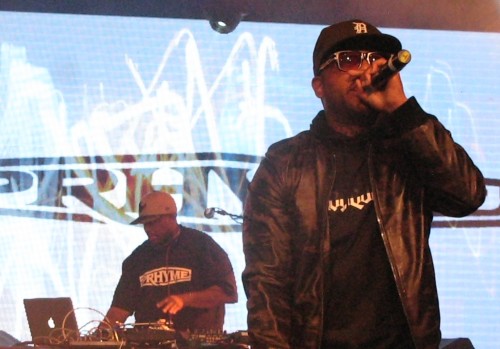 PRhyme, comprised of hip hop heavyweights DJ Premier and Detroit's Royce da 5'9″ brought some real hip hop to the Highline Ballroom in New York City last month. Their debut album as a duo dropped last December and features samples of psych-soul composer Adrian Younge…definitely recommended for all you hip hop heads. Their NYC show did not disappoint and featured openers Boldy James from Detroit and Coney Island MC, Your Old Droog. Boldy James brought out DJ and producer Statik Selektah who introduced a song he produced with Boldy James on the track titled "Something To Cry For" off Statik's 2014 album What Goes Around album. The next opener, Your Old Droog along with DJ Skizz of The World Famous Halftime Radio Show killed it during their set…lots of old school style rhyming and boasting with punchlines and lyrics for miles. Definitely be on the lookout for Boldy James and Your Old Droog and support them dudes! They got more bars than Hoboken.
Boldy James and Statik Selektah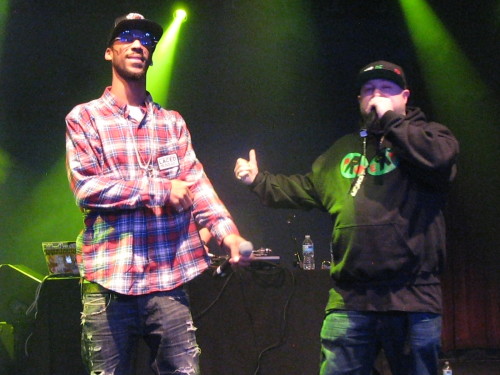 Your Old Droog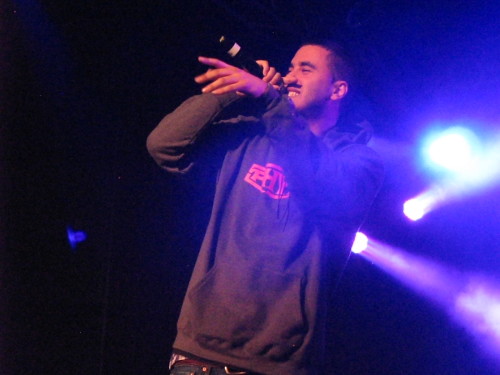 PRhyme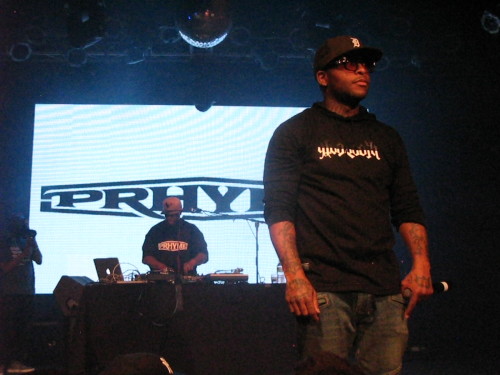 Joey Bada$$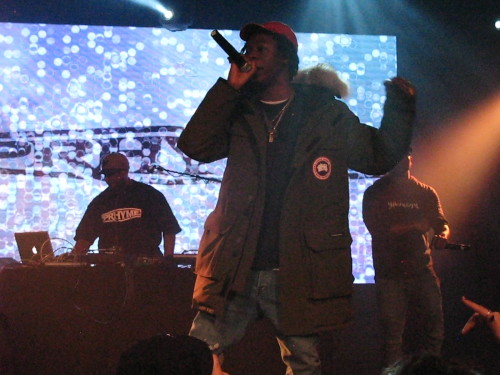 PRhyme hit the ground running and the crowd was super amped but early in the set DJ Premier pointed out, "Boston was louder." You know NYC wasn't hearing that! The crowd woke up and went rhyme for rhyme with Royce on songs from PRhyme cuts to Royce's solo jams and verses from his Bad Meets Evil project he did a few years back with Eminem. Joell Ortiz and Joe Budden, two members of Royce's other super group, Slaughterhouse jumped on stage for "Sound Off" and "Microphone." Definitely a highlight of the night especially hearing Ortiz spitting out lyrics like a machine gun. Other surprise guests included Royce's brother, Detroit MC Kid Vishis and outta left field….Joey Bada$$ going beast mode on stage with the DJ Premier produced track, "Paper Trail$." Another highlight of the show was the moment when DJ Premier tested out the crowd's hip hop knowledge by playing an original sample before playing the hip hop song that it was in. Definitely a recommended show, so check out PRhyme when they come to a city near you. Videos below!
Check out Chocko (njchocko) and Mr. C (planetchocko) on instagram.
Follow @planetchocko on Twitter. LIKE us on Facebook too. Thanks!
Tags: Boldy James, dj premier, highline ballroom, hip hop, Joe Budden, joell ortiz, new york city, nyc, PRhyme, rap, rapper, Royce da 5'9", show, slaughterhouse, Your Old Droog
Posted in chocko, music, photos | Comments (0)
March 1st, 2015 by Mr. C
(Norman Chin's Jook Lum Southern Praying Mantis)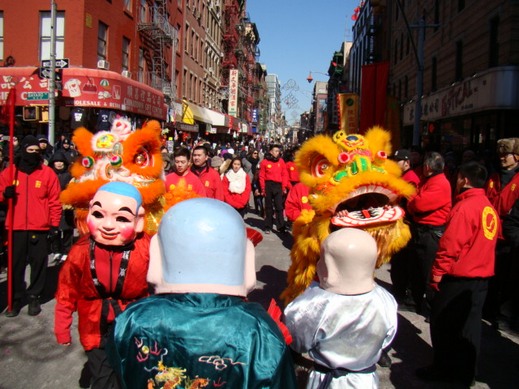 The Lunar New Year celebrations in New York's Chinatown marched on with tradition as Kung Fu schools, Youth organizations, Benevolent Associations, Community Organizations, & Dance troupes in the New York city area all came out to perform traditional Lion Dances in the streets going from storefront to storefront to welcome in the new year and to wish prosperity & health to all the businesses. Each Lion Dance organization would dance in front of the establishment and then slowly prance into the store to collect their "red envelope" fortune for their good luck drum beat & Lion prance routines. This festive day is known as "Super Saturday" dubbed by NYPDs 5th precinct as the local police officers would help organize this special day with the community as they block city streets & enforce the rules & procedures to the Lion Dance teams who were chosen to perform through an application process. For those that think what's the big deal with performing on the streets, think again. There are traditional customs and signs of respect between two Lion Dance associations as to not cross each other and interrupt each others performance. Traditional Lion Dancing in the past between schools & organizations were a very competitive & territorial situation so careful timing and organizing of the routes for each school are imperative. Remember that these Lion dance teams were basically local Kung Fu schools that want to show their bravado. Of course, 2015 is not as volatile as the days of the late 70s to the early 90s when gangs and territorial struggles were abundant.
I'm not sure what it was but I found yesterday's Super Saturday showing not as crazed and festive as in years past. Maybe it was the nippy weather or maybe not as many organizations took part as in years past or it could be the teams were spread out more across manhattan's chinatown so I didn't get the congested feeling of associations running back to back to each other. Also Chinatowns in Brooklyn & Flushing,Queens are probably getting some attention too. I normally comb the chinatown streets from Mott on both sides of Canal from Hester Street to Bayard and work my way to Elizabeth. Either way, I always have a good time and there are plenty of great photo ops!
(My super saturday got started right right at the glorious Doughnut Plant on Grand Street)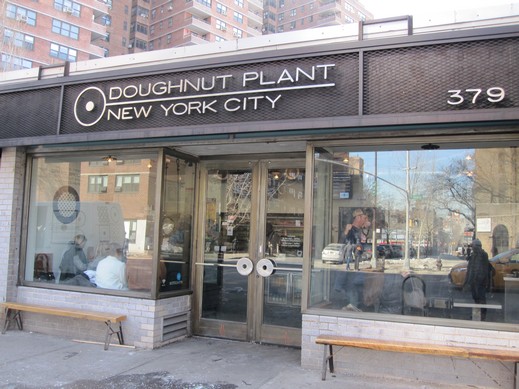 (One of my favorites – Peanut Butter & Banana Creme filling!)

(Norman Chin's Jook Lum Southern Praying Mantis performing in front of Fong Inn Too on Mott St)

(Wing Hong Yip's Dragon style Kung Fu School)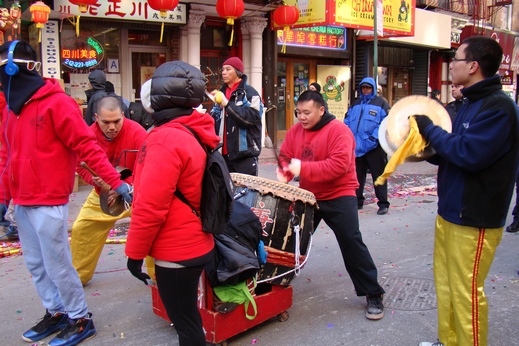 (Wan Chi Ming Hung Gar Institute)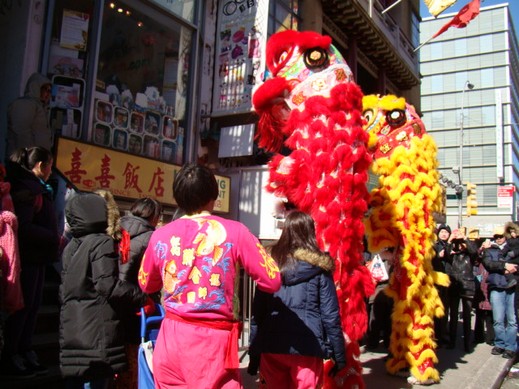 (Norman Chin's Jook Lum Southern Praying Mantis Kung Fu)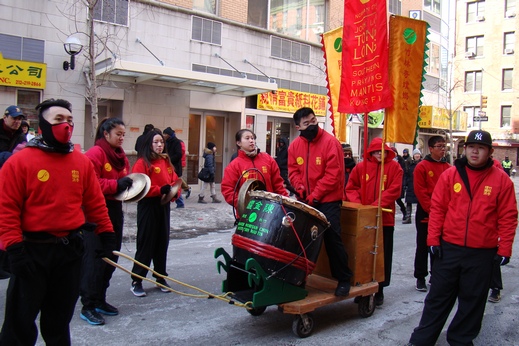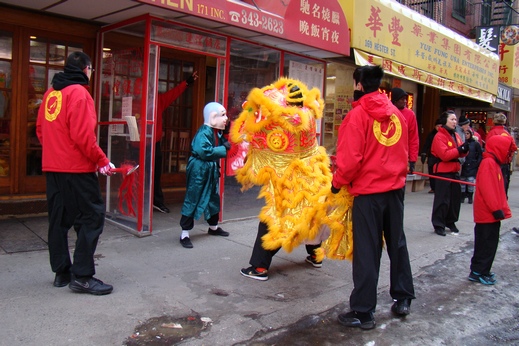 (Wan Chi Ming Hung Gar Institute)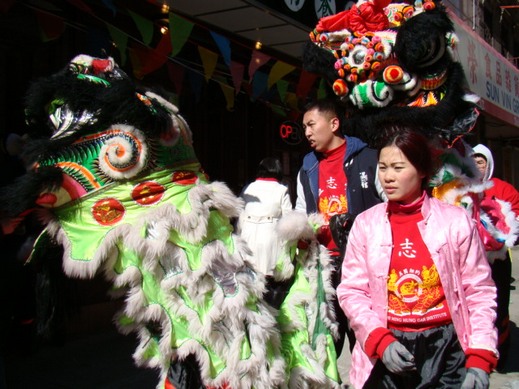 (Rockits – skateboard on hand!)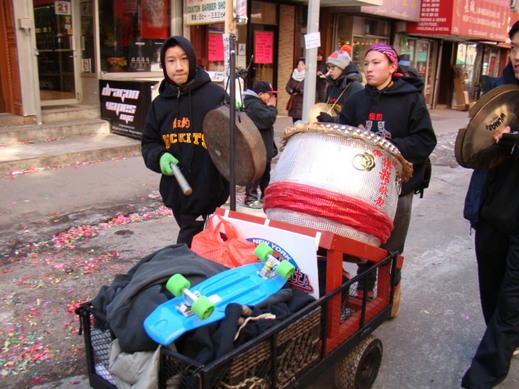 (Wan Chi Ming Hung Gar Institute)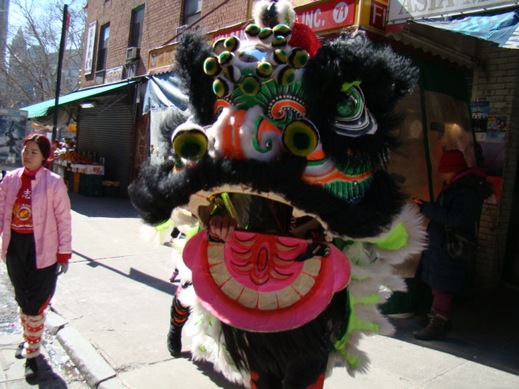 (Time to defrost at Spicy Village on Forsyth Street!)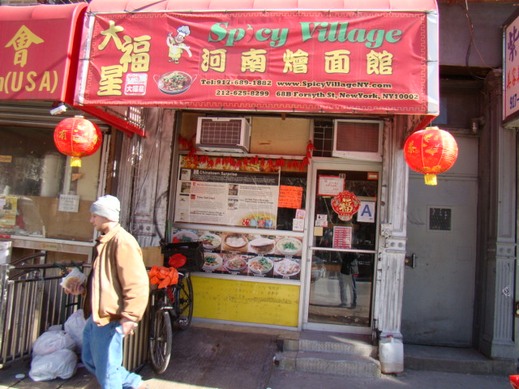 (Big tray Chicken w/ hand pulled noodles)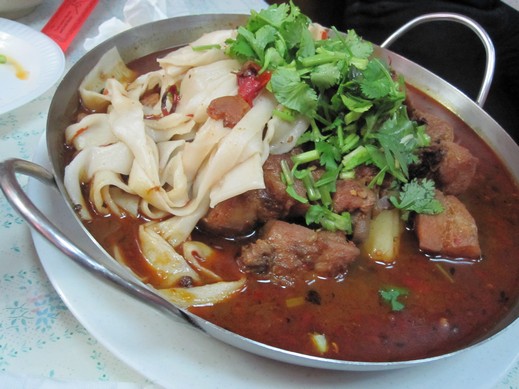 Spicy Village serving up some delicious Henan style spicy fare in the outskirts of Chinatown!
Spicy Village
68 Forsyth St #B
New York, NY 10002
After a bit of strolling around to work off a strand of that spicy village chicken, we ended up at Shu Jiao Fu Zhou for some of their dumplings and noodles. All for a glorious price of $5! I also recommend their fish balls (stuffed w/ ground meat) and their wontons. Their diminuitive wontons are fuzhou style which means they use a thin – transparent wonton wrapper in contrast to the HK cantonese style wontons.
(Shui Jiao otherwise known as "water dumplings")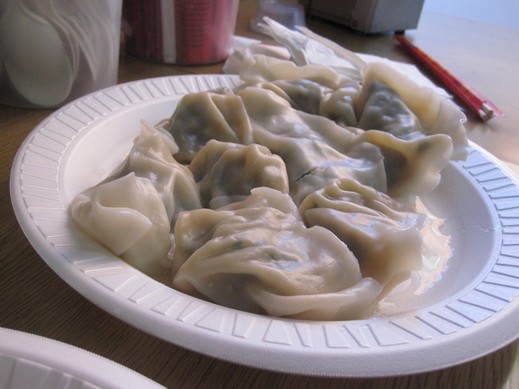 (Egg noodles with peanut sauce)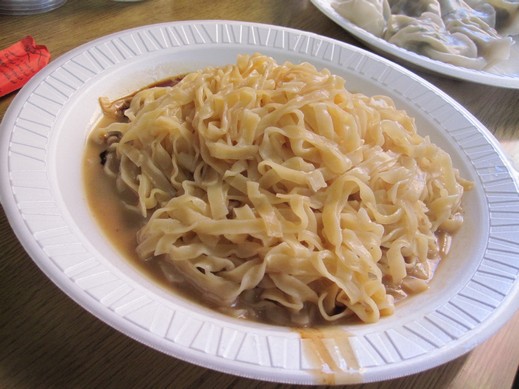 Of course the day didn't end there as we stomped across to the other side of Delancey Street to our old stomping grounds of ABC No Rio for some good ol' crusty Saturday matinee hardcore punk music! ABC No Rio is a community based organization comprised of local artists & international folks alike. ABC NO RIO is the little engine that could, the underdog, & the under-appreciated fighting for the rights of the under-privileged & outcasts not fitting the mold. The ABC DIY space includes an art gallery performance space & Zine library with over 12,000 items! "ABC No Rio is a place where people share resources and ideas to impact society, culture, and community. We believe that art and activism should be for everyone, not just the professionals, experts, and cognoscenti. Our dream is a cadres of actively aware artists and artfully aware activists." -ABC NO RIO
Thanks to Chocko for taping some of the afternoon punk matinee at ABC No Rio last Saturday including performances by an NYC Filipino Hardcore band – Namatay Sa Ingay; Lakras – high energy Latino hardcore, & Tin Vulva, an experimental – alternative band from Brooklyn. Last Saturday's performances at ABC No Rio was a benefit show for the Workers Justice Project – Proyecto Justicia Laboral! Let's stand together in unity to help others and to continue to fight for the working class!
(Lakras – Latino hardcore – video by Chocko)

(Namatay Sa Ingay – a Filipino hardcore punk band performing at ABC NO RIO on Sat 2/28/15 – Video by Chocko)

(Tin Vulva – an alternative,experimental band from Brooklyn – video by chocko)

(Punk Matinee at ABC NO RIO on Sat 2/28)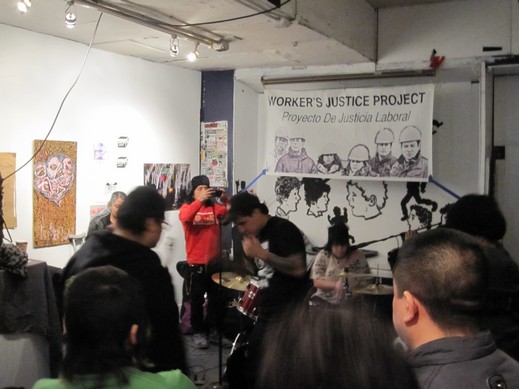 ABC NO RIO
156 Rivington Street
NY,NY
Posted in community, mr. c, photos | Comments (0)
February 22nd, 2015 by Mr. C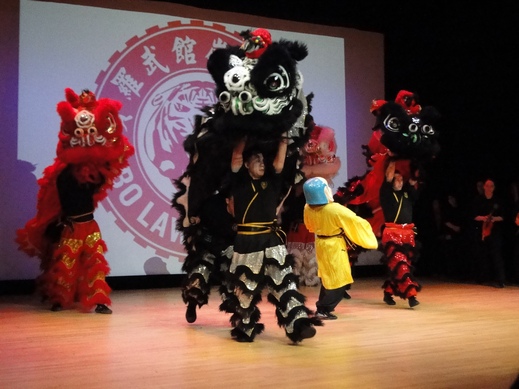 My original plans to invade Flushing, Queens' Chinatown for the Lunar New Year celebrations were foiled as the Planet Chocko spaceship was in the lab getting a circuit board swapped out due to malfunction. When the systems were all a go again, I was running late so the backup plan was to dive into Manhattan's Asia Society were they had some festivities of their own dubbed the Moon Over Manhattan: Celebrate the Lunar New Year.
The celebrations at the Asia Society were catered more for the family and kids but the event was still fun & festive nonetheless. First on the lineup were 2 short films, one was the Hunchback's Tale – a cartoon that told a tale through a series of events where different people think they have commited a murder. It was the ultimate lesson learned between covering up the murder and revealing the truth. It seemed a bit harsh to talk about the subject of murder with children in the audience but in the end things would work their way around full circle. The 2nd short – What's Yours is Mine was a story about a clumsy fisherman who would have his luck turned around when he meets a mermaid. The greed of others will rear its ugly head while the good natured will try to remain persistent and humble. You can tell the success of children's film when the kids erupt in laughter.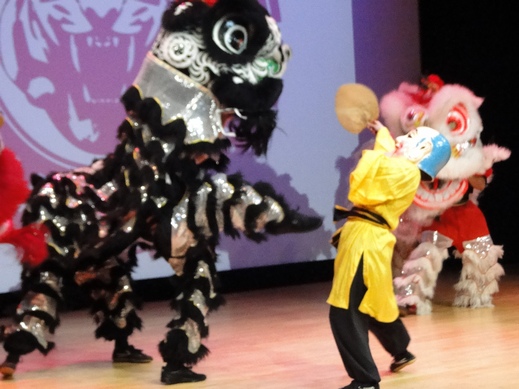 After the films, The New York Bo Law Kung Fu school would welcome in the Year of the Goat by performing a traditional Lion Dance to bless good luck, wealth, & health to all! Some of the kids in the audience would take part to help feed the Lions after the festive dance and present them a 'Red Envelope' for their efforts.
A kung fu demonstration would follow the Lion Dance.
The next thing on the lineup was the Korean Drumming performance. The NY Korean Traditional Marching Band performed "Salmulnori" (Playing 4 things – The changgo or hour glass shaped drum; the buk or barrel drum; the jing or large gong, & the kkwaenggwari, or the small gong.) These drummers were fantastic. At times they sounded really traditional which then morphed into an all out blend of wild percussions, a sort of jazz session and hypnotic tribal beats!
(the kids bum rushed the stage & banged the drums!)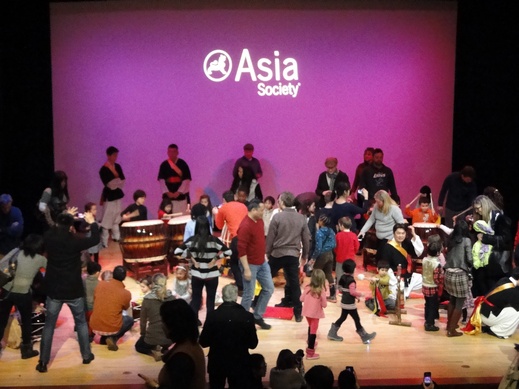 There were also activities for the kids to make stretch dragon puppets with the Chinese Theatre Works folks as well as making Paper Lanterns, and creating a Year of the Goat clay figure with master ceramic artist Syma.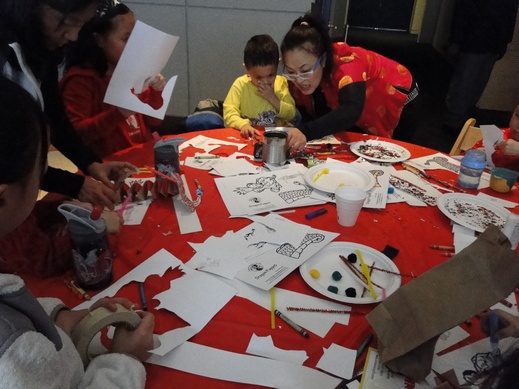 Posted in community, mr. c, photos | Comments (2)
January 31st, 2015 by chocko
Savages at Saint Vitus 01-17-15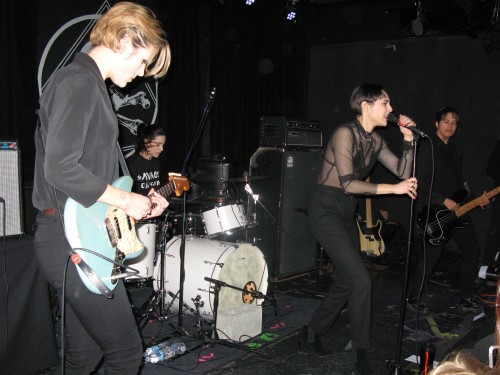 UK post punk band Savages wrap up their 9 show New York City residency with a sold out show tonight at Saint Vitus in Greenpoint, Brooklyn. Planet Chocko was in the house for their first show at Saint Vitus which usually hosts metal shows. The all female band played a fantastic set list that mixed familiar tunes from their 2013 album, Silence Yourself along with brand new songs for their next album. Lead singer Jehnny Beth showcased some intense stage presence and pointed out the low lighting in the performance space was intentional. So, put down those clunky cameras and sleek smartphones, and focus on the music! I'm down with that. Johnny Hostile (producer and musician) opened up with a set of grimy Dirty Beaches/Suicide sounding tunes. Tonight's show features opener Nick Zinner of the Yeah Yeah Yeahs. See you there!
exclusive tour poster, shirt and other goodies at the merch table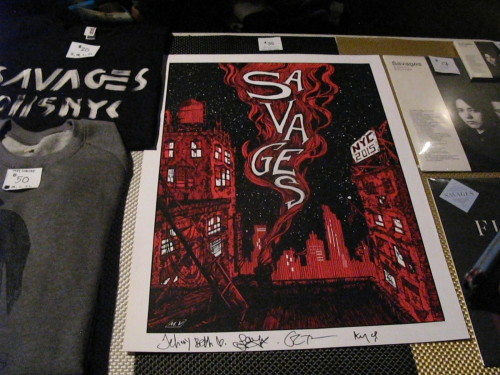 No (New Song)

Shut Up

When In Love

Check out Chocko (njchocko) and Mr. C (planetchocko) on instagram.
Follow @planetchocko on Twitter. LIKE us on Facebook too. Thanks!
Tags: brooklyn, jehnny beth, live, new york city, nyc, saint vitus, savages, show
Posted in chocko, music, photos | Comments (0)
January 19th, 2015 by Mr. C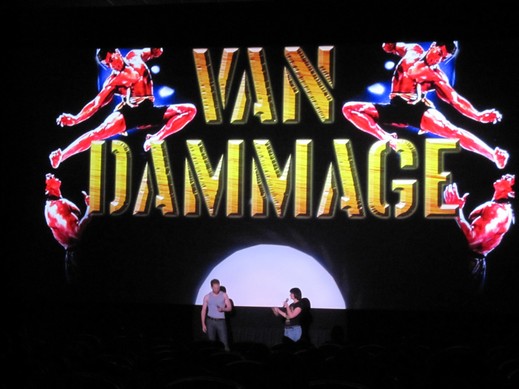 (Cristina Cacioppo and Alamo programmer from Austin hosting the event)
There was definitely some Van Dammage done last weekend as we celebrated the 'split personality films of the muscles from Brussels – Jean Cleade Van Damme! There was a secret 4 movie marathon held at Alamo Drafthouse Yonkers, NY in honor of JCVD and the movie selection probably surprised a whole lotta folks! None of the classic Van Damme films were shown like Bloodsport, Kickboxer, or No Retreat No Surrender – the three films that really lifted him into stardom with the suave attitude and kickass persona that we would link him to. The four films they did show at the marathon in order of appearance was: Sudden Death, Lionheart, Knock Off, & Hard Target – all in 35mm format. Sudden Death and Lionheart were great to see again! I had forgotten how fun and illogical Sudden Death was! So much effort was put into this eventful sudden death Stanley Cup finals game all just to extort money! Then again it wouldn't be a Van Damme film if it wasn't this epic! Lionheart took us back to Van Damme's roots of being a kickass underground fighter all the while exposing his ass to the ladies! Knock Off really knocked me off out of my seat literally, I've never seen this Jean Cleade – Rob Schneider – Paul Sorvino comedy/action/drama mash up directed by none other than Tsui Hark. The film looked great in terms of production and action choreography no doubt but the film was so disjointed in many places that it was hard to take in at times. I love me a really silly Rob Schneider film anyday but the story was so weird and out there that it made the chemistry between the cast so 'what the fuck'. I have to say there were some scenes with explosions and ass-kickery that entertained the hell out of me though. I also very much enjoyed the filming location in Hong Kong, too! The last film was a dead give-away because of the contest they had prior to the screening. The contest involved punching and eating snakes! Hard Target was an absurd blend of the high kicking, charismatic, & questionable acting chops of JCVD with the often slo-mo, violent but stylistic blood shed scenes of John Woo. The Woo definitely made Van Damme look extra cool flapping those guns around while doing those infamous JCVD kicks! The plot of the movie was very much contrived but who watches a John Woo and Jean Cleade films for the story? Consider your ass kicked!! Ding Ding Ding!
Thanks to Alamo Drafthouse for organizing such a fun event including the delicious and creative Van Dammage menu! The Sudden Death Chicken and Waffles was a winner! The double impact fries had me doing the deuce by the end of the night!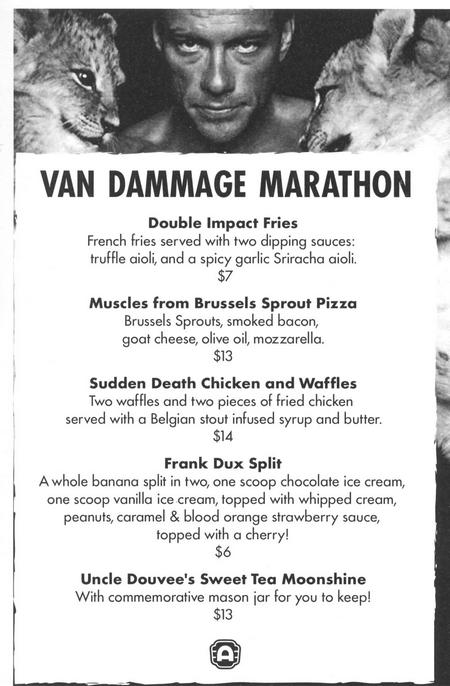 Also thanks to Alamo Drafthouse's creative programmer – Cristina Cacioppo and her partner in crime from Austin for MC'ing the event! Love the JCVD pin!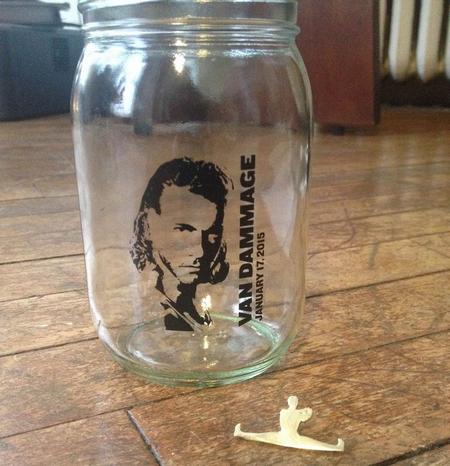 (Uncle Douvee's mason jar & the JCVD pin! – Photo courtesy of Alamo Drafthouse Yonkers,NY)
Sandwiched in between the surprise films were fun trailers, commercials, and past appearances by Jean Cleade Van-Damme and the special Q/A session with JCVD – you really can't make any of this stuff up!
(Van Damme's famous split in the Volvo Commercial)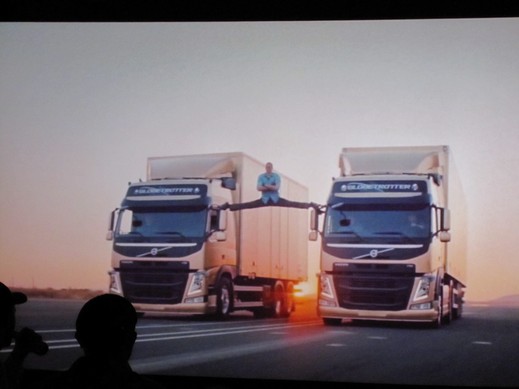 ("This test was set up to demonstrate the stability and precision of Volvo dynamic steering.")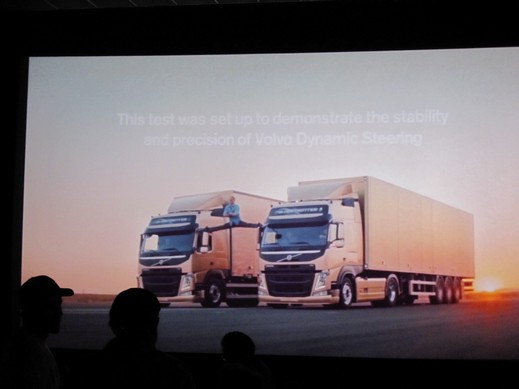 (Jean Cleade showing of his speed & accuracy by kicking the bottle off the man's head)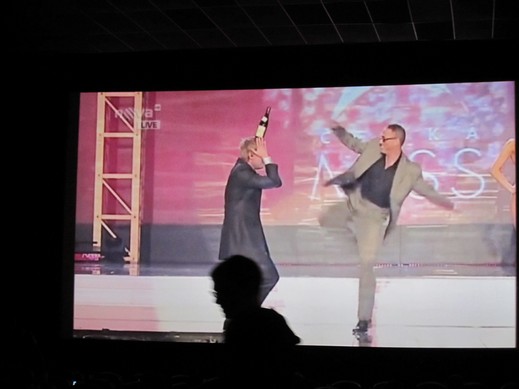 (Jean Cleade working out to Johnny Kemp's song – Just got paid)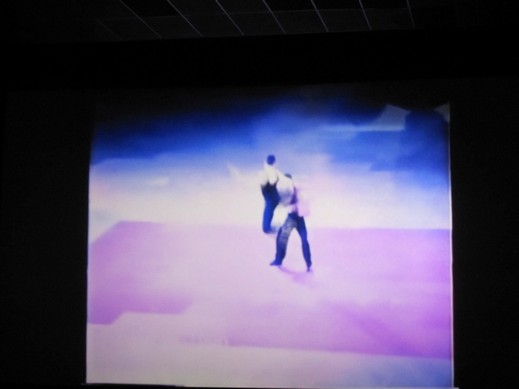 Tags: alamo drafthouse, jean cleade van damme, van dammage
Posted in movies, mr. c, photos | Comments (0)
December 29th, 2014 by Mr. C

(To the left was the general hospital – To the right, infectious diseases – left we went!)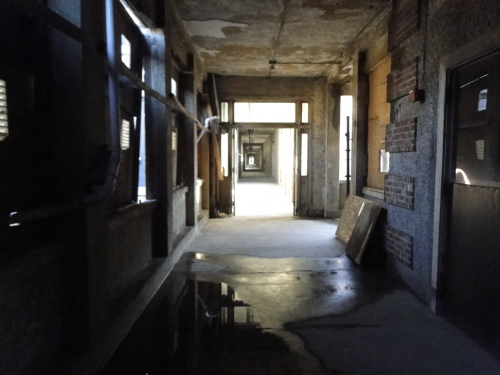 Last weekend I had the privilege to go on a 'Hard Hat' tour of the abandoned hospital complex on Ellis Island. I had first learned about the tour through Nick Carr of Scouting New York, who is a professional movie location scout in New York. His job is to stare and take notice of NYC locations with more of an eagle eye for architectural aesthetics. He has an excellent web site called what else, Scouting NY and he documents what he experiences in the NYC, surrounding areas, & sometimes beyond which most of us overlook in our everyday travels. Scouting New York is one of my favorite web sites to catchup with in all things NYC! Go see for yourself!
Most people only associate one main building formerly known as the Ellis Island Great Hall which was a pre-process location for all incoming immigrants from 1892-1924. This building was restored in 1986 and reopened as the Ellis Island Immigration Museum. The hard hat tour that I went on actually took us to the Immigrant hospital which served as a detention center for immigrants that were deemed not healthy or unfit. They would get treated and either released to their new life in the Americas or deported depending on the situation. There was an insane asylum in the premises as well for those that they thought were unfit for society. The criteria for being tagged for being insane seemed to be very subjective and discriminatory. What a scary thought! The Hospital grounds housed overe 20 buildings. There are at least 3 main wings of the building: one was the general hospital, one for infectious diseases, and the other was the psychiatric ward. The psychiatric ward was too unsafe and dilapidated to get to.
The grounds have to be experienced first hand. Putting words together to describe the eery feeling when walking through the silent hallways and rooms of this abandoned campus that once housed desperate folks looking for a better life does not do it justice. We walked through the morgue and amphitheater where autopsies were performed and wow! Ellis Island recently opened up the hospital grounds in October 2014 for these small group hard hat tours. French artist JR has site specific art installations throughout the hospital called "Unframed – Ellis Island" in which these historic images from Ellis Island's past is brought back to life to mingle with the crumbling state of the hospital to form a memory from the past. The tour guide mentioned that JR is working with Robert Deniro to film a short documentary on the hospital grounds. Check out the Hospital grounds yourself on one of the hard hat tours on Ellis Island while you can! Help preserve a piece of American History! Tickets for the tours here.
Above & below are some photos that I captured on the tour to help put an image together of the hospital that once was from 1902-1930.
(Laboratory to test on animals)

Tags: ellis island hospital, new york city
Posted in mr. c, photos | Comments (0)
December 22nd, 2014 by Mr. C
The Planet Chocko muppets ventured out to BB King's Blues Club in Times Square last Saturday to celebrate the best Christmas party in NYC with Ronnie Spector at the helm! It was great listening to Spector in such an intimate venue and such a throwback for us to those days when we used to see her perform at Coney Island High on St. Marks Place and at the Continental on 3rd ave during many of the Ramones shows! Thanks to Chocko's good memory and his great footage of many live Ramones concerts to prove it – Joey Ramone always introduced Ronnie Spector to the stage as "one of the original bad girls of Rock n Roll!".
Being a Ramones geekhead like he is, Chocko immediately spotted Daniel Rey on guitars as soon as the band came out to warm up the crowd at BB King's before the Spector spectacle! Daniel Rey was a producer for many of the Ramones albums as well as for The Dictators, Ronnie Spector, The Misfits, & D-Generation to just name a few.
The band got everyone in the festive mood by staying true to the club's roots by playing the bluesy 'Christmas comes but once a year' followed by a funky instrumental version of White Christmas with the sax wildin' out!
Miss Ronnie Spector then proceeded to come out like it was 1960…well maybe 1990 as she gave us a holiday grab bag of The Ronettes goodness with a viscous blend of Ronettes hits,christmas songs, and covers from some very good friends of hers. Ronnie's raspiness in her vocals has creeped into her shows for a long while now as her girl band voice of yesteryear has all but disappeared. That being said she had already reinvented herself with that knock'em out sock'em out – funky & spunky disposition when performing her rock n roll love songs! TRANSLATION…we still love her performances! She still has that uh-uh-uh-grab that crouch attitude! She rattled off her set in one hour and it was great. The only song that I didn't quite think worked for her was The Carpenters' "Yesterday once more". My favorite performances from the night included Back to Black (Amy Winehouse), Walking in the Rain, You can't put your arms around a memory (Johnny Thunders), Baby I love You, & Be my baby! See her complete setlist below as well as a few videos from the show thanks to Chocko.
We're already looking forward to Ronnie's show next year! Happy holidays, y'all!
(Chocko with a signed vinyl of "Presenting the Fabulous Ronettes Featuring Veronica")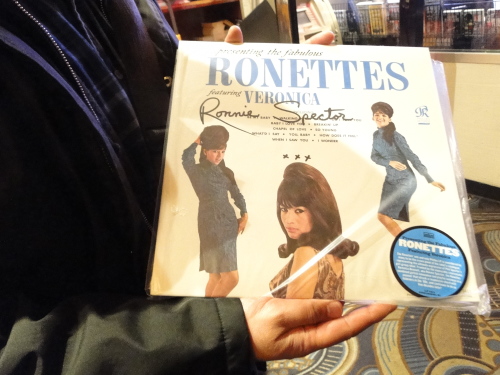 (Slideshow stills of The Ronettes of yesteryear)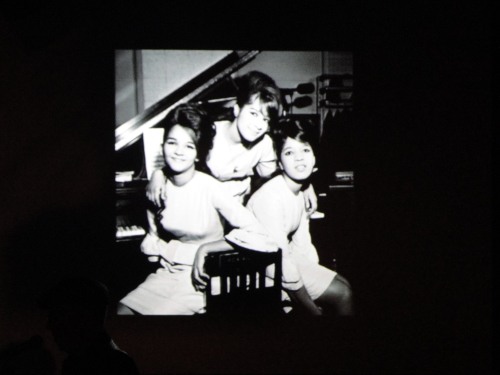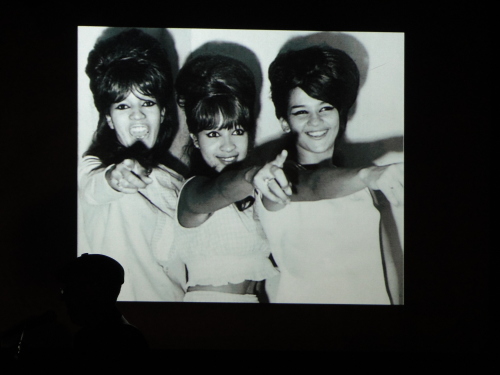 (Amy Winehouse – slideshow stills from the show)

Setlist
Christmas comes but once a year. (band only)
White Christmas (instrumental)
frosty the snowman
Do I Love you
It's Christmas once again (Frankie Lymon)
What I'd say (Ray Charles) – (Murray the K's Dancing Girls)
So Young
Best Christmas Ever (From her solo album/Ronnie Spector's Best Christmas Ever)
Back to Black (Amy Winehouse)
You baby
baby I love you
Yesterday once more (The Carpenters)
Sleigh ride
walking in the rain (Ronnie's favorite Ronette song)
breakin up
You can't put your arms around a memory (Johnny Thunders)
be my baby
I saw mommy kissing santa claus
So this is Christmas (John Lennon)
Rockin around the Christmas tree
I can hear music
Tags: bb kings, ronnie spector
Posted in mr. c, music, photos | Comments (0)
December 15th, 2014 by Mr. C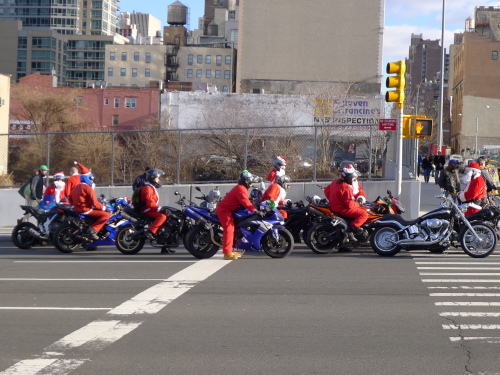 (Santa riders ripping & roaring outside the Motorcyle Show/Jacob Javitz enjoying Santa Con!)
The Last time we covered the Motorcycle show we were in zine form from the late 90s to early 2000s with a print output of no more than 300 copies per issue. So much has changed since then and apparently the cycle show has too!
My thoughts on the 2014 Progressive International Motorcycle show in NYC – not as grandiose as in yesteryear shows that's for sure but still a good time had with felllow cycle lovers! It was great to see KTM, Triumph, and Ducati reign supreme with their displays but Suzuki, Kawasaki, & Yamaha continue to spread cheer showing off their new models. I was interested in seeing the new 2015 Suzuki GSX-S750 and it looks great in person! It's a minimalist looking streetfighter bike but those lines really shows off her curves! I was also interested in sitting on the new Yamaha FZ-07 and I was picturing tearing her up on the streets of NYC when I did mount her! Perfect size bike to troll the urban terrain! The FZ-07 seemed very comfy and upright, the steering felt nimble and light to the touch, and the foot controls were comfortable. I always love looking at the custom bikes and cruisers but Victory's model – the High-ball custom cruiser with ape hangers almost had me wanting to reserve one! I really loved the black matte color paint scheme on the High-Ball! Though I must admit when I sat on the High-Ball it made me feel small. Not to outdo the Victory bike but it really did, I felt quite at home when sitting on the Harley Davidson Sportster seventy-two. The Seventy-Two is cleverly named so because of the 1970s Chopper Look and I love it! I also love the spoke wheels! The candy speckled paint job looked great. The gas tank was on the smaller side but I really digged the look and shape of it. My days of ragging on Harley Davidsons might be over. I might have to add one to the collection in the foreseable future! Vroom Vroom! I also sat on the retro Triumph Scrambler, a bike that I've been coveting for awhile with those cool looking exhaust pipes hanging by the legs. It's a tall bike for the vertically challenged and a pretty heavy bike at that too. Overall, the Suzuki GSX-S750, the Yamaha FZ-07, The Victory High-Ball, and the Harley Davidson Sportster Seventy-Two were winners in my book! Royal Ensfield, a company that I wasn't familiar with but looks to have a long history in making motorcycles,bicycles, & lawn mowers from the late 1800's in the UK but now licensed to India had a really neat display of retro looking bikes called the bullet 500. The bikes looked great but remains to be seen with the point of presence and ridership in their bikes to be able to sustain the ride for upkeep. In that same vain, a bike shop in Yonkers, NY called Johnny Pag Motors also had a very busy display showing off the 320cc Ventura Chopper priced to sell at $4995! The engine displacement might be on the smaller side but the stance on the chopper looked pretty darn mean!
I couldn't leave Midtown west without paying respects to Hideki Matsui and Go! Go! Curry! on 38th Street! Of course, I hit a Grand Slam takeout!
All in all, a great day was had at the bike show with good friends. Cheers!
(I salute you Matsui and Go! Go! Curry!)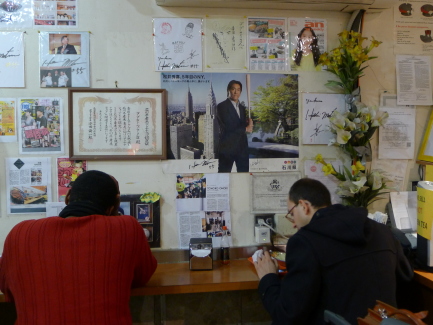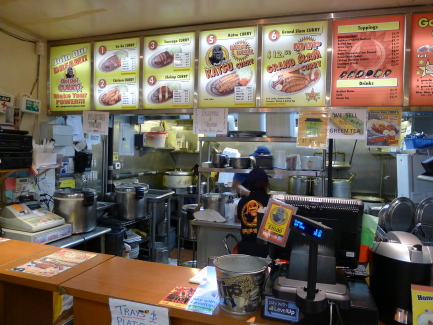 (Harley Davidson Sportster Seventy-Two)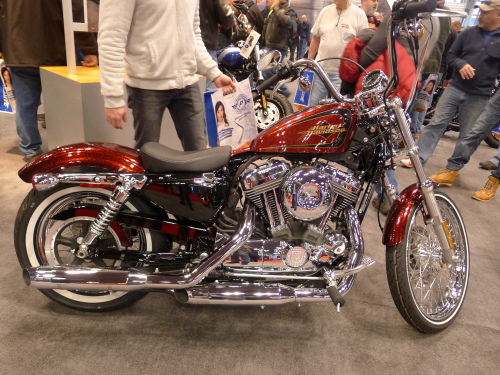 (Johnny Pag Motors – Ventura 5000)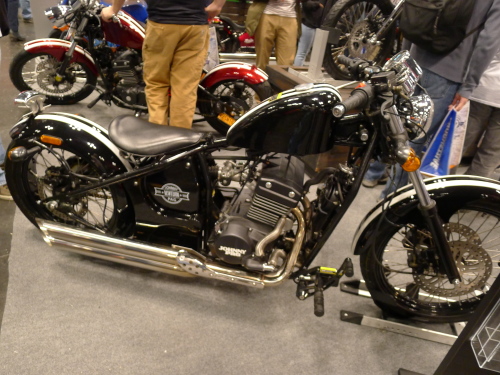 (Indian Larry custom wishbone-rigid frame)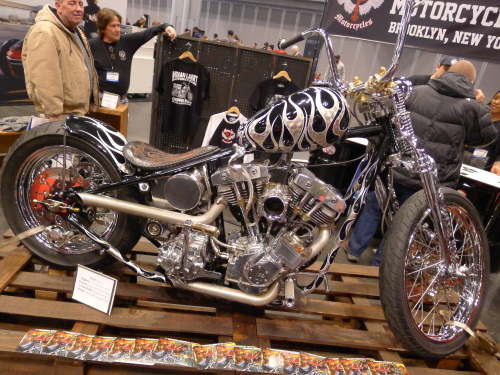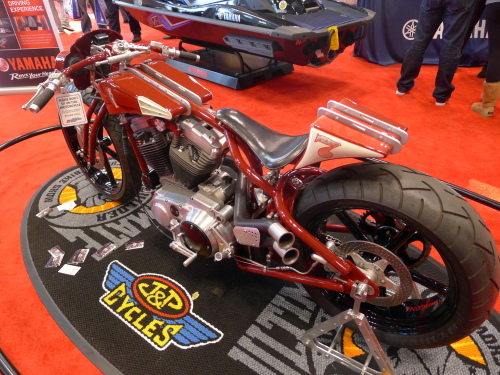 Posted in mr. c, photos, sports | Comments (0)
December 13th, 2014 by Mr. C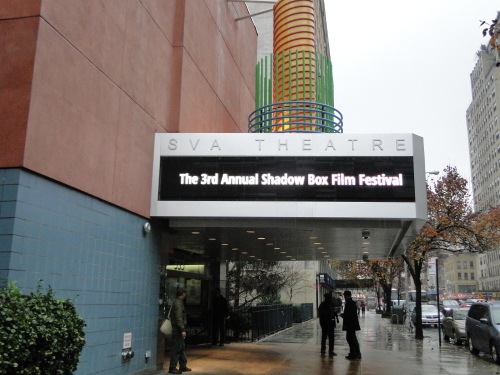 We were able to bob & weave into a few Shadow Box Film Festival screenings which was held at the School of Visual Arts Theater on 23rd Street despite the relentless rain we had last weekend. It was the 3rd edition of this low profile gathering marketed as the world's only ALL-BOXING Film Festival! You have got to love a film festival whose major sponsors included a Termite and Pest Control company! Talk about eradicating opponents in and out of the ring!
(Heather Hardy at the Shadow Box Film Festival – photo by Chocko)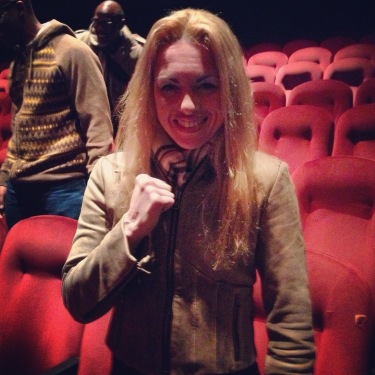 On Friday night of the festival, we jetted out of the traffic free super-highway slabs over the GWB during usual gridlock holiday time to head downtown Manhatty to SVA Theatre. I'm sure the rains had to do a lot with the emptier roads for we made it just in time for the great roundtable discussion on the state of woman's boxing with whatever content the ladies & Dibella wanted to bring to the forefront! The panel included Lorraine Price (Director of Doc: Last Woman Standing) which was part of the program/screening that we missed that night; Lou Dibella (Boxing promoter and Executive Producer of Hardy), and Heather Hardy (Boxer and subject of Doc: Hardy). The roundtable was moderated by Steve Farhood (Showtime Boxing commentator/anaylyst & Broadway Boxing commentator). Farhood did a great job in asking pertinent questions to tender the subject of woman's boxing and how the business is changing for the ranks of lady pugilists. Thanks to Chocko for recording the roundtable for further review!
(video by NJChocko)

(Photo op after the Roundtable panel included: Lorraine Price,Lou Dibella,Michael Bentt,Heather Hardy,Steve Farhood – Photo by Chocko)

After the panel, We saw the HARDY documentary again and loved it even more the 2nd time around. The film follows Gerritsen Beach, Brooklyn's own Heather Hardy as she realizes her dream of boxing at a later stage in life. Hardy is really an inspirational story about searching for self esteem & identity and chasing after your dreams. More is at stake here than first glance,as boxing is also the means of survival for Hardy and her daughter. It was interesting before the screening as Executive Producer Lou Dibella mentioned that the director of the film – Natasha Verma did a great job with her first film but he (Lou Dibella) also changed the film into a very good film. I wondered what he changed and what he really meant by this?!
(Former WBO Heavyweight Champion – Michael Bentt at the Shadow Box Film Festival – photo by Chocko)

On Saturday, I returned to catch the short films segment. I was mostly looking forward to the films – Greatness: The Story of Floyd Patterson and Sunnyside but ended up seeing some other eye opening shorts!
Greatness: The Story of Floyd Patterson
This doc was more about the greatness of Floyd outside of the ring and in his personal life. We all have heard stories of the boxing genious of Floyd Patterson but the humble, quiet, & gentlemen stature of the great Floyd Patterson reigns supreme here! Several of Floyd's more successful boxing students Andrew Schott and adopted son Tracy Harris Patterson step out of the shadows to relive some of their teacher's glory in and out of the ring. Much of the film is spent on Floyd's life after boxing at Floyd's gym in New Paltz, NY as he passed on his boxing chops just like Cus D'mato did for him.
Sunnyside is a documentary that unearthed a New York City boxing club/arena in Sunnyside, Queens that I did not know existed! This legendary fight club full of boisterous fans and lure of smoke from cigarettes & cigars had its heyday from 1947-1977. I'm pretty familiar with the area that this former legendary boxing venue was located which is on Queens Boulevard & 45th Street which is now the grounds of fast food chain Wendy's! The 59th Street Queensboro bridges is just a hop,skip, & a jump away! If I can remember correctly, it costed $4000 to rent out a night of boxing cards at the Sunnyside. This film honored the history of the Sunnyside Gardens Arena as one of New Yorks most influential fight club and unfortunately one of the last as well. It was hailed as the minor leagues, the training grounds for fighters before/if they get called to fight at Madison Square Garden. Some boxers and wrestlers that trolled through the Sunnyside are Floyd Patterson, Gerry Cooney, Bobby Cassidy, Bobby Bartels, Lenny Mangiapane, & Bruno Sammartino to just name a few.
Champion was a charming documentary that highlighted a decorated Iraqi boxer who fled his country to seek a better life for himself. Fast forward to the present as this former Iraqi Champion boxer is living a happy life in Chicago with his wife and children as he drives a taxi to support his family. This film was very inspirational and touching as the love between husband and wife was the real story behind this documentary – less about the boxing.
Round 10 was a re-enactment of one of the most infamous rounds in boxing history. It was the first fight between Jose Luis Castillo and Diego 'Chico' Corrales on May 7th, 2005 at the Mandalay Bay in Las Vegas. To call this fight and 10th round dramatic would be an understatement. Now, I want to see Round 9 re-enacted from the Mickey Ward vs Arturo Gatti – 1st fight! Any takers?
Babyface was a documentary that followed 19 year old James 'babyface assassin' Tennyson who was on his way to becoming the youngest Irish Boxing Champ in 65 years. Raw footage full of thumping blows from the babyface assassin while training at a satellite Kronk gym in Ireland! R.I.P. Emmanuel Steward.
Tags: documentary, hardy, shadow box film festival
Posted in movies, mr. c, photos, sports | Comments (0)